This post contains affiliate links. Please read my disclosures.
There is more to gluten-free baking than just reaching for the bag of all purpose gluten-free flour. A huge range of alternative flours can now be found at supermarkets and health food shops which can make your gluten-free baking so much more exciting.
Your cakes can have more flavour and a better texture than their wheat counterparts. You just need to choose the right flour and I'm here to teach you how. Goodbye to dry crumbly baked goods and hello to a world of truly delicious gluten-free bakes.
I can't believe that's gluten-free!
This is the best cake I have ever tasted!
These are regular comments I get from customers, friends, family or overhear at a parties I have catered.
It's true. Gluten-free cakes should not be dry, crumbly, pasty or gummy. Those issues only occur when the wrong flour has been chosen.
There are so many different gluten-free and alternative flours which are now readily available at supermarkets, your local health shop or Amazon. The freedom to experiment is endless. If you are new to gluten-free baking or using alternative flours then this Ultimate Guide to Gluten-Free and Alternative Flours is a perfect place to start.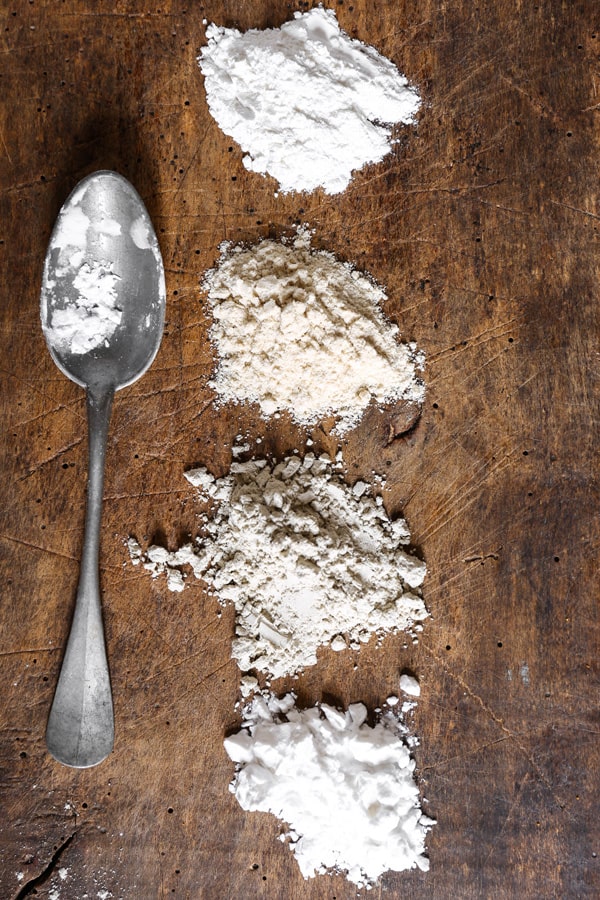 Function of flour in baking
Flour is a powdery substance, ground from a larger source and used in baked goods to provide structure.
The most common flour used in baking is ground from wheat which has a neutral taste, meaning it can be used in sweet or savoury recipes and across many cuisines. You'll know it as either plain flour or all-purpose flour (AP flour).
However, the true function of wheat flour lies in a powerful group of proteins found within its structure. When this group of proteins is introduced to a liquid they form gluten – a network of strong interlocking bonds which are highly elastic.
Due to the strength of these bonds gluten gives excellent structure to all manner of baked goods. The elasticity between the bonds mean the end results also have a wonderful soft and bouncy texture.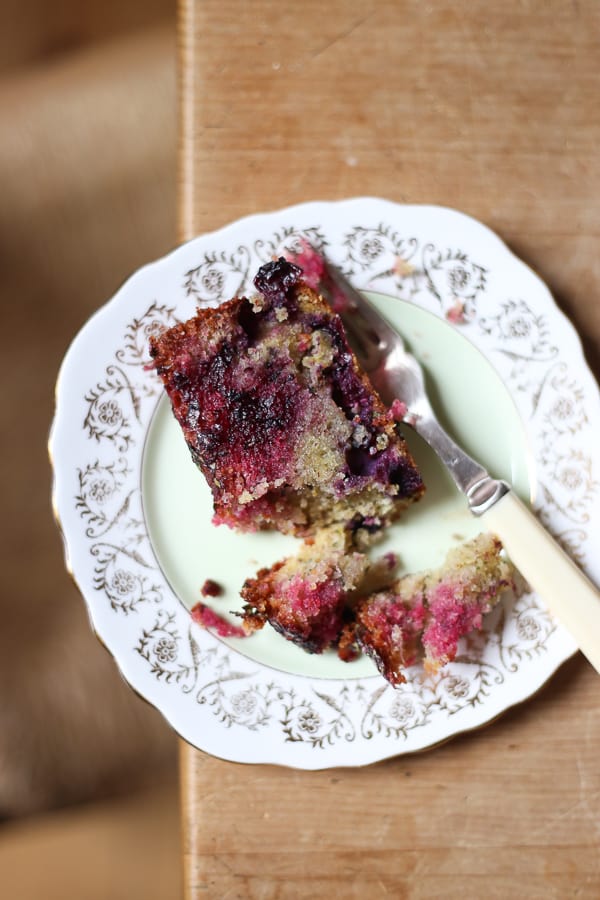 Removing gluten from baking
So what happens if we want to remove gluten from all our baked goods? In many cases we still need some sort of flour in our recipe to give our bakes structure.
Not always, see this post on 11 Flourless Bakes for amazing tips and recipes which don't use any flour.
What flours can we use to replace wheat (rye and barley also contain gluten) and still achieve successful results?
We need to find flours that mimic the same function that gluten and regular flour provides in our baked goods.
Baker's Tip: There are other ways to replicate gluten in baked goods, not just the choice of flour. For more information please read this Ultimate Guide to Gluten-Free Cakes which gives even more expert tips for successful gluten-free baking.
Function 1: Binding
The gluten in wheat based flours binds baked goods together using strong interlocking bonds so they don't fall apart in some big crumbly mess.
Best gluten-free alternative flours for binding
The most effective flours to help bind and hold our bakes together are the starchy flours:
Arrowroot
Cornflour
Sweet potato flour

Function 2: Texture
Gluten gives cakes and bread a soft bouncy quality thanks to the elasticity of the gluten proteins.
Some bakers add xanthan gum to their gluten-free recipes which does an excellent job of assisting gluten-free flours with both elasticity and binding. However, this is not always the best choice as it can be a polarising ingredient.
READ MORE >>> Why I Don't Bake With Xanthan Gum
Instead different gluten-free flours can provide a variety of textures. The trick is matching the correctly textured flour to the cake you want to bake.
Function 3: Neutrality
The beauty of plain white flour (AP flour) is that it tastes completely neutral. This is an advantage in any bake as you can use the flour universally.
On the other hand a huge boon in using alternative flours is that many of them have unique and delicious flavours which can enhance recipes and add depth especially to baked goods.
Function 4: Leavening
When these strong interlocking elastic gluten bonds are formed they react with the leavening agent in your recipe (yeast, baking powder or bicarbonate of soda) to cause gas bubbles which inflate these elastic bonds, making your cake or dough rise.
It's not all good news though as gluten-free flours simply cannot fulfil this same function of leavening which is why you might have experienced flatter and denser bakes when using these flours.
At this point you will need to turn to other sources to help your gluten-free baked goods to rise. There are some excellent tips in my Ultimate Guide to Gluten-Free Cakes.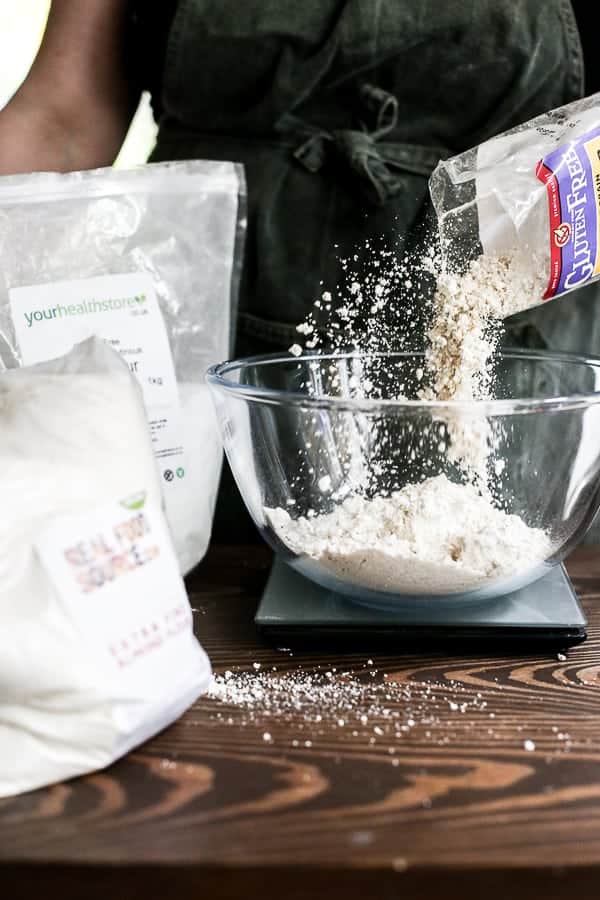 What is the best gluten-free flour to use?
So, now we know that alternative flours can fulfil almost the same roles as gluten. Plus, they taste better and they don't make us sick. So what's the catch?
I'm sorry, yes there is a catch and I'm sure you've noticed it.
There is not one gluten-free flour which can substitute regular all-purpose flour.
We need to use more than one gluten-free flour to do the same job as regular all-purpose flour.
If we put all our confidence in just one alternative flour then we might get some unpleasant results.
If you want a balanced taste but also a chance to retain the right texture and binding qualities of wheat flour, this is where you will need to start blending flours.
"Hey, but don't some brands like Bob's Red Mill and Doves Farm do that for us already. That's what 'gluten-free flour' in the supermarket is, right?"
Can I just replace regular flour with gluten-free flour?
Gluten-free flour which you buy in the supermarket is great. However, results can be variable. Each brand of gluten-free flour has a blend of different alternative flours involved.
Some contain more starches, some contain xanthan gum and some contain oat flour which many coeliac sufferers just can't tolerate. So always check the labels.
There are some occasions where you can certainly just do a straight swap and use one of these gluten-free flour blends instead of regular flour. In these instances I would stick to recipes where there isn't a lot of flour to begin with, like in a brownie or friand recipe.
Baker's Tip - That said, you can have great success using these gluten-free flours in conjunction with nut flours. It's an easy way to convert cake recipes from a non gluten-free recipe. I discuss how to do this in my guide to Nut Flours.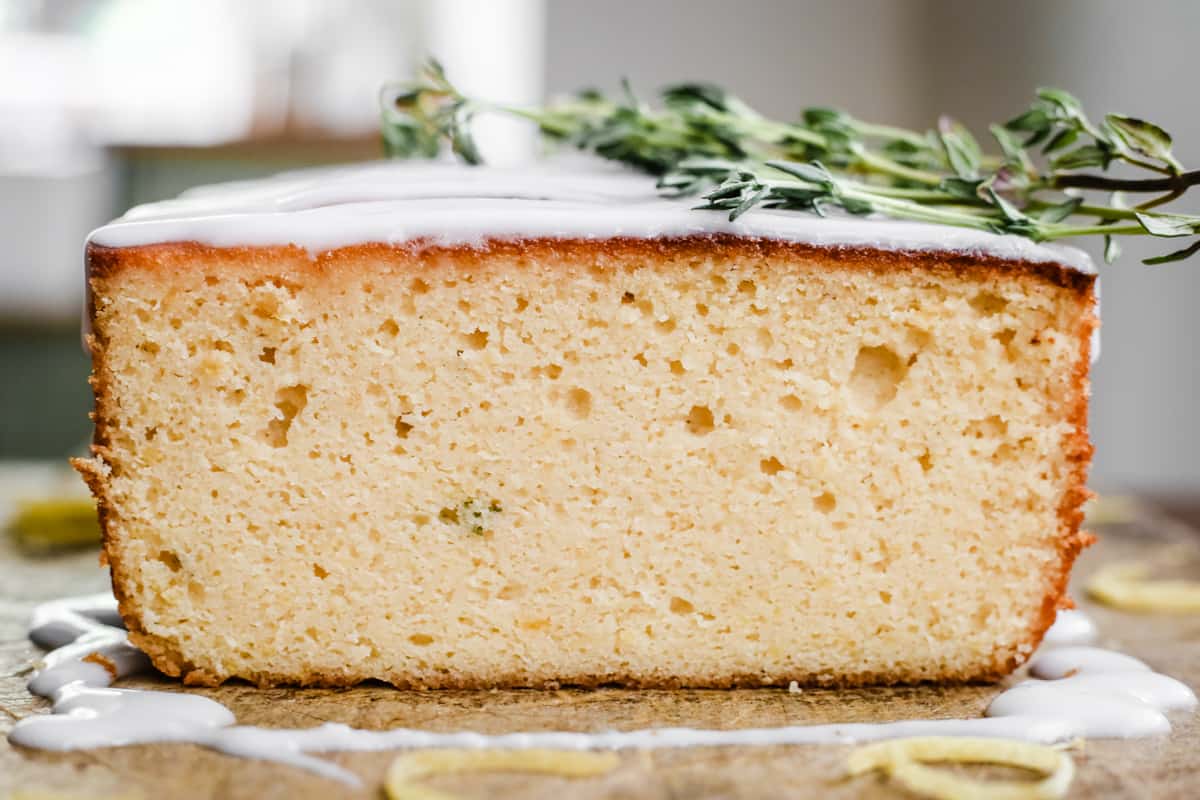 How to create your own gluten-free flour blend
The different types of alternative flours can be split into two different categories:
Wholegrains – e.g. sorghum flour, teff flour, buckwheat flour
Starches – e.g. sweet rice flour, tapioca flour, arrowroot
The wholegrains will give your bake excellent texture and flavour and the starches will help bind your bake together and give it structure.
I recommend the following rule to create the simplest blend:
70% wholegrain flours (1-3 different flours) : 30% starch (1-2 different flours)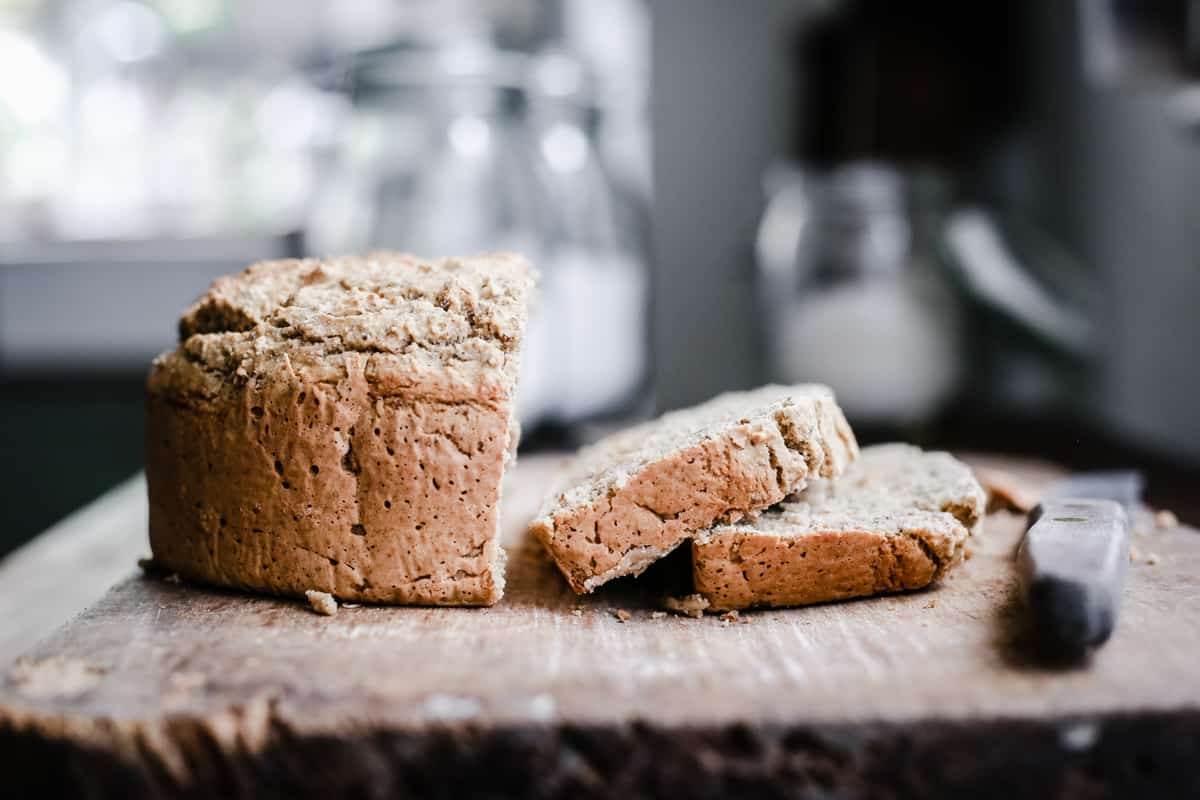 Gluten-Free and Alternative Flours – Taking it further
So now you are armed with some basic information.
Gluten is what gives cakes and bakes structure and texture.
You can't always replace regular flour with gluten-free flour.
Different gluten-free and alternative flours provide different functions.
You often have to use more than 1 gluten-free flour in a recipe to achieve a similar result to using regular flour.
You have a solid ratio to start mixing your own gluten-free flour blend.
I bet you can't wait to produce these amazing, delicious gluten-free cakes that I've been talking about! Although you might feel you need to have a little bit more in depth information about all these alternative flours.
Well, I'm not going to leave you high and dry. I've got you covered. Just follow the links below for everything you need to know about all your favourite Gluten-Free and Alternative Flours so you can bake with confidence.
The Ultimate Guide to…
Hey, come and join our Gluten-Free Flour Community. It's a Facebook Group filled with like-minded bakers who love to swap tips and tricks for choosing the right flour for our cakes and savouries. It's a supportive group for both newbie and more experienced gluten-free bakers. So if you need some advice or just want to nerd out on tiger nut flour then this is the group for you. Looking forward to meeting you there!