This post contains affiliate links. Please read my disclosures.
These Gluten-Free Pancakes are quick to make and ideal for Pancake Day. They are also dairy-free, without xanthan gum and can be served with any traditional topping or filling.
With Pancake Day aka Shrove Tuesday around the corner you are definitely going to want to have a decent Gluten-Free Pancake recipe sorted. These pancakes are quick and easy since there is no resting time needed. The crepe batter is smooth and silky and whisks up like a dream with a few simple ingredients.
I usually make my pancakes dairy-free as well but that is just a suggestion and you can quite happily use dairy milk and butter in lieu of the coconut milk and oil I have listed below. I have made these pancakes both ways in the past and I love them equally. The dairy-free versions are slightly lighter and not as rich without the butter.
What is Shrove Tuesday?
Shrove Tuesday originated as a day in the Christian calendar to mark the final day before Lent begins. Traditionally it was a feast day where pancakes were made to purge the household larder of all the fat and eggs before the commencement of the Lenten Fast. Hence, Pancake Day.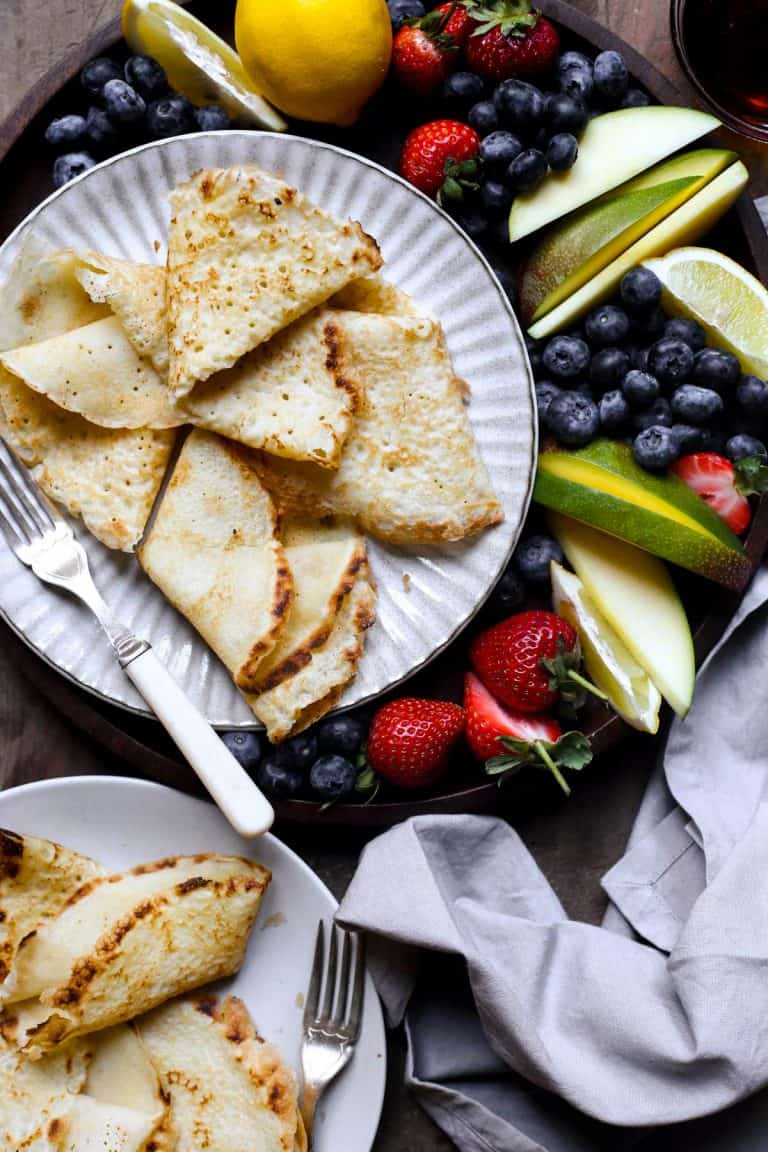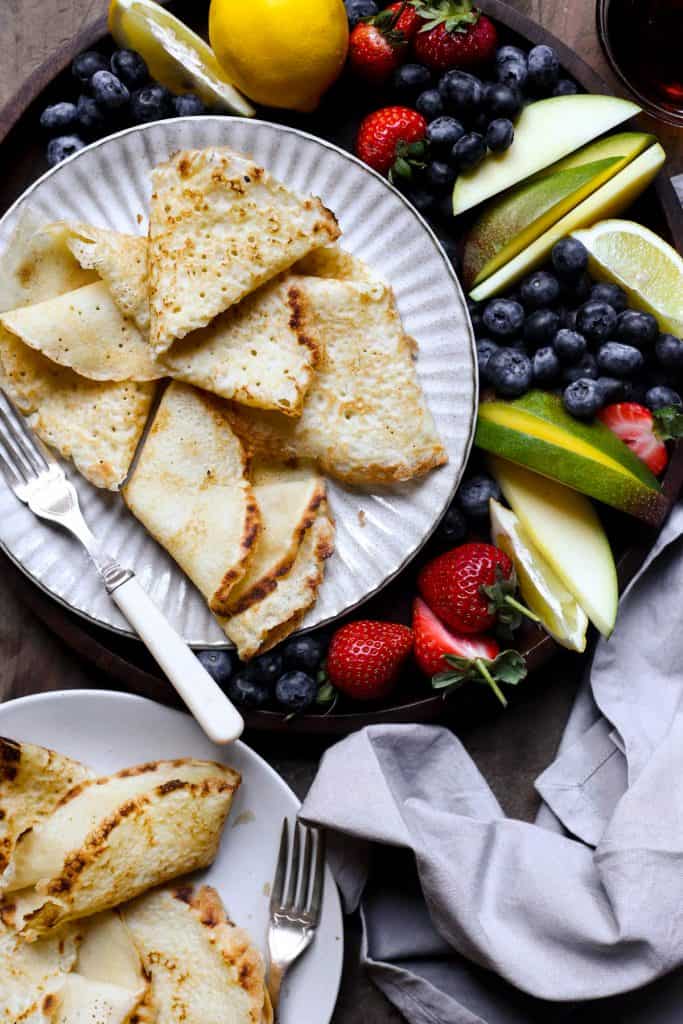 What is the difference between English pancakes, French crepes and American pancakes?
In the UK, the general term for pancakes means these thin unleavened pancakes which are similar to French crepes and somewhat different to American pancakes.
French crepes, which are usually cooked in a crepe pan, are larger, often thinner and wispier than traditional English pancakes. They are sometimes richer, made with cream or sugar and can be eaten with sweet or savoury fillings. Also I've never seen a French chef flip a crepe in a saucepan.
American pancakes are quite different. They have basically the same ingredients but contain a raising agent so they are thick fluffy affairs. Traditionally American pancakes are served at breakfast or brunch, hopefully in a whole stack with maple syrup and bacon. English pancakes and French crepes can be served with the fillings rolled up inside the pancake since they are more pliable.
What are English Pancakes?
English pancakes are a much more parsimonious culinary creation. Traditionally made with four simple ingredients:
Pancake Day is synonymous with flipping the pancakes directly in the frying pan, using only the pan and a flick of the wrists. To use a kitchen utensil is considered sacrilege, which led in our youth to most pancakes being consumed off the floor or being served from a crumpled heap in the pan. It was irrelevant though, as long as they were hot from the frying pan with a drizzle of lemon and dredged in sugar. Or if you were feeling extremely fancy then ice cream and maple syrup.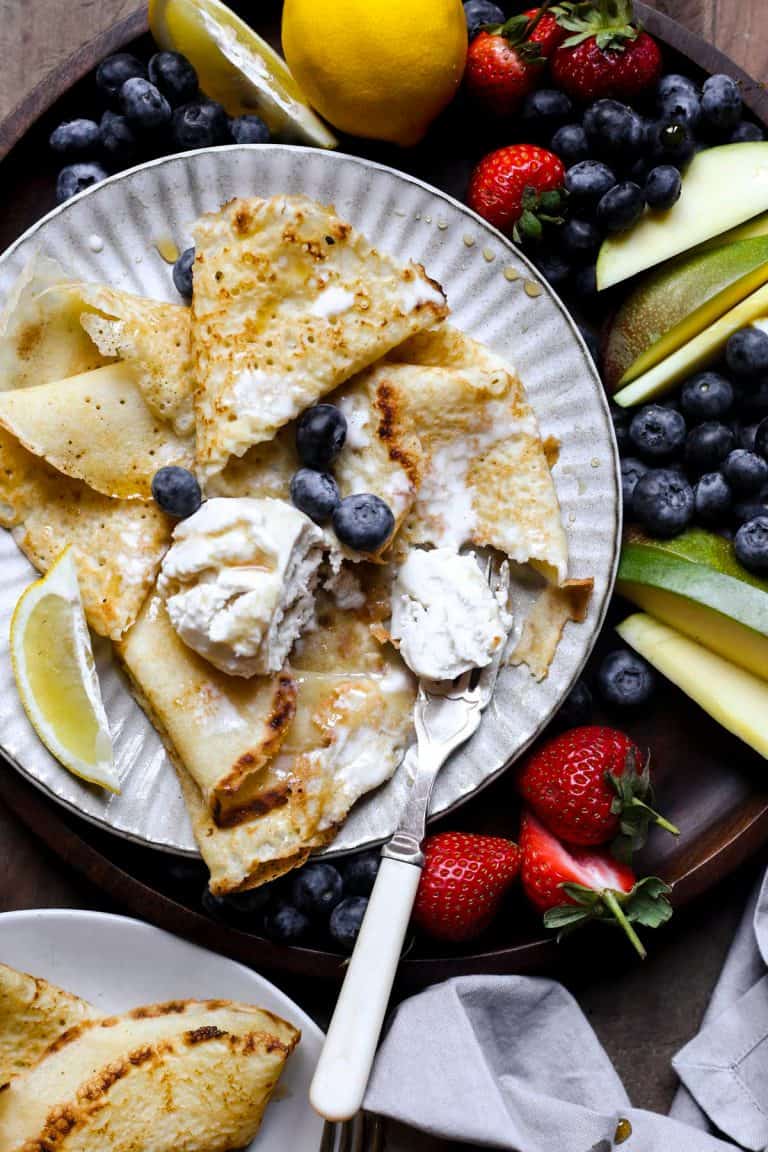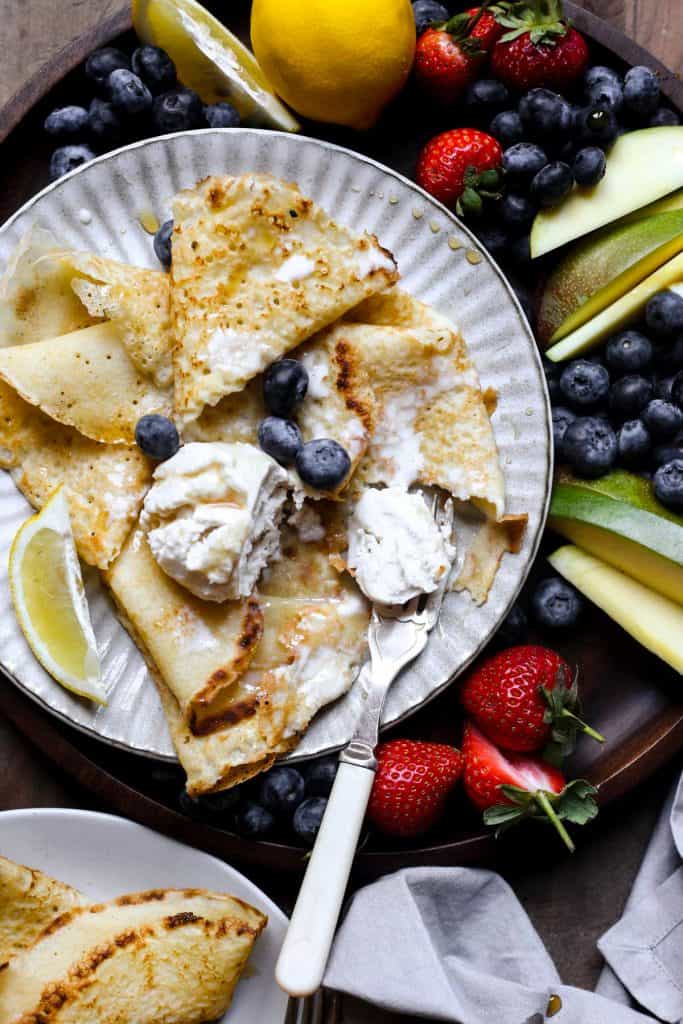 How do you make gluten-free pancakes?
I based my original recipe on Delia Smith's pancakes which were always the pancakes we had growing up and for a traditional pancake recipe hers cannot be bettered. Instead of the wheat flour though we use a mix of white rice flour and sweet rice flour:
White rice flour is light and airy with a beautifully neutral taste. It gives a thin sturdy pancake with beautiful lacy edges.
Sweet rice flour is necessary for its binding properties so your crepes don't fall apart in the pan, or forbid, in the pancake flip. The sweet rice flour also softens the batter slightly so the pancakes are pliable, just white rice flour will lead to a very crisp pancake.
How do you make dairy-free pancakes?
To make these pancakes dairy-free you make two simple changes.
Non-dairy milk. I prefer coconut milk in this instance, either fresh or from the tin with no gums or stablilisers.
Refined melted coconut oil instead of melted butter. The oil is tasteless but I find the pancakes cook up better with the fat in the batter. The pancakes are cooked in a small frying pan, seasoned with a splash of coconut oil but not too much otherwise the pancakes get too greasy. I do prefer a non-stick pan in this instance as you barely need any oil at all.
Pro Tip - Soda Water
We don't use just milk in the batter to make up the liquid in this recipe but have included a little bit of soda water. You can use regular tap water but the bubbles in the soda make the pancakes extra light and crispier at the edges.
Can you make gluten-free pancakes in advance?
Absolutely! I have started to get into the habit of batch cooking my pancakes a day or so in advance, usually part of my weekend meal prep. This is because cooking a whole batch of pancakes from scratch takes a while, about 3 minutes per pancake and I've found the wait can turn some three year olds (and 37 year olds) feral.
I make all the pancakes and store them in the refrigerator for up to three days, keeping a re-useable kitchen cloth between each pancake so they don't stick together.
To re-heat the pancakes heat 1-2 teaspoons of coconut oil to a small frying pan, then warm each pancake for about 20-30 seconds on each side.
Just a final word on warning on pancakes. It is written lore that your first pancake in the pan will be utterly rubbish. It is almost always chefs treat. The pancakes get better the more you make as the pan gets more seasoned with the oil and you get more confident with adding less batter into the pan for thinner better pancakes.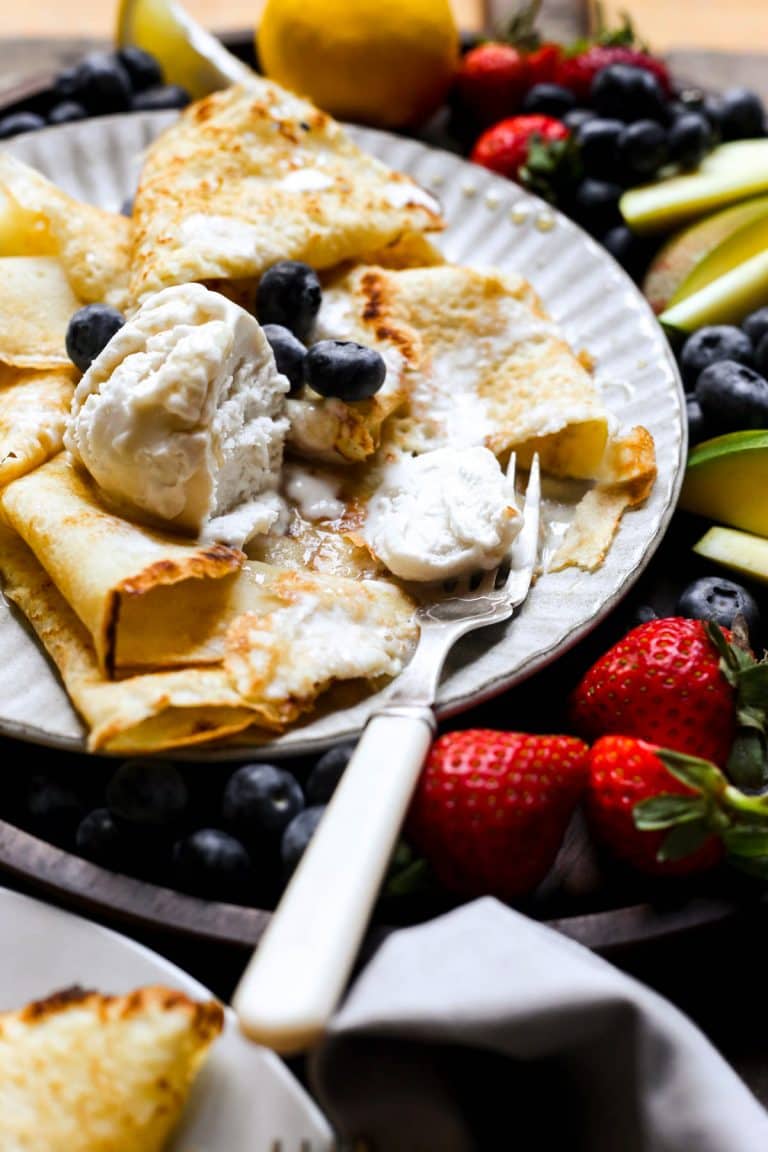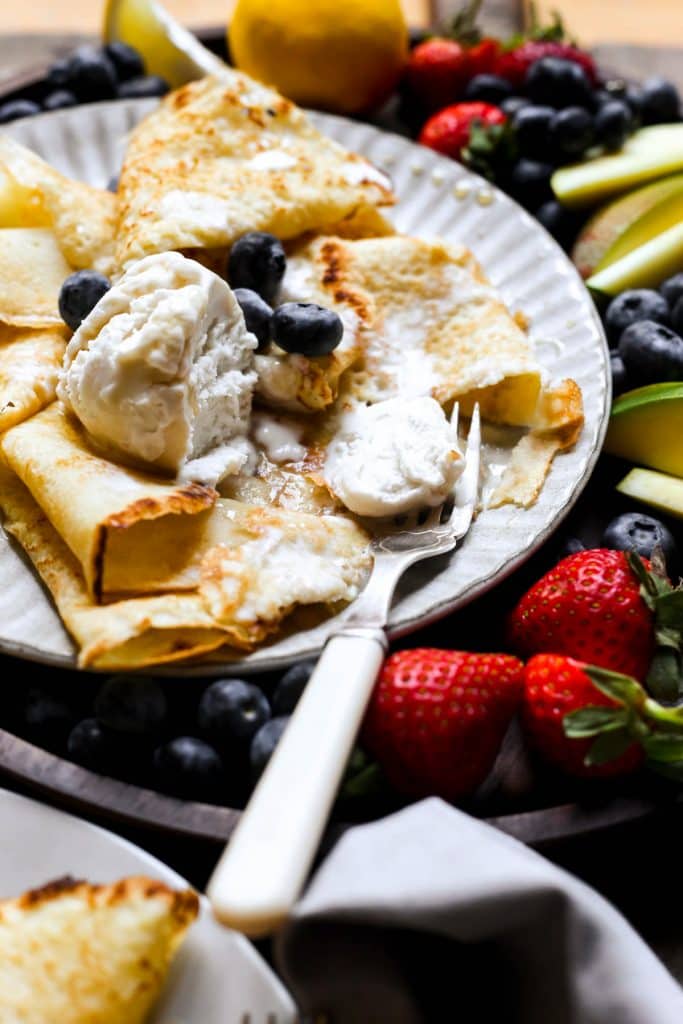 If you like this recipe then you may like...
Maple Galettes with Wiltshire Ham and Gruyere
Pumpkin Pancakes with Almond Maple Syrup
If you make these Gluten-Free Pancakes then please leave a comment below and give the recipe a rating which helps others find the recipe on Google. If you then go on to use this recipe as a launch pad for your own baking creation then I'd also love it if you'd share it and tag me on Instagram. It is so lovely for me to see your versions and variations of my recipes.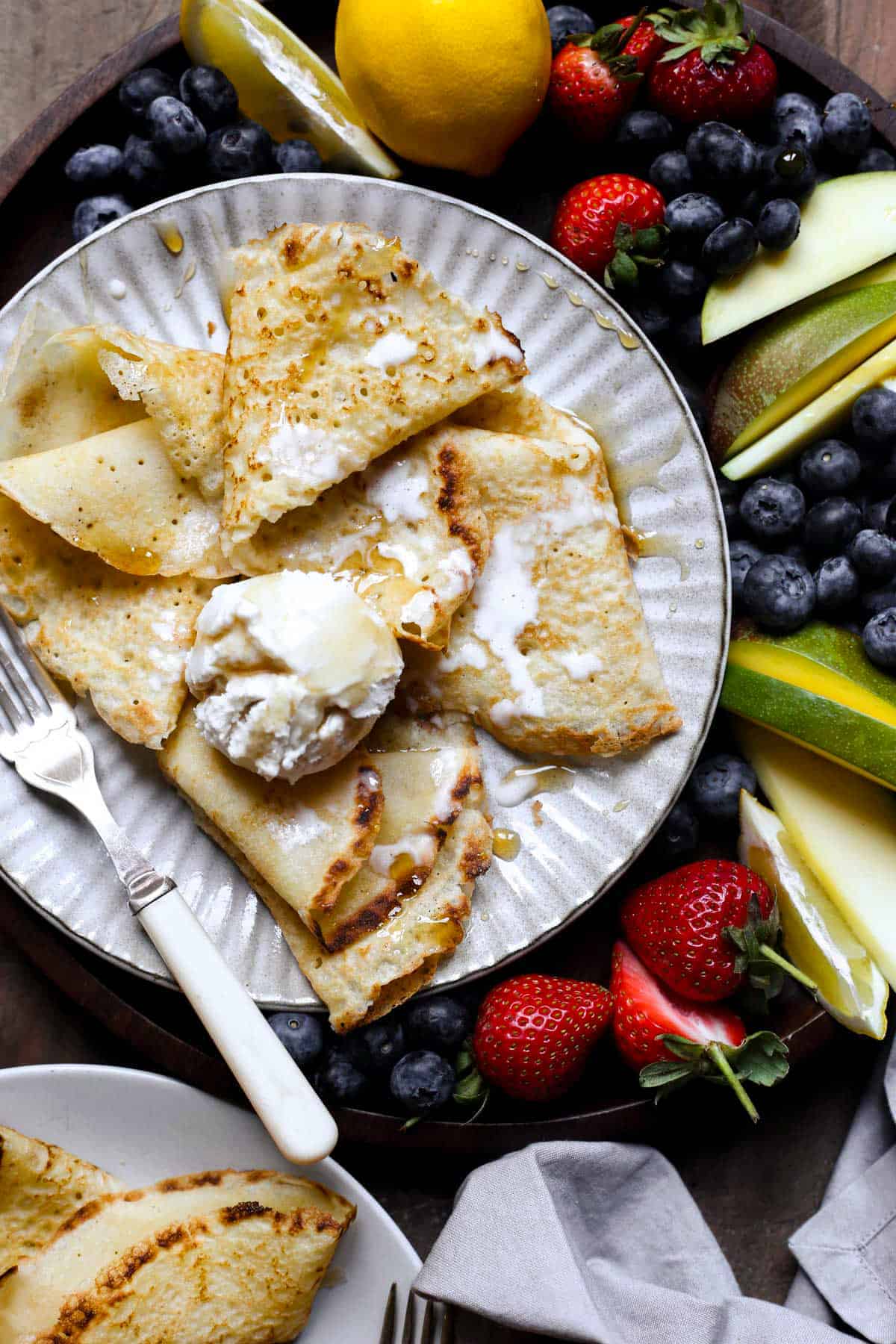 Best Gluten-Free Pancakes
These Gluten-Free Pancakes are delicious. Quick to make and ideal for Pancake Day. They are also dairy-free and without xanthan gum.
Ingredients
90

g

white rice flour

20

g

sweet rice flour

pinch

aof salt

2

eggs

200

ml

milk

-

dairy or non dairy

75

ml

soda water

30

g

coconut oil

-

melted* + 2 teaspoons extra for greasing the pan
Instructions
Whisk together the white rice flour, the sweet rice flour and the salt in a large mixing bowl.

Make a well in the centre and add the eggs, whisk in until the batter is extremely thick but not lumpy.

Stir the milk together with the soda water in a jug then pour into the batter, whisking all the while until the batter has thinned out and smooth.

Pour in the coconut oil and whisk in.

Add the 2 teaspoons of coconut oil into a small frying pan.

Ladle the pancake batter into the centre of the pan and swirl around so that it covers the base of the pan. The batter should be very thin so you can almost see through it. Don't touch the pancake for a minute or two. Bubbles should form from the bottom of the pancake and the edges should just start to crisp and turn golden. At this point flip the pancake, either using a spatula or freehand. Cook on the other side for a further minute or two until it starts to turn golden.

Remove the pancake from the pan onto kitchen paper to absorb the excess coconut oil.

Pour in your next ladle of pancake batter and continue until all the pancakes are made.

To keep the pancakes warm whilst you are cooking the others you can rest them in the oven set to a very low temperature.

Best served with dairy-free ice cream, maple syrup and fresh fruit
Notes
I used coconut milk, tinned with no added gums or stablilisers. You can use any milk, dairy or non-dairy.
You can use melted butter or ghee if you are happy to enjoy dairy.
Prep Ahead
You can make all the pancakes and store them in the refrigerator for up to three days, keeping a re-useable kitchen cloth between each pancake so they don't stick together.
To re-heat the pancakes heat 1-2 teaspoons of coconut oil to a small frying pan, then warm each pancake for about 20-30 seconds on each side.
Nutrition
Calories:
90
kcal
Carbohydrates:
9
g
Protein:
2
g
Fat:
4
g
Saturated Fat:
3
g
Cholesterol:
34
mg
Sodium:
22
mg
Potassium:
45
mg
Sugar:
1
g
Vitamin A:
80
IU
Calcium:
28
mg
Iron:
0.2
mg
Have you tried this recipe?
Head to the comment section and let me know what you think!