This post contains affiliate links. Please read my disclosures.
Whole Lemon Thyme Cake is the most vibrant naturally dairy-free and gluten-free lemon cake you will have tasted. The sponge is made using four whole lemons, boiled and pureed for the most authentic tangy flavour. Floral notes of fresh thyme are a perfect match for this flourless lemon cake.
Are your lemon cakes lacking in real lemony flavour? In the past mine have run that risk even after zesting lemon after lemon. Then often the extra lemon juice will make the cake too wet. So instead I'll turn to lemon extract for the extra flavour boost which just feels like a cheat.
So how do you get your lemon cake to taste like actual lemon?
The answer: Whole Lemon Cake. It works perfectly for a deliciously moist, ultra lemony lemon cake every single time.
How to make Whole Lemon Cake
You will soon have the perfect lemon cake consistency with the freshest lemony taste.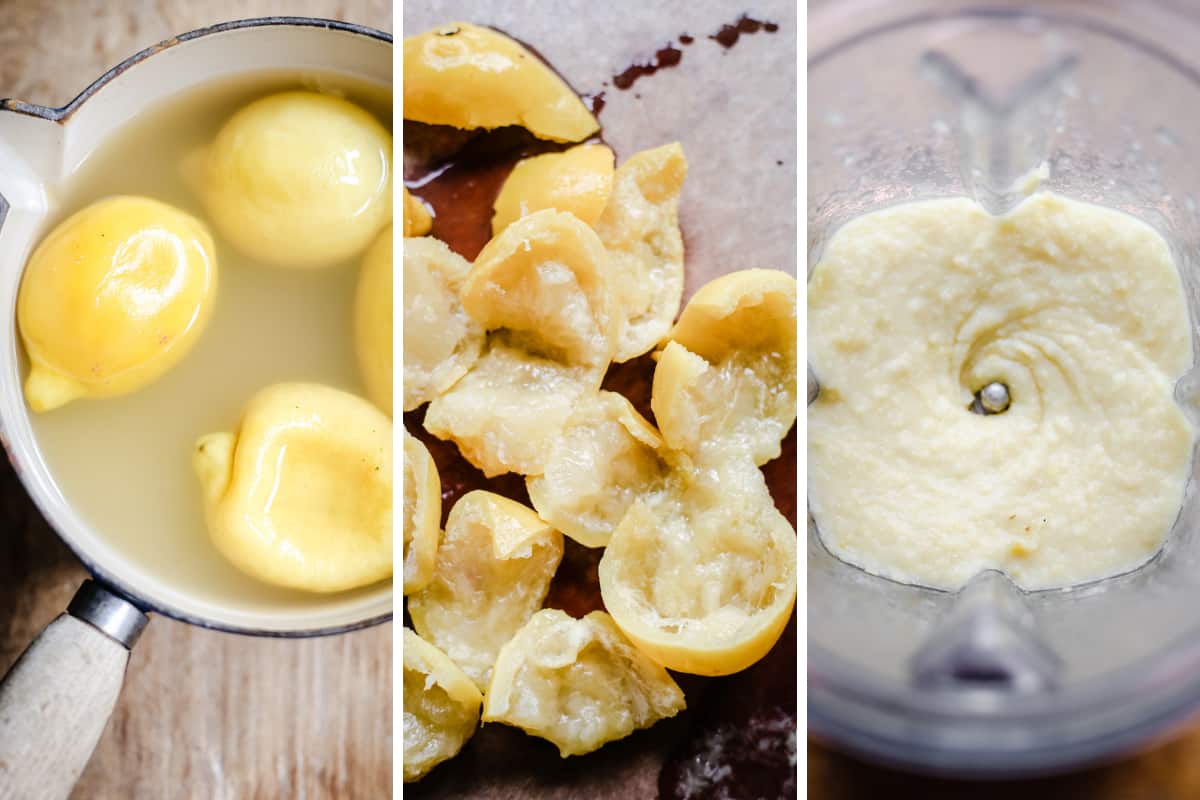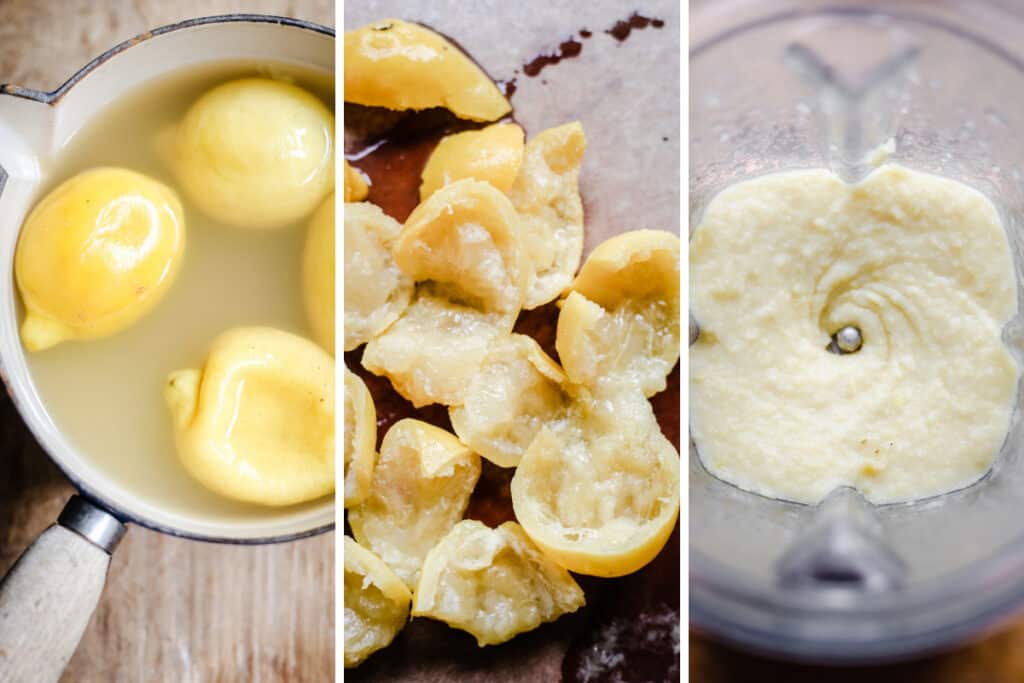 You can also use this method for Whole Orange Cake - have a look at these recipes:
Naturally Gluten-Free Lemon Cake
Lemon cakes are not the easiest gluten-free cake to master. The acidity of the lemon can play havoc with gluten-free flours meaning your gluten-free lemon cake can easily turn out gummy. However, if you dial back the lemon then you miss out on vital flavour.
How can you balance the ideal texture and lemony taste?
This easy lemon cake skips right over this problem by being entirely flourless. This allows you to concentrate on adding as much zingy fresh lemons to your batter as you can possibly muster.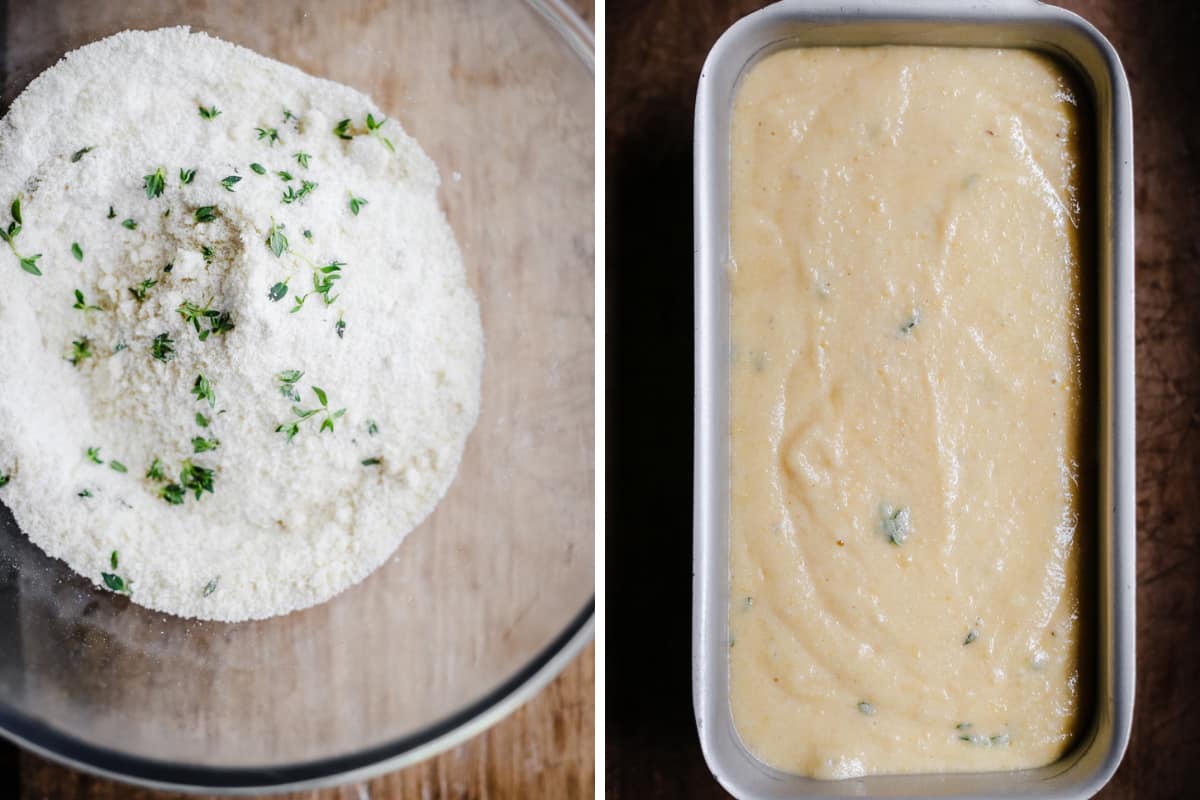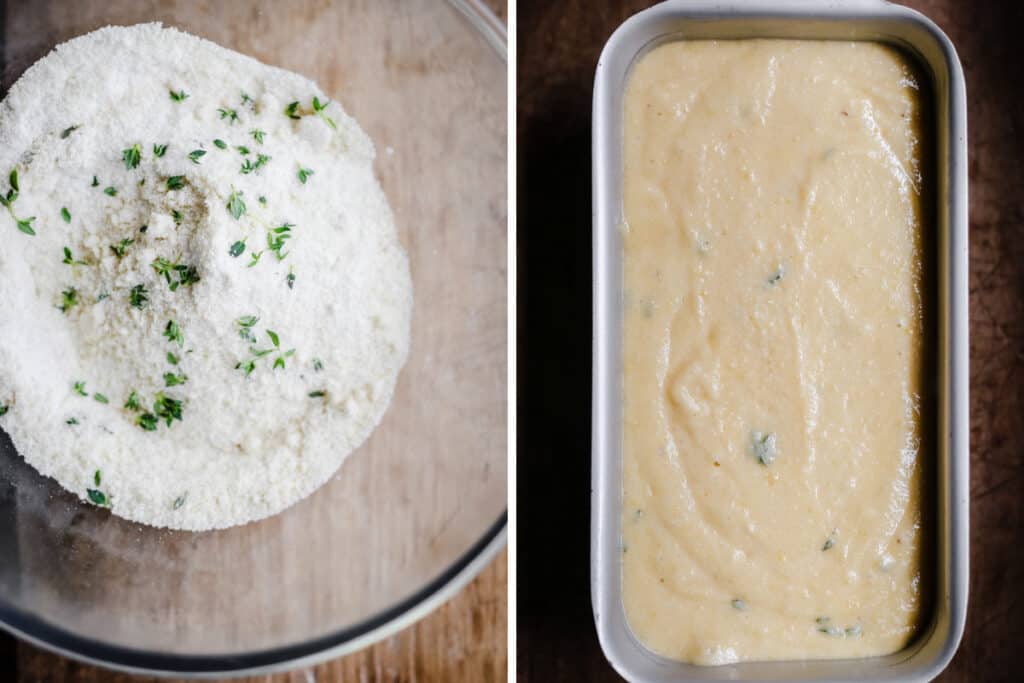 Flourless Lemon Cake
This recipe is a naturally gluten-free lemon cake as it boasts a completely flourless sponge. Instead we use:
The almonds which are high in protein make the sponge incredibly moist and the cornmeal gives the cake great structure. Although if to avoid a grainy texture use fine cornmeal.
Need more flourless cake recipes? Have a look at these 11 Best Flourless Bakes
Is cornmeal the same as polenta?
Yes and no. Cornmeal is actually the ingredient and polenta is the porridge like dish which originated from Northern Italy. However, sometimes you will confusingly find cornmeal labeled 'polenta' in the supermarket. It just means it's the right kind of cornmeal for making polenta.
Can you use ready-made polenta for this cake?
Unfortunately not. Ready-made polenta has already been cooked so it will alter the texture of this cake. It is best to use fine cornmeal or quick cooking 'polenta' for this whole lemon cake.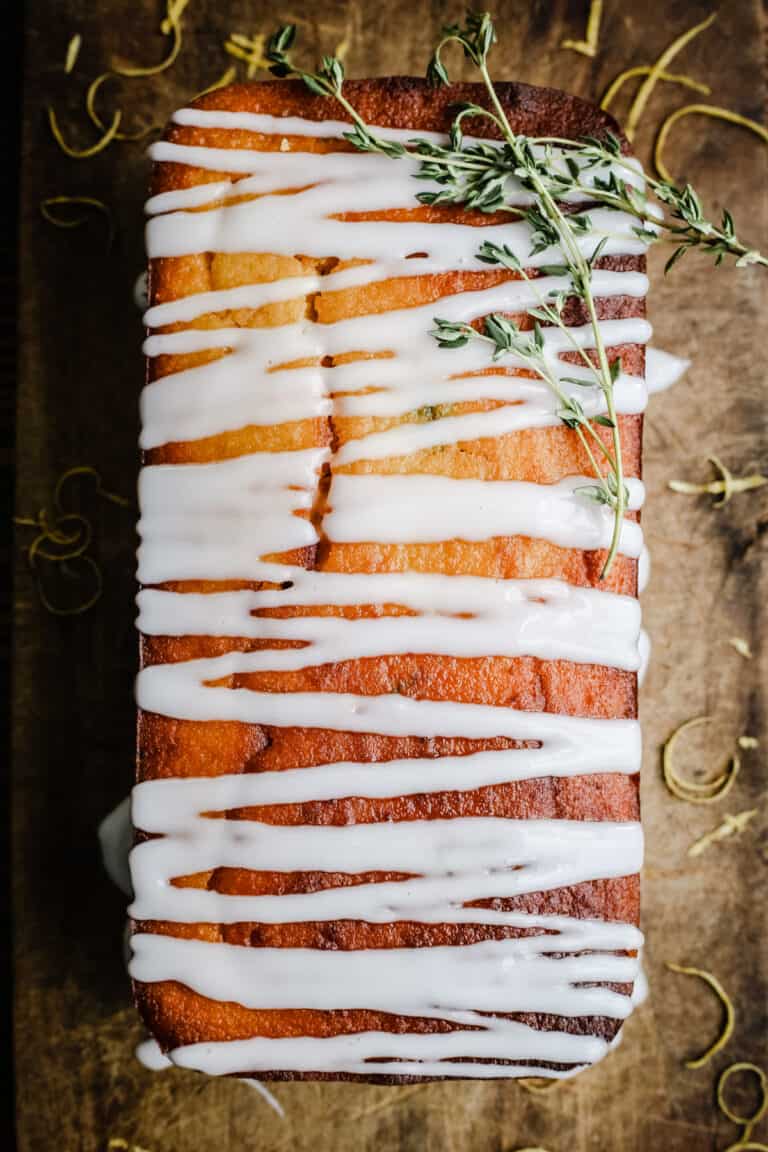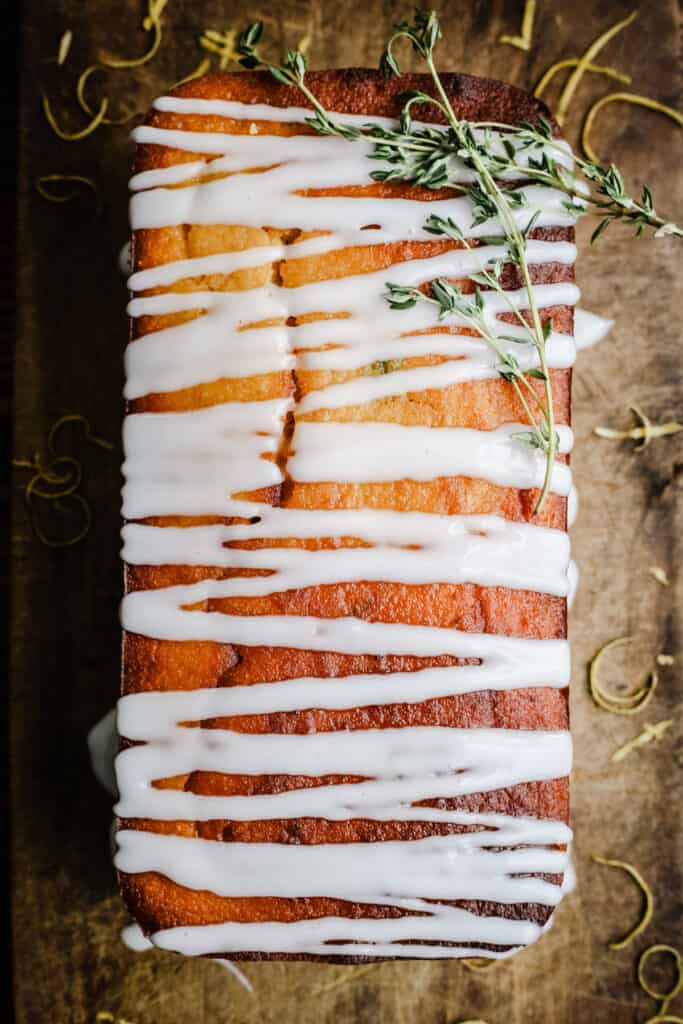 Can I substitute almond meal or almond flour?
Yes! The substitutions will change the texture of the cake slightly but nothing to be too concerned about. The almond meal with give the cake a softly nubby sponge. The almond flour will give the cake a tighter crumb. All variations are delicious though.
For more info on the difference between almond flour, almond meal and ground almonds READ MORE >>> The Ultimate Guide to Nut Flours
All the eggs
This Whole Lemon Cake uses a whole lotta eggs. Six to be precise. But that's what gives this lemon cake so much bounce and rise. Don't worry about it tasting eggy though, instead the lemon flavour simply shines through.
Dairy-Free Lemon Cake
Those six eggs and the beautifully fragrant lemon puree mean that this cake requires absolutely no other fat. No dairy, no oil even. Yet it is still so exquisitely moist.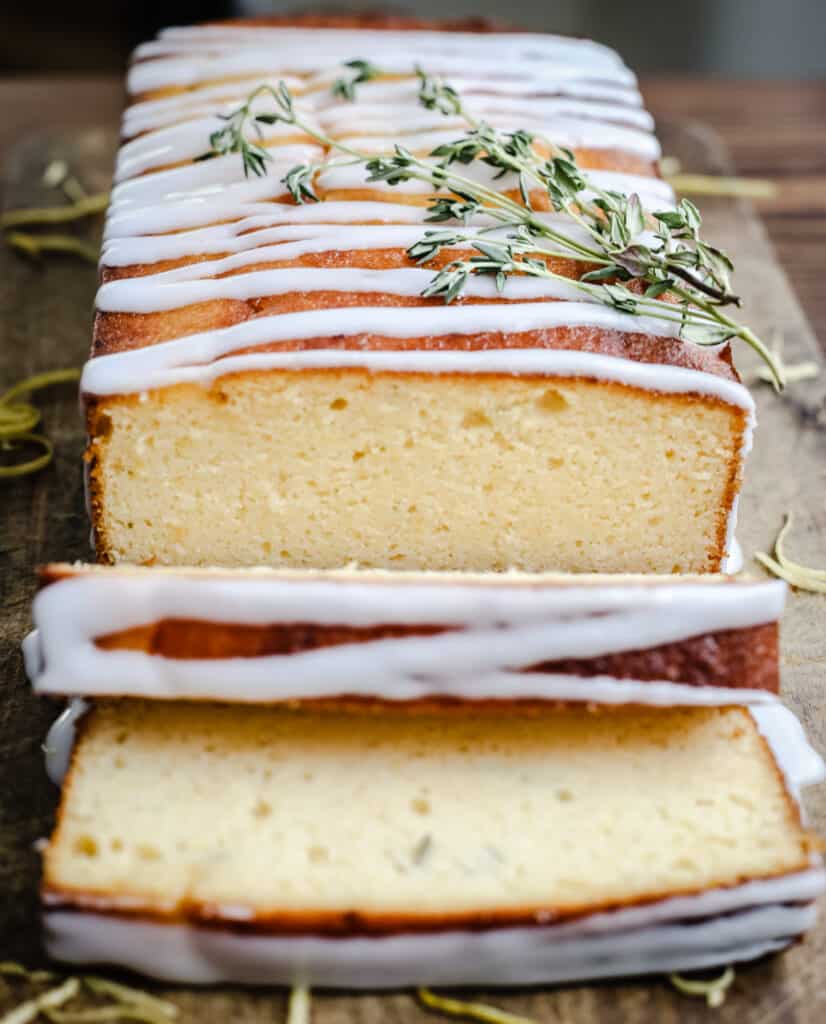 I need a little thyme
Have you tasted lemon cake made with thyme before? If you haven't then you really must. The herby floral notes of thyme pair so well with the zinginess of the lemon. You need to use fresh thyme leaves here. If you can't get hold of fresh thyme then just leave it out. Dried thyme isn't a substitute.
Baker's tips for success
Can you make this cake in a round tin?
Yes you can. Use an 8 inch round cake tin (4 inches deep) and the height of the cake will be perfect. Prepare and bake for the same amount of time as the loaf cake version (50 minutes).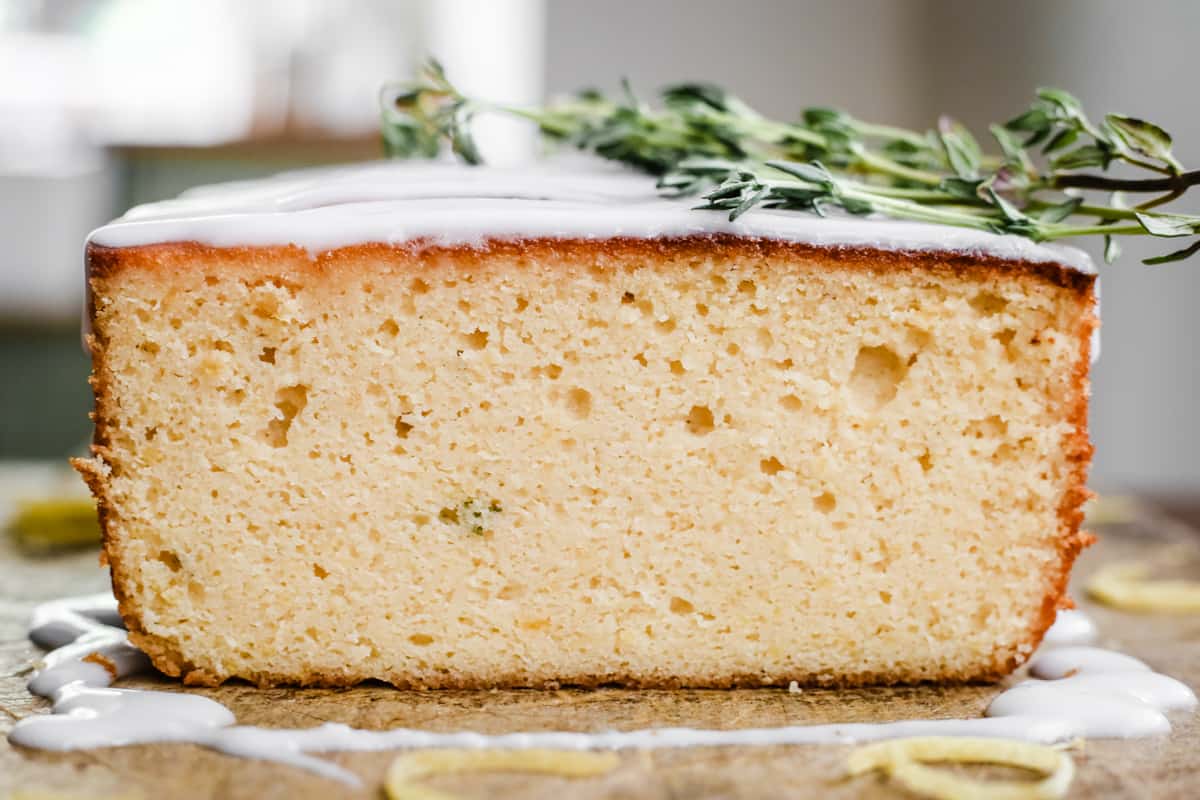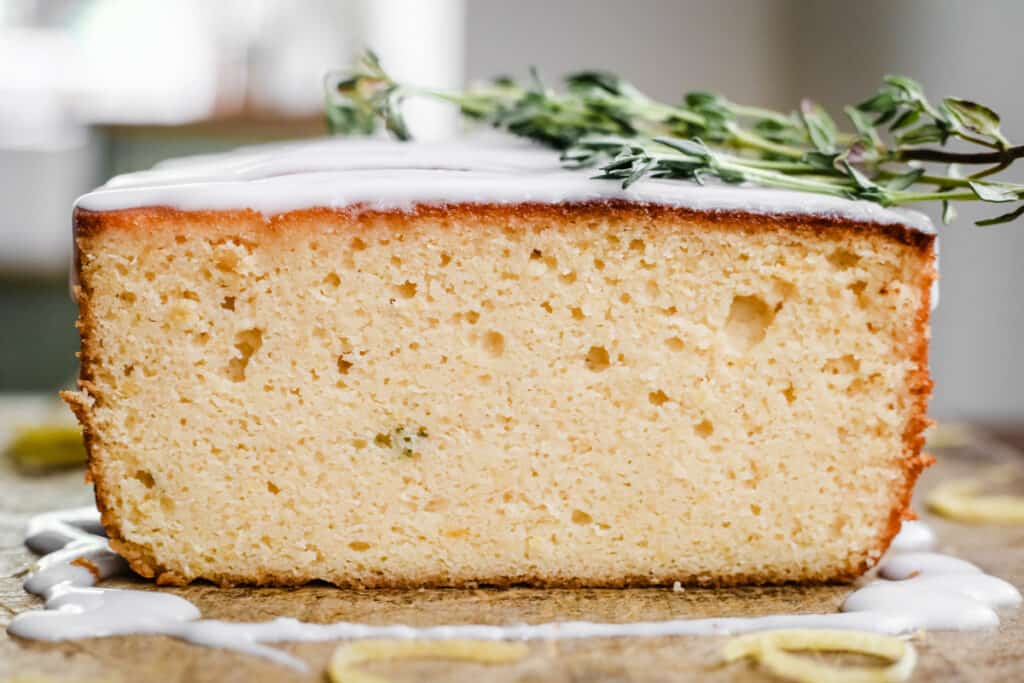 Are you interested in more citrus cakes? Have a look at these:
If you make this Whole Lemon Thyme Cake then please leave a comment below and/or give the recipe a rating. If you then go on to use this recipe as a launch pad for your own baking creation then I'd also love it if you'd share it and tag me on Instagram. It is so lovely for me to see your versions and variations of my recipes.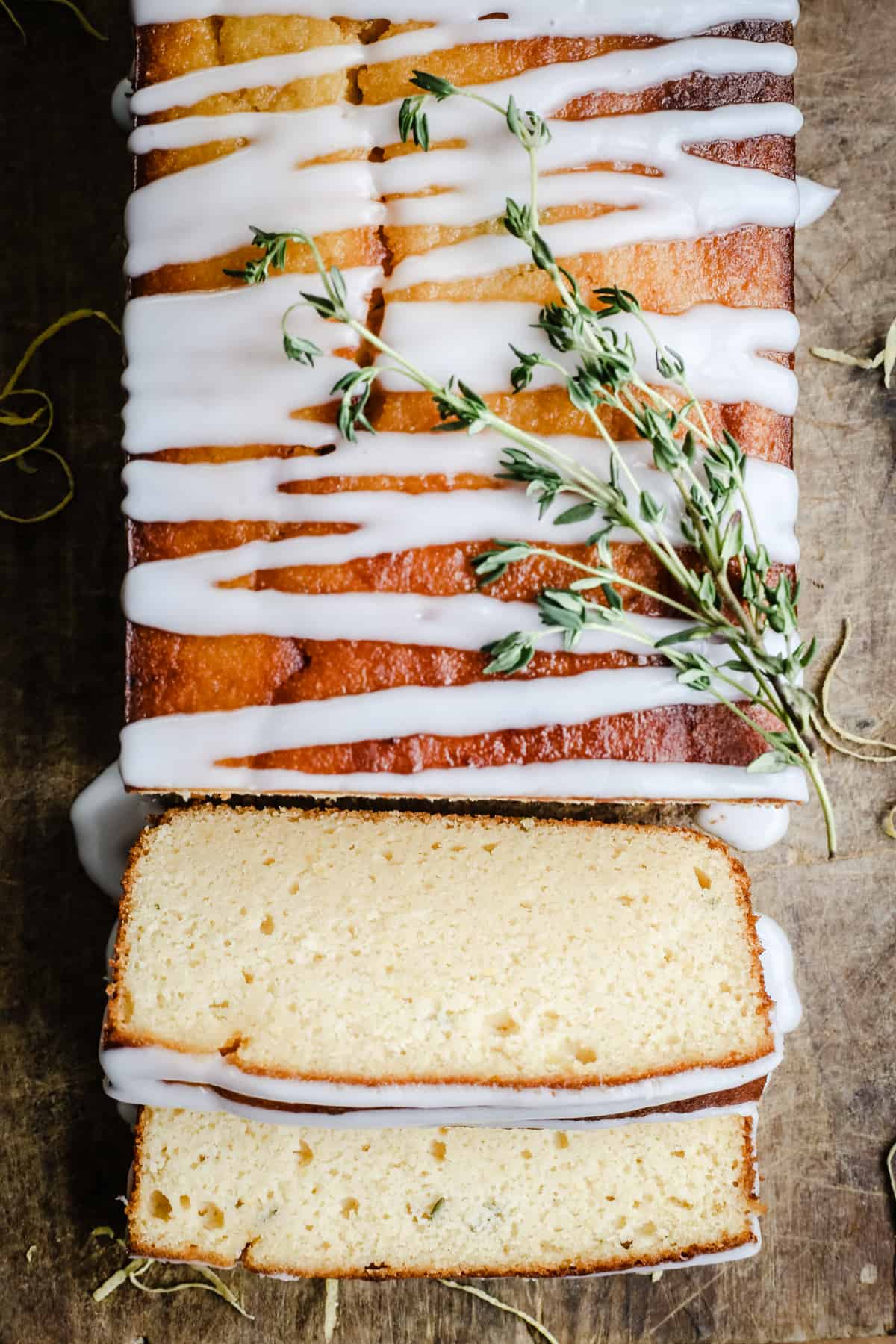 Whole Lemon Thyme Cake
Whole Lemon Thyme Cake is the most vibrant dairy-free and gluten-free lemon cake you will have tasted. Floral notes of fresh thyme are a perfect match for this naturally flourless lemon cake.
Ingredients
4

lemons

-

450g

6

eggs

-

medium

250

g

caster sugar

125

g

fine cornmeal

125

g

ground almonds

1

tablespoon

baking powder

1½

tablespoons

fresh thyme leaves

¼

teaspoon

salt

2

tablespoons

honey

2

tablespoons

water

100

g

icing sugar

½

lemon

-

juiced
Instructions
Place the 4 lemons in a saucepan and cover with water. Bring to the boil and then simmer for 1 hour.

Pre-heat the oven to 180°C /160°C fan/gas mark 4 and line and grease a 2lb loaf tin.

Remove the lemons from the saucepan. Cut in half to remove and discard the pips.

Place the lemons in a blender and blitz until smooth. Set aside for a moment.

Beat the eggs and sugar in a large mixing bowl (or food mixeuntil pale and thick.

Mix in the pureed lemons.

Add the cornmeal, ground almonds, baking powder, thyme leaves and salt. Mix until thoroughly incorporated.

Pour the batter in the prepared loaf tin and bake for around 45-50 minutes until an inserted toothpick comes out clean.

Remove the cake from the oven and prepare a honey glaze.

Melting the honey with 2 tablespoons water in a small saucepan. Brush the glaze over the cake whilst it is still in its tin.

Let the cake cool in the cake tin before removing and drizzling with lemon icing.

Make the lemon icing by stirring together the icing sugar and the juice of ½ lemon until thick but still just pourable.
Notes
The lemons can be boiled and pureed up to 3 days before making the rest of the cake.
You can substitute almond meal or almond flour for the ground almonds, but this will affect the overall texture of the finished cake.
The cake will keep for up to 5 days in an airtight container in a cool dark place.
Nutrition
Calories:
321
kcal
Carbohydrates:
56
g
Protein:
8
g
Fat:
10
g
Saturated Fat:
1
g
Cholesterol:
98
mg
Sodium:
99
mg
Potassium:
271
mg
Fiber:
4
g
Sugar:
40
g
Vitamin A:
200
IU
Vitamin C:
27.5
mg
Calcium:
110
mg
Iron:
1.9
mg
Have you tried this recipe?
Head to the comment section and let me know what you think!