This post contains affiliate links. Please read my disclosures.
These flourless bakes are easy to master naturally gluten-free recipes. They use everyday ingredients you can find in your larder. You can use oats, nut butter, polenta and desiccated coconut, even sweet potato, to create delicious cakes, cookies, traybakes and muffins.
Gluten-free baking can feel overwhelming. There are so many different kinds of flours. Maybe you have a small kitchen where keeping these flours isn't practical. I hear you, I have to keep mine under my bed. Trudging up and down the stairs with armfuls of flour every time I bake is no joke.
Are you craving some easy gluten-free recipes where you don't have to reach for the flour at all?
Perhaps you are a first time gluten-free baker and are keen to keep things simple.
These recipes are perfect for you. They are all naturally flour-free and require minimum effort and ingredients.
Is flourless the same as gluten-free?
Flourless cakes are typically gluten-free. However the meaning is slightly different. Flourless recipes contain no grain or starch ingredient ground into a flour. Gluten-free recipes contain no gluten which is mainly found in wheat flour.
In this collection of recipes I include a couple of recipes which use almond flour or ground almonds. Nut flours are not considered typical 'flours' since they are not made up of grains or starch.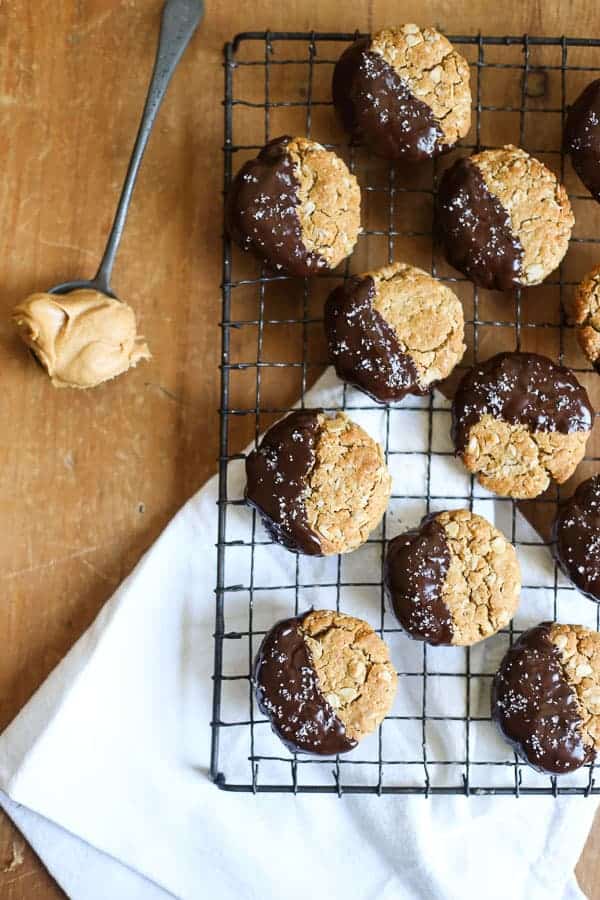 Peanut Butter Oaty Chocolate Cookies
Whole rolled jumbo oats, natural peanut butter, sugar and eggs are the main ingredients here. This recipe is incredibly quick to pull together and bake and the resulting cookie is amazing. Chewy and flavourful with an optional dipping of dark chocolate and flaked sea salt.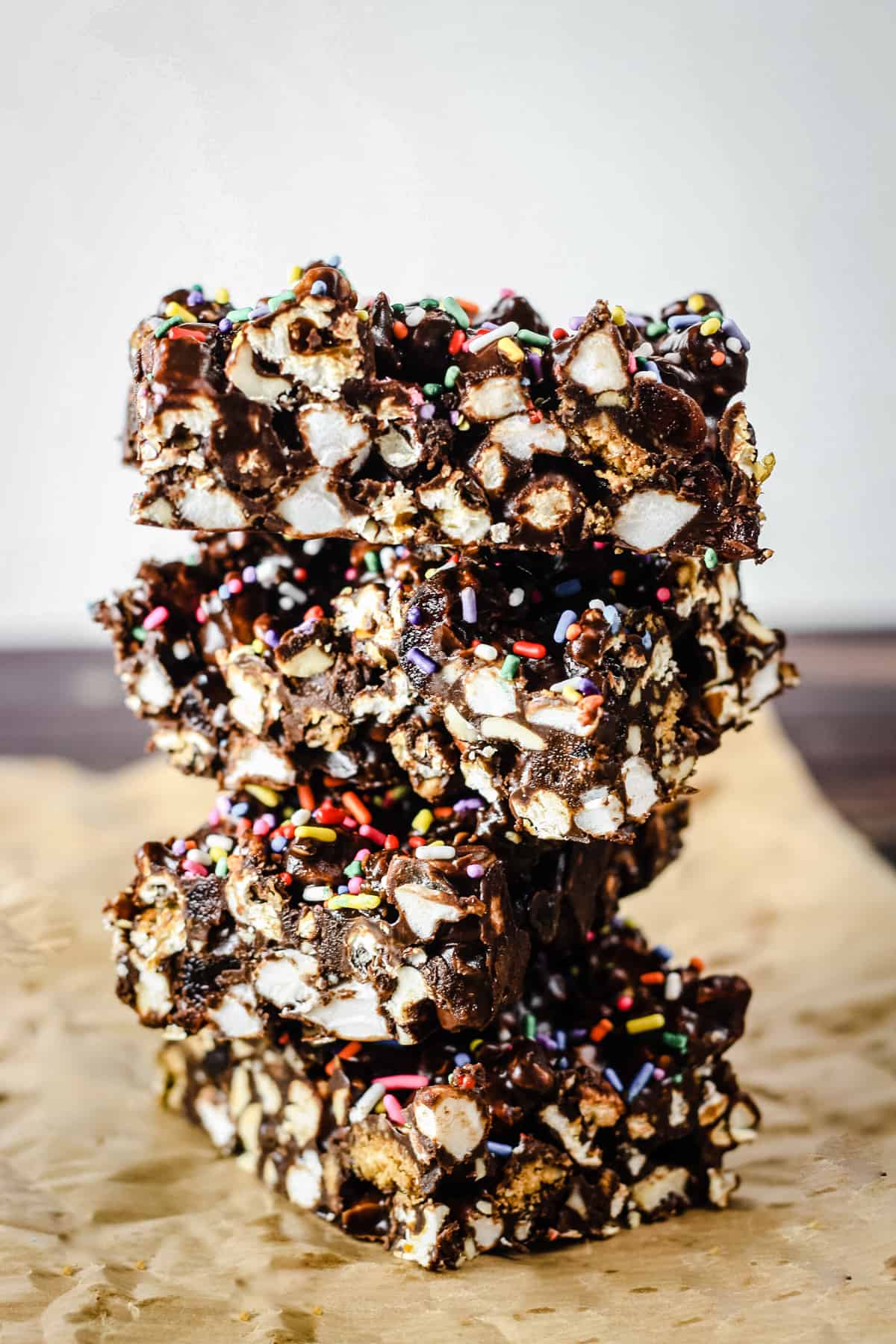 This Rocky Road is packed with sweet n' salty popcorn, crushed biscuit, marshmallow, cashews and dried fruit for the best Rocky Road in town. It's incredibly addictive with the most wonderful flavour and texture. Great recipe for a crowd of children and adults alike.
Do you need a recipe for Perfectly Sweet n'Salty Popcorn?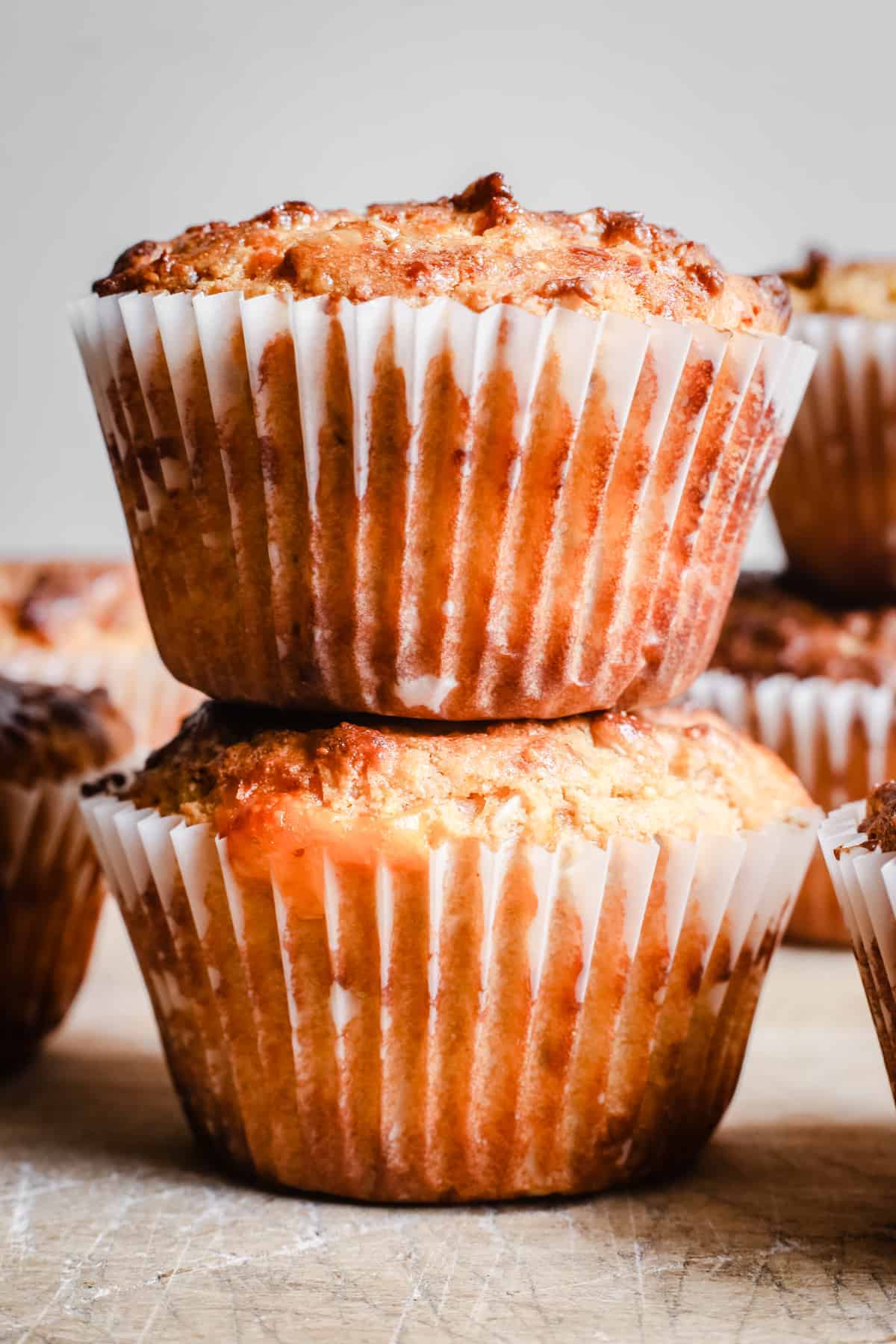 Cheesy Oat Bacon Breakfast Muffins
The perfect breakfast muffin. They are gorgeously cheesy with cream cheese and cheddar. Salty cured bacon is scattered throughout and we use a touch of honey for sweetness. This recipe does use almond flour with the oats but you can substitute for ground almonds if you need something totally flourless.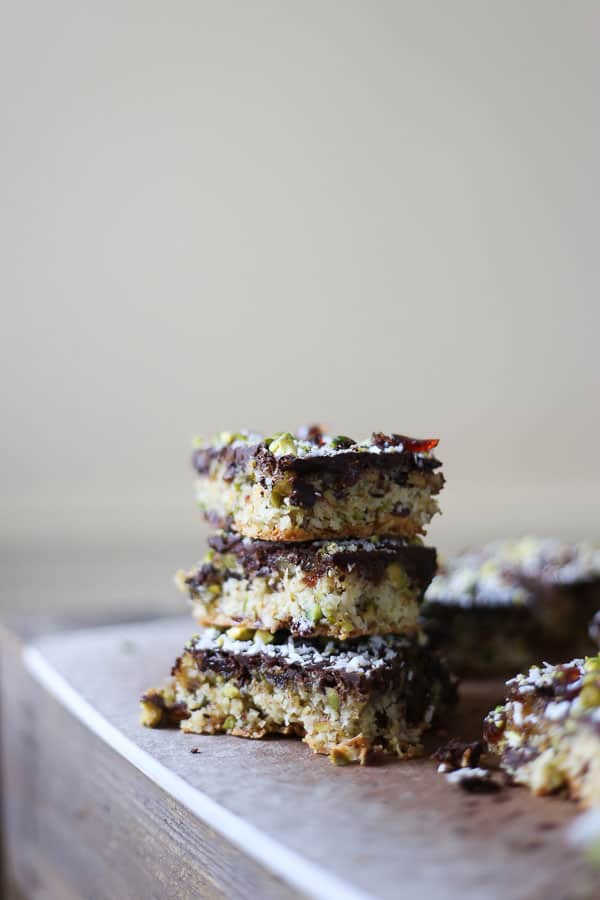 The bottom layer is chewy with desiccated coconut, pistachios, sultanas and cherries. It is baked on top of a layer of dark chocolate. When you turn the slice the right way up after baking the chocolate sort of soaks into the coconut layer which is utterly delicious. This cake is a perfectly portable traybake ideal for picnic weather.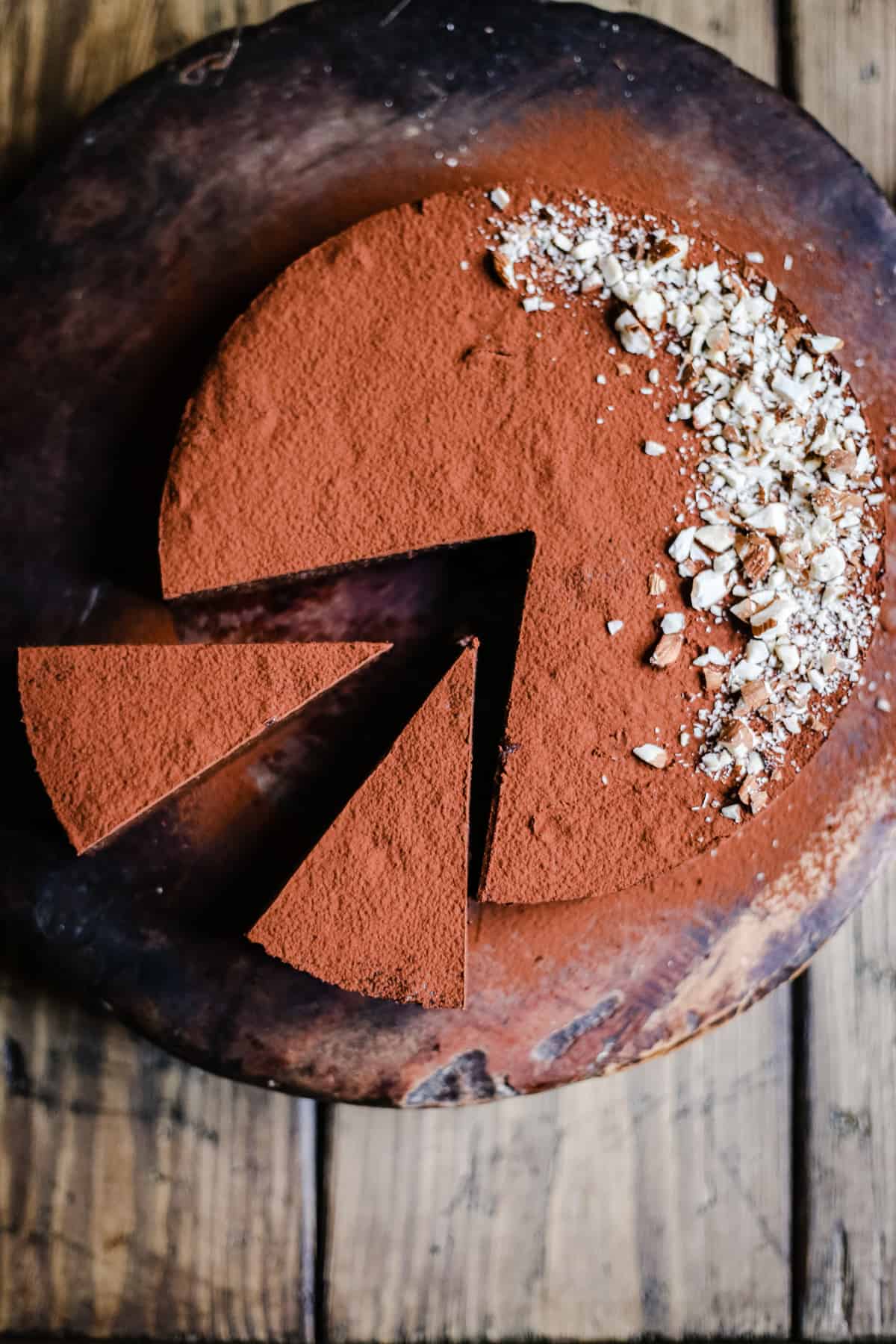 Sweet Potato Chocolate Truffle Torte
This is a decadent flourless torte recipe which is perfect for any occasion. It's also dairy-free and refined sugar-free. A one bowl cake made with sweet potato puree and almond butter for a gorgeously flavoured truffle textured cake. Sweetened with a touch of maple syrup.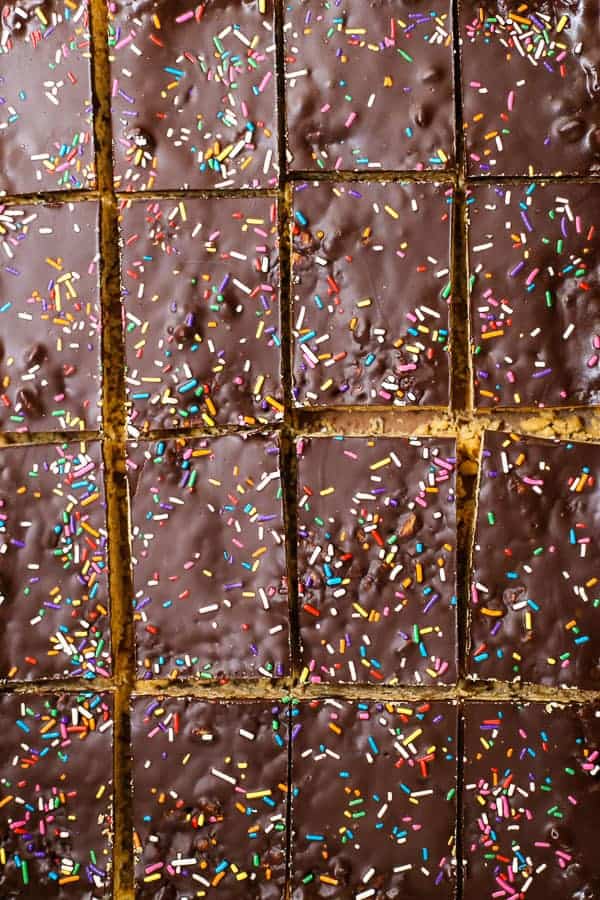 No-Bake Chocolate Peanut Butter Crispy Bars
Gluten-free rice crispies are bound with peanut butter and honey and topped with a glossy layer of dark chocolate. Always a winning recipe. Perfect to feed a crowd or donate to a summer cake stall. They last about two minutes on the table.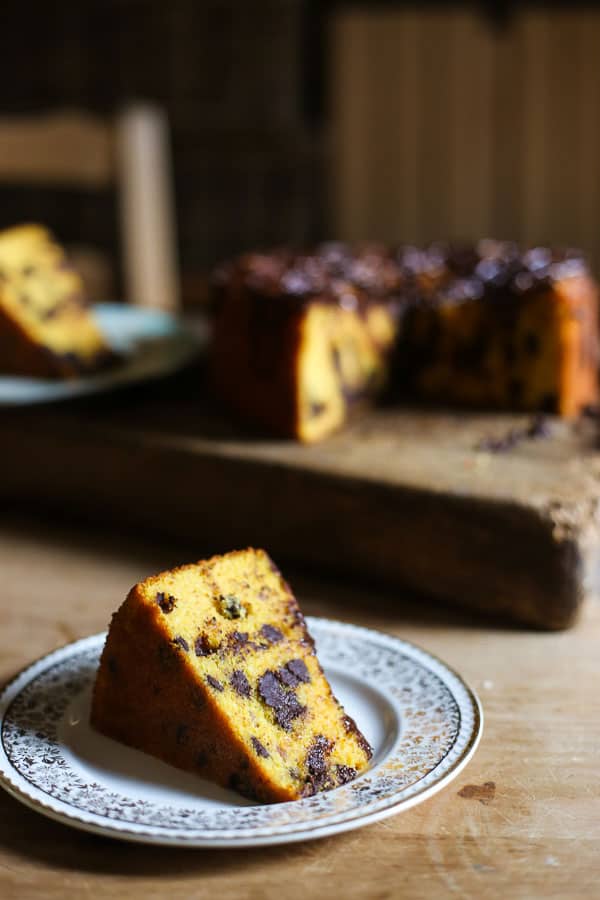 Whole Orange Chocolate Chip Cake
This cake also uses the whole orange method to create a gorgeously flavoured sponge. Chocolate and orange are a fantastic combination and here we use as many chocolate chips as we can handle for one of my most popular recipes on the blog.
These brownies are incredibly fudgy and intensely chocolatey. They are so easy to make and use just one bowl. The results are fantastic to create the perfect gluten-free brownie.
See here if you are interested in how to use more nut flours in your baking?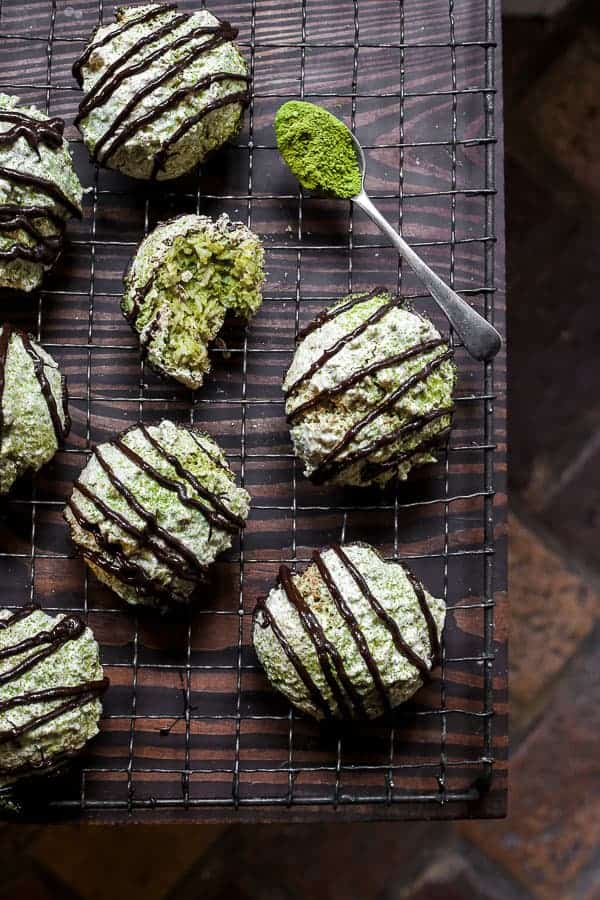 The delicious grassy taste of matcha infuses these coconut macaroons. Light and fluffy with a crisp outer crunch. The dip and drizzle of chocolate is totally optional but highly recommended.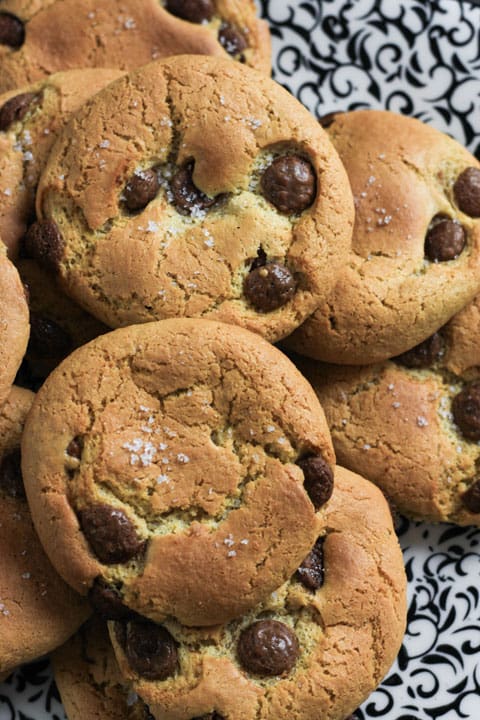 Easy Flourless Chocolate Chip Cashew Cookies
Cashew butter, sugar, an egg, chocolate chips and sea salt is all you need here. These cookies are chewy and satisfying. The cashew gives an underlying sweetness which isn't overpowering. So easy and quick to bake, you will absolutely rely on these cookies when that cookie craving hits.
Do you need a recipe for Homemade Cashew Butter?
If you make any of these Flourless Bakes then please leave a comment below and/or give the recipe a rating. If you then go on to use this recipe as a launch pad for your own baking creation then I'd also love it if you'd share it and tag me on Instagram. It is so lovely for me to see your versions and variations of my recipes.
PIN THIS POST TO READ LATER!