This post contains affiliate links. Please read my disclosures.
These are the best Gluten-Free Yorkshire Puddings. Majestically tall and crisp with a fluffy breaded interior making them absolutely ideal for mopping up the gravy after your Sunday Roast.
Nothing beats a roast dinner. Every Sunday without fail when I was a child my Dad would make us a lavish Sunday Roast. He was a wonderful cook. The table would be properly set, the meat resplendent in the centre as a vast array of beautifully prepared vegetables, crisp and fluffy roast potatoes, onion sauce, gravy and Yorkshire puddings would surround this magnificent offering. These Sunday lunches were incredibly important to us as a family and I remember them vividly.
Perhaps in my early twenties my Sunday Lunches were a bit more sporadic and mostly consumed hungover at our local pub. But as soon as Luke and I moved in together to become our own family unit then without fail every week we made a Sunday lunch together. Now we're a family of four and our Sunday lunches are as important as ever. Luke works too late to eat with the family during the week so it's one of the few times we can sit together and all eat the same meal as a family. Even when I'm at the market stall and don't finish until 3 or 4pm we'll rush home and bung a joint in the oven so we can scrape together a simplified Roast Dinner before the children's bedtime.
Of course Yorkshire Puddings are traditionally served with roast beef but you are missing a trick if that is the only time you will eat them. We love our yorkshires and back in the day Dad would happily make them from scratch every week to serve with the beef or chicken or lamb or pork. And I do the same today. Even our festive table would not be complete without Yorkshire Puddings served alongside our turkey.
After I became gluten-free I stopped making Yorkshire Puddings to go with our Sunday lunch, I just didn't think you could make them the same, in much the same way that I was unconvinced about gluten-free cakes.
Over the years I've been experimenting though and the time I was finally able to make a complete gluten-free Sunday Lunch without skimping on any of the trimmings, including gravy, Yorkshires, stuffing and cauliflower cheese without anyone noticing any difference I could rejoice.
Good Yorkshire Puddings should be sky high, crisp on the outside with a beautiful fluffy interior so you can use them to mop up your gravy when the rest of your meal is complete.
It's taken me a bit longer to perfect my Gluten-Free Yorkshire Puddings, we were pretty much eating glorified pancakes that stuck resolutely to the baking tin for the best part of the last two years. In the last few weeks though I set myself a challenge to get them perfect. Oh my golly gosh have I succeeded. It is no word of a lie that these Gluten-Free Yorkshire Puddings are not only the best gluten-free Yorkshire puddings you will ever eat but the best Yorkshires full stop.
Too often you can have regular wheat Yorkshire puddings and the chef will rely too much on the size and height. Guys, it's not the size that counts yada yada yada. A crisp Yorkshire that is all tall golden shell without the bready interior is a pointless affair. It's like serving up a pie with no filling. These Gluten-Free Yorkshire Puddings are beautifully tall without showing off but the perfectly baked chewy fluffy substance of the puddings is their real crowning glory.
I love gluten-free flours and I don't care who knows. The key to these Gluten-Free Yorkshire Puddings is in the gluten-free flour mix. I don't normally pair sweet rice flour with regular white rice flour as I thought they would squabble but now I see that they are perfectly compatible. Sweet rice flour adds the chew, the sticky bind of the pudding. The white rice flour is beautifully neutral with the sweet rice counteracting its more grainy drying qualities. And the potato flour is necessary to draw the moisture out of the sweet rice flour and adding the crisping element which gives our puddings their wonderful initial crunch.
So that the Yorkshires don't stick to the muffin tin you must grease it really well, both in the holes and on the surface of the tin. I use spray grease, the same kind I use with my baking. Then you must put ½ teaspoon of good fat in the bottom of each hole. Your best choice will be the dripping of whatever meat you are roasting, but if you are making the puddings to serve along something other than a roast dinner or you are a veggie, then use a fat with a high smoking point instead. I use ghee and it works incredibly well.
I don't bother really resting the batter, I haven't found it makes enough difference for it to be worthwhile, the Yorkshire Puddings are just as scrummy baked straightaway after making. So as long as you have all the right ingredients then really there is only one final tip you need to adhere to and you will see it in every single Yorkshire recipe around. You must put the greased tin in the oven at a high temperature for at least 10 minutes for the fat to really sizzle. As soon as you pour your batter into the hot fat it needs to start cooking immediately. This will give your puddings their essential rise.
If you are making to serve alongside a roast meat, then I suggest as soon as your meat is ready, turn up the oven to the right temperature and you can cook your Yorkshires in the twenty minute resting period of the meat. It will all work out perfectly.
SHOP THE RECIPE
If you like this recipe then you may like...
I urge you to give these Gluten-Free Yorkshire Puddings a try, they are so easy and delicious. If you do make these Gluten-Free Yorkshire Puddings then please leave a comment below and give the recipe a rating which helps others find the recipe on Google. If you then go on to use this recipe as a launch pad for your own baking creation then I'd also love it if you'd share it and tag me on Instagram. It is so lovely for me to see your versions and variations of my recipes.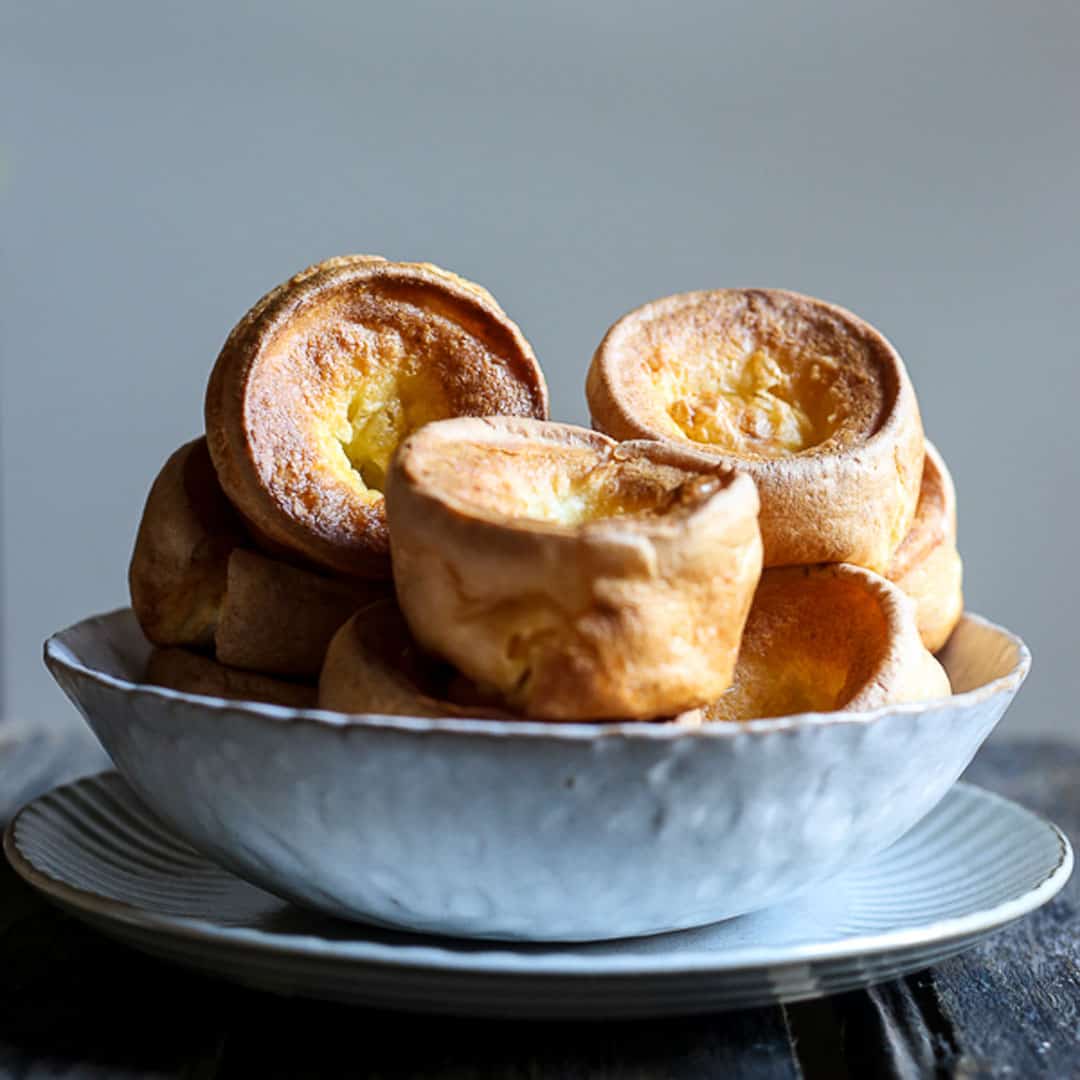 Gluten-Free Yorkshire Puddings
These are the best Gluten-Free Yorkshire Puddings. Majestically tall and crisp with a fluffy breaded interior making them absolutely ideal for mopping up the gravy after your Sunday Roast.
Ingredients
300

ml

whole milk

4

eggs

100

g

sweet rice flour

100

g

white rice flour

50

g

potato starch

½

teaspoon

salt

2

tablespoons

ghee or dripping from your roast meat
Instructions
Pre-heat the oven to 220°C fan assist/200°C/gas mark 7.

Completely grease a 12 hole muffin tin with spray oil if you have it. Then drop in either ½ teaspoon ghee into the bottom of each hole or some of the dripping from your roast meat.

Place the tin in the oven and heat for 10 minutes.

In a jug whisk together the milk and eggs until smooth. Set aside for a moment.

In a large mixing bowl whisk together the flours and salt then make a little well in the centre of the flours and pour in the milk and eggs whisking all the time until the batter is smooth.

Pour the pudding batter into a jug for easy pouring. Then remove the muffin tin from the oven and straightaway pour the batter almost to the top of each hole.

Place the tin back into the oven and cook for 20 minutes.

The Yorkshire puddings should be crisp and have risen gallantly. Serve immediately.
Notes
Adapted from Jane Grigson's Yorkshire pudding which I made for years before becoming gluten-free. Can't believe I'm saying this but I actually prefer this GF version (sorry Jane!)
Nutrition
Calories:
133
kcal
Carbohydrates:
18
g
Protein:
3
g
Fat:
4
g
Saturated Fat:
2
g
Cholesterol:
63
mg
Sodium:
130
mg
Potassium:
107
mg
Sugar:
1
g
Vitamin A:
120
IU
Vitamin C:
0.2
mg
Calcium:
39
mg
Iron:
0.4
mg
Have you tried this recipe?
Head to the comment section and let me know what you think!