This post contains affiliate links. Please read my disclosures.
Picnic Slice basically lives up to its name, a perfectly portable treat to slip into your picnic basket for days out. Naturally gluten-free by eschewing all flour and focusing on its coconut macaroon-like tendencies, these are light, packed with fruit and nuts and covered in plenty of chocolate.
When the weather is good, the inclination to picnic is ever so tempting. I have romantic notions of a tartan rug strewn politely across lush grass, an iced bucket housing a chilling fizz, bountiful strawberries, an array of carefully curated salads fresh with herbs and leaves. Perhaps a roasted chicken takes centre stage, with carefully carved slices fanned out on delicate china. I might have been influenced by a little too much Merchant Ivory.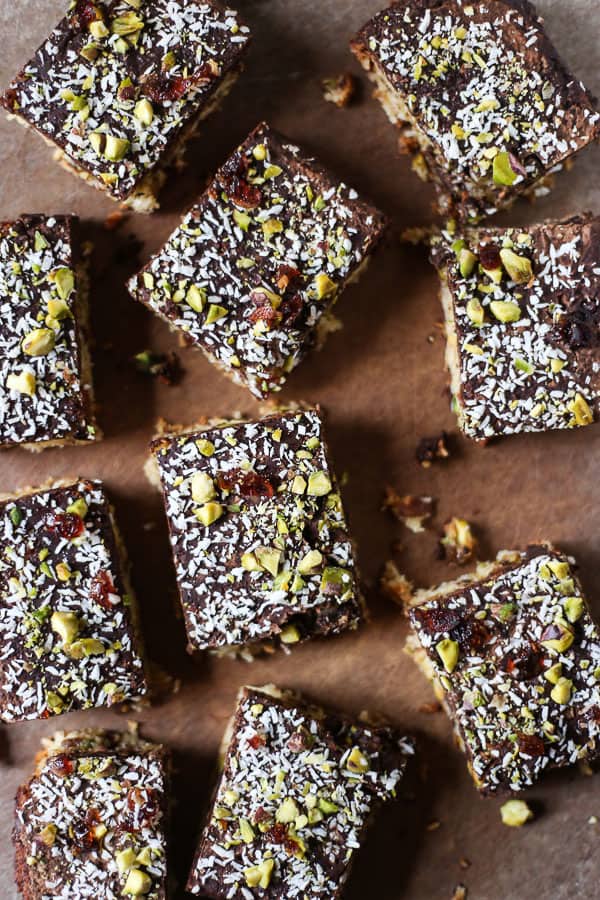 The reality of picnics of course, especially in the UK, is laughably different. First off, if you are not dissuaded by the ominous clouds which will no doubt appear as soon as the magic words of picnic are uttered then really you've won half the battle. But there are also other little reminders of reality that can dispel your dreamy idyll.
• The rug is always forgotten, meaning a damp bum is inevitable.
• Picnic tables are a much better bet but if you find a free one on a particularly sunny day then it's probably because it's covered in bird poo.
• Cutlery always seems an afterthought, I usually end up eating my picnic with Cole's plastic spoons having been unable to cobble together anything more civilised for the adults.
• There are no highchairs so toddlers are fully able to leap down off picnic benches without eating anything more than a chocolate biscuit and run off to chase the nearest squirrel.
• Or if you're on the ground the same toddler will happily launch themselves across the rug towards the crisps, splattering houmous everywhere and squashing the sausage rolls.
• Plus on a slightly more personal bugbear picnics are just a little more of a bother if you're gluten-free since you can't just throw together an acceptable ham sandwich or do an M&S sweep of mini samosas and pork pies. Usually more time in the kitchen is in order which really puts the kibosh on impromptu picnic experiences.
• And if you really want to quibble with these lazy hazy summer days then fizz in the sun is the surest way to serve up hangovers to accompany the journey home.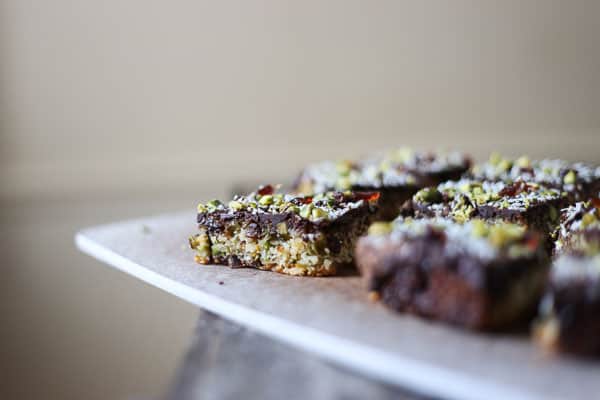 Still we soldier on as visiting National Trust properties or a day trip to the zoo just isn't the same without a picnic break. With our picnics I usually keep it simple with my standard Coronation Chicken Salad and of course a generous helping of cake.
I love a portable cake, something you can wrap in foil, tuck into a coolbag and it still look the business when you unwrap it a couple of hours later.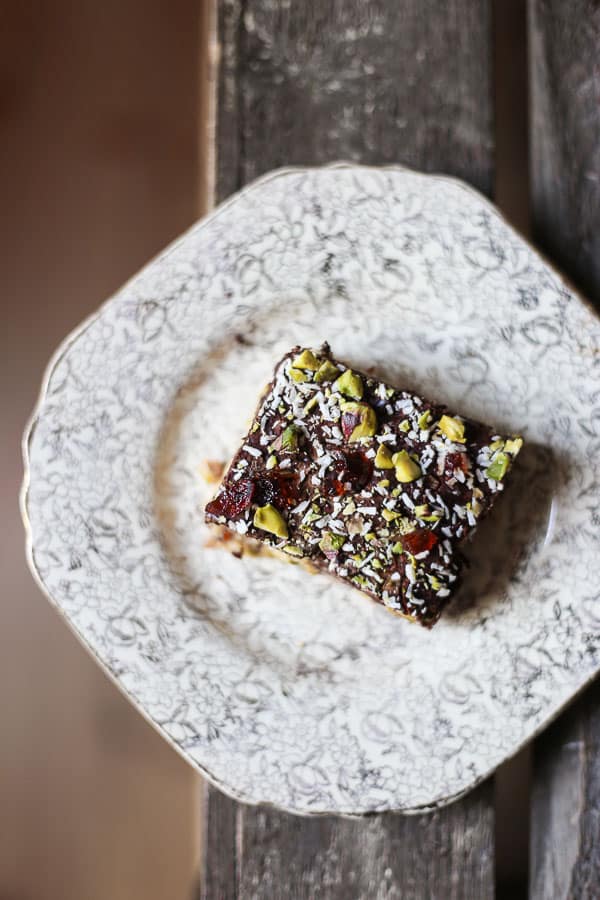 I found this recipe for Picnic Slice in an absolute gem of a cookbook called The Classic 1000 Cake and Bake Recipes. It was given to me as a secret santa gift a million years ago and it has an absolute treasure trove of quick, easy homestyle bakes that can be slammed together in no time. When leafing through it the other day for something fun and easy to make that Cole could get involved with this Picnic Slice caught my eye. I loved the name and was thrilled when I saw that the recipe contained no flour whatsoever so is the perfect naturally gluten-free bake. Although as I write this I can see my fatal error as I didn't actually cut the cake into slices but bars instead. I'm sure no one will notice.
The finished result was a little bit like a glorified coconut macaroon but with more nuts and dried fruit going on. I added pistachios to the original recipe which was definitely a good idea. It is also pretty excellent for showing off your Homemade Glacé Cherries should you be so inclined. Usually Cole can get a little bored by baking with mummy but the thrill of plucking the odd pistachio and glacé cherry out of the bowl kept him entertained the whole time.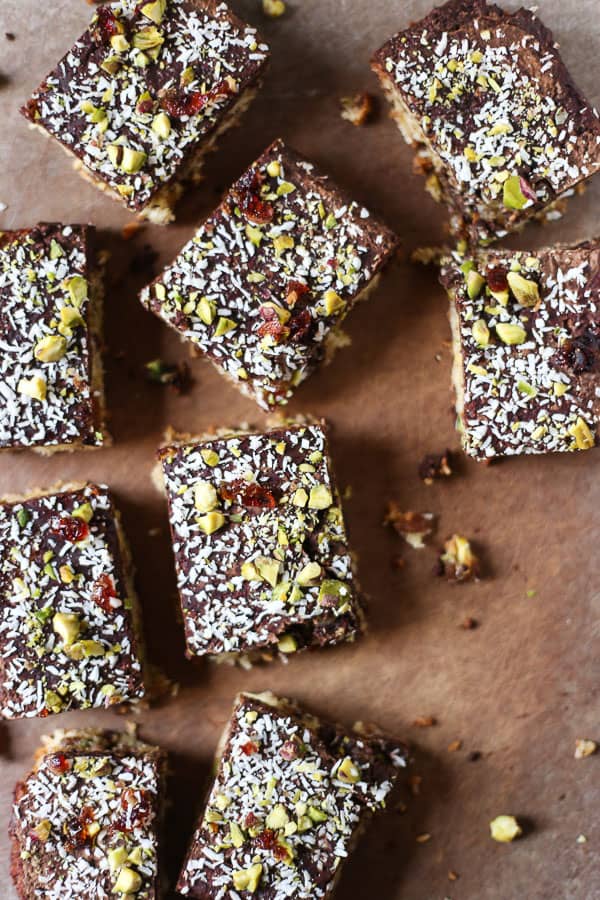 It was an odd recipe though, requiring you to pour the melted chocolate into the bottom of the cake tin, then dollop the coconut batter on top before baking it in the oven. Usually I wouldn't put my melted chocolate back in the oven as it messes around with the temper of the chocolate too much and would lead to white streaks across a dull surface. This did kind of happen, especially after I chilled it in the fridge afterwards which I would definitely recommend so they retain a better structure. Plus they are pretty yummy cold.
I debated over changing the method slightly so the melted chocolate is drizzled over after the coconut layer has been baked but I did love the way that the chocolate wraps around and sort of soaks into the coconut layer beneath in the original recipe. Plus if you scatter across enough accoutrements over the surface of the Picnic Slice then the slightly streaky chocolate beneath isn't a problem.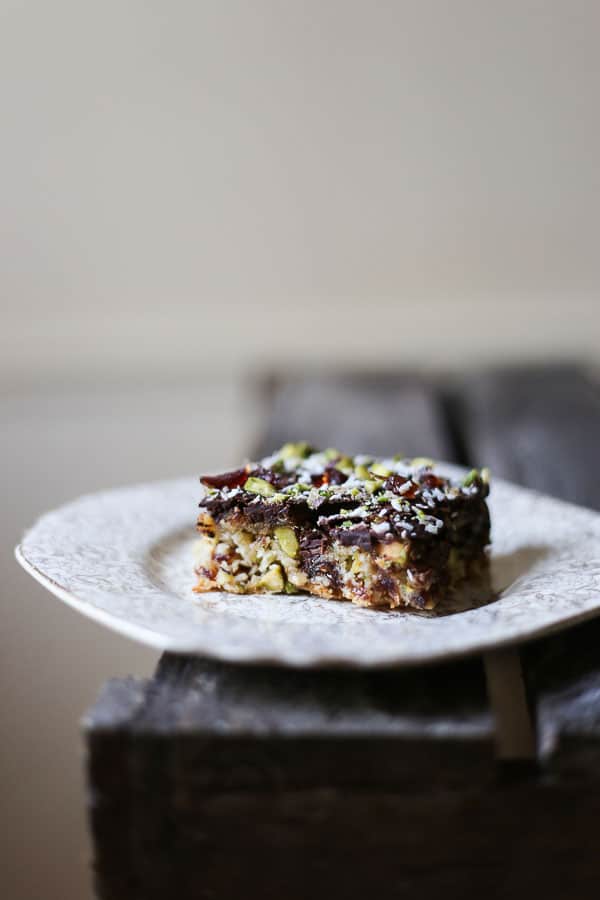 So here's to the next picnic, of which our tried and tested Picnic Slice will definitely be a part of. Now we just have to hope for clear skies, a free clean table and a compliant toddler. At least the Picnic Slice doesn't require cutlery.
If you like this recipe then you may also like...
If you make this delicious Picnic Slice recipe then please leave a comment below and/or give the recipe a rating. If you then go on to use this recipe as a launch pad for your own baking creation then I'd also love it if you'd share it and tag me on Instagram. It is so lovely for me to see your versions and variations of my recipes.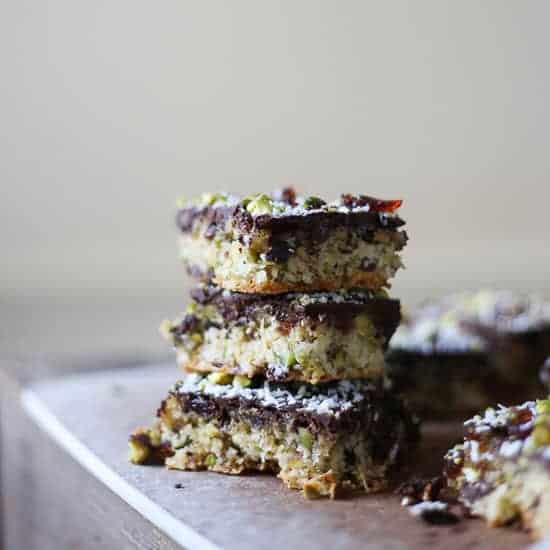 Picnic Slice
Naturally gluten-free, these treats are light, packed with fruit and nuts and covered in plenty of chocolate.
Ingredients
225

g

dark chocolate

¼

teaspoon

salt

100

g

unsalted butter

-

room temperature

150

g

caster sugar

2

eggs

-

lightly beaten

100

g

desiccated coconut

-

+ 1 tablespoon for decoration

75

g

pistachios

-

roughly chopped (+ a few roughly chopped for decoration)

75

g

sultanas

75

g

glace cherries

-

roughly chopped (+ a few roughly for decoration)
Instructions
Pre-heat the oven to 150°C and line and grease an 8 inch square cake tin.

Melt the chocolate with the salt in a bain marie or a glass bowl sitting over simmering water then pour into the bottom of the cake tin. Leave to rest whilst you prepare the batter.

Cream the butter and sugar together until light and fluffy.

Add the eggs one at a time and mix until combined.

Then tip in the coconut, pistachios, sultanas, cherries and again beat until the batter has come together.

Pour the batter evenly over the chocolate.

Bake for 30 minutes.

Leave the Picnic Slice in the tin for 10 minutes to set a little then carefully remove, turn upside down so the chocolate is on the top and set onto a wire rack.

Scatter the extra pistachios, coconut and cherries over the top then leave to cool to room temperature.

Store the Picnic Slice in the for at least 4 hours to completely chill before cutting into bars.
Notes
Adapted from The Classic 1000 Cake and Bake Recipes, by Wendy Hobson
Nutrition
Calories:
359
kcal
Carbohydrates:
35
g
Protein:
5
g
Fat:
24
g
Saturated Fat:
14
g
Cholesterol:
46
mg
Sodium:
68
mg
Potassium:
300
mg
Fiber:
4
g
Sugar:
25
g
Vitamin A:
280
IU
Vitamin C:
0.7
mg
Calcium:
32
mg
Iron:
3
mg
Have you tried this recipe?
Head to the comment section and let me know what you think!