This post contains affiliate links. Please read my disclosures.
These cutie patooties have a special place in my hardened heart as they were the very first thing I baked for Cole. For the past few months they have been a staple of my Sunday meal prep. I bake up a batch and the ones that aren't gobbled up straightaway are stuck in the freezer ready to be quickly defrosted for mid-week snacking.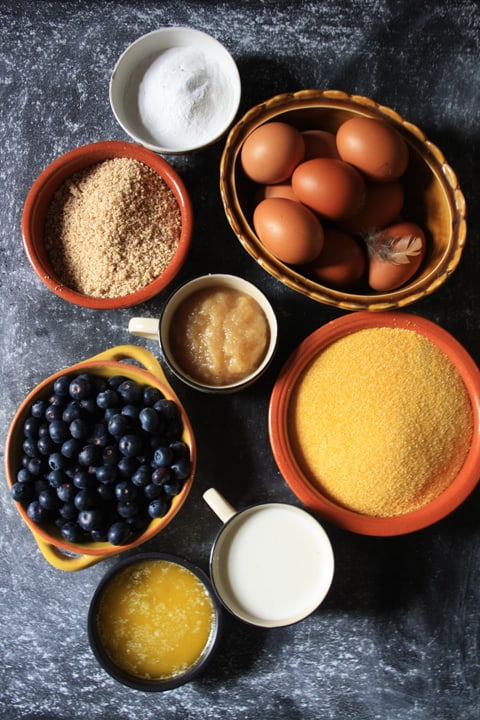 Since they were designed with the little guy in mind they are totally sugar-free and the fact that they are gluten-free too means I can have as many as I want too. Happy baby and happy mama.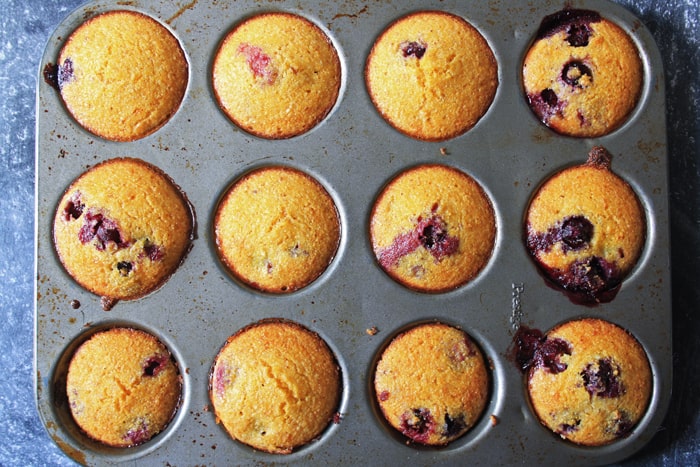 I wouldn't normally bake a mini muffin as I am not known for my restraint in portion sizes. However I wanted a muffin that a tiny baby could grasp in his chubby little paws and these fit the bill completely. They are absolutely perfect for snacking but also teamed with a helping of vanilla scented yoghurt I have found they also make a handy dandy breakfast option.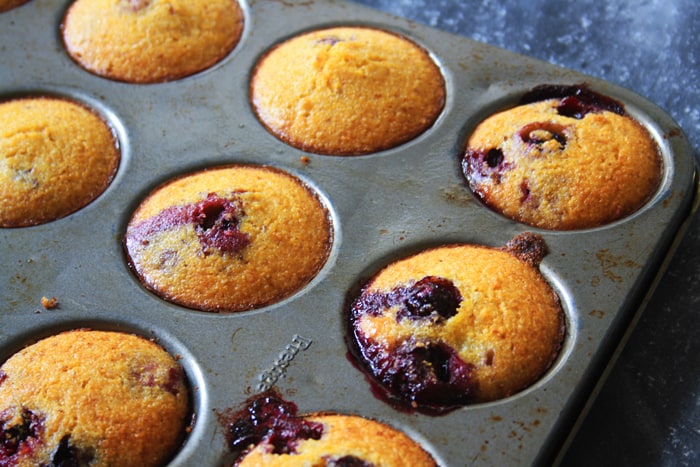 His (and my – let's be honest) love for blueberries knows no bounds either so I have to make sure they are chock full of our purple friends. There is no sugar in these at all save for a hearty dollop of unsweetened apple sauce for texture purposes (and perhaps a hint of natural sugars) so don't expect a snack to satisfy your sweet tooth but instead the joy comes from the little pops of blueberry - so delightful.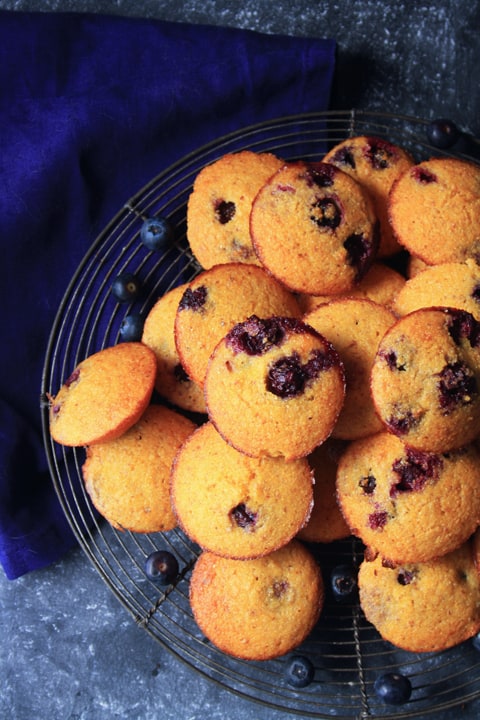 On reflection I'm not sure if mini muffins are the way forward if you are wanting to cut down on your muffin intake. It is usually somewhere around the fourth muffin that I realise I might as well have baked me up a batch of full-sizers. I haven't tried an adult sized version so can't guarantee results but I can only imagine you just need to bake them for a bit longer – 18-20 minutes I'd say.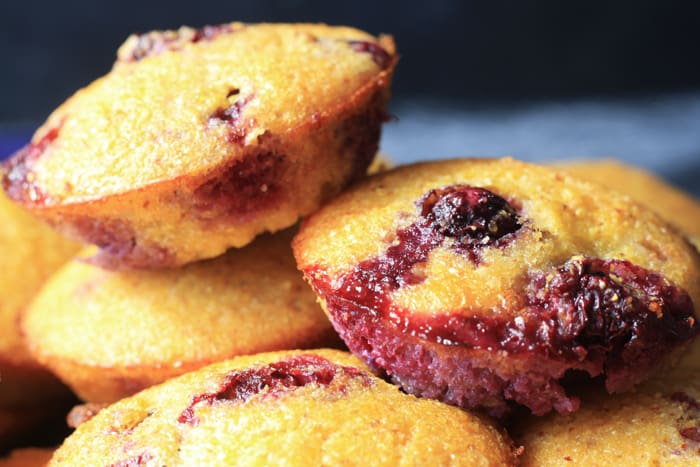 I also haven't tried baking these with sugar, honey, maple syrup etc. but if you're happy with letting a bit more sweetness come into play then I see no reason why you couldn't add a few tablespoons of a sweetener of your choice. Anyhow, these are pretty delicious as is – Cole agrees and so do I.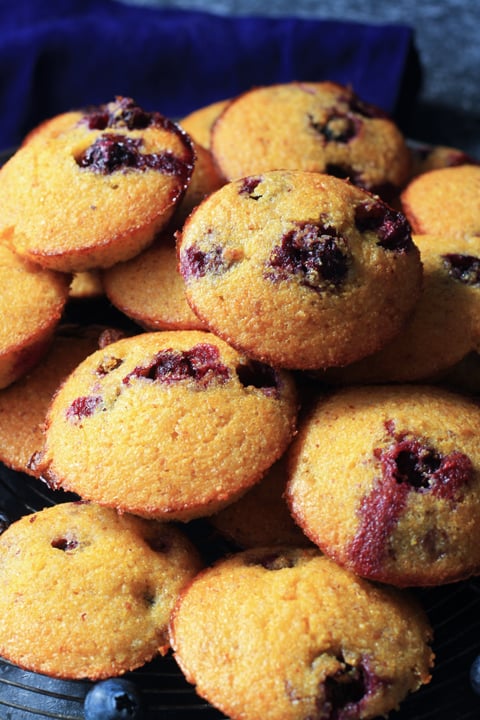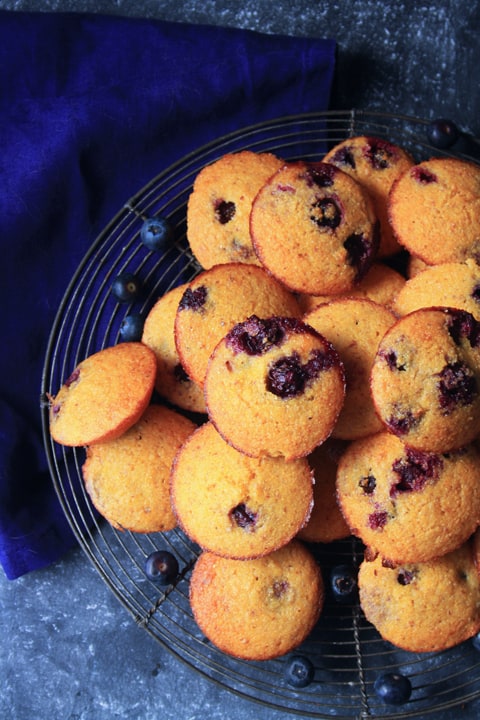 Mini Blueberry Cornbread Muffins
Ingredients
150

ml

whole milk

100

g

unsweetened apple sauce

40

g

unsalted butter

-

melted

2

eggs

-

lightly beaten

150

g

cornmeal or polenta

50

g

ground almonds

2

tsp

baking powder

125

g

blueberries
Instructions
Pre-heat oven to 190°C and grease a mini muffin tin.

Whisk the milk, apple sauce, melted butter and eggs together to combine.

In a separate bowl whisk the cornmeal, almonds and baking powder.

Pour the wet ingredients into the dry and stir.

Drop in the blueberries and stir until they are evenly incorporated into the batter then pour the batter directly into the holes of the muffin tin.

Bake for around 12-15 minutes until just going golden. Leave for a few minutes in the tin before removing carefully with a knife or baby spatula.
Nutrition
Calories:
62
kcal
Carbohydrates:
7
g
Protein:
2
g
Fat:
3
g
Saturated Fat:
1
g
Polyunsaturated Fat:
1
g
Monounsaturated Fat:
1
g
Trans Fat:
1
g
Cholesterol:
18
mg
Sodium:
9
mg
Potassium:
75
mg
Fiber:
1
g
Sugar:
1
g
Vitamin A:
76
IU
Vitamin C:
1
mg
Calcium:
29
mg
Iron:
1
mg
Have you tried this recipe?
Head to the comment section and let me know what you think!