This post contains affiliate links. Please read my disclosures.
Gluten-Free Shortbread is a melt in mouth buttery biscuit with a touch of crunch. A classic Scottish recipe which uses oat flour. It's incredibly quick to make and so versatile that you can adapt it to endless flavour variations.
The quest for the perfect Gluten-Free Shortbread was not one undertaken lightly. I have been working on this recipe for about as long as I have been gluten-free. I have an absolute weakness for shortbread. Although humble in origin, the beautiful buttery taste elevates the confection to a more special status.
However the right flour combination for this particular bake eluded me for a long time. I threw myself a mini party when achieving this final version. It ticks all the boxes to create the perfect shortbread in taste and texture.
What is shortbread?
Shortbread is a traditional Scottish confection made with sugar, butter and flour. The earliest printed recipe is credited to a Mrs McLintock in 1736. However, the first versions as a bread dough to which melted butter was added can be traced back to medieval times.
Shortbread needs to have a beautiful buttery taste and a slight bite upfront that gives way to a sandy crumb. In modern versions white rice flour is often included to encourage the crunch. Conversely cornflour is sometimes added to accentuate a soft sandy texture.
Shortbread is so much more than a humble biscuit. In fact its national status as a 'speciality item of flour confectionary' was fought vehemently by the Scottish Association of Master Bakers so that it would not be taxed as a biscuit. It is often gifted at Christmas in decorative tins and certainly not out of place at high tea.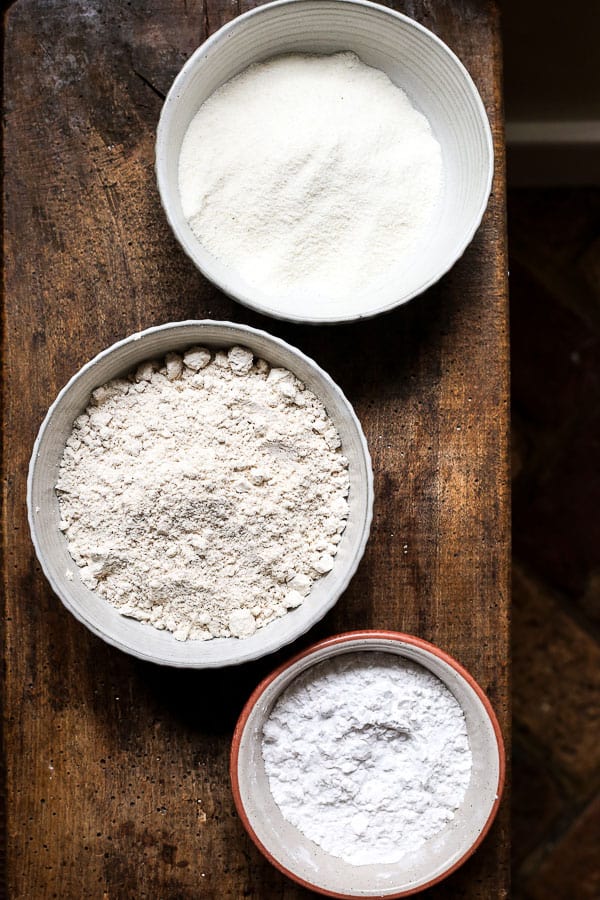 Gluten-free flours
After many recipe tests where the shortbread was either too crumbly, too gummy or not enough bite I eventually discovered the perfect flour combo:
Oat flour
Cornmeal
Tapioca flour
Gluten-free oat flour is used for its light tender crumb and delicious butterscotch taste which works beautifully with the butter and vanilla.
Oat flour substitution: Usually I might suggest a substitute as even gluten-free oat flour can be difficult to digest for hardcore intolerances. However, if this is the case for you I would like to point you towards a slightly different flour combination (scroll further down to see).
Cornmeal. In regular shortbread the wheat flour can be cut with white rice flour to add crunch. I found without the wheat flour to temper it the white rice flour made the shortbread claggy. Cornmeal is an excellent substitution. I found a very fine white cornmeal which worked well here but any fine cornmeal will do.
Tapioca Flour. This is the starch we need to stop our shortbread from crumbling apart.
How do you make gluten-free shortbread?
Shortbread is a minimal effort type of bake. It takes about 10 minutes to mix all the ingredients together and only 30 minutes in the oven.
Beat the butter and sugar until light and fluffy.
Add the vanilla extract.
Sift the flours together with the salt then beat in.
Press into a cake tin.
Bake for 30 minutes.
Leave to cool in the tin for an hour before removing onto a wire rack to finish cooling.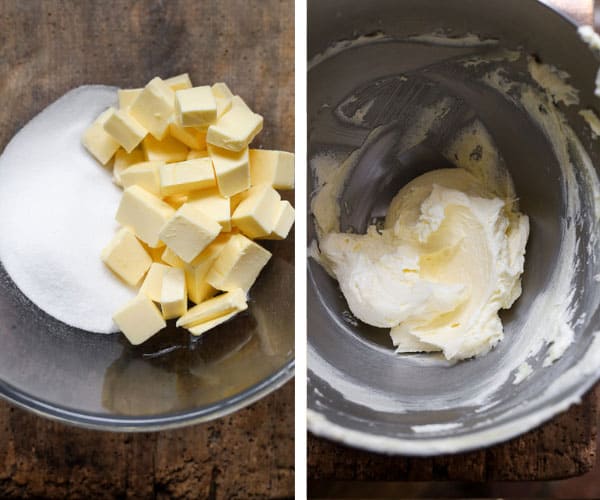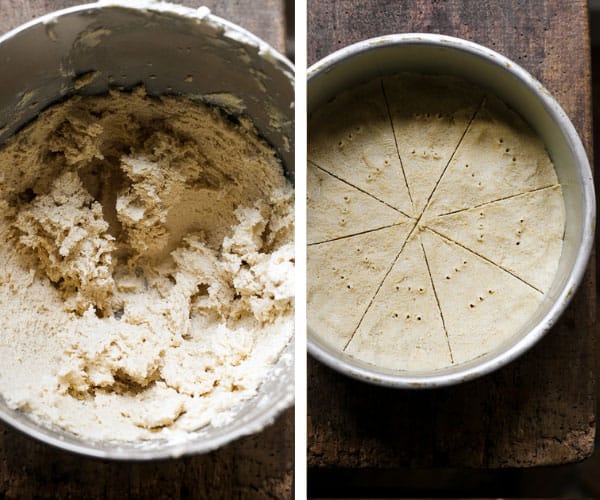 Baker's Tips:
Use the best unsalted butter you can find. It really makes a difference as this is the overriding flavour of your shortbread.
Use good quality vanilla extract.
The shortbread won't brown too much. This is correct, you want it to be quite pale with a slight nod towards going golden.
Leave the shortbread to cool completely before cutting. Otherwise it has a tendency to crumble. The shortbread will firm up as it cools.
How do you make gluten-free shortbread without oat flour?
If you can't tolerate oat flour then I recommend a slightly different flour combination. It is just as delicious but the bite of the shortbread is not as short. The recipe and ingredients list are exactly the same except remove the oat flour and tapioca flour. Instead use:
Note that this version doesn't need any starch. The almond flour has enough protein to hold the shortbread together.
Shortbread Flavour Variations
Plain unadorned shortbread is delicious as it is but if you wanted to jazz it up slightly then let's go for it. Here the shortbread is drizzled with 2 tablespoons melted dark chocolate, 2 tablespoons dulce de leche and a crumble of sea salt. The dulce de leche is warmed up slightly to make for easy drizzling.

If chocolate and caramel aren't your thing then there are so many other routes you can go. The earliest versions of shortbread included preserved lemon, orange peel, nuts and caraway seeds. All of which would be delicious. Here are some other suggestions to add to your dough before baking.
Lemon Shortbread – zest 1 lemon
Lavender Shortbread – 2 tablespoons of fresh chopped lavender flowers
Strawberry Black Pepper Shortbread - 3 tablespoons of freeze-dried strawberry powder and ¼ teaspoon of cracked black pepper.
Ginger Shortbread – 2 tablespoons diced stem ginger and 1 teaspoon ground ginger.
Iced Shortbread - Beat 180g icing sugar with the juice of 1 small lemon together and spoon over your cooled shortbread. You can also flavour the icing with any of the flavour variations mentioned above.
Serving suggestions for shortbread
Although an excellent accompaniment to tea or coffee, shortbread can often elevate a dessert. Try serving shortbread alongside:
Chocolate mousse
Affogato
Lemon Posset
Strawberries and Cream
Crumbled over ice cream

If you like this classic British recipe then you may like:
Gluten-Free Eccles Cakes
Vinegar Cake
Gluten-Free Victoria Sponge
Gluten-Free Scones with Strawberry Jam and Clotted Cream
If you make this Gluten-Free Shortbread then please leave a comment below and/or give the recipe a rating. If you then go on to use this recipe as a launch pad for your own baking creation then I'd also love it if you'd share it and tag me on Instagram. It is so lovely for me to see your versions and variations of my recipes.
Shop the Recipe: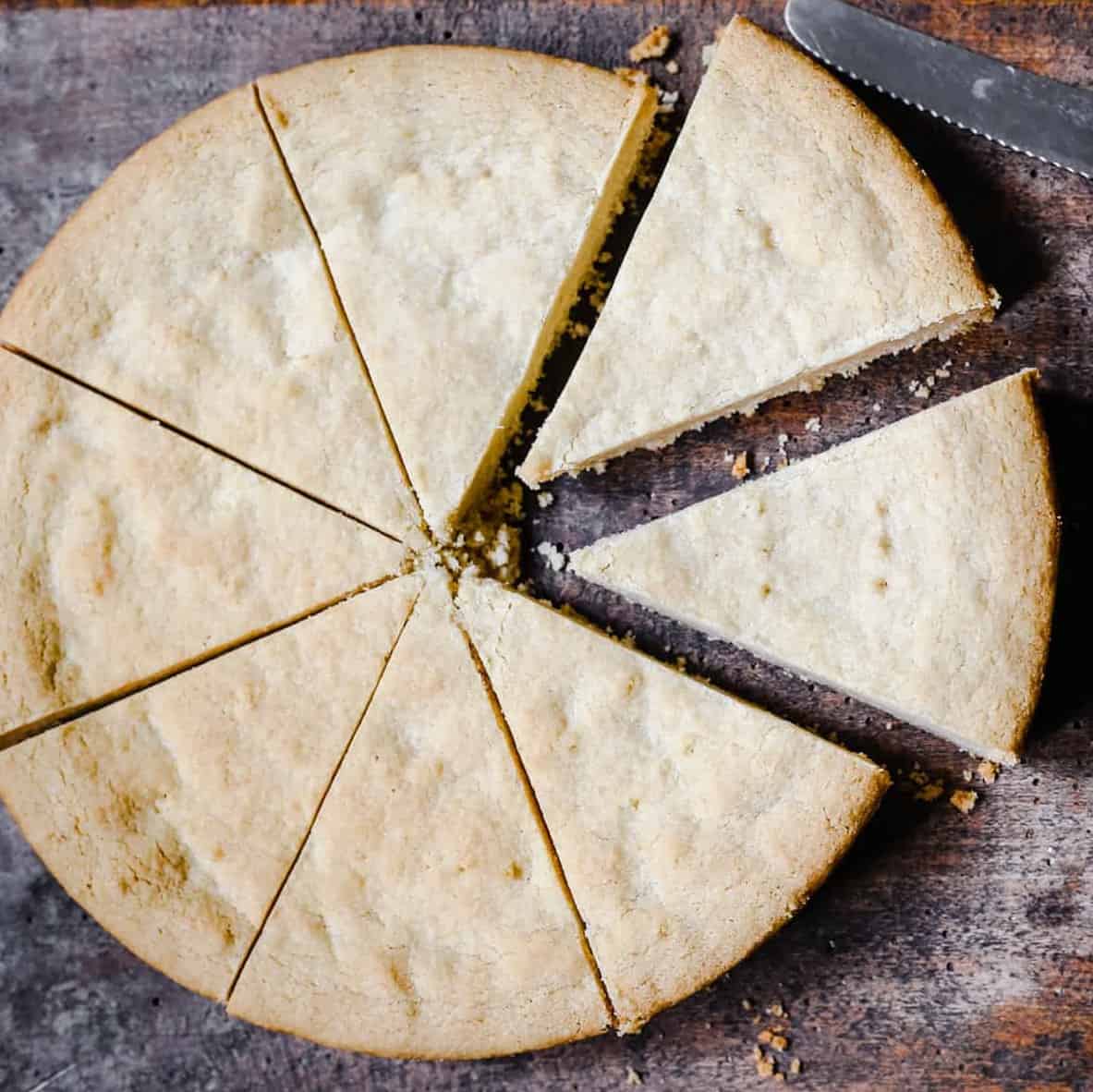 Gluten-Free Shortbread
This Gluten-Free Shortbread is a melt in mouth buttery biscuit with a touch of crunch. A classic Scottish recipe using oat flour.
Ingredients
225

g

unsalted butter

100

g

caster sugar

1

teaspoon

vanilla extract

150

g

oat flour

125

g

very fine white cornmeal

50

g

tapioca flour

½

teaspoon

salt
Instructions
Pre-heat the oven to 180°C/160°C fan assisted oven/gas mark 4.

Line and grease a 20cm (8 incround cake tin.

Beat the butter and sugar together for a couple of minutes until light and creamy.

Add the vanilla extract and stir to combine.

Sift together the oat flour, cornmeal, tapioca flour and salt then add to the butter and sugar. Beat until it is fully incorporated.

Tip the dough into the baking tin and press into the tin using your fingertips.

Using a sharp knife gently mark four lines across the diagonal of the shortbread to mark out the intended slices.

Pierce the surface of the shortbread with the tines of a fork a few times to let the air escape.

Bake for 30 minutes until the top is just starting to turn golden.

Rest the shortbread for an hour in the tin before removing. Leave to cool completely on a cooling rack before cutting into wedges.
Notes
Use good unsalted butter. This is the main taste of your shortbread so you need it to be the best you can find. Organic, unsalted butter direct from the farm if possible. You will notice the difference.
Use good vanilla extract. Not vanilla essence.
Cooling. Leave the shortbread too cool completely before cutting. It needs time to firm up otherwise it will be too crumbly to cut.
Nutrition
Calories:
410
kcal
Carbohydrates:
42
g
Protein:
5
g
Fat:
25
g
Saturated Fat:
15
g
Cholesterol:
60
mg
Sodium:
153
mg
Potassium:
146
mg
Fiber:
3
g
Sugar:
13
g
Vitamin A:
705
IU
Calcium:
19
mg
Iron:
1.4
mg
Have you tried this recipe?
Head to the comment section and let me know what you think!