This post contains affiliate links. Please read my disclosures.
Mango Lime Pudding is an ideal way to end a meal, both rich and refreshing, but also incredibly quick and easy to make in advance.
This post is another update of an old post. This was the very last recipe I posted in my last weeks of pregnancy before having Cole and since my life had just turned upside down it was the one featured at the top of my home page for about four months before I felt able to get back to the blog. The old photos hold a particularly gruesome part of my heart as they were the worst ones I think I ever took so I have been keen to revisit this recipe for the past two years and give it the treatment it actually deserved. Below are the original words from back in May 2015 but the photos are resolutely new!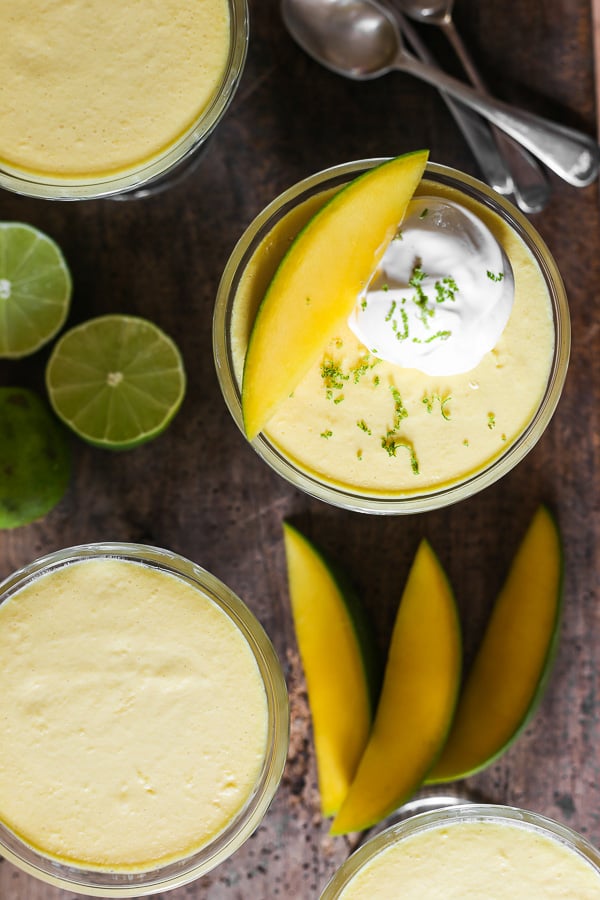 This is the easiest pudding in the world and that suits me perfectly. If I can whip this up in 10 minutes at eight and a half months pregnant without needing to have a nap half way through then this is a cinch for anyone.
I have been eating mangos by the crate load lately, I can't get enough of their rich sweet intensity. However, this current craving has led me to realise how lazy I am with fruit. I've always thought that I just wasn't a big fan unless my apples were baked into a pie or my plums were encased by clafoutis but I have realised that actually fruit by itself is quite nice by itself, only before a meal though, never in lieu of dessert, but this is only the case if someone else prepares it for me.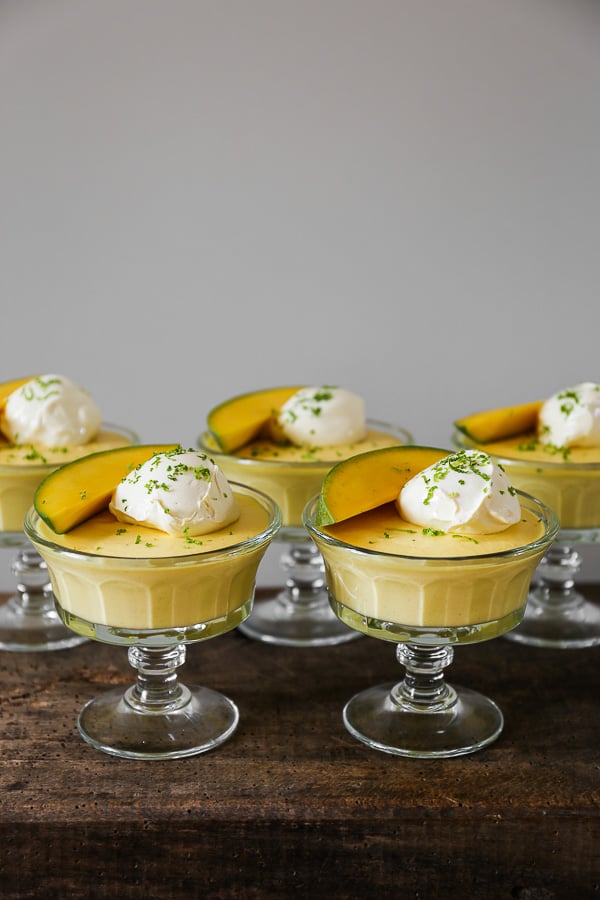 I will joyfully make all my pastry from scratch, eschew a bottled pesto for a quick five minutes chucking things in the blender, churn my own ice cream and preserve the season's offerings in vinegars, chutneys and jams but when it comes to fruit for solitary consumption I have absolutely no patience for preparation. Mangoes may only take a couple of minutes to slice out the stone, hedgehog the flesh before cutting it out into neat cubes but it's a job I will always give to Luke if he's anywhere in the vicinity. The same goes for melon, it's the seeds I just can't be doing with. To my shame I have thrown out untouched melons bought with the best of intentions that have been abandoned for weeks through sheer laziness.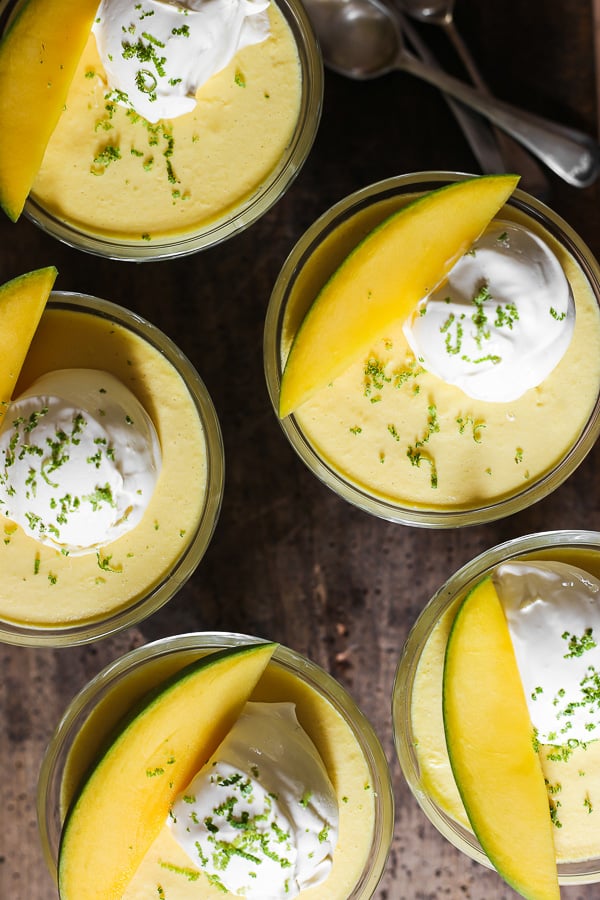 My aversion to peeling, de-seeding and chopping has culminated in my recent habit of buying pre-prepared fruit from the supermarket to snack on. It's something I'm desperately ashamed of since it's abominably expensive, lazy beyond belief and probably contains an array of preservatives that I don't want to know about.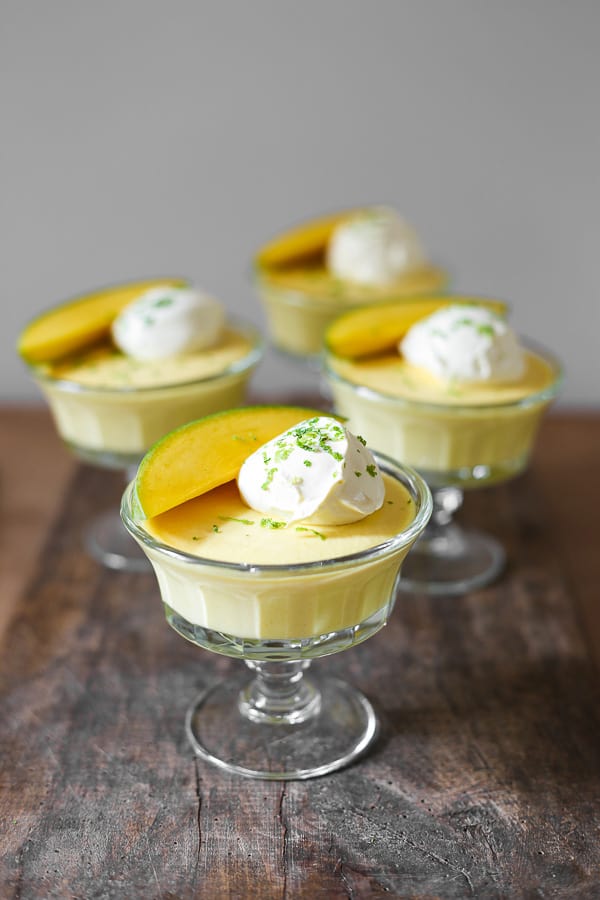 The good thing to know then that the cutting up of the mango for this dessert is the most taxing it gets. So you just have to get past that first initial step and as long as you have a blender your trusty friend will do the rest of the work for you. Which is good when all you feel up to doing lately is having a good nap.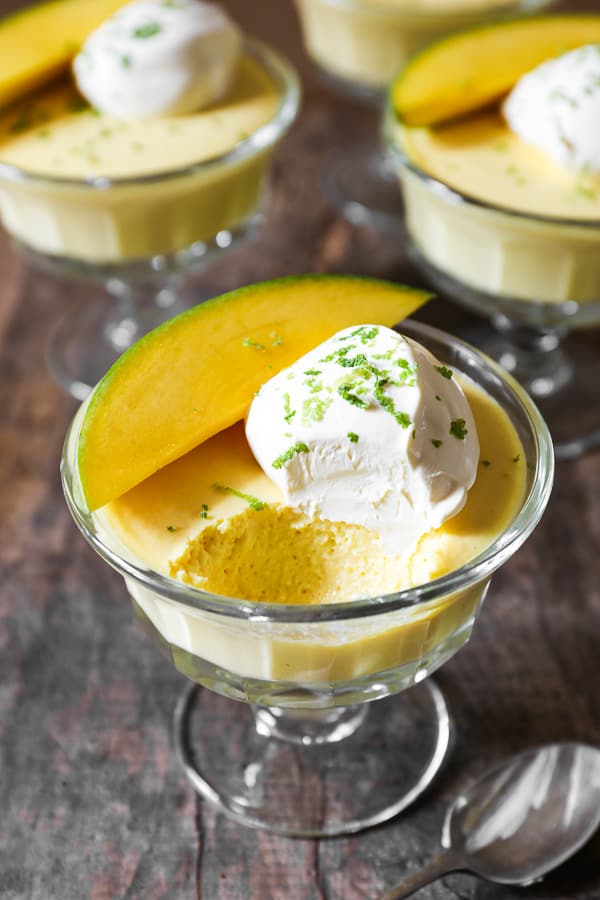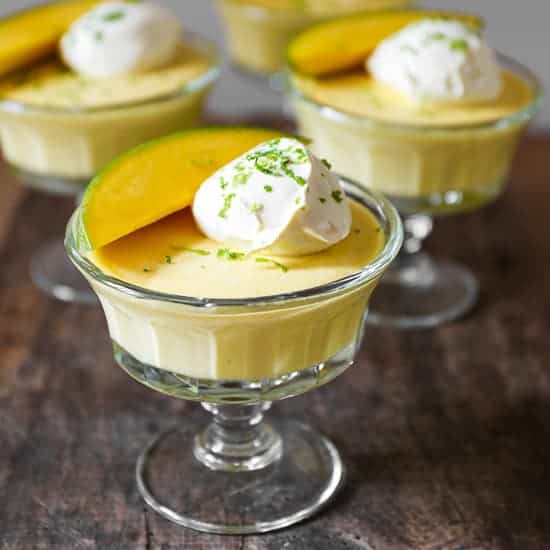 Mango Lime Pudding
An ideal way to end a meal, both rich and refreshing, but also incredibly quick and easy to make in advance.
Ingredients
3

mangos

juice of 1 lime

150

g

condensed milk

250

ml

extra thick double cream

5

gelatin leaves
Instructions
First soak the gelatin by placing in a small bowl and just covering with cold water.

Whilst the gelatin is soaking peel and de-stone the mango. You should have about 500g of mango flesh.

Cube the mango and place in a blender with the lime juice, condensed milk and double cream. Blend until smooth.

Set aside whilst you heat up the gelatin by squeezing it to remove the excess water and placing the leaves in a small saucepan. Heat on low until the gelatin has completed melted and then stir quickly and evenly into the mango pudding.

Divide the pudding into six glasses then place in the fridge to set for at least a couple of hours or overnight.

Serve the mango puddings with a dollop of extra thick double cream on top and a grating of lime zest.
Nutrition
Calories:
279
kcal
Carbohydrates:
27
g
Protein:
5
g
Fat:
18
g
Saturated Fat:
11
g
Cholesterol:
66
mg
Sodium:
52
mg
Potassium:
263
mg
Fiber:
1
g
Sugar:
25
g
Vitamin A:
1570
IU
Vitamin C:
30.9
mg
Calcium:
107
mg
Iron:
0.2
mg
Have you tried this recipe?
Head to the comment section and let me know what you think!