This post contains affiliate links. Please read my disclosures.
These Coconut Matcha Macaroons are easy to make, completely flourless and just 6 ingredients. Dipped and drizzled with dark chocolate, these delicious gluten-free cookies have a crisp exterior and chewy coconutty insides, spiked with a hint of grassy matcha.
Coconut Macaroons have always been the failsafe gluten-free cookie and existed long before being gluten-free was even a thing. Good old faithful Mrs Crimble cookies have been around in the supermarkets since the 70's and the fact they were gluten-free was just a happy bonus to these lovely cookies. These homemade versions are just as delicious but made even more special by the unmistakable notes of matcha.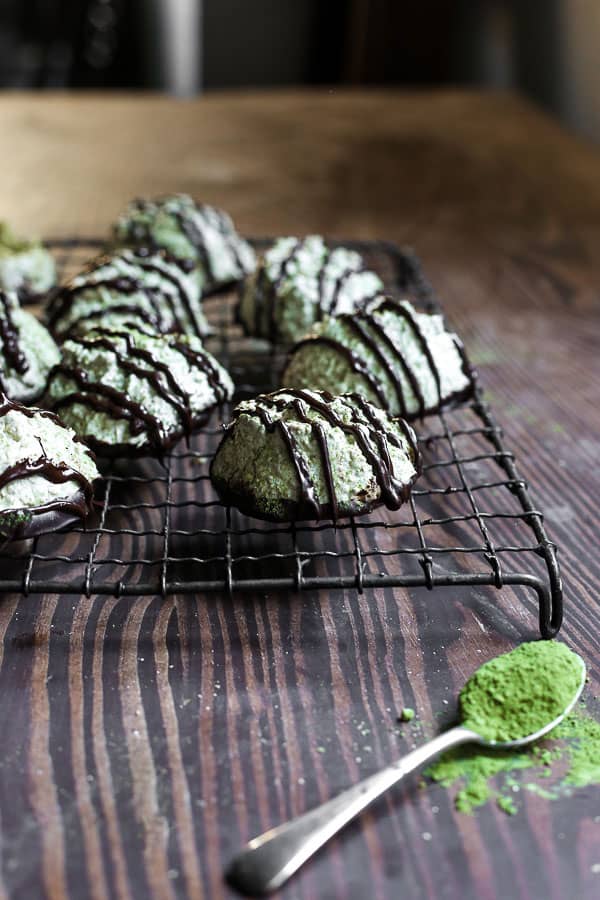 What is the Difference Between Macaroons and Macarons?
It gets a little confusing. Both treats are made with egg whites to create the structure of the cookie.
Traditional French macarons are made with egg whites, ground almonds and sugar to create small delicate cookie halves sandwiched together with a filling. They can be made in a variety of flavours and fillings and require some skill to perfect.
Macaroons refer to a drop cookie made with egg whites, desiccated coconut and sugar, baked and occasionally drizzled with chocolate. They are definitely a more rustic affair. Often you may see condensed milk in the ingredients list for a macaroon but this macaroon recipe is made without condensed milk so they are a little more meringue like.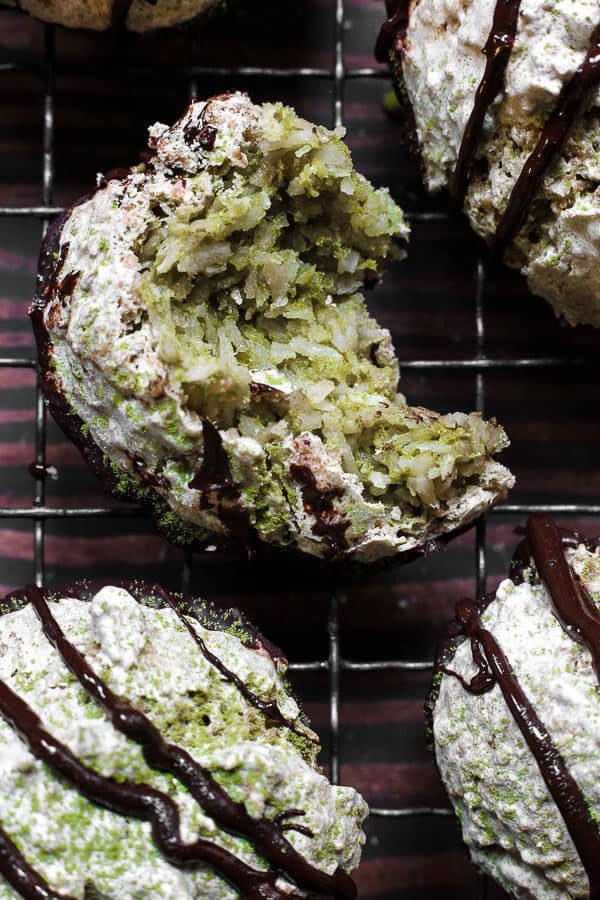 What is Matcha?
Ah, matcha. How do I love thee? Let me count the ways. Matcha is a high quality Japanese green tea with many health benefits. It is made from stone ground green tea leaves and is available as a beautifully vibrant green powder.
Although it is lovely whisked into warm milk and consumed as a hot drink, the powder itself is also a great baking ingredient with delicious results. It can take time to truly know and love matcha which has a very definite flavour with grassy vegetal notes. However, once you give it a chance you will become absolutely hooked on its complex flavour.
Matcha and coconut are a natural pairing. The underlying bitter notes of the matcha are a perfect counterbalance to the sweet meat of coconut.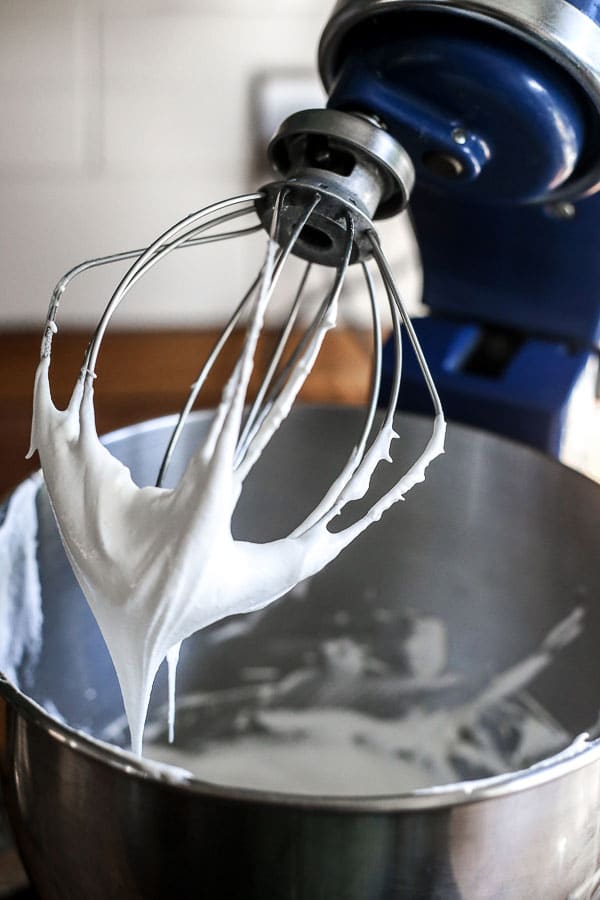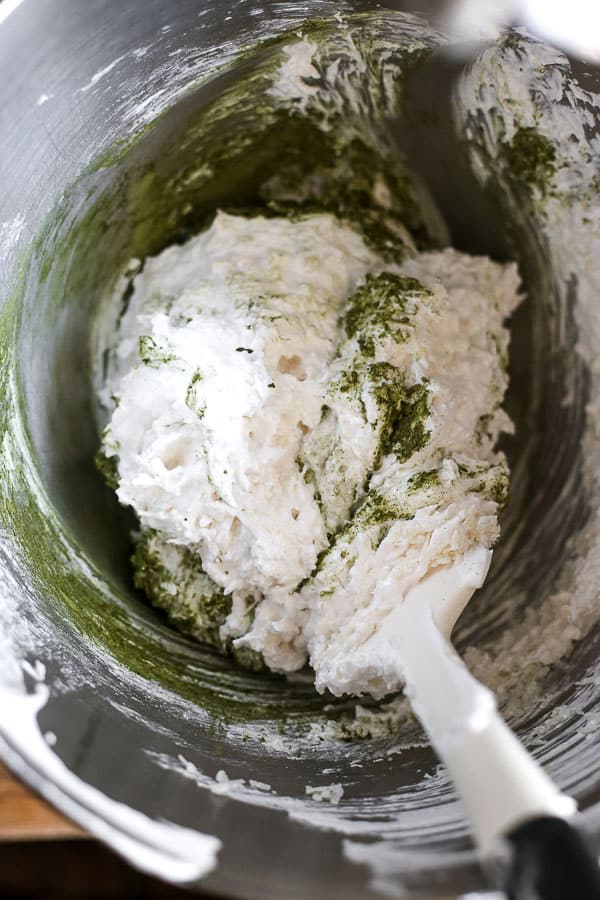 How to make Coconut Matcha Macaroons
Whisk your egg whites until stiff.
Add the caster sugar and whisk until shiny and firm.
Fold in the desiccated coconut and matcha powder.
Drop onto baking parchment and bake.
Dip the cooled cookies into melted chocolate and drizzle with more melted chocolate.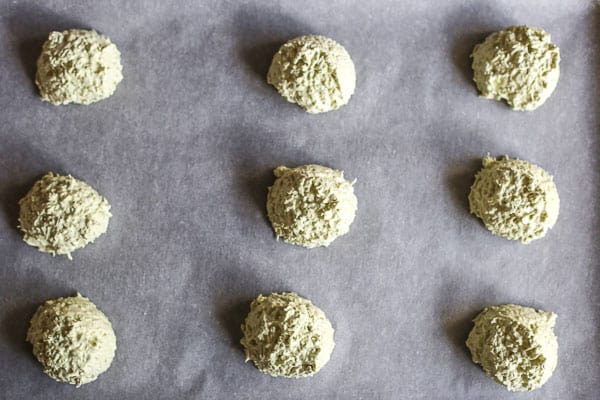 Pro Tips for Making the Best Macaroons
Medium egg whites are measured at 30g each so if you are using a carton of egg whites then you will need 60g.
Make sure the bowl you whisk your egg whites in is extremely clean for the lightest fluffiest cookies.
For best results use a stand mixer or electric whisk to whisk the egg whites and sugar.
Use the best quality grade matcha you can afford, it can get quite pricey though. Traditionally, the greener the matcha, the better the flavour.
Scoop the cookie mixture into even sized amounts onto the baking tray by using an ice cream scoop.
Wait until the cookies have completely cooled before dipping them in the chocolate. Let the chocolate set with the cookies upside down
You can speed up the setting time of the chocolate by placing the cookies in the fridge.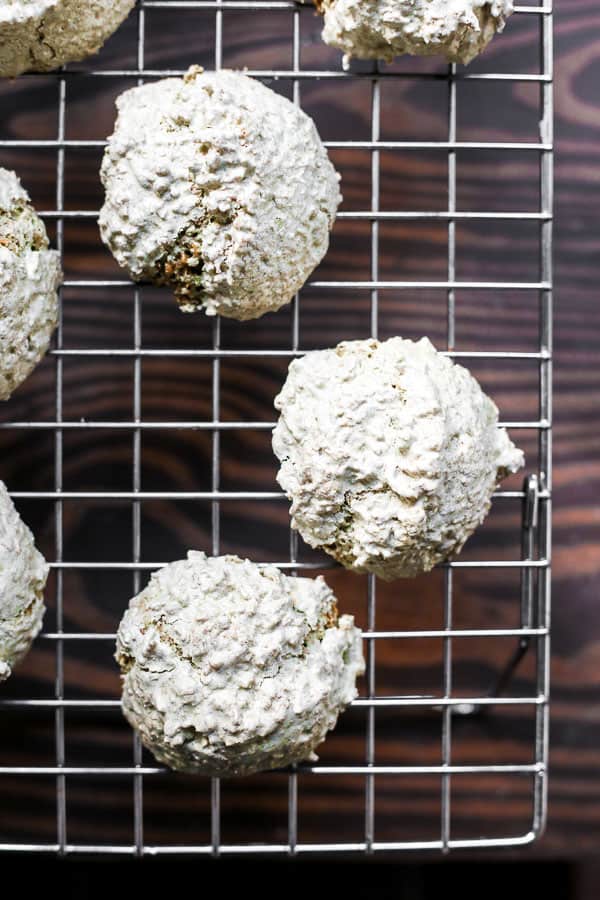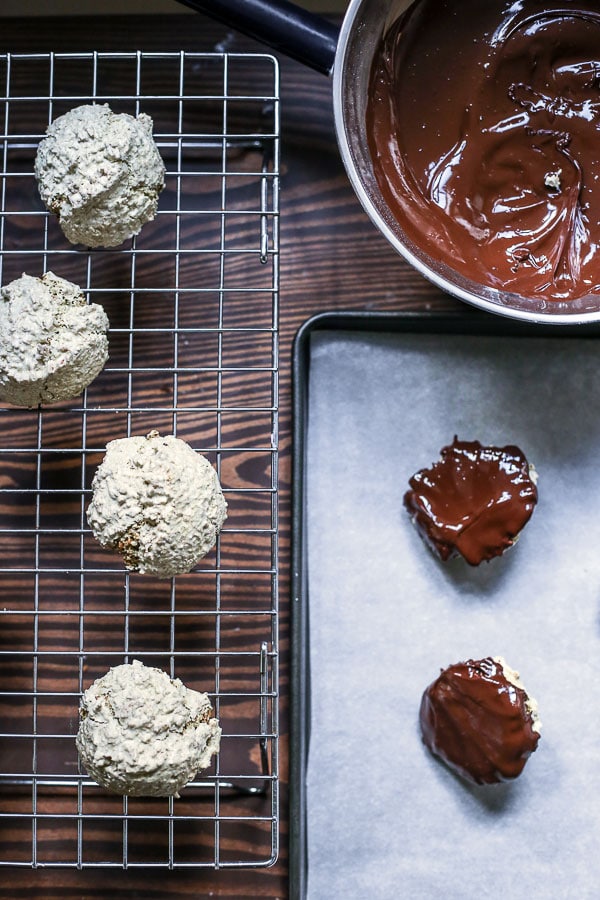 Alternative Macaroon Flavours
Swap out the matcha powder for the same amount of freeze-dried berry powder. Think Coconut Blueberry Macaroons, Coconut Raspberry Macaroons.
Use white chocolate instead of dark chocolate. White chocolate, coconut and matcha are perfect together.
How to Make Vegan Coconut Macaroons
Exchange the 2 egg whites for 4 tablespoons of aquafaba (the liquid from a can of chickpeas). Whisk the aquafaba in exactly the same way as you would the egg whites and continue the recipe as normal.
Also make sure you use vegan dark chocolate.
Shop the Recipe: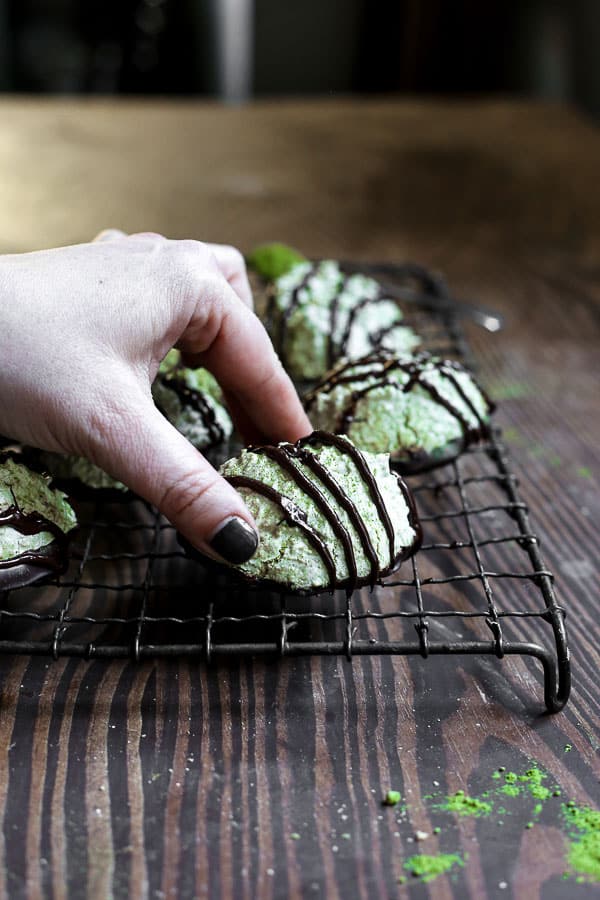 More Flourless Cookie Recipes You Might Like:
Peanut Butter Oaty Chocolate Cookies
Easy Flourless Salted Chocolate Chip Cashew Cookies
If you make these Coconut Matcha Macaroons then please leave a comment below and give the recipe a rating which helps others find the recipe on Google. If you then go on to use this recipe as a launch pad for your own baking creation then I'd also love it if you'd share it and tag me on Instagram. It is so lovely for me to see your versions and variations of my recipes.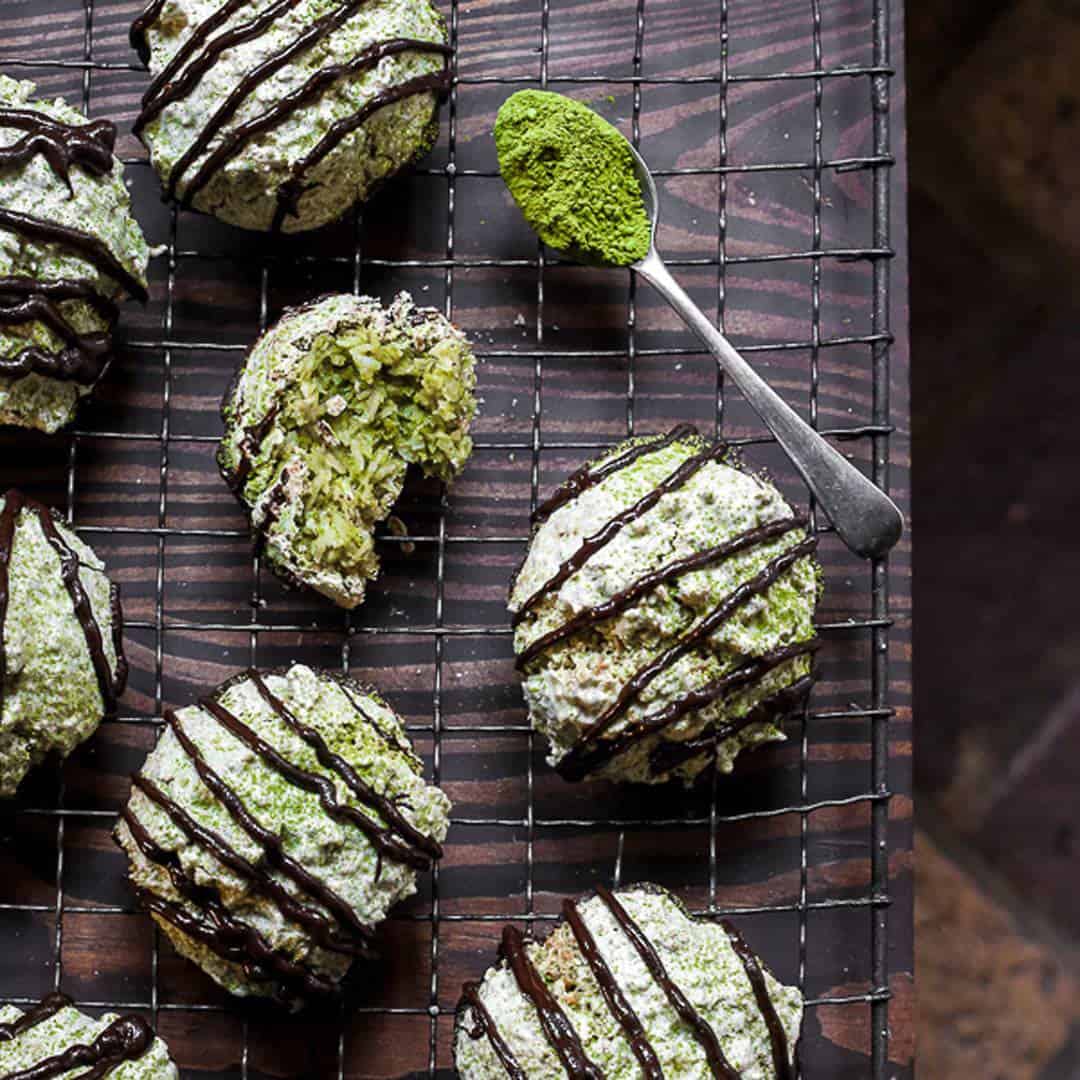 Coconut Matcha Macaroons
Coconut Matcha Macaroons are easy to make, completely flourless and just 6 ingredients. Dipped and drizzled with dark chocolate.
Ingredients
2

egg whites

-

60g

150

g

caster sugar

150

g

unsweetened desiccated coconut

1

tablespoon

matcha powder

150

g

dark chocolate

pinch

of salt
Instructions
Pre-heat the oven to 160°C/140°C fan assisted/gas mark 3 and line a large baking sheet with baking parchment.

Beat the egg whites until firm in the spotlessly clean bowl of a stand mixer or with an electric mixer.

Add the sugar to the egg whites and whisk until glossy and stiff.

Fold in the coconut and matcha powder and mix well.

Scoop the mixture using an ice cream scoop into 9 balls and drop on to the lined baking sheet.

Bake for 25 minutes.

Remove the cookies from the oven and place the cookies on a rack to cool. Reserve the lined baking sheet for later.

Melt the chocolate with the salt in a bain marie or a bowl set over a pan of simmering water.

Dip the flat bottom of each cookie into the chocolate and set upside down on the lined baking sheet. Reserve some chocolate for the drizzle. Leave the cookies until the chocolate has set.

Re-melt the rest of the chocolate then pour into a small piping bag. Turn the cookies the right way up and drizzle the chocolate over in zig zags. Leave to set before eating.
Notes
The amount of matcha powder you add will depend on the brand but I find 1 tablespoon is just enough so the matcha flavour comes through but isn't overpowering.
For the chocolate drizzle either use a small piping bag or pour the chocolate into a small plastic freezer bag and snip off the tip to create a makeshift piping bag.
The cookies can keep for up to 3 days in Tupperware or a sealed container, but they are best the day they are made.
General Recipe Notes
Unless stated I always use medium eggs, unsalted butter and kosher salt.
Nutrition
Calories:
231
kcal
Carbohydrates:
26
g
Protein:
3
g
Fat:
12
g
Saturated Fat:
9
g
Sodium:
17
mg
Potassium:
189
mg
Fiber:
3
g
Sugar:
21
g
Vitamin A:
90
IU
Vitamin C:
0.6
mg
Calcium:
14
mg
Iron:
2.7
mg
Have you tried this recipe?
Head to the comment section and let me know what you think!