This post contains affiliate links. Please read my disclosures.
These Homemade Glacé Cherries are a labour of love but once you taste the difference between these and the pillar box red variety you can get in the supermarket then you won't look back.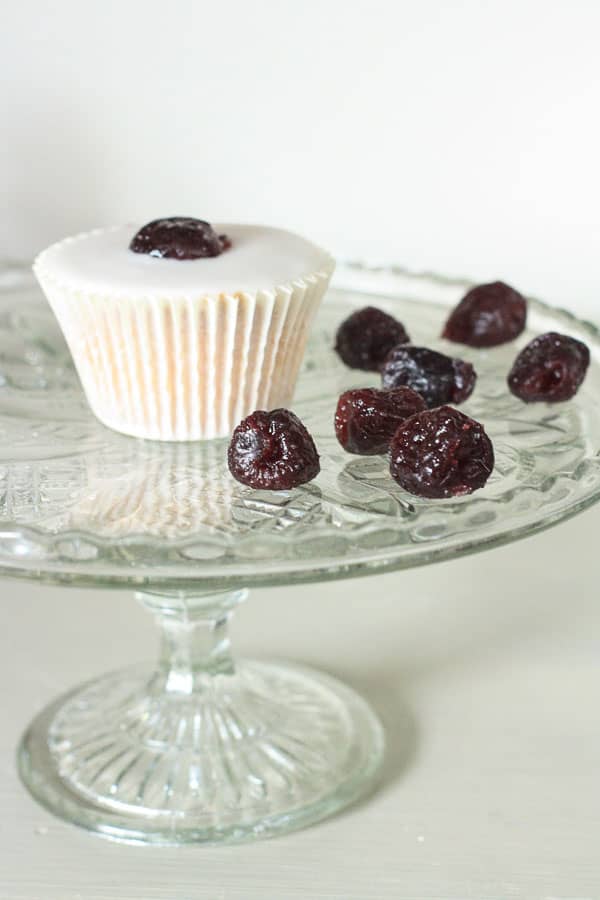 If there is one member of the household who is thrilled that our kitchen is constantly filled these days with blackberries, damsons, crab apples and cherries it's Wesley. I have spoken before about his obsession with pears but his fruit addiction is now getting out of control. I can't turn my back on a bowl of freshly picked fruit without piquing his interest and five minutes later finding him batting them all over the kitchen floor.
Yesterday, after a bounteous yield of crab apples was happily soaking up the sun streaming in from the window, I was called into the kitchen by the sound of an energetic animal bouncing something around on the tiles which never spells goods news. I walked in to find Billy Buddy enthusiastically chasing round a poor crab apple. How did he get hold of that, there's no way the puppy can get anywhere near our kitchen counter? I looked round the corner to see Wesley looking on forlornly as his hard worn apple had been rudely swiped by the puppy. He learnt the hard way that it's not nice when someone else steals your fruit.
Unfortunately for Wesley his fruit supply is about to be cut short. From this week all furry little creatures are being banned from any food preparation areas, which is a sad little side effect of now opening my kitchen up as a business. I will feel very nostalgic for the days when my steadfast kitchen companion is fast asleep stretched across the full length of my counter as I'm in full on baking mode, flour and sugar flying across him blissfully unaware. I will especially miss the times when I am chopping onions in his vicinity and his eyes start blinking, full of confusion as to why they are now pouring with water. I am ashamed to say this is something that will never fail to make me laugh, as well as the time that he pounced up on the side as I was juicing some lemons. A cat with lemon juice in his eye produces a very sour look.
Thank goodness then that I just about managed to ward Wesley off these glacé cherries during the entire length of this candying process. These cherries, like Monday's salt beef have been a bit of a labour of love. I started them weeks ago and only now are they finally ready to be presented to the world, having ascended from a lovely healthy fruit to pretty much just sugar.
I have been really keen to make glacé cherries for some time now as I always thought the cherriness of the commercially made versions was somehow lost in the candying. These homemade glacé cherries are a world away from anything you might have had before, they don't have the brilliant postbox red colour but instead command an alluring burgundy. Their texture is also much more dense and fudgey; I can imagine them being the secret ingredient of the world's best brownie.
The amount of cherries I've suggested in the recipe below is completely at mercy as to how many cherries you actually have. If you are gathering cherries specifically for this recipe then 450g is the best place to start but this recipe is easy to scale up. The more cherries you have the further they will go. They are especially wonderful in this Gluten-Free Cherry Cake but if you only have a few then feel free to sequester them away from snack venturing fingers and save for only the most reverential of cocktails, the most exquisite of cupcakes and to adorn only the most luxurious trifle. Although I often get into the habit of being a bit too precious about them, the last thing I want is to save them and save them until they are spoilt and no longer as prizeworthy as they currently are. One thing I know for certain, they are nowhere near any sneaky little cream coloured paws.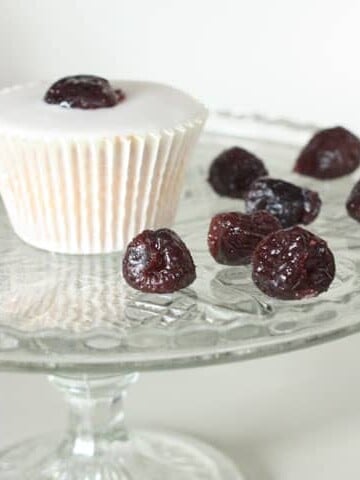 Homemade Glacé Cherries
A luxurious cherry for all your baking needs
Ingredients
450

g

cherries

-

stalks removed and stoned

570

ml

boiling water

750

g

granulated sugar
Instructions
Day 1
Place the cherries in a large pan with the boiling water and cook until the fruit is just tender.

Drain the cherries but reserve 425ml of the liquid. Put the cherries into a heatproof bowl.

Pour the liquid back into the saucepan with 250g of the sugar. Stir over a gentle heat to dissolve the sugar and bring to a boil.

Turn off the heat and pour the syrup over the cherries.

Cover the bowl and leave to soak for 24 hours.
Day 2
Strain the syrup into a large saucepan and return the fruit to the bowl.

Add 60g of sugar to the saucepan. Bring to a boil, then turn down to simmer for a couple of minutes making sure the sugar has completely dissolved.

Pour the syrup back over the cherries, cover and leave for another 24 hours.
Day 8
Times are a-changing. Strain the syrup into a large saucepan but this time add 85g of the sugar into the saucepan.

Cook over a gentle heat until the sugar has dissolved then add the cherries and bring to a boil.

Turn down to a simmer for 3 minutes, then pour the fruit and syrup back into the heatproof bowl, cover and leave to stand for 2 days.
Day 10
Repeat Day 8, but only add the remaining 55g sugar and then leaving for 4 days.
Day 14
The syrup should have now turned very thick and heavy, if not, repeat Day 10. Otherwise, drain the fruit, place on a wire rack and leave in a warm dry place until no longer sticky. They should be ready after a couple of days.
Notes
Recipe from The Cook's Scrapbook by Reader's Digest
Nutrition
Calories:
7
kcal
Carbohydrates:
2
g
Protein:
1
g
Fat:
1
g
Saturated Fat:
1
g
Sodium:
1
mg
Potassium:
2
mg
Fiber:
1
g
Sugar:
2
g
Vitamin A:
5
IU
Vitamin C:
0.1
mg
Calcium:
1
mg
Have you tried this recipe?
Head to the comment section and let me know what you think!
If you like this recipe you might also like...