This post contains affiliate links. Please read my disclosures.
Nothing beats a homemade Traditional Gluten-Free Christmas Pudding. It simply does not compare to anything you can buy in the shops. This light and fluffy pudding is bursting with plump luscious brandy sodden fruit and is rich with nuts and spices.
My Auntie Lil made every Christmas pudding in the family and hers was unrivalled. When I reached my twenties and would relish any chance to bake I asked my mum if she thought Auntie Lil would mind if I made the Christmas pudding that year. My mum replied that thought it might be a relief to my ageing Aunt to cater for one less. Despite my pudding turning out relatively okay, thanks to my Aunt's impeccable instruction, she still dropped off a Christmas pudding and a box of mince pies to our door on Christmas Eve. She was obviously not quite ready to hand over the pudding baton just yet. Who can blame her, the making of the pudding is my favourite festive ritual every year.
What is Christmas Pudding?
Christmas Pudding is traditionally eaten over the festive season. It is a luxurious steamed pudding made with dried fruits, alcohol and spices and a version of the pudding has been eaten in Great Britain since medieval times.
Growing up Christmas Pudding also promised hidden treasure as a foil wrapped penny was always tucked within the dark fruits. It was good luck to whomever received the penny in their bowl. It also meant that the whole affair was imbued with a metallic flavour which I think rather fondly of. This isn't really the done thing now – health and safety issues of course!
Stir Up Sunday
The Christmas Pudding is usually prepared on Stir-Up Sunday which is the last Sunday before advent. This is when the Christmas puddings, mincemeat and Christmas cake would usually have been lovingly prepared by the cook of the family. Each family member would have then taken a turn to stir the Christmas pudding whilst making a wish. It's all very Mrs Beeton but still Stir Up Sunday is always the day I commit to these essential festival bakes. It actually works well to get these jobs done and dusted at the end of November. But it also heralds the start of the season with the Christmas music playing, a glass of mulled wine next to the stove and the scent of fruits and spices permeating the kitchen.
According to tradition the Christmas Pudding is then wrapped and stored under the bed until the family is ready to serve on Christmas Day. This is what Delia says anyway but I have found unwise if you have a dog. Stowed away in your kitchen larder is perfectly acceptable.
So you make the pudding 5 weeks before you eat it??
Yes indeed. The amount of dried fruit, fat, sugar and alcohol in the recipe preserves the pudding so it can be made weeks or even months in advance. This resting period is necessary for all the flavours to really mature and it allows your pudding to have the best taste and texture.
Christmas puddings are a truly ritualistic event; making them, watching them for the days, weeks or months they are kept and then the ceremonial eating of them – scorched with brandy and doused in a hefty amount of brandy laced white sauce.
Why is this Gluten-Free Christmas Pudding recipe so brilliant?
This is a traditional Christmas Pudding recipe and tastes exactly like a proper pudding should. We are not cutting any corners here, just a few simple swaps to make the pudding gluten-free.
The mix of dried fruit, fresh fruit, nuts, rich brandy, treacle and spices give your pudding so many rich layers of flavour.
The breadcrumbs and flour (gf naturally) keep the pudding light and fluffy so it won't weigh you down after your Christmas banquet.
This recipe is adaptable to suit your tastes. You can easily switch up the dried fruit, nuts and alcohol without any compromise on the finished pudding.
If you want something a little different on Christmas Day this Chocolate Chip Clementine Christmas Pudding is simply an outstanding alternative.
Ingredients for Gluten-Free Christmas Pudding
Dried Fruit – here we use a mix of sultanas, raisins, figs and cranberries
Almonds – A small handful of chopped almonds give the pudding a delightfully nubbly texture. You can switch up the almonds for any nut – although pecans or walnuts would be especially good. Or you could leave out entirely if you are catering to the nut-free.
Carrot – grated carrot gives the pudding a gorgeous texture and flavour. Think how delicious a carrot cake is.
Apple – Adds lovely moisture and flavour.
Orange – the zest and juice give a sparky freshness to the pudding.
Eggs – used for binding and helping to lift the pudding.
Suet – this is the fat required for the recipe. See notes below if you are unsure what suet is all about.
Sugar – we use dark muscovado sugar and black treacle for amazing richness and depth of flavour.
Breadcrumbs – you can use any gluten-free breadcrumbs. Shop bought or homemade is fine.
Gluten-free flour – you can use any plain gluten-free flour. I use Doves Farm Gluten-Free Plain White Flour which doesn't have xanthan gum but any brand is absolutely fine.
Baking powder – helps lighten the pudding.
Spices – the festive triumvirate of mixed spice, cinnamon and nutmeg are essential.
What is suet?
Suet is a hard animal fat found around the loins and kidneys of sheep and cows. It is often used in traditional steamed puddings like Christmas Pudding or Spotted Dick because of its low melting point.
Is suet gluten-free?
Actual suet is gluten-free as it's a natural animal product. However, the beef suet sold in packets in the supermarket comes in pellets coated in wheat flour, so it is not gluten-free. You can buy gluten-free suet in the supermarket but unfortunately it is also vegetarian and the ingredients list on the back of the packet leads to quite shady reading.
I source real animal suet from my butcher but you will need to shop around, not every butcher can supply it. Your local farmer at the market is usually the best source as you can get it directly from them. The suet is usually supplied in a large hard block which I grate in the food processor with a few tablespoons of gluten-free flour to form the same kind of pellets you would buy in the supermarket for even distribution in the recipes.
Suet substitutions
Only substitute if you have exhausted avenues for real beef suet. These substitutions are good in a pinch but don't give quite the same results as the suet:
If you are using these substitutions you should measure out the required amount and freeze. Then grate the frozen fat into the pudding for even distribution.
Don't substitute with butter though as the pudding will be too greasy.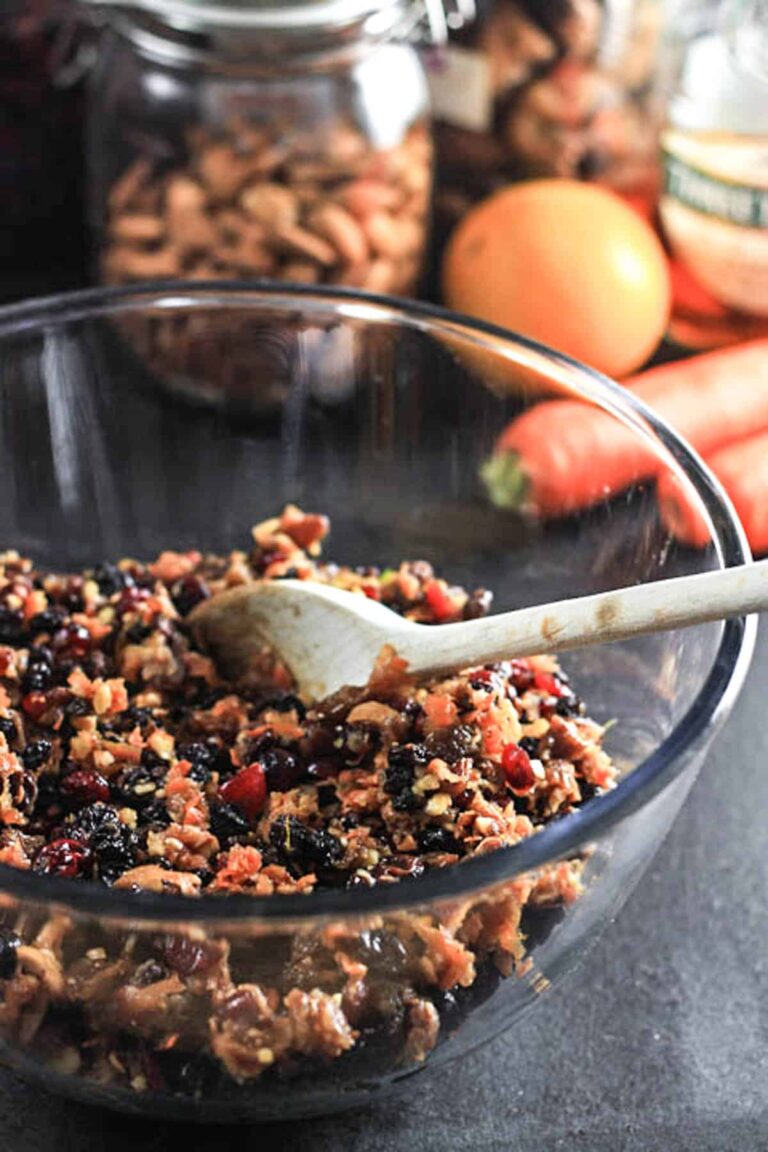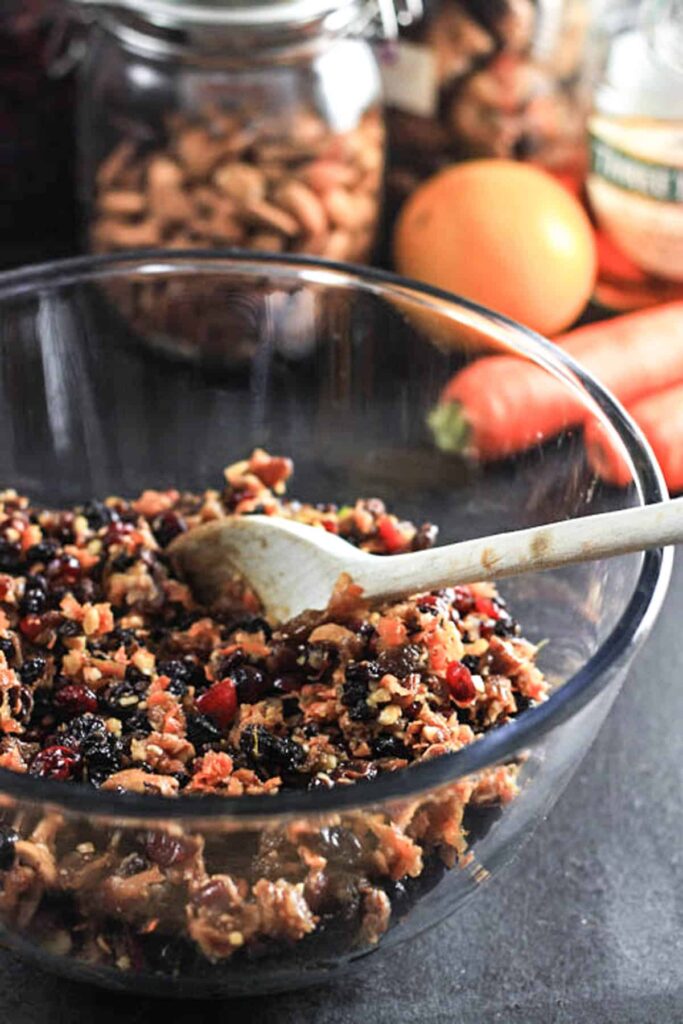 How do you make a Gluten-Free Christmas Pudding?
The Christmas Pudding is made over 2 days. The first day you marinate all the fruits with the alcohol so they all get lovely plump and moist.
On the second day you stir in the eggs, suet, sugar, treacle, breadcrumbs, flour and spices.
The mixed pudding batter is then all poured into a pudding basin, covered with baking parchment and aluminium foil, secured with twine and then steamed for 3 ½ hours.
The pudding is then cooled and stored somewhere cool and dark, still wrapped up in its basin, until the day you want to serve it.
To re-heat the pudding it needs to be re-steamed for 2 ½ hours for the best texture and flavour.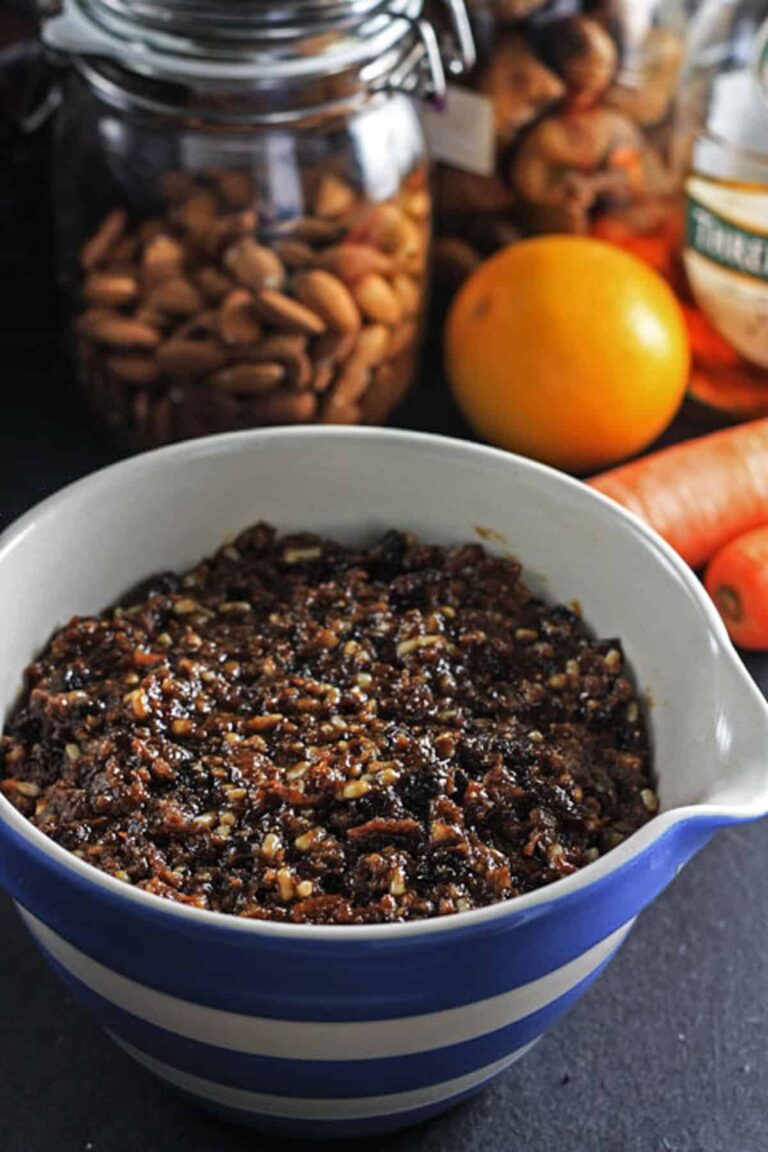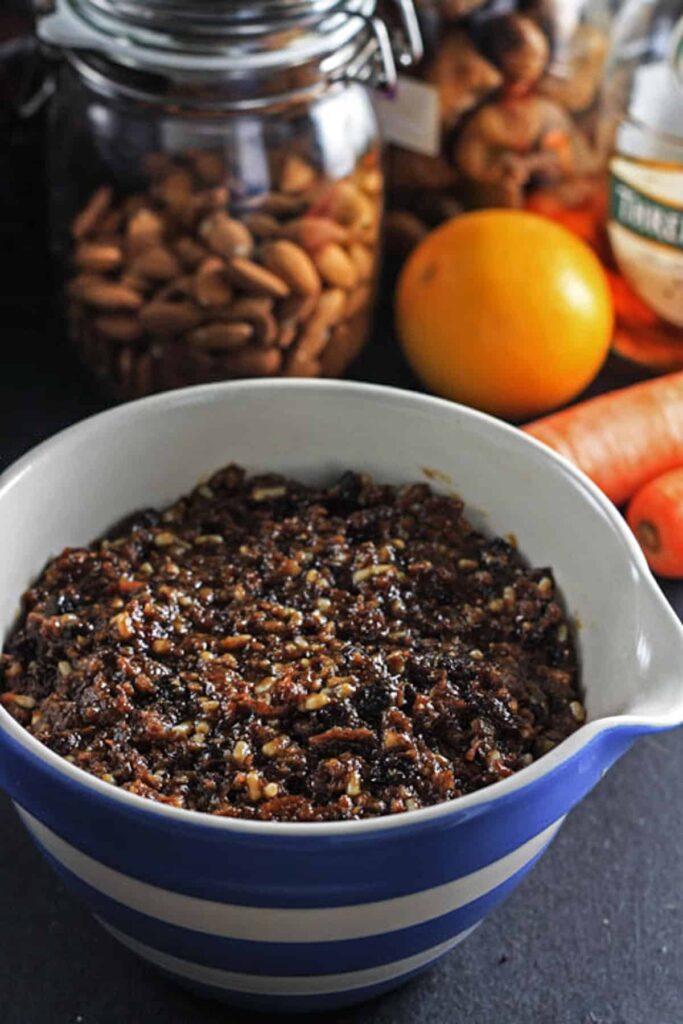 How do you steam a Christmas Pudding?
Pour the mixed pudding batter into a greased 1.1lt pudding basin.
Take the same sized wide pieces of baking parchment and aluminium foil. About double the circumference of the pudding basin.
Lay the foil on top of the parchment, then create a fold in the centre of both. This allows for this parchment/foil lid to expand during steaming.
Place the parchment/foil lid over the top of the pudding basin and secure it just underneath the top lip of the basin with bakers twine. Cut away the excess parchment/foil.
Place a steaming rack in the bottom of a large cooking pot/ stockpot. If you don't have one a folded up tea towel will suffice.
Place the pudding basin on top of the steaming rack and pour boiling water into the saucepan so that the water comes about halfway up the sides of the basin. It should not touch the parchment/foil lid.
Turn the heat on and bring the water to a gentle simmer. Place the lid on the cooking pot to steam the pudding for as long as the recipe dictates.
Keep checking the water level in the pot, you can top up if it boils away too much.
When it is ready, remove the pudding basin from the pot with ovenproof gloves.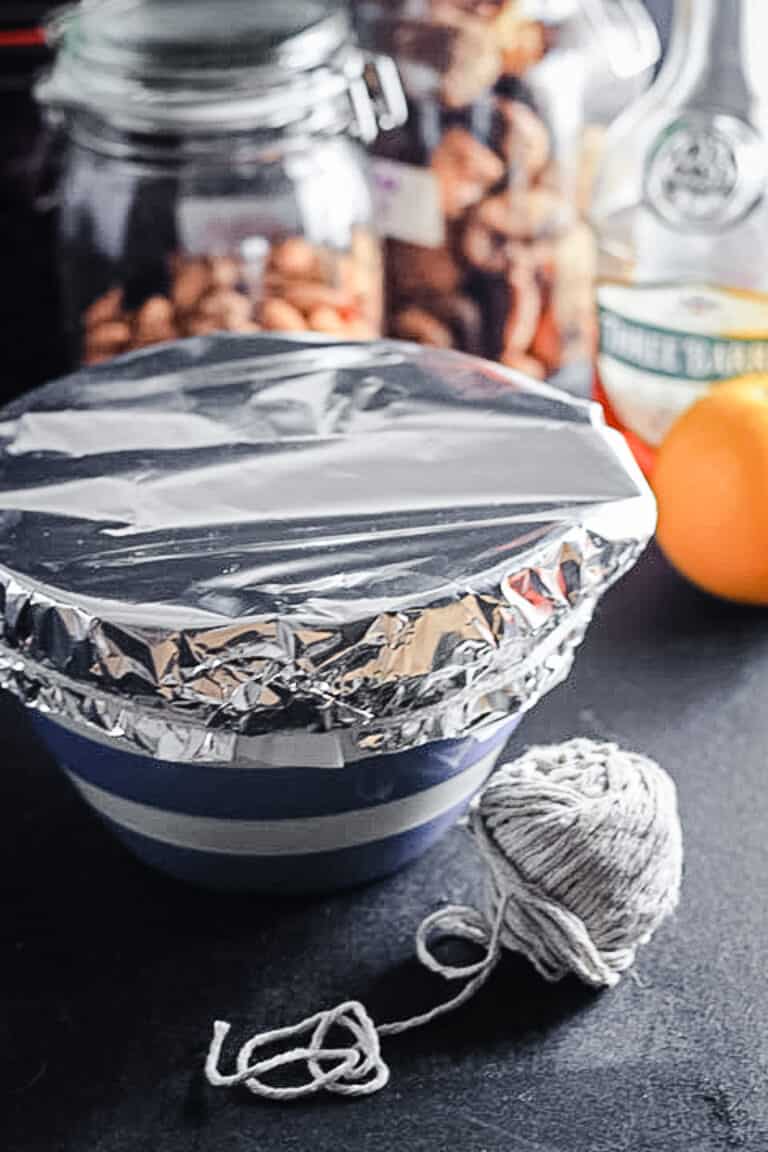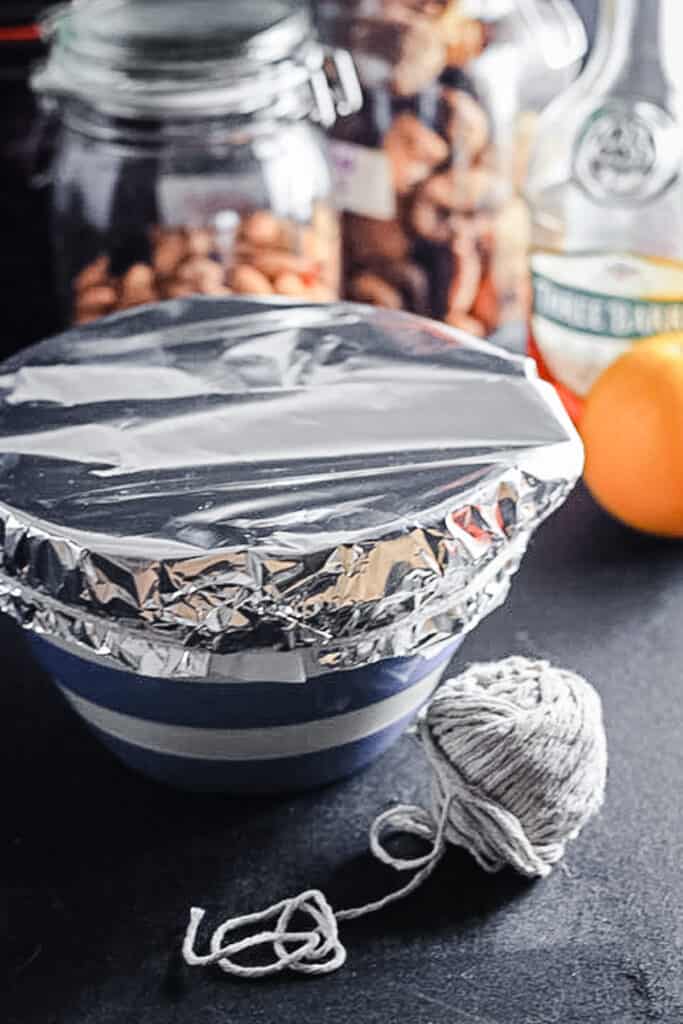 Bakers Tips
After the initial steam replace the parchment/ foil lid for a fresh one, securing with bakers twine again and store in this way.
When you come to do the second steam on the day you are serving the pudding is ready to be placed into the saucepan (onto the steaming rack) straightaway.
Recommended Equipment
How is Christmas Pudding served?
You turn the Christmas Pudding out of its pudding basin onto a festive plate, pour brandy over the top and light a match to it.
The pudding is brought resplendent and aflame to the Christmas table.
You can serve the pudding with any of the following (in our house I provide every single option – everyone wants something different and I oblige – it's Christmas!)
Brandy butter
Fresh custard
Double cream
Ice cream
FAQs
Can Christmas Pudding be microwaved to re-heat on Christmas Day? – Please don't be tempted to whack it in the microwave after you're stuffed with turkey and sodden with festive wine to bring it up to temperature. It is important that it is steamed once more so all the fruits grow plump and luscious within the pudding again. The finished pudding should be bouncy and light but rich with flavour. The microwave will zap your pud of life and render it a solid lump of claggy fruit. You've been told.
Can Christmas Pudding go off? – Not for a long long time. After the initial steam the Christmas Pudding can be kept up to a year in its pudding basin if wrapped up properly in clean greaseproof paper and foil and stored in a cool dark place.
Do you need to feed a Christmas Pudding? - It is also not necessary to feed your pudding with brandy or rum or whathaveyou during its slumber. A Christmas cake yes but a Christmas pudding no – there is enough fruit, alcohol and sugar going on in there already to keep your pudding nice and moist for at least a year
Do you have to make the Christmas Pudding ahead of time? - There is nothing wrong with making your pudding a few days before the big event. Okay, so it won't quite have reached the maturation you might have liked if you had done it earlier but I guarantee it will taste better than any made by a supermarket's factory.
Can Christmas Pudding be eaten cold? – It's not great eaten cold. The texture is a little tough.
Can Christmas Pudding be re-heated? – Yes, you can re-heat by steaming or placed in a greaseproof lined oven dish covered in foil and re-heated in the oven.
Do you want more great Gluten-Free Christmas Baking recipes?
Easy Mincemeat
Gluten-Free Mince Pies
Chocolate Cranberry Clementine Cake
Cheat's Christmas Cake
Steamed Chocolate Pudding with Chocolate Custard
Bramley Appple Mincemeat Pudding
The Best Gluten-Free Fruit Cake
If you make this Traditional Gluten-Free Christmas Pudding then please leave a comment below and/or give the recipe a rating. If you then go on to use this recipe as a launch pad for your own baking creation then I'd also love it if you'd share it and tag me on Instagram. It is so lovely for me to see your versions and variations of my recipes.
Gluten-Free Christmas Pudding
Nothing beats a homemade Traditional Gluten-Free Christmas Pudding. It simply does not compare to anything you can buy in the shops. This light and fluffy pudding is bursting with plump luscious brandy sodden fruit and is rich with nuts and spices.
Ingredients
Day One
115

g

sultanas

115

g

raisins

70

g

dried figs

-

diced

50

g

dried unsweetened cranberries

25

g

whole almonds

-

roughly chopped

1

carrot

-

peeled and grated

1

apple

-

peeled and grated

1

orange

50

ml

brandy

30

ml

Pedro Ximinez

-

or add more brandy
Day Two
2

eggs

-

medium

80

g

shredded suet

-

for gluten-free suet see notes below

1

tablespoon

black treacle

120

g

dark muscovado sugar

80

g

gluten-free breadcrumbs

70

g

gluten-free flour

1

teaspoon

baking powder

1

teaspoon

ground mixed spice

½

teaspoon

ground cinnamon

¼

teaspoon

freshly grated nutmeg

¼

teaspoon

salt
Instructions
Toss all of the ingredients from Day One together in a large mixing bowl then cover the bowl and leave in a corner of the kitchen to marinate overnight.

Add all the ingredients from Day Two to the marinated fruits from Day One. Stir everything together thoroughly.

Butter a 1.1lt pudding basin then fill with the pudding mixture.

Make a lid for the basin by taking a large piece of baking parchment and a large piece of aluminium foil. Lie the foil on top and make a fold in the centre of both pieces which will allow room for the steam to rise. Place these over the top of the pudding basin, with the foil on top, securing tightly with bakers twine underneath the lip of the pudding basin. Trim off any excess parchment and foil, you don't want them to hanging too low as otherwise they will soak up the water during the steam.

Place a steaming rack (or a folded up tea towel) into a large lidded cooking pot, deep enough to cover the pudding. Then place the pudding on top of the rack.

Fill the pot up with boiling water until halfway up the pudding basin. The water should not touch the parchment / foil otherwise they will soak it up and the pudding will go soggy. Place the lid on the pot and bring the heat to a simmer.

Steam for three and a half hours, checking the water level occasionally and topping up if necessary.

Remove the pudding from the cooking pot then re-make the lid for the pudding basin with fresh baking parchment and aluminium foil. Store in a cool dark place until Christmas Day.

On Christmas Day the pudding will need to be steamed again in the large cooking pot for re-heating before serving. However your pudding will only need two and half hours this time.

Remove the pudding basin from the cooking pot and remove the parchment / foil lid. Turn your pudding carefully out onto a plate and serve with brandy butter, custard, cream or ice-cream to accompany it.
Notes
Dried Fruit - I think the sultanas are necessary but you can switch out the raisins for currants and the figs and dried cranberries to whichever dried fruits you enjoy. Almonds - these are optional if you need to make a nut-free pudding or you can substitute for pecans or walnuts. Apple - I like to use Bramley apple but Granny Smiths are fine too. Suet - Commercial suet is coated in wheat flour. I haven't found gluten-free suet that I like but if you order fresh suet from the butcher it will come in a block and you can grate it with rice flour to create suet pellets which will evenly distribute throughout the pudding. Or you can substitute with either lard or coconut butter. If you do, then freeze the fat before grating into the pudding for even distribution. Dark Brown Muscovado Sugar - can be substituted for any dark brown sugar. Sift the sugar before you use it - muscovado sugar can be a bit clumpy Breadcrumbs - you can use any gluten-free breadcrumbs. Gluten-Free Flour - I use Doves Farm Gluten-Free Plain White Flour. Making ahead - You can make your Christmas Pudding at least 3 months in advance if you so wish. It keeps very well in a cool dark place. Re-heating - Christmas Pudding is not very nice eaten cold, it needs re-heating. Please try not to microwave your Christmas Pudding. It will make the pudding tough and heavy. You can re-heat leftovers wrapped in foil in the oven.
Nutrition
Calories:
420
kcal
Carbohydrates:
70
g
Protein:
5
g
Fat:
13
g
Saturated Fat:
6
g
Cholesterol:
48
mg
Sodium:
106
mg
Potassium:
509
mg
Fiber:
6
g
Sugar:
38
g
Vitamin A:
1382
IU
Vitamin C:
12
mg
Calcium:
104
mg
Iron:
2
mg
Have you tried this recipe?
Head to the comment section and let me know what you think!
This recipe was originally published in December 2015 and updated in October 2020 with more clarifications to the method and a slight alteration to the quantities in the recipe.