This post contains affiliate links. Please read my disclosures.
This Easy Homemade Marzipan recipe is delicious and achievable and takes no more than 15 minutes to prepare. Fantastic for marzipan sweets, cake coverings or decorations. With this recipe up your sleeve you will never need to buy ready-made marzipan again.
If you had asked my former self whether I liked marzipan the answer would have been a resounding no. This is illogical though as I love almonds. However I had never been totally convinced of the overly sweet and sickly marzipan I was familiar with from the supermarket.
In my next post I am going to be sharing my ultra special Easter Simnel Cake recipe of which marzipan plays a huge part. However, when I went to buy the marzipan which is the traditional decoration for a Simnel Cake I cast a quick glance at the ingredients on the back of the packet. It was grim reading. The main ingredient was sugar with only 25% almonds. I put it down and had a think. Surely marzipan doesn't have to be this way?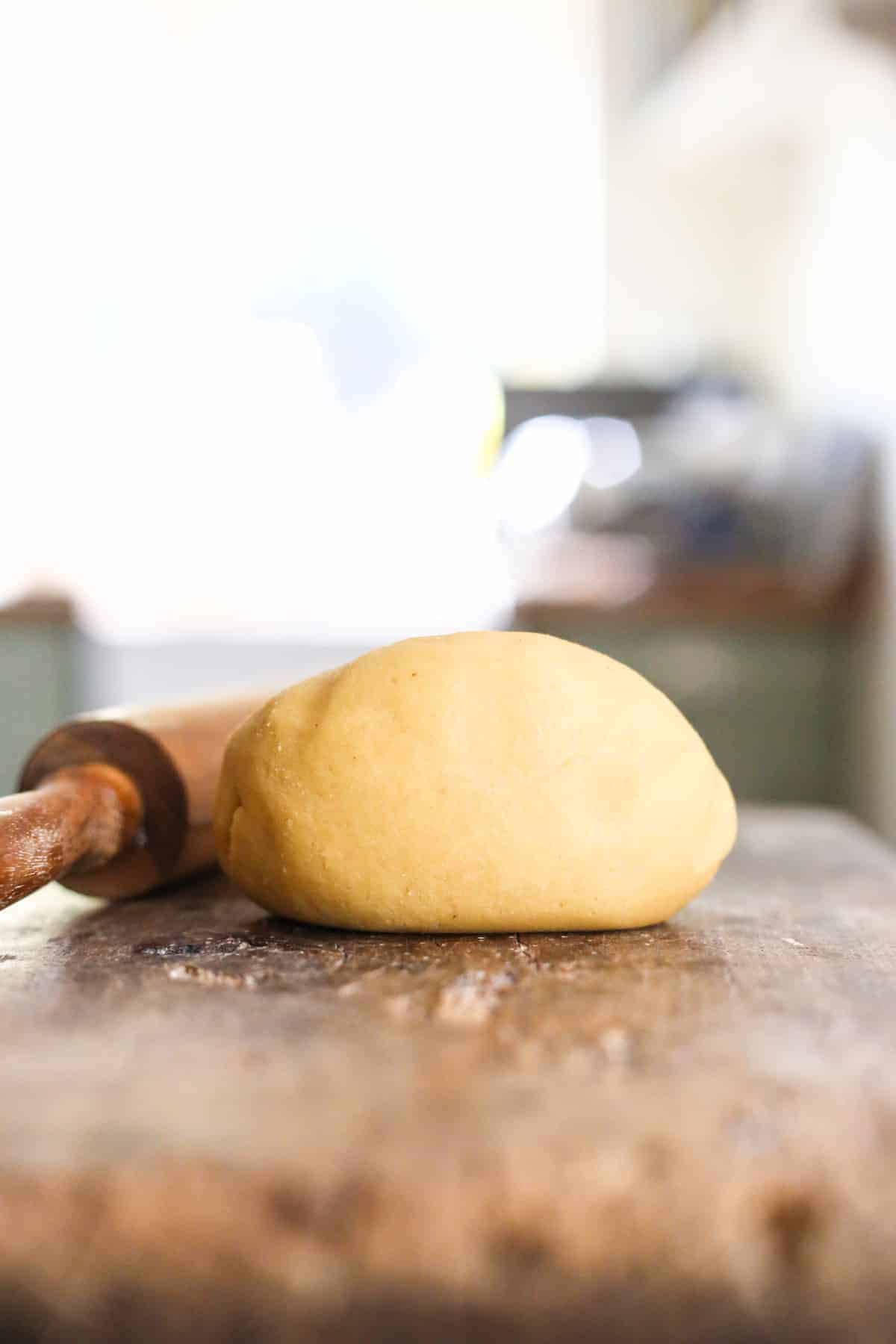 It certainly does not. It turns out Homemade Marzipan is a culinary delight. Worlds away from the shop bought stuff. I had all the ingredients on hand ready to go and what's more it was so easy. After making this marzipan recipe I had a total revelation. Sam! I like marzipan. I do! I like it Sam-I-am!
It turns out I just don't like ready made marzipan. And maybe that's the case for you too.
What is marzipan?
Marzipan is made from ground almonds and sugar which are bound with egg to make a sweet dough. It's most common use in the UK is to be rolled out and then cover formal cakes like wedding or Christmas cakes which are then decorated with royal icing.
However it can be so much more than that. Marzipan can also be moulded into beautiful shapes and figures then dyed to be eaten as confectionary or to decorate cakes. If you've seen the creative way Molly Yeh uses marzipan to style her cakes then you can appreciate how versatile this confection actually is.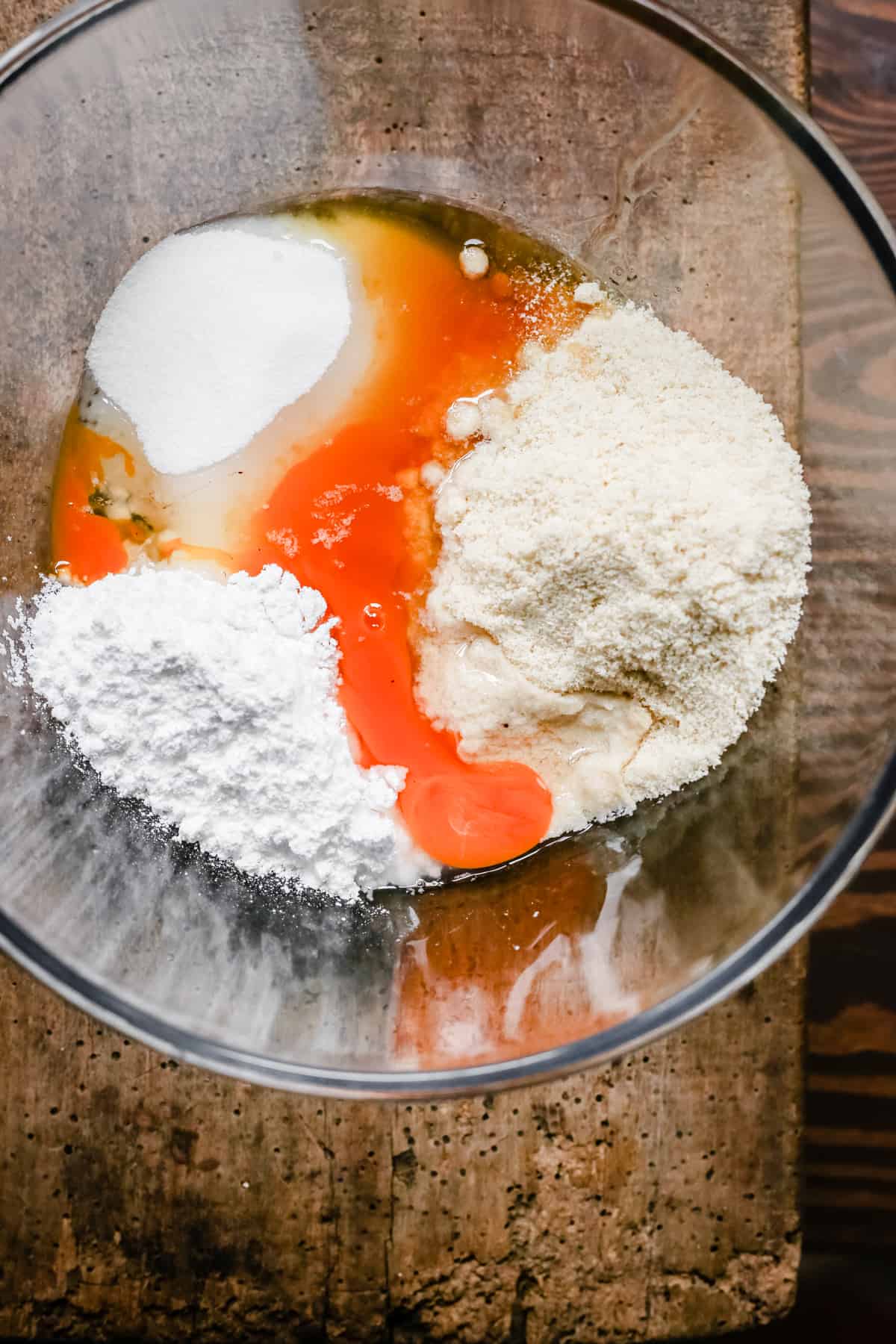 What are the ingredients in homemade marzipan?
Ground Almonds
You need to use very finely ground almonds so that you can achieve a smooth marzipan dough. You might want to choose shop bought in this instance over home ground. Good quality ground almonds or almond flour will have a nice fine even grind. However, it does elicit a blander taste but this is easily fixed with a touch of almond extract.
If you are using freshly ground almonds then the almond extract should not be necessary but your marzipan will be a little rougher.
Sugar
For the sugar this recipe uses a combination of icing sugar, caster sugar and golden syrup. The icing sugar helps create a smooth dough, the caster sugar gives body and the golden syrup helps with the viscosity.
Egg
You then need something to bind the almonds and sugars to create the dough and this recipe uses 1 medium egg. The yolk gives the marzipan a lovely rich taste and the egg white gives the dough an elasticity making it easy to roll out or mould.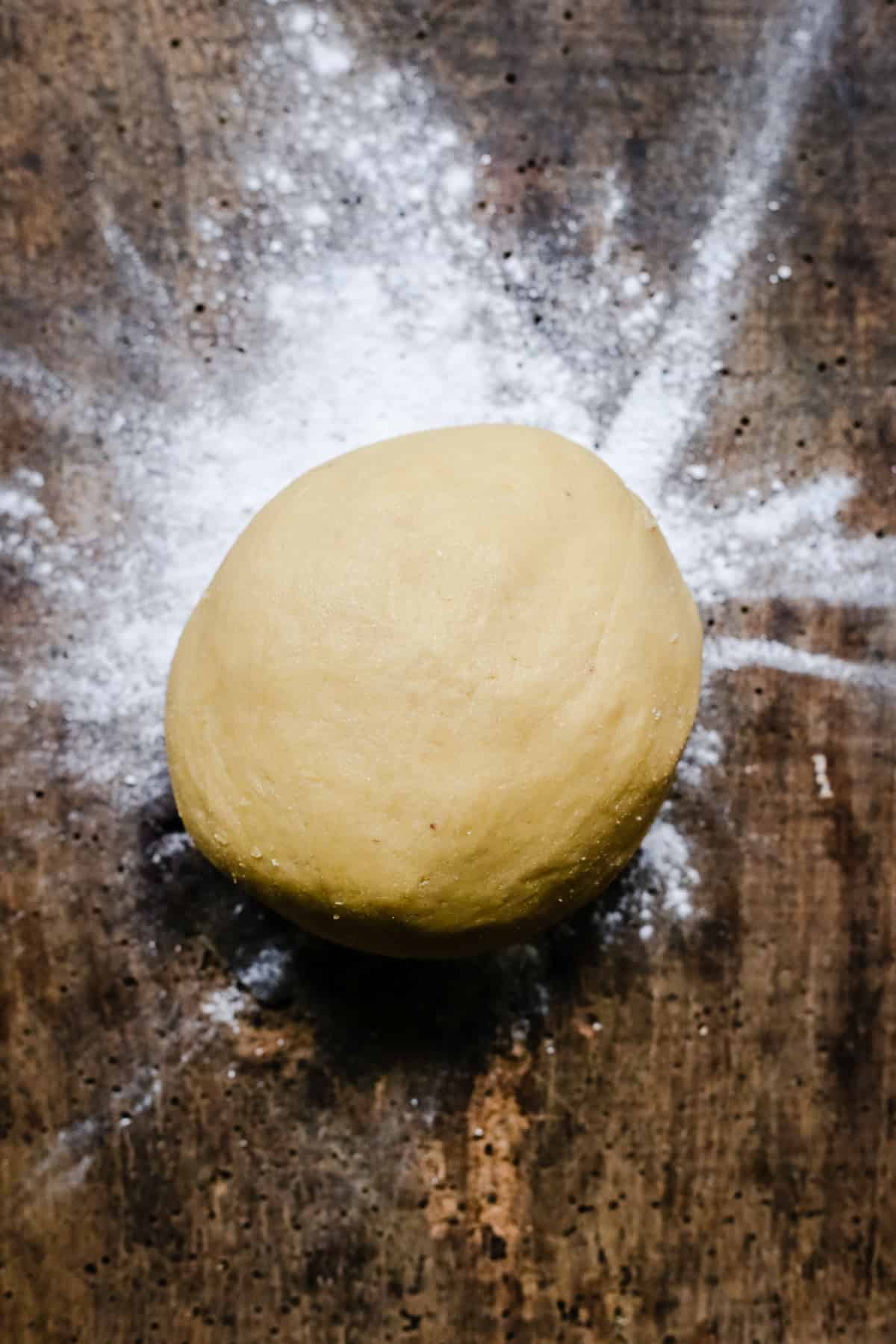 This recipe contains raw egg so please take care. The NHS states that because of improved food safety regulations raw eggs are safe for pregnant women, infants and the elderly if they are produced under the British Lion Code of Practice. This is standard for most British supermarket bought eggs. However you may want to check with your guests before serving that they are happy to consume.
Alternative to Raw Egg
You can cook the egg if you are worried about the raw egg. Heat the egg with the sugars, in a bowl over a pan of simmering water, until scalding hot. Remove from the heat and leave to cool before mixing with the ground almonds. Do note that this dough is more fragile to work with and doesn't roll out as well.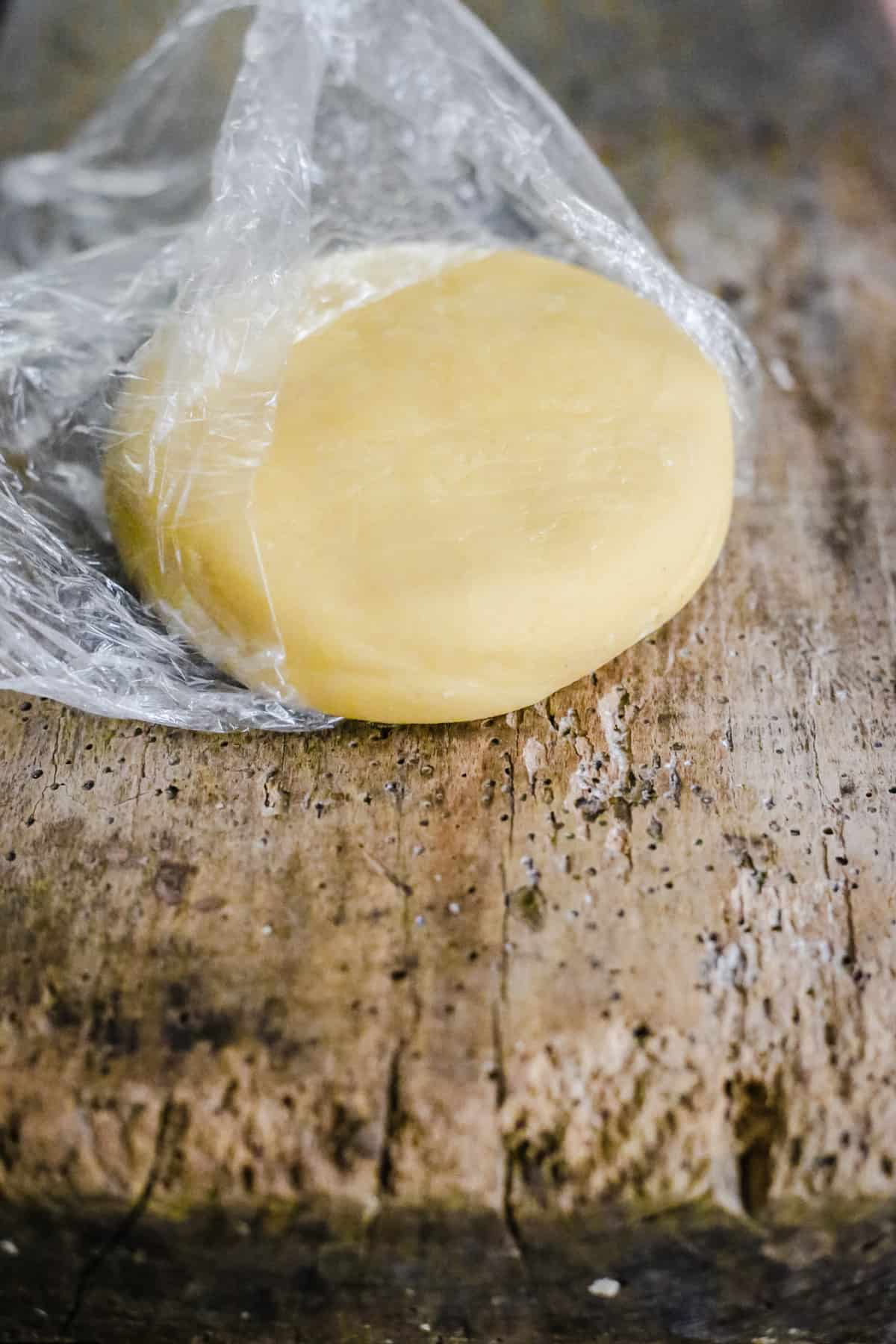 How to make marzipan
Honestly there are just three simple steps. So much quicker than a walk to the shops.
Mix. You simply weigh out and mix all the ingredients together in a large bowl.
Knead. Bring the dough together with your hands, kneading briefly until it has become a smooth ball.
Chill. Wrap in cling film and store in the fridge for a couple of hours when it will then be ready to roll out or mould.
How long does homemade marzipan last?
Despite Homemade Marzipan containing raw egg it does keep surprisingly well. The sugars help prevent bacteria from forming. You can store the marzipan wrapped up tightly with cling film for up to a week in the fridge.
How to marzipan a cake
You can also use this marzipan recipe for cake covering, such as a Christmas Cake or wedding fruit cake. The steps are simple:
Roll out the marzipan to 1cm thickness and 2cm wider than the size of your cake.
Brush the surface of the cake with apricot jam to create an adhesive.
Drape the rolled marzipan over the finished and cooled cake.
Tuck tightly around the cake, smoothing the top and sides with a flat edged cake smoother. Trim off the excess marzipan.
Leave the cake in a cool dark place for the marzipan to completely dry out (at least 2 days) before icing the cake with royal icing or fondant.
Once the cake has a final layer of icing the cake can keep for 1-2 months in a cool dark place.
Shop the Recipe: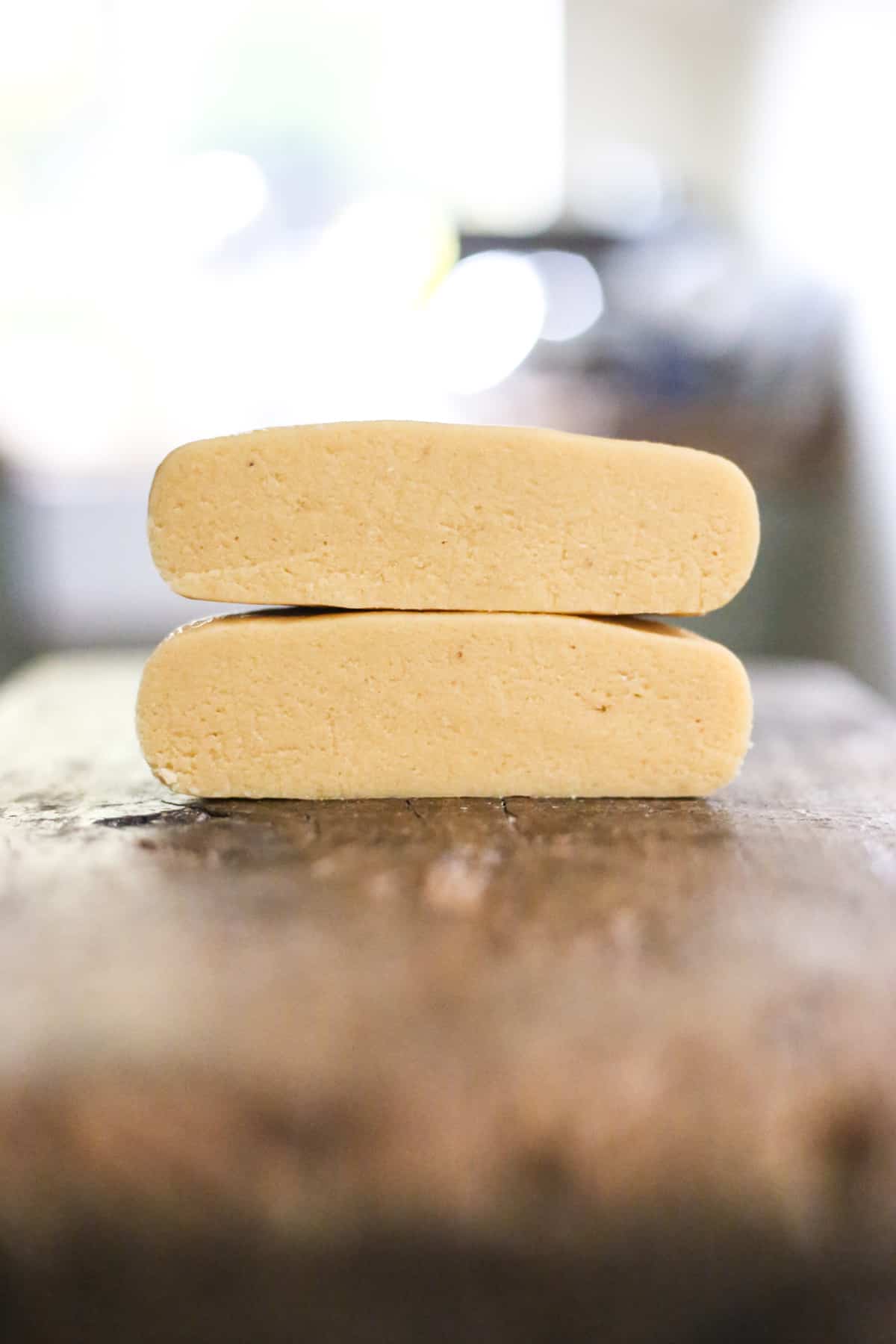 If you like this recipe then you may like these other Essential Baking recipes:
Homemade Mixed Peel
Homemade Glace Cherries
Homemade Stem Ginger in Syrup
Gluten-Free Frangipane
I hope you give this Easy Homemade Marzipan recipe a try and become a complete convert like me. If you do make this recipe then please leave a comment below and give the recipe a rating which helps others find the recipe on Google. If you then go on to use this recipe as a launch pad for your own baking creation then I'd also love it if you'd share it and tag me on Instagram. It is so lovely for me to see your versions and variations of my recipes.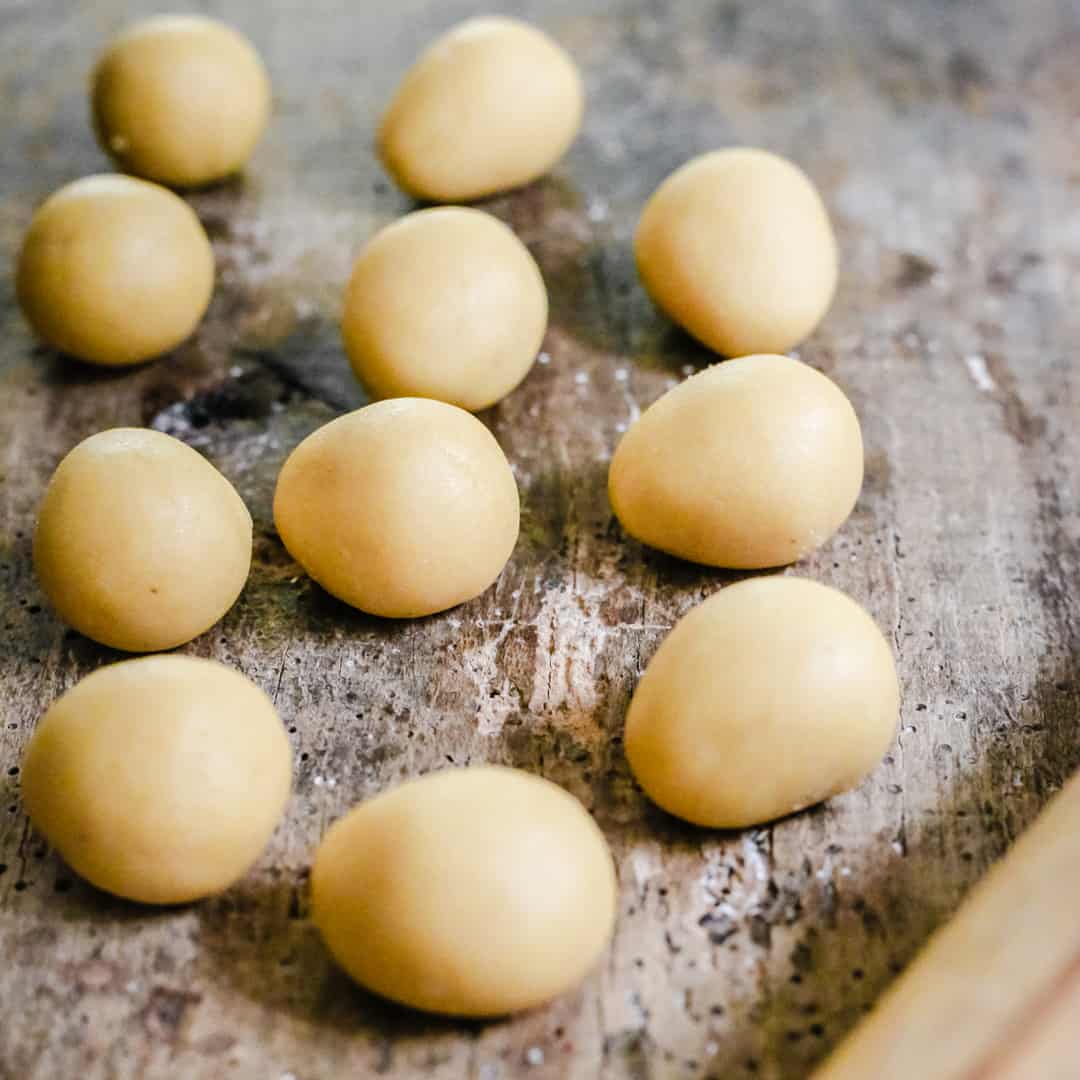 Easy Homemade Marzipan
This Easy Homemade Marzipan is a delicious and achievable recipe which takes no more than 15 minutes to prepare. Perfect for marzipan sweets, cake coverings or decorations.
Ingredients
300

g

ground almonds

150

g

icing sugar

-

plus extra for dusting

110

g

caster sugar

2

tablespoons

golden syrup

1

egg

-

medium size

¼

teaspoon

almond extract

-

optional
Instructions
Mix all the ingredients together in a large bowl. Once combined use your hands to knead into a smooth dough.

Dust extra icing sugar on the work surface and tip the dough out on top of it. Still using your hands roll the dough together until it forms a smooth ball with almost no stickiness.

Wrap in cling film and flatten the ball slightly to make it easier to roll out once ready.

Store in the fridge for at least 2 hours for the flavours to settle and the sugar to dissolve.
Notes
Almond Extract. If you are using home ground almonds then the almond taste might be strong enough for you. Shop bought ground almonds are blander so you might want to amp up the taste with the extract. Storage. The marzipan contains raw egg. However the sugars helps prevent bacteria from growing. If you wrap the marzipan up well in cling film you can keep it in the fridge for up to a week. Cake covering. If you are using this marzipan to cover a traditional fruit cake then you must let the marzipan completely dry before covering with royal icing (at least 2 days). The royal icing will prevent moisture getting to the marzipan and the iced cake can keep between 1-2 months in a cool dark place.
Nutrition
Calories:
6
kcal
Calcium:
1
mg
Have you tried this recipe?
Head to the comment section and let me know what you think!