This post contains affiliate links. Please read my disclosures.
These Granola Bars really are the best. They are gluten-free and vegan with no refined sugar and plenty of energy boosting ingredients, plus they are super tasty.
Happy New Year! I am kicking off this year's recipes with an old favourite of mine, my very Best Granola Bars, which have yet to feature on the blog. And now seems the perfect time what with all the good intentions abounding.
2018 is an exciting year, I'm at a place in my life where I am happily surrounded by children and babies. Not counting my own new arrival in April, several of my closest friends are pregnant and expecting in the first quarter of the year. And since most of my gifts, birthdays, Christmas or otherwise usually have a food theme, they can expect a batch of these Best Granola Bars to be materialising on their doorsteps during those first few days home from the hospital.
I started making these Best Granola Bars for my friends with newborns as I found they are absolutely perfect for the snacking that is an essential part of this time. Whether keeping up energy levels during middle of the night feeds, or when you can only cope with food that requires one hand since the other is occupied with your new bundle these Best Granola Bars are ideal. They are also pretty useful for offering to the plethora of guests clamouring to see the new baby or your hungry toddler who is a little disgruntled that your attention is now split with another child.
When I first had Cole the food I was eating got totally out of control, it was cake, chocolate and biscuits morning, noon and 2am. At a time when you are supposed to be looking after yourself for the sake of your newborn it's absolutely impossible as tiredness takes over and everything within you is poured into looking after your new baby. Food is way down on your priority list after nursing, changing nappies, burping and sleeping but you really need some organic energy to keep you going. By the time Cole was a few weeks old I had graduated my eating habits to shop-bought granola bars but there are all sorts of hidden ingredients in them and although a better choice than biscuits they are not really that good for you either. All the ingredients in these Best Granola Bars are meant to satisfy, keep your hunger levels at bay and promote your energy whilst tasting pretty delicious.
I've put all my favourite seeds and nuts into this bar to boost up the protein. There is crunch from the chia seeds, almonds, pumpkin seeds and puffed rice. Chewiness from the dates and bags of taste, amped up by a little cinnamon and vanilla extract. Almond butter and coconut oil help to bind and there is no refined sugar, just the dates and a good splash of maple syrup.
I ate these Best Granola Bars for a lot of 2017 even without a newborn to look after. It goes without saying that you don't really need a child to appreciate them, just an empty tummy that is looking at a vast empty chasm before its next meal.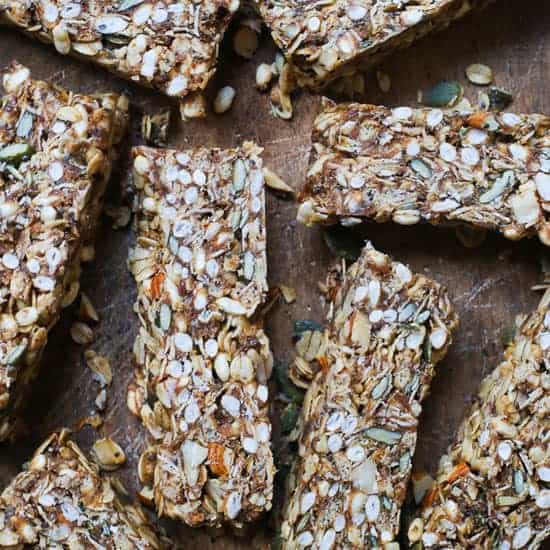 Best Granola Bars
Best Granola Bars are gluten-free and vegan with no refined sugar and plenty of energy boosting ingredients, plus they are super tasty.
Ingredients
225

g

gluten-free rolled oats

100

g

whole raw almonds

-

roughly chopped

70

g

pumpkin seeds

60

g

gluten-free puffed brown rice cereal

40

g

chia seeds

40

g

ground flaxseed

2

teaspoons

ground cinnamon

½

teaspoon

salt

175

g

coconut oil

-

melted

150

g

almond butter

120

g

pitted medjool dates

75

g

maple syrup

¾

teaspoon

vanilla extract
Instructions
In a large mixing bowl throw together the oats, almonds, pumpkin seeds, puffed rice, chia seeds, flaxseeds, cinnamon and salt and mix well.

Pour into a blender, the coconut oil, almond butter, dates, maple syrup and vanilla extract and blend on high for a couple of minutes until the mixture is thick and caramel-like.

Stir the blended mixture into the dry ingredients and mix very well until all the dry ingredients are completely coated. You may have to dig in with your hands at this point.

Tip the granola bar mixture into a lined and greased 9 inch square tin and press very firmly into the tin with your hands until good and even.

Place in the fridge for at least 4 hours or overnight.

Remove from the tin and cut into bars.
Notes
Keep the granola bars in the fridge where they can reside happily for up to 2 weeks.
Nutrition
Calories:
339
kcal
Carbohydrates:
27
g
Protein:
7
g
Fat:
24
g
Saturated Fat:
10
g
Sodium:
76
mg
Potassium:
298
mg
Fiber:
5
g
Sugar:
8
g
Vitamin A:
10
IU
Vitamin C:
0.1
mg
Calcium:
93
mg
Iron:
2.1
mg
Have you tried this recipe?
Head to the comment section and let me know what you think!