This post contains affiliate links. Please read my disclosures.
Homemade Crystallised Stem Ginger (or Candied Ginger) is a spicy treat. Excellent as a little nibble with some coffee, an adornment to baked goods or given away as a beautiful sparkly gift.
Did you have a go at Homemade Stem Ginger in syrup already? If you have then you'll be streaks ahead in this recipe as Homemade Crystallised Stem Ginger is pretty much the same method but with a couple of extra steps.
But first things first.
What is the difference between Stem Ginger and Crystallised Ginger?
In UK supermarkets the most commonly found ginger products in the baking aisles are Stem Ginger and Crystallised Ginger.
The ingredient known as Stem Ginger is balls of ginger preserved in a gingery syrup which I tackled in my previous recipe for Homemade Stem Ginger in Syrup. Crystallised Ginger is the same preserved ginger but it is dried and rolled instead in a coating of sugar.
Since Stem Ginger is kept in its syrup it's a much softer ingredient and excellent baked into cakes, cookies or in savoury dishes where it adds a hot sweetness.
You can use Crystallised Ginger in exactly the same way but it has a firmer grittier texture and probably not recommended for savoury dishes due to its sugar coating. Crystallised Ginger is also the better candidate for the decoration of baked goods and really comes into its own as a standalone treat with a cup of tea.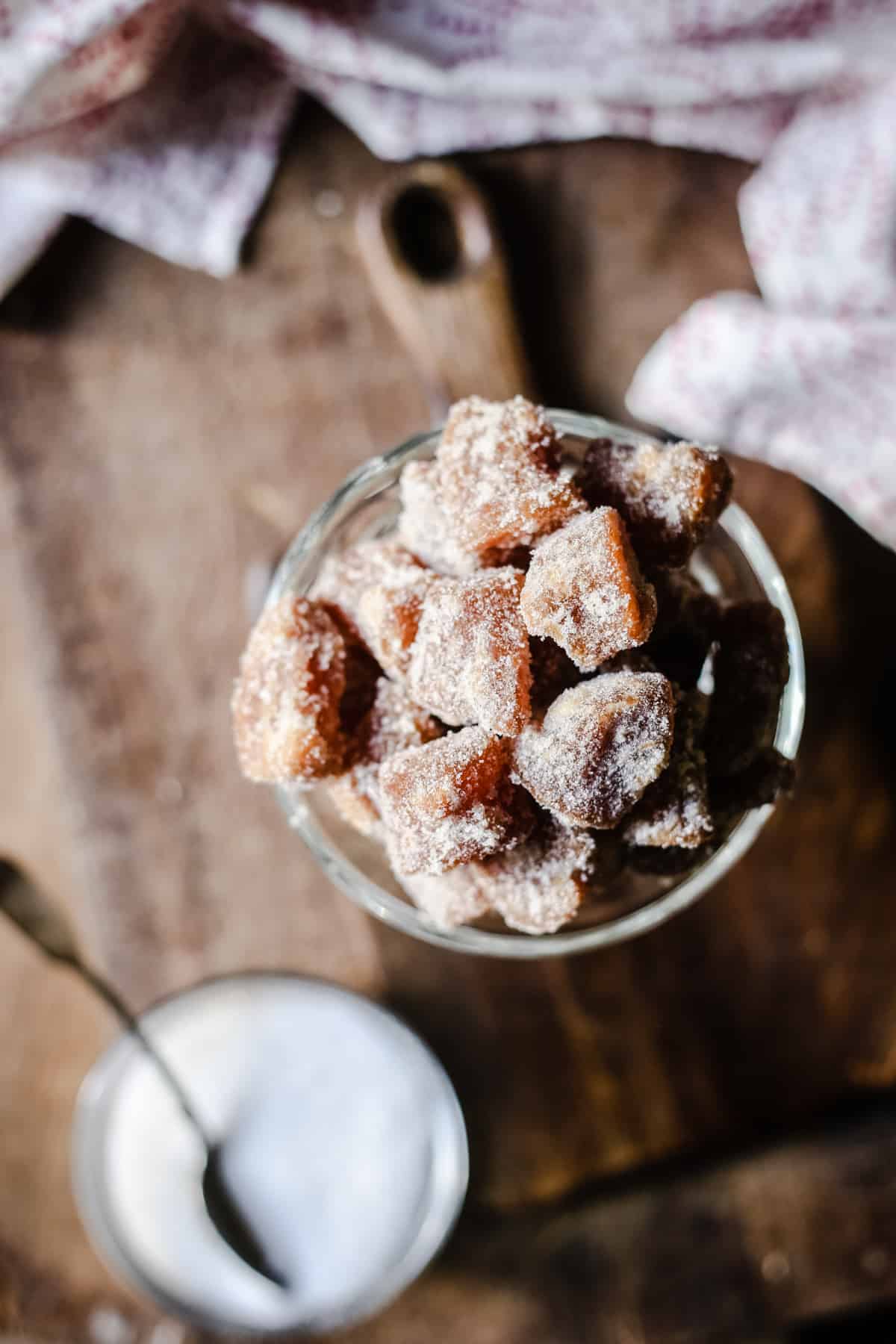 Crystallised Ginger really is quite easy to make. You should follow all the simple steps to make the Stem Ginger in Syrup which includes an initial simmer in water to tenderise the ginger followed by a couple of hours cooking in sugar syrup.
However, whereas at this point you would decant the ginger with its syrup into jars for the previous recipe, here you remove the ginger from the syrup, dry it on a wire rack then roll in sugar.
Crystallised Ginger makes a stunning homemade gift, all golden and sparkly in its jar. Alternatively it could be displayed resplendent on a cheeseboard or served with your after dinner coffee.
Ways to use leftover ginger syrup
With this recipe you will be left with the most deliciously fiery ginger syrup which will really come into its own in your kitchen.
This is an amazing ingredient which can be used in a variety of ways in its own right, from creating deliciously moist and flavourful cakes to delicious Salted Ginger Fudge to salad dressings and marinades.
If you want to learn more about how to use your leftover syrup and have access to exclusive recipes then CLICK HERE >>> Leftover Syrup: Recipes & Tips.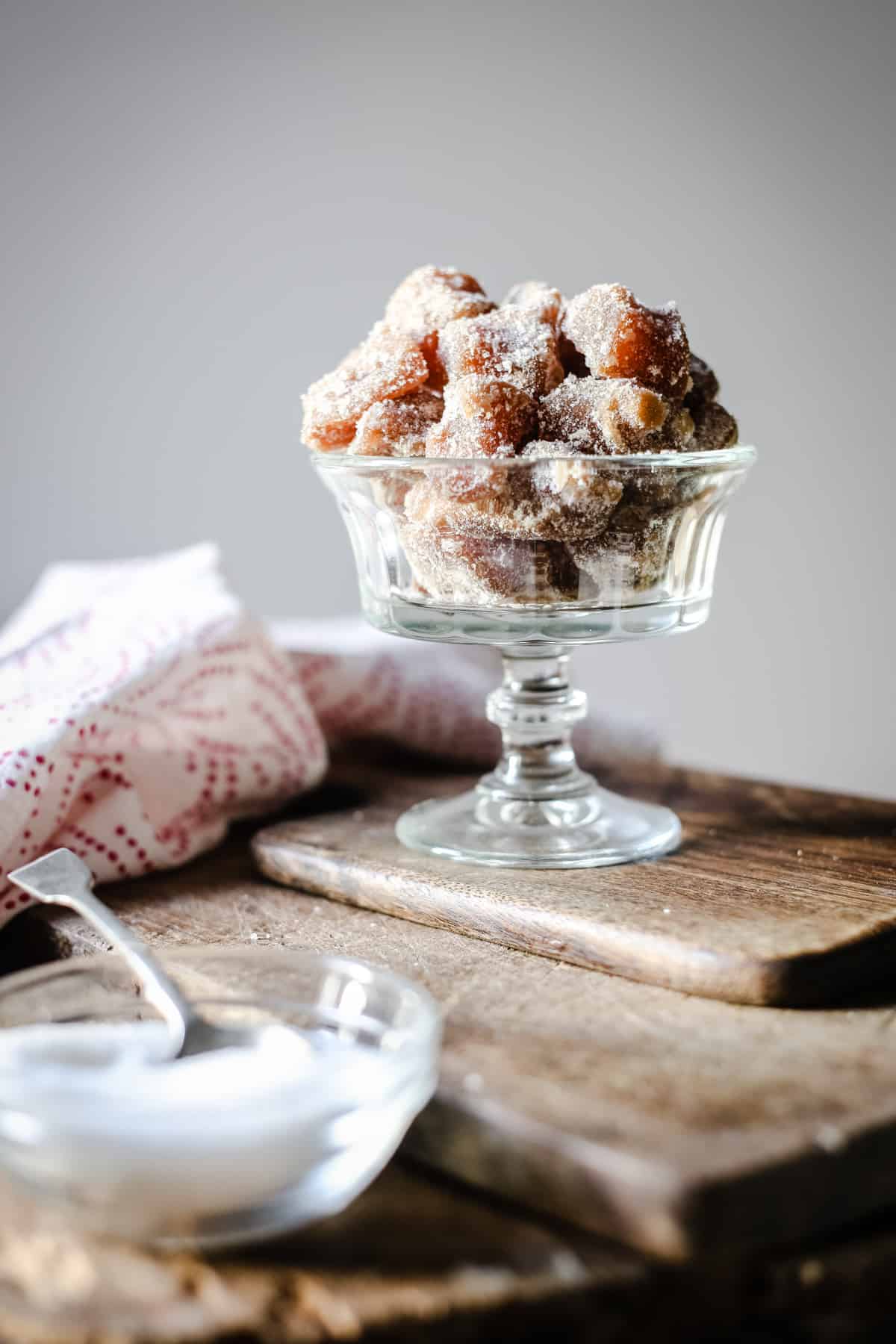 If you like making your own Crystallised Ginger then you may also like these recipes:
Homemade Stem Ginger in Syrup
Homemade Mixed Peel
Homemade Glace Cherries
Homemade Lemon Powder
If you make this Crystallised Ginger recipe then please leave a comment below and/or give the recipe a rating. If you then go on to use this lovely ingredient as the VIP in your own baking or cooking creation then I'd also love it if you'd share it and tag me on instagram. It is so lovely for me to see your creations and variations of my recipes.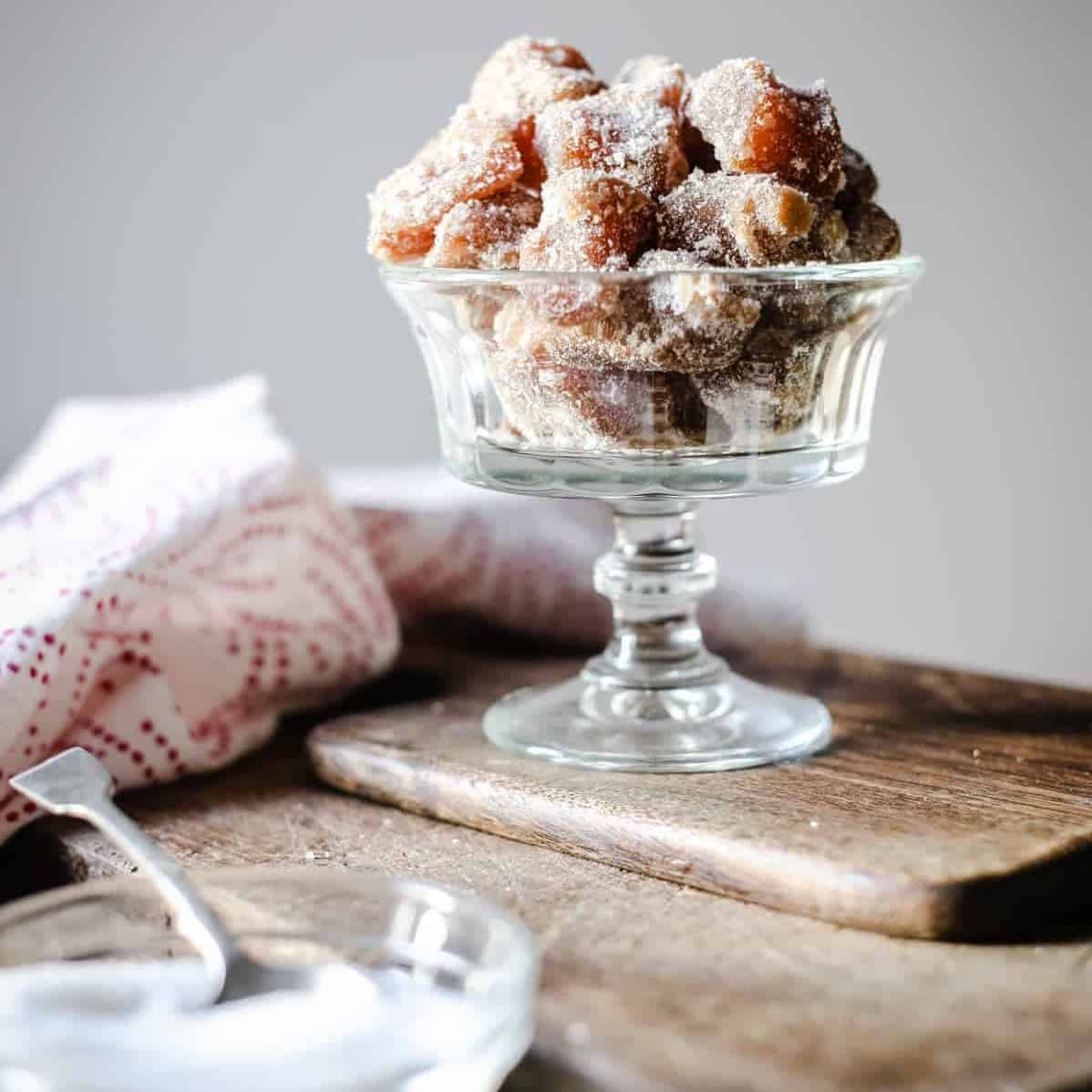 Homemade Crystallised Ginger
Homemade Crystallised Stem Ginger (or Candied Ginger) is a spicy treat. Excellent as a little nibble with some coffee, an adornment to baked goods or given away as a beautiful sparkly gift.
Ingredients
600

g

fresh ginger

600

g

granulated sugar + 100g extra sugar to roll

600

ml

water
Instructions
Day 1
Freeze ginger overnight to tenderise.
Day 2
Remove the ginger from the freezer and wait for about 5-10 minutes for the ginger to warm slightly then peel and slice into pieces. There should be about 450g ginger after peeling and chopping

Cook the ginger in a large saucepan with the lid on for 2½ hours in 1.4 litres water until the ginger is tender.

Drain the ginger but reserve water.

Then weigh the water, you will need about 600ml so add more water if it's slightly less or pour some away if it's more.

Pour the water back into the saucepan and add the granulated sugar.

Bring the water and sugar to a boil.

Add the ginger back in and bring back to a boil then simmer for 5 minutes.

Remove from the heat and leave to cool. Then cover the saucepan and leave overnight.
Day 3
Place the pan back on the heat. Bring the ginger in syrup back to the boil and turn down to simmer with the lid on for 1-2 hours until the syrup is thick and the ginger is translucent and very tender.

Remove the ginger with a fork onto a wire rack to cool and dry overnight.

Roll the dry ginger in sugar and store in a sterilised glass jar.*
Notes
*I store my Crystallised Ginger in the fridge where it lasts for about 3 months.
Yield 1 500g jar
But what do you do with all that leftover ginger syrup? For exclusive tips and recipes including an amazing Salted Ginger Fudge then click here >>> Leftover Syrup: Recipes & Tips.
Nutrition
Calories:
233
kcal
Carbohydrates:
58
g
Sodium:
9
mg
Potassium:
207
mg
Fiber:
1
g
Sugar:
50
g
Vitamin C:
2.5
mg
Calcium:
10
mg
Iron:
0.3
mg
Have you tried this recipe?
Head to the comment section and let me know what you think!