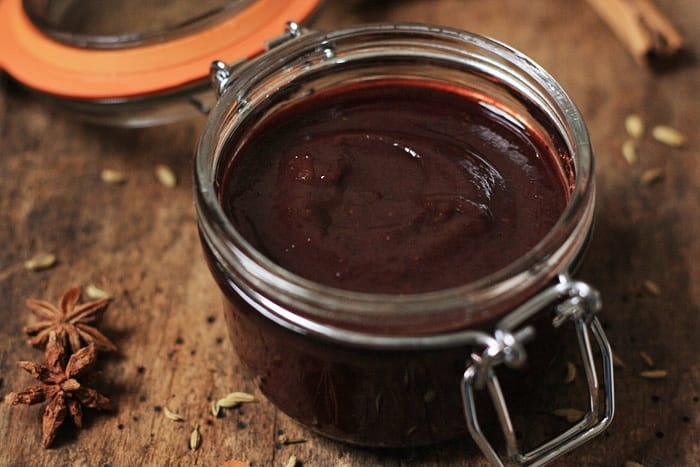 If you are looking for me lately then it's more than likely you will find me stuck up a damson tree, waist deep in blackberry bushes or halfway down the ravine on Parkland Walk checking on the inconveniently placed crab apple tree. At the moment I'm sitting patiently waiting for the rosehips to come into their own as my empty jam jars are crying out for a bit of rosehip jelly. I might have mentioned once or twice that I'm really getting into this foraging business and it has been so surprising to me how much wonderful fruit is available to us on our urban doorstep.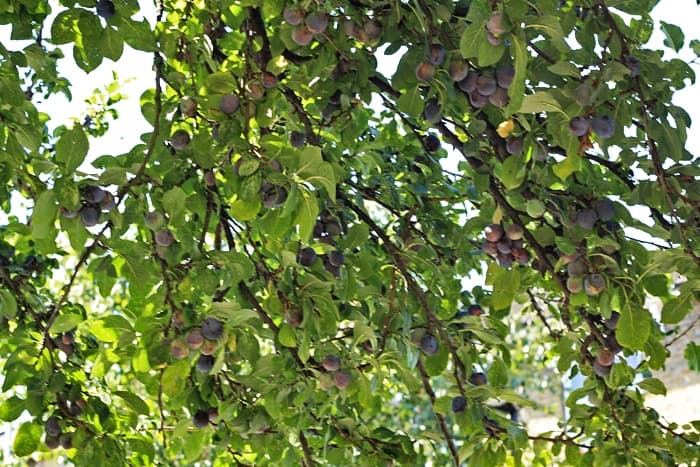 When a friend told me about the damson tree on Lancaster road, which is just your regular residential North London street, I was there in a flash. By the time I arrived I was already a bit too late for some of the fruit which had fallen heedlessly from the branches to be squashed underfoot by busy pedestrians. Gah, that was at least two gallons of jam right there on the pavement.
Whilst we were shimmying up the tree trunk we were informed by a passer-by that everyday there is usually someone picking the damsons, so we are certainly not the only ones benefiting from the tree's generosity. We've visited it a few times now and it could probably provide fruit for the whole of Stroud Green, there are just so many damsons. Although picking the fruit from the branches is no easy task. We had two methods, shaking the tree so all the fruit dropped below into waiting golf umbrellas and on our heads, but that wasn't shifting the fruit at the top so my husband gallantly flew up into the tree, nifty as you like, whilst I waited below with the basket and a grumpy puppy.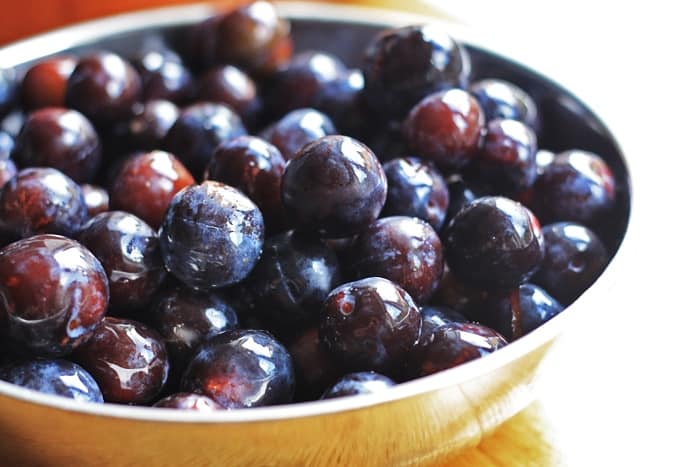 The pleasure in picking your own food is immense, despite what the puppy thinks, and I could just imagine how much fun it would be to have an allotment. That is, if I could stand the 15 year waiting list, and then if I could also rope someone else in to plant the seeds, water the soil, nurture the seedlings and tell me when it's all ready. At that point I would be more than happy though to swoop in and claim all the glory for harvesting the produce. Anyone up for that, I might give you a pot of chutney or a few radishes for your trouble?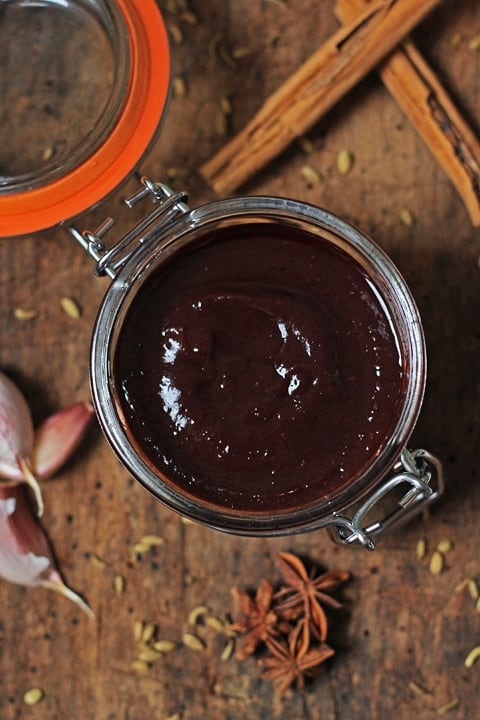 The funny thing is that until this year I'm not sure I had even had damsons before, except in vodka which kinda counts, no? The best way to look for damson recipes is to search under plums. Anything you can do with a plum you can do with a damson, although it would be wise to add a touch more sugar as damsons are rather tart; they are not the sort of fruit you would eat plucked straight from the tree. The other issue with damsons is their stones. They are practically impossible, as far as I can tell, to de-stone them before cooking and I've worked out the best way is to cook down the damsons, sieve the juice out of the way, then sift through the pulp by hand to remove each stone. It's a bit of a labour but worthwhile if you like your damsons which I am now happy to say I certainly do.
This chinese damson sauce is an absolute winner and is of course a natural fit for duck and pancakes, but it's more versatile than that. I am not a fan of the bottled stir-fry sauces you can get from the chinese supermarkets as the ingredients list doesn't fill me with joy but you can happily drop a spoonful of this into any stir-fry instead of oyster sauce or black bean. It also works as a dipping sauce for wantons, sesame toasts or for grilled chicken.
I was quite reserved on the sugar in this recipe, adding only as much as I needed to remove the upfront damson tang. For someone who practically lives on cakes I don't like anything to be overly sweet, but if you wish to add more sugar to the below recipe after tasting then go for it.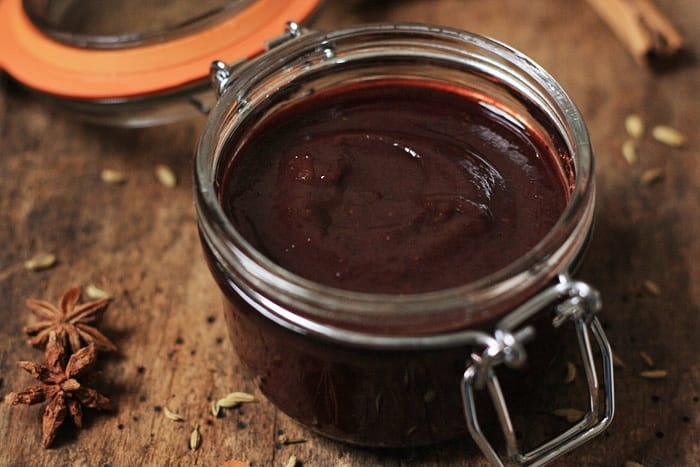 Chinese Damson Sauce
Inspired by Liana Krissoff's Chinese Plum Sauce from Canning For A New Generation
1kg damsons
150g pitted prunes
1 onion, chopped
2 cloves garlic, chopped
1 inch fresh ginger, peeled and diced
225g soft light brown sugar
120ml rice vinegar
2 tbsp soy sauce or coconut aminos
1 tsp cinnamon
1 piece star anise
¼ tsp whole black peppercorns
½ tsp fennel seeds
½ tsp chilli flakes
¼ tsp schezuan pepper
1 tsp salt
Place the damsons in a large preserving pan and cook them for about 10mins with 100ml water, until they are soft and the stones popping out.
The easiest way to remove the stones is to strain the damsons, spread the pulp out on a large plate then pick through all the pulp carefully with food grade gloves to remove each stone. Place the de-stoned pulp and the damson juice back into the preserving pan.
Add all the rest of the ingredients and bring to a boil. Turn the heat down and simmer for 30 minutes.
Pour everything into a blender and blitz until smooth.
Pour the sauce back into the preserving pan, taste for seasoning and bring back to a gentle boil.
Remove from the heat and decant into sterilised jars.