This post contains affiliate links. Please read my disclosures.
This gluten-free Ultimate Popcorn Rocky Road hits all the right notes; sweet, salty, chewy, crunchy and most importantly really chocolatey.
Gosh Rocky Road is dangerous. It's the kind of treat which you would make with kids in mind, maybe it's a birthday party, or the school cake sale. It's fine, it's for the children, I am doing such a nice thing for them. Now here, let's load it with sprinkles as that's what children like.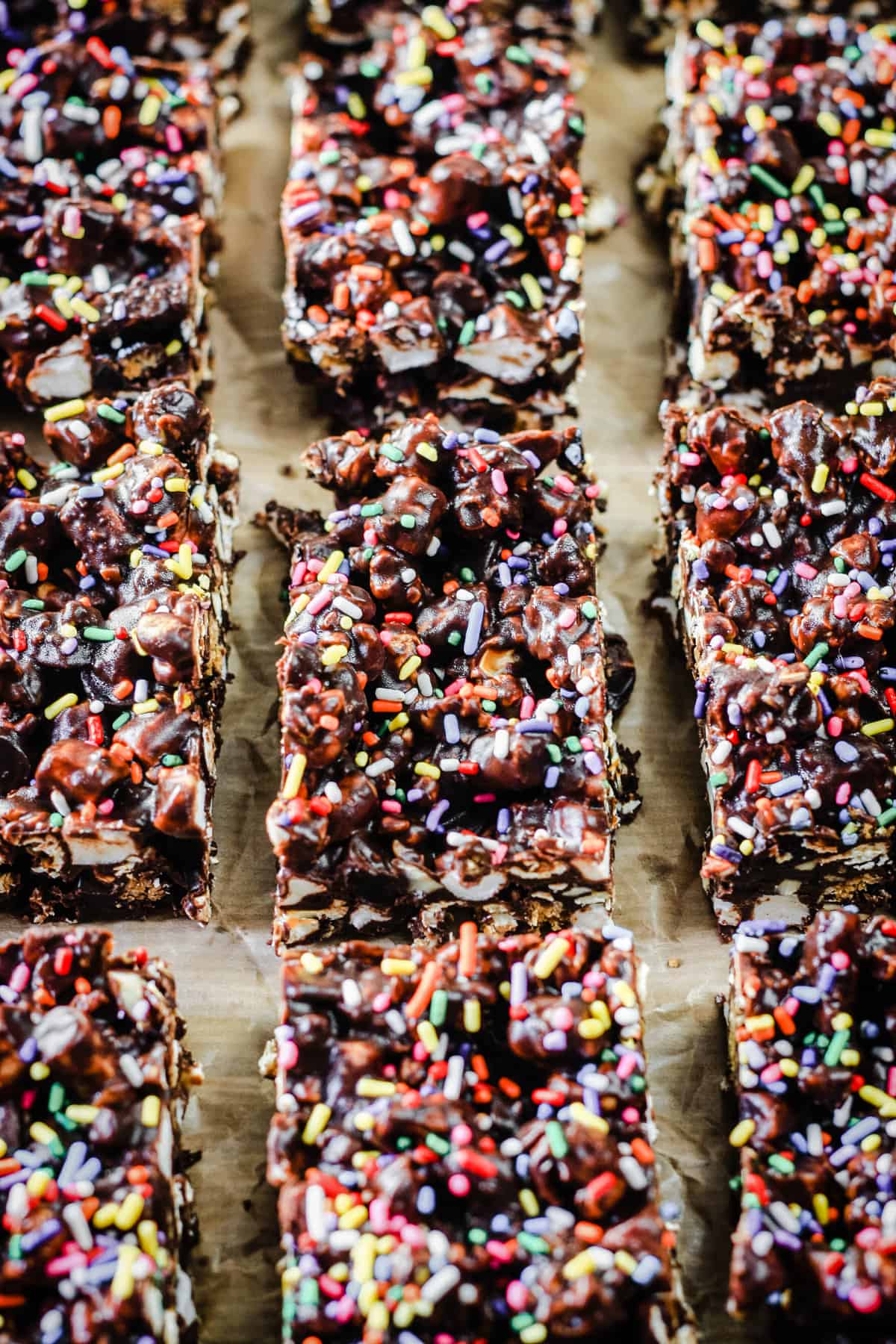 Now you might not really call yourself a sprinkles person, they look pretty but don't really tell you what you're about to eat is anything more than a fun whimsical food. Nothing I can't handle. Here would be your mistake. You are underestimating this rocky road as you think you are making it for the children and the sprinkles are evidence of that.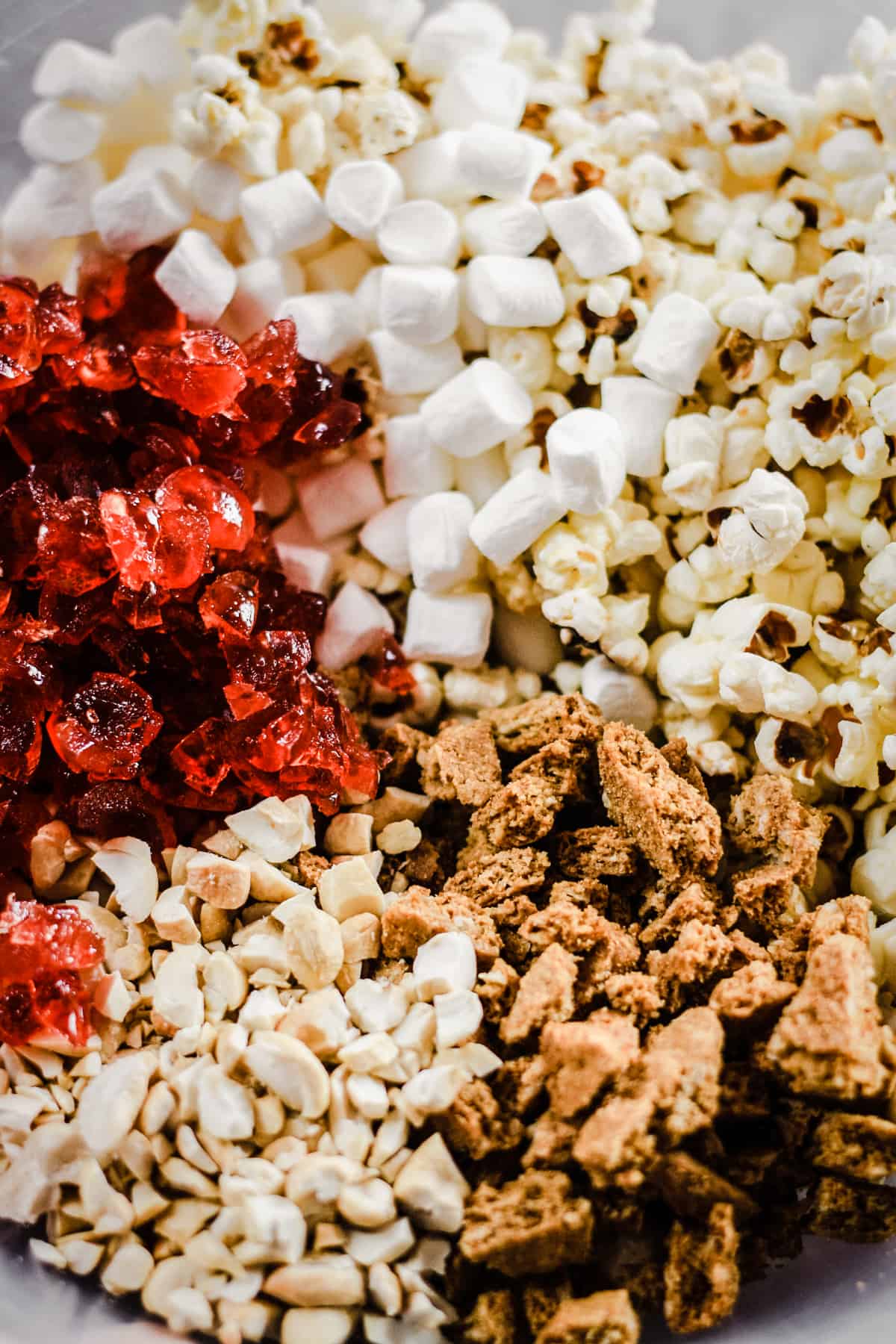 You are wrong, this Ultimate Popcorn Rocky Road is sheer nirvana, for adults and children alike, and if you are tempted to try a small square whilst you are cutting it up or arranging on the plate then don't say I didn't warn you as it will be highly likely that your lovingly prepared treats will not make it to little Jimmy's birthday party and probably won't contribute to raising money for new equipment for the school gym.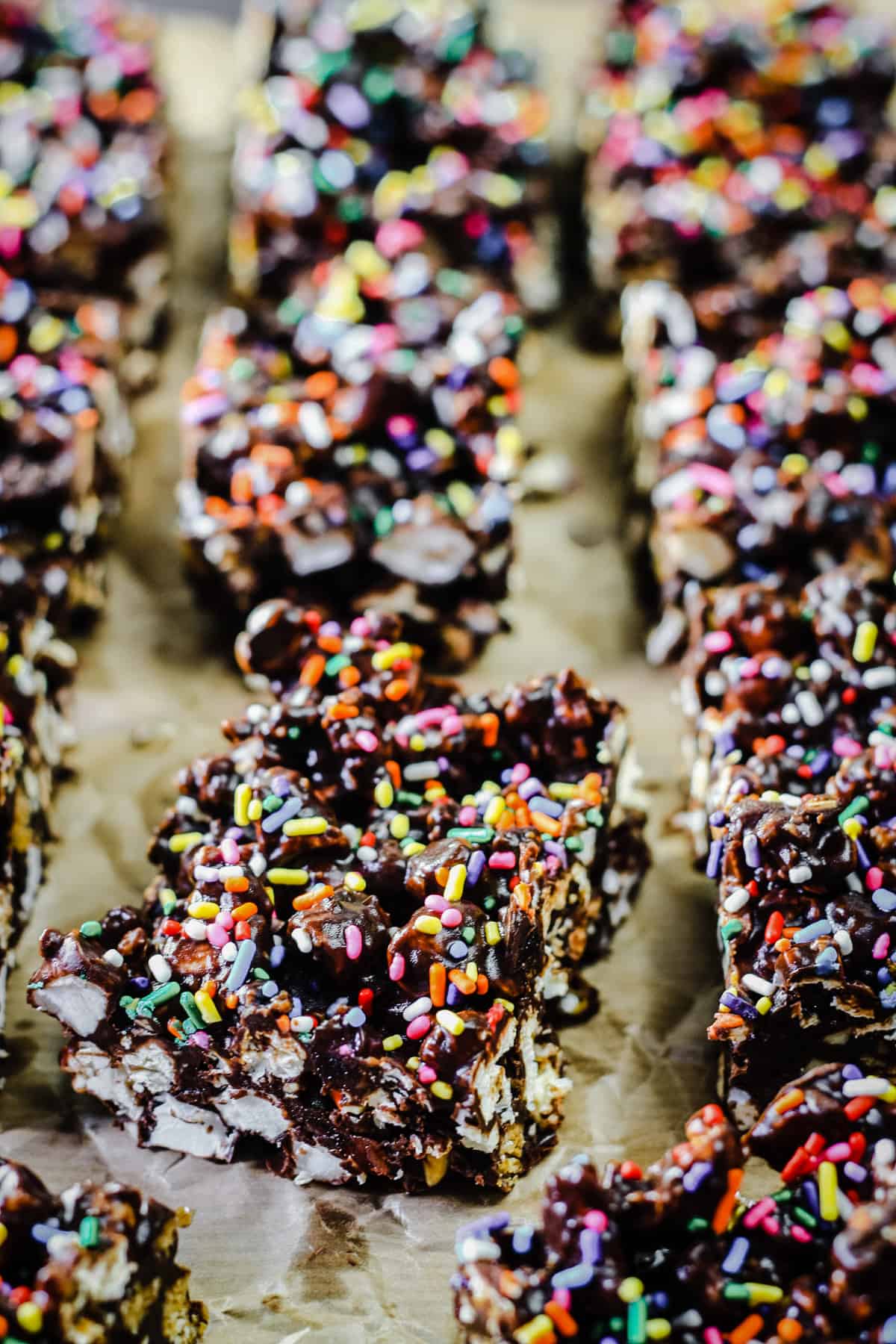 The best case scenario is that you don't eat the whole batch yourself. And if you think I'm exaggerating then let's break it down.
Do you like chocolate? Why yes, I love chocolate. Do you like marshmallows? Well, I wouldn't say no to them toasted over a campfire. What about sweet n' salty popcorn? Does ordering a jumbo bucket at the cinema every Saturday evening count? Yes it does. Then yes, I'm in for popcorn. Glace cherries perhaps? They have a certain retro charm. Biscuits? Oh yes, dunked in my tea at 4pm every day. Some roasted cashews? Naturally, they are part of my very healthy lifestyle. Now mix the lot together and Bob's your bingo, your diet is done-zo.
I should know, I have had several batches of this Ultimate Popcorn Rocky Road come and go out of my fridge for the past two weeks and there is no saving me. And what's more, I don't think I want to be saved.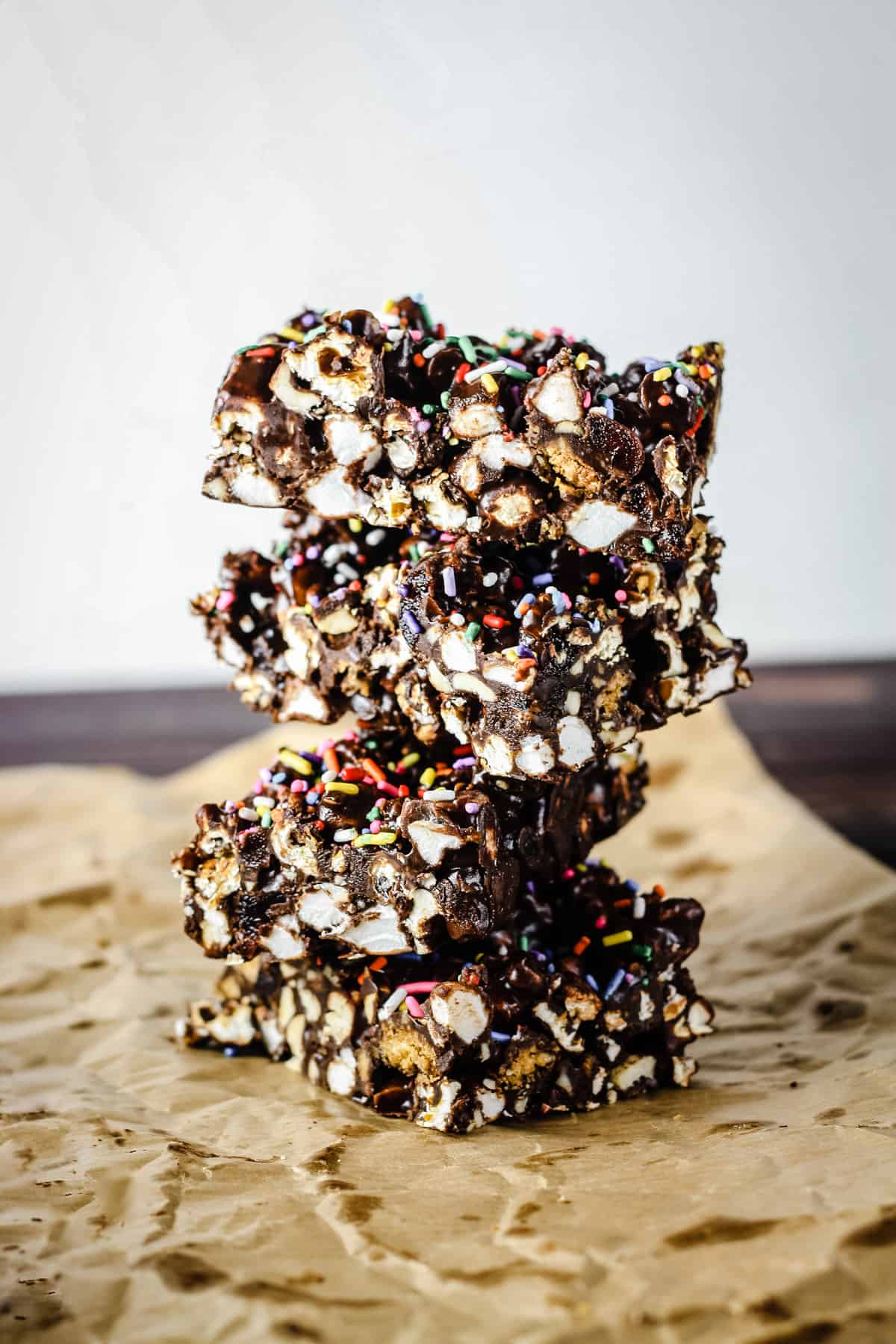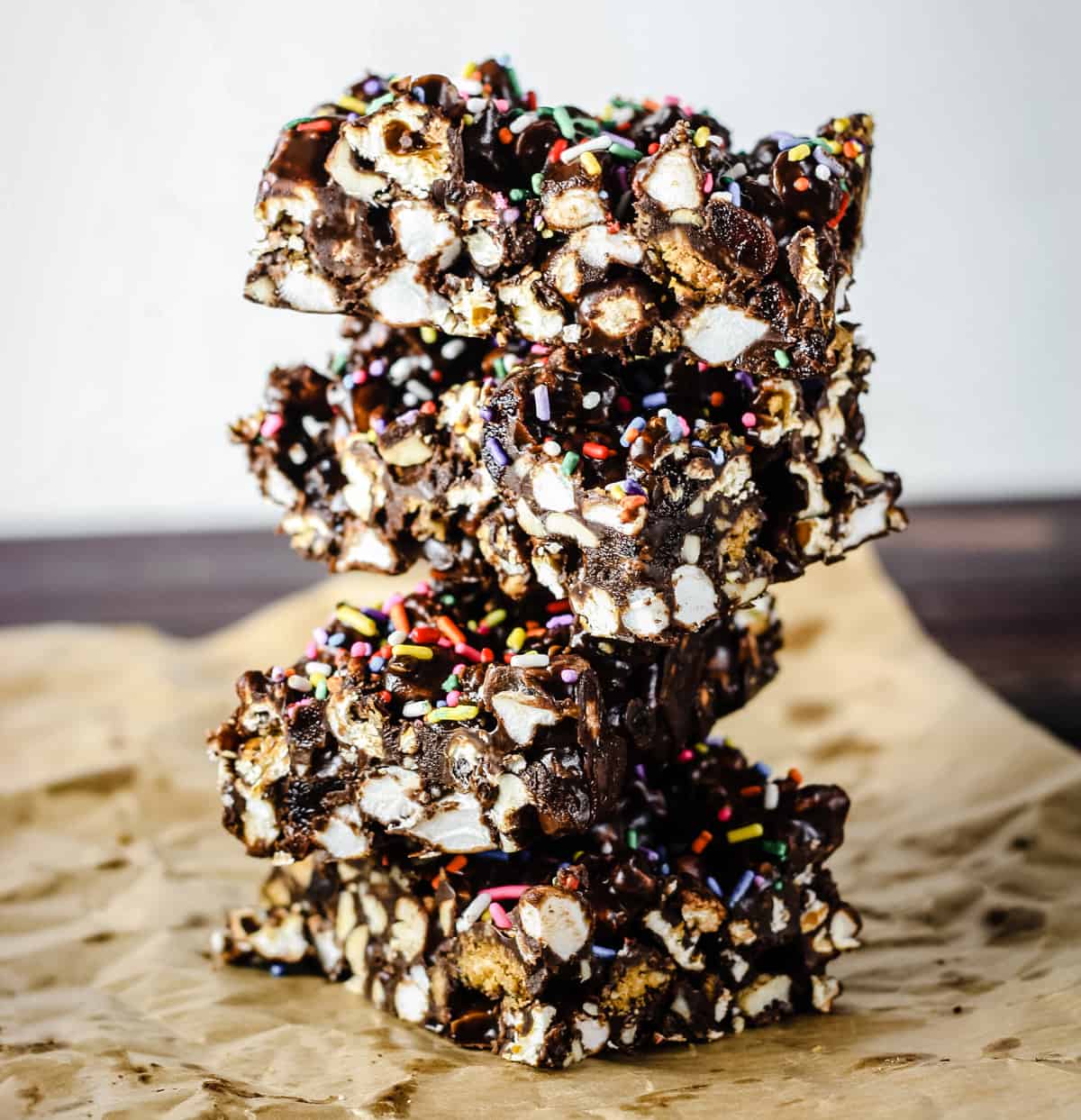 Ultimate Popcorn Rocky Road
This Ultimate Popcorn Rocky Road hits all the right notes; sweet, salty, chewy, crunchy and most importantly really chocolatey.
Ingredients
250

g

dark chocolate

150

g

milk chocolate

175

g

soft butter

3

tablespoons

golden syrup

½

teaspoon

salt

100

g

sweet n'salty popcorn

-

see notes for recipe

125

g

biscuits

-

chopped and a little crushed, see notes for biscuit suggestions

75

g

unsalted roasted cashews

125

g

glace cherries

-

diced

125

g

mini marshmallows

2

tablespoons

sprinkles
Instructions
Line and grease a 13 inch x 9 inch cake tin.

In a bain marie melt the chocolate with the butter and golden syrup.

Once melted pour in, in this order, the biscuit pieces, the nuts, the glace cherries, the popcorn, remove from the heat, then pour in the mini marshmallows. Coat thoroughly with the chocolate.

Pour the rocky road into the prepared tin, then scatter the sprinkles evenly over the top. Place in the fridge for at least 4 hours to set.

Remove from the fridge and cut into squares.
Notes
Popcorn
You can use your favourite bag of popcorn, either sweet or salty. However, to take the recipe to the next level it's really easy to make your own.
READ MORE >>>
How to make Perfectly Sweet n'Salty Popcorn
Biscuits
You can use your favourite biscuits for this recipe. If you don't need the recipe to be gluten-free then your best choices are Rich Tea Biscuits or Biscoff Lotus Biscuits.
If you want your recipe to be gluten-free then you can use your favourites. Try Gluten-Free Rich Tea Biscuits or even Gluten-Free Digestive Biscuits.
READ MORE >>>
Homemade Gluten-Free Digestive Biscuits
Nutrition
Calories:
370
kcal
Carbohydrates:
42
g
Protein:
4
g
Fat:
22
g
Saturated Fat:
12
g
Cholesterol:
24
mg
Sodium:
200
mg
Potassium:
204
mg
Fiber:
4
g
Sugar:
24
g
Vitamin A:
290
IU
Calcium:
20
mg
Iron:
2.9
mg
Have you tried this recipe?
Head to the comment section and let me know what you think!
SHOP THE RECIPE
The cake tin I use for all my tray bakes and sheet cakes is the KitchenCraft Chicago Metallic Professional Non-Stick Baking and Roasting Tin, 33 x 23 cm (13" x 9")
which I love because it's robust and easy to clean.
I always use a double boiler or bain marie when melting my chocolate as it's much easier than finding a bowl that's the right size that will fit the top of your saucepan and then the boil gets hot and how do you handle it? This KitchenCraft Induction-Safe Stainless Steel Double Boiler Porringer/Bain-Marie Pan, 16 cm (6.5")
is the one I use and is the perfect size. Double boilers are way more useful than you think they are going to be. I use one every time I melt chocolate, make a curd or make swiss meringue.
The links above are affiliate links which means if you decide you want to click through to buy then Amazon gives me a small commission at no cost to you whatsoever. To learn more about how the data processing works when using these Amazon affiliate links then please visit my privacy policy page.