This post contains affiliate links. Please read my disclosures.
This Gluten-Free Cherry Cake is a simple homely bake. Fluffy and tender with a sugary crust and packed with fruity glacé cherries. It's ideal for taking on picnics or sitting resplendent on the stall of your local school fete.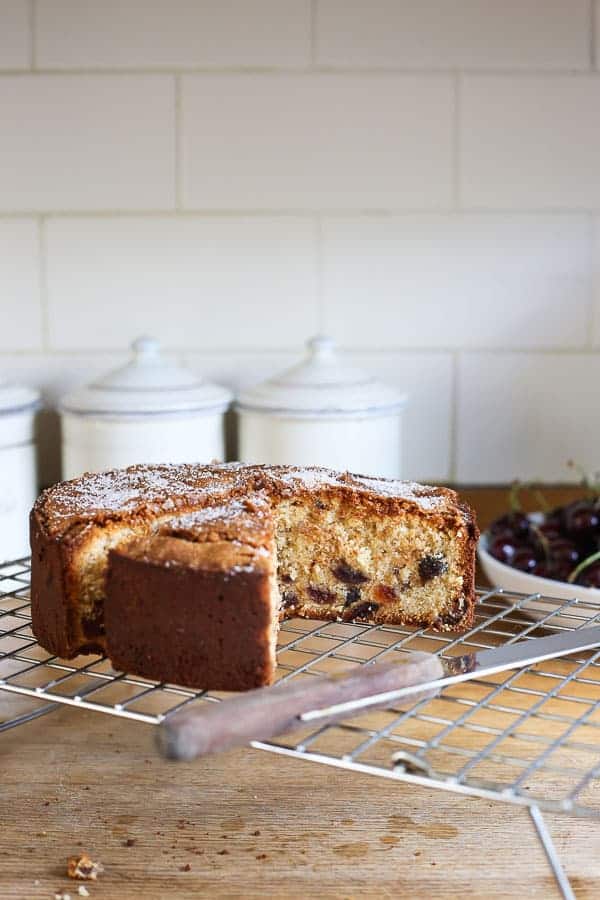 We are often asking a lot of our cake at this time of year, schlepping it about to picnics, family gatherings and donating it to school fetes, local fairs and festivals.
Not only must the cake be easily transportable but once it reaches its destination then we will need it to withstand the summer weather as it sits, probably uncovered, for a couple of hours battling with the hot sun's rays. Preferably during all this time we will also demand that our cake look lovely, taste amazing and not poison our children.
So it's better that our offering should not be some extravagantly decorated number with delicate buttercream flowers that can get smoodged in the car or spoil in the heat. We should also keep any kind of chocolate ganache out of the equation too lest we want our cake to turn into a big chocolate puddle.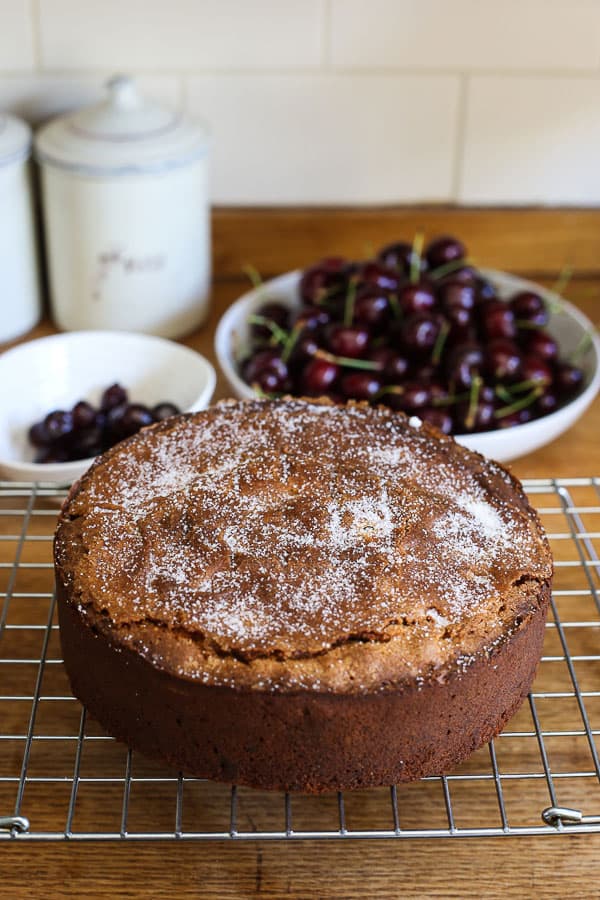 That's where this crowd pleasing Gluten-Free Cherry Cake comes in. It's a simple bake with no frills that can stand up well to being carted around in this strong summer weather. Plus there's no creamy, rich covering that can feel too heavy or become a danger in this summer heat. It's just all about a gorgeously fluffy sponge studded with plump and juicy glacé cherries sprinkled with a crunchy sugar dusting.
This is not a cake destined for a royal wedding but a beautiful homely affair. Your Gluten-Free Cherry Cake doesn't need a cake fork but can be casually served on a napkin or just in your hands. Children will be delighted by the glacé cherries and the older crowd will be reminded of the cakes they grew up with.
How do you make Gluten-Free Cherry Cake?
This cake uses a straightforward creaming method and is very quick to whip up.
Blend butter with caster sugar until light and fluffy.
Add the eggs one at a time.
Beat in the gluten-free flours, ground almonds, baking powder and salt.
Add half the flour mixture. Then some lemon juice and zest. Finally add in the rest of the flour mixture.
Stir in chopped cherries.
Pour into the cake tin and bake for 70 minutes.
Remove the cake from the tin and sprinkle with granulated sugar.
Gluten-Free Flours
This recipe uses a blend of three different gluten-free flours:
White Rice Flour - used because of its neutral flavour and light texture. It's best not to use too much otherwise the cake will become claggy.
Millet Flour - a light flour but has slightly more earthy flavour which pairs beautifully with the cherries.
Tapioca Flour - we use tapioca flour which is a starchy flour, which holds the cake together so isn't crumbly and dry.
READ MORE >>> THE ULTIMATE GUIDE TO WHITE RICE FLOUR
READ MORE >>> THE ULTIMATE GUIDE TO TAPIOCA FLOUR
Ground Almonds
Ground almonds are a traditional ingredient in a cherry cake as it gives the cake a beautiful flavour. Almonds and cherries are natural flavour companions. However, ground almonds also helps for this gluten-free cake as nut flours gives the cake moisture and structure due to their high protein content.
READ MORE >>> THE ULTIMATE GUIDE TO NUT FLOURS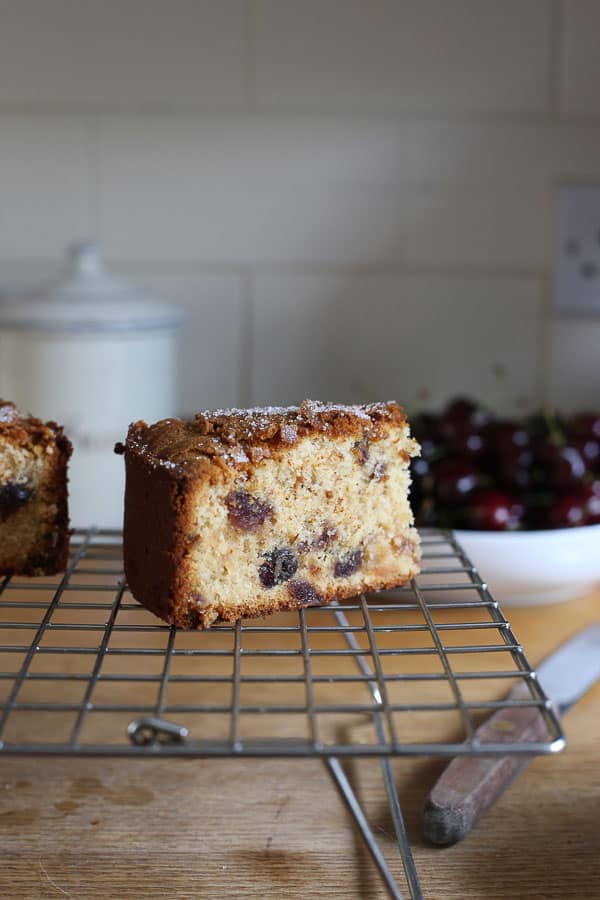 Glacé Cherries
Traditionally you make cherry cake with glacé cherries, meaning you can make this cake all year round. I heartily recommend trying your hand at Homemade Glacé Cherries to make the most of this recipe. However if you don't have any to hand then try to get the best quality glacé cherries you can find. The bright red ones are pretty but taste of little more than sugar.
Can you make Gluten-Free Cherry Cake with fresh cherries?
Yes! Pit the cherries then use in exactly the same way as you would the glacé cherries. The fresh cherries will release more moisture so the cake will have a slightly different consistency but it will still be delicious.
You can also make this cake with frozen cherries direct from the freezer.
Can you freeze Gluten-Free Cherry Cake?
This cake freezes extremely well. Wait until the cake has cooled completely, then wrap tightly in cling film and then a layer of tin foil so the cake is completely protected.
To defrost, remove the cake from the freezer the night before you want to serve it. De-frost still wrapped up, then unwrap it the next day and serve as usual.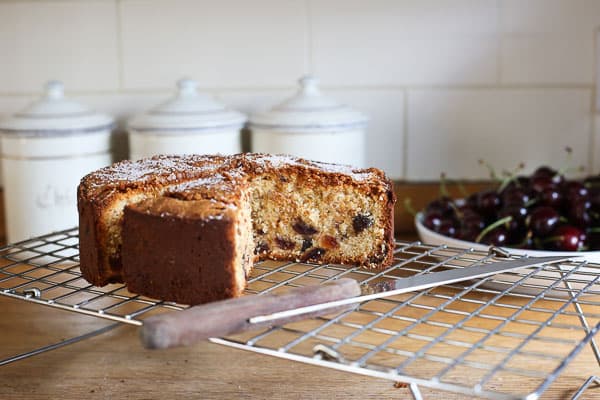 This Gluten-Free Cherry Cake is the stalwart of the party or the cake stall. It's reliably delicious and crowd pleasing. For me, it's what easy summer baking is all about and just the kind of cake I want to eat whatever the weather.
SHOP THE RECIPE >>> 8 INCH ROUND CAKE TIN
Have you seen these other recipes which would be great for a summer cake stall?
Gluten-Free Victoria Sponge
Vanilla Almond Cake with Lemon Curd Glaze
Whole Orange Chocolate Chip Cake
Gluten-Free Fruit Cake
Gluten-Free Apple Cake
If you make this Gluten-Free Cherry Cake then please leave a comment below and give the recipe a rating which helps others find this recipe on Google. If you then go on to use this recipe as a launch pad for your own baking creation then I'd also love it if you'd share it and tag me on Instagram. It is so lovely for me to see your versions and variations of my recipes.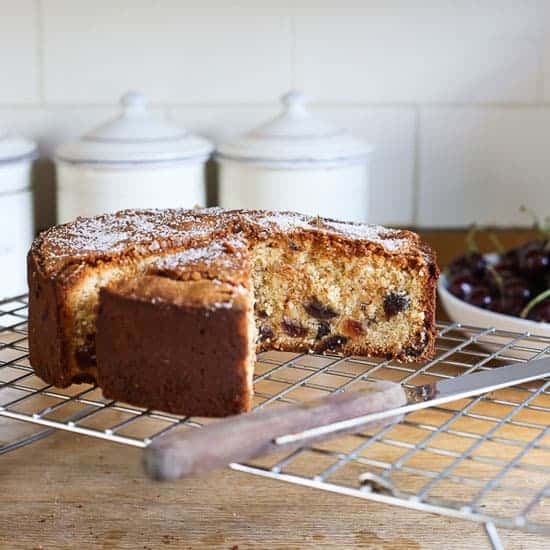 Gluten-Free Cherry Cake
This Gluten-Free Cherry Cake is a simple summer bake. Fluffy and tender with a sugary crust and packed with fruity glacé cherries. It's ideal for taking on picnics or sitting resplendent on the stall of your local school fete.
Ingredients
275

g

glacé cherries*

125

g

white rice flour

70

g

millet flour

30

g

tapioca flour

120

g

ground almonds

½

teaspoon

baking powder

¼

teaspoon

salt

225

g

unsalted butter

-

at room temperature

225

g

caster sugar

4

eggs

1

lemon

2

teaspoons

granulated sugar
Instructions
Pre-heat oven to 170°C fan assisted oven or 180°C in a regular oven*.

Grease and line an 8 inch x 4 inch round cake tin.

Chop the cherries roughly, so some are halved and some quartered, then pour into a medium sized bowl, leave for a minute.

In a large mixing bowl whisk together the flours, almonds, baking powder and salt.

Take out a tablespoon of the dry mixture and stir into the cherries until all the cherries are well coated then set aside

Beat together the butter and sugar until light and creamy.

Add the eggs one at a time, beating well after every addition.

Pour in half the flour and mix in well, scraping down the sides. Mix in the zest and juice of the lemon then add the other half of the flour.

Stir in the cherries until evenly dispersed then pour into the cake tin.

Bake for about 70 minutes or until an inserted cocktail skewer comes out clean.

Leave to cool in the tin for 10 minutes then turn out carefully and sprinkle the two teaspoons of granulated sugar over the top of the cake.
Notes
If you want to make homemade glacé cherries then get the recipe here.
I'm baking more and more of my cakes in a fan assisted oven. Gluten-Free flours can retain more moisture so I find that by keeping the air circulating in the oven during the bake it lightens the cake a little. By all means if you don't have a fan-assisted oven then just raise the temperature by 10 degrees and your cake will turn out just fine.
Gluten-Free Cherry Cake freezes extremely well. Bake and cool completely then wrap up well before freezing.
If you can't get hold of some of these flours then you can use a gluten-free flour such as Doves Farm Plain Gluten-Free Flour. Substitute the white rice flour, millet flour and tapioca flour for 225g gluten-free flour.
Nutrition
Calories:
514
kcal
Carbohydrates:
65
g
Protein:
6
g
Fat:
26
g
Saturated Fat:
12
g
Cholesterol:
113
mg
Sodium:
86
mg
Potassium:
89
mg
Fiber:
2
g
Sugar:
36
g
Vitamin A:
655
IU
Vitamin C:
5.7
mg
Calcium:
53
mg
Iron:
1.2
mg
Have you tried this recipe?
Head to the comment section and let me know what you think!