This post contains affiliate links. Please read my disclosures.
This easy no-sugar Watermelon and Mint Granita is the ultimate heat quencher. This icy summer treat is light and refreshing and completely sugar-free.
This is not so much a recipe but an idea on how to keep cool during these times when your house has turned into a hotbox and the outside air is muggy and unrelenting. I have never been one for the summer months, they stretch out endlessly with little respite between May and September. Days when you are free to enjoy the sun are interrupted by magnificent thunderstorms and although I am not commuting into central London at the moment I am only too familiar with the unpleasant experience of sweltering temperatures, no air conditioning and thousands of fellow passengers jammed up against you on the Piccadilly line.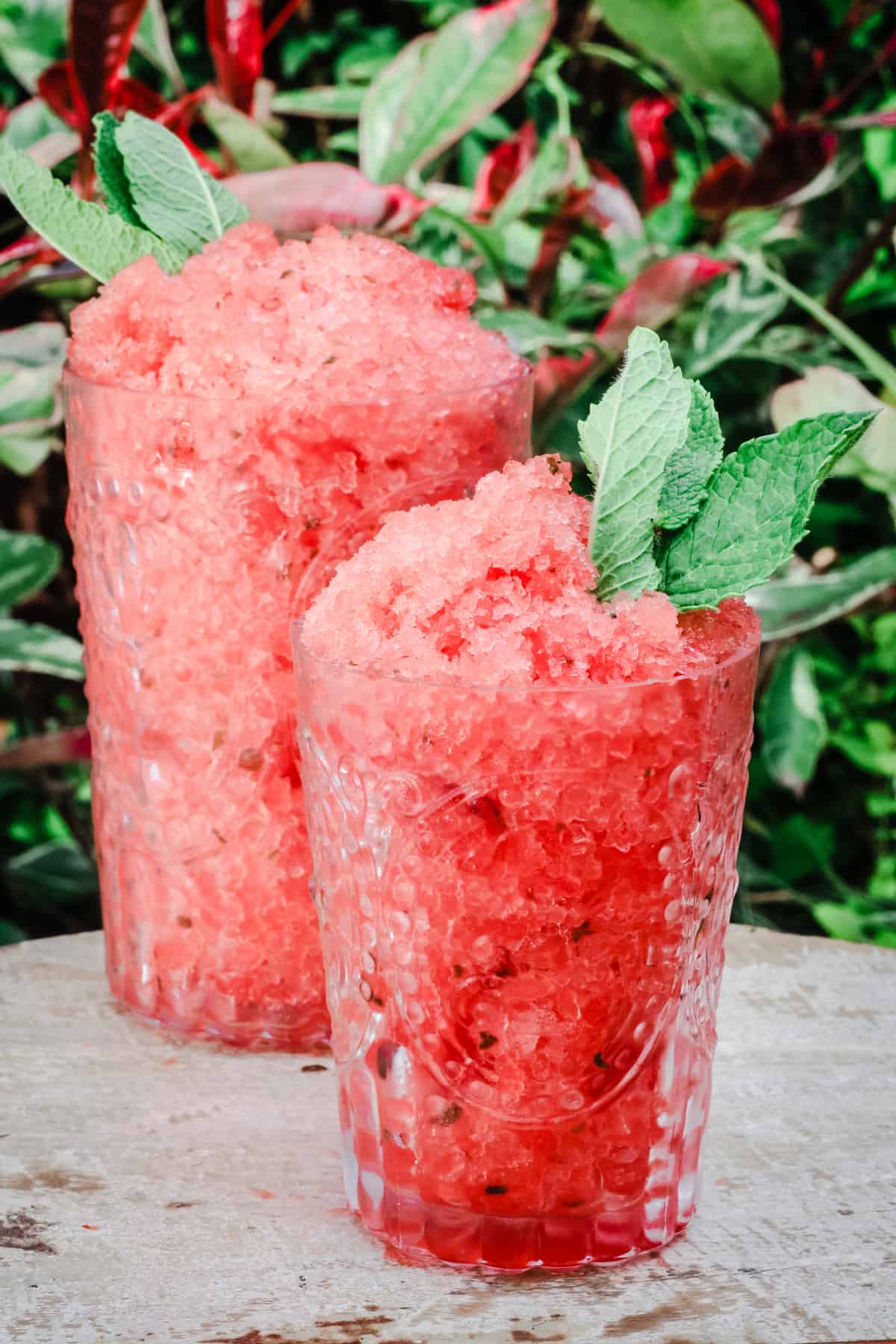 In our humid house the nights have been terribly uncomfortable lately and sleep has been infrequent with the electric fan constantly jarring any slumber. During the day I have become accustomed to lugging said fan with me from room to room and kitchen prep has been made challenging with its overbearing gustiness spraying caster sugar sandstorms across the floor.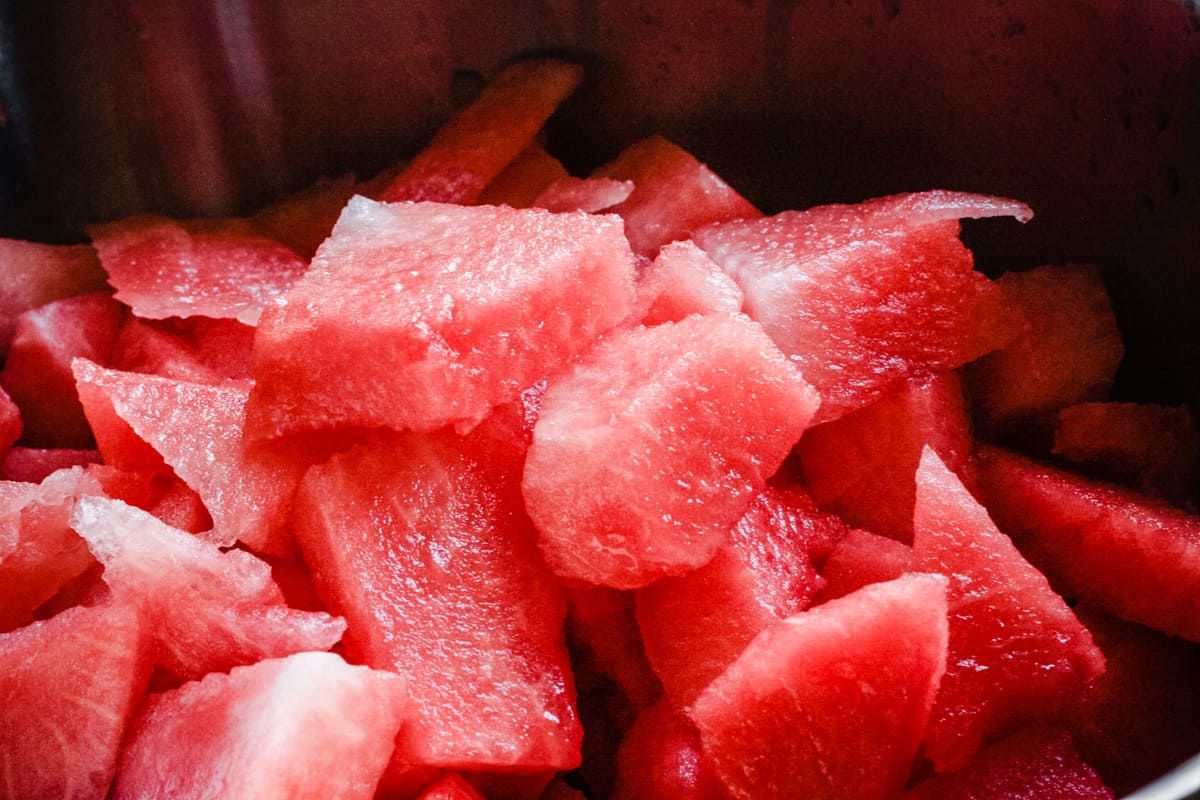 So, suffice to say I never champion these heat waves as much as I'm supposed to. At the moment I am desperate to find ways to chill out, I am not so easily sated as the puppy is by dancing in the stream of the garden hose; but that is where this no-sugar Watermelon Mint Granita comes in. There is something so refreshing about sweet luscious watermelons anyway, then when it is jazzed up with a bit of garden mint the flavour sparkles. There is absolutely no need for sugar in this recipe as the watermelons are so rich and sweet this time of year that on these hot sticky days the simple fruit is all you need.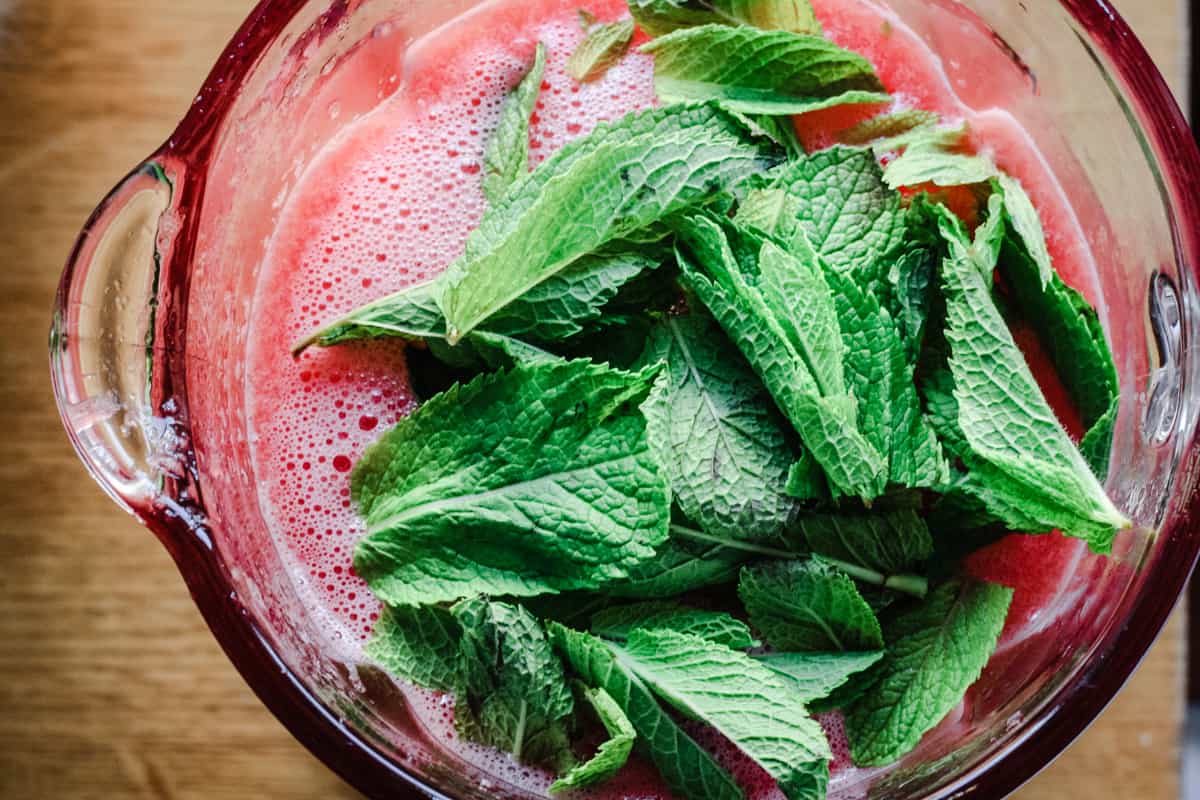 There is no more effort to this than simply blitzing the fruit and mint in the blender and popping the juice in the freezer. Although for such a casual recipe you do need to hang about the freezer for a couple of hours, giving it nudge every so often to break up the icy crystals during the freeze. It's incredibly worthwhile though as the results instantly temper any inner heat and it's sweetly moreish to boot. If you don't want to eat it straightaway then once it has reached the right consistency you can just keep it in the freezer, but it will need to stand for about 10-15 minutes out of the freezer to become loose enough to portion out, unless you have an ice pick knocking around to help you out.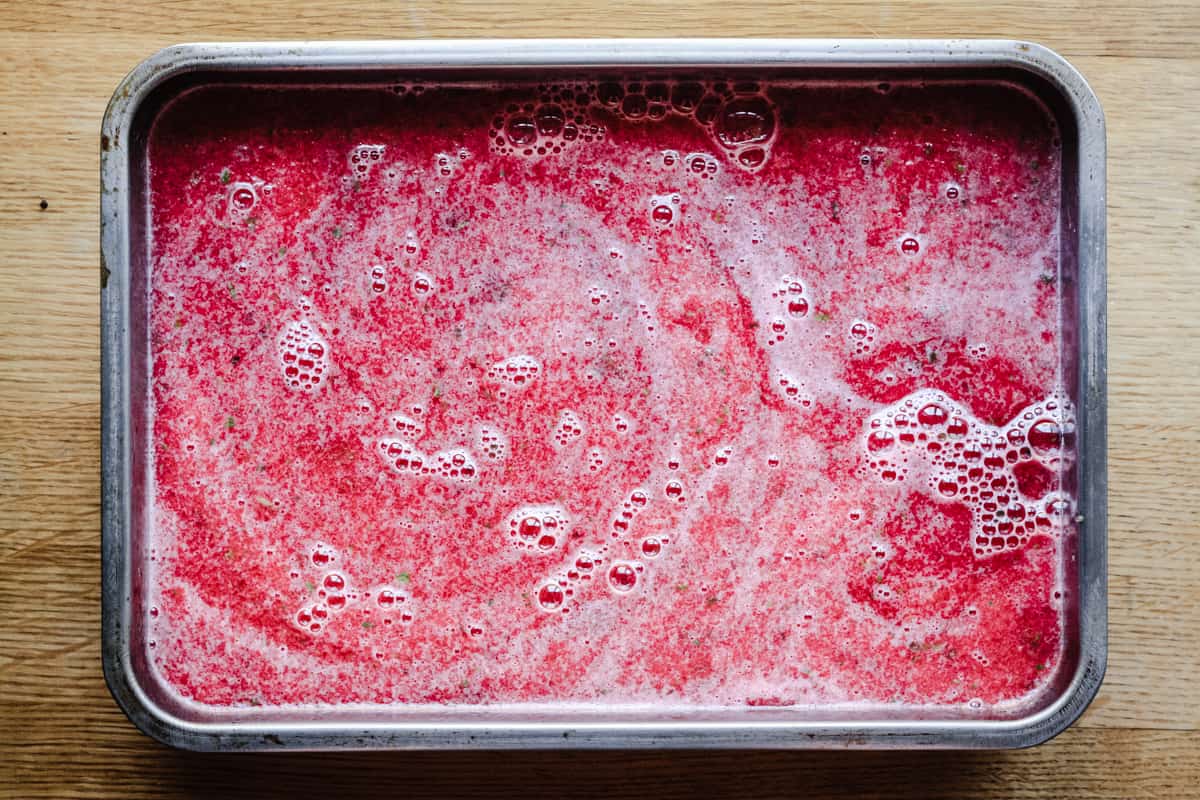 I have to say though, the one thing I do appreciate about the summertime is the amount of daylight we have. The ability to lounge in the garden all evening long seems so luxurious and when this time of day comes I add a slug of rum to transform my granita into a proper grown up slush puppy; a perfect way to usher in the hot and hazy nights.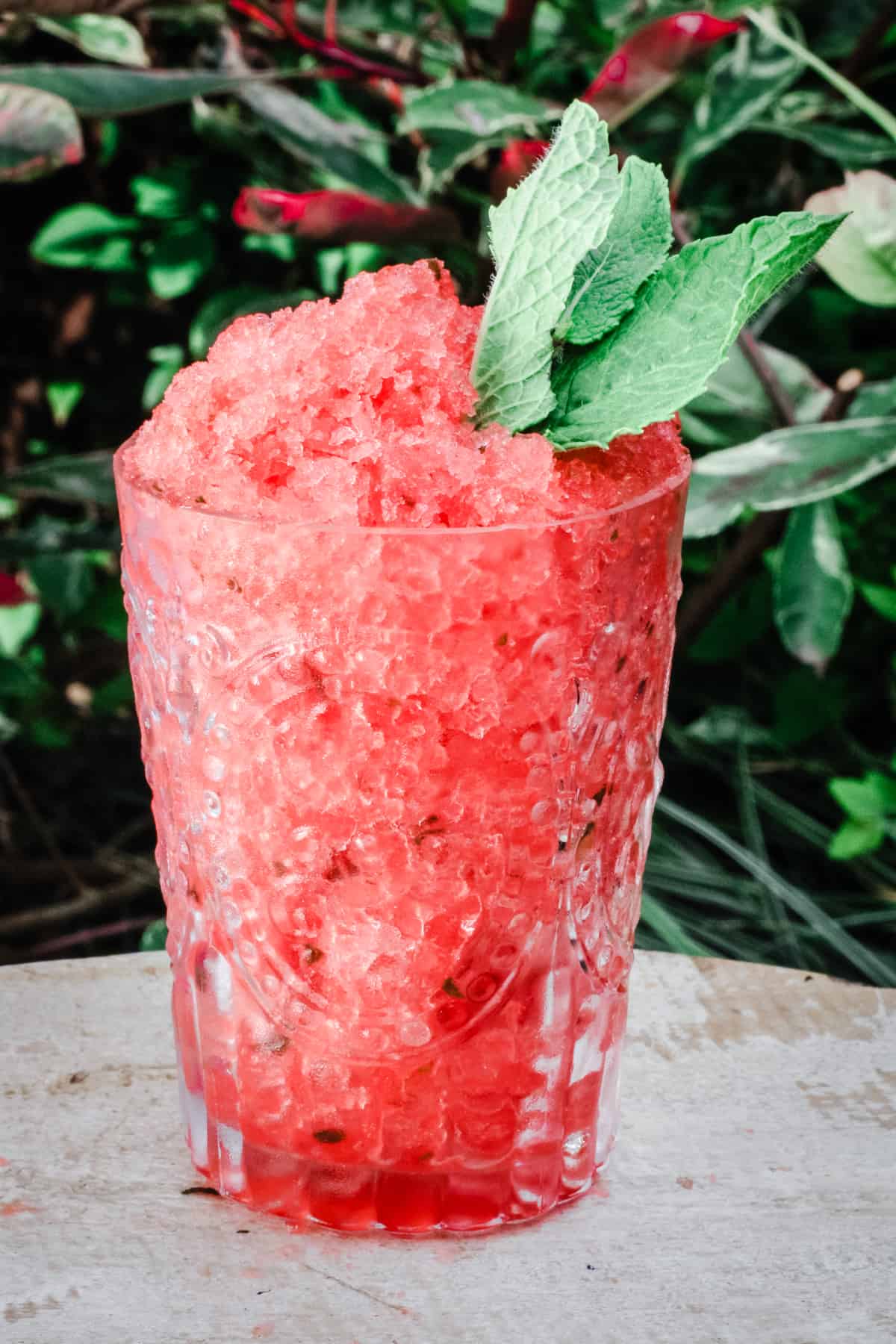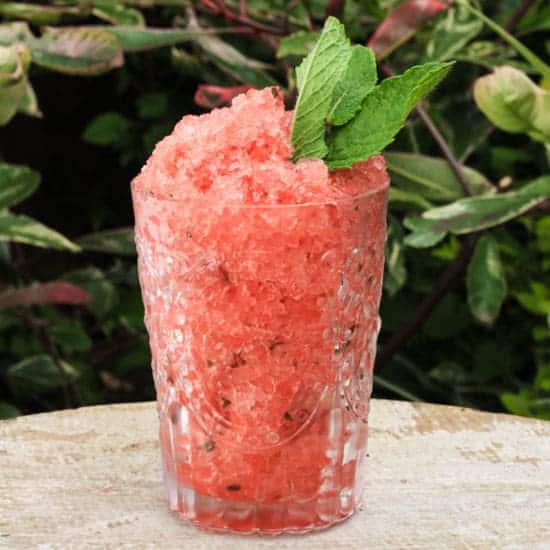 Watermelon Mint Granita
Easy no-sugar Watermelon and Mint Granita is the ultimate heat quencher. This icy summer treat is light and refreshing and completely sugar-free.
Ingredients
1.5

kg

watermelon

Small handful of fresh mint leaves
Instructions
Remove the seeds from the watermelon and then blitz the flesh in a blender.

Add the mint leaves and blend again.

Pour the juice into a deep baking tray.

Place into the freezer for 40 minutes, then remove it and with a fork break up all the ice crystals.

Place back into the freezer for 30 minutes and once again, remove and break up the ice crystals with a fork.

Repeat this a further 3-4 times until the watermelon has formed easy to move sweet icy snow.
Nutrition
Calories:
56
kcal
Carbohydrates:
14
g
Protein:
1
g
Fat:
1
g
Saturated Fat:
1
g
Sodium:
2
mg
Potassium:
210
mg
Fiber:
1
g
Sugar:
12
g
Vitamin A:
1065
IU
Vitamin C:
15.2
mg
Calcium:
13
mg
Iron:
0.5
mg
Have you tried this recipe?
Head to the comment section and let me know what you think!
SHOP THE RECIPE
To blend up the watermelon and mint in the recipe I used my trusty Vitamix® Pro750 Food Blender, Copper UK Model
. It's one of my most favourite kitchen appliances and I use it almost daily. This blender is amazing! I loved the Kitchenaid blender I had before but my Vitamix produces the smoothest smoothies, most cohesive sauces and fantastic soups. I have been using it most frequently at the moment for making my iced matcha lattes and I now could not be without it. Okay, it isn't cheap but if you have the budget for it and you are looking to be really spoilt then I really recommend it. Plus I love the colour!!
Some of the links above are affiliate links so if you decide to buy anything using the links then I will get a small commission from Amazon at no cost to you. To learn more about how the data processing works when using these Amazon affiliate links then please visit my privacy policy page.
If you liked this recipe then you may like...