This post contains affiliate links. Please read my disclosures.
Homemade Mixed Peel is so much more flavourful than supermarket bought. It isn't as bitter and has a more fully rounded flavour that captures the essence of citrus season.
Until recently I didn't use a lot of mixed peel in my baking. Instead if a recipe called for it I simply swapped in the zest of an orange and lemon or perhaps even a tablespoon of marmalade.
That's because mixed peel is one of the ingredients that Luke abhors. He can taste it a mile away so it has been useless to hide it within my fruit cakes as he would simply reject it upon first bite. He also knows which bakery adds mixed peel to their Eccles Cakes, his favourite treat, and takes his custom elsewhere.
So mixed peel had been relegated from all baking in our household and substitutions relied upon instead.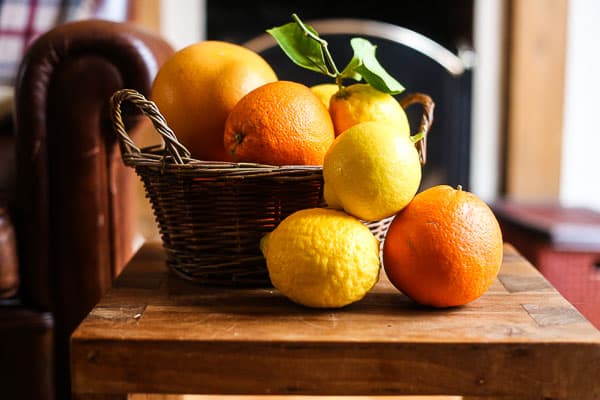 What Is Mixed Peel?
Mixed peel is one of those ingredients that is featured in a lot of British baking, from traditional fruit cakes like Dundee Cake or Christmas Cake to tea time fare like the aforementioned Eccles Cakes or Hot Cross Buns.
Mixed peel is basically candied lemon and orange peel. Eighteenth century bakers knew that the most intense flavour of any citrus fruit is derived from the peel. So intent on capturing as much flavour as possible in their recipes and mindful of preserving since fresh fruit was scarce, the peel was candied, dried and stored until needed.
These traditional recipes are now the backbone of British baking so mixed peel has been handed down to us in our grandmothers' and great great grandmothers' recipes often when dried fruit is called for.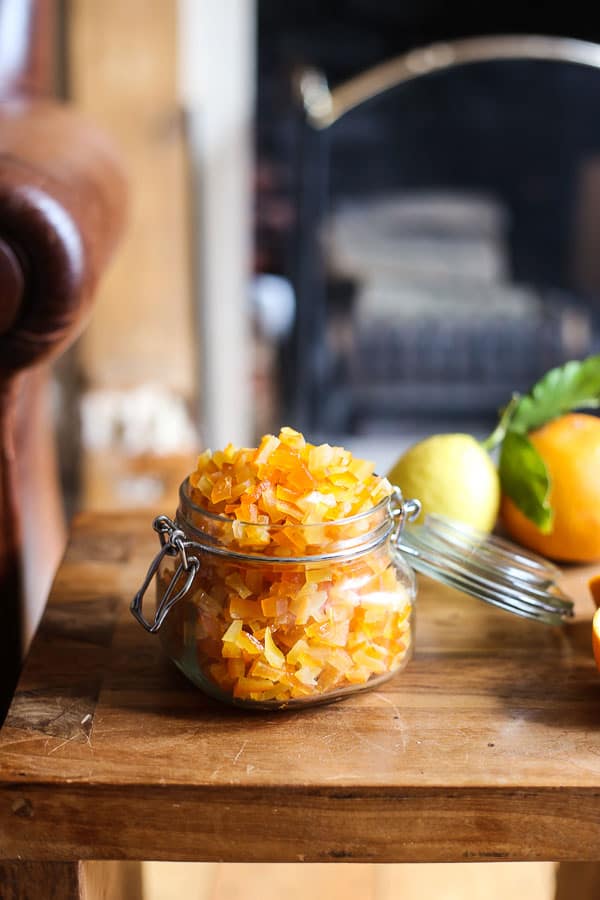 Earlier this month I was recipe testing one of my Auntie Lil's classic cakes, She was a bit of a baker and her Vinegar Cake, which was her traditional everyday fruit cake, was legendary. I have had the recipe tucked into my recipe file for years now and recently I have been attempting to recreate an authentic gluten-free version of her renowned cake.
Auntie Lil's recipe, like a lot of traditional fruit cakes, calls upon mixed peel as an ingredient. Since I wanted a result as near as the cake she baked for her young family I dutifully added mixed peel from the supermarket along with the other dried fruit it asked for.
At first bite I couldn't work out why the cake tasted so horribly bitter, there was almost a sourness that butted up against the soft plump sultanas and raisins which was distinctly and acidically unpleasant. It soon became apparent that in my enforced abstinence from mixed peel I too had developed a dislike for it.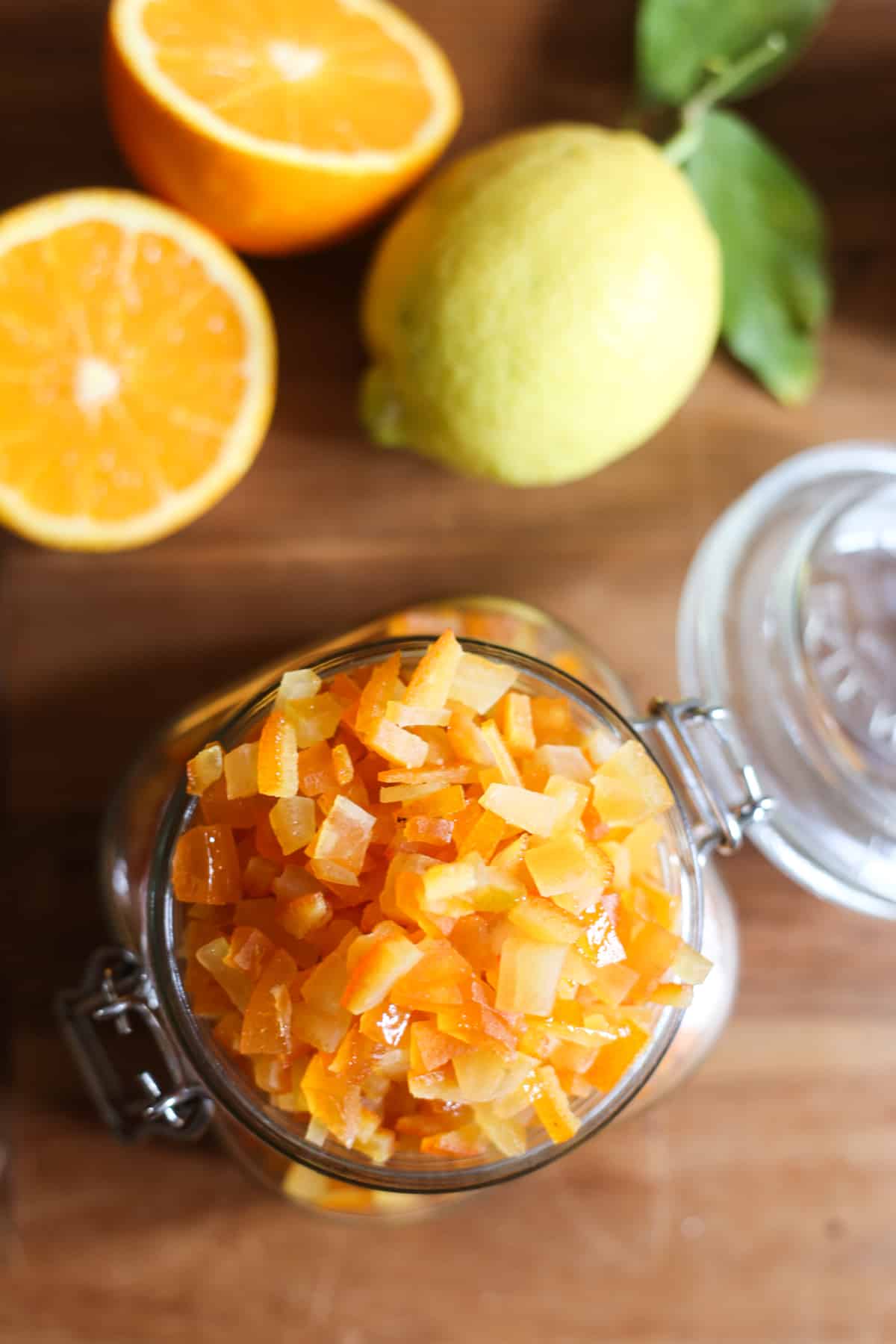 But how could that be? I love citrus, I love the brightness of intense lemon and orange peel. There should be no reason why mixed peel doesn't appeal to me too. But the supermarket stuff, when tasted by itself is just not that nice. So I set about making my own. And since I now had dominion over the mixed peel I added grapefruit peel as well to add a third dimension of citrus to the proceedings.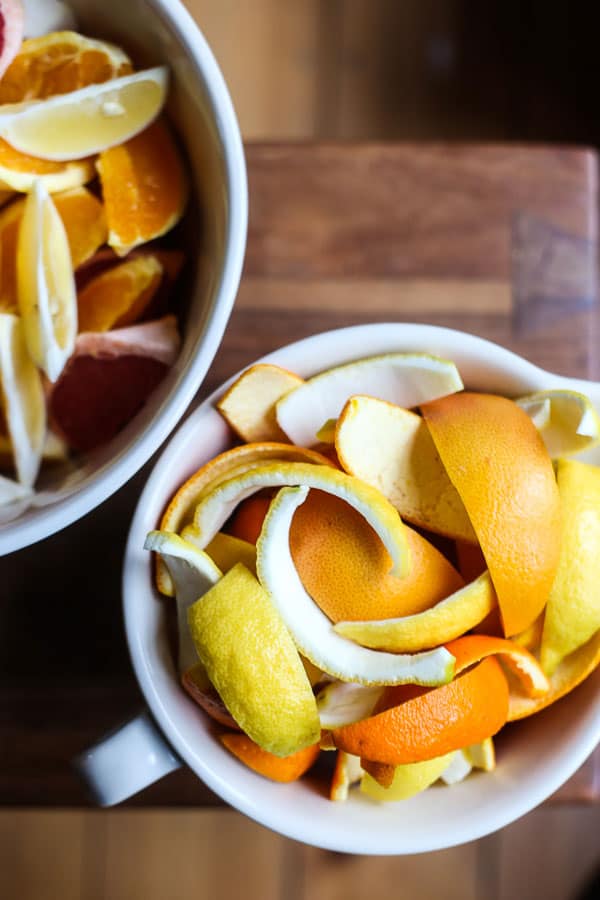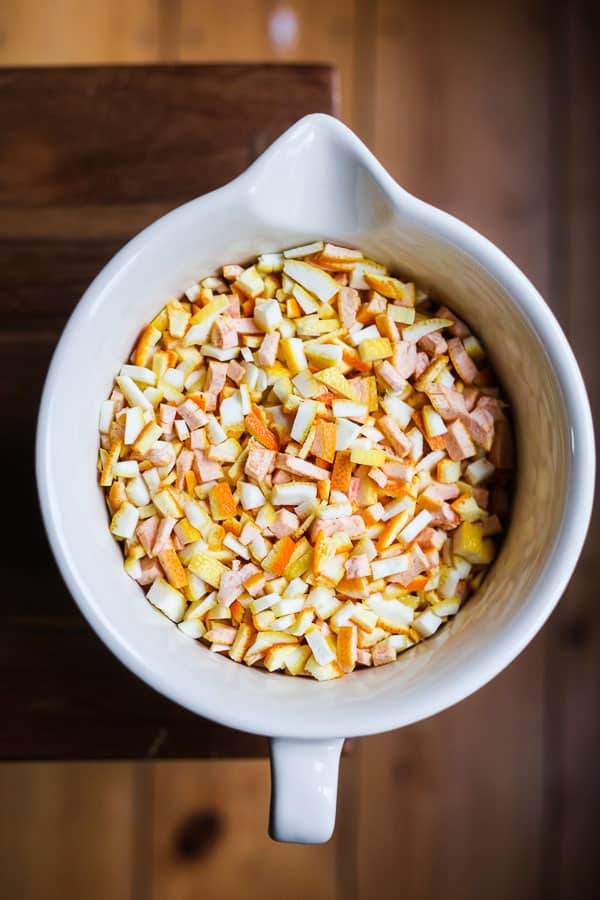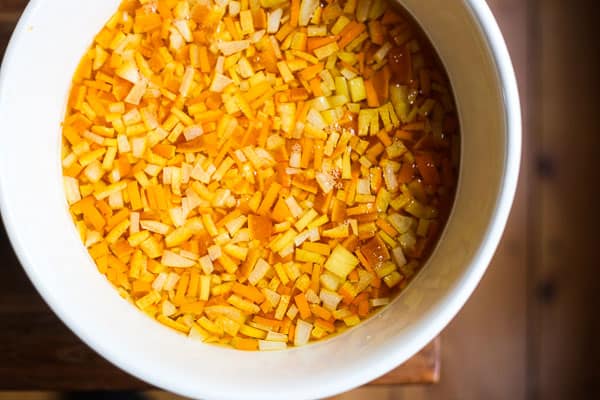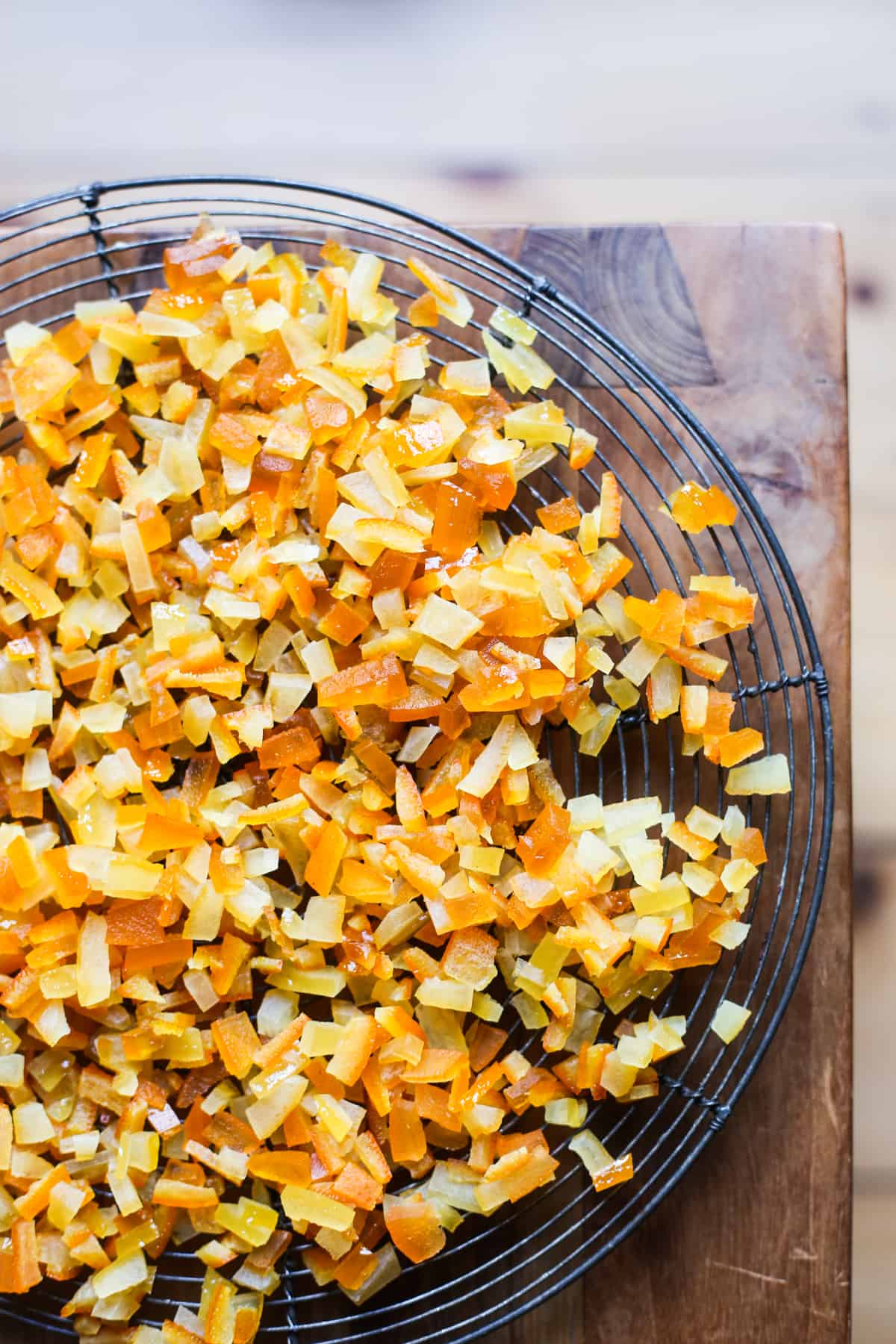 Much like my Homemade Glacé Cherries, when you make it yourself there is absolutely no comparison to the shop bought stuff. You could eat Homemade Mixed Peel by the spoonful. In fact since I made so much Cole and I have been dipping our hands into the jar and taking out small sticky handfuls at snack time as a little treat.
Making Homemade Mixed Peel is a labour of love and requires about a week of soaking it in a sugar syrup, draining it from the liquid, boiling the sugar syrup down and re-soaking the peel multiple times. Although the really trying time comes after the mixed peel has been drained of the sugar syrup and then needs to dry in a sterile environment for about a week.
I dried mine in my switched off oven but since I use my oven almost every day it has required a lot of patience not to bottle the peel earlier just to get it out of the way. I definitely need to invest in a dehydrator for this purpose. When I do I'll make the recipe again and let you know how it goes.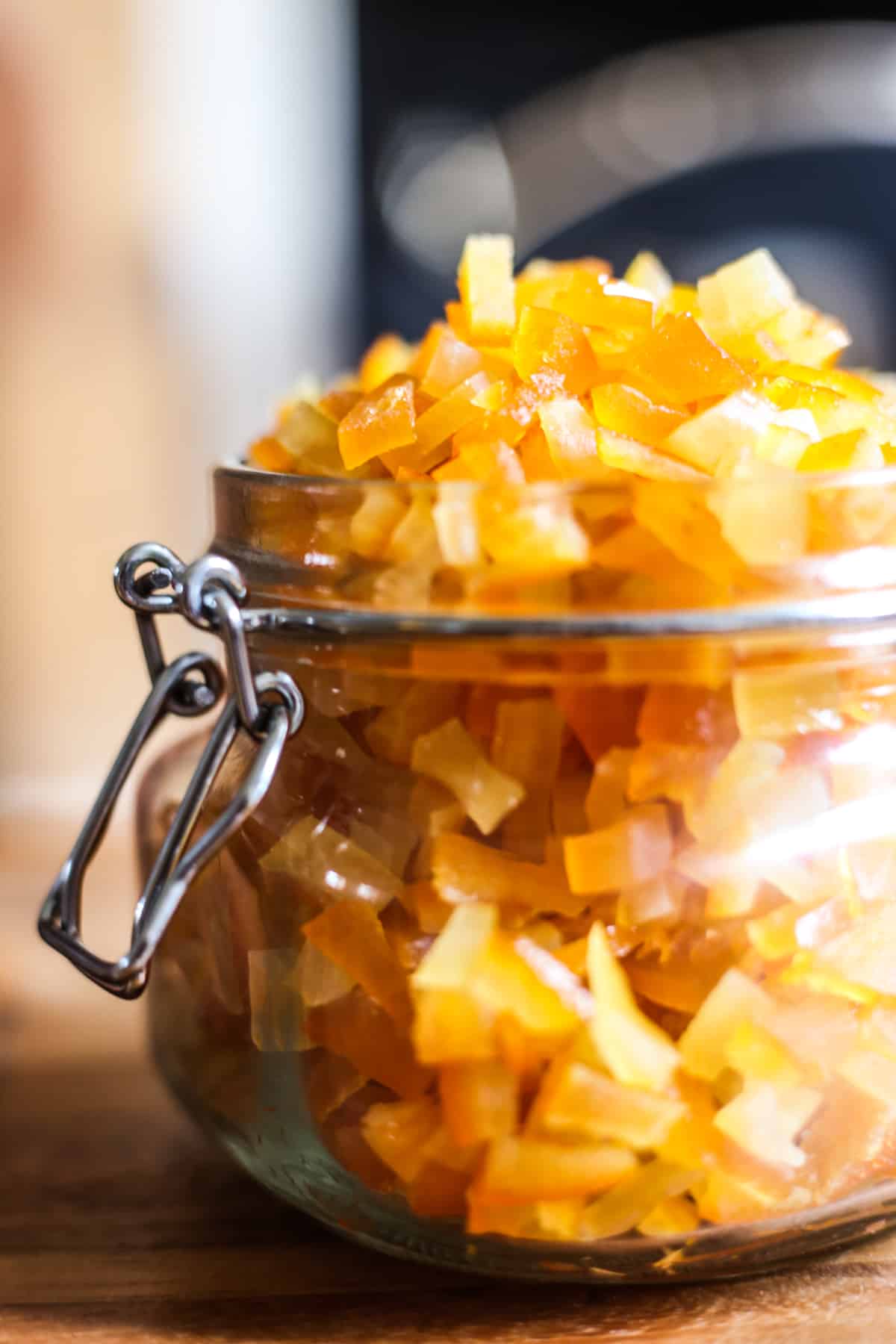 Suffice to say that when it came time to recipe testing Auntie Lil's Vinegar Cake with the Homemade Mixed Peel the results were pretty on the money. Gone was the nasty bitterness, instead the lovely fragrance of sharp citrus permeated the cake and sat comfortably alongside the rest of the ingredients.
The recipe has been a triumph and I'll be sharing it soon, so stay tuned. And as for Luke, he has conceded that if I were to start using Homemade Mixed Peel in my baking then that wouldn't be such a bad thing. Thumbs up indeed.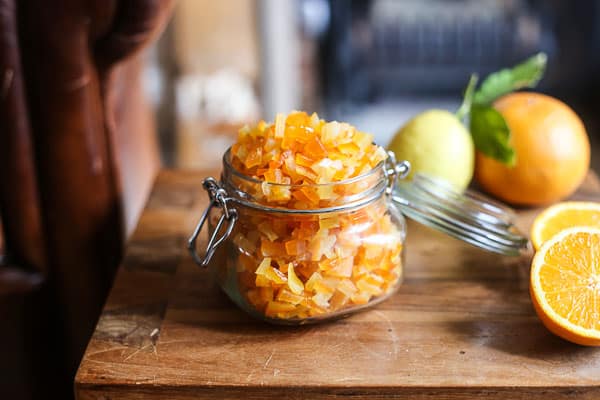 In the meantime if you are making this Homemade Mixed Peel you will find you have two delicious extra kitchen ingredients leftover from the recipe. You will have copious amounts of citrus flesh from the beginning step once you have peeled the fruit, and also the most beautiful citrus sugar syrup from the end step once you have drained the peel away from its soaking syrup.
Do not throw either away. I'll be posting a recipe for my Triple Citrus Shrub in the next few days to use up that citrus flesh and I'm working on a compendium of recipes to make the most of that delicious citrus sugar syrup which I'll be sharing soon.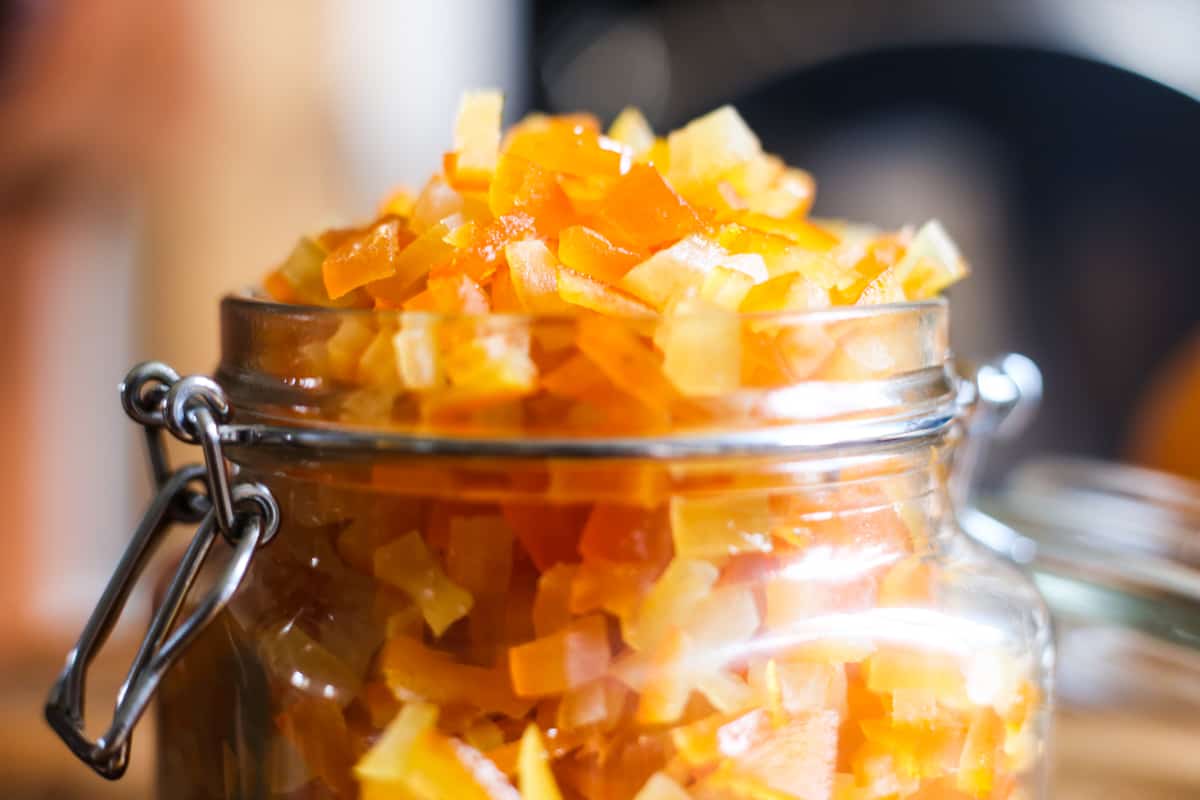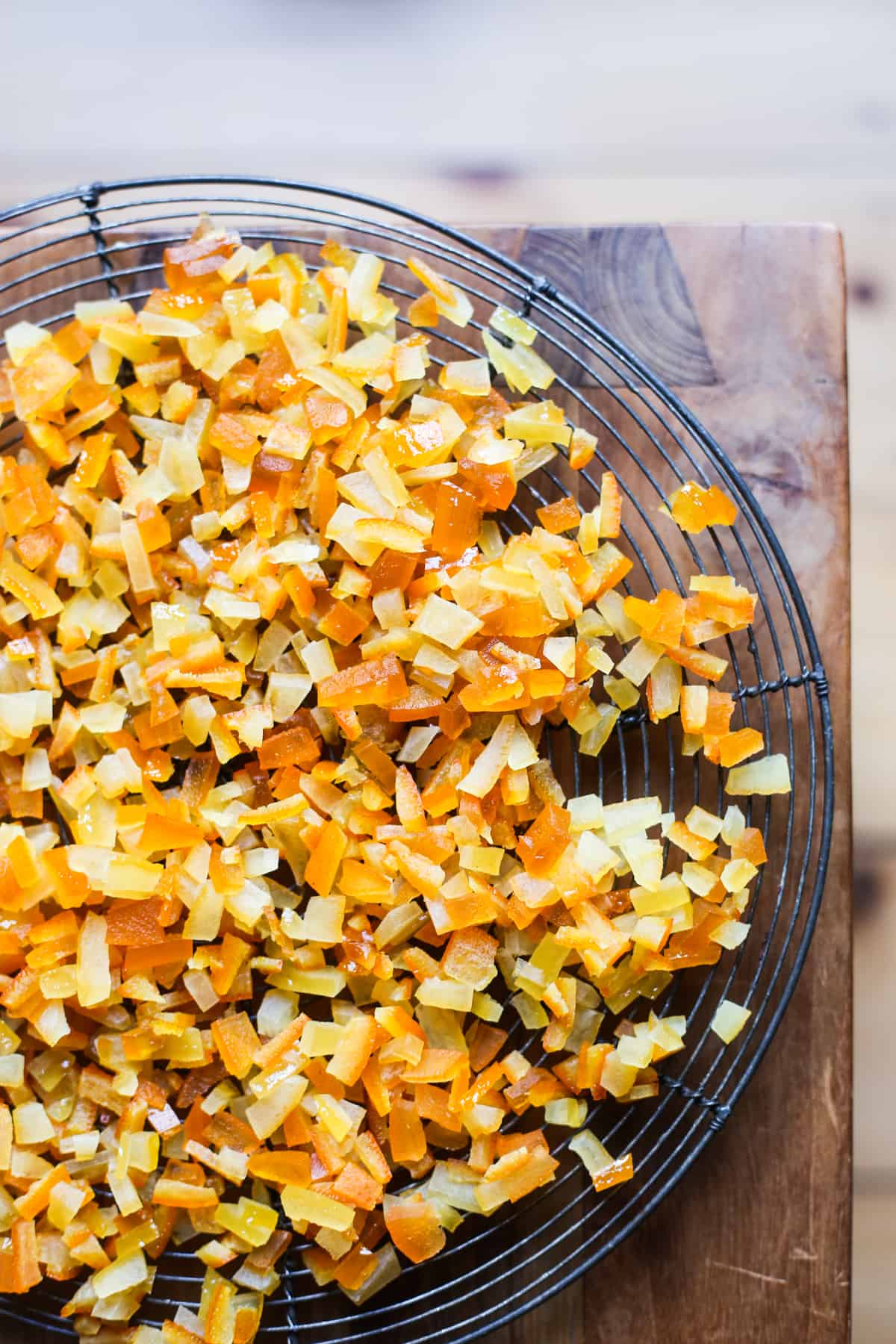 Homemade Mixed Peel
Homemade Mixed Peel is so much more flavourful than supermarket bought. It isn't as bitter and has a more fully rounded flavour that captures the essence of citrus season.
Ingredients
4

organic oranges

-

unwaxed if available

4

organic lemons

-

unwaxed if available

1

organic grapefruit

-

unwaxed if available

2300

ml

cold water

1350

g

granulated sugar
Instructions
Day 1
If your fruit is waxed then you will need to wash off the wax from the skin of the fruit first by giving it a light scrub. Cut the oranges, lemons and grapefruit into quarters then with very sharp knife remove the skin from the pith and the flesh.

Cut the peel lengthways again. You might need to cut the lemon peel once, the orange peel twice more and the grapefruit peel three times more to get even sized pieces. Then cut widthways into short thin strips.

Weigh the peel, you should have around 450g.

Place the peel into a stainless steel saucepan with the cold water then bring to the boil. Turn the heat low and simmer for 1 hour.

Remove from the heat and set a sieve over a large bowl. Pour the contents of the saucepan through the sieve, set aside the peel for one moment and weigh out the cooking water.

Pour 1140ml of the cooking water back into the saucepan with 900g of the sugar. If you don't have enough cooking water then just top up with tap water. Bring the sugar and water to a gentle boil and simmer for 10 minutes until the sugar has dissolved.

Pour the sugar syrup over the peel, cover and leave the peel to soak for 24 hours.
Day 2
Strain the syrup into a large saucepan and return the peel to the bowl.

Add the remaining 450g of sugar to the saucepan. Bring to a boil, then turn down to simmer for a couple of minutes making sure the sugar has completely dissolved.

Pour the syrup back over the peel, cover and leave for another 24 hours.
Day 3
Pour the peel and syrup into a large saucepan. Bring to a boil, then turn the heat down to simmer for 30 minutes.

Pour everything back into the bowl, cover and leave the peel to soak for four final days.
Day 7
Drain the fruit, place on a fine wire rack and leave in a sterile dry place until no longer sticky, such as a turned-off oven. Although leave a note on the oven that it is not to be used. The mixed peel can take as long as seven days to completely dry. The best way to store the mixed peel afterwards is in sterilised glass jars and should keep for at least a couple of months.
Notes
Recipe adapted from the Reader's Digest 'The Cook's Scrapbook' Ed. John Palmer
Nutrition
Calories:
79
kcal
Carbohydrates:
20
g
Sodium:
1
mg
Potassium:
26
mg
Sugar:
19
g
Vitamin A:
55
IU
Vitamin C:
8.1
mg
Calcium:
6
mg
Iron:
0.1
mg
Have you tried this recipe?
Head to the comment section and let me know what you think!
Have you tried Homemade Glacé Cherries yet?