This post contains affiliate links. Please read my disclosures.
This Pecan Treacle Tart is a glorious transatlantic marriage between a Pecan Pie and a Treacle Tart. It's the best of both worlds, deeply nutty, rich and sticky.
I originally posted this recipe in 2014 before the blog became gluten-free. These are the original photos and the recipe has been kept exactly as is below. However, I recently re-tested this recipe using a gluten-free pastry and gluten-free breadcrumbs which are one of the main ingredients of the tart and I was thrilled to discover the recipe loses nothing in the translation, so I have scribbled the gluten-free version down in the notes below.
This recipe is a mish mash of Pecan Pie from across the way and a traditional British Treacle tart. It seemed to make complete sense to me to combine the best bits about both recipes for an ultimate sweet treat.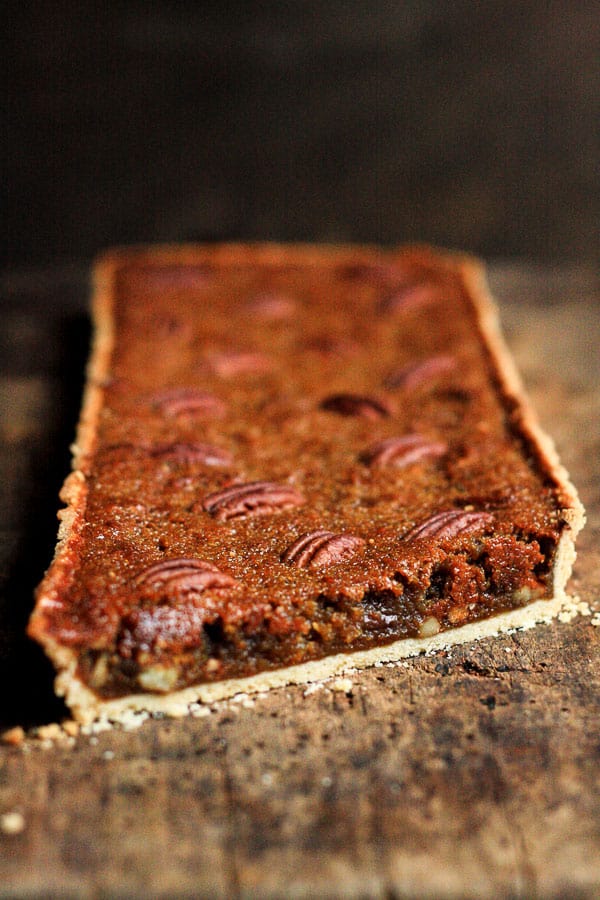 The actual recipes if you look at them are quite similar bar swapping the nuts and breadcrumbs around. An American Pecan Pie calls for dark molasses or corn syrup instead of golden syrup traditionally used in treacle tarts. I stuck with what I know and turned to the golden syrup. However, I gave a nod to the intensely treacly flavour of the dark molasses by adding a smidge of black treacle which adds depth to the sweetness, giving this Pecan Treacle Tart a bit of backbone.
Whereas a treacle tart and a pecan pie use breadcrumbs or roughly chopped pecans respectively in their fillings. Here both are used gives the tart both body and softness. It's a perfect texture. When I originally developed this recipe before I was gluten-free I used brioche breadcrumbs which add a lovely sweet butteriness but in re-testing the recipe I used breadcrumbs from a gluten-free sourdough and I was not at all disappointed with the results.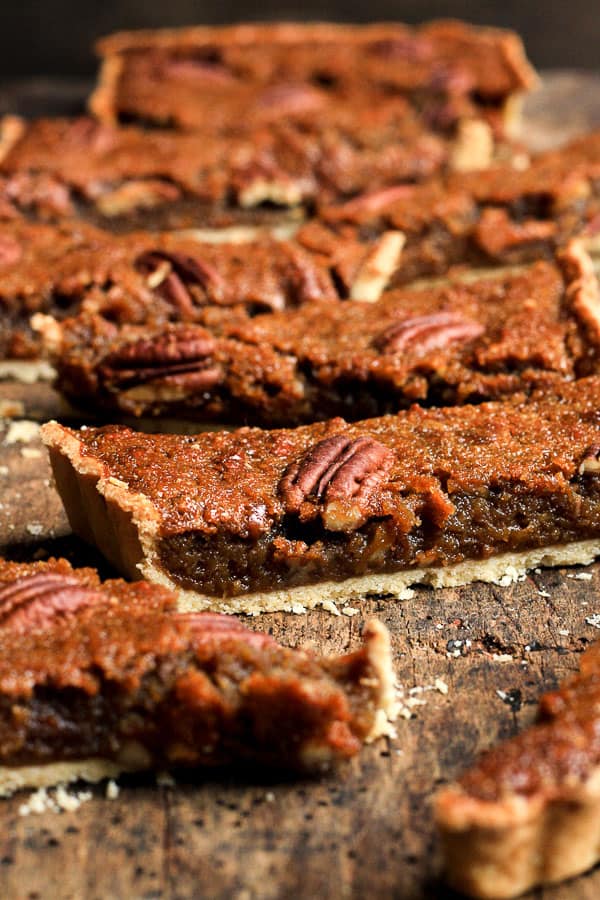 Finally I've finished the tart filling off with a splash of lemon juice to cut through the richness and a tweak of vanilla extract just like they do in pecan pies.
This tart really is wonderful. A delightful alternative to Pecan Pie if you are looking to switch things up this Thanksgiving or if you are keen on upping the ante of your usual British Treacle Tart. Delicious warm with whipped cream.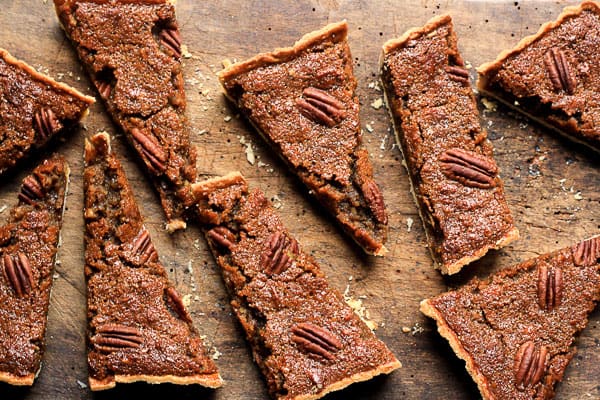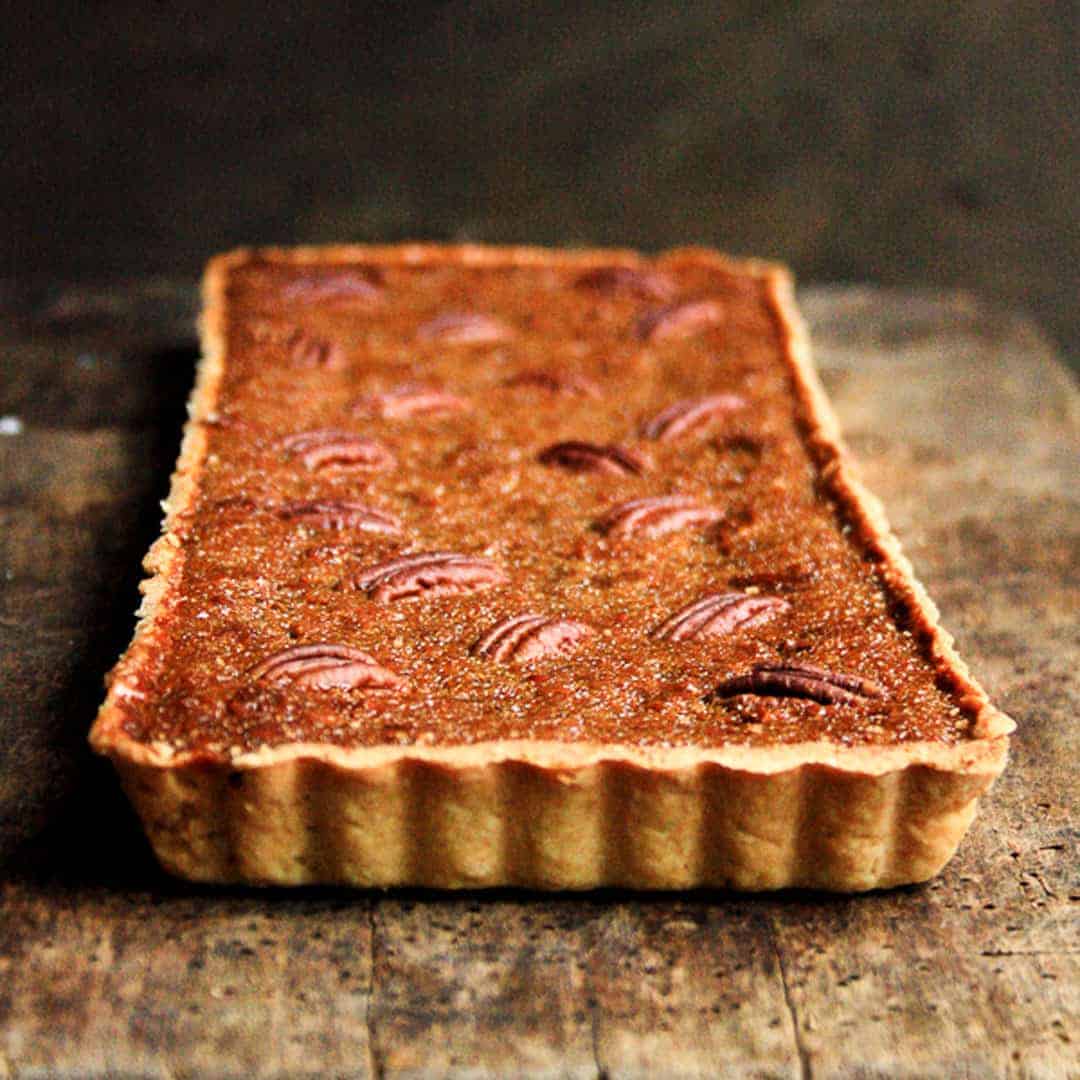 Pecan Treacle Tart
This Pecan Treacle Tart is a glorious transatlantic marriage between a Pecan Pie and a Treacle Tart, deeply nutty, rich and sticky (gluten-free option).
Ingredients
For the pastry - for gluten-free pastry recipe see notes below
270

g

plain flour

100

g

unsalted butter

-

fridge cold

100

g

caster sugar

pinch

of salt

1

egg + 1 egg yolk

1

egg

-

lightly beaten for the egg wash
For the filling
360

g

golden syrup

40

g

black treacle

pinch

of salt

150

ml

double cream

1

egg

1

tablespoon

lemon juice

½

teaspoon

vanilla

100

g

brioche breadcrumbs

-

or gluten-free breadcrumbs

75

g

pecans

-

toasted then roughly chopped plus extra for decorating on the top
Instructions
To begin with make your pastry. Take the butter out of the fridge and slice very finely with a sharp knife, then place in a large mixing bowl with the flour.

Tear the butter up and coat thoroughly with the flour, then begin to rub gently between your fingertips until you reach very rough breadcrumbs, don't take it too fine. It should take less than 5 minutes.

Add the sugar, salt, egg and egg yolk then bring together into a dough. Tip it out onto the work surface and press together to form a ball. Wrap in baking parchment and chill in the fridge for 30 minutes.

Meanwhile make the filling. Warm the syrup and black treacle with the salt, then tip into a large mixing bowl.

Whisk in the double cream, then the egg.

Add the breadcrumbs and the pecans, lemon juice and vanilla then set aside.

Pre-heat the oven to 170°C.

Remove the pastry from the fridge and roll out until it is about 3mm thick. Line the pastry into the bottom of the tin. The tin I used was 35cm x 11cm.

Place some greaseproof paper on top of the pastry then pour baking beans on top.

Place in the oven for 15 minutes to blind bake. Remove the baking beans, brush with the egg wash then place back in the oven for a further 5 minutes.

Turn the oven down to 160°C.

Stir the treacle mixture, then pour into the pastry. Place in the oven and bake for 35-40 minutes until the filling has set. Allow the tart to cool in the tin before cutting.
Notes
Gluten-Free Pastry
140g sweet rice flour, plus extra flour for dusting
125g sorghum flour
75g almond flour
25g ground flaxseeds
125g unsalted butter, directly from the fridge
100g caster sugar
2 eggs + 1 yolk, lightly beaten
pinch of salt
1-2 tablespoon whole milk
300g mincemeat
1 egg yolk + 1 teaspoon whole milk whisked together for the wash In a large mixing bowl whisk together the sweet rice flour, sorghum flour, almond flour and chia seeds.
Slice the butter very thinly and add to the flour. Then rub the mixture between fingertips until roughly shorn and crumbly.
Whisk in the caster sugar and then pour in the eggs.
Bring the dough together using a wooden spoon at first if you like and then your hands. If the dough is still too dry and crumbly then add a little extra whole milk.
Turn the pastry out on to the work surface and knead very briefly into a ball until the dough is cohesive and slightly sticky.
Wrap the pastry dough in cling film and place in the fridge for at least 30 minutes (or up to 3 days).
Nutrition
Calories:
623
kcal
Carbohydrates:
88
g
Protein:
9
g
Fat:
26
g
Saturated Fat:
12
g
Cholesterol:
114
mg
Sodium:
124
mg
Potassium:
211
mg
Fiber:
2
g
Sugar:
53
g
Vitamin A:
675
IU
Vitamin C:
0.8
mg
Calcium:
84
mg
Iron:
3.4
mg
Have you tried this recipe?
Head to the comment section and let me know what you think!
SHOP THE RECIPE
I used this Alan Silverwood Tarte Maison with Loose Base 35cm x 12cm
for this Pecan Treacle Tart. I love these Alan Silverwood tins as they conduct heat so efficiently making your tart perfectly baked.
This post is not sponsored but 
the images above are affiliate links which means if you decide you want to use these link to make your purchases then Amazon gives me a small commission at no cost to you whatsoever. I will only recommend products I use in my kitchen and love. To learn more about how the data processing works when using these Amazon affiliate links then please visit my privacy policy page.
If you like this recipe then you may like...