This post contains affiliate links. Please read my disclosures.
Cream Baked Roast Potatoes are beautifully rich, tender and crisp. A really luxurious way to pamper your potatoes and your guests on special occasions.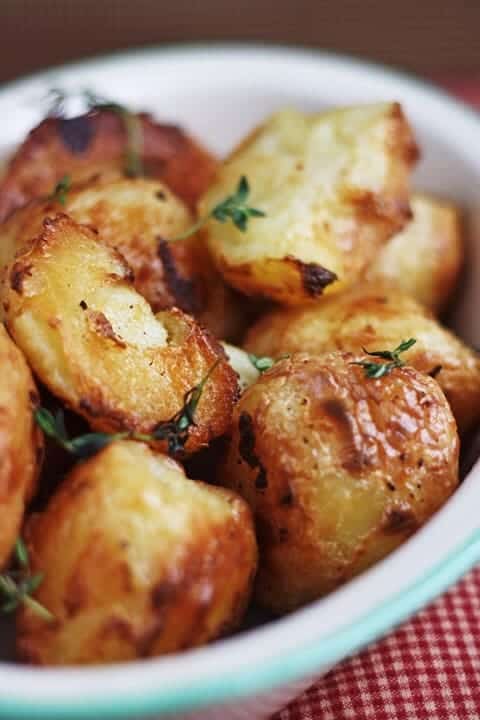 I first had these potatoes at the old Fire Engine House restaurant in Ely, Cambridgeshire where my in-laws live. It's a lovely restaurant set in the old fire engine house (the name probably didn't really need explaining). A small bar is situated in the front of the house in a little sitting room area with a roaring fire and gives the illusion that you are guest in somebody's house. Somebody who is incredibly lucky with a fully stocked bar in their front room. When your table is ready you are led through the house, past the kitchen so you can have a good old nosy at the chefs and into the back dining room that leads out onto a pretty garden. The food is traditional but not the same old same old that is served boringly in gastropubs. All their produce is local, seasonal and all made in their lovely kitchen from the relishes to the jams that accompany the dishes. However where they really won my heart is when they came round just as we were finishing our mains and asked if we wanted seconds. Not only did that cater for my incredibly greedy nature but it also seconded the feeling that you were round at a friend's house. A very well to do friend with a really fancy house. The staff could not have been more welcoming and when I said how delicious their roast potatoes were, well they told me the recipe.
I didn't even realise good old faithful roast potatoes could be improved. I mean, I think they must be the most moreish food in existence, there is always room for another potato. This past year I eschewed all white potato in favour of sweet potato as I was living more or less a paleo lifestyle (that is if you don't count the cake I was eating on a weekly basis) but recently I have re-introduced it to my diet and nothing is making me currently happier than my Sunday Roasts with a traditional roast white potato, crunchy on the outside and soft on the inside.
This week I came across my scribbled notes that I had taken after dining at old Fire Engine House and was reminded of those flavour busting crisp yet creamy potatoes I had eaten by the truckload at the time.
It turns out that they are even more special than I had remembered and this time of year when we are preparing our most indulgent recipes for the festive season there is no excuse for not accompanying your turkey with these rich little beasts. The potatoes are cooked twice, first baked in cream, milk and garlic until they are soft and have absorbed most of the garlicky cream, then they are tipped into smoking hot fat and roasted for half an hour so that the cream bakes around the potato like a little crisp jacket, trapping all the flavour and soft texture that was captured during its initial bake.
They do take a little longer to cook than your average roast potato as I like to keep these ones whole but really they are no more bother as they pretty much sort themselves out in the oven. The end result is so worth it that I think you'll have trouble going back to your usual boring roasties. Make sure you choose potatoes of a similar size to ensure even cooking so each one is as creamy to the fork as the next.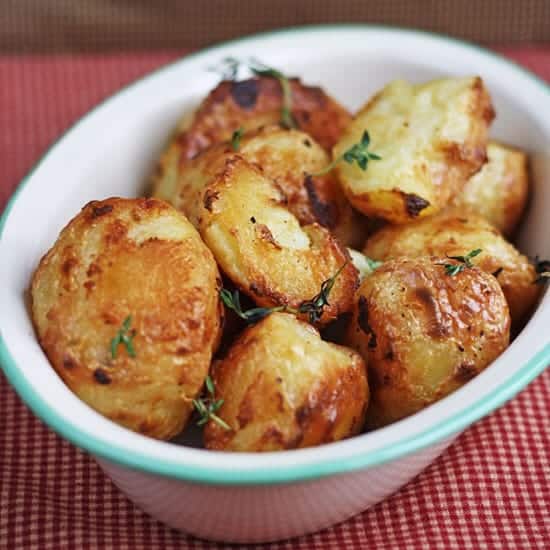 Cream Baked Roast Potatoes
Cream Baked Roast Potatoes are beautifully rich, tender and crisp.
Ingredients
1

kg

potatoes

400

ml

double cream

400

ml

whole milk

1

tablespoon

butter

3

bay leaves

3

cloves

5

black peppercorns

½

teaspoon

salt

3

garlic cloves

-

crushed with the back of a knife

1

sprig of thyme

50

ml

olive oil
Instructions
Pre-heat the oven to 160°C.

Peel the potatoes then place into a large casserole dish.

Pour in the cream and milk and ensure the potatoes are fully submerged and then add the butter, bay leaves, cloves, black peppercorns, salt, garlic cloves and thyme.

Put the lid on the casserole dish and bake in the oven for 1½ hours until the potatoes are cooked all the way through.

Remove the dish from the oven then turn the heat up to 180°C.

Pour the olive oil into a roasting tray and place in the oven for 3 minutes for the oil to heat.

Then remove the potatoes from the cream with a slotted spoon and place gently into the hot oil of the roasting tray. Coat the potatoes with the oil and place in the oven to roast for 30 minutes, turning the potatoes halfway through.

Remove from the oven and serve.
Nutrition
Calories:
691
kcal
Carbohydrates:
40
g
Protein:
12
g
Fat:
56
g
Saturated Fat:
28
g
Cholesterol:
155
mg
Sodium:
423
mg
Potassium:
1249
mg
Fiber:
6
g
Sugar:
5
g
Vitamin A:
1720
IU
Vitamin C:
30.2
mg
Calcium:
257
mg
Iron:
8.2
mg
Have you tried this recipe?
Head to the comment section and let me know what you think!