This post contains affiliate links. Please read my disclosures.
Mango Chutney is sweetly spiced and a wonderful accompaniment for Indian curries, cheese sandwiches or salads.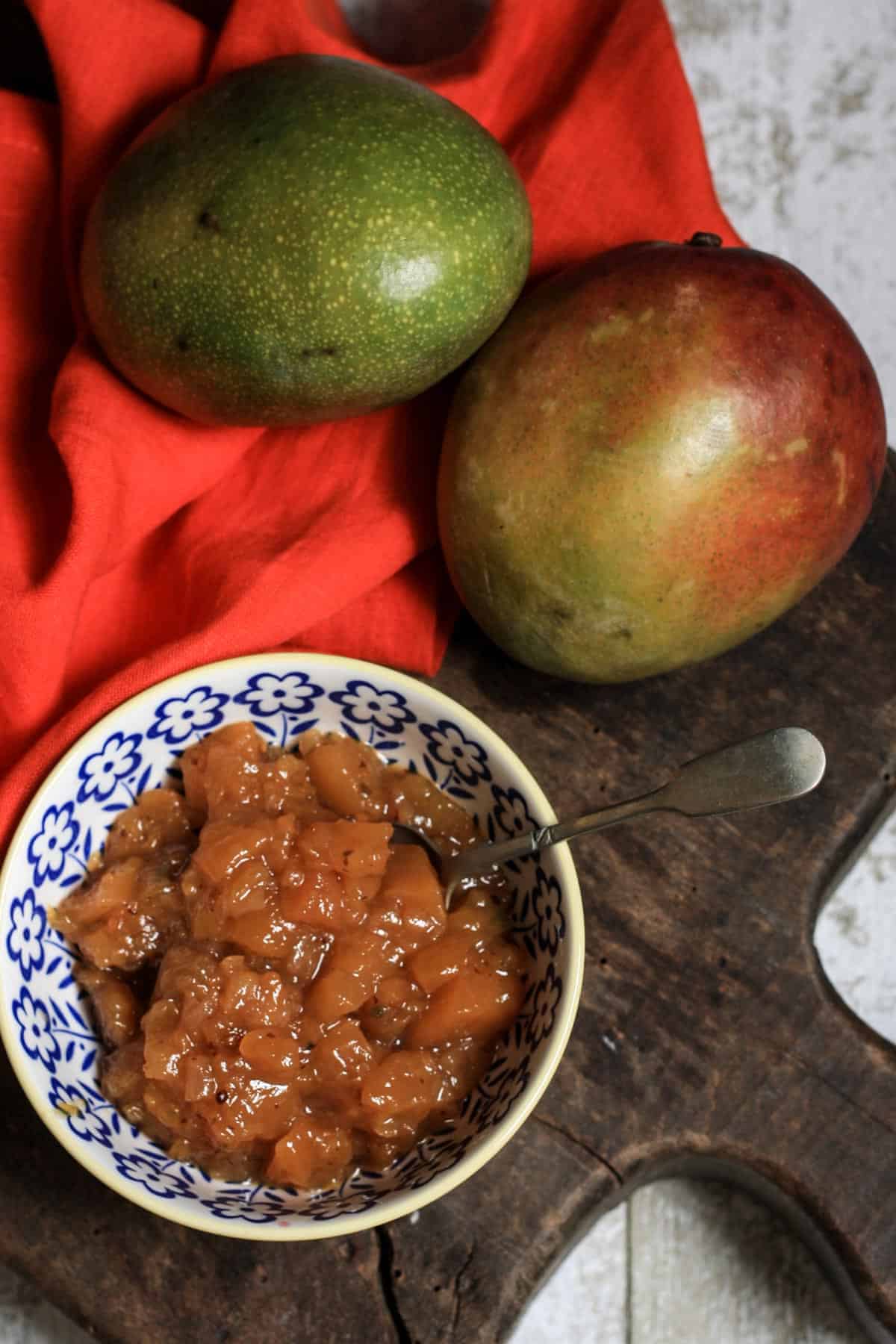 This is my first chutney of the year.  I managed to divest my laden larder with a good majority of pickles, jams and chutneys over the festive period but now it's about the time where I start to build up my stores again.
If I am honest I made this chutney a few weeks ago when the calls of our local Fruit and Veg man hollering outside Finsbury Park asking us to 'Taste the mango' got the better of me.  I did want to taste the mango.  Then it reminded me how long it's been since I had a good cheese and mango chutney sandwich.  Since I didn't have any mangos in, I put the abundance of mangoes on the stall to good use and stirred up a very quick and fragrant chutney that afternoon.  I followed Diana Henry's advice on mango chutney but did not carry through the hotness of her recipe, instead toning it down as I wanted to create something more subtle.
Mango Chutney and Cheese Sandwiches
Cheese loves a good mellow chutney or jam and mango chutney is a perfect partner. I particularly like a softly spiced version so that the delicate mango flavour isn't powered out, bedding down nicely a good crumbly cheese.
This classic sandwich combination always reminds me of my mother who at the mere mention of mango chutney will without fail wax lyrical about a good mango chutney and cheese sandwich. And with good reason, a generous dollop of sticky chutney oozing out a toasted sandwich filled with gooey English cheddar is truly a magnificent lunch and reminds me a lot of my childhood.
How to use Mango Chutney
My current favourite use is to add a delicate amount to a salad of nutty emmental, cucumber and iceberg lettuce. All you need then is a drizzle of olive oil and some salt and pepper to finish it off. The mango chutney adds a lovely balance of sweet and sourness to this simple salad.
And of course, it would be remiss not to discuss how a lovely tablespoon of this chutney added to a homemade curry can provide its own dimension to the recipe, adding a mellowed sweetness to counteract your spicing.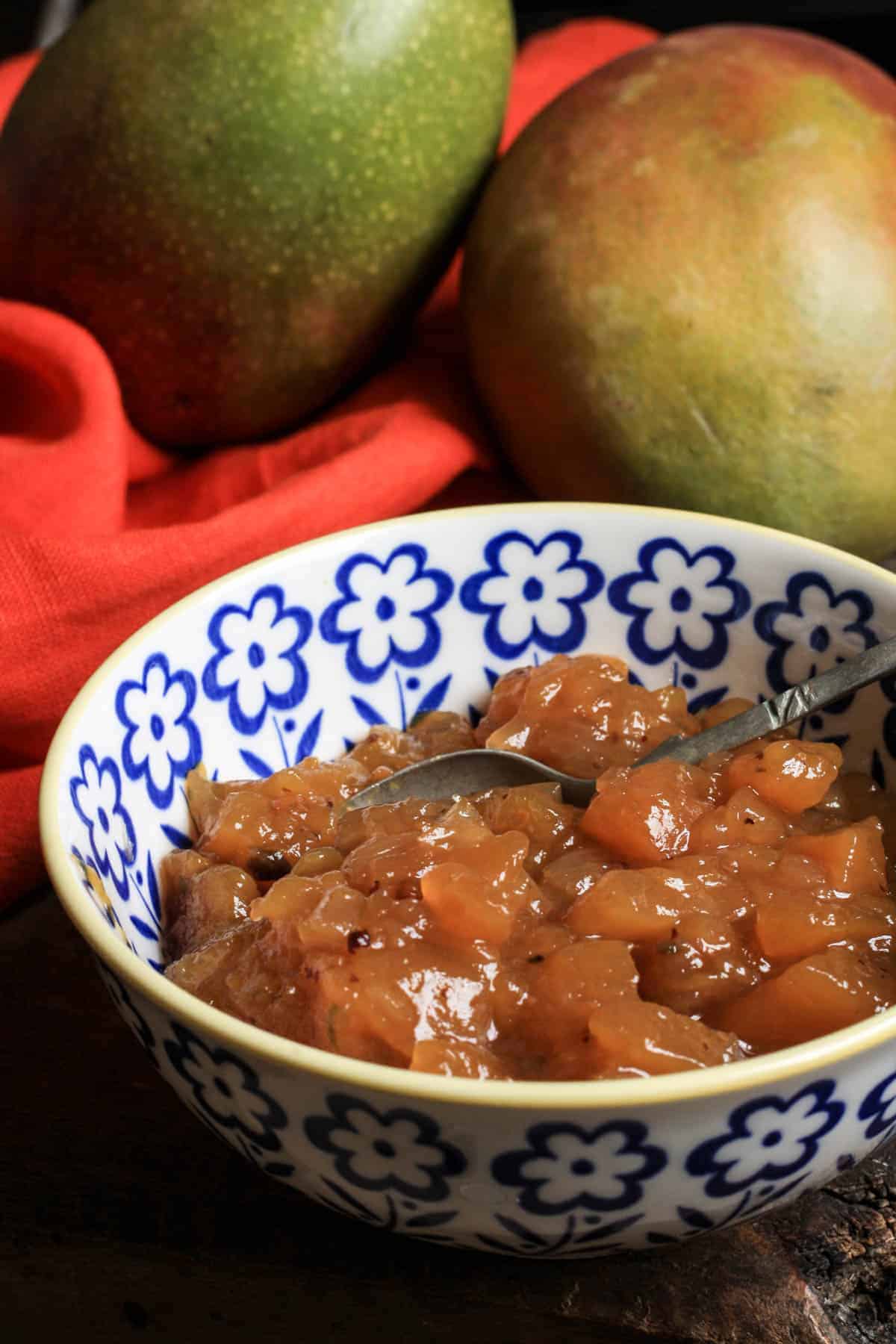 If you are a chutney fan then allow me to suggest these pretty fab recipes:
Apple and Stem Ginger Chutney
Boxing Day Ale Chutney
Piccalilli
Courgette Relish
If you make this Mango Chutney then please leave a comment below and/or give the recipe a rating. If you then go on to use this recipe as a launch pad for your own baking creation then I'd also love it if you'd share it and tag me on Instagram. It is so lovely for me to see your versions and variations of my recipes.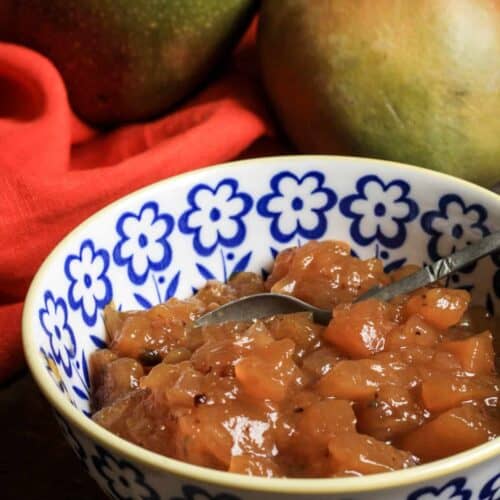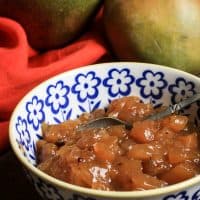 Mango Chutney
A sweetly spiced chutney, aromatic with mango
Print
Pin
Rate
Ingredients
6

mangos

¼

teaspoon

whole cloves

8

cardamom pods

de-shelled

1.5

teaspoons

coriander seeds

4

black peppercorns

1

teaspoon

black mustard seeds

500

g

onions

diced

500

g

granulated sugar

600

ml

cider vinegar

3

green chillies

deseeded

1/4

teaspoon

ground nutmeg

30

g

fresh ginger

diced finely

2

limes
Instructions
Peel the mangos and cut the flesh of the fruit from around the middle stone. Chop the fruit into cubes, there might not be much uniformity from the flesh cut close from the stone. Set aside.

In a large preserving pan toast the cloves, cardamom seeds, coriander seeds, black peppercorns and mustard seeds over a low heat for a minute or so to release their fragrance.

Add the diced onions, sugar, vinegar and chillies to the pan, bring to a gentle simmer and cook through for about 10 minutes.

Add the mango, nutmeg, ginger and the zest of both of the limes. Bring to a boil, then simmer for about 20 minutes until the mixture is jam like.

Juice the limes then stir through the chutney for the last couple of minutes of cooking.

Decant into sterilised jars.
Notes
Adapted from Diana Henry's Very Hot Mango Chutney in 'Salt Sugar Smoke'
The chutney is best left for at least 4 weeks for the flavour to mature.
To sterilise the jars place the very clean jars you would like to use in an oven pre-heated to 140°C for 20 minutes. Sterilise the lids by dropping them into a saucepan of boiling water for 10 minutes with a splash of vinegar. I don't sterilise my lids in the oven as they tend to ruin.

The chutney will keep up to a year if stored in a cool dark place.
Nutrition
Calories:
75
kcal
|
Carbohydrates:
18
g
|
Protein:
1
g
|
Fat:
1
g
|
Saturated Fat:
1
g
|
Sodium:
13
mg
|
Potassium:
79
mg
|
Fiber:
1
g
|
Sugar:
17
g
|
Vitamin A:
270
IU
|
Vitamin C:
10.5
mg
|
Calcium:
9
mg
|
Iron:
0.2
mg