This post contains affiliate links. Please read my disclosures.
Mango Chutney is essential for any well-stocked pantry or larder. It is such a versatile ingredient and can add fruitiness to a curry, pep up a toasted cheese sandwich or be used as a glaze on the barbecue or grill. This sweet tangy chutney is full of juicy plump mangos sweetly spiced with stem ginger and gentle chilli heat.
Mango Chutney holds deep rooted food memories for me. It was the most obvious accompaniment to a cheese toastie in our house and an indelible part of weekly curry night. A sticky jar of it passed back and forth as we ladled it liberally over a simple homemade chicken curry. I don't know why mango chutney over any other chutney was so prevalent in 80s Britain but when you make yourself a homemade version there can be no contest.
Where does Mango Chutney come from?
The practice of preserving fresh fruit and vegetables with spices into flavourful chutneys originates from the Indian subcontinent.
The British brought home chutneys during the colonial era and this method of preserving became incredibly popular. One presumes the mango chutney was a favourite possibly because of the exoticism of this particular fruit.
It's fascinating to me that mango is still such a popular chutney in Britain today since the fruit isn't even grown here.
Although I have always loved mango chutney it was only when I began making it myself in adulthood that its unique fruity spicy charms really took roots in my kitchen. The layers of flavour this little jar can hold together is impressive and is the unsung hero of many of our weeknight dinner favourites.
Why you'll love this Mango Chutney recipe
The *secret* ingredient of this particular mango chutney is stem ginger in syrup. It is neither strong nor overwhelming here but a soft gentle note that marries perfectly with the mango.
We really layer up the flavours here though to support the mango and stem ginger. Plenty of spice and a warming fresh chilli heat.
Black onion seeds provide a gorgeous character to this mango chutney and also look beautiful as little black flecks within the jar.
The mango and ginger chutney is stunningly straightforward to make. Chopping up the mangos is a daunting way to get started though once that task is complete you are really looking at a recipe with minimal fuss.
Key Ingredients
Mangoes – the fruit you use needs to be soft and juicy. If the mangos you have bought are a little on the hard side then place in a fruit bowl with some bananas for a couple of days and they will ripen up deliciously.
White sugar – we use granulated as it's economical. The sugar helps gives the chutney is thick syrupy sauce but is also used to preserve the chutney so it has a long shelf life.
Cider vinegar – it gives a lovely tang to our chutney and is used alongside the sugar to preserve it. White wine vinegar is also fine to use.
White onion – it gives a little more body to the chutney and also a good background flavour.
Red chilli – this recipe suggests removing the seeds as it makes the chutney a little more versatile but you can leave the seeds in for a chutney with a lot more kick.
Stem ginger – This is different to fresh ginger. Often bought in a jar as Stem Ginger in Syrup. The flavour is sweeter and more mellow. For a real flavour enhancer use Homemade Stem Ginger in Syrup.
Garlic – use lovely fresh fat juicy cloves
Spices – a balance of cumin, coriander, cardamom, nutmeg, black pepper and black onion seeds are a lovely support system to our juicy mangoes.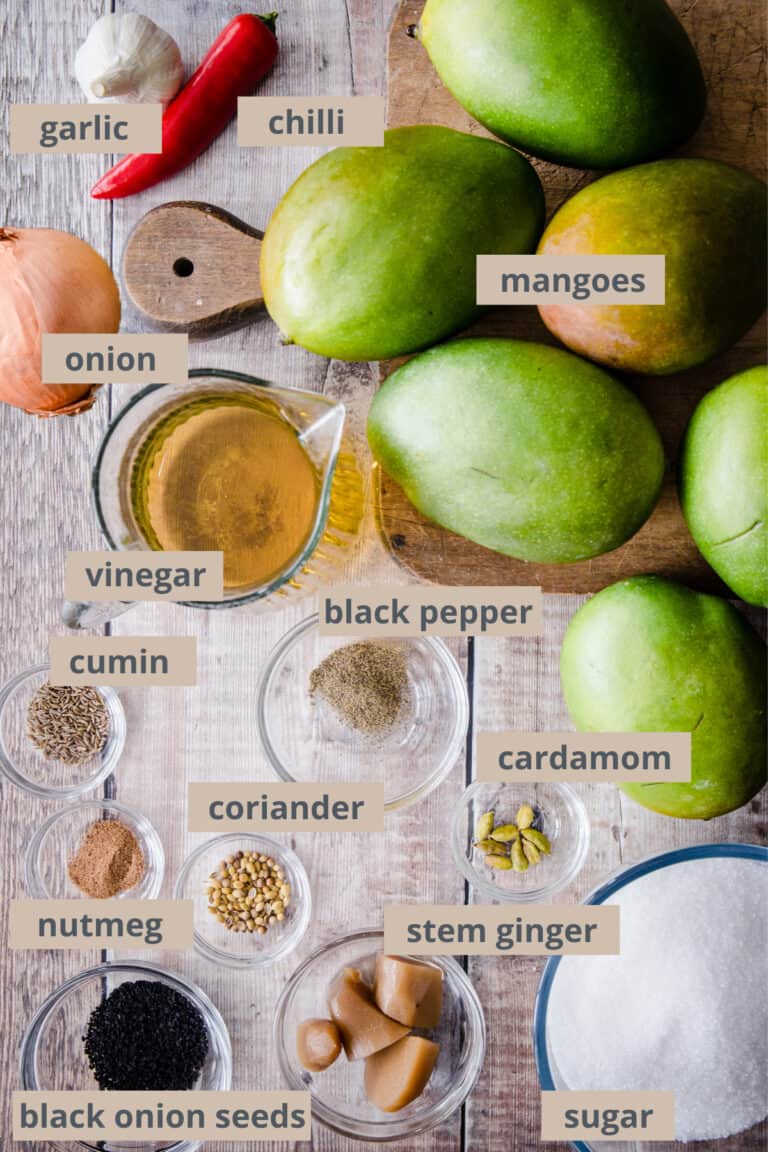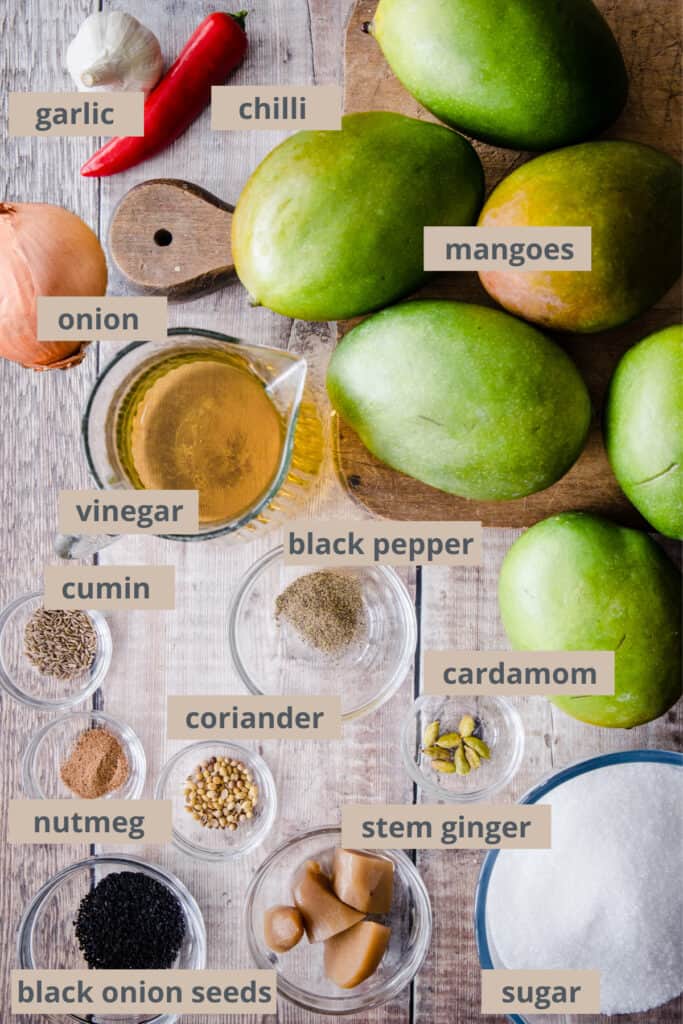 How do you make Mango Chutney with Stem Ginger?
For full recipe instructions go to the recipe card at the end of this post.
The steps are simple:
Pour the sugar and vinegar into a large cooking pot along with the diced chilli. Bring up to a gentle boil and let the sugar totally melt into the vinegar.
Toast the spices in a saucepan until fragrant.
Add the diced mango to the pan along with the stem ginger, onion, garlic and toasted spices.
Stir everything together and cook for 45 minutes until the mango is very soft.
Mash the mango a little so that some of it breaks down to a more pulpy consistency. Cook for a further 5-10 minutes until the chutney has a thick saucy consistency.
Fill the chutney into sterilised jars.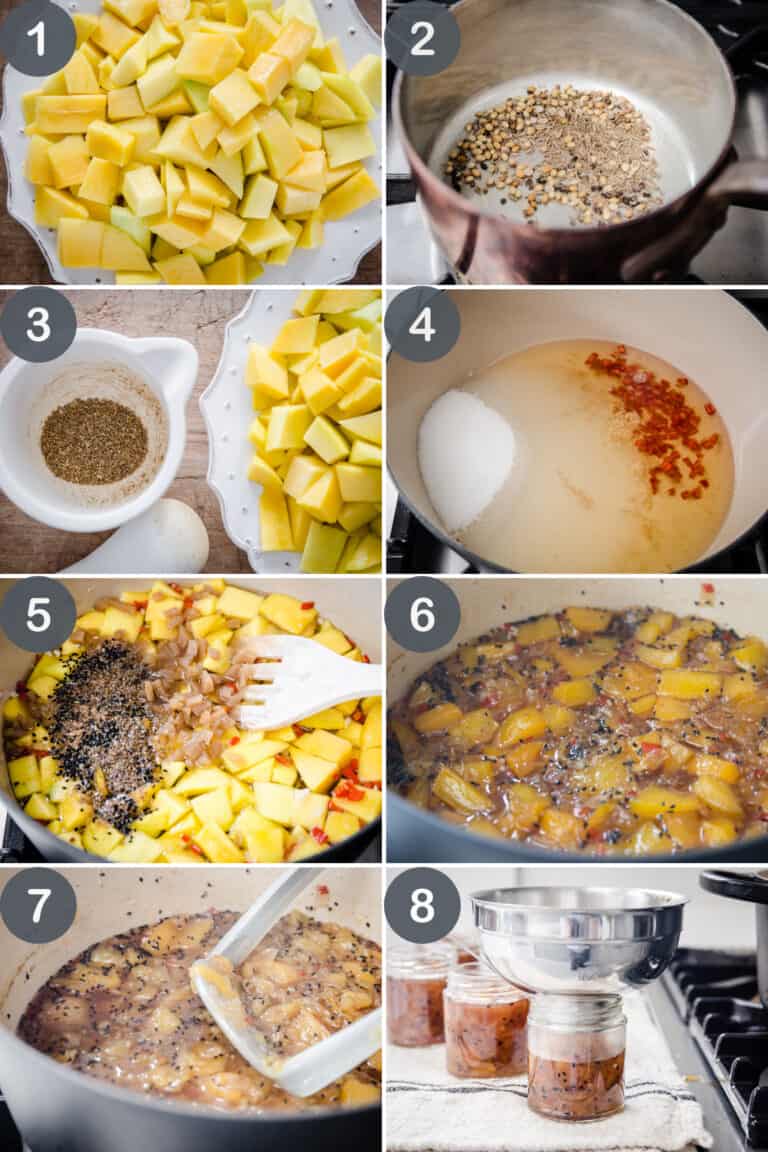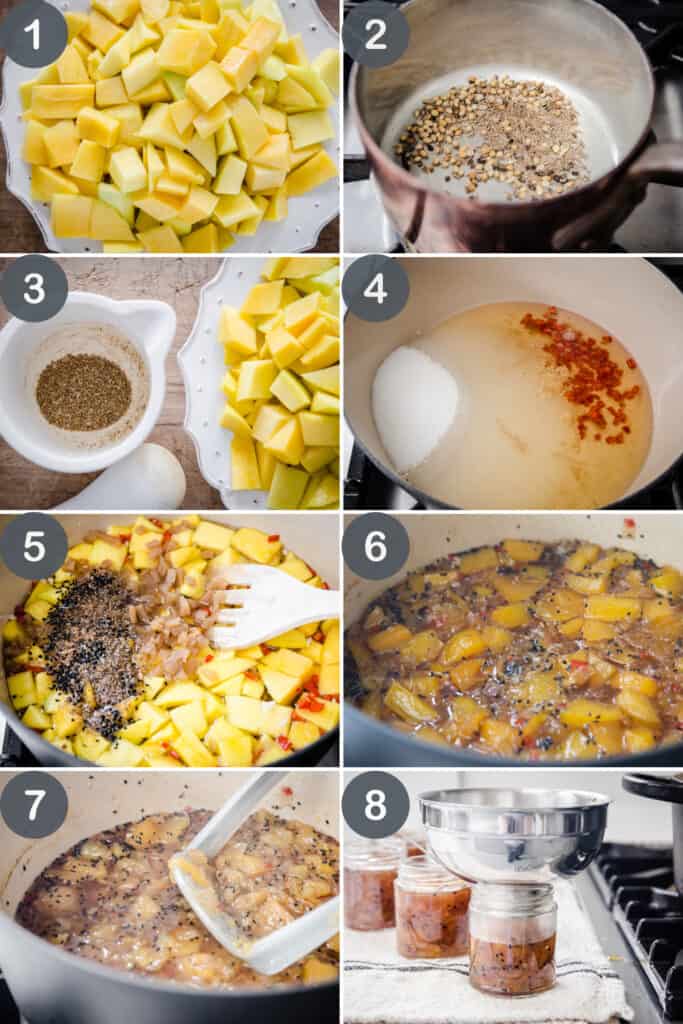 TIP! How to cut a Mango
The best way to cut a mango so that you garner as much flesh from the fruit as possible is to use a very sharp knife and follow this technique:
Stand the mango on its stem and cut away from either side of the stone.
Slice these two halves of mango lengthways into four pieces.
Remove the skin from each piece by placing the knife between the flesh and skin, almost flat against the work top, and sliding it along the skin to remove the flesh above.
Once you've cubed both halves then cut around the stone further to remove the flesh on the sides of the stone and do the same again.
The below video is an excellent demonstration, although he does end up dicing the mango much finer than we require for this recipe. We want our mango to be in larger cubes.
VIEW VIDEO >>> How to cut a mango
TIP! Watch those spices
When you are toasting the spices in the saucepan keep a careful watch over them so they don't burn. They only take about a minute so remove from the heat as soon as they start to smell fragrant.
TIP! How to sterilise jars
Use empty glass jars and wash thoroughly.
Pre-heat the oven to 160°C / 140°C fan / gas mark 3.
Place your jars (not the lids) on a large roasting dish with high sides so the jars are well contained.
Place the jars in the hot oven for 20 minutes. Remove from the oven and rest for 5 minutes before filling them with your chutney so the hot liquid doesn't bubble and spit when you are filling them.
Sterilise the lids by placing them in a saucepan of boiling water for 10 minutes. Add a splash of vinegar to the water which will prevent the lids from getting a cloudy appearance.
You can re-use the glass jars when the chutney is finished for your next preserving project as long as they are cleaned and sterilised properly. Lids shouldn't be re-used as they will corrode over time.
You can buy lids separately from Amazon in bulk to fit any jar.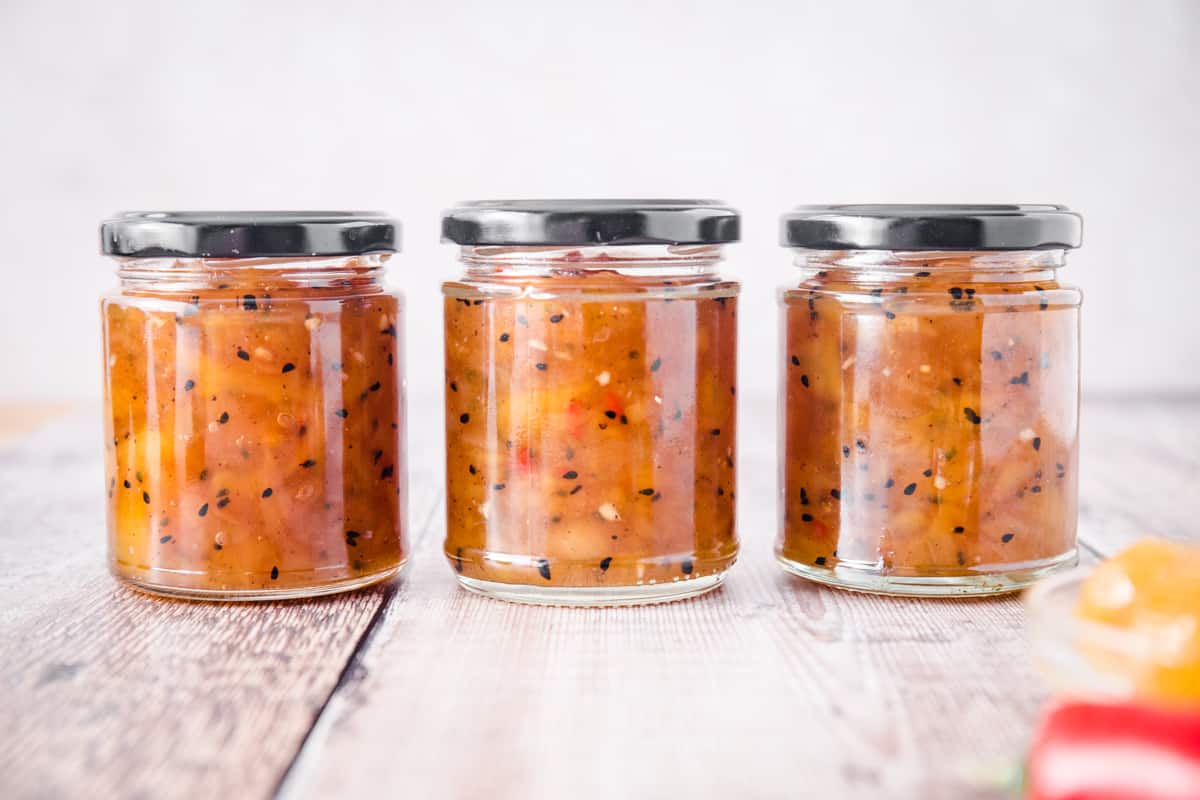 Can you eat this chutney straightaway?
Yes, it's delicious as soon as it has cooled. However, if you leave for about 4 weeks then it will be even better as the flavours will have had time to mature.
How to store Mango Chutney
Once the jars of mango chutney have cooled then label them and store in a cool dark place. A larder or pantry is perfect.
How long does this Mango Chutney last?
Unopened the chutney lasts up to 6 months as long as the jars were properly sterilised and sealed tightly. However, once you open the chutney then store in the fridge where it will keep for up to a month.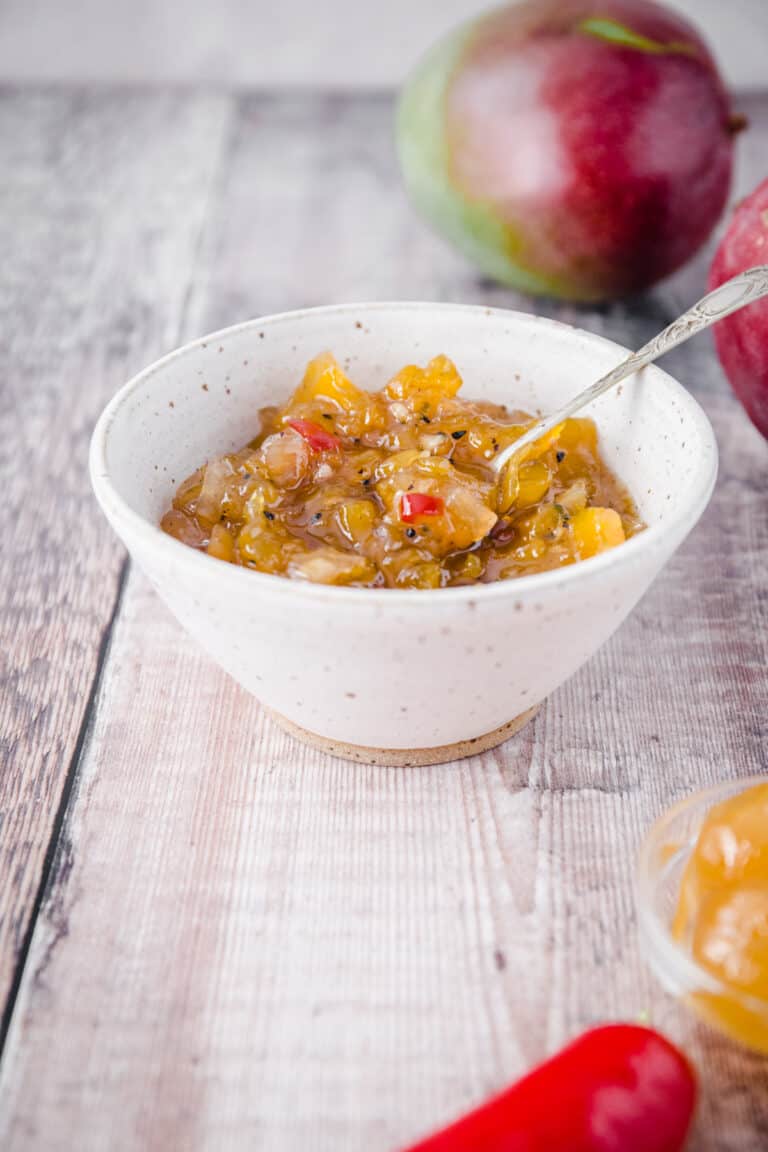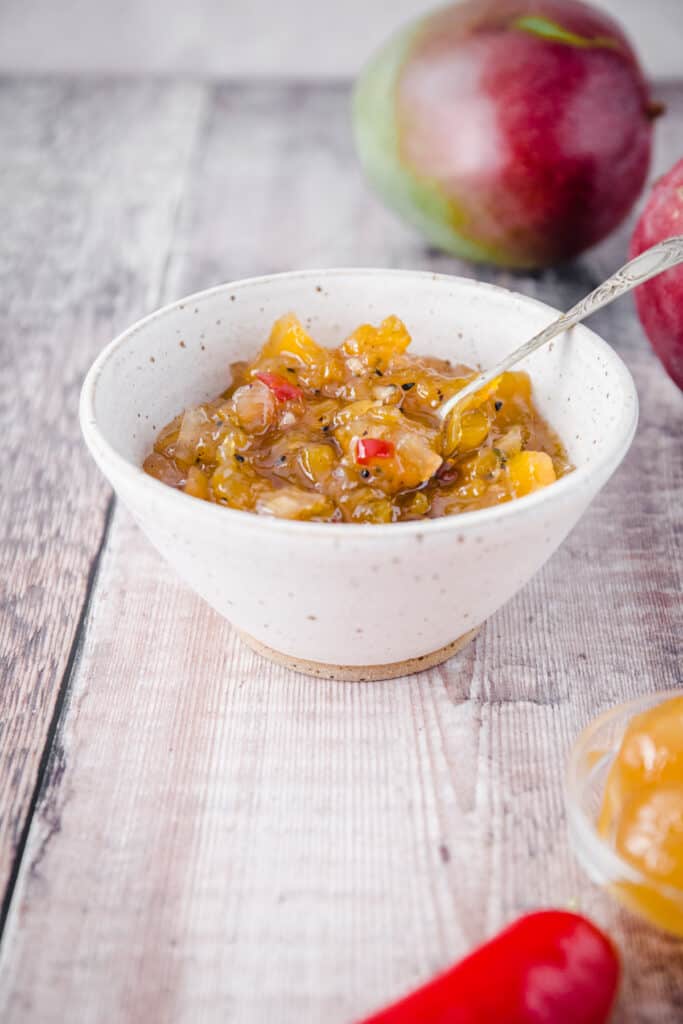 What can you do with Mango Chutney?
Toasted Mango Chutney and Cheese Sandwich
This classic sandwich combination always reminds me of my mother who at the mere mention of mango chutney will without fail wax lyrical about a good mango chutney and cheese sandwich. And with good reason, a generous dollop of sticky chutney oozing out a toasted sandwich filled with gooey English cheddar is truly a magnificent lunch and reminds me a lot of my childhood.
Sticky Mango Chutney Chicken Skewers
This is a summertime staple. Mix together 75g mango chutney and 75g Dijon mustard with a pinch of salt. Then smother the sauce all over diced chicken thighs, thread onto metal skewers and cook over the barbecue until the chicken is cooked.
Adding to a curry
It would be remiss not to discuss how a tablespoon of mango chutney added to a homemade curry sauce can provide a lovely dimension to the recipe. It adds a lovely balance of mellowed sweetness and spice.
Other ideas:
Serve alongside your curry.
Use as a dip for tortillas.
Stir a tablespoon of chutney into the filling of a Cheese Quiche recipe before baking – it's magnificent.
Add a tablespoon into the sauce of Coronation Chicken.
Smother over Pork Chops.
Use it to accompany any cheeseboard.
Love chutney? Me too! Check out these other chutney and relish recipes:
I urge you to give this Mango Chutney with Stem Ginger a try. If you do then please leave a comment below and give the recipe a rating which helps others find the recipe on Google. If you then go on to use this recipe as a launch pad for your own culinary creation then I'd also love it if you'd share it and tag me on Instagram. It is so lovely for me to see your versions and variations of my recipes.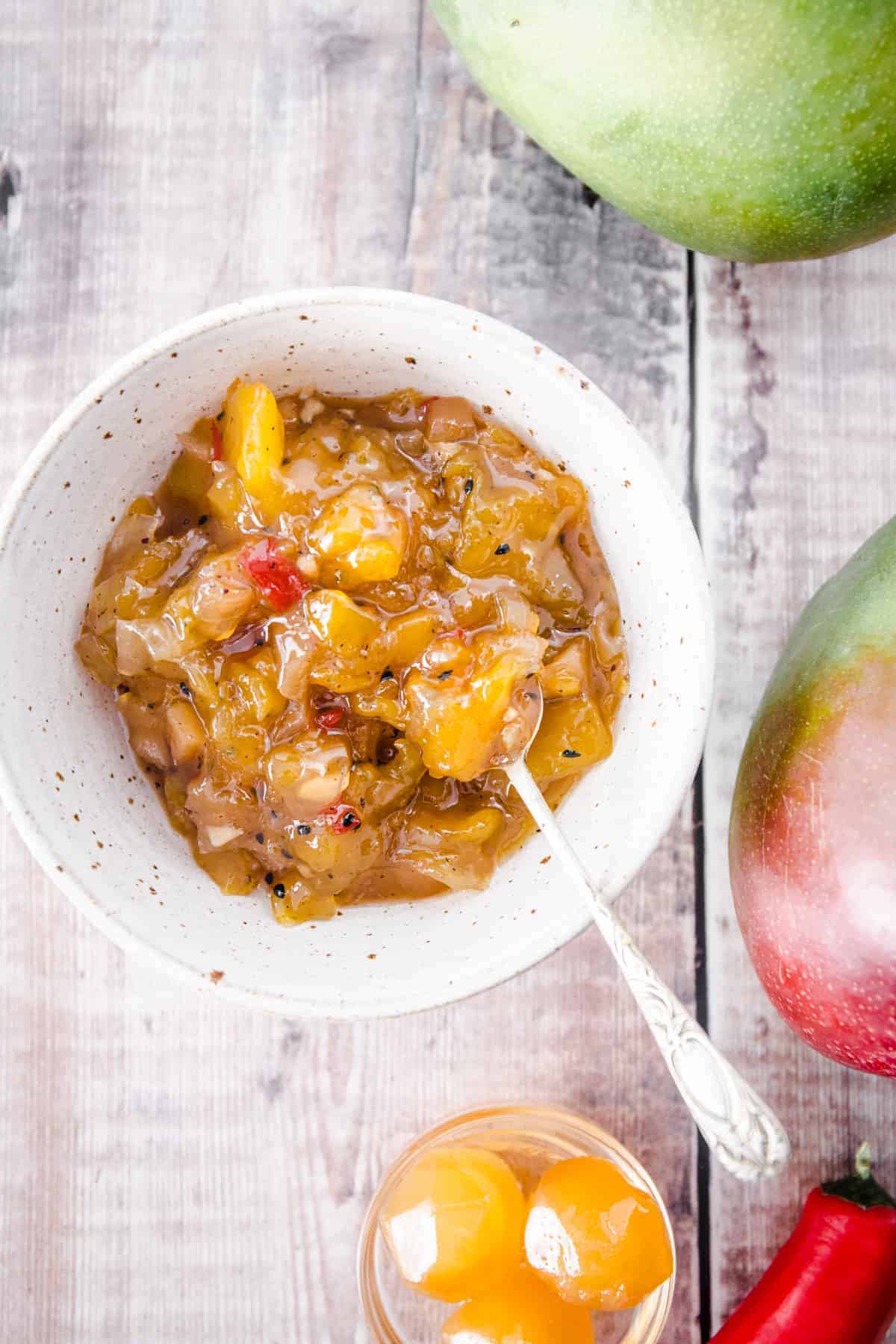 Mango Chutney with Stem Ginger
Mango Chutney is essential for any well-stocked pantry or larder. It is such a versatile ingredient and can add fruitiness to a curry, pep up a toasted cheese sandwich or be used as a glaze on the barbecue or grill. This sweet tangy chutney is full of juicy plump mangos sweetly spiced with stem ginger and gentle chilli heat.
Ingredients
6

mangos

500

g

granulated sugar

600

ml

cider vinegar

1

large onion

-

about 200g

1

red chilli

-

seeds removed and diced

2

cloves

garlic

-

crushed

60

g

stem ginger

-

diced

1

teaspoon

cumin seeds

1

teaspoon

coriander seeds

8

cardamom pods

-

seeds removed

2

teaspoons

black onion seeds

-

(nigella seeds)

¼

teaspoon

freshly grated nutmeg

¼

teaspoon

freshly ground black pepper
Instructions
Peel the mangos and cut the flesh of the fruit from around the middle stone. Chop the fruit into rough cubes and set aside.

In a small saucepan toast the cumin seeds, coriander seeds and cardamom seeds for about a minute until they start to smell fragrant.

Grind them until fine in a spice grinder or pestle and mortar.

Pour the sugar, vinegar, garlic and chilli to the pan, bring to a gentle simmer and cook through for about 10 minutes or until the sugar has melted.

Add the mango, the onion and all the spices and the stem ginger. Bring to a boil, then turn the heat down to a low simmer for 45 minutes.

Mash the larger cubes of mango using a potato masher to make a more pulpy consistency then cook for a further 5 minutes for the sauce to thicken.

Pour the hot chutney into sterilised jars and screw sterlised lids on tightly to seal.

The chutney is delicious to eat immediately but the flavour will also improve if left for 4 weeks.
Notes
This recipe yields 6 x 190ml jars
Ingredients
Mangoes – use properly ripe fresh juicy mangoes.
Sugar – you can substitute the granulated sugar for any white sugar.
Cider vinegar – you can substitute for white wine vinegar
Red chilli – for a hotter chutney you can leave the seeds in.
Cooking Tips
Spices - Watch over the spices whilst they are toasting. Remove from heat as soon as they are becoming fragrant – they can burn very quickly.
Sterilising jars - Place the very clean jars you would like to use in an oven pre-heated to 140°C /140°C fan oven / gas mark 3 for 20 minutes. Sterilise the lids by heating them into a saucepan of boiling water for 10 minutes with a teaspoon of vinegar. It is best not to sterilise lids in the oven as they can easily ruin.
Shelf Life and How to Store
Unopened jars of chutney should be kept in a cool dark place. They keep well in this way for up to 6 months.
Once opened store in the fridge where it will keep well for up to a month.
Nutrition
Calories:
50
kcal
Carbohydrates:
12
g
Protein:
1
g
Fat:
1
g
Saturated Fat:
1
g
Sodium:
1
mg
Potassium:
56
mg
Fiber:
1
g
Sugar:
11
g
Vitamin A:
232
IU
Vitamin C:
9
mg
Calcium:
6
mg
Iron:
1
mg
Have you tried this recipe?
Head to the comment section and let me know what you think!