This post contains affiliate links. Please read my disclosures.
This Boxing Day Ale Chutney is the perfect addition to your cheeseboard. It's also particularly delicious with leftover Christmas ham or turkey. Sweetly spiced with chunky vegetables and plenty of tang.
Boxing Day is definitely my favourite day over the holiday period. It has none of the high expectations of Christmas Day. There's no early morning hysteria or panic because you forgot to put the turkey on/buy the Brussels/wrap Adrian's present. I spend most of Christmas Day in the kitchen, rushing back and forth between filling glasses with Bucks Fizz, trying to be with the children for the opening of every present and shooing Billy Buddy away from the mince pies. It's exhausting.
Boxing Day has none of that palaver though. You can lie in, well you can if you don't have children. It's not frowned upon to have chocolate for breakfast as it's technically still Christmas and all those Lindor Lindts have to be demolished before New Year. You're free to spend all day watching movies, drinking the Bucks Fizz you didn't really have time for the day before whilst wearing your new Christmas jammies. Plus you can eschew cooking for cheese, biscuits and cold cuts and the trifle that you prepared on Christmas Eve. At least that's how I roll with Boxing Day and I will not compromise it for anyone.
As anyone knows who has prepared a Boxing Day buffet for all the Christmas Day stragglers the accompaniments for your cheese and meats are so important. It's all very well splashing out on decent stilton and the good oatcakes but since you are dumbing down the cooking aspect of it then the effort has to show somewhere so you can still wear your perfect host/hostess crown with pride. This is when preparing your Boxing Day Ale Chutney early doors in December will pay off dividends.
I have been making this Boxing Day Ale Chutney for a few years now when I realised I needed a more everyman's pickle to go with the cheeseboard. I had Courgette Relish and Stem Ginger and Apple Chutney but my family were clamouring for more of a ploughmans preserve. This Boxing Day Ale Chutney fits the bill absolutely. It's simple to make since after only 15 minutes of chopping you just throw everything into a large saucepan to get to know each other. It doesn't have a long cooking time compared to other chutneys, just an hour or two, and can pretty much be eaten straight away. However, if you decant into sterilised jars then it will also keep for a good few months, or until you open it on Boxing Day.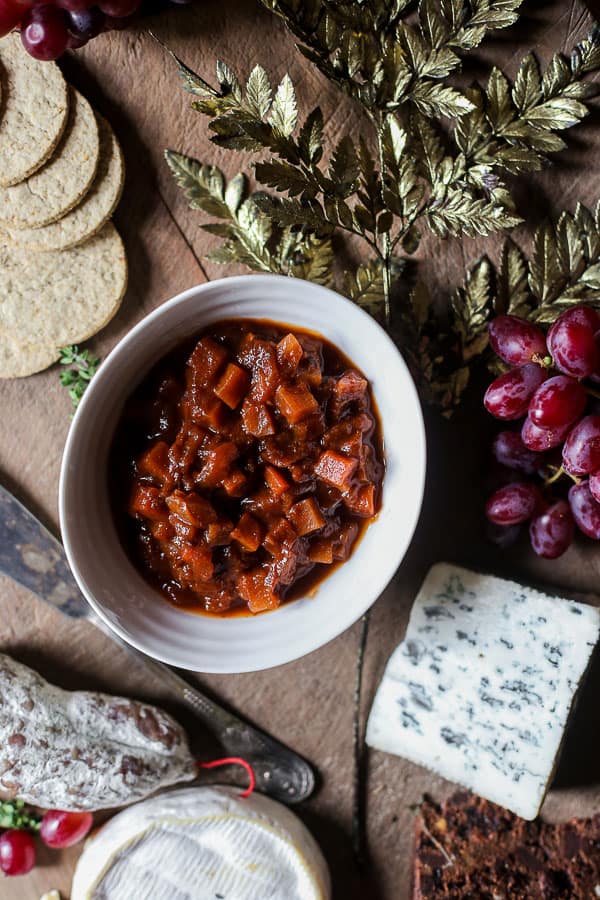 Boxing Day Ale Chutney is beautifully chunky with root vegetables, sweet with tomatoes, dates, spices and gluten-free pale ale. It's also tangy with cider vinegar and mustard so holds its own against strong cheese and robust meats.
The best thing is if you decide to get ahead and make your chutney now then you'll have plenty of jars to give away as Christmas presents. Then all your friends and relatives can reap the benefit of your Boxing Day Ale Chutney too. I guarantee they will be begging for the recipe.
If you make this Boxing Day Ale Chutney then please leave a comment below and/or give the recipe a rating. If you make the recipe or use it as a building block for another delicious creation, I'd also love it if you tag me on instagram. It is so lovely for me to see your creations and variations of my recipes.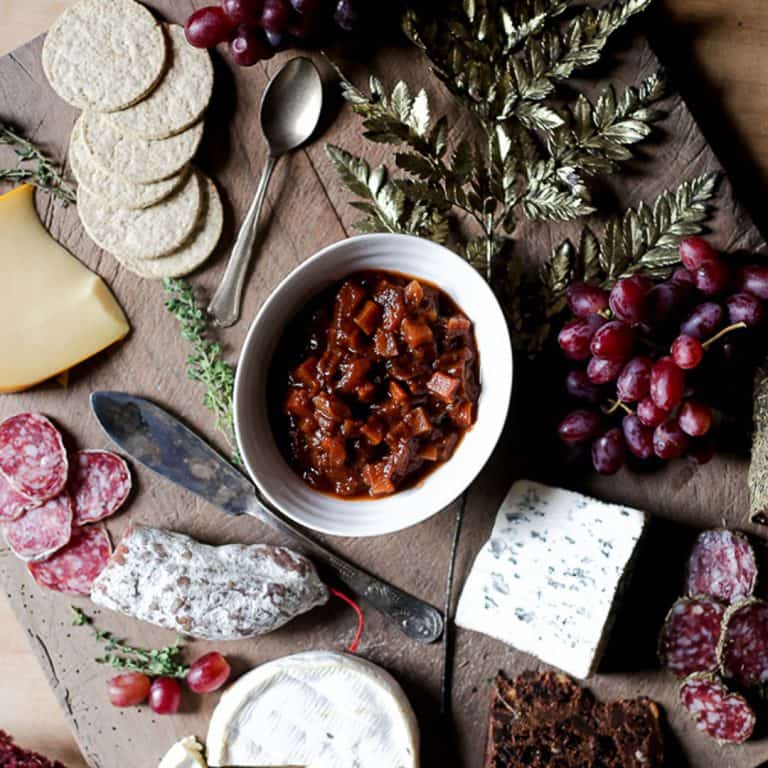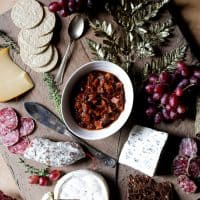 Boxing Day Ale Chutney
Boxing Day Ale Chutney is the perfect addition to your cheeseboard. It's also particularly delicious with leftover Christmas ham or turkey. Sweetly spiced with chunky vegetables and plenty of tang.
Print
Pin
Rate
Ingredients
3

onions

about 400g

1

swede

about 375g chopped

2

large carrots

about 300g carrots

3

granny smith apples

2

garlic cloves

peeled and diced

175

g

dates

pitted

140

g

tomato puree

325

g

light soft brown sugar

2

tablespoons

black treacle

300

ml

cider vinegar

1½

tablespoons

mustard powder

2

teaspoons

ground ginger

1

teaspoon

ground mace

½

teaspoon

salt

½

teaspoon

ground black pepper

500

ml

gluten-free pale ale
Instructions
First peel and chop the vegetables into even 1.5cm sized cubes.

Put all ingredients into a large preserving pot with 150ml water and 250ml of the ale.

Bring to a gentle simmer, stirring occasionally, and cook for an hour.

Take the chutney off the heat and pour in the rest of the ale.

Return the chutney to the heat and cook for a further 30 minutes.

Remove from the heat and decant into sterilised jars*.
Notes
This recipe is slightly adapted from Hearty Ale Chutney from Preserves: River Cottage Handbook No.2
by Pam Corbin The chutney will keep up to a year if stored in a cool dark place.
*To sterilise the jars place the very clean jars you would like to use in an oven pre-heated to 140°C for 20 minutes. Sterilise the lids by dropping them into a saucepan of boiling water for 10 minutes with a splash of vinegar. I don't sterilise my lids in the oven as they tend to ruin.
The chutney will keep up to a year if stored in a cool dark place.
Yield 10 190g jars.
Nutrition
Calories:
23
kcal
|
Carbohydrates:
5
g
|
Sodium:
12
mg
|
Potassium:
49
mg
|
Sugar:
4
g
|
Vitamin A:
180
IU
|
Vitamin C:
1.4
mg
|
Calcium:
8
mg
|
Iron:
0.1
mg
SHOP THE RECIPE
I find my Le Creuset Signature Cast Iron Round Casserole, 28 cm – Marseille Blue
 absolutely indispensable when I'm making any type of preserve or indeed anything in the kitchen. It's very heavy duty but I use it for absolutely everything from pot roasts, stews and stocks to making jams and chutneys. It's large enough that it is great for so many purposes from sweet to savoury. I have the signature marseille blue colour as when I bought it I wanted it to match the old Le Creuset saucepans handed down to me from my dad but you can get them in other beautiful colours. Different colours are different prices so you can definitely get a good deal if you choose a less popular colour.

This post is not sponsored but 
the images above are affiliate links which means if you decide you want to use these link to make your purchases then Amazon gives me a small commission at no cost to you whatsoever. I will only recommend products I use in my kitchen and love. To learn more about how the data processing works when using these Amazon affiliate links then please visit my privacy policy page.
If you like this recipe then you may like…