This post contains affiliate links. Please read my disclosures.
Coronation Chicken Salad is incredibly versatile and a naturally gluten-free crowd pleaser. Curried, roasted and shredded chicken thighs are dressed with a fragrant yoghurt and mayonnaise dressing and dried apricots. This version is fruity spicy and perfect for preparing ahead for a delicious salad or satisfying sandwich filling.
Coronation Chicken is one of my favourite ways to get ahead in the kitchen. It may be retro but made correctly it's an outstanding way to serve chicken.
During the summer I make huge batches of this Coronation Chicken Rice Salad for serving at picnics. Later on in the year you can leave out the wild rice and stuff the rest into incredible sandwiches or serve it heaped into a hotly buttered jacket potato.
Roasted Coronation Chicken the perfect seasonal crossover dish, so versatile and is a recipe you absolutely need to have in your back pocket so you can return to it again and again.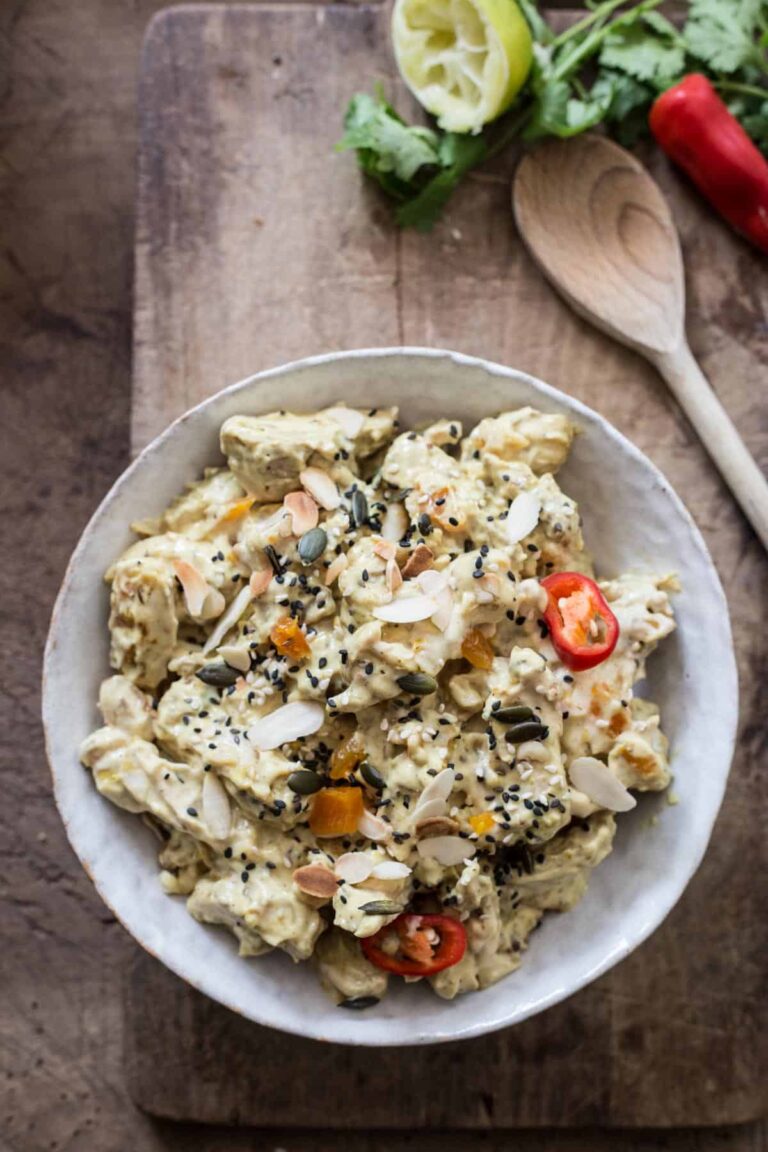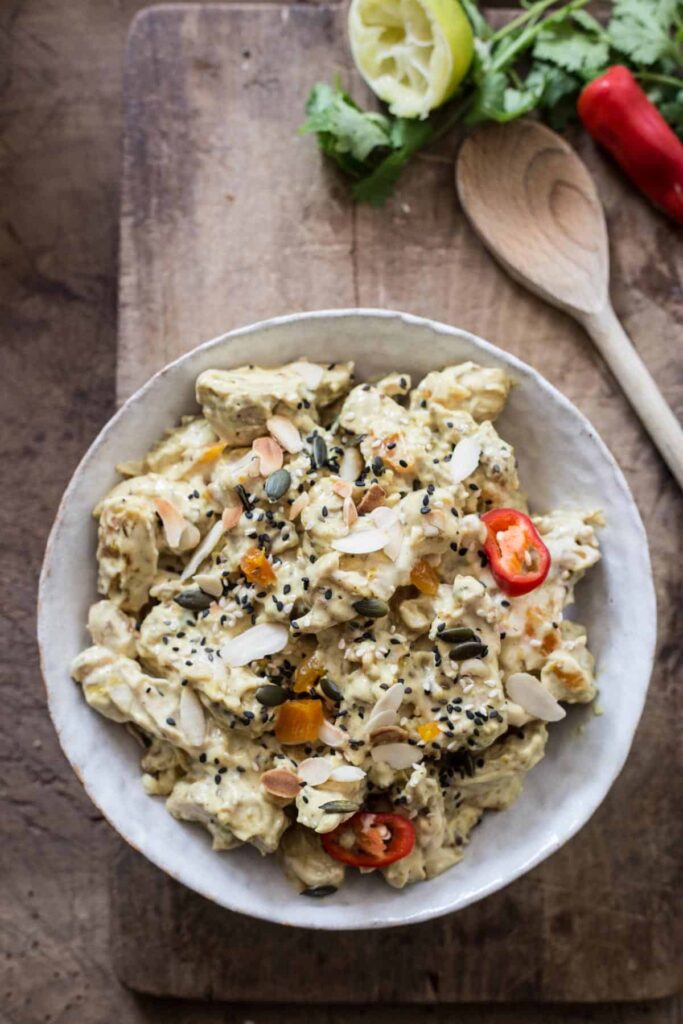 What is Coronation Chicken?
The recipe for Coronation Chicken was developed in 1953 for Queen Elizabeth II's coronation by Rosemary Hume.
It is a cold dish, traditionally made with poached chicken dressed in a lightly curried mayonnaise with dried apricots.
These days Coronation Chicken can be considered a bit of a dated affair. However if you have ever been for a proper British afternoon tea you will no doubt have tasted it as part of your platter of finger sandwiches. If so, you simply must agree that Coronation Chicken deserves it's place amongst the most regal of British culinary inventions.
Unfortunately, like Eccles Cakes or Flapjacks its ubiquity has led to some very poor mass market imitations. The Coronation Chicken you can buy pre-made as a sandwich filling in the supermarket is not the best example of this delicate recipe.
If you want the real deal you know what you have to do. Make it yourself. You won't be sorry.
Why you'll love this recipe
Boneless chicken thighs are rubbed generously with fresh curry spices before roasting for more impactful flavour.
The chicken skin is left on. Those crispy bits are the jewels of the salad.
Mayonnaise is cut through with yoghurt for a lighter fresher dressing.
Those fresh curry spices and a squeeze of lime are also added to the dressing.
Almond butter is mixed in with the dressing for a rich almost satay like flavour.
Dried apricots are used here instead of the far too intrusive sultanas which ruins many commercial Coronation Chickens.
Dressing up the salad with fresh coriander, toasted flaked almonds and crunchy pumpkin and sesame seeds gives the Coronation Chicken amazing texture and flavour.
Wild rice and basmati rice are used in the salad for a great textural contrast.
Naturally gluten-free.
If you want more great chicken recipes then why not try...
The Best Gluten-Free Chicken Schnitzel
Honey Orange & White Wine Chicken Skewers
Lemon Honey and Sesame Chicken
Chicken and Leek Pie
How to make Coronation Chicken
Make the curry paste by grinding the spices then mixing with the coconut oil.
Rub the curry paste all over the chicken thighs and roast for 15 minutes. Remove from the oven and scatter over the sesame seeds. Roast for a final 15 minutes.
Cool then shred the chicken.
Make the dressing by mixing mayonnaise, yoghurt, almond butter, lime juice and the rest of the curry spices.
Pour the dressing over the shredded chicken along with finely diced dried apricots and fresh red chilli.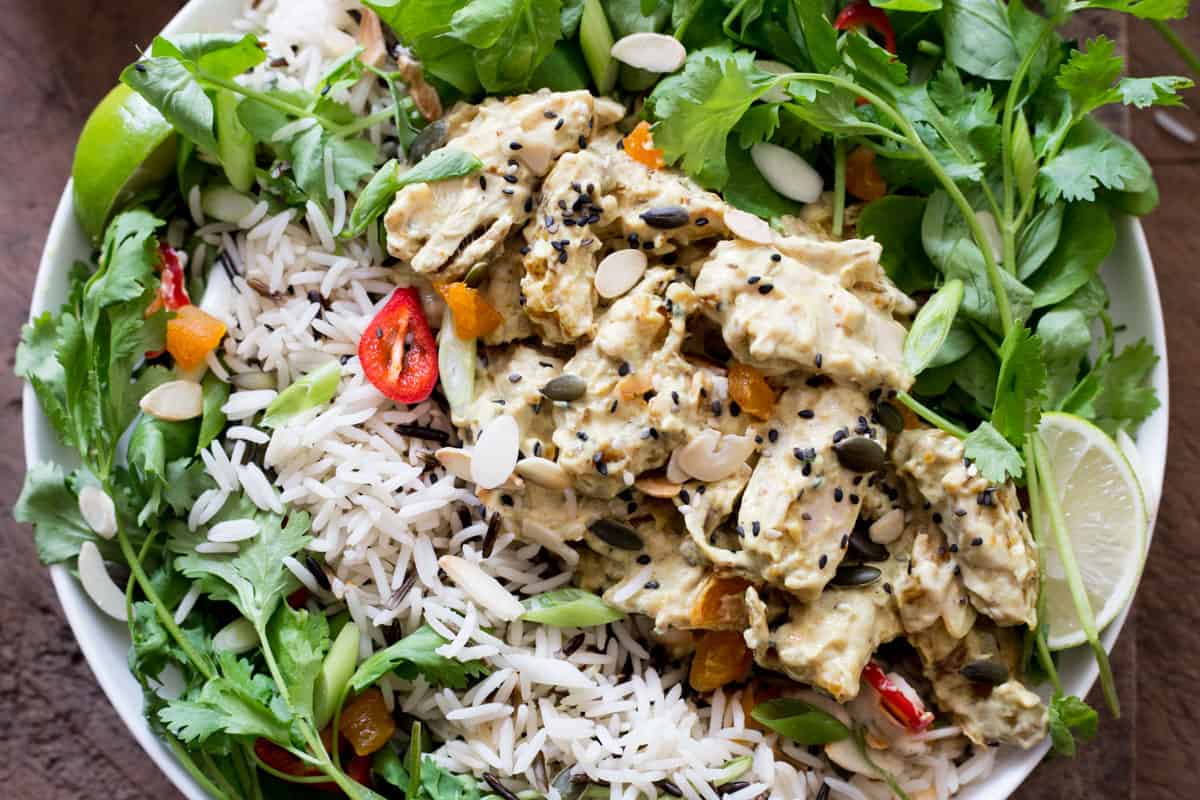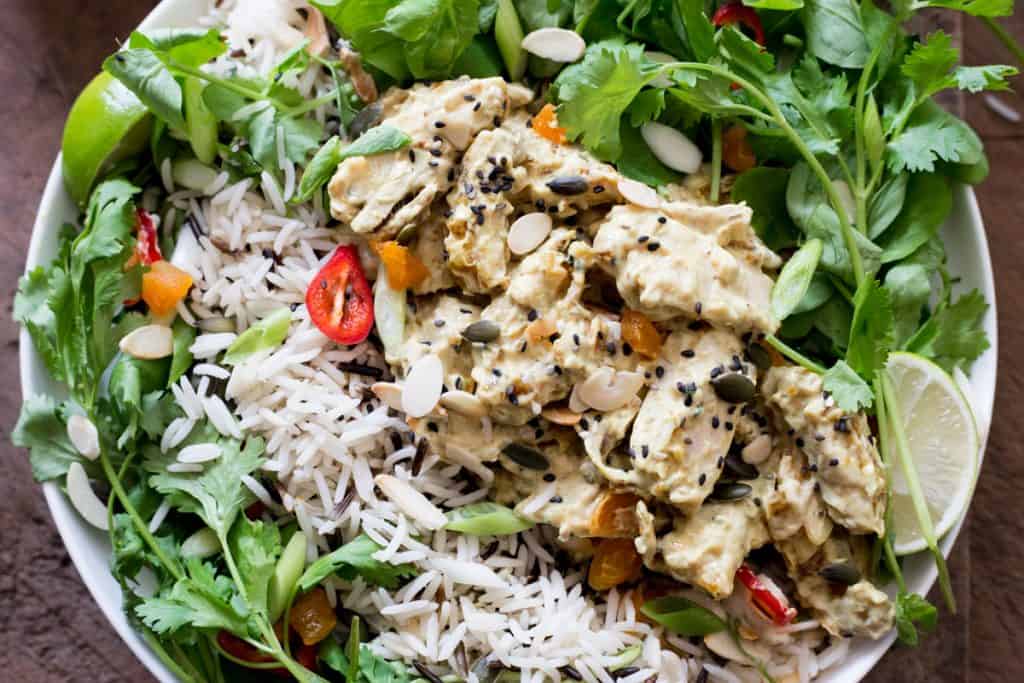 Tips for best results
For ultra refined curry spice mix try processing your spices in a spice grinder. They are often sold primarily as coffee grinders but coffee grinders and spice grinders are the same thing.
Dice the dried apricot super small for delicate fruitiness in every bite. I prefer it if the dried fruit isn't too 'in your face.'
Use very drippy almond butter, not the hardened dredge from the bottom of the jar.
If you are serving to children or people who don't like a lot of heat then just omit the red chilli.
NOTE ON THE DRESSING: There is a little bit more dressing than you might need. There is a reason for this. If you are serving the Coronation Chicken straight away you might need slightly less dressing. The longer the Coronation Chicken sits in the fridge the dressing tends to thicken. Just before serving loosen with a little more dressing. If you are packing the Coronation Chicken for a picnic, take the extra dressing too, it usually always gets gobbled up.
Can I use chicken breasts instead of thighs?
You can. But, I really recommend boneless chicken thighs. They are jucier and more flavourful. However, if you prefer chicken breasts then you will only need 4 breasts. I recommend cutting them in half widthways and only cooking for 20 minutes total time.
Can you use leftover shredded chicken?
Yes absolutely. Since your chicken won't have been roasted in the curry spices then it won't be as flavourful. I recommend adding 2 tablespoons of the curry spices into the dressing rather than the 1 tablespoon suggested in the recipe.
How to make it dairy-free
There is only one simple switch to make this Coronation Chicken dairy-free. Just swap out regular natural yoghurt for coconut yoghurt. I actually love this switch and the slightly coconutty flavour it lends. Mayonnaise is usually dairy-free, especially if you are using homemade mayonnaise. However always check your labelling.
Other ways to serve Coronation Chicken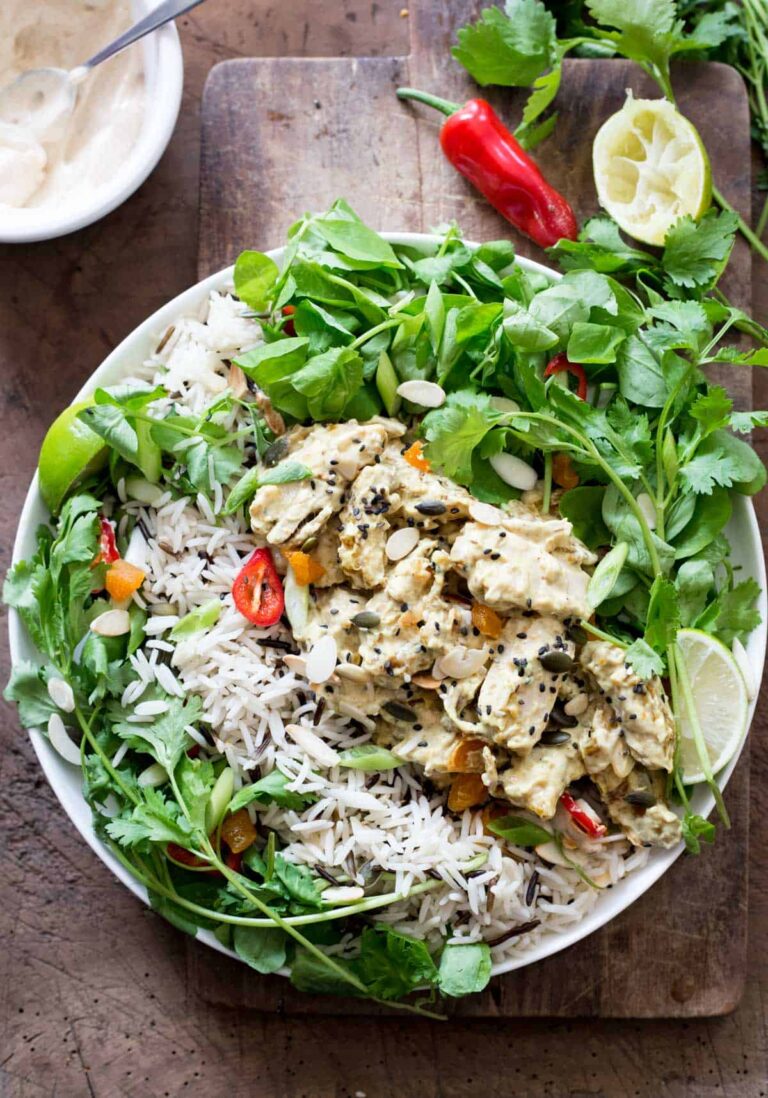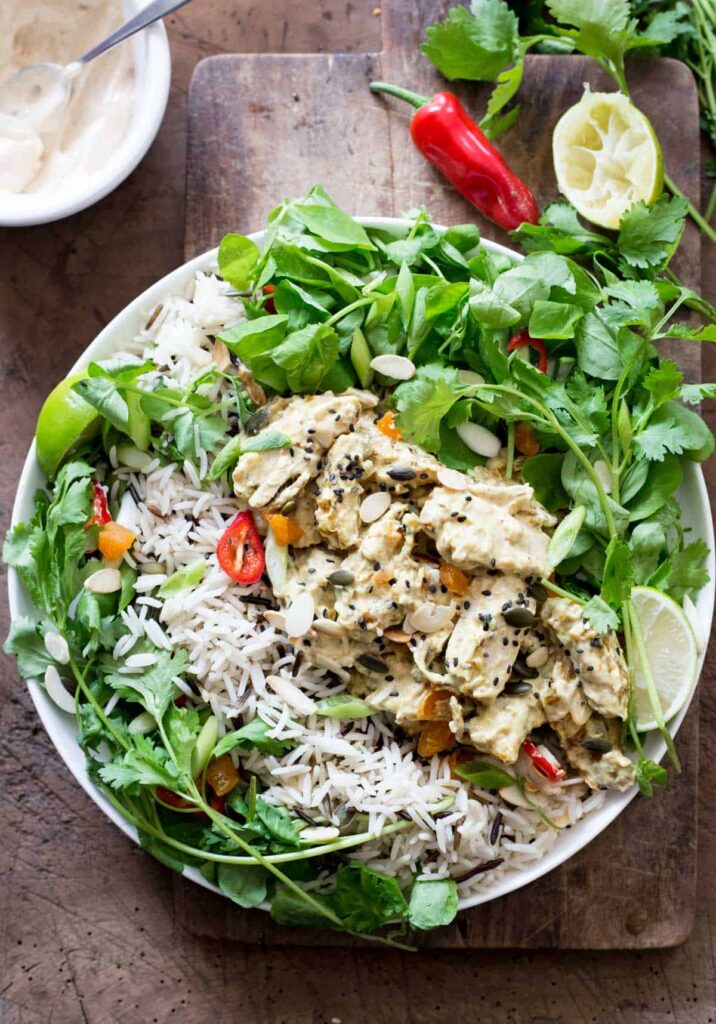 How to make the salad
My favourite way to serve Coronation Chicken has to be with this Wild Rice Salad. It makes for a substantial supper, a brilliant offering for a potluck or a delicious picnic lunch. The full recipe is in the recipe card below.
Cook and cool a mix of wild and basmati rice.
Toss salad leaves with spring onions and fresh coriander leaves.
Serve alongside the Coronation Chicken and scatter with pumpkin seeds, toasted flaked almonds and sesame seeds.
For more delicious salad recipes why not try...
Roast Pork Belly Apple and Caramelised Walnut Salad
Simple Brown Rice Salad with Pesto Vinaigrette
English Mint Potato Salad
Roasted Cauliflower Salad with Tahini Turmeric Dressing
Can you freeze Coronation Chicken?
You can freeze the roasted and cooled chicken thighs ready for making Coronation Chicken at a later date. However, you can't freeze the final finished dish.
How long can you keep Coronation Chicken in the fridge?
Up to 3 days.
If you make this Roasted Coronation Chicken or the Coronation Chicken Rice Salad then please leave a comment below and/or give the recipe a rating. If you then go on to use this recipe as a launch pad for your own culinary creation then I'd also love it if you'd share it and tag me on Instagram. It is so lovely for me to see your versions and variations of my recipes.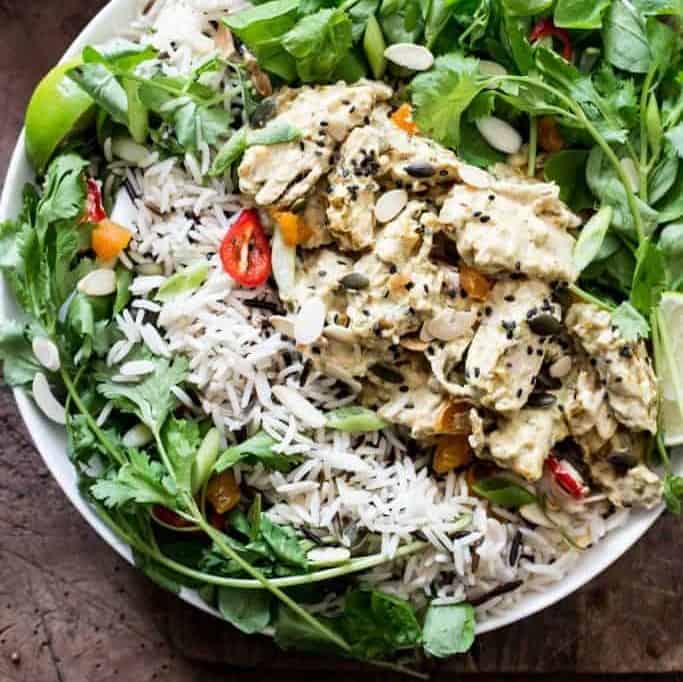 Coronation Chicken Salad
Roasted Coronation Chicken is incredibly versatile and a real crowd pleaser. Curried, roasted and shredded chicken thighs are dressed with a fragrant yoghurt and mayonnaise dressing and dried apricots. This version is fruity spicy and perfect for preparing ahead for a delicious wild rice salad.
Ingredients
Coronation Chicken
1

tablespoon

coriander seeds

1

tablespoon

cumin seeds

2

teaspoons

yellow mustard seeds

1

teaspoon

fennel seeds

seeds from 3 cardamom pods

2

teaspoons

ground turmeric

1

teaspoon

ground ginger

1

teaspoon

garlic powder

1

teaspoon

salt

2

tablespoons

coconut oil

800

g

boneless chicken thighs

-

about 10 thighs

1

tablespoon

sesame seeds
Dressing
3

tablespoons

mayonnaise

250

g

yoghurt

-

natural dairy or natural coconut

Juice of 1 lime

2

tablespoons

almond butter

1

tablespoon

curry spice mix

8

dried apricots

-

finely chopped

1

red chilli

-

seeds removed and finely sliced (optional)
Coronation Chicken Salad
175

g

basmati and wild rice mix

420

g

water

4

spring onions

-

finely chopped

two large handfuls of mixed baby leaves

large handful of fresh coriander

30

g

flaked almonds

-

toasted

2

tablespoons

pumpkin seeds

2

tablespoons

sesame seeds

-

black or white
Instructions
Coronation Chicken
Pre-heat the oven to 200°C / 180°C fan assisted oven / gas mark 5

Make the curry paste by grinding together the coriander seeds, cumin seeds, mustard seeds, fennel seeds and cardamom seeds until fine using a spice grinder or a pestle and mortar.

Tip the spices into a large bowl and add the turmeric, ginger, garlic powder, salt and mix well.

Remove 1 tablespoon of the spices and set aside in a small bowl for later.

Stir the coconut oil into the rest of the spice mix until a thick paste has been formed.

Rub the paste all over the chicken thighs until they are evenly covered.

Place in the oven and roast for 15 minutes then remove from the oven and scatter over the sesame seeds.

Place back into the oven and roast for a further 15 minutes.

Remove and leave the chicken until cool enough to handle then shred the meat and crisp skin.

Place in a bowl whilst you prepare the dressing.

Whisk together the mayonnaise, yoghurt, lime juice and almond butter with the reserved tablespoon of the curry spice mix.

Pour two thirds of the dressing over the shredded chicken and add in the dried apricots and red chilli.

Stir well until the chicken is completely covered.

Keep in the fridge until ready to use.

Use more of the dressing to loosen the Coronation Chicken just before serving.
Coronation Chicken Salad
Place the rice in a large saucepan. Pour in the water and stir.

Turn the heat on and place the lid of the saucepan on. Bring to boil then turn down to a simmer for 20 minutes. Don't remove the lid at all during cooking. The rice is ready when all the water has been absorbed and you can't see any bubbling up beneath the cooking rice.

Turn off the heat and place a folded up clean tea towel between the saucepan and the lid. Leave the rice to sit for 10 minutes.

Remove the lid and the tea towel and fluff the rice with a fork.

Leave the rice to cool before serving with the salad.

To prepare the salad toss the baby leaves, spring onions and coriander leaves together in a large bowl.

Serve the salad, rice and coronation chicken together on a large platter and scatter over the flaked almonds, pumpkin seeds and sesame seeds.
Notes
Chicken Breasts – you can use chicken breasts, I won't judge, but I really recommend using chicken thighs for more flavour and juiciness.
Leftover Chicken – you can use leftover chicken instead of preparing it especially for this dish. It won't be imbued with the same amount of flavour so you must add another tablespoon of curried spices to the dressing.
Chilli - If you are serving this to children or someone who dislikes heat you may want to leave out the red chilli.
Dried Apricots – cut extra fine so the dried fruit isn't too overpowering.
Almond Butter – use really drippy almond butter, not the hardened dredge at the bottom of the jar.
Dressing – This recipe will make more dressing than you need. Finished Coronation Chicken will thicken in the fridge. Just before serving loosen it with some extra dressing.
Extra Dressing? – Don't waste it, use it as a dip for crudités.
Dairy-free? Use coconut yoghurt instead of natural dairy yoghurt.
Alternative serving suggestions – If you don't want to make the salad then the coronation chicken is delicious as a sandwich filling, heaped on a jacket potato or on cut and toasted French bread for a canapé.
Make Ahead – you can make the Coronation Chicken up to 3 days ahead of eating.
Store - keep refrigerated for up to 3 days
Salad Serving - I like to serve the salad so the leaves, rice and coronation chicken are not mixed together as it looks more attractive. Although you can mix it all up if you prefer.
Ingredient measurements
Please note when you see 'grams' listed as opposed to 'millilitres,' or any other term of measurement, that is not incorrect. I weigh all of my ingredients, including liquids, for accuracy.
US customary measurements for the ingredients provided are based on a conversion calculator. This recipe was tested with metric measurements and I recommend using a digital scale to weigh ingredients for the most accurate results. READ MORE >>> Why you should always weigh vs measuring with cups
Nutrition information
Please note that the nutrition information provided below is an estimate based on an online nutrition calculator. It will vary based on the specific ingredients you use. Please seek a professional nutritionist's advice for further clarification.
The nutrition serving is for 1 serving, assuming the dish is portioned into 8 servings. 
Nutrition
Calories:
498
kcal
Carbohydrates:
30
g
Protein:
23
g
Fat:
33
g
Saturated Fat:
10
g
Cholesterol:
104
mg
Sodium:
424
mg
Potassium:
541
mg
Fiber:
3
g
Sugar:
7
g
Vitamin A:
520
IU
Vitamin C:
10
mg
Calcium:
132
mg
Iron:
3
mg
Have you tried this recipe?
Head to the comment section and let me know what you think!
Update Notes: This recipe was originally posted in 2016, but was updated in September 2019 with more clarification to the recipe as well as new photos, nutritional information and expert tips.