This post contains affiliate links. Please read my disclosures.
Piccalilli is delicious spicy British pickle. Bite-sized pieces of Autumn vegetables fragrant with curry spices which is excellent with any kind of cheese or cold cut.
There was one word with which people always used to describe me; my school teachers, my work colleagues, my family, friends, strangers on the bus, the butcher, the baker, the weirdo on the corner. All of them would mutter a singular word in my direction as I floated past, filofax in one hand, iphone in the other. Organised.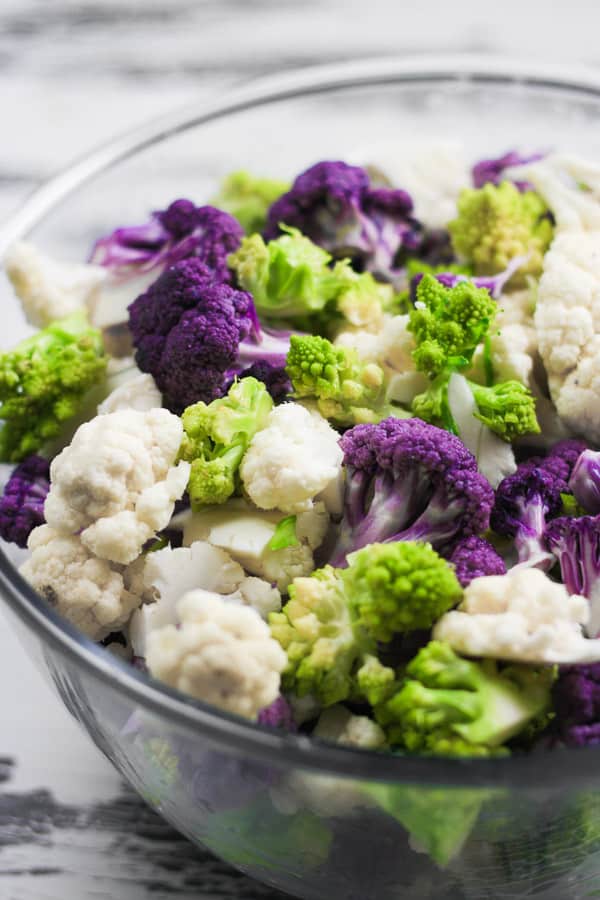 I never really took kindly to that word, as surely it's just another way of saying god she's boring, always making those lists and getting things done. What a teacher's pet. Boo, let's all go off down the pub and leave her at home. Ha ha, what a loser.
I would also get the bum job of booking our holidays. This meant researching the itinerary, making a powerpoint with appropriately fun fonts to share with the world on a domain specifically bought for the purpose, taking all the photos on the trip then sorting them into the photobook on our return complete with on point bon mots, then printing them out for Christmas presents, sourcing personalised wrapping paper for every recipient and ribbons to match; finally making sure everything was couriered off a week before to ensure a proper punctual Christmas.
Ah, the good life. The me I knew and loved and now have lost. As then came baby.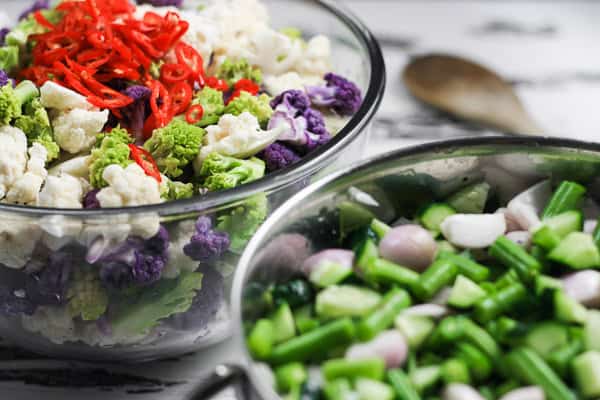 My house keys are currently misplaced. For the third time in the past month. No doubt I will find them in a shoe or the blender in a week or two. I have forgotten numerous vet appointments (sorry Billy Buddy), play dates (sorry Cole). I have been to weddings and sent thank you cards three months after the fact, if at all (sorry all of this year's newlyweds). I have a multitude of blog posts half finished, mostly for recipes that are now irrelevant with the changing seasons. I haven't been out for dinner in about four months as I can't be bothered to find a babysitter and I'm now just about to cancel our anniversary holiday at the end of the month as I haven't got around to booking the hotel as quite frankly it sounds more hassle than it's worth. Just the thought of another wrestling match with the travel cot from hell is enough to make me shudder.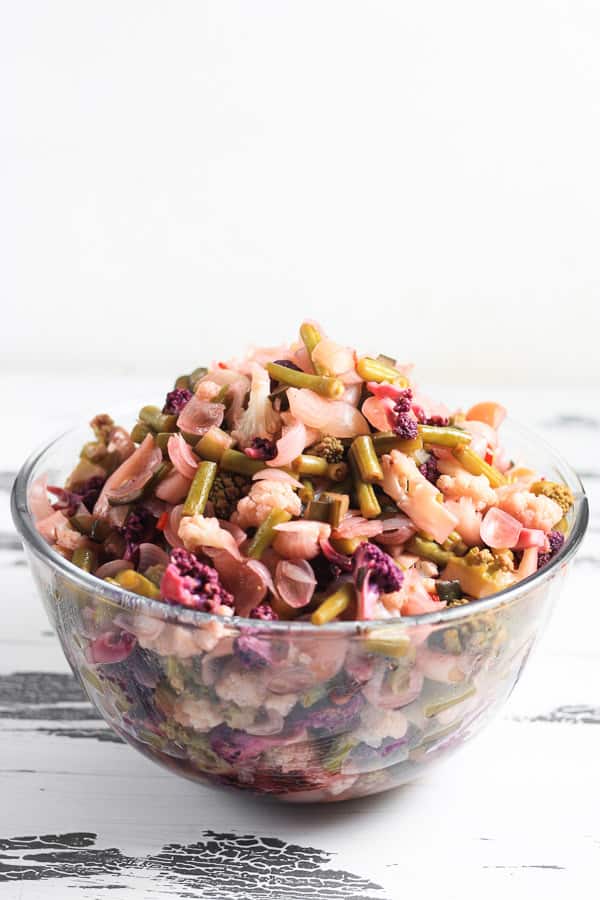 There is one job though that I have forced myself to do, and blimey if I haven't gone and completed it with weeks to spare. And that is my Piccalilli. To be fair, I had to finish it really as I'm planning on selling it at the Christmas fairs I am attending later this month and empty jars just don't sell as well.
My Piccalilli is so important to make as it is the most popular preserve on my stall. Without fail it is the first to sell out but I have to make sure I keep a couple of jars back for my family each year, otherwise there will be cheese knives at dawn on Boxing Day if there is no Piccalilli to enjoy with the cold cuts.
For years I would make it just for us, sometimes along with another chutney or jam but the Piccalilli was the break out star and soon became the number one preserve that was clamoured for and I pretty much set my whole preserve stall up around it.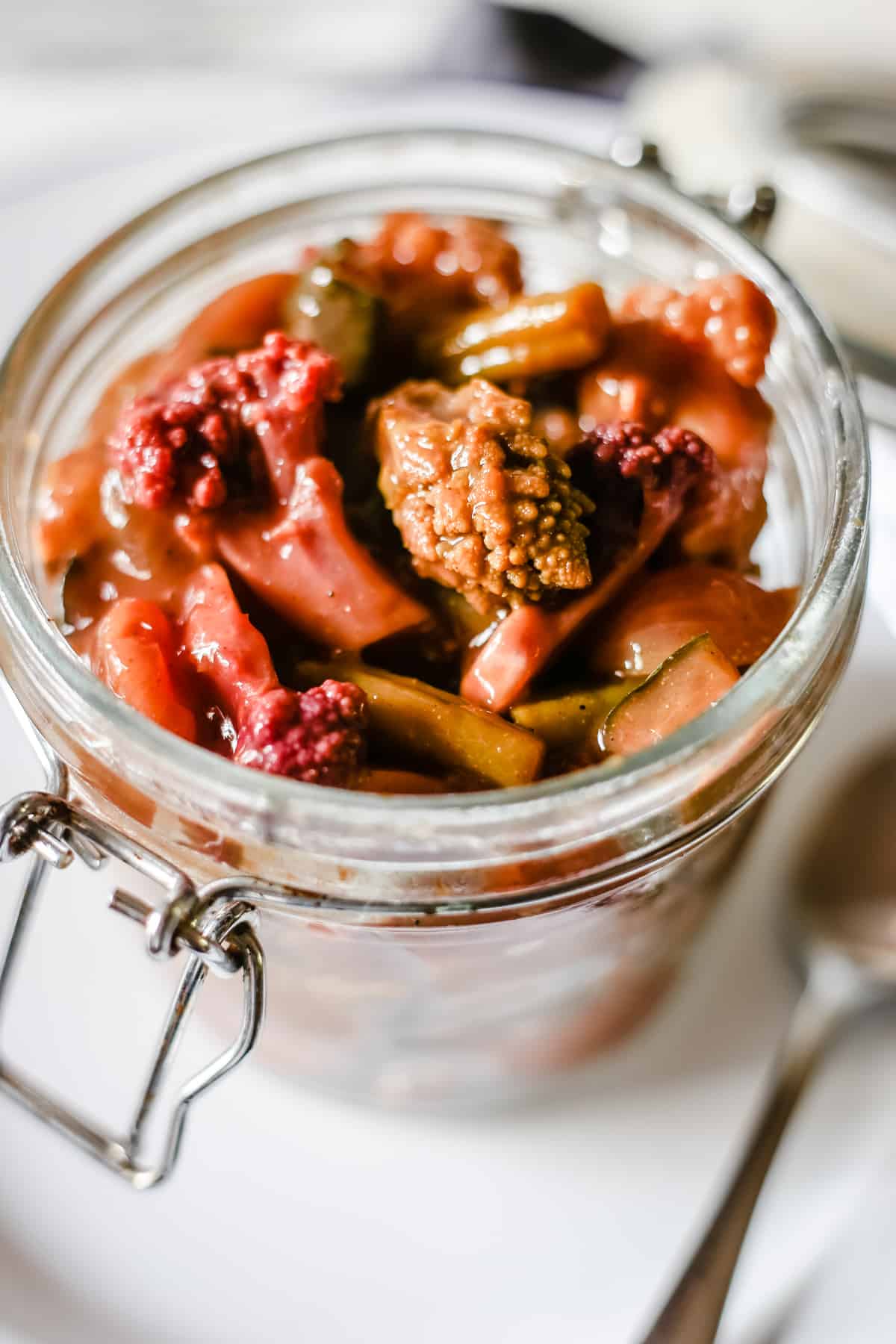 Now is the best time to make it as although you can eat it freshly bottled and has a lovely bright taste if you do, if you allow the Piccalilli to rest for a few weeks, the vinegar has a chance to mellow and the spices are given room to breathe and really envelop the vegetables.
The only real labour of making a Piccalilli is the chopping of the vegetables which I like to be bite-sized so they can nestle happily in a sandwich or on a cracker without weighing it all down. The vegetables should then be brined overnight which helps them retain their crunch. Then all that's left to do the next day is to quickly poach them in vinegar and sugar before adding them into your delicately spiced curry dressing. I stick to the traditional vegetables of cauliflower, green beans, cucumber and onions. Although by using romescu and purple cauliflower the Piccalilli is given wonderful texture and a beautiful rich colour.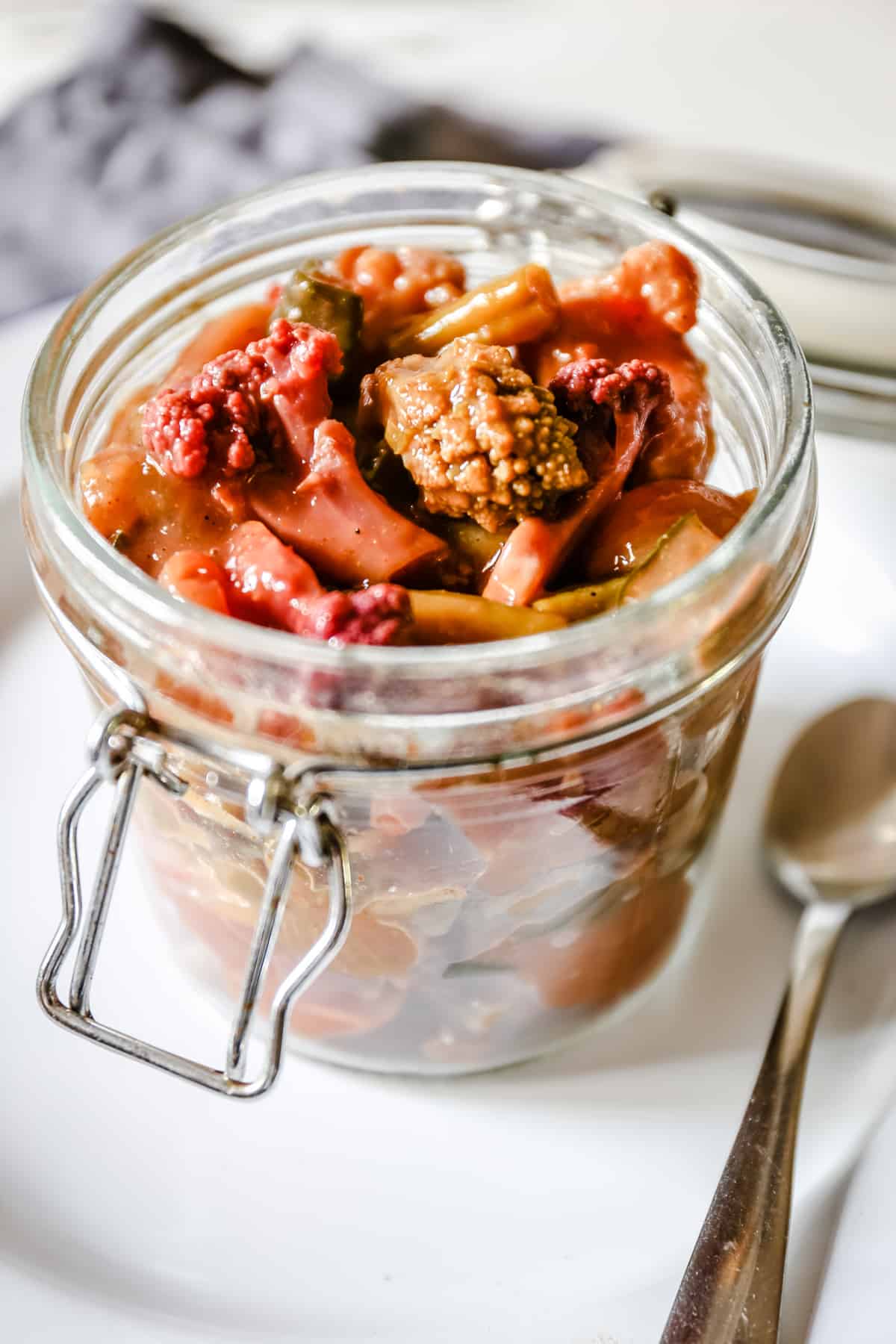 If you are thinking of making homemade gifts this year then I don't think you can ever go wrong with chutneys and pickles, at least that's what I say whenever I hand a festively wrapped jar over to an unsuspecting recipient. They always give a good show of being appreciative and that's the main thing. Plus I think if I can pull myself together enough to knock up a few jars then it gives me hope that one day I can be that organised loser so beloved once more.
More delicious British preserves
I urge you to give this Picalilli a try. If you do then please leave a comment below and give the recipe a rating which helps others find the recipe on Google. If you then go on to use this recipe as a launch pad for your own culinary creation then I'd also love it if you'd share it and tag me on Instagram. It is so lovely for me to see your versions and variations of my recipes.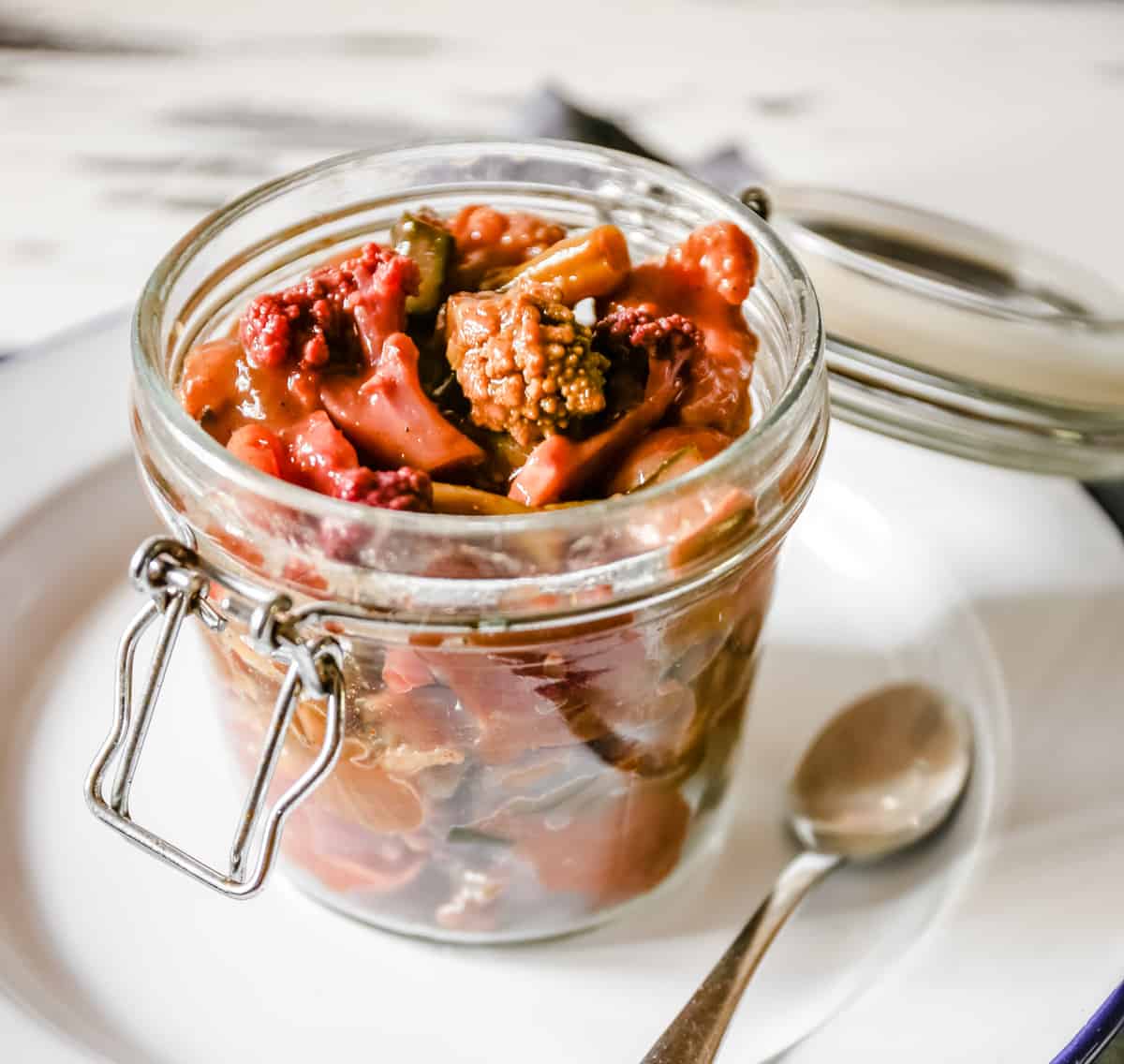 Piccalilli
Piccalilli is delicious spicy British pickle. A beautiful trio of purple cauliflower, romescu and white cauliflower preserved with autumn vegetables in delicious curried spices.
Ingredients
1

white cauliflower

1

purple cauliflower

1

romescu cauliflower

800

g

small onions

700

g

green beans

3

cucumbers

3

red chillies

-

sliced

100

g

salt

1500

g

white wine vinegar

½

teaspoon

ground nutmeg

1½

teaspoons

ground allspice

525

g

granulated sugar

3

cloves

garlic

3

teaspoons

salt

50

g

tapioca flour

50

g

cornflour

2½

teaspoons

ground turmeric

1

tablespoon

ground ginger

2

tablespoons

curry powder

-

I used a Jamaican curry powder blend but any will do

3

tablespoons

mustard powder

1

teaspoon

ground white pepper
Instructions
Cut the cauliflowers, onions, green beans and cucumbers into bite-sized pieces then place in a large bowl, along with the chillies and sprinkle with the salt. Cover and place in the fridge overnight.

The next day drain the vegetables and rinse with cold water to remove the excess salt.

Place the vegetables in a large preserving pan with the vinegar, nutmeg, allspice and sugar. Crush the garlic with the salt and add that in too. Bring to the boil, then turn down to simmer for 10 minutes.

Take off the heat then remove the vegetables with a slotted spoon leaving the liquid behind. Pour the liquid into a separate jug and set aside for a moment.

Sift together the tapioca flour, cornflour, turmeric, ginger, curry powder, mustard powder and pepper. Add 200ml of the reserved liquid and blend together to make a smooth paste.

Pour the paste into the preserving pan and with the heat on very low, slowly pour the rest of the reserved liquid into the paste, whisking all the while.

Bring to the boil, then cook for 5 minutes or until the sauce has thickened.

Add the vegetables back into the sauce, stirring to coat thoroughly. Turn off the heat.

Decant into sterilised jars and store in a cool dark place until needed.
Nutrition
Calories:
201
kcal
Carbohydrates:
44
g
Protein:
4
g
Fat:
1
g
Saturated Fat:
1
g
Sodium:
2325
mg
Potassium:
531
mg
Fiber:
4
g
Sugar:
32
g
Vitamin A:
345
IU
Vitamin C:
60.7
mg
Calcium:
62
mg
Iron:
1.8
mg
Have you tried this recipe?
Head to the comment section and let me know what you think!