This post contains affiliate links. Please read my disclosures.
This Courgette Relish is my favourite way to get the most out of a bumper courgette crop. It is an easy relish to knock together and has endless uses from burger toppings, barbecue accompaniments or the grace within a cheese sandwich. I love its tangy sweetness flavoured with turmeric, mustard seeds and nutmeg.
This recipe is a re-post of a classic recipe which I first posted on the blog in 2014. It's courgette season and I'm about to make my annual batch of this Courgette Relish as our kitchen is bereft without it.
I wanted to refresh the post with new images and contemplated just doing that and slotting it back into the archive but I love this recipe so much and thought the new photos deserved a bit of a fanfare too. So here are my original words back from 2014.
Certain recipes come into your life in different ways, and this one was begged and pleaded for after we fell in love with a jar of this courgette relish.
Our friend who had bestowed this precious gift on us couldn't quite remember where she got the original recipe from; she thought maybe The Times, but when it was passed along the quantities were in cups so perhaps it originated across the pond.
I wish I could thank whomever came up with it as it really is one of the staples of our larder and this time of year I make it in bulk when the courgettes are proudly in bloom. A large quantity is a must as one of the worst things to befall our kitchen is when the last jar is finished in March and we have to wait months for the next glut of courgettes.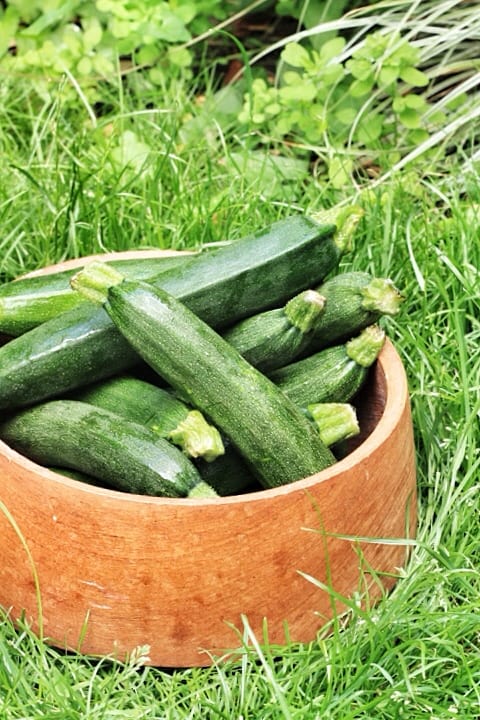 The beauty of the relish is that although its natural season to be brought to the table is summer when the barbecues hit, its amiability knows no bounds. The obvious use for this courgette relish is on a burger and really you can get no better topping.
The flavour is sweet and piquant with the gentle pop of mustard seeds. However, it can also accompany the sausages that are grilled on bonfire night to great effect and a laden Christmas buffet replete with roast ham and turkey pies.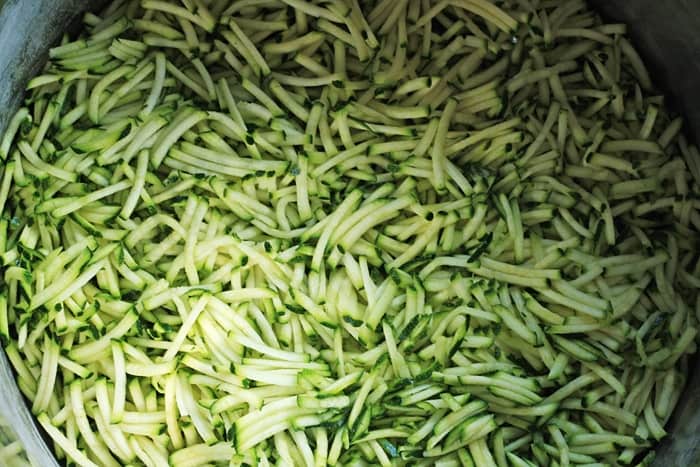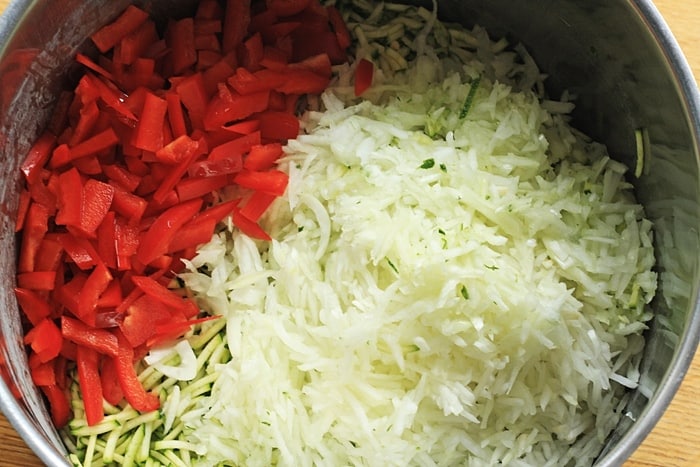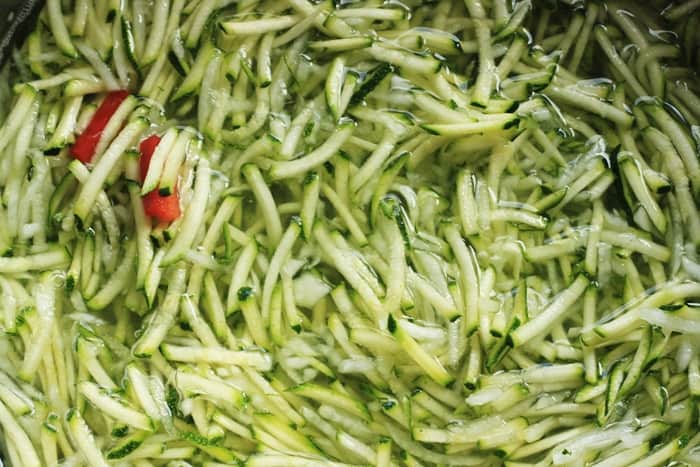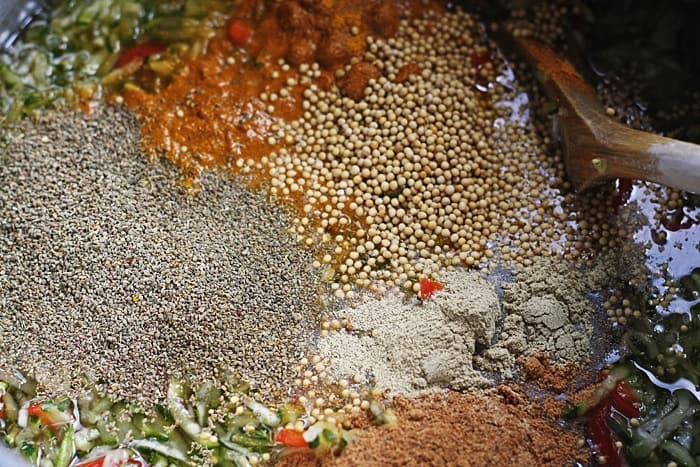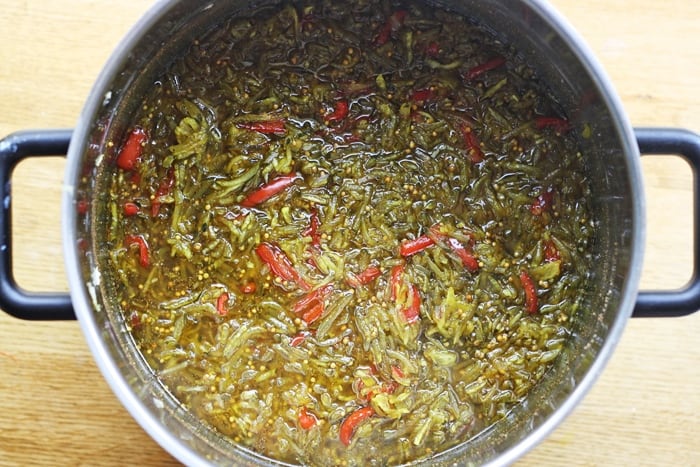 During the rest of the year it's included in lunch staples such as toasted sandwiches or brought along to spring picnics. The courgette relish pairs naturally with cheese and I got into a bit of a habit earlier this year of stirring it into a cheddar and tuna salad along with a bit of olive oil for dressing.
If you come round to my house it's more or less guaranteed you will leave with a jar of something homemade, and the wise visitor will make a request for the courgette relish, after all that's how it came to us in the first place.
If you would like more courgette recipes then how about...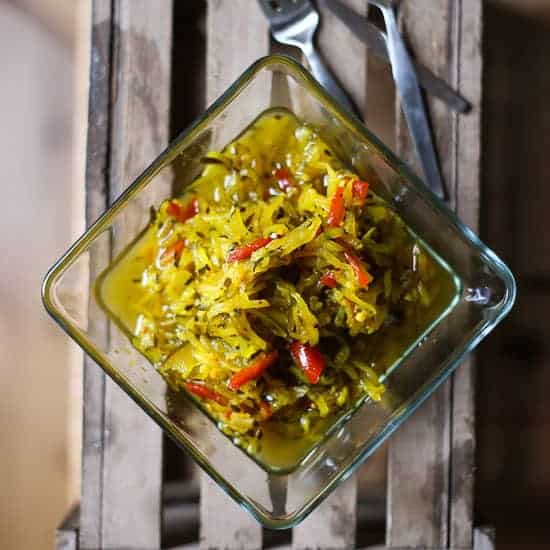 Courgette Relish
A sweet tangy relish which goes with anything and everything.
Ingredients
1.5

kg

courgettes

-

julienned, about 12

1

kg

spanish onions

-

grated, about 4

2

red peppers

-

sliced very thinly, then quartered lengthways

3

tablespoons

salt

1.5

kg

granulated sugar

925

ml

white wine vinegar

1.5

tablespoons

turmeric

1.5

tablespoons

white mustard seeds

3

teaspoons

celery seeds

3

teaspoons

nutmeg

¾

teaspoon

ground white pepper
Instructions
Place the courgettes, onions, peppers and salt in a large preserving pan, cover with water and leave to stand overnight.

The next day drain and rinse well to remove the excess salt.

Return the courgette mix to the preserving pan and add the rest of the ingredients.

Bring to the boil, then turn down and simmer for 10 minutes.

Decant into sterilised jars*. It is ready to eat straightaway or you can store in a cool dark place until needed for up to a year.
Notes
*To sterilise the jars place the very clean jars you would like to use in an oven pre-heated to 140°C for 20 minutes. Sterilise the lids by dropping them into a saucepan of boiling water for 10 minutes with a splash of vinegar. I don't sterilise my lids in the oven as they tend to ruin.
Yield 8 380ml jars
Nutrition
Calories:
86
kcal
Carbohydrates:
21
g
Protein:
1
g
Fat:
1
g
Saturated Fat:
1
g
Sodium:
265
mg
Potassium:
84
mg
Fiber:
1
g
Sugar:
20
g
Vitamin A:
131
IU
Vitamin C:
8
mg
Calcium:
9
mg
Iron:
1
mg
Have you tried this recipe?
Head to the comment section and let me know what you think!