This post contains affiliate links. Please read my disclosures.
A full bodied ketchup, sweetly spiced with incredibly flavour.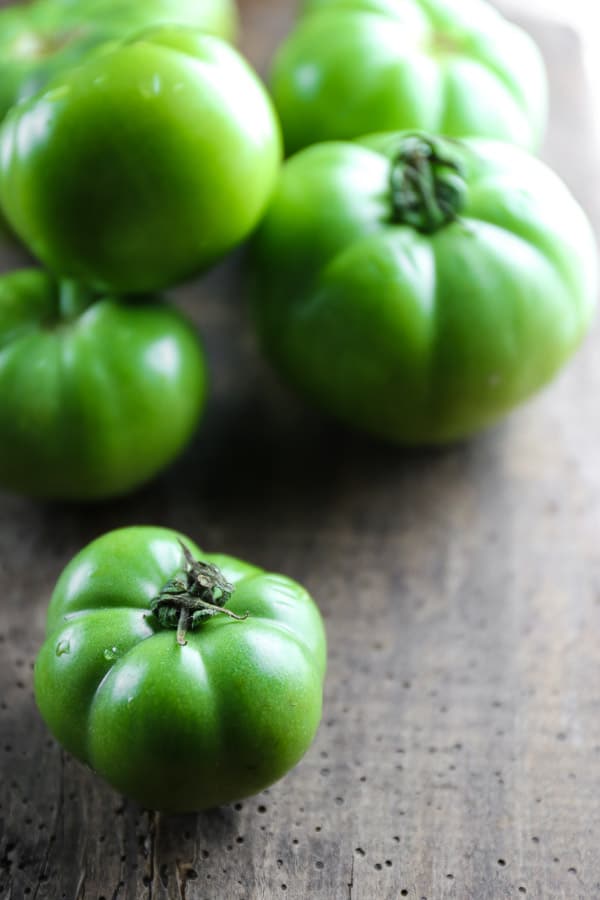 In the summer we spent three deep fried, beer soaked, sugar laden weeks in the America's deep south. To say we ticked off a lot of calorie-filled food landmarks is an understatement. We made it a mission to try as many southern staples in shabby diners as we could possibly handle. A favourite of ours was fried green tomatoes which I had always wanted to try ever since school where Fried Green Tomatoes at the Whistle Stop Café was one of the films we had in rotation on our VCR. We never failed to curse the screen when Chris O'Donnell met his untimely demise only a mere ten minutes in. At the time fried green tomatoes seemed so exotic and iconic of small town Americana, a world away from an all-girls boarding school in the Berkshire countryside.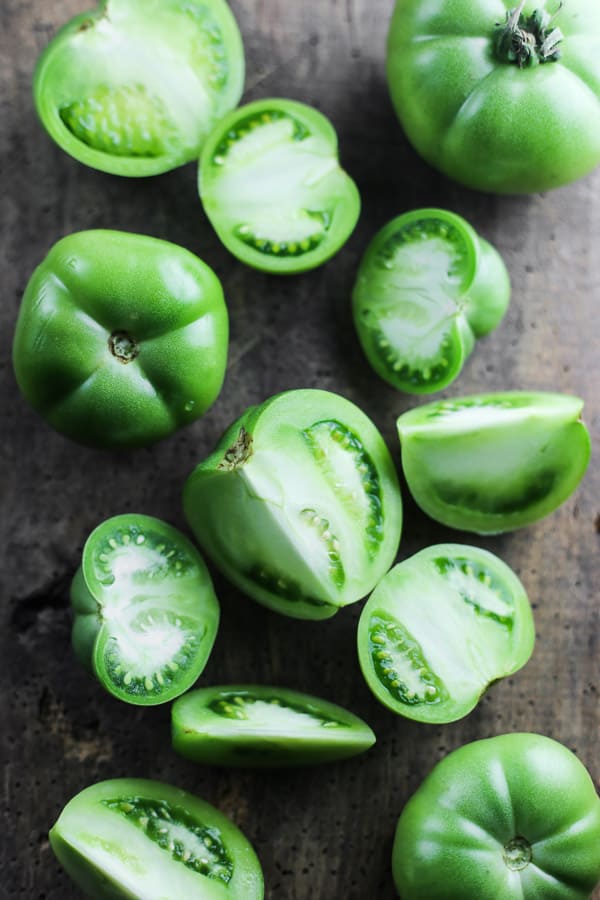 Now a few months later, with the weighty hindsight of deep fried food, I'm looking at a glut of green tomatoes and I can't bring myself to dredge them with batter and dunk them in hot oil to re-create the hot and heady New Orleans vibe. So I need to find an alternative.
Green tomatoes are firmer and not as sweet as fully ripened red ones so you can't really substitute one for the other in recipes, also why would you want to as they are not an everyday ingredient to be used up. To be honest, unless you grow your own tomatoes or have picked some up at the farmers market they are not the sort of thing you have just knocking around your kitchen. So, I want to do them justice and eke them out as long as possible.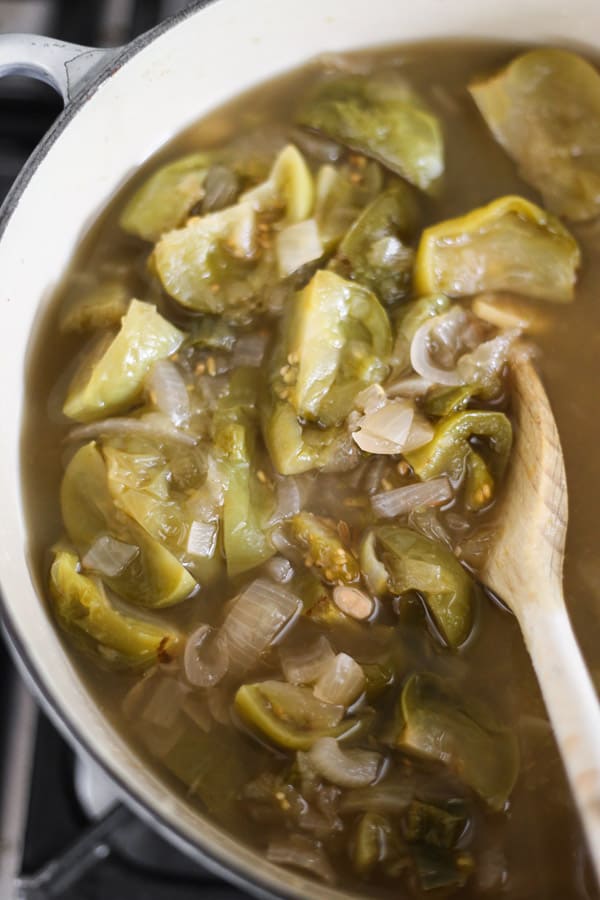 I found the answer in a green tomato ketchup which kills two birds with one stone, not only providing a way for us to enjoy our green produce for a couple of months but it also gets rid of the processed red stuff which somehow always wheedles its way into our fridge.
The resulting ketchup is the perfect balance of sweet and sour. Instead of the one note sweetness you can get with the Heinz version the layers of flavour in this homemade one are more subtle, fresher and enhances its plate companion rather than overpowering it. Now that I have tried it with sausages, yesterday's oxtail and sweet potato pie and in the ultimate test of a bacon sandwich, I can happily say that it marries beautifully with everything. Plus, no Chris O' Donnells were harmed in the making of it so it everyone can munch away with a smile on their face.

If you have yet more green tomatoes to use up then why not try this Green Tomato and Stem Ginger Cake with Streusel Topping?
Or maybe you're in the preserving mood, if so then have you tried this Courgette Relish? It's amazing on pretty much anything.
If you make this Green Tomato Ketchup then please leave a comment below and/or give the recipe a rating. If you make the recipe or use it as a building block for another delicious creation, I'd also love it if you tag me on instagram. It is so lovely for me to see your creations and variations of my recipes.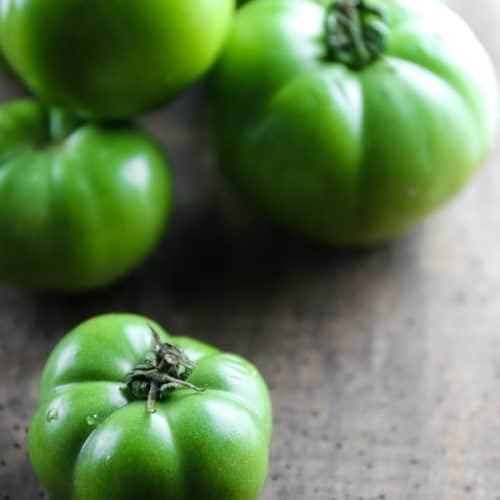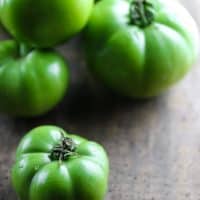 Green Tomato Ketchup
A full bodied ketchup, sweetly spiced with incredibly flavour
Print
Pin
Rate
Ingredients
1

kg

green tomatoes

diced

1

large white onion

diced

1

large bramley apple

diced

1

green chilli

roughly chopped

1

thumb-sized piece of ginger

chopped

2

teaspoons

ground mixed spice

1

tablespoon

fennel seeds

2

teaspoon

ground coriander

1

star anise

200

ml

cider vinegar

200

g

white sugar

150

ml

sherry
Instructions
Place all the ingredients together, bar the sherry, in a large saucepan and cook on a medium heat for 1 hour, stirring occasionally.

Remove the star anise, then pour into a blender and blitz until smooth.

Pour back into the saucepan and add the sherry.

Turn the heat back on and simmer for a further 20 minutes until a ketchup consistency.

Decant straightaway into sterilised glass bottles.
Notes
Taken from Hazel Atkinson's recipe in the Metro, slightly adapted for quantities
Yield: 600ml
To sterilise the glass bottles place the very clean bottles you would like to use in an oven pre-heated to 140°C for 20 minutes. Sterilise the lids by dropping them into a saucepan of boiling water for 10 minutes with a splash of vinegar. I don't sterilise my lids in the oven as they tend to ruin.
The ketchup will keep up to a year if stored in a cool dark place.
Nutrition
Calories:
34
kcal
|
Carbohydrates:
8
g
|
Protein:
1
g
|
Fat:
1
g
|
Saturated Fat:
1
g
|
Sodium:
8
mg
|
Potassium:
70
mg
|
Fiber:
1
g
|
Sugar:
7
g
|
Vitamin A:
165
IU
|
Vitamin C:
6.4
mg
|
Calcium:
8
mg
|
Iron:
0.2
mg