This post contains affiliate links. Please read my disclosures.
Bubble and Squeak is the perfect way to use up leftover potatoes and veggies and is completely customisable to whatever you have to hand. It makes a fantastic midweek meal or goes brilliantly with a traditional Full English Breakfast.
Whenever I cook meals these days I try to make much more than we will actually eat so I can reap the benefits of leftovers. Time to cook is so precious these days so when I'm in the kitchen I need to make the most of it.
Repurposing leftovers into something different and exciting can be a challenge but Bubble and Squeak is a great recipe to have up your sleeve. It's brilliant at breakfast but also makes for a quick 10 minute dinner. When this recipe really comes into its own is when you need to make use of those Thanksgiving leftovers and Christmas leftovers. However, I love it all year round.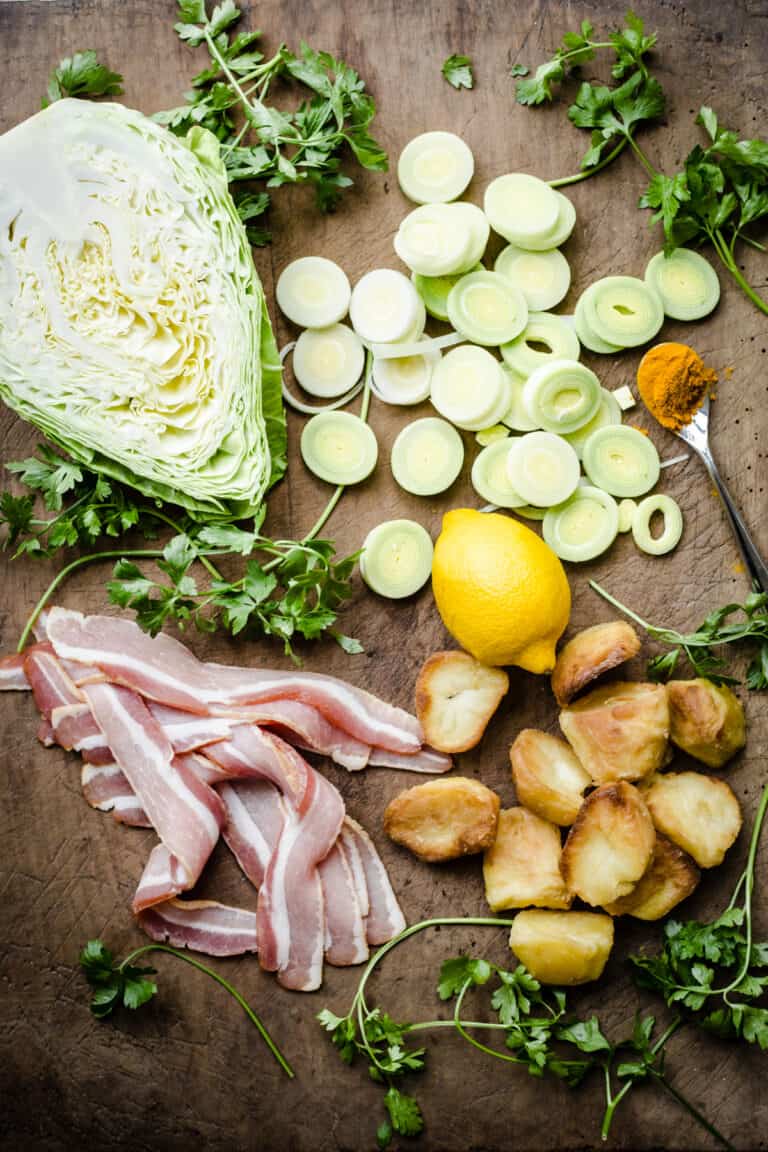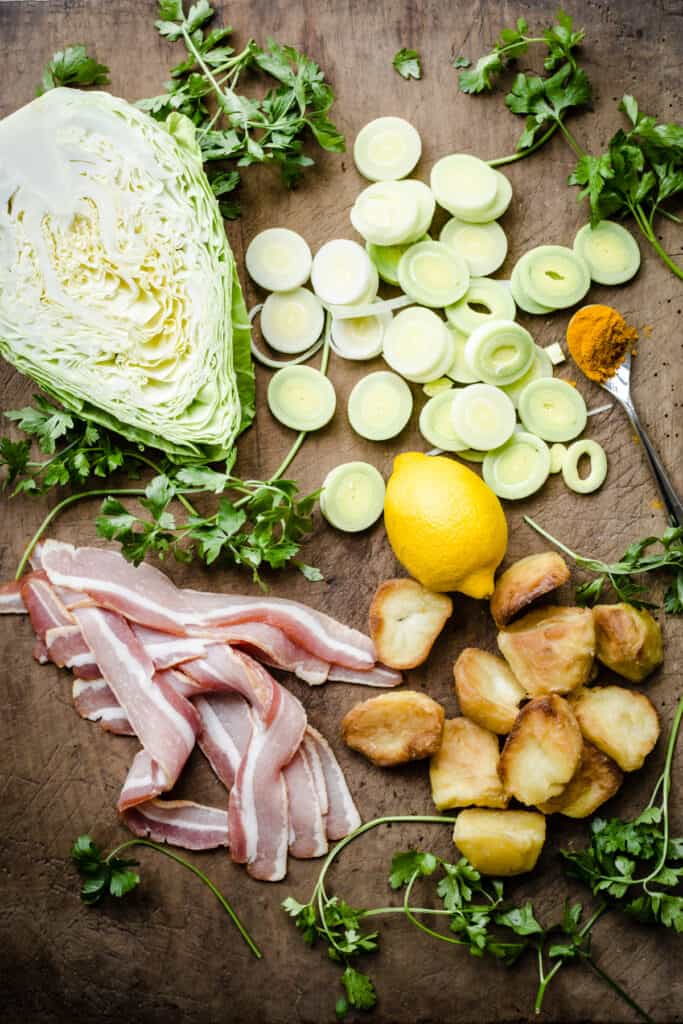 What is Bubble and Squeak?
Bubble and Squeak is a traditional one-pan British breakfast dish, made from the leftovers of the Sunday Roast Dinner. The name derives from the gentle noises the veggies make as they sizzle in the pan.
The basis of Bubble and Squeak is usually:
Leftover potatoes
Cabbage
…The rest is up to you.
Mashed potatoes are a favourite but we always have a plentiful amount of roast potatoes scavenged from Sunday lunch so that's how I usually make it.
Need an amazing roast potato recipe, then why not try Cream Baked Roast Potatoes. If you have any leftover then they go so well with this bubble and squeak.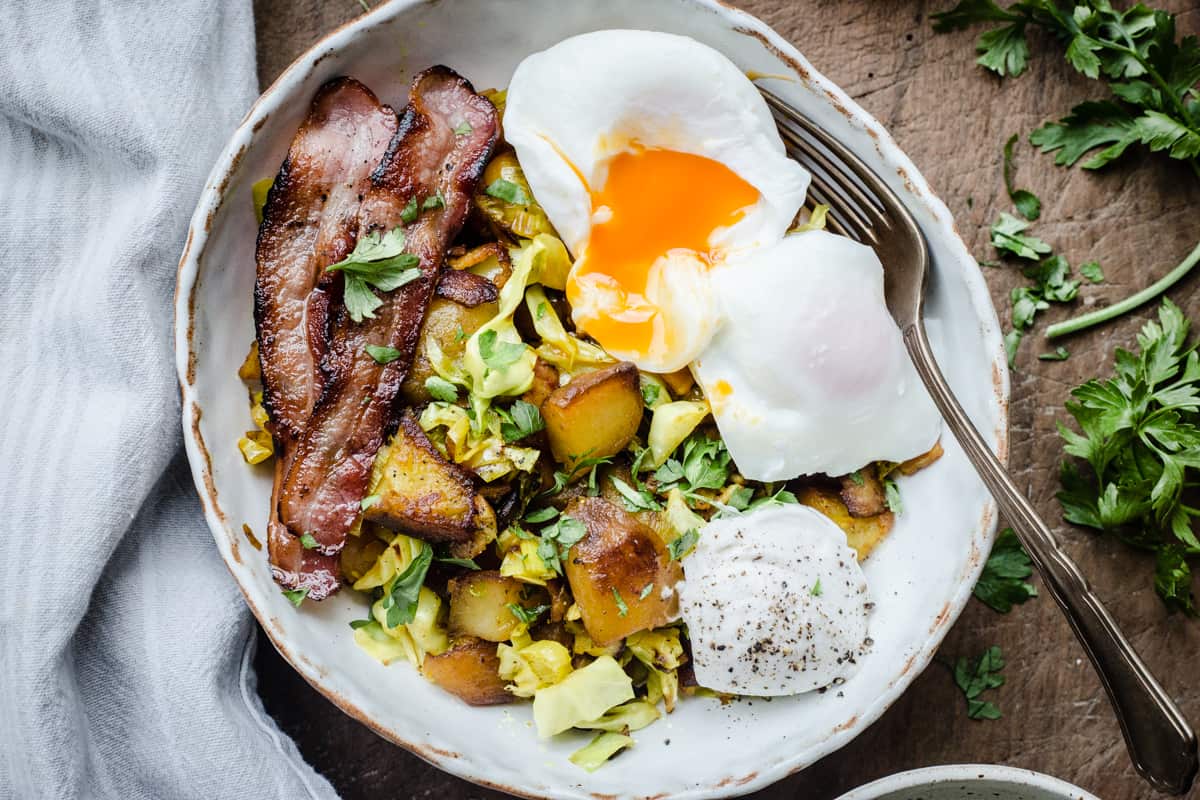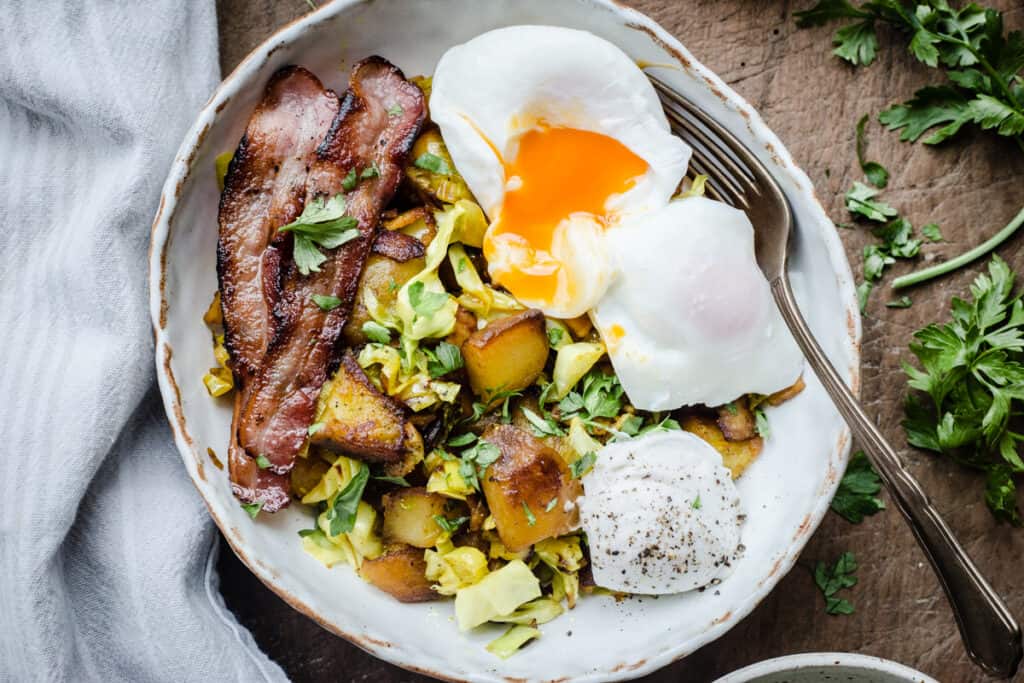 There are 2 alternative ways I go about Bubble and Squeak:
I either use only leftovers from the Sunday Lunch. So as you can imagine anything goes. The potatoes are always there but the other vegetables will completely depend on what else we had on the Sunday. They might include a root veg mash, brussel sprouts, carrots, kale, runner beans. Even cauliflower cheese if that's what we had the day before! The finished dish here doesn't always look so pretty but by gum is it delish.
Or I use the leftover roast potatoes as a basis and cook the rest from scratch – which is the recipe I've given below. This is also a great recipe to use up slightly worse for wear veggies that are lurking about in your fridge. Although cabbage and leeks are my favourites to use.
Why is Bubble and Squeak so brilliant?
It's really quick – 15 minutes max.
It's a great way to use up leftovers.
You can vary it with whatever you need to use up in your fridge.
Bubble and Squeak can be a meal in it's own right or as an accompaniment to a full English breakfast or cold cuts.
Crispy bacon bits! If you don't usually include bacon in your Bubble and Squeak then you are missing a trick.
Here I add ground turmeric for colour, flavour and of course those health benefits.
The squeeze of lemon juice at the end perks up the whole recipe.
Do you love bacon and potatoes at breakfast time? Me too, that's why I make these Sweet Potato and Bacon Rosti for breakfast, like all the time. Give them a go!!
How do you make Bubble and Squeak?
Shallow fry the bacon and leeks until the bacon is crisp and the leeks caramelised.
Add the diced roast potatoes, shredded cabbage and turmeric. Fry for 5 minutes until cabbage has wilted slightly.
Remove from the heat and add the squeeze of lemon.
PRO TIP
This makes a fantastic meal with poached eggs, a good dollop of yoghurt, parsley to sprinkle and plenty of black pepper. If you are feeling saucy then a splash of hot sauce does not go amiss either.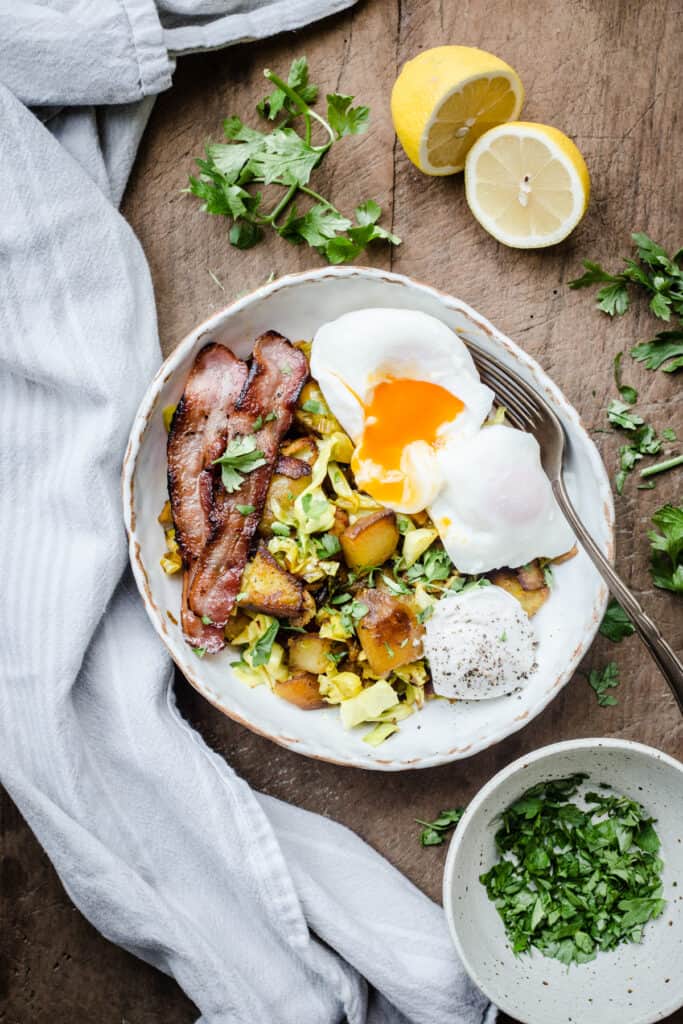 How to vary Bubble and Squeak
Mix the bubble and squeak with a couple of beaten eggs and transform the recipe into a type of potato omelette. This works especially well if you are using mashed potato or you can crush the roast potatoes.
Veganise the recipe by omitting the bacon and using olive oil instead of the ghee or butter. Lovely with a good dollop of coconut yoghurt.
If you don't have a leek to hand, just use an onion.
Roasted cauliflower, courgettes, carrots or any root vegetable mash are delicious here too.
Is cranberry, horseradish or mint sauce knocking about in your fridge? A couple of teaspoons mixed in to the Bubble and Squeak just before serving can really transform this dish.
Do you know, if I'm having this for dinner I will douse the lot in gravy too. Oh my goodness, this is heaven!!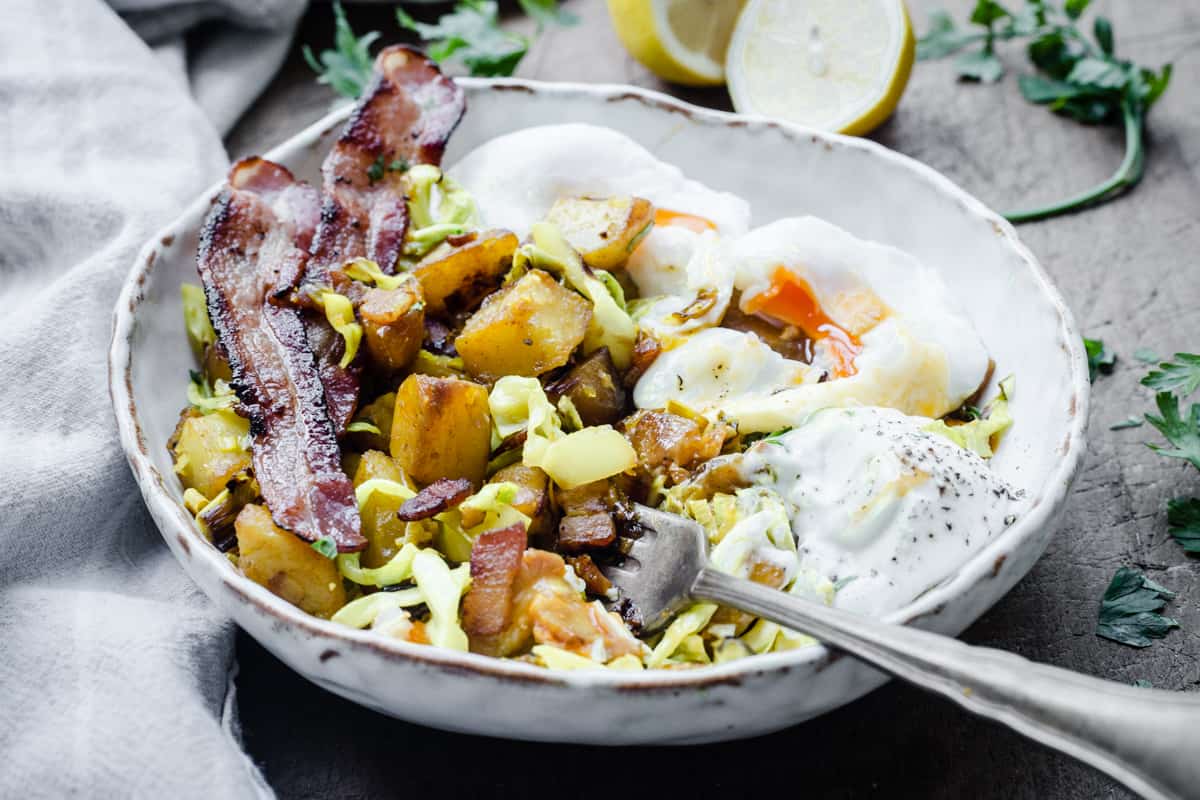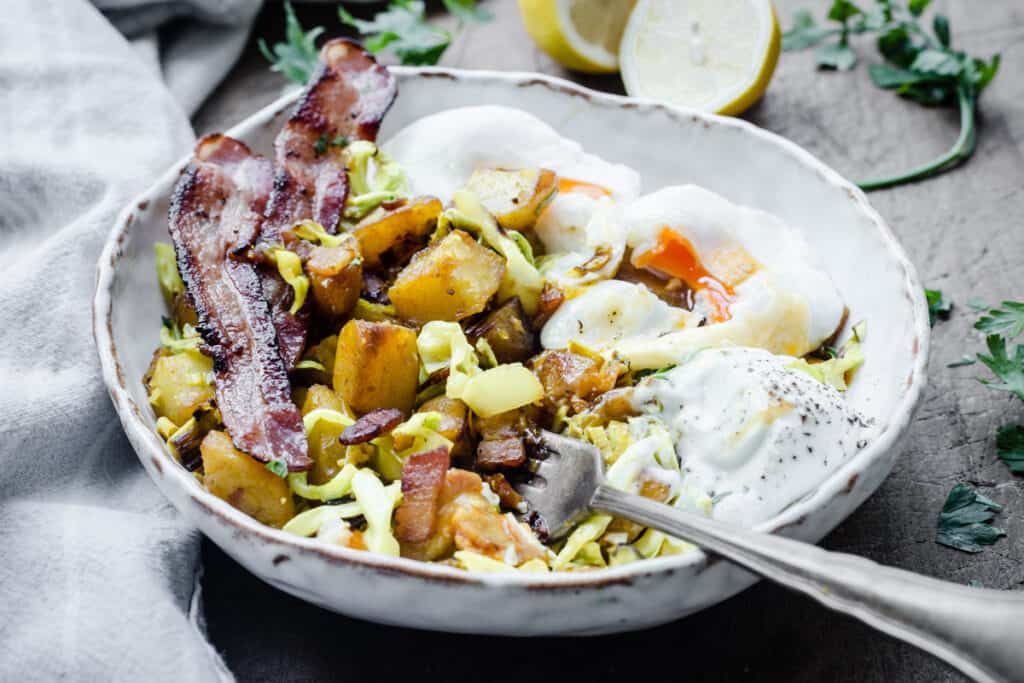 Either use this recipe exactly as written or as inspiration for using up any leftovers you might have from Sunday Lunch, Thanksgiving or Christmas. You can vary the ingredients and the quantities to whatever you have to hand.
If you make this Bubble and Squeak then please leave a comment below and/or give the recipe a rating. If you then go on to use this recipe as a launch pad for your own leftover creation then I'd also love it if you'd share it and tag me on Instagram. It is so lovely for me to see your versions and variations of my recipes.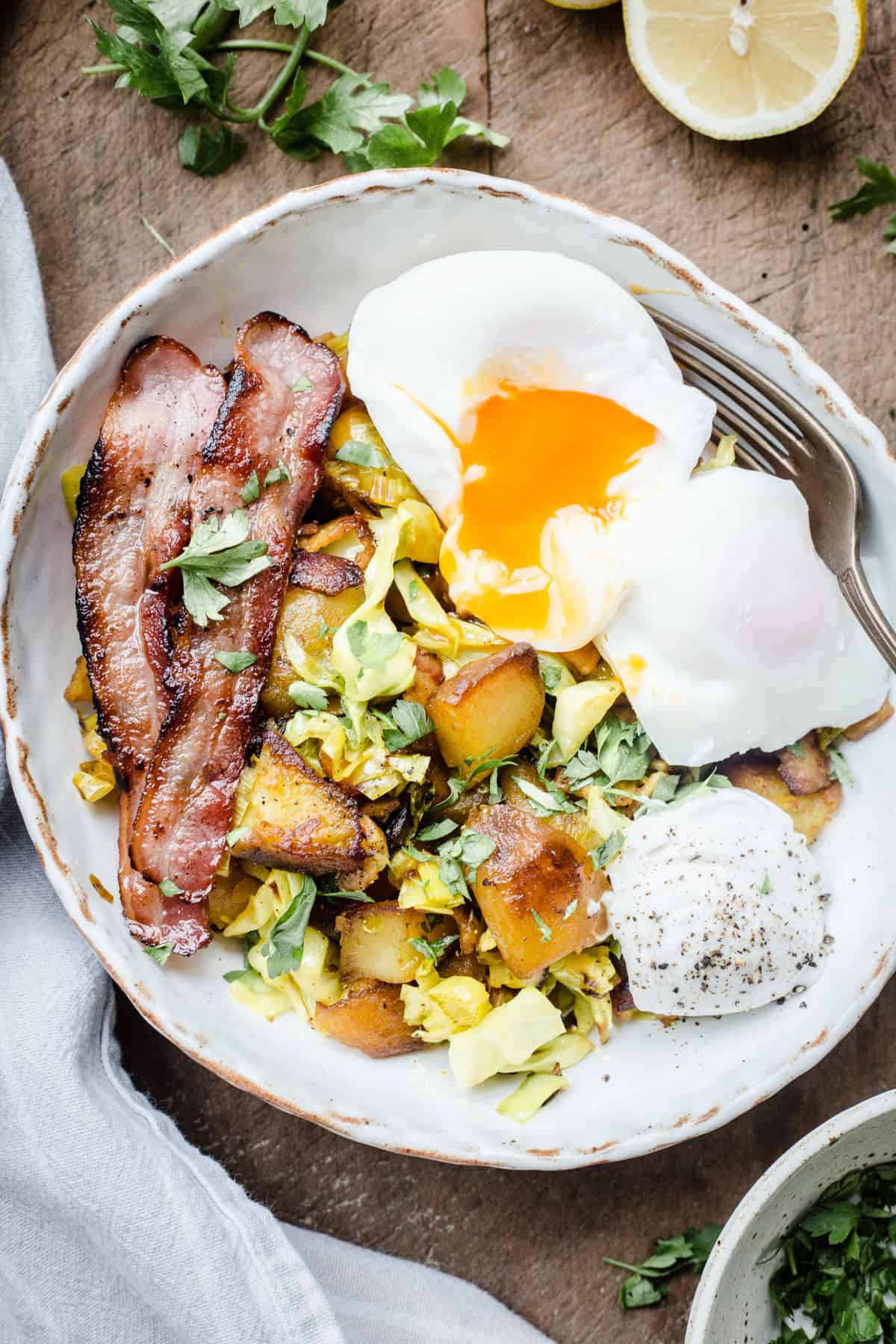 Bubble and Squeak
Bubble and Squeak is the perfect way to use up leftover potatoes and veggies and is completely customisable to whatever you have to hand. It makes a fantastic midweek meal or goes brilliantly with a traditional Full English Breakfast.
Ingredients
2

teaspoons

ghee

-

or unsalted butter

150

g

streaky bacon

-

smoked or unsmoked, diced

1

leek

-

sliced into circles

200

g

shredded cabbage

-

about ½ head

250

g

leftover roast potatoes

-

diced

1

teaspoon

ground turmeric

½

lemon

-

juiced
Instructions
Melt the butter or ghee in a wide bottomed saucepan.

Add the leeks to one half of the pan and the bacon to the other. Fry gently until the bacon is just starting to crisp and the leeks just beginning to caramelise.

Add the shredded cabbage, diced potatoes and ground turmeric and fry for 5-10 minutes until the cabbage has wilted and the potatoes crisped.

Mix in the lemon juice just before removing the Bubble and Squeak from the pan and serving.
Notes
Serving suggestion: poached eggs, yoghurt, parsley, black pepper.
This recipe is completely customisable to whatever you have in your fridge that needs using up. The ingredients and quantities can be used as a jumping off point.
The quantities given here are for 4 people as a side – to accompany your Full English Breakfast, for example. It serves 2 as a main dish but do add the poached eggs.
I have not included any seasoning guidance here. The bacon is salty as it is and the roast potatoes are already well-seasoned. So add salt at your discretion.
I like to use ghee because of the high melting point. You get a lovely buttery taste without worry that the butter will burn. If you can't get hold of ghee then butter or olive oil will suffice.
If you don't have a leek then an onion will do.
What kind of cabbage is of your choosing – white cabbage, savoy, pointed cabbage, spring cabbage or even kale.
If you have a large skillet then cook the bacon and leeks together in separate halves. The reason is that if they are muddled up the bacon won't crisp as well.
Nutrition
Calories:
246
kcal
Carbohydrates:
16
g
Protein:
8
g
Fat:
18
g
Saturated Fat:
7
g
Cholesterol:
31
mg
Sodium:
268
mg
Potassium:
489
mg
Fiber:
4
g
Sugar:
3
g
Vitamin A:
434
IU
Vitamin C:
35
mg
Calcium:
55
mg
Iron:
3
mg
Have you tried this recipe?
Head to the comment section and let me know what you think!