This post contains affiliate links. Please read my disclosures.
This Blackberry Hoisin Sauce is beautifully sweet and tangy with so many layers of flavour and gluten-free to boot.
Hoisin sauce is one of those mystery condiments where you are not totally sure what's in it but you know it tastes good dolloped into your duck pancakes. One thing for sure is that most commercially made hoisin sauce contains wheat meaning it's no good for me. I began making my own so I could still enjoy dishes like these amazing Crispy Duck Summer Rolls, one of my favourite recipes from the blog and to use in my stir-fries.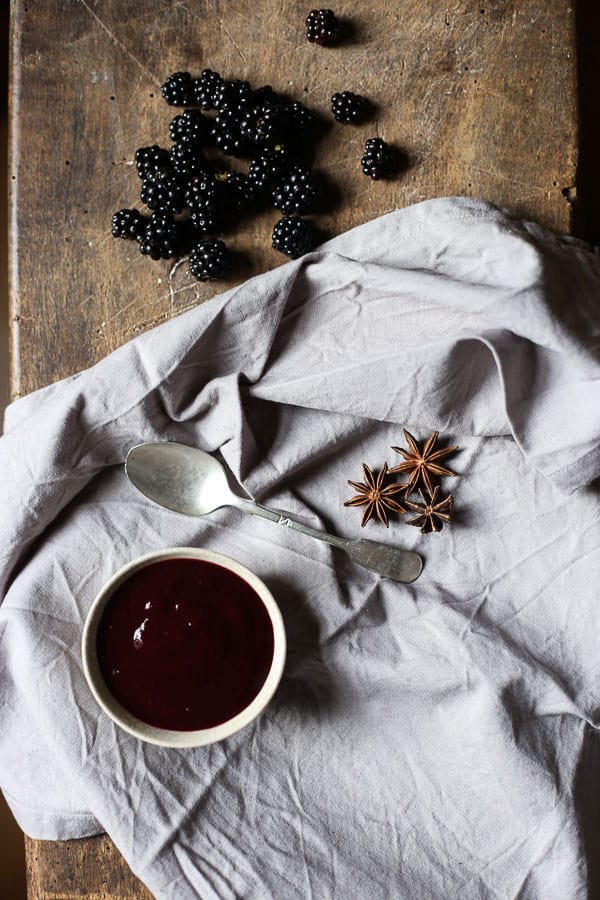 This year though as part of my huge blackberry haul I decided to make my Hoisin Sauce with blackberries instead of plums or damsons. The result has been astounding. Luke claims it's the best preserve we've ever made and he's right it's definitely up there. The complex layers of flavour in this sauce are obscene. The sweet tanginess of blackberries, the richness of the prunes, fresh heat from ginger and chilli and plenty of spice.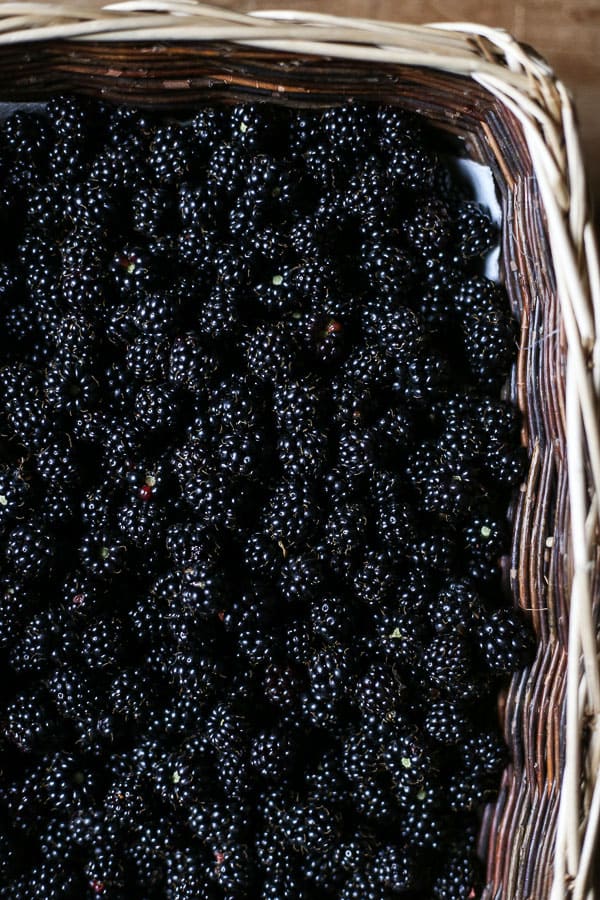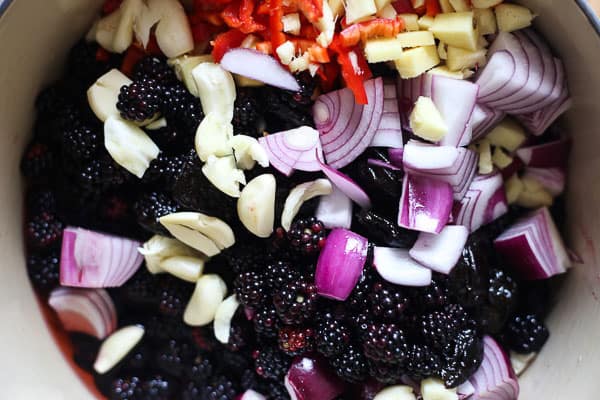 I love making ketchup and sauces for preserving, it's one of the most satisfying jobs and so easy. For Blackberry Hoisin Sauce the ingredients are brought to the boil in a large pan, blended and sieved to achieve the perfect consistency then just placed back in the pan with the sugar and tamari (a gluten-free version of soy sauce. You can also use coconut aminos or if you are not gluten-free then soy sauce is fine), cooked until thick and luscious then bottled. It's 1-2 hours work and worth every minute as the jars will last you all year and then some. Homemade Blackberry Hoisin Sauce is an excellent gift so you're also sorted for a few Christmas presents, it's nice to check things off early.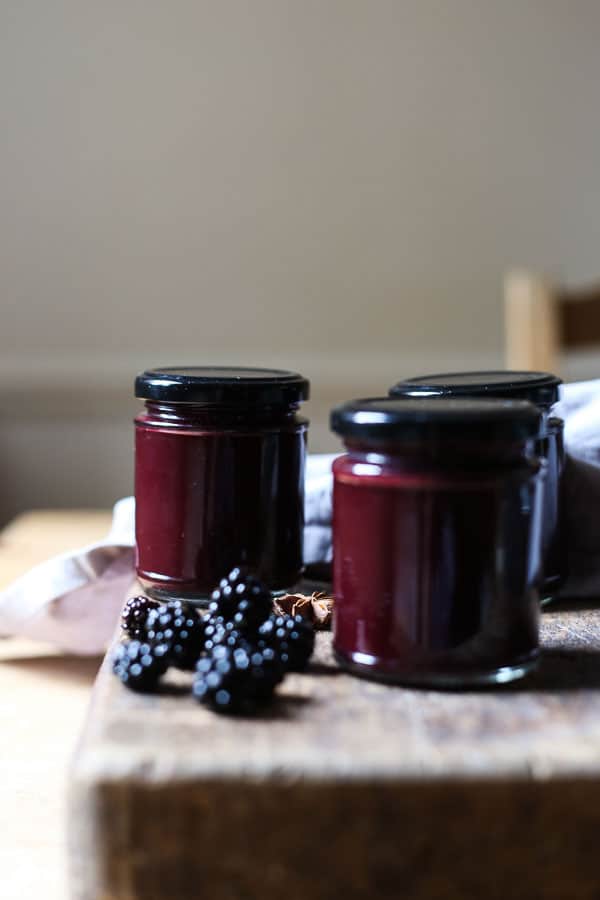 We've been playing fast and loose with our Blackberry Hoisin Sauce and eating it with everything. When Luke went to spread some on his sausage sandwich instead of ketchup at the weekend I was a little taken aback but I needn't have been concerned, it was amazing. Obviously you can use it in stir-fries, with your duck pancakes, in chinese salad dressings, as a marinade for chicken wings, barbecued meat. Practically anything. This will be the most used condiment in your kitchen in no time.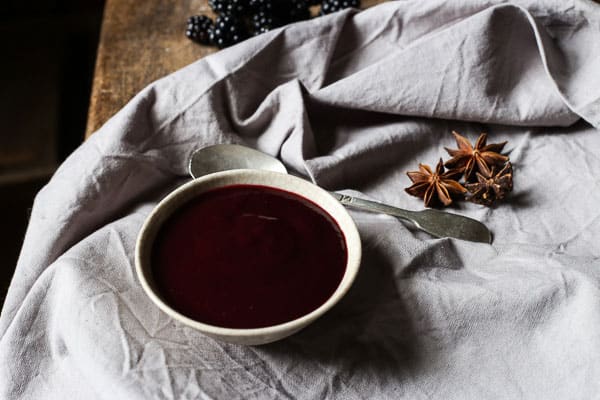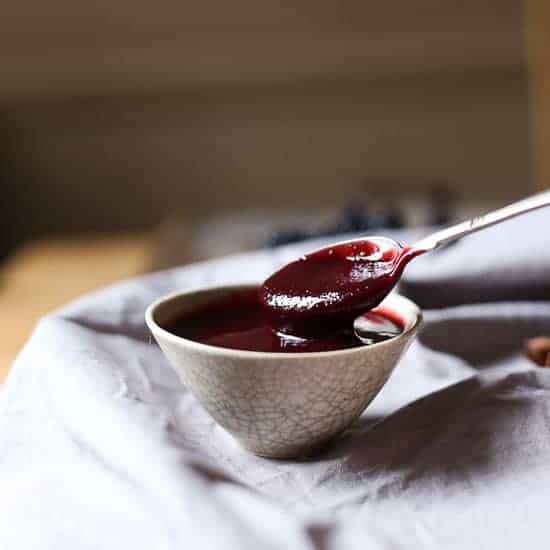 Blackberry Hoisin Sauce
Blackberry Hoisin Sauce is beautifully sweet and tangy with so many layers of flavour and gluten-free to boot.
Ingredients
1

kg

blackberries

125

g

pitted prunes

200

g

red onions

50

g

garlic

-

(10-12 cloves)

100

g

fresh ginger

2

red chillies

500

ml

Japanese rice wine vinegar

2

teaspoons

cinnamon

1

piece

star anise

1

teaspoon

black peppercorns

2

teaspoons

fennel seeds

1

teaspoon

schezuan pepper

¼

teaspoon

ground cloves

500

g

light soft brown sugar

100

ml

tamari or coconut aminos

-

or soy sauce if not gluten-free
Instructions
Add blackberries, prunes, onions, garlic, ginger, chillies, vinegar to a large preserving pan.

Bring to the boil, then turn down the heat gently to simmer for 20 minutes.

Remove from the heat then add the spices and rest the sauce for 5 minutes.

Blend the sauce in batches then sieve to achieve a beautifully smooth consistency.

Pour the sauce back in preserving pan and add the brown sugar and tamari.

Bring the sauce back to the boil until the sugar has dissolved then simmer for 15 minutes to thicken.

Remove from the heat. Rest for 5 minutes then decant into sterilised jars*.
Notes
Inspired by the Hoisin Sauce recipe in Thane Prince's Perfect Preserves
The sauce will keep for about 6 months if stored somewhere dark and cool.
*To sterilise the jars place the very clean jars you would like to use in an oven pre-heated to 140°C for 20 minutes. Sterilise the lids by dropping them into a saucepan of boiling water for 10 minutes with a splash of vinegar. I don't sterilise my lids in the oven as they tend to ruin.
Yield 8 200ml jars
Nutrition
Calories:
64
kcal
Carbohydrates:
15
g
Protein:
1
g
Fat:
1
g
Saturated Fat:
1
g
Sodium:
121
mg
Potassium:
99
mg
Fiber:
2
g
Sugar:
12
g
Vitamin A:
85
IU
Vitamin C:
8
mg
Calcium:
23
mg
Iron:
0.4
mg
Have you tried this recipe?
Head to the comment section and let me know what you think!