This post contains affiliate links. Please read my disclosures.
These family friendly Salmon Nuggets are a quick and easy mid-week recipe. Perfectly seasoned with a crispy coating and delicious served with a tangy and lightly spiced dipping sauce. They are also gluten-free and dairy-free to boot so basically tick all the boxes.
Salmon is one of those meals which is always a crowd pleaser in our household. Especially when made into crisp and crunchy bite-sized nuggets which the children absolutely wolf up. The adults kinda love them too.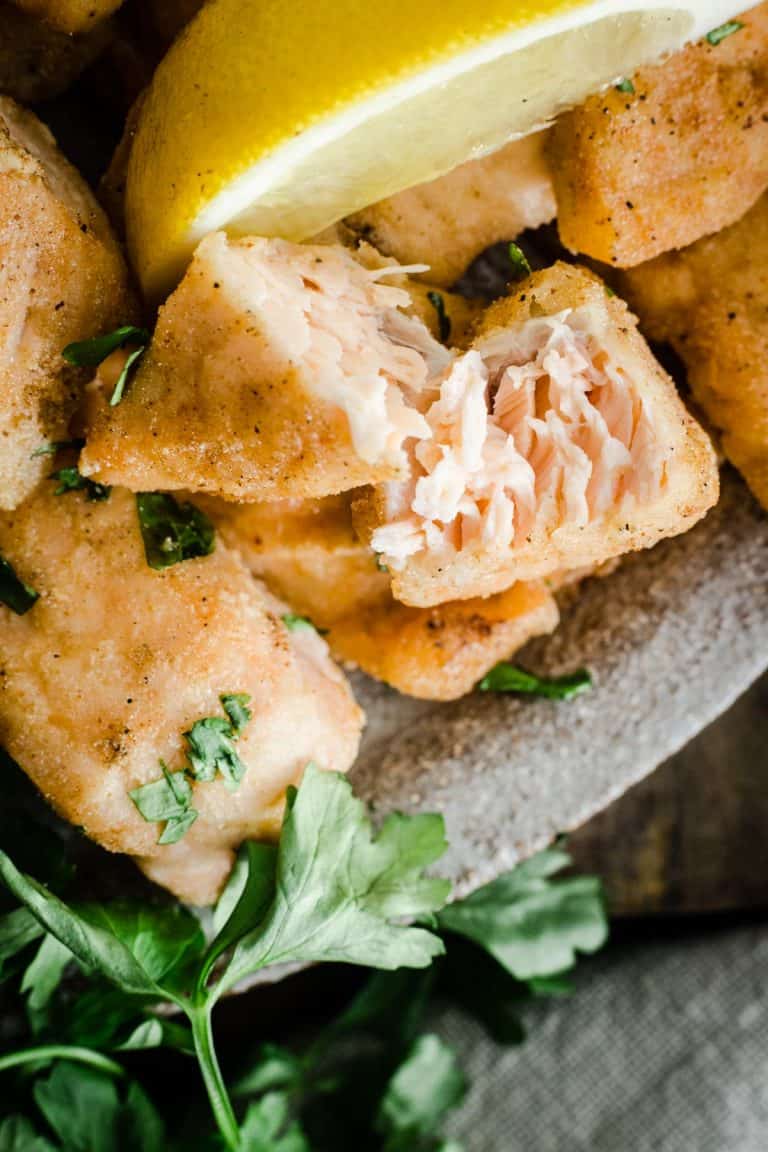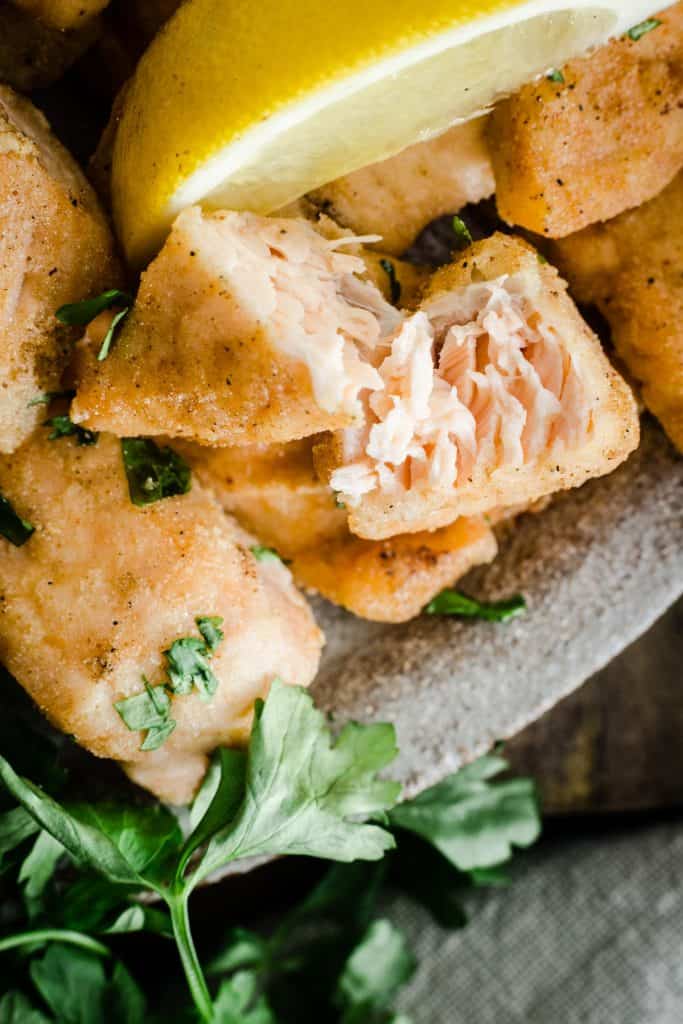 Why This Recipe is Brilliant
The nuggets are pan-fried in a little olive oil making them a healthier choice than deep fat frying.
The flour coating is beautifully seasoned with paprika, coriander, onion, garlic and lemon.
They are crisp and golden thanks to using the right blend of flours.
Oh, and those flours just happen to be gluten-free.
Salmon is very quick to cook so dinner can be ready in under 20 minutes.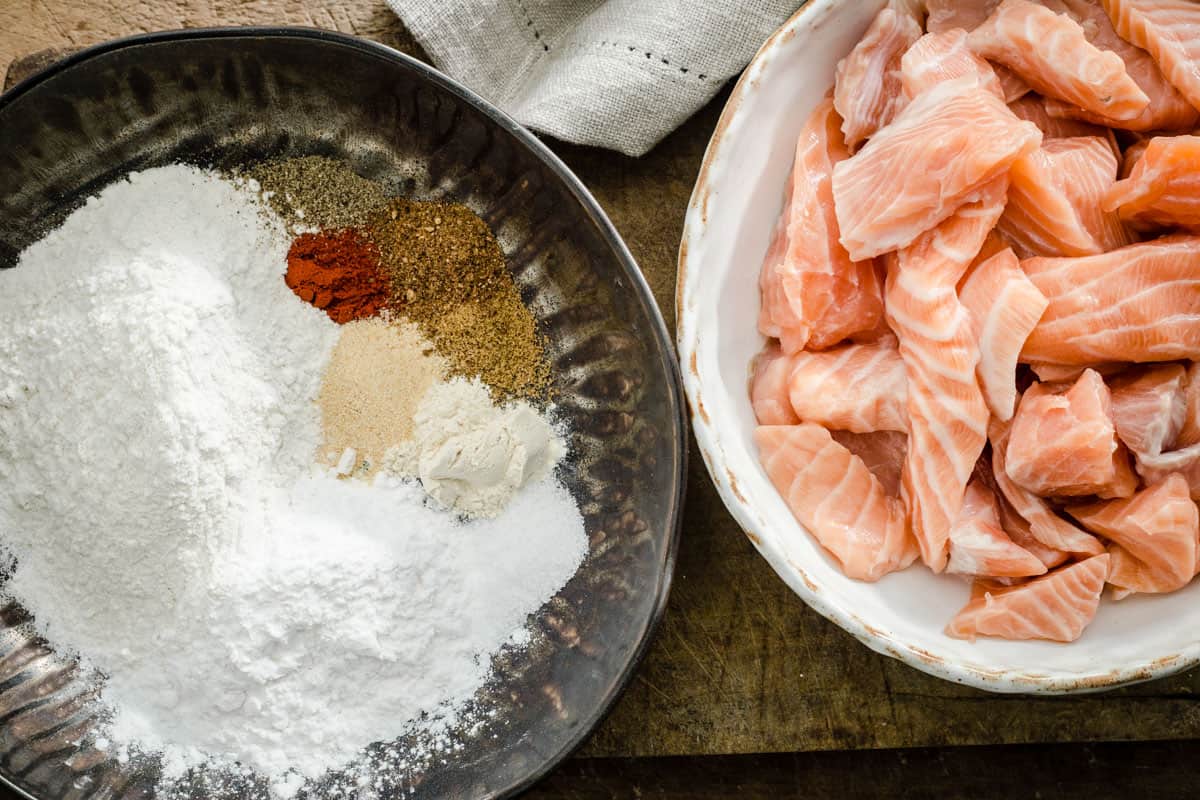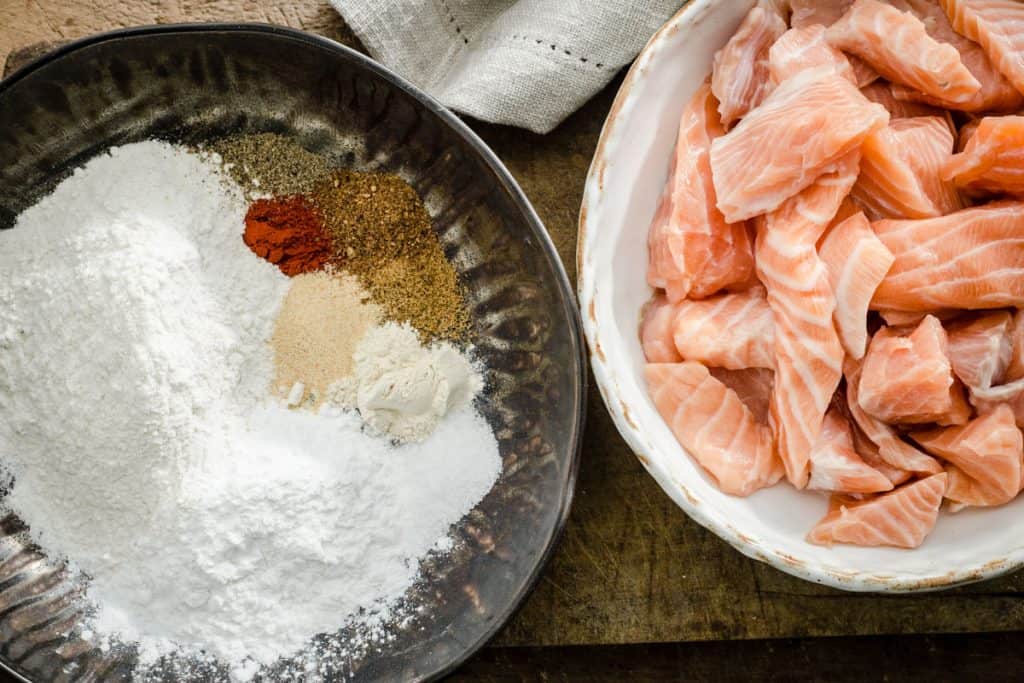 Gluten-Free Flour for Frying
The best flours to use for coating the salmon are naturally gluten free and chosen for their unique personalities:
White Rice Flour – this is the perfect flour to use if you are gluten-free or not as it gives such good crunch. Used alone though the salmon can look a little pale which we why we also use…
Tapioca Flour - which is fantastic at browning so our nuggets have a beautiful golden crumb.
If you'd like to learn more about gluten-free and alternative flours and all the roles they can play in your cooking and baking then visit this ultimate guide here.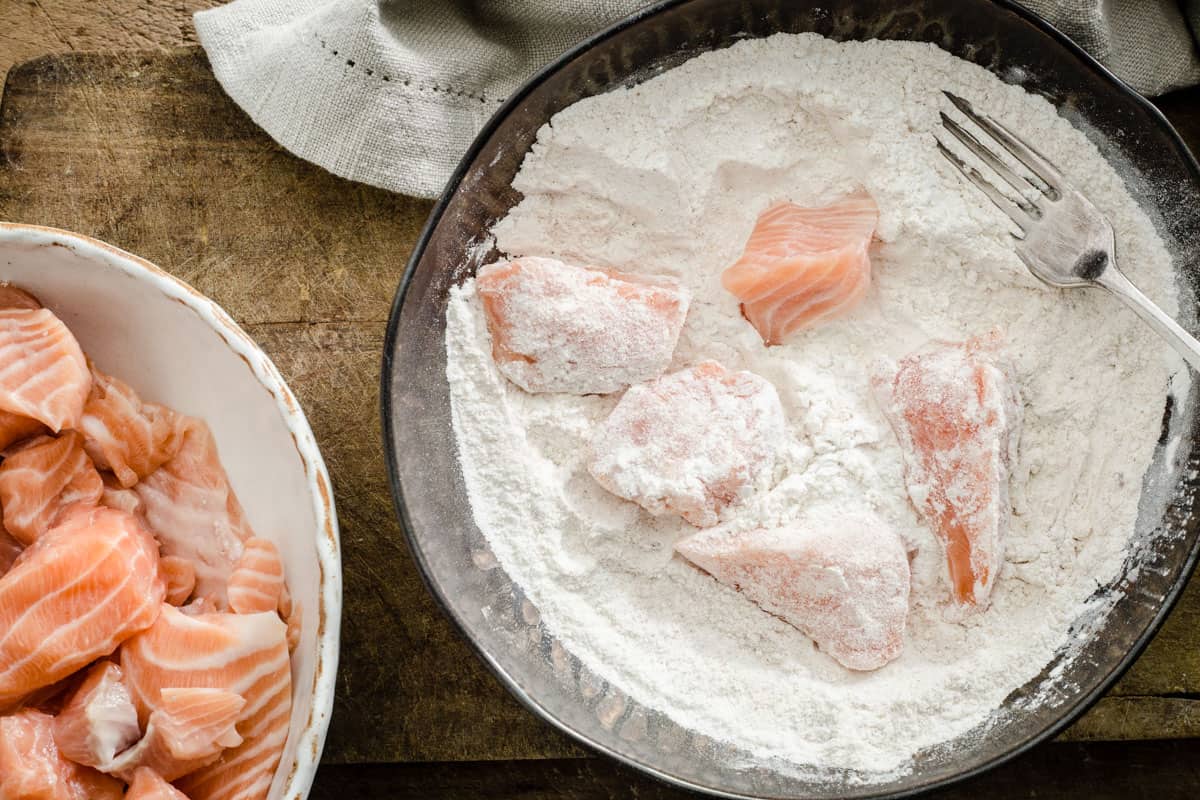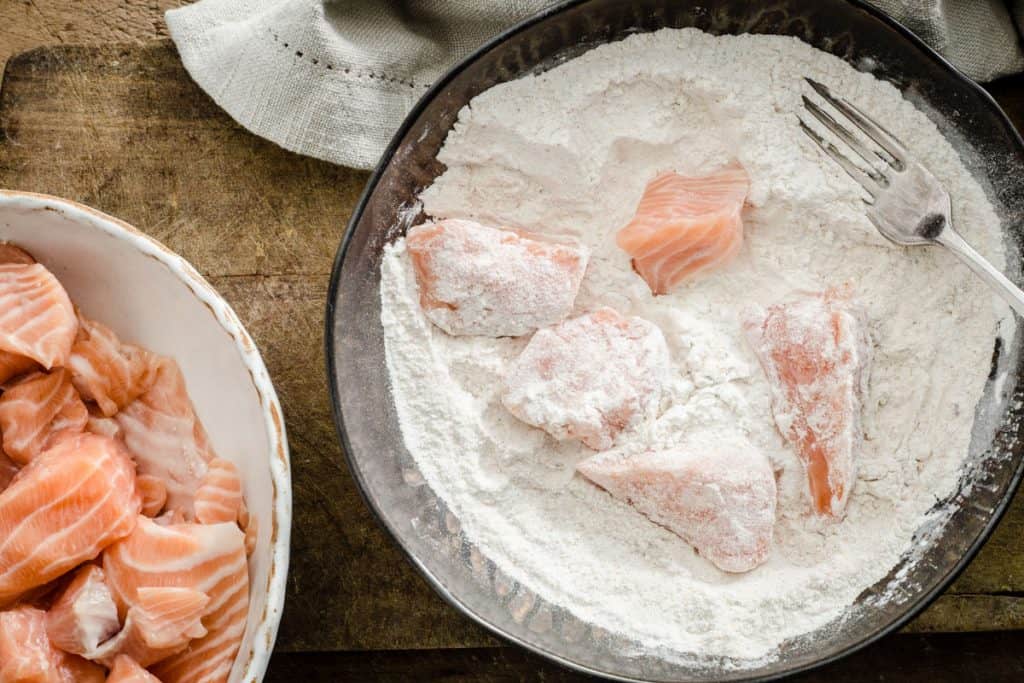 Flour Seasoning
By seasoning the flour with more than just salt and pepper we have the opportunity to take these salmon nuggets from good to amazing. You can use the below combo when you are pan-frying any meat or halloumi or even cauliflower steaks. It's a great all-round seasoning. All you need is:
sweet paprika
ground coriander
onion granules
garlic powder
lemon powder (you can use lemon zest)
salt
pepper
You whisk it all into your flour and you are ready to coat your salmon pieces.
Pro Tips
I add lemon powder into the mix here but if you haven't made yourself a good batch using this recipe then lemon zest is absolutely fine. Lemon zest clumps a bit in the flour which is why I prefer using the powder.
If you're not serving to kids then including ¼ teaspoon of cayenne wouldn't go amiss. Ah, the days when we could have a touch of spice.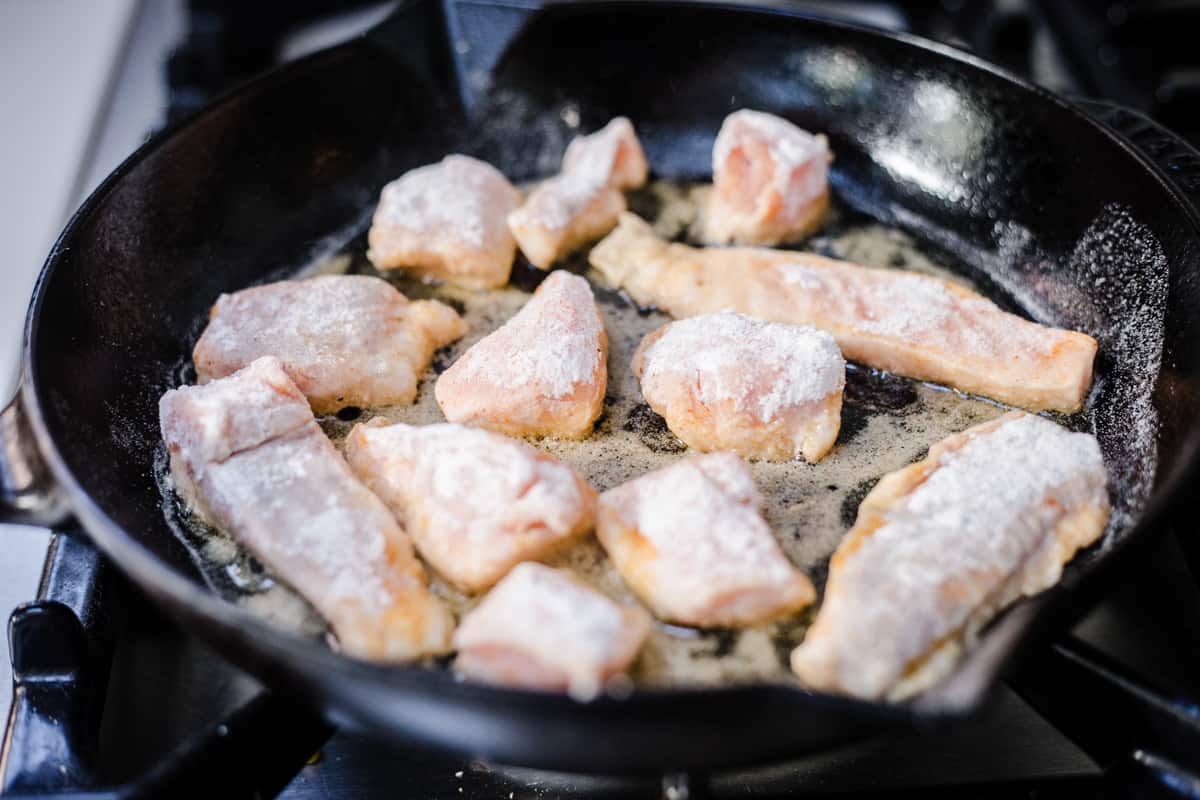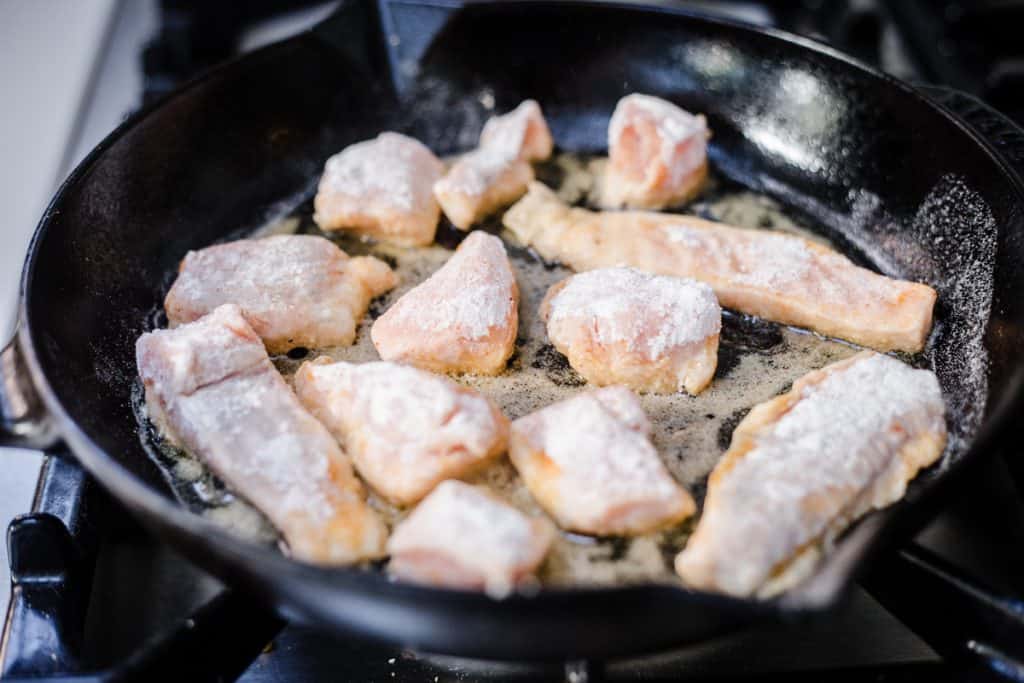 Top tips for pan-frying
Some people find pan-frying in oil intimidating, fearing that it could lead to greasy results. You will never need to worry about that though if you follow these invaluable tricks.
Let your oil get to the right temperature before you start cooking.
Heat up the pan until the oil gets thin and runny and shimmy the pan to let the oil completely cover it evenly.
Only add your nuggets once the oil is hot but not smoking. If it starts to smoke turn the heat off and wait for it to cool down slightly.
Don't overcrowd the pan. It is better to cook in batches so the nuggets don't steam and cook quicker and more evenly.
Once the nuggets are in the pan, wait until the underside is golden until you flip over. The second side will never need as long.
Once golden and cooked throughout, remove and immediately place onto kitchen towels to absorb any excess oil.
Recommended Equipment
Cast Iron Pan - It's great for pan frying as everything cooks very evenly. I use it for pretty much everything.
Silicone Tongs - these tongs are pretty much used everyday in our kitchen and they are essential for turning the nuggets so they don't break apart.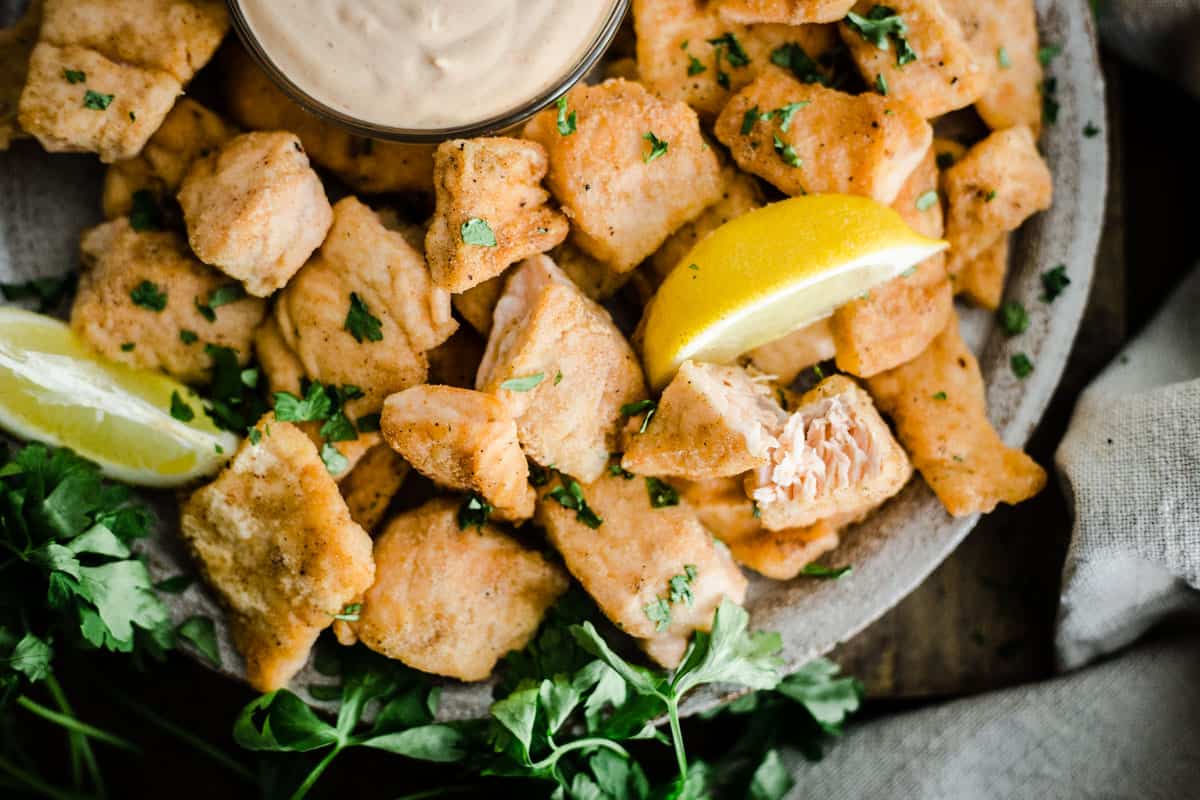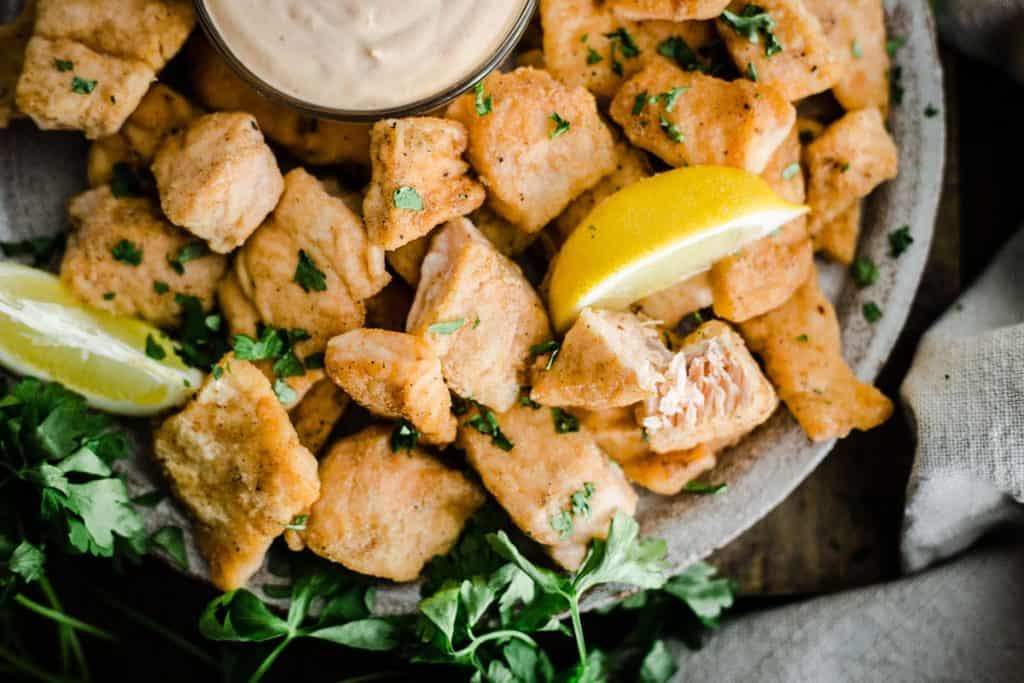 Dipping Sauce for Salmon Nuggets
These nuggets are delicious served into a mildly spiced and tangy dipping sauce. It's only a couple of minutes to whisk together and a whole lot better than ketchup.
The base of this sauce is yoghurt which is given a bit more body by mayonnaise. The sauce still feels lovely and light though. I like to use coconut yoghurt to keep it dairy-free but plain natural yoghurt is great if you don't need to. The spicing of the sauce is mirrored in the flavour of the nuggets so they are the perfect partnership.
All you need is:
Yoghurt (dairy or non-dairy)
Mayonnaise (go for good quality!)
Lemon juice
Garlic powder
Onion powder
Sweet Paprika
Salt
This dipping sauce is also really good with chicken nuggets or as a dip with crudités.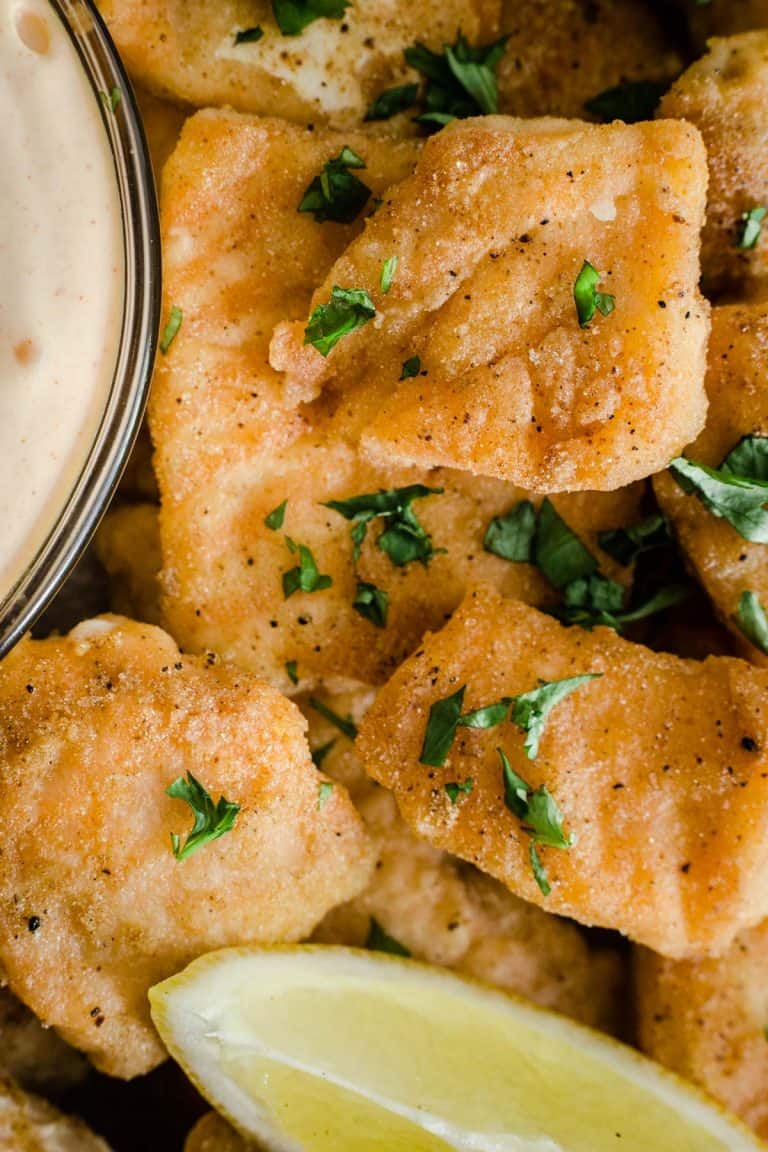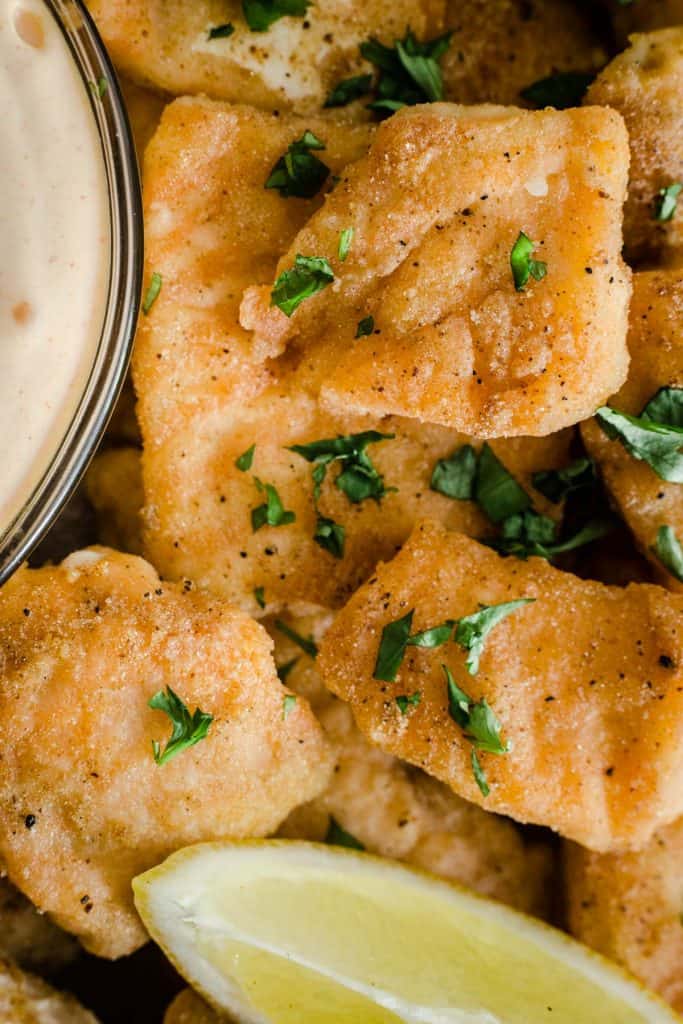 If you are looking for more family friendly mid-week meals then why not try:
Simple Salmon Fishcakes
Best Chicken Schnitzel
Gluten-Free Shepherd's Pie
Lemon Honey Sesame Chicken
Gluten-Free Cauliflower Cheese
If you make these Crispy Salmon Nuggets then please leave a comment below and give the recipe a rating. If you then go on to use this recipe as a launch pad for your own baking creation then I'd also love it if you'd share it and tag me on Instagram. It is so lovely for me to see your versions and variations of my recipes.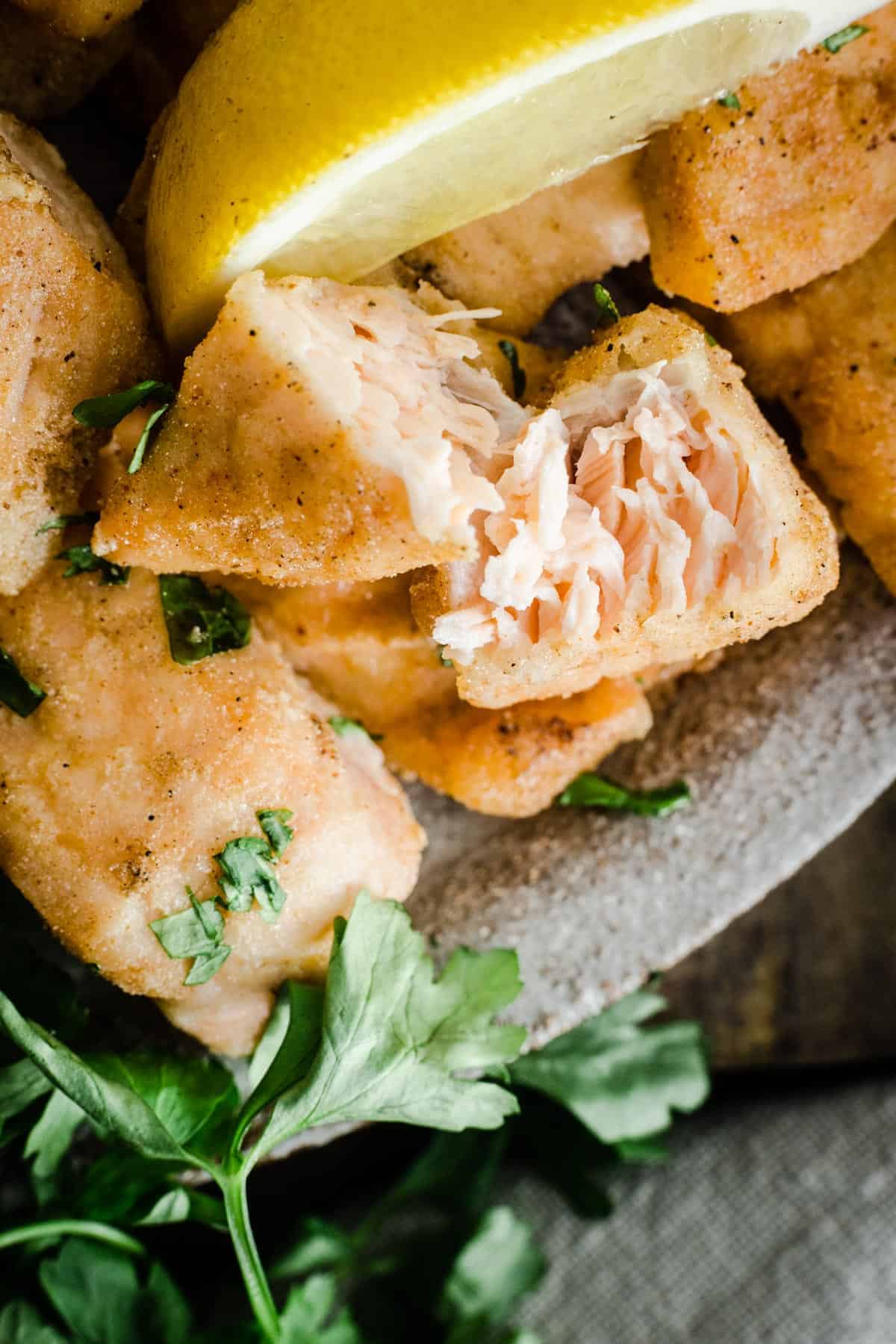 Crispy Salmon Nuggets
These Crispy Salmon Nuggets are a quick and easy mid-week recipe, served with a spiced and tangy dipping sauce. They are also gluten-free and dairy-free.
Ingredients
3

tablespoons

olive oil

600

g

salmon

-

filleted, de-skinned and diced

80

g

white rice flour

30

g

tapioca flour

1

teaspoon

onion granules

½

teaspoon

garlic powder

½

teaspoon

lemon powder

-

*see notes

½

teaspoon

smoked sweet paprika

¼

teaspoon

ground coriander

½

teaspoon

sea salt

¼

black pepper
Dipping Sauce
90

g

coconut yoghurt

-

or natural dairy yoghurt

60

g

mayonnaise

Juice ½ lemon

½

teaspoon

ground coriander

½

teaspoon

smoked sweet paprika

½

teaspoon

garlic powder

½

teaspoon

onion powder

¼

teaspoon

salt
Instructions
Pour the olive oil in a large flat-bottomed saucepan or cast iron pan and turn to a medium-low heat.

Whisk together the rice flour and tapioca flour with the onion powder, garlic powder, lemon powder, paprika, coriander, salt and pepper and sprinkle evenly into a bowl.

Roll the salmon pieces in the seasoned flour mix until well coated and then place each piece carefully in the hot oil.

Cook for 3 minutes until the underside of the nuggets are golden. Gently turn each nugget over with a pair of tongs and cook for a couple of minutes on that side until golden too.

Remove the salmon from the pan and place on kitchen towel to absorb the excess oil.

If you are cooking your nuggets in batches add a little more oil in between the batches so they are not cooking in a dry pan.

Delicious served with this dipping sauce and a lovely green salad.
Dipping Sauce
Mix all of the ingredients together and serve in a small bowl to dip the nuggets into.
Notes
Recipe for lemon powder is here but 1 tablespoon lemon zest is absolutely fine to use as well. Lemon zest clumps a bit in the flour which is why I prefer using the powder.
Cut the salmon into uniformly sized pieces for even cooking.
Add heat - If you're not serving to children then you can add ¼ teaspoon cayenne powder to the salmon nugget seasoning and 2 teaspoons hot sauce to the dipping sauce.
Bring the oil to the right temperature (hot but not smoking) before you add the salmon.
Don't overcrowd the pan. Cook the salmon in batches if you need to.
Remove the salmon onto kitchen paper to absorb the excess oil.
Nutrition
Calories:
528
kcal
Carbohydrates:
25
g
Protein:
32
g
Fat:
32
g
Saturated Fat:
5
g
Cholesterol:
92
mg
Sodium:
609
mg
Potassium:
785
mg
Fiber:
1
g
Sugar:
1
g
Vitamin A:
329
IU
Vitamin C:
1
mg
Calcium:
45
mg
Iron:
2
mg
Have you tried this recipe?
Head to the comment section and let me know what you think!