This post contains affiliate links. Please read my disclosures.
This Homemade Brown Sauce recipe is even better than the commercial stuff. Made with plums for a full fruity flavour but still with its familiar spicy personality and brilliant on a bacon sandwich.
What is Brown Sauce?
Brown Sauce is a quintessential British condiment. The most popular commercialised version is HP Sauce and it is always offered, along with tomato ketchup, as an accompaniment to a full English breakfast. But if you're not eating it with your Shepherd's Pie too then you're missing out!
Brown Sauce has been around since the late 19th century but more recently it has waned in popularity (much like the maligned salad cream!). Often associated with the pomp of the British Empire and criticised with its heavy handed approach to spicing.
It's true this sauce is not subtle. But in a good way!! There is no skimping on full bodied spices such as cloves, ginger cinnamon and cayenne. And its rich flavour is further deepened by the dark syrupy intensity of black treacle and dates.
It's a far more adult condiment than its tomato ketchup playmate and in my opinion there is definitely a place for both on the breakfast table. It just depends on your mood.
Why is this Brown Sauce recipe so brilliant?
This homemade version is fresher and not as harsh or sweet as the commercial variety.
It has an incredible punchy flavour thanks to the layers of spicing, deep sweetness, tanginess from the vinegar, sharp mustard bite and cayenne kick.
It's a very easy recipe to make which only takes an hour to cook.
Great way to use up a glut of plums that you will benefit from all year long.
Brown sauce goes with anything and everything.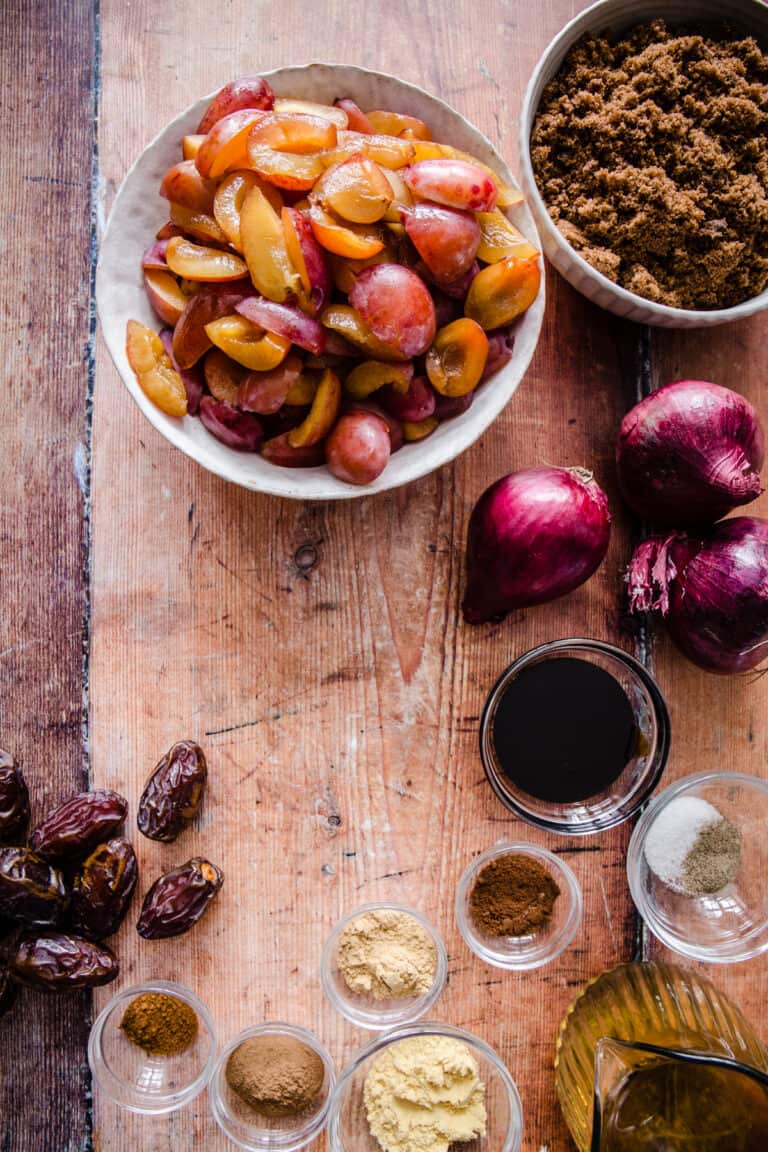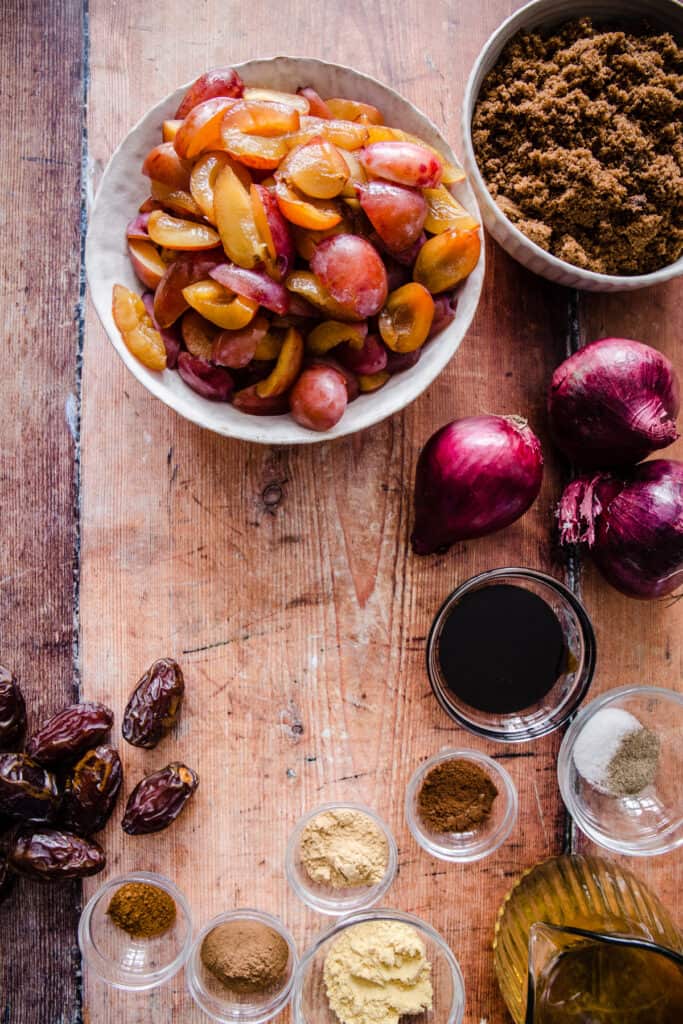 Ingredients for Homemade Brown Sauce
Plums – often brown sauce recipes rely on dates but plums really kicks up the fresh fruitiness.
Red onions – sweeter and more mellow than white onions but you can substitute if needed.
Dates – sticky medjool dates are the ones to use.
Brown sugar – deep sweet flavour
Apple cider vinegar – you can substitute for white wine vinegar
Black treacle – gorgeously rich molasses flavour
Mustard powder – Colmans English mustard powder is ideal.
Spices – ginger, cinnamon, cloves and cayenne pepper
Salt and pepper – a good sauce must always be seasoned correctly
How do you make it?
Place all the ingredients in a large preserving pan and cook for 1 hour.
Pour into a blender and blend until all the sauce is beautifully smooth and velvety.
Return the sauce to the cleaned preserving pan and bring the sauce back up to boiling.
Remove from the heat and decant into sterilised bottles.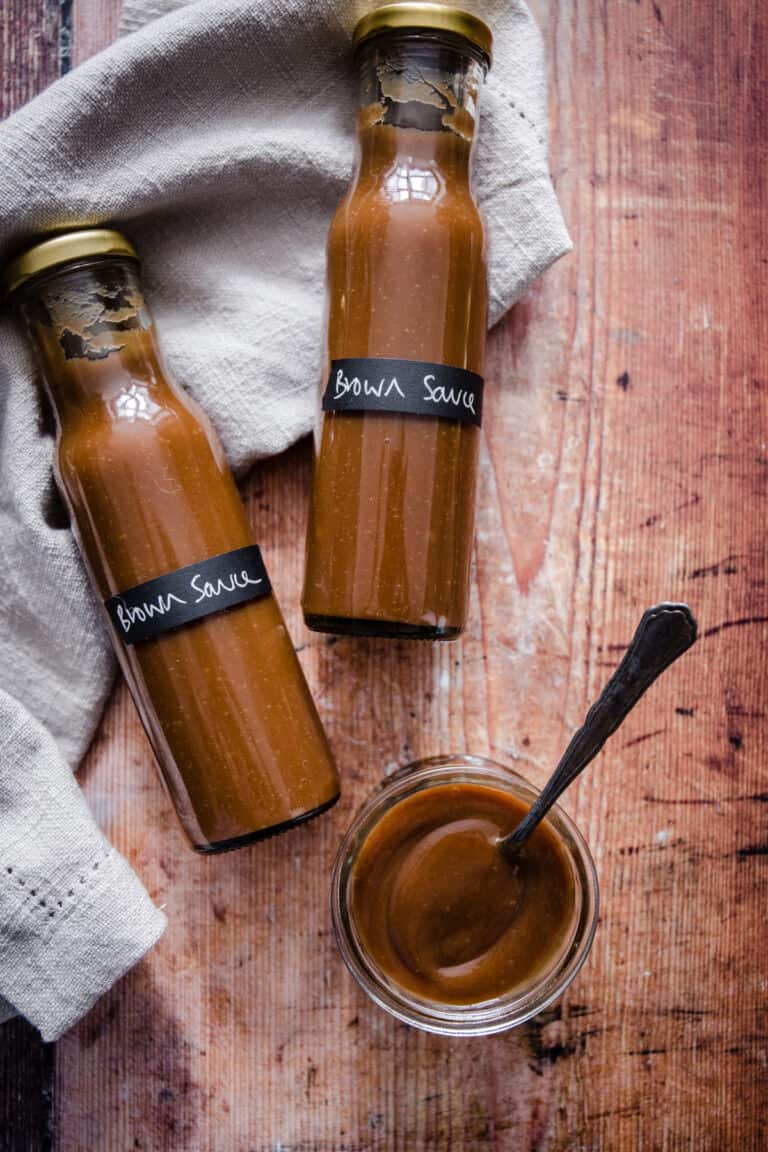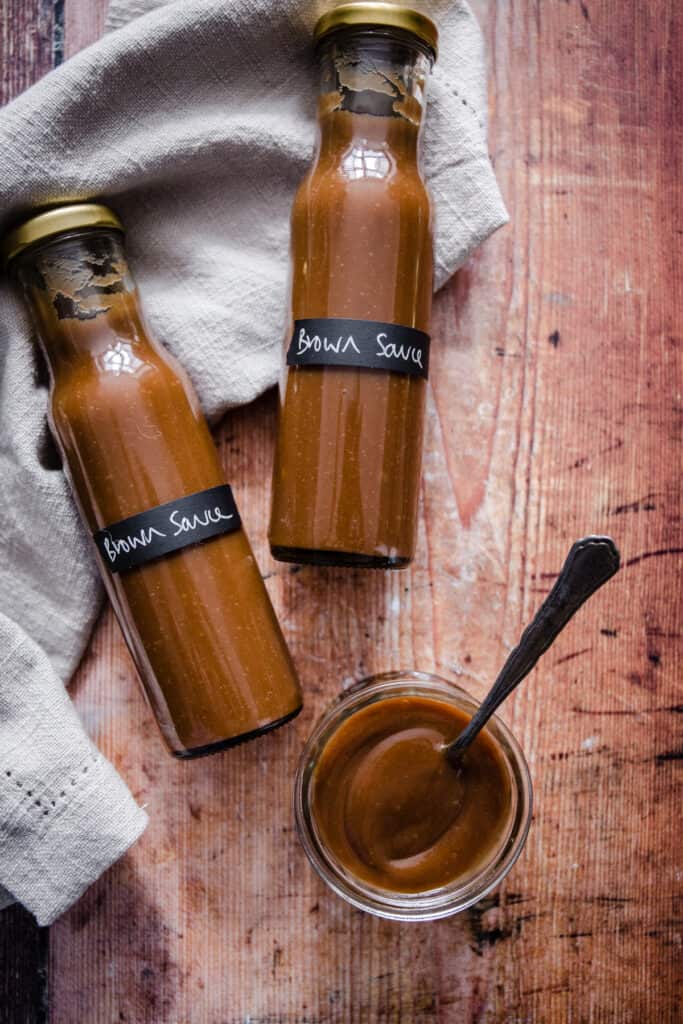 How do you remove the stones from the plums?
For this recipe we cut the stones out of the plums before cooking the plums. However, if your plums are a little hard and the stones proving recalcitrant then you can cook the whole plums with a splash of water until the plums are completely broken down then manually fish out the loose stones one by one. You want to be extra careful though that you've got them all before blending.
FAQs and Pro Tips
You can make this brown sauce from frozen whole plums.
Any plum variety will do.
When you're cooking the sauce make sure to stir regularly from the bottom of the pan.
I recommend using a stand blender and blend the sauce in batches.
An immersion blender will certainly do the job though. If you are doing it this way you can ensure an extra smooth sauce by pushing the blended brown sauce through a fine mesh sieve.
The blended sauce should be of a thick ketchup consistency. Cook for up to 10 minutes if it feels a little thin. The sauce will thicken slightly more as it cools in the bottles though.
Use clean sterilised bottles and new lids to ensure the bottles are sealed and stored correctly with no contamination.
The sauce will keep un-opened if stored in a cool dark place for up to 6 months.
Once opened keep in the fridge and use within 1 month.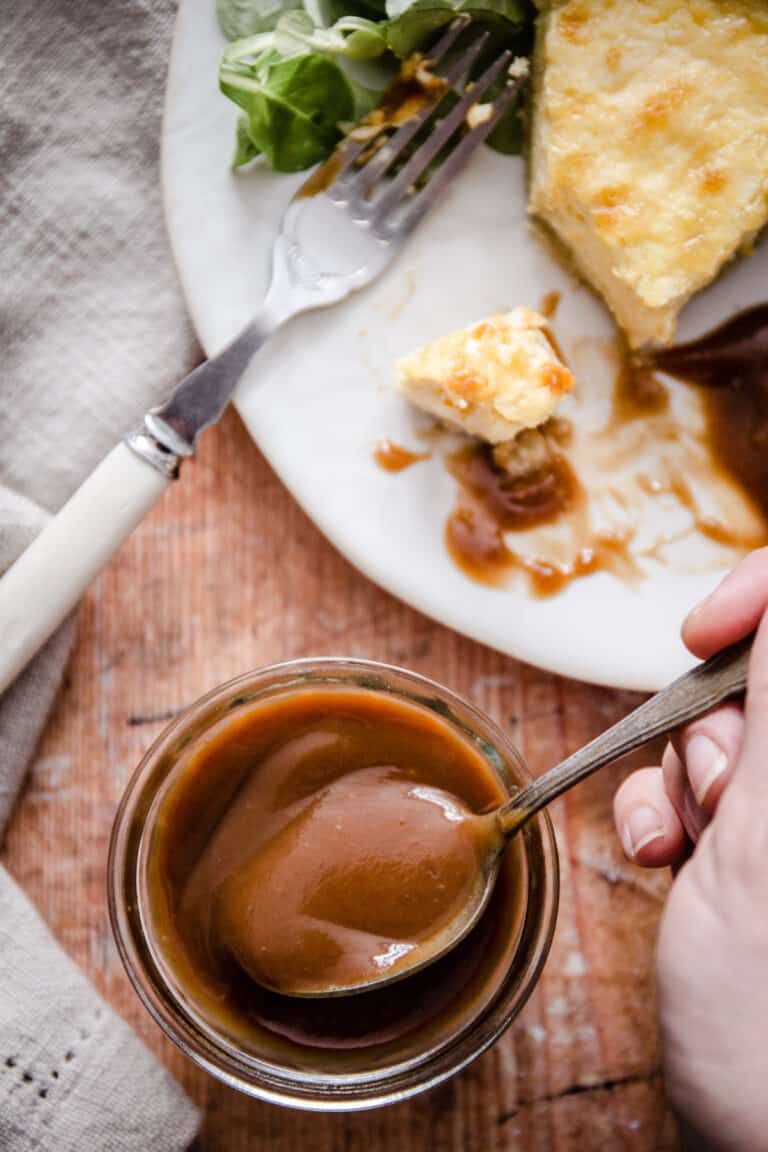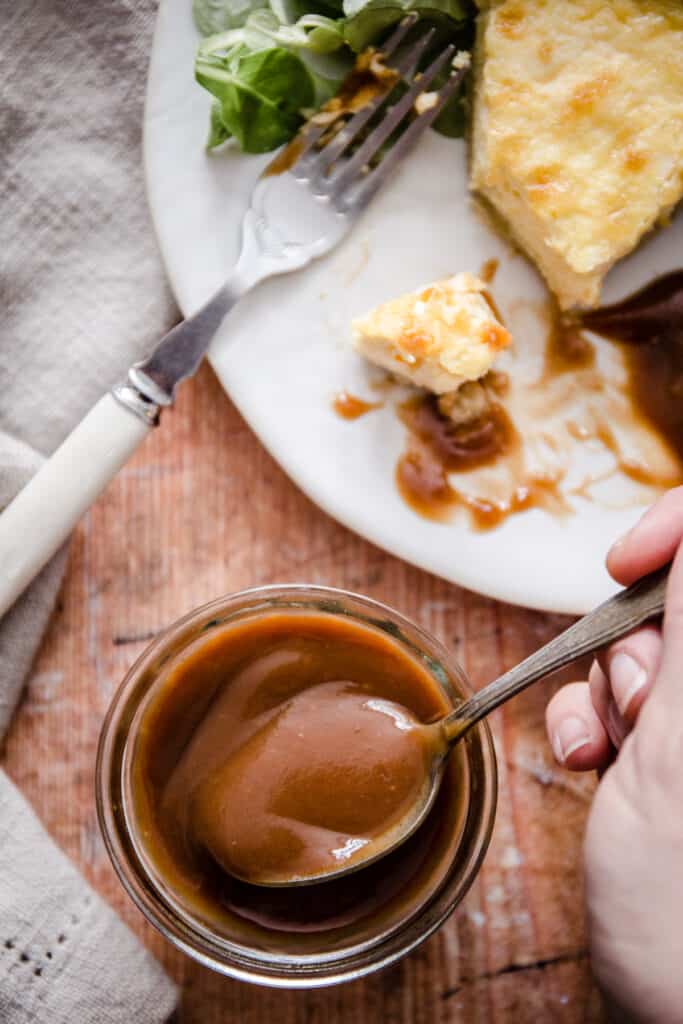 Recommended Equipment
Le Creuset Large Casserole Dish – my favourite preserving pan. Everything cooks evenly, it's incredibly resilient even if you accidently burn your chutney a little to the bottom (remember to stir!!) and we use it for everything.
Vitamix Blender – If you love a good blend then the Vitamix is the machine to invest in. It's the ultimate blender and I use it almost every day for homemade nut milks, salad dressings, soups, sauces, smoothies, baby purees and getting all ketchups and sauces and apple butters blended to the smoothest velvetiest consistency.
Jam Funnel – If you make a lot of chutneys and jams then I would definitely buy an inexpensive Jam Funnel. Useful for decanting pretty much anything around the kitchen too!
Sauce Bottles with Screw Cap – The best bottles to store your homemade ketchups and sauces in. The bottles can be re-used but the lids must be replaced.
What can you eat Brown Sauce with?
Homemade brown sauce can be used in exactly the same way as ketchup. It's excellent with sausages or in a bacon sandwich. However, we also love it with:
Salmon Fishcakes
Shepherds Pie
Quiche
Cauliflower Cheese
Cheesy Salmon Fish Pie
Sausage Rolls
Crispy Salmon Nuggets
Bubble and Squeak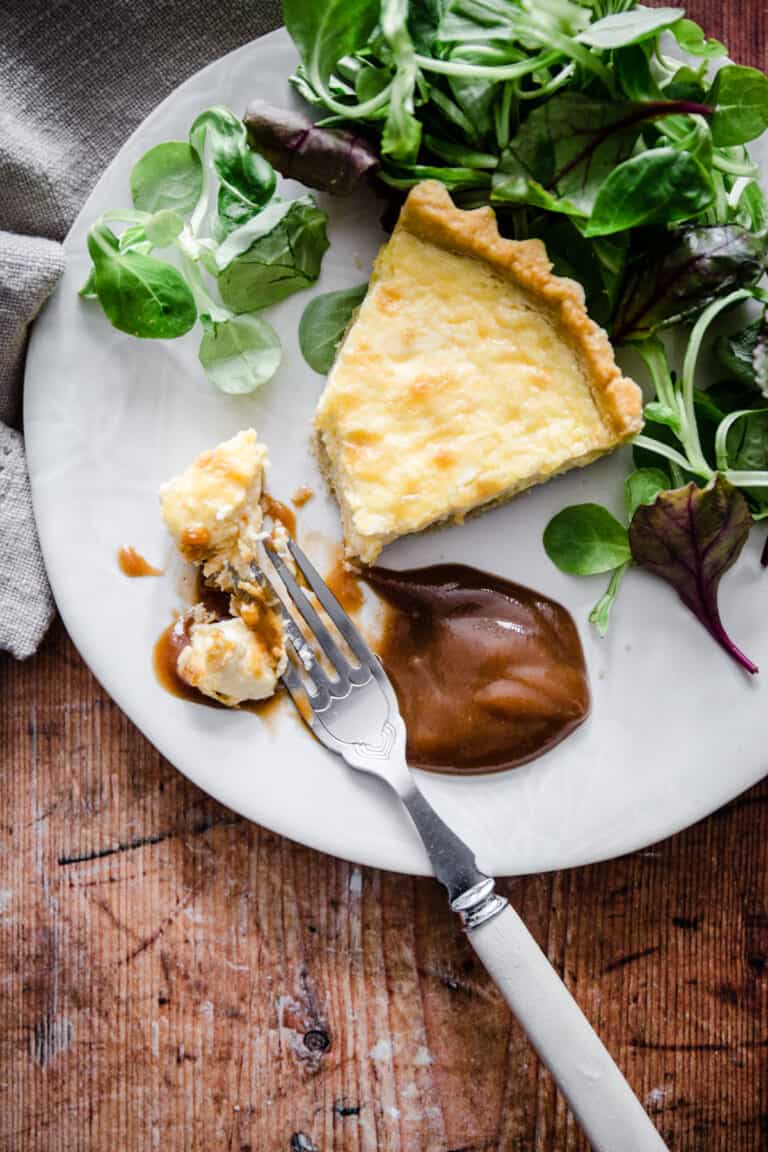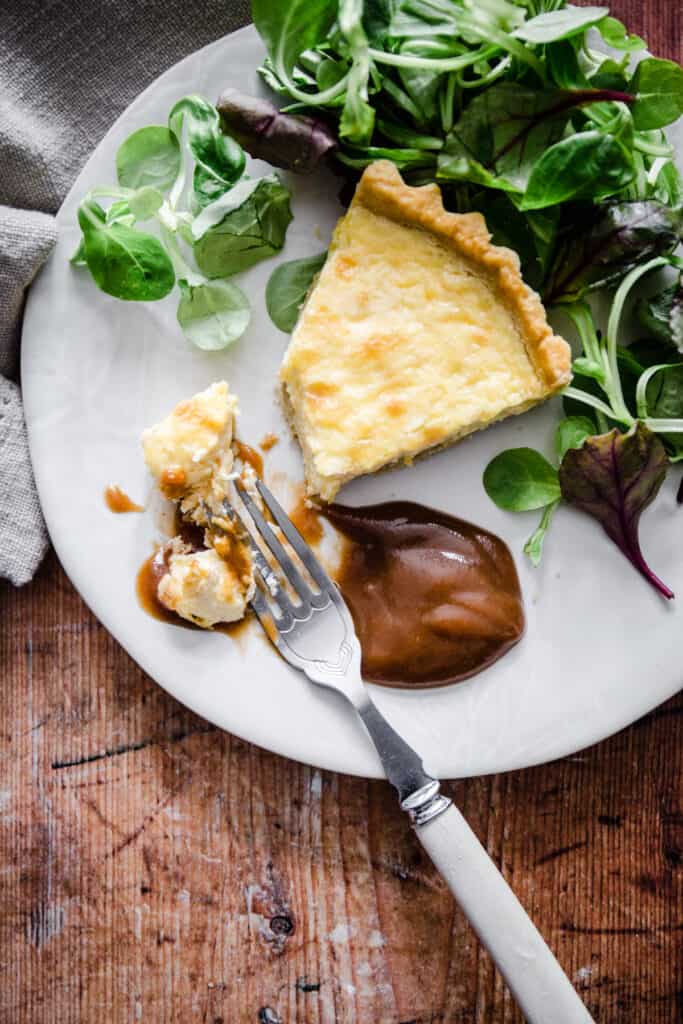 If you like this brown sauce recipe then you may like:
Green Plum Jam
Damson Orange and Cinnamon Jam (For any damson recipe you can swap in plums!)
Blackberry Hoisin Sauce
Plum and Beetroot Chutney
Green Tomato Ketchup
If you make this Homemade Brown Sauce recipe then please leave a comment below and/or give the recipe a rating. I'd also love it if you'd share it and tag me on Instagram. It is so lovely for me to see your versions and variations of my recipes.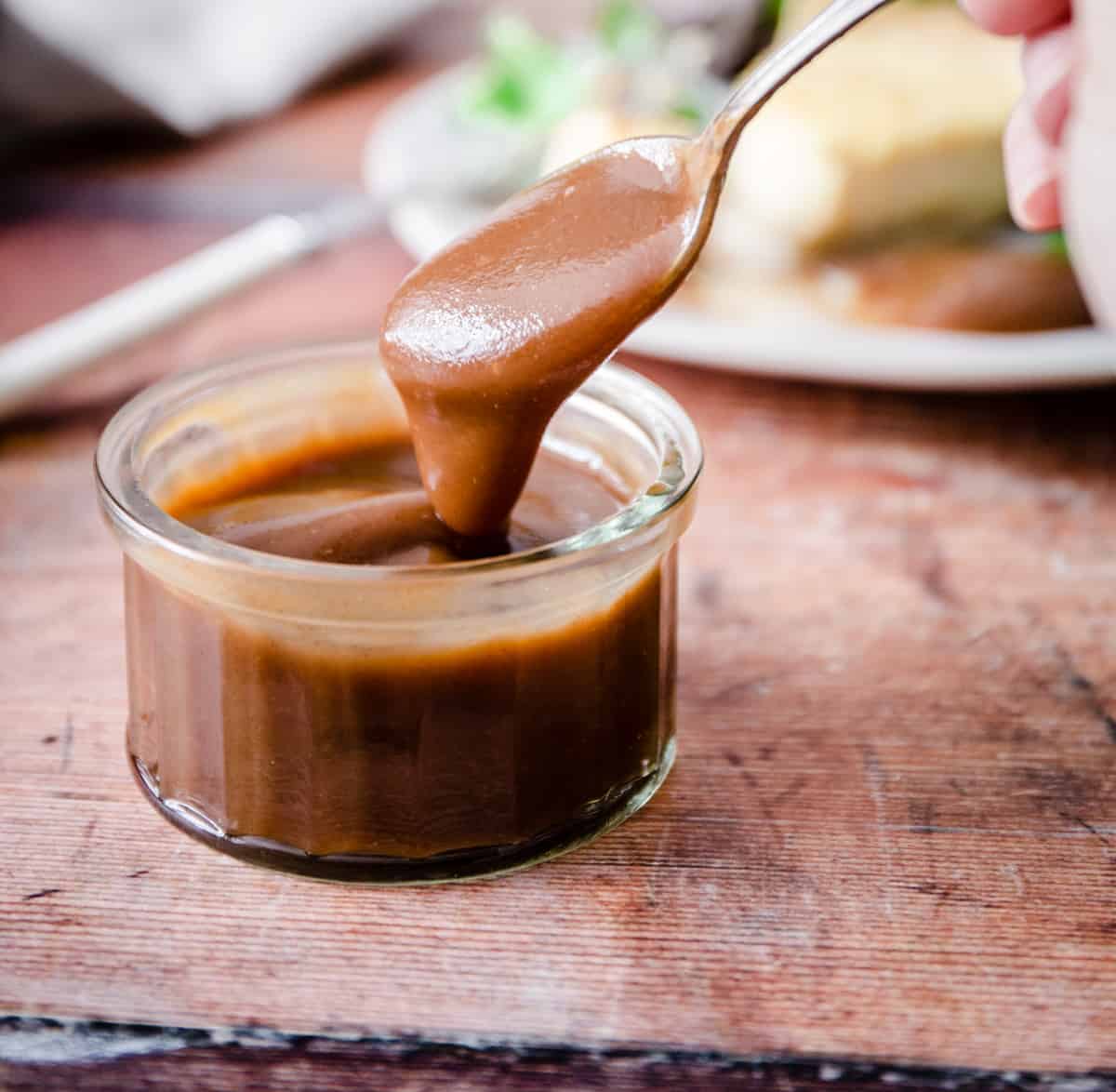 Homemade Brown Sauce
If you love Brown Sauce then you'll be thrilled to discover this homemade version is even better. Made with plums for a full fruity flavour but still with its familiar spicy personality and brilliant on a bacon sandwich.
Ingredients
2

kg

plums

-

stones removed

500

g

red onions

200

g

medjool dates

-

pitted

350

g

brown sugar

450

g

apple cider vinegar

50

g

black treacle

3

teaspoons

mustard powder

3

teaspoons

ground ginger

3

teaspoons

ground cinnamon

1

teaspoon

ground black pepper

¾

teaspoon

salt

½

teaspoon

ground cloves

½

teaspoon

cayenne pepper
Instructions
Place all the ingredients in a large saucepan or preserving pan and cook on a medium heat for 1 hour, stirring regularly.

Pour into a blender and blend until smooth.

Pour the blended sauce back into the cleaned pan and bring back up to boil.

The sauce should be of a thick ketchup consistency but you can cook for longer if it feels a little thin. The sauce will thicken slightly more as it cools.

Remove from the heat and decant into sterilised jars.
Notes
This recipe makes 8 bottles of 250ml.
You can make the brown sauce with any variety of plums.
You can use frozen plums.
Cut the stones out of the plums using a small paring knife. However, you can cook your whole plums with a splash of water until they reach a pulp and remove the stones once they have broken down if it is easier. Then add the plum pulp to the rest of the ingredients and begin the recipe as instructed.
You can use a stand blender or immersion blender.
Blend in batches to ensure ultra smooth sauce.
To sterilise the bottles place the very clean bottles you would like to use in an oven pre-heated to 140°C for 20 minutes. Sterilise the lids by dropping them into a saucepan of boiling water for 10 minutes with a splash of vinegar. I don't sterilise my lids in the oven as they tend to ruin.
The brown sauce is good to eat straightaway but it also gets better if allowed to mature for 4 weeks in the bottles before opening. Store in a cool dark place.
Once the brown sauce is opened, keep in the fridge and eat within a month.
Nutrition
Calories:
33
kcal
Carbohydrates:
8
g
Protein:
1
g
Fat:
1
g
Saturated Fat:
1
g
Sodium:
19
mg
Potassium:
69
mg
Fiber:
1
g
Sugar:
7
g
Vitamin A:
76
IU
Vitamin C:
2
mg
Calcium:
10
mg
Iron:
1
mg
Have you tried this recipe?
Head to the comment section and let me know what you think!