This post contains affiliate links. Please read my disclosures.
Gluten-Free Shepherd's Pie is a deeply flavourful homely recipe that is a favourite with the whole family. Delicious lamb mince cooked in a rich gravy with plenty of vegetables and a crisp buttery potato topping.
A lot of traditional British recipes, especially the ones we grew up eating as a family rely at least somewhat on the presence of flour. Whether it's the gravy on your Sunday roast, the béchamel sauce of your lasagne or even my Auntie Lil's chicken curry, regular plain flour is always present in some way. Since becoming gluten-free many years ago I have learnt through trial and error the best way to continue making these recipes so there is no difference between the gluten-free versions and the ones from my childhood. Today we're celebrating one of our all-time classic family faves. Shepherd's Pie.
More gluten-free family recipes you'll love!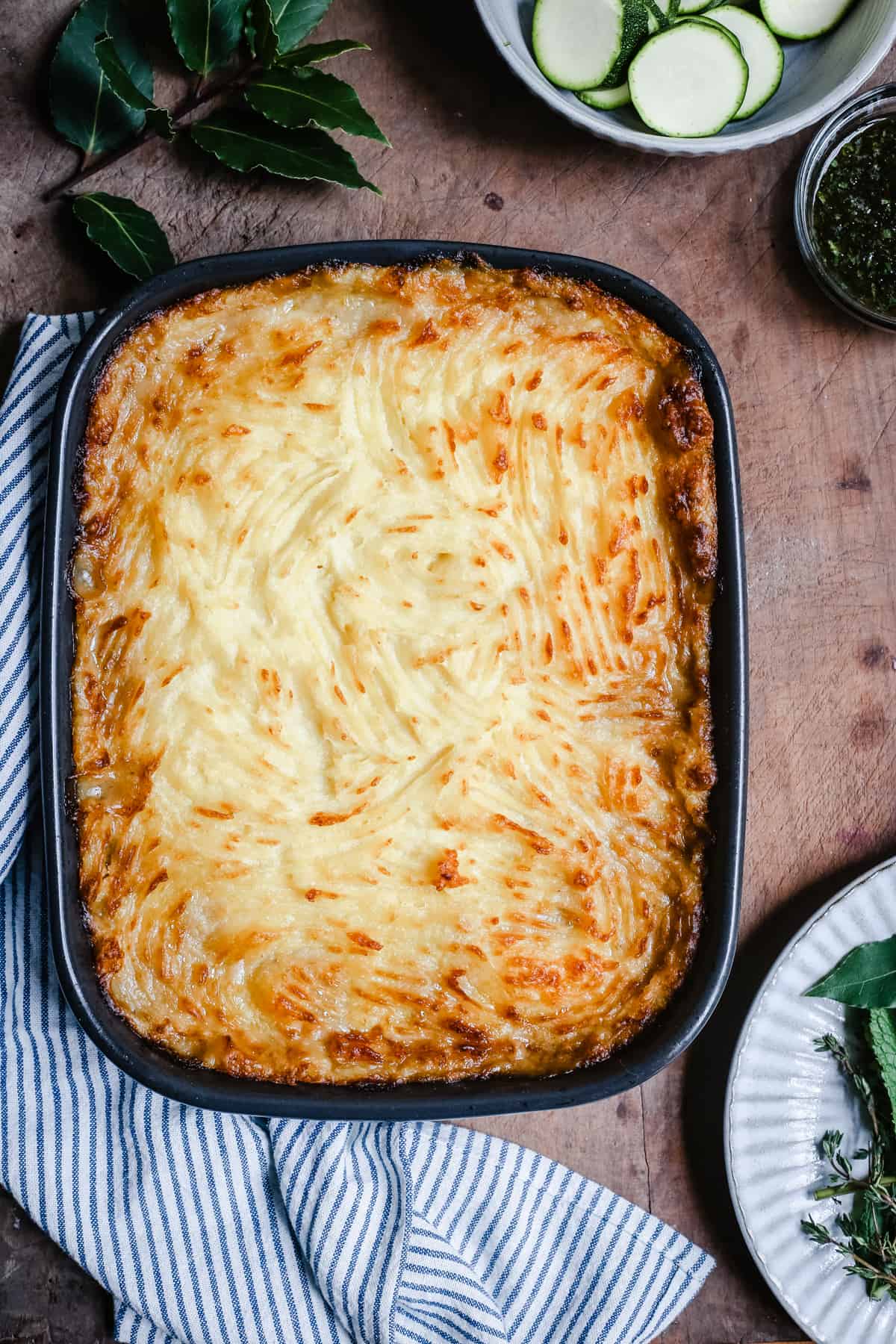 What's the difference between Shepherd's Pie and Cottage Pie?
Both dishes refer to a red meat dish, often minced meat, cooked in a gravy with onions and often carrots and celery, topped with a mashed potato layer and baked in the oven. The term Cottage Pie was first mentioned in 1791 but Shepherd's Pie did not really appear until 1854. Initially the two terms were interchangeable for the same dish but in the 20th century the two recipes were separated into their own identities. Cottage Pie became synonymous with versions made with minced beef whereas Shepherd's Pie would more commonly be made with minced lamb.
Our family adores Shepherd's Pie, it meets approval from all members including the baby and guarantees a clean plate from our picky pre-schooler. Luke and I love it too, especially served with hot buttered cabbage.
What vegetables go into a Shepherd's Pie?
Shepherd's Pie is a simple and satisfying meal with lots of veggies in the main base of the pie along with the lamb mince. I love the taste and texture that the extra vegetables give to the base of the dish. Here we include:
onions
carrots
celery
courgette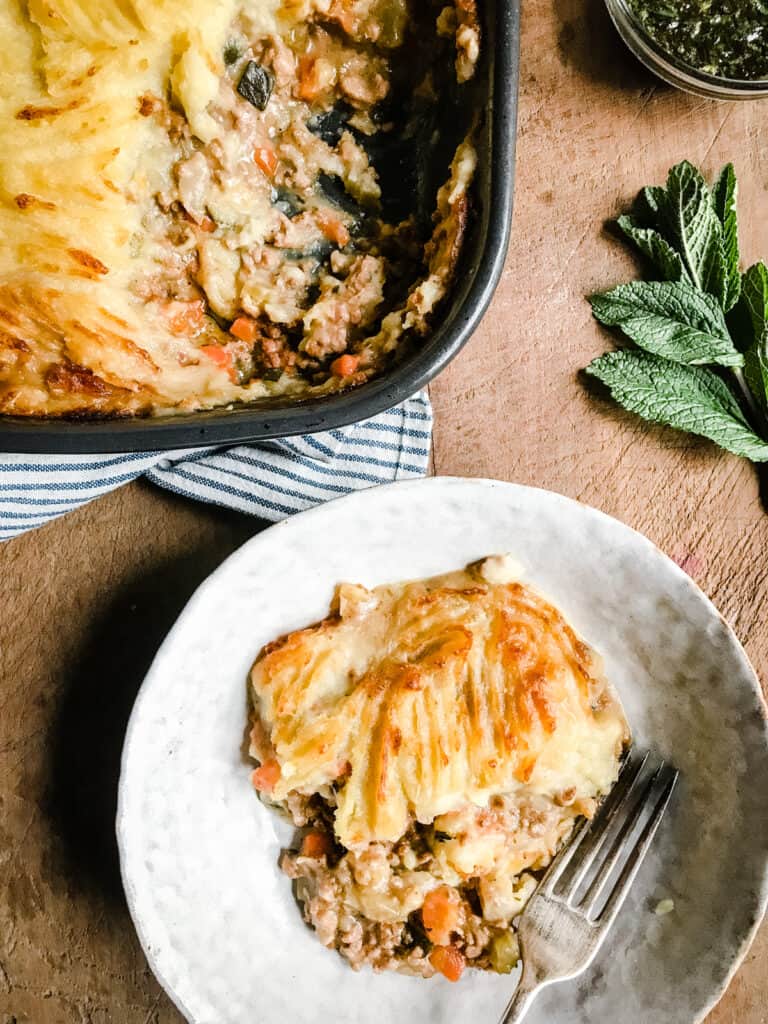 How do you make Gluten-Free Shepherd's Pie?
Sweet Rice Flour
The traditional version of Shepherd's Pie is made using plain wheat flour to thicken the rich gravy which encases the meat and vegetables at the base of the pie. Here we are switching it out for sweet rice flour. The sticky properties of this starchy flour absorb the cooking oil and the added stock for a beautifully smooth and silky sauce which is indistinguishable from wheat flour gravy. The only difference is the colour. The sweet rice flour gravy is much lighter than its wheat counterpart.
Top Tip: Add coconut aminos to deepen the colour of the gravy naturally. It also provides the perfect amount of seasoning.
Fresh Stock
One of the other key ingredients in this Gluten-Free Shepherd's Pie is the use of fresh stock to make the most umami empowered gravy. It makes all the difference, providing tremendous depth of flavour and I would seriously advise against the stock cube if possible. I make homemade chicken stock every other Sunday with the bones of our roast chicken so I always have it to hand for my everyday cooking. It is possibly the most invaluable ingredient in my kitchen. If you don't have any homemade stock then check to see if your butcher supplies it, otherwise do use the best store bought fresh stock you can find.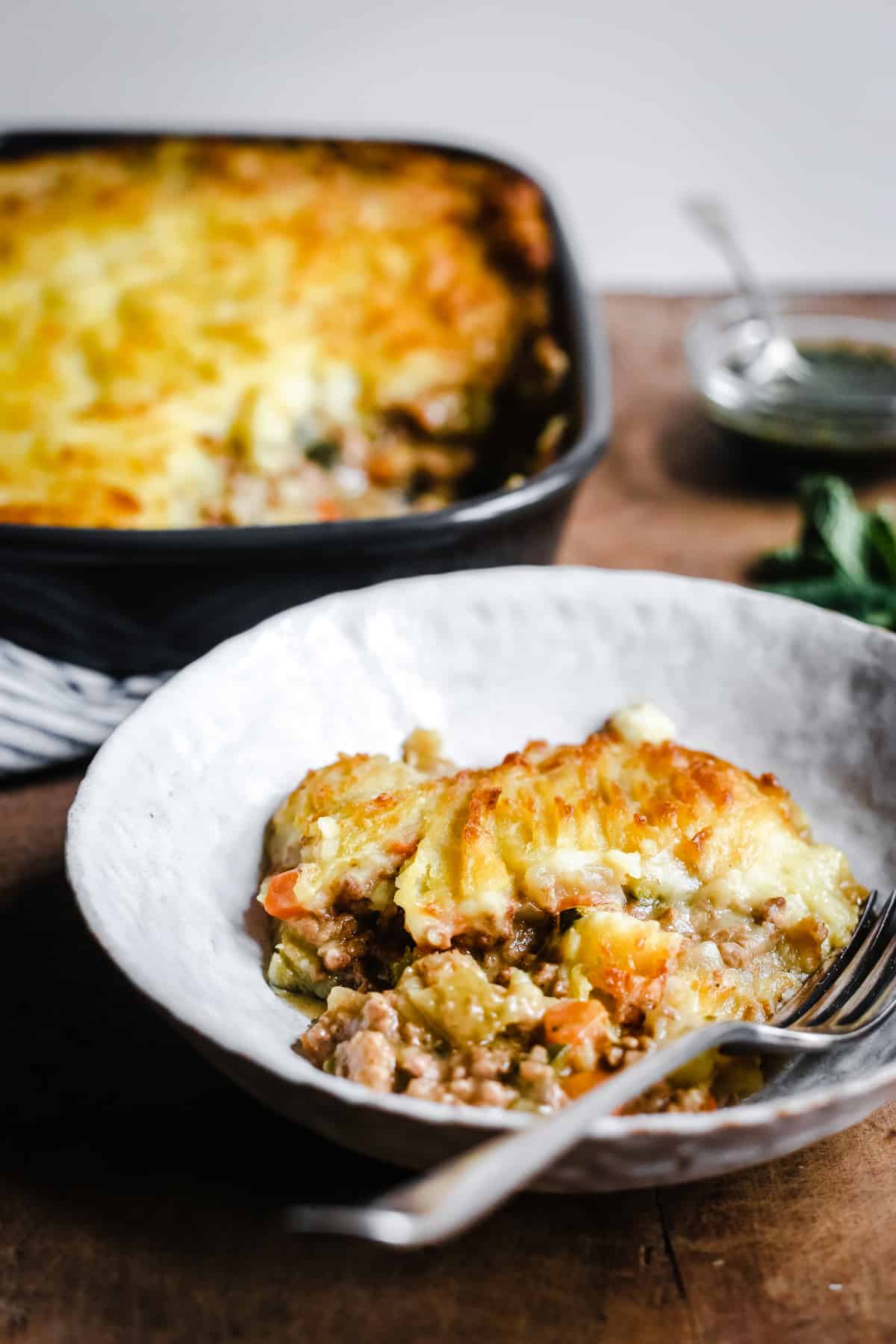 Secret Ingredient
Finally do you want to know my secret ingredient for Shepherd's Pie? It's definitely not something I would add to a Cottage Pie, but it lifts this whole meal up a notch, giving it such a special flavour. Would you like to know?
It's mint sauce! Once you try it you will never make your Shepherd's Pie without it.
Mint sauce is traditionally served as part of the Great British roast dinner alongside spring lamb. It's an essential condiment of our larder and is an absolutely perfect addition to our Shepherd's Pie. The three main ingredients of mint sauce are mint, white wine vinegar and sugar so it's pretty easy to make your own. However, I usually use shop bought. It's worth checking the label of your mint sauce though as many contain xanthan gum which is something I try to steer clear of in my kitchen. There are brands without though, so just double check.
The Mashed Potato
A Shepherd's Pie wouldn't be the same without delicious buttery mash blanketing the whole affair. I am quite particular about my mashed potato and although I don't go the whole Joel Robuchon route (which uses 250g of butter for 1kg potatoes!), this recipe certainly does not skimp on the butter or the seasoning. A good amount of butter is necessary for the perfectly crisp golden top on your Shepherd's Pie. I also add a splash of stock in the mash to make the potatoes smooth, creamy and rich. You could also use milk.
Pro Tips To Avoid Gluey Mash
When adding your butter and liquid to the cooked potatoes it's imperative to warm them up first and tip your potatoes into the add-ins, not the other way around. We want to avoid gluey or lumpy mash at all costs and this way makes sure we achieve neither.
To mash the potatoes you can use a potato masher or a potato ricer, but never use the food processor or the blender as you'll run the risk again of gluey mash. Potatoes can be decidedly tricky when they want to be.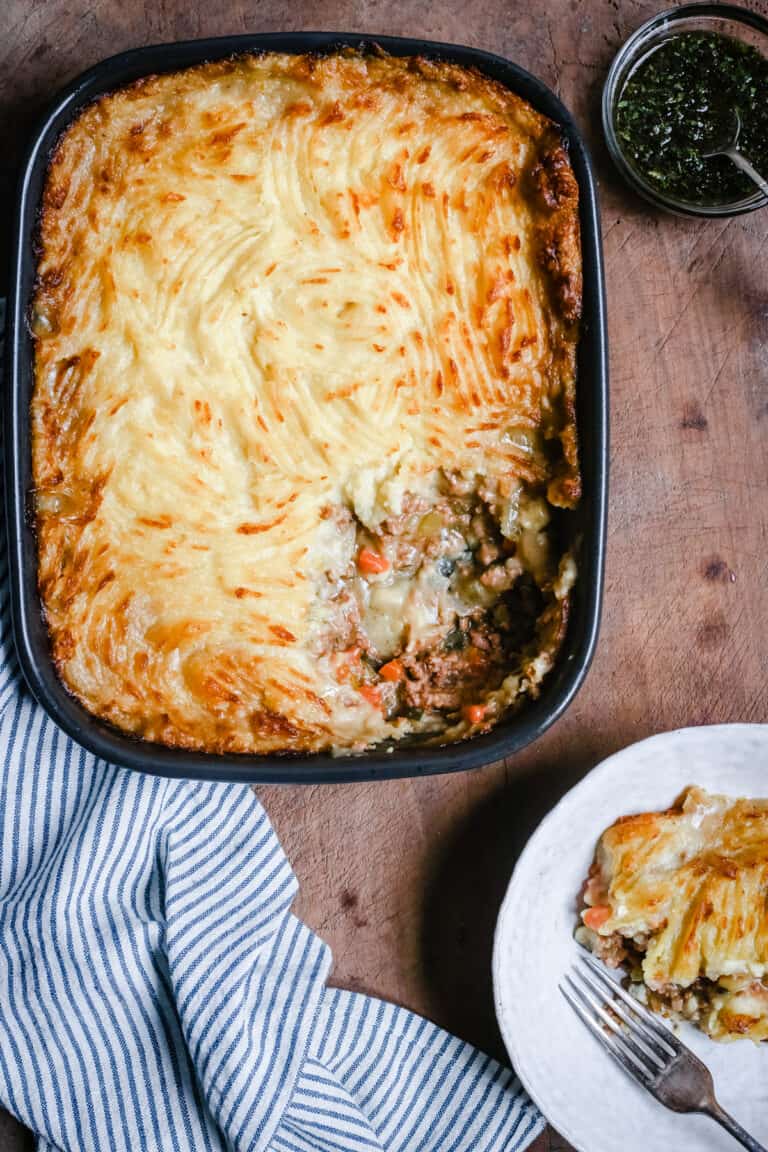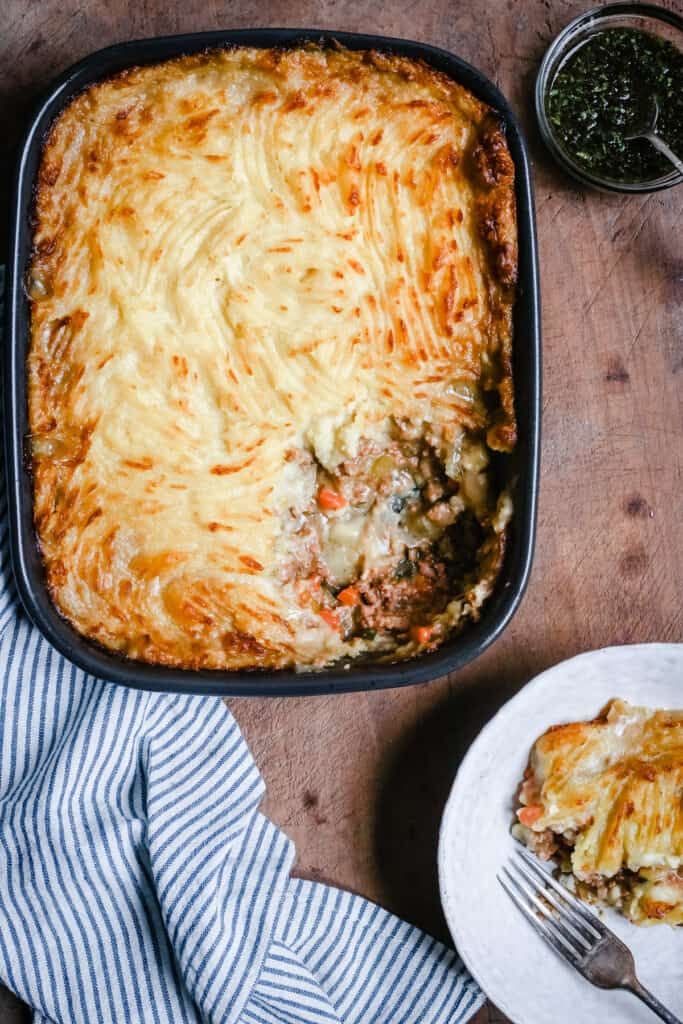 Shop the Recipe:
If you make this Gluten-Free Shepherd's Pie then please leave a comment below and give the recipe a rating which helps others find the recipe on Google. If you then go on to use this recipe as a launch pad for your own culinary creation then I'd also love it if you'd share it and tag me on Instagram. It is so lovely for me to see your versions and variations of my recipes.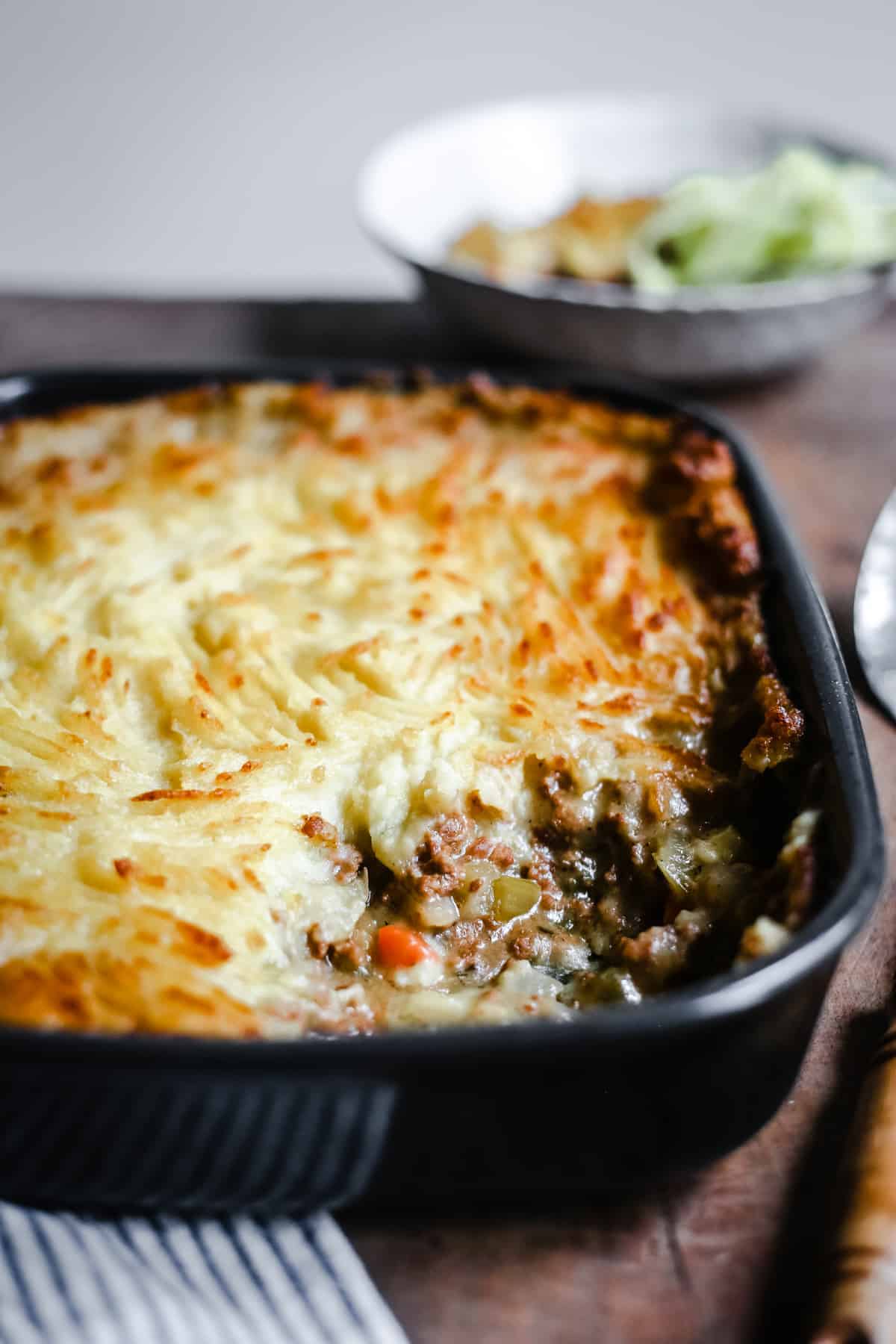 Gluten-Free Shepherd's Pie
Gluten-Free Shepherd's Pie is a deeply flavourful homely recipe with a rich gravy, plenty of vegetables and a crisp buttery potato topping.
Ingredients
800

g

red potatoes

-

peeled and quartered

100

g

unsalted butter

100

ml

fresh stock

-

I use chicken

½

teaspoon

salt

⅛

teaspoon

cracked black pepper

1

tablespoon

olive oil

1

onion

-

peeled and finely diced

2

carrots

-

peeled and finely diced

2

celery sticks

-

finely diced

1

courgette

-

finely diced

600

g

lamb mince

2

bay leaves

2

teaspoons

fresh thyme leaves

3

tablespoons

sweet rice flour

200

ml

fresh stock

-

I use chicken

1

tablespoon

coconut aminos

1

tablespoon

mint sauce

½

teaspoon

cracked black pepper
Instructions
Boil a large saucepan of water and add the potatoes. Cook for 20 minutes or until the potatoes break apart when you touch them with the tip of a knife. Drain the potatoes from the water.

Add the butter, stock, salt and pepper to the now empty saucepan and heat gently until the butter has melted. Remove from the heat.

Tip the cooked potatoes back into the saucepan and mash well until the potatoes are creamy. Set aside whilst you prepare the lamb mince.

Pre-heat the oven to 200 °C/180°C fan assisted/gas mark 5.

Heat the olive oil in a wide bottomed saucepan then add the onion, carrots, celery and courgette. Cook for about 10 minutes until the vegetables have softened.

Add the lamb mince, bay and thyme leaves, stirring occasionally until the lamb has browned.

Add the sweet rice flour to the pan, mixing in well to absorb the fat. If there is any excess oil then remove it with a spoon.

Pour in the stock and stir until a thick gravy has formed.

Add the coconut aminos and mint sauce, stirring through. Cook for 5-10 minutes so all the flavours are well combined.

Remove the lamb mince from the heat then spoon into an ovenproof baking dish into an even layer.

Spoon the mashed potato over the top until it completely covers the lamb mince, then create light furrows in the potato by using the back of a fork.

Bake in the oven for 25-30 minutes until the potato is golden.
Nutrition
Calories:
567
kcal
Carbohydrates:
32
g
Protein:
20
g
Fat:
39
g
Saturated Fat:
19
g
Cholesterol:
108
mg
Sodium:
555
mg
Potassium:
1005
mg
Fiber:
3
g
Sugar:
6
g
Vitamin A:
4025
IU
Vitamin C:
21
mg
Calcium:
52
mg
Iron:
2.9
mg
Have you tried this recipe?
Head to the comment section and let me know what you think!