This post contains affiliate links. Please read my disclosures.
This Green Tomato Cake is a revelation if you have never thought to put tomatoes in a cake. This gluten-free version is deeply flavourful, studded with stem ginger, sweetly spiced with a gentle nudge of caramelised ginger with a crunchy streusel topping.
I first published a recipe for Green Tomato and Stem Ginger Cake with Streusel Topping back in 2014 as a wheat cake. I made it a bunch of times but never got around to taking decent photos of the cake which was so popular at my market stall back then. I have no idea why it has taken me so long to switch the recipe up to a gluten-free version but I am thrilled I finally did it as I had forgotten how amazing this cake is. It goes without saying that I prefer the gluten-free version of the cake as I am a staunch alternative flour advocate but the sweet rice flour and oat flour really do give this beautifully flavourful sponge even more character.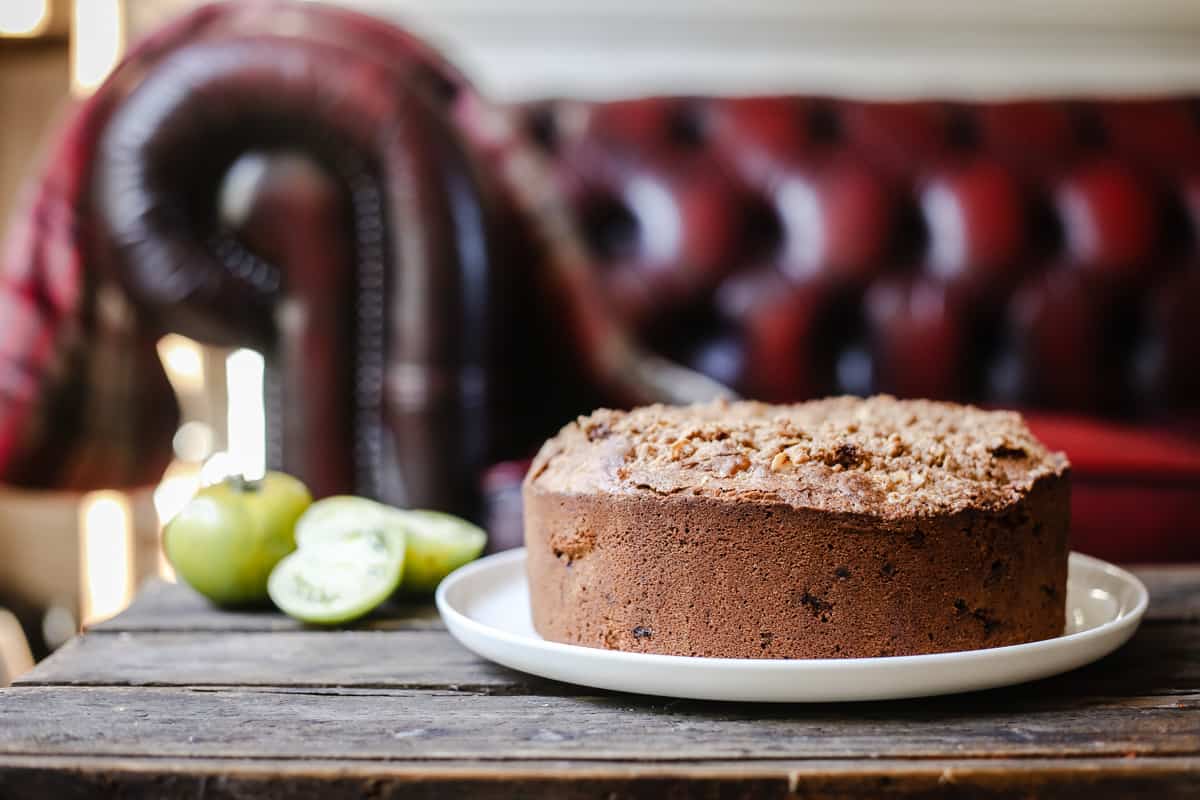 The following words are as written in 2014 since it describes how I came up for the idea for the recipe in the first place. I basically cribbed it off my sister.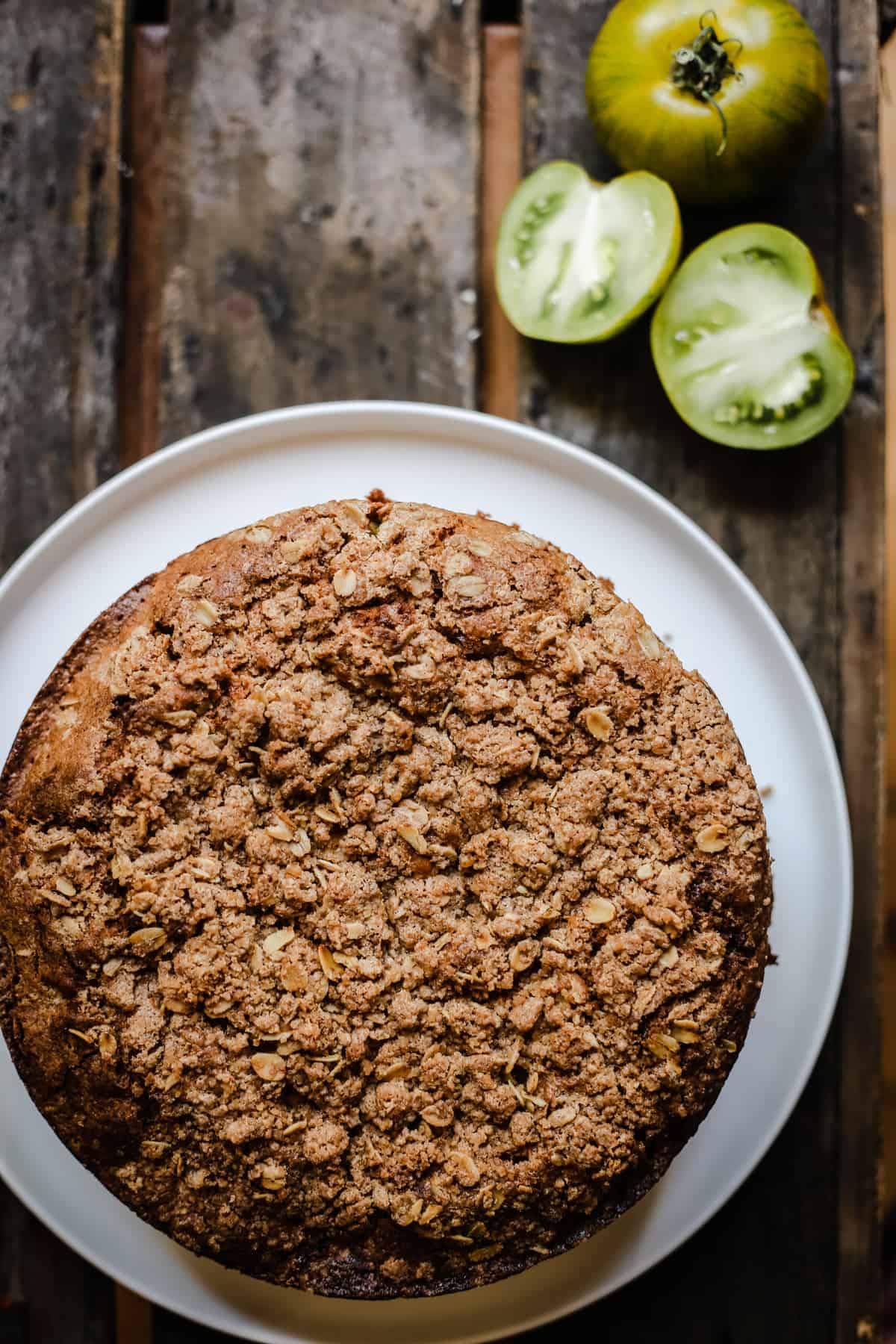 When my sister first told me she had made this cake a few weeks ago with the last remaining green tomatoes in her vegetable garden I immediately thought that this was one of her weird experiments and dismissed it.
The idea stayed with me though and I couldn't stop thinking of this green tomato cake that she had been raving about. I'm a huge fan of green tomatoes and the thought of incorporating them into my baking was intriguing. So I called her back up a few days later and asked her a bit more about it.
She said the texture was incredibly moist but the closest thing she could see that it resembled was a carrot cake. Suddenly it all made sense and I kicked myself for not seeing how this was the perfect use for the firm, tangy tomatoes that are still hanging round well into Autumn, especially when spiced up with cinnamon, nutmeg and ginger.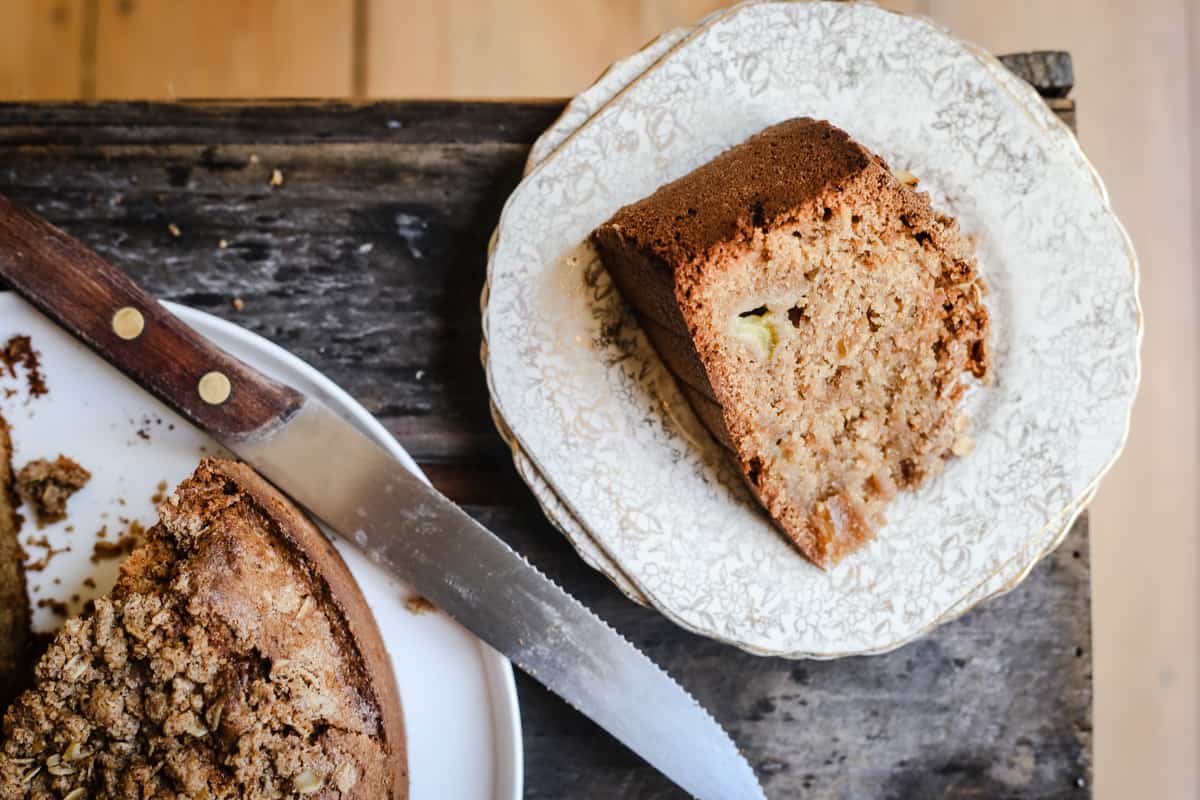 I thought I had missed out though as I hadn't seen any green tomatoes for a while and assumed their time had passed for the season. Then on a chance visit to Stoke Newington Farmers' Market I saw huge mounds of the these emerald green beauties glinting in the frost bitten sun. I am useless when it comes to understanding quantities of things and rather than be floundering with too few tomatoes I bought bags of them, just in case.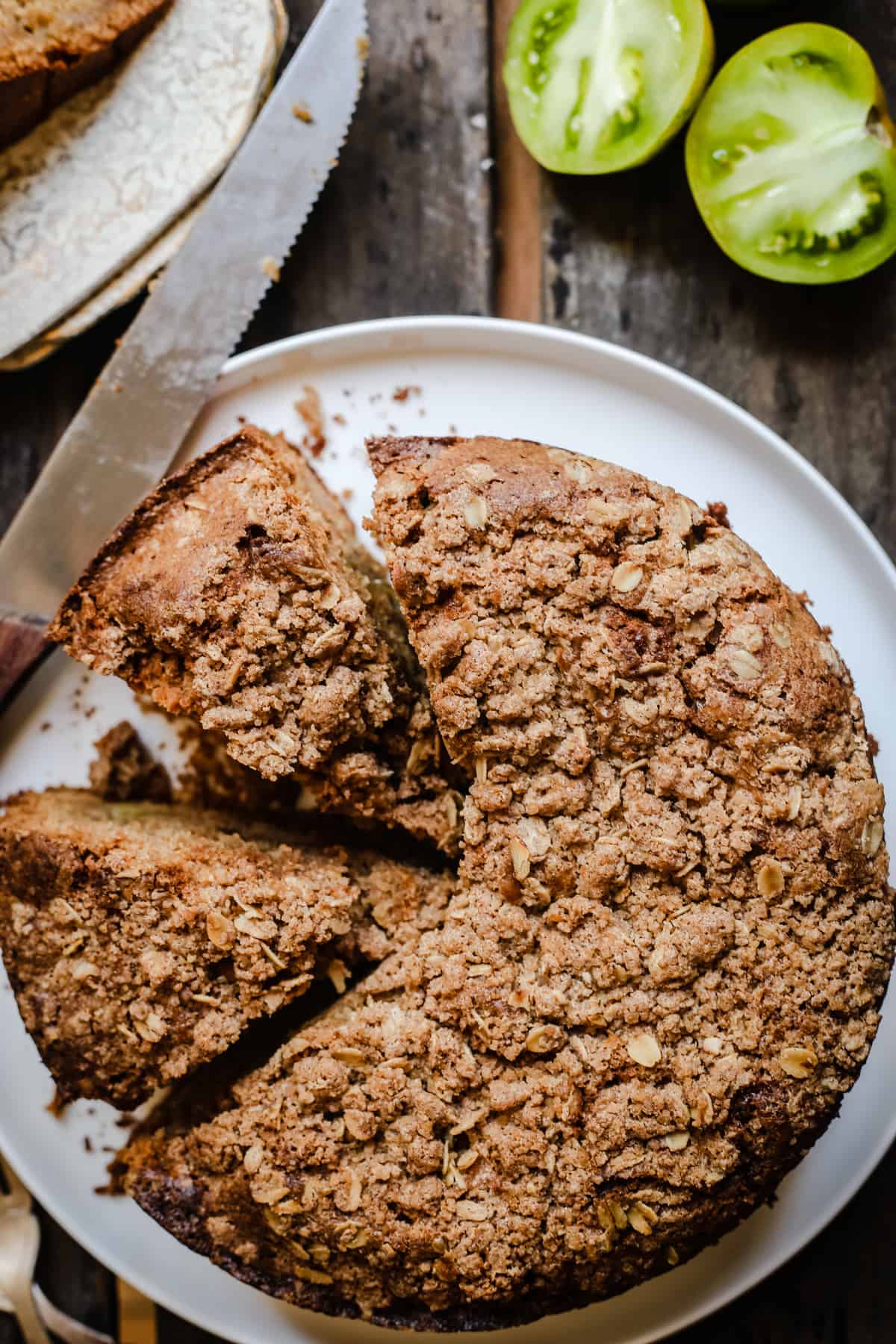 There wasn't a huge amount of recipes for green tomato cake online but those that were all emanated from the southern states of America which is understandable since they are the guys that brought us the sublime fried green tomatoes and seem to understand this ingredient better than most.
It does seem that the cake is treated much like any vegetable cake with plenty of sugar, oil instead of butter and spicing aplenty. I took my Autumn theme a bit more seriously though and dotted diced stem ginger throughout, and topped the cake with a sweetly buttered crunchy streusel crown.
The streusel topping turned out to be a wonderful adornment, making the cake taste almost like a deliciously moist fruit crumble. The pockets of juicy tomato are so enticing and add another texture every now and then to the now complex structure of the cake. It's just as well then that the assembling of the cake is so darn simple.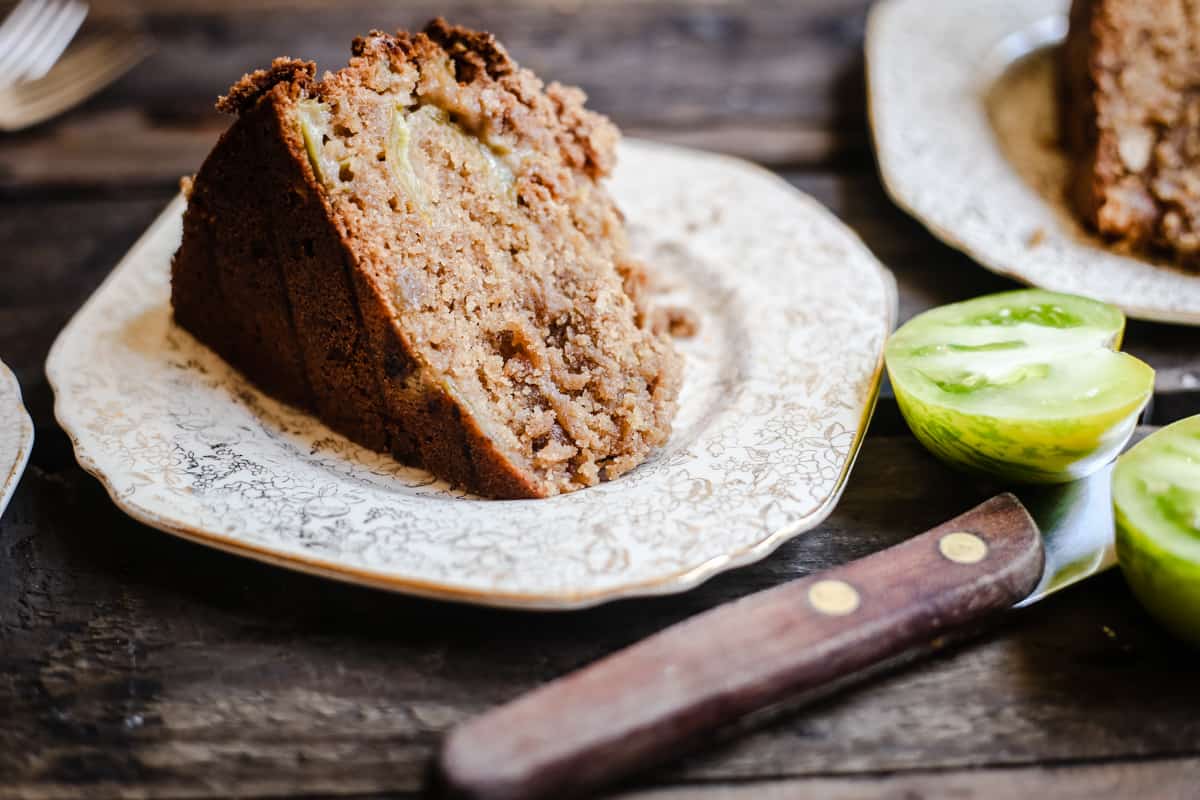 I can't convince you enough to make this cake, vegetables cakes are one of the cornerstones of my cake stall and this Green Tomato and Stem Ginger Cake is one of the best. Make it now whilst the glut of green tomatoes is at its peak.
If you need some more ideas of gluten-free cakes to make this season, then why not try:
Or if you'd like another green tomato recipe then have a look at this game changing Green Tomato Ketchup.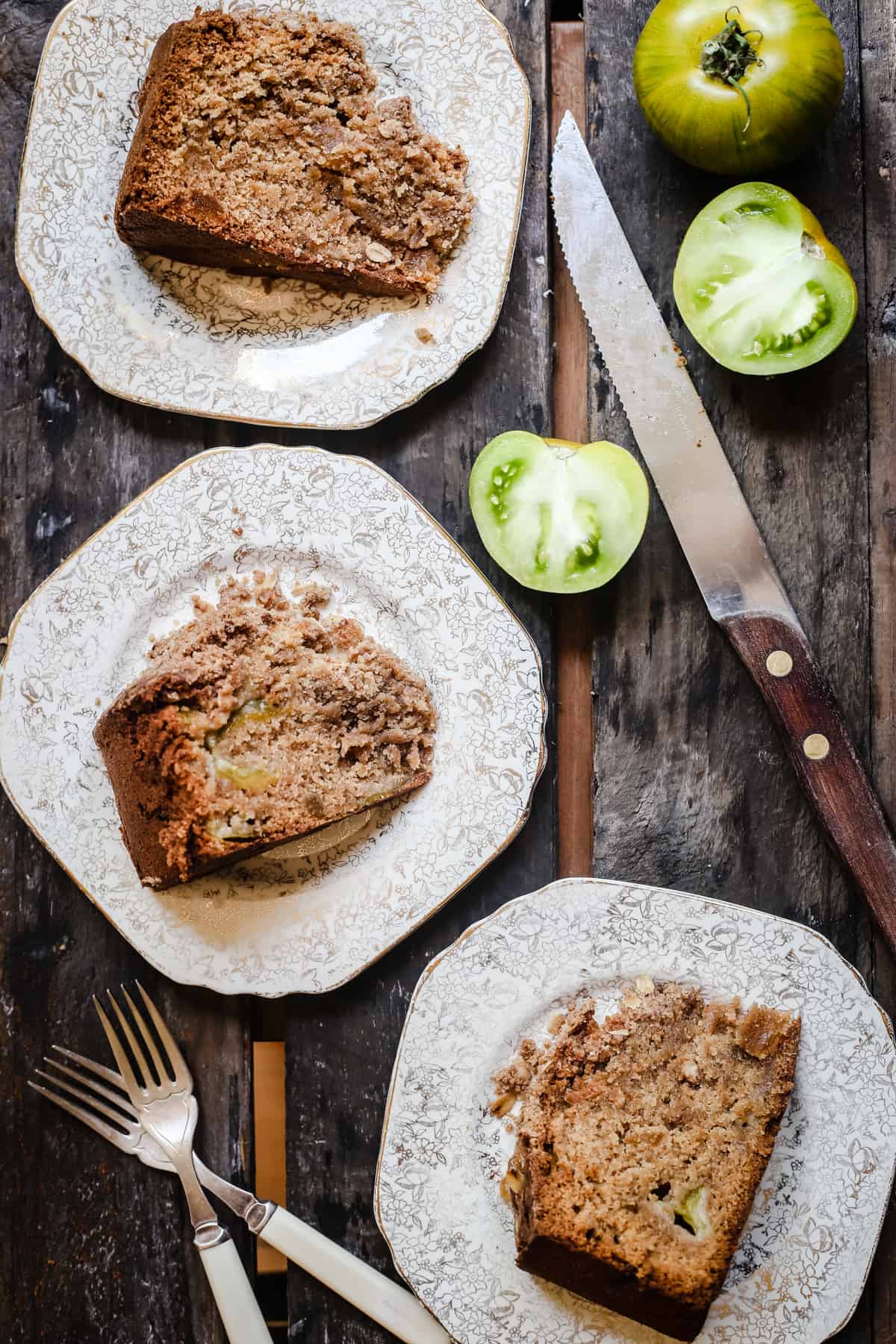 SHOP THE RECIPE
I urge you to give this Green Tomato Cake a try. If you do then please leave a comment below and give the recipe a rating which helps others find the recipe on Google. If you then go on to use this recipe as a launch pad for your own baking creation then I'd also love it if you'd share it and tag me on Instagram. It is so lovely for me to see your versions and variations of my recipes.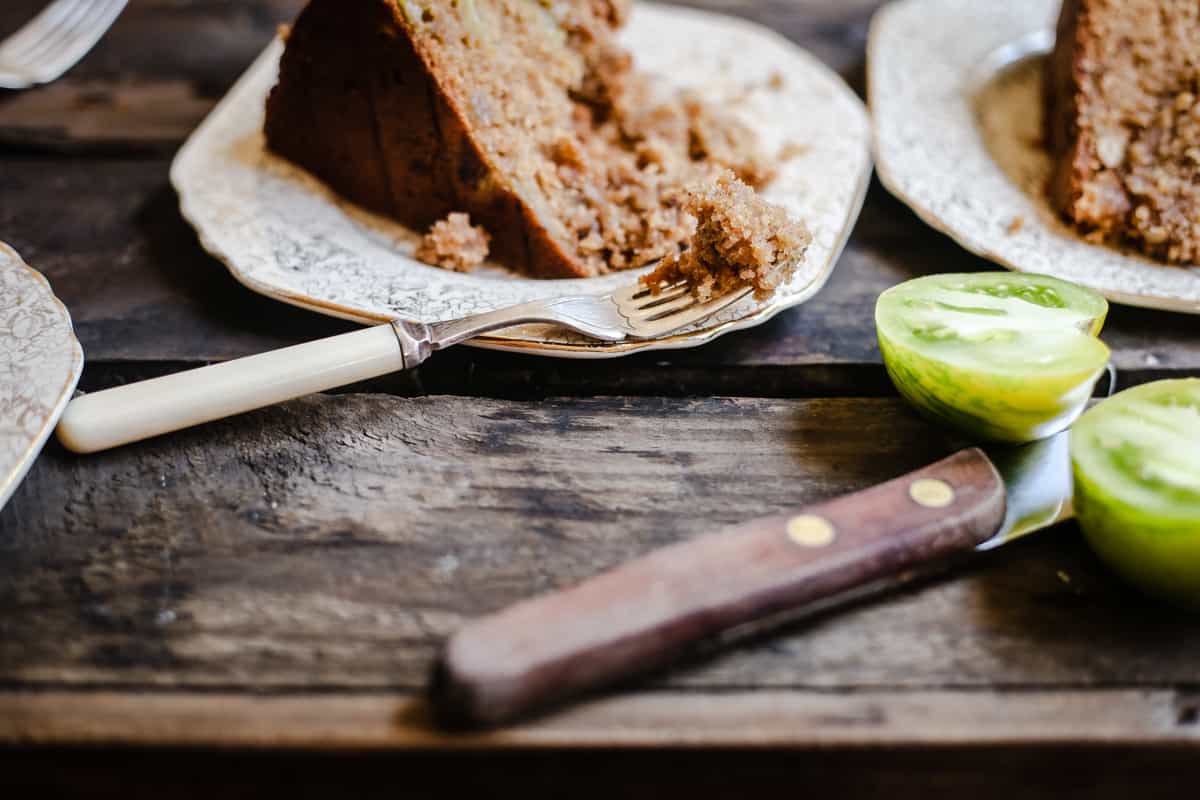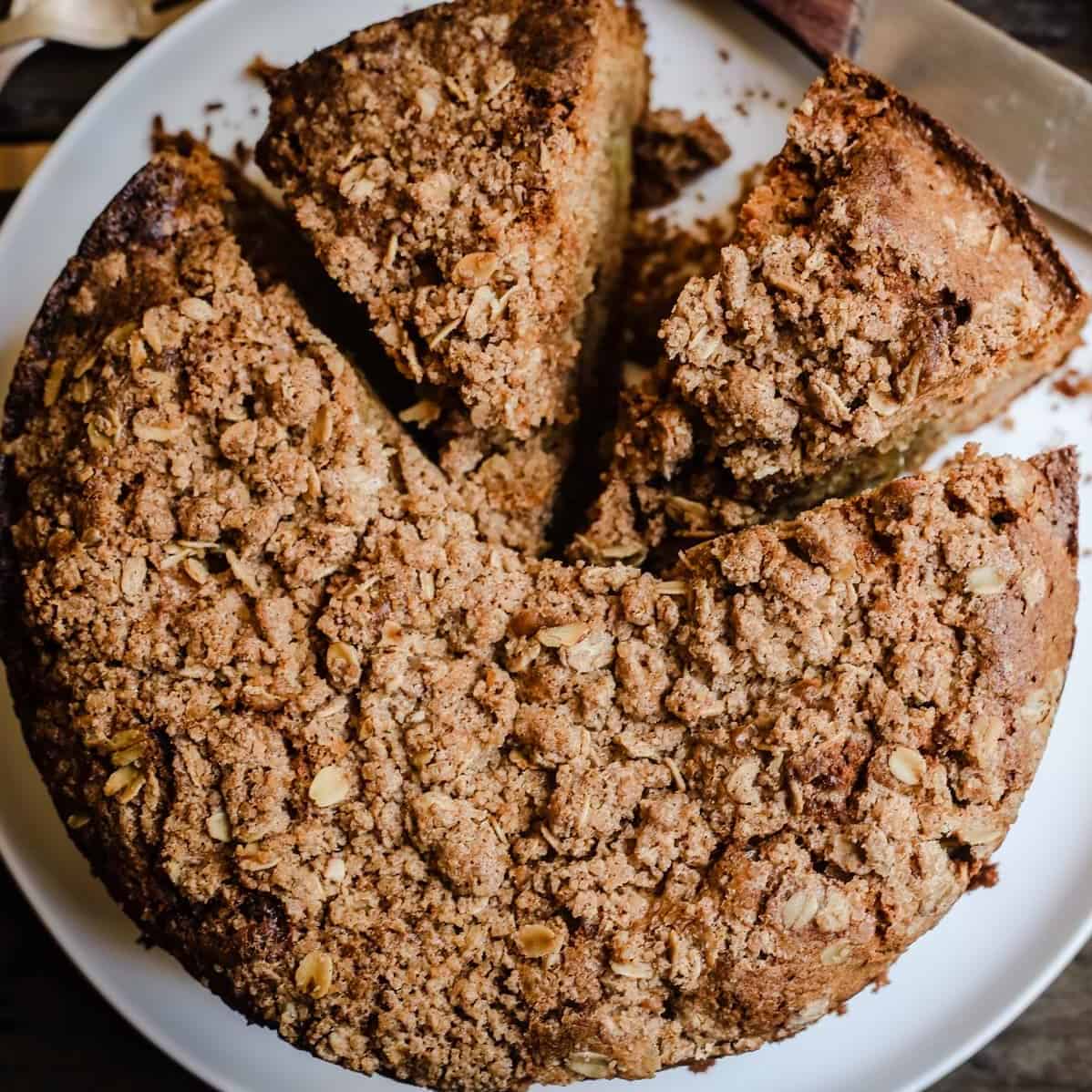 Green Tomato Cake with Stem Ginger and Streusel Topping
Green Tomato Cake with Stem Ginger and Streusel Topping is a revelation if you have never thought to put tomatoes in a cake. This gluten-free version is deeply flavourful and sweetly spiced with a gentle nudge of caramelised ginger.
Ingredients
225

g

caster sugar

225

g

light brown sugar

240

ml

light olive oil

40

ml

stem ginger syrup

3

eggs

2

teaspoons

vanilla extract

170

g

sweet rice flour

170

g

oat flour

35

g

potato starch

1

teaspoon

salt

1

teaspoon

baking powder

1

teaspoon

cinnamon

½

teaspoon

nutmeg

½

teaspoon

ground ginger

350

g

green tomatoes

-

diced

75

g

stem ginger

-

finely diced, about 4 balls
For the streusel topping
20

g

sweet rice flour

20

g

oat flour

85

g

demerara sugar

½

teaspoon

ground cinnamon

50

g

cold butter

2

tablespoons

oats
Instructions
Pre-heat the oven to 160° and line and grease a 20cm deep round cake tin

First make the streusel topping by rubbing together the flours, sugar, cinnamon, butter and oats until the mixture is crumbly, then set aside.

In a large mixing bowl beat together the caster sugar, light brown sugar, olive oil, stem ginger syrup, eggs and vanilla until completely combined.

In a separate bowl sift together the flours, salt, baking powder, cinnamon, nutmeg and ground ginger.

Add the flour to the sugar and egg mixture and beat until well combined.

Stir in the green tomatoes and the stem ginger until evenly distributed then pour into the cake tin.

Sprinkle the streusel topping over the cake mixture.

Place the cake in the oven and bake for about 90-100 minutes until an inserted cocktail stick comes out clean. You might want to check the cake two thirds of the way through its cooking time and cover the top with foil if the streusel topping is getting too brown.

Remove the cake from the oven and leave for 5 minutes in the tin before turning out to finish cooling on a wire rack.
Notes
If you fell in love with the original recipe made with wheat flour and want to continue using that version, then use the same recipe as above but substitute the sweet rice flour, oat flour and potato flour in the cake for 375g plain all-purpose flour, and the sweet rice flour and oat flour in the streusel topping for 40g plain all-purpose flour.
Nutrition
Calories:
475
kcal
Carbohydrates:
65
g
Protein:
4
g
Fat:
22
g
Saturated Fat:
4
g
Cholesterol:
42
mg
Sodium:
218
mg
Potassium:
230
mg
Fiber:
1
g
Sugar:
40
g
Vitamin A:
300
IU
Vitamin C:
6.2
mg
Calcium:
52
mg
Iron:
1.3
mg
Have you tried this recipe?
Head to the comment section and let me know what you think!