This post contains affiliate links. Please read my disclosures.
Spotted Dick is like a time travel machine in food form, designed to send you right back to your nursery days. A glorious traditional suet pudding studded with currants, mixed peel and spices, designed to warm you from the inside out.
This week has not been one of my favourites. The whole house has been suffering with the most horrendous cold. So far, I've been housebound for nearly seven days and I've got severe cabin fever. As the outside world looks like a treacherous winter wonderland with snow blizzards lashing at our windows I can't believe I am longing to be outside. Weather like this in London just doesn't happen, it's been snowing for almost three days straight and I'm so keen to wrap up in multi layers of knitwear, plonk Cole in his snowsuit, grab Billy Buddy's lead and head to Parkland Walk which is the disused railway walk right by our house and always looks so beautiful in this snow capped weather.
But instead I'm lying down on the bed watching the snow fall through the window, when I'm not consumed by a major coughing jag which seems to rip my body in half (The baby seriously does not like it when I cough and has been getting his own back by zapping me with searing Braxton Hicks contractions). I've also been watching an obscene amount of Paw Patrol on the sofa with Cole who is suffering with this cold just as badly, minus the pregnancy pains but plus a sky-high fever which I'm constantly battling to manage 24/7. Thank goodness for my mum who was able to come up for a few days to lend a hand to our fallen household.
So I'm basically being a miserable so-and-so and to top it all off I got the unenviable news from my midwife at the beginning of the week that the baby is growing at an unprecedented rate and as such they are testing me for gestational diabetes. To counteract this ungracious news I have had to swear myself off sugar until I get the all clear. Giving up sugar is no fun at the best of times, giving up sugar when you are exhausted from spending all night long comforting a mewling toddler and 8 months pregnant is even worse. Coupled with the reality that playing with sugar is my job so I'm having to rethink a few recipes when my brain is like soup. Plus there's the fact that goddammit I just want a Galaxy Ripple but having to make do with an oatcake. It's really not the same. So not only am I ill, heavy with baby, tired and looking after a sick toddler but even sugar has forsaken me. I'm feeling a bit sorry for myself, can you tell?
I am hoping that the gestational diabetes test is negative but I have a feeling that I won't get the results until the baby is pretty much here anyway so I'm looking at a sugar-free existence for the rest of the pregnancy. Luckily I was getting ahead of myself for a few of these posts and this indulgently delicious Gluten-Free Spotted Dick was a masterpiece from a couple of weeks back.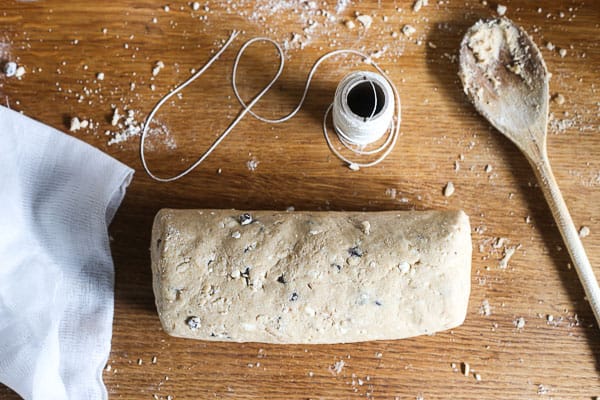 Do you know about Spotted Dick? Have you guffawed at its absurd name – gosh those British fools really know how to name wrestle with innuendo. The bemusing moniker is really an ancient term meaning spotted dough, not nearly as memorable I think you'll find. The spotted part refers to the currants which are dotted throughout the pudding, along with mixed peel and spices. It's a much easier pudding to make then you think as the dough quickly comes together and then is wrapped in a double layer of muslin and foil and boiled for a couple of hours.
Spotted Dick is a really traditional British 'nursery' pudding. Basically one of those charming relics of childhood which is more often found these days in staid British restaurants and gentleman's clubs. Most of us though know of it from school dinners, hence the term 'nursery pudding.' It has a horrid reputation as a great stodge of a pudding but really it doesn't have to be. It's tremendously comforting, a perfect accompaniment to Snow Day and this gluten-free version is especially heart-warming. It's traditionally made with suet but I find by using fresh beef suet (which you should ask your butcher for) instead of the shop bought stuff really lightens the finished result. The pudding must really be eaten steaming hot with copious amounts of custard. I wouldn't even bother advocating making your own custard here as Bird's Custard will really seal the nostalgia deal.
I have to say I can't wait to get better, cast off the aspersions of gestational diabetes and fall headlong back into a great big bowl of Spotted Dick and custard. It's what's keeping me going.
Gluten-Free Spotted Dick
Spotted Dick is a glorious traditional suet pudding studded with currants, mixed peel and spices, designed to warm you from the inside out.
Ingredients
125

g

currants

3

tablespoons

rum

-

or whisky or brandy

140

g

sweet rice flour

120

g

oat flour

100

g

almond flour

2

teaspoons

baking powder

¼

teaspoon

sea salt

180

g

fresh beef suet

125

g

soft brown sugar

40

g

mixed peel

¼

teaspoon

ground cinnamon

¼

teaspoon

ground nutmeg

225-250

ml

whole milk
Instructions
First place the currants in a small bowl and spoon over the rum, leaving them to soak for at least an hour.

Sift the flours, baking powder and sea salt into a large bowl.

Then stir in the suet, sugar, soaked currants (without the excess liquid), mixed peel and spices.

Pour in just enough milk to make soft dough, mixing together with your hands.

Shape the dough into a thick log and loosely wrap in muslin or cheesecloth, securing the ends with string.

Then wrap in foil.

Place the Spotted Dick in a large saucepan, pour boiling water all around the spotted dick until it has submerged and bring up to a boil. Turn the heat down to simmer, put the lid on and leave to cook for two hours.

Remove the Spotted Dick carefully from the water and serve immediately with lashings of custard.
Nutrition
Calories:
538
kcal
Carbohydrates:
59
g
Protein:
7
g
Fat:
29
g
Saturated Fat:
13
g
Cholesterol:
18
mg
Sodium:
100
mg
Potassium:
367
mg
Fiber:
3
g
Sugar:
31
g
Vitamin A:
55
IU
Vitamin C:
0.7
mg
Calcium:
138
mg
Iron:
1.9
mg
Have you tried this recipe?
Head to the comment section and let me know what you think!