This post contains affiliate links. Please read my disclosures.
This Vanilla Almond Cake is a light fluffy bundt cake, bursting with flavour and drizzled with a tangy lemon curd glaze.
Technically I have recovered from the terrible cold/flu that I have had for the past two weeks but it has left me a complete wreck. Prior to that I was honestly answering that I was feeling great towards the end of this pregnancy. I was still able to walk a decent amount and look after Cole as normal, despite him being always exuberant to the extreme.
However, now is a different story. Just two weeks of limited exercise due to feeling awful has seriously affected how much I can do now. The baby has grown an astronomical amount and my mobility is suffering, not to mention there is zero room in my body for food so my energy levels are non-existent.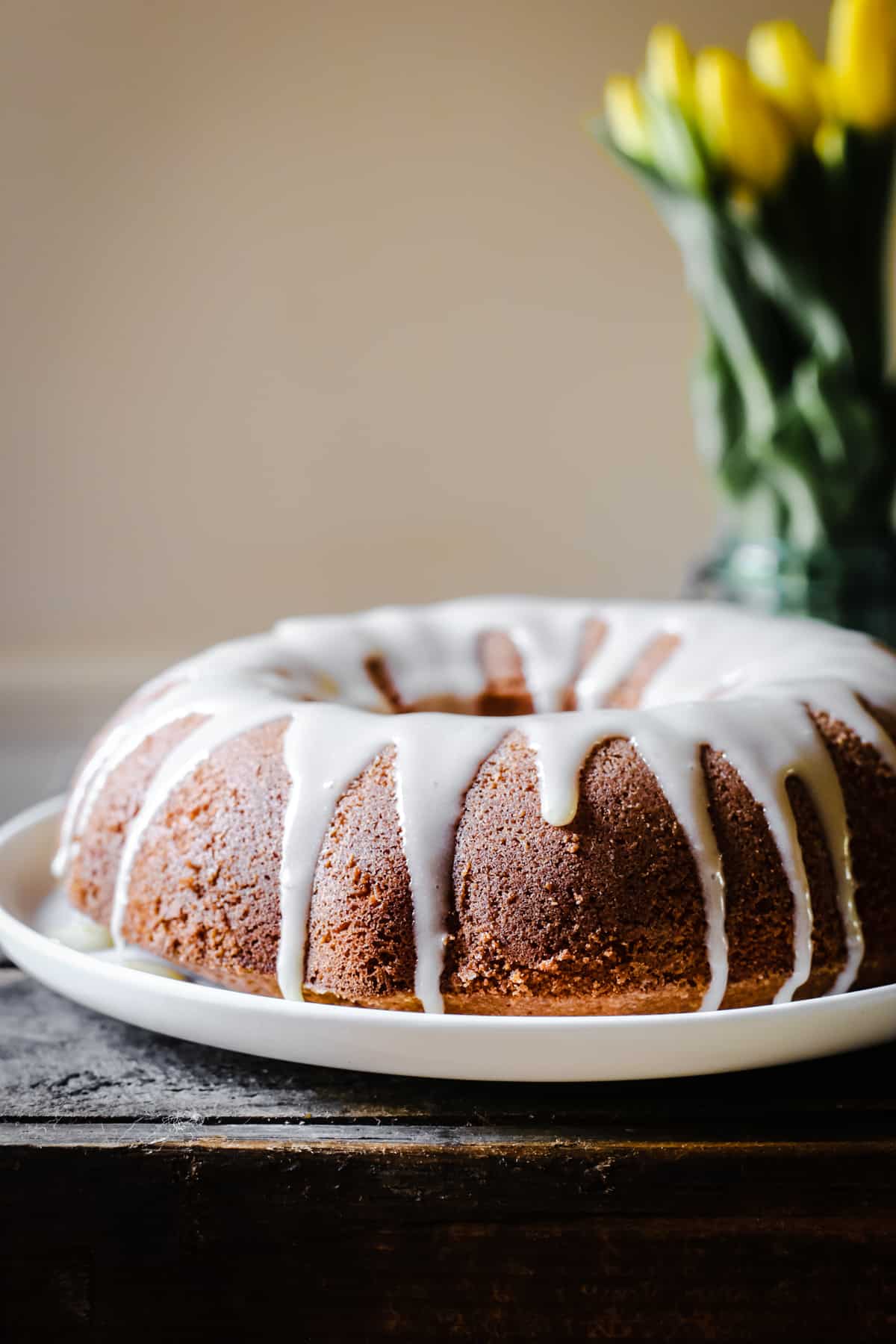 Now is the time that I need to take it easy and I've no choice but to slow down. I will aim to get a blog post out each week but do forgive me if I can't manage it. Having been blogging my recipes for nearly five years now it always surprises me how I haven't learnt to speed up my process, even the simplest recipes take me an age to prepare, photograph and write about.
I love every minute of it but just standing at the kitchen counter making a cup of tea seems to rob me of any energy for the next hour so doing anything more adventurous is a battle.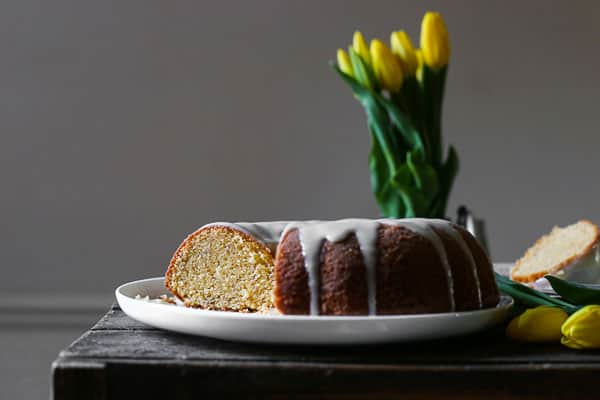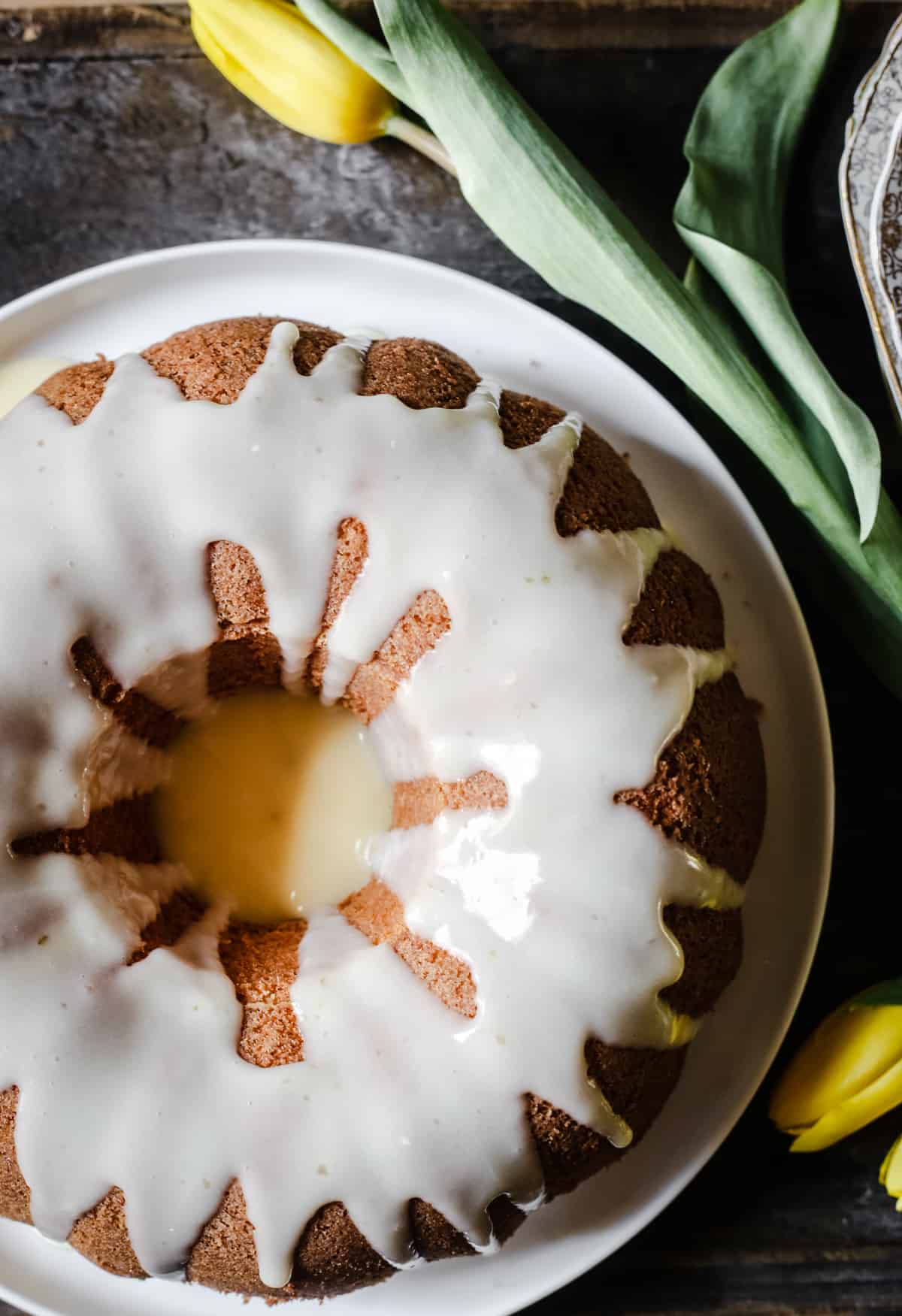 This Vanilla Almond Cake was borne out of a desire to bake something simple and delicious for Mother's Day this weekend. My mum, like me actually, prefers a more homely bake rather than the bells and whistles of a buttercreamed layer cake and so this cake I have developed with very much our own tastes in mind.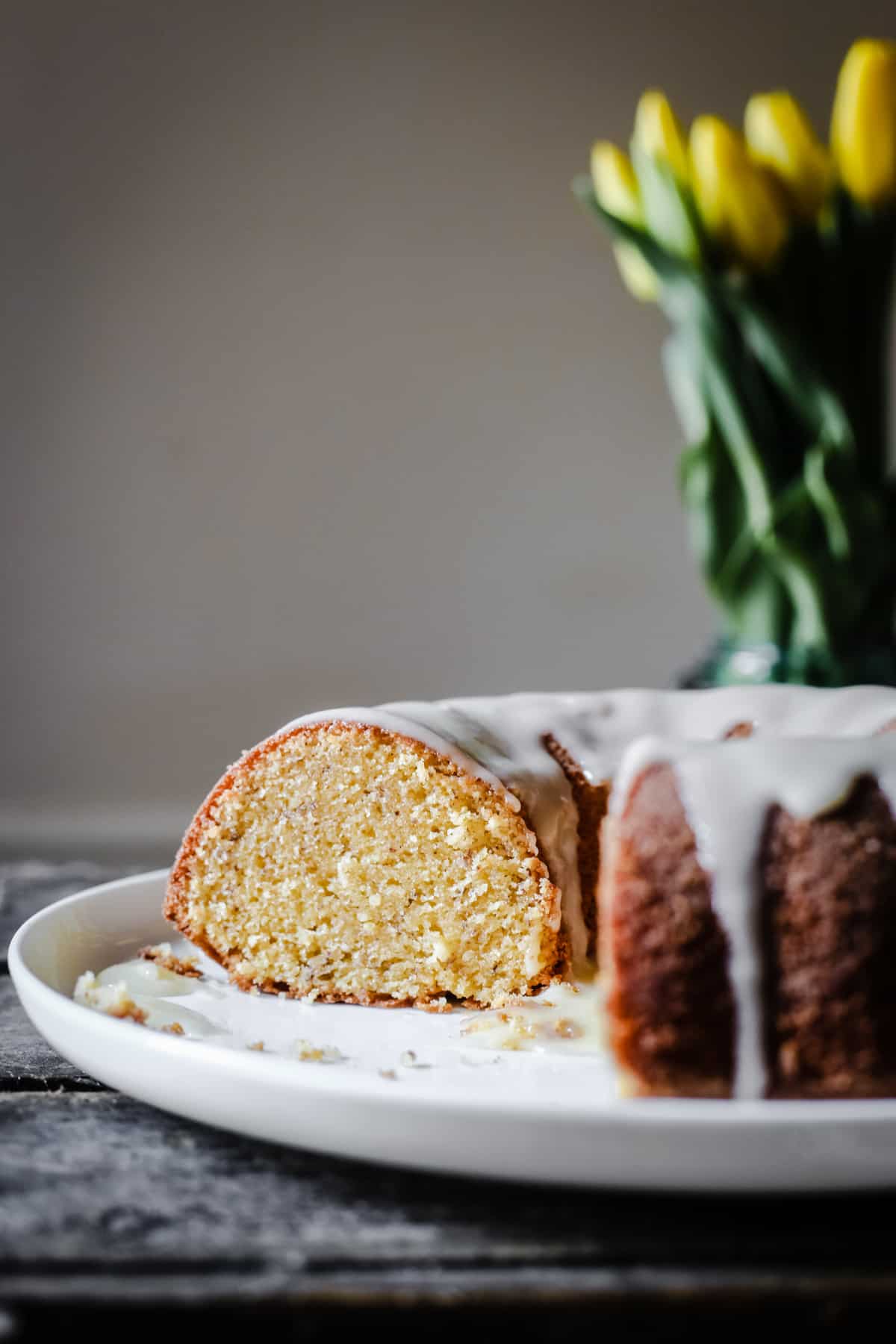 I absolutely love this cake and is definitely the one I would choose someone to bake for me.
The sponge is fluffy and flavourful with ground almonds, vanilla extract and almond extract and the ingredients easy to get hold of. For this cake I just used a gluten-free flour blend (Doves Farm Gluten-Free Plain White Flour) instead of any fancy combos so it's a really accessible recipe if you only want to make a quick trip to the supermarket.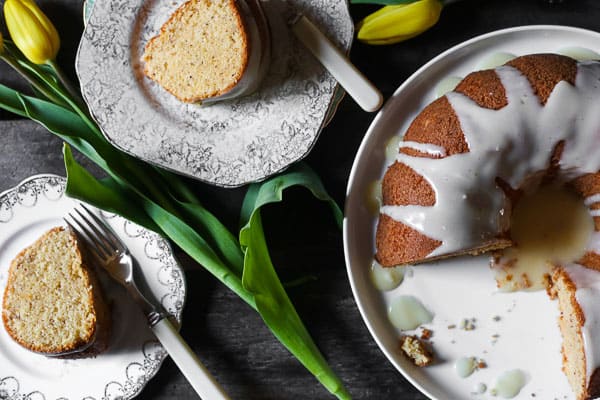 I love lemon curd and would happily smother it over anything but it pairs particularly well in this icing drizzled over the top of the cake.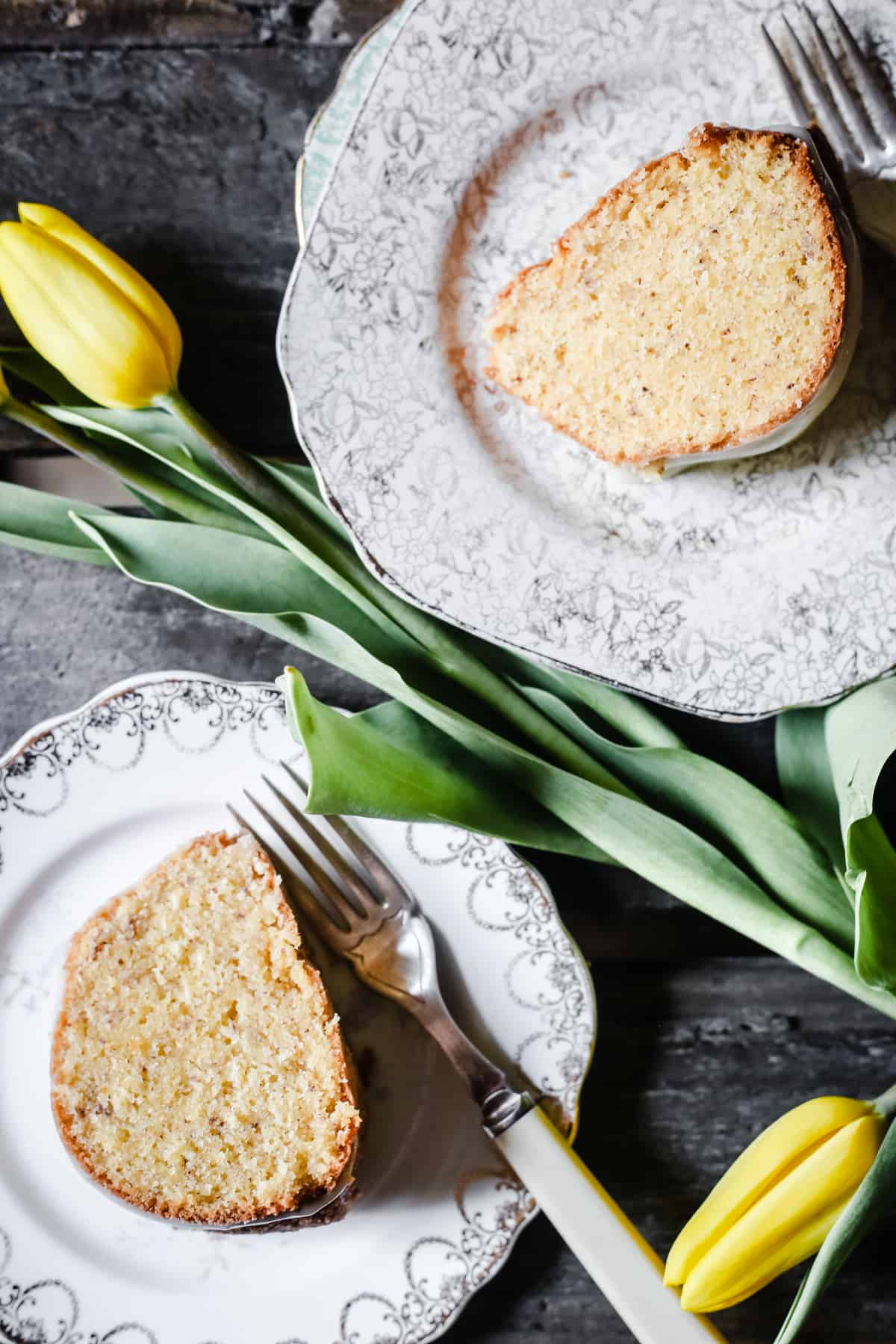 So if you want to bake something nice for mum (or for yourself) this weekend may I humbly suggest this Vanilla Almond Cake with Lemon Curd Glaze, it's a simple cake but such a treat. All you need is your feet up and a cup of tea in hand to enjoy.
SHOP THE RECIPE >>> 10" Bundt Tin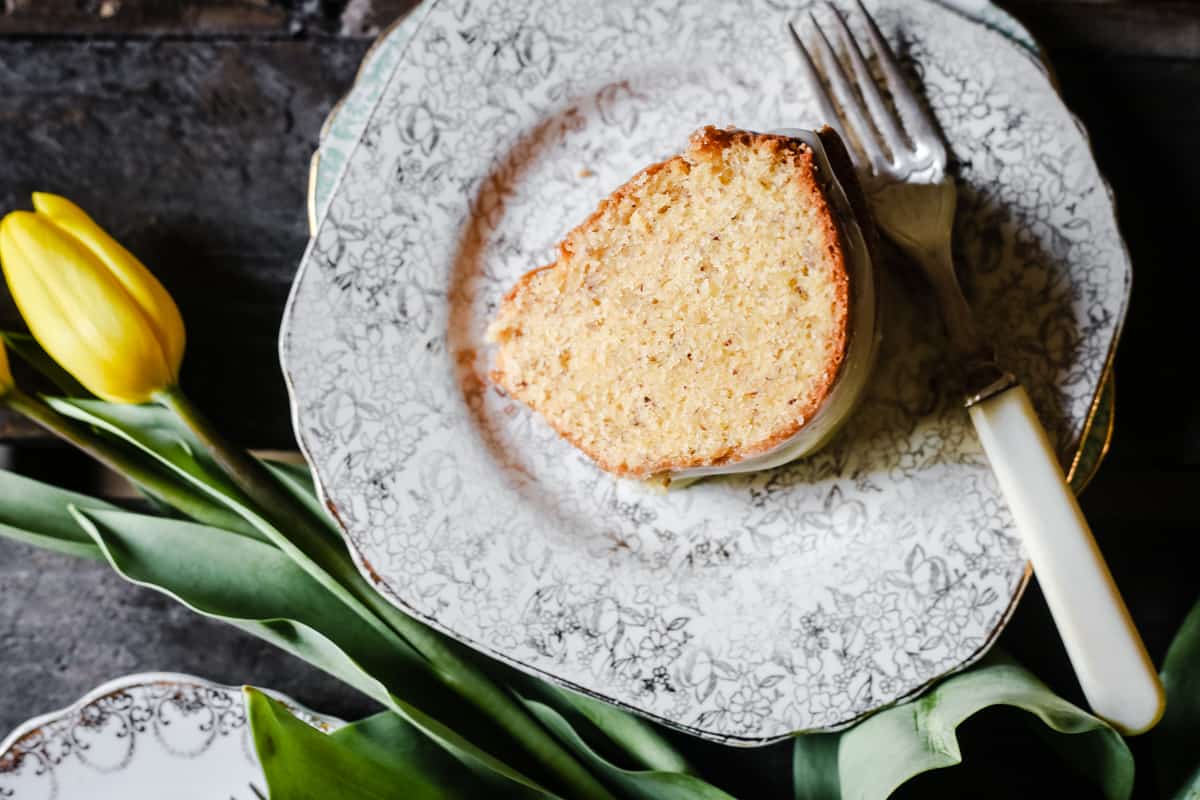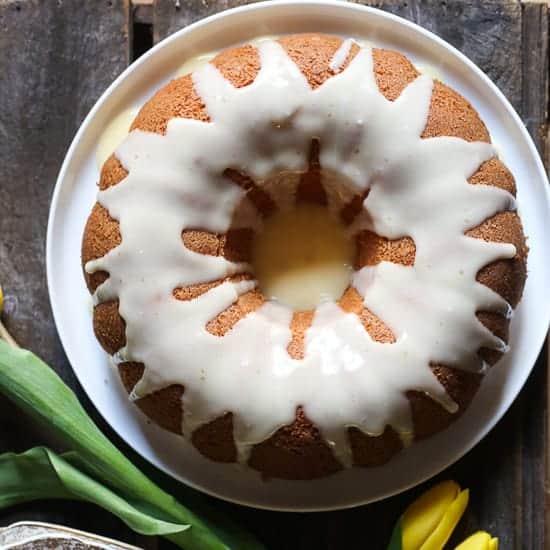 Vanilla Almond Cake with Lemon Curd Glaze
This Vanilla Almond Cake is a light fluffy bundt cake, bursting with flavour and drizzled with a tangy lemon curd glaze.
Ingredients
320

g

caster sugar

240

g

unsalted butter

-

room temperature

6

eggs

1

teaspoon

vanilla extract

½

teaspoon

almond extract

180

g

gluten-free plain flour

180

g

ground almonds

1½

teaspoons

baking powder

½

teaspoon

salt

75

g

sour cream
Lemon Curd Glaze
100

g

icing sugar

25

ml

whole milk

75

g

lemon curd
Instructions
Pre-heat the oven to 160°C then grease and lightly dust a 10 inch bundt tin with a tablespoon of gluten-free flour.

Beat the sugar with the butter until light and fluffy.

Add the eggs one at a time, mixing well between additions.

Add the vanilla and almond extracts.

In a separate bowl whisk together the flour, ground almonds, baking powder and salt then beat half into the rest of the ingredients.

Mix in the sour cream until smooth then add the rest of the flour mixture and beat until completely combined.

Pour the cake batter into the bundt tin and then place in the oven.

Bake for 50 minutes, then remove from the oven, run a palette knife between the cake and the bundt tin, then carefully invert onto a wire rack and cool completely before glazing.
Lemon Curd Glaze
Beat the icing sugar, whole milk and lemon curd together until completely combined then drizzle over the cooled cake.
Nutrition
Calories:
475
kcal
Carbohydrates:
52
g
Protein:
7
g
Fat:
28
g
Saturated Fat:
12
g
Cholesterol:
128
mg
Sodium:
155
mg
Potassium:
94
mg
Fiber:
2
g
Sugar:
39
g
Vitamin A:
660
IU
Calcium:
88
mg
Iron:
1.5
mg
Have you tried this recipe?
Head to the comment section and let me know what you think!