This post contains affiliate links. Please read my disclosures.
This Gluten-Free Pumpkin Bread made with alternative flours and without xanthan gum is the most moist and delicious pumpkin bread you will eat this Autumn. Nutty with brown butter and encrusted with cinnamon sweetened pumpkin seeds for crunch, the alternative flours used not only make it gluten-free but deepen the flavour and give it a slight chew which is incredibly addictive. It's also easy to make using a couple of mixing bowls and a wooden spoon for company.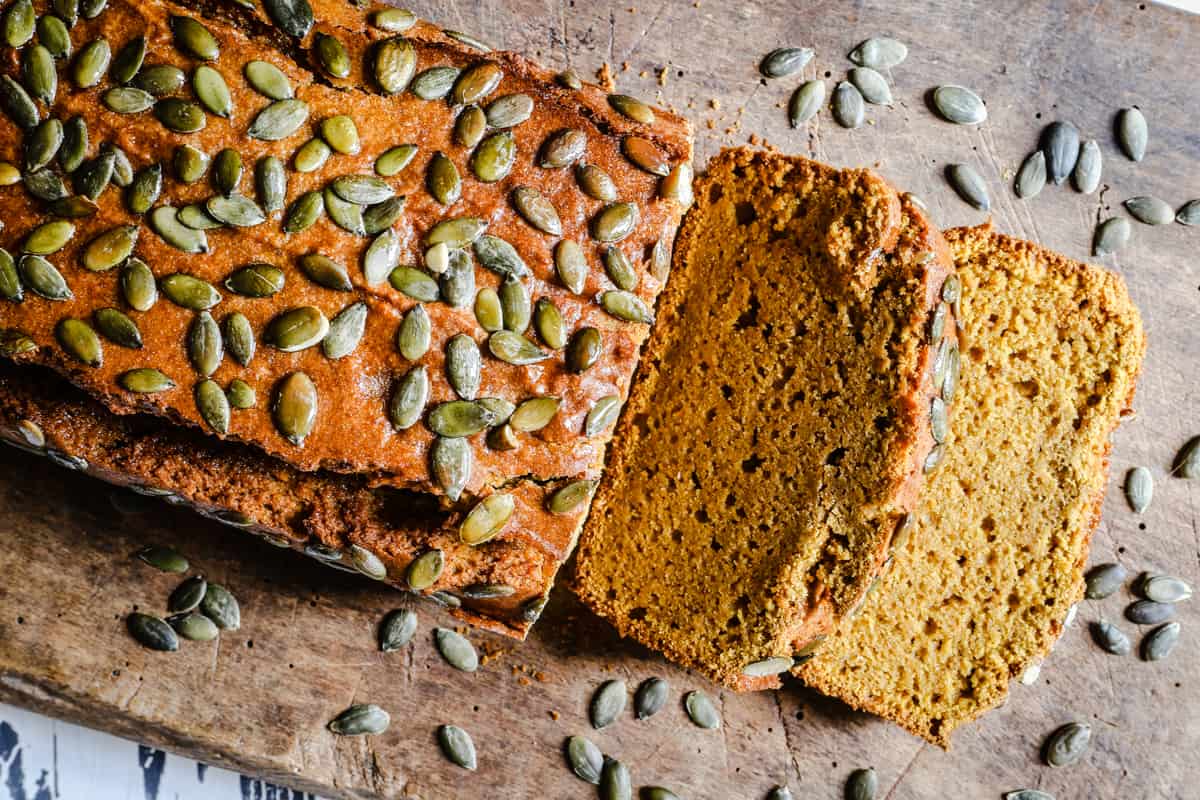 You may begin to notice a bit of a difference in this blog and also my cake stall if you are planning on visiting me in the near future. Lately I have been completely converted to gluten-free baking. I feel it's too early days to say whether the switch will be permanent but I'm finding working with alternative flours so exciting at the moment that I'm forging ahead with gusto.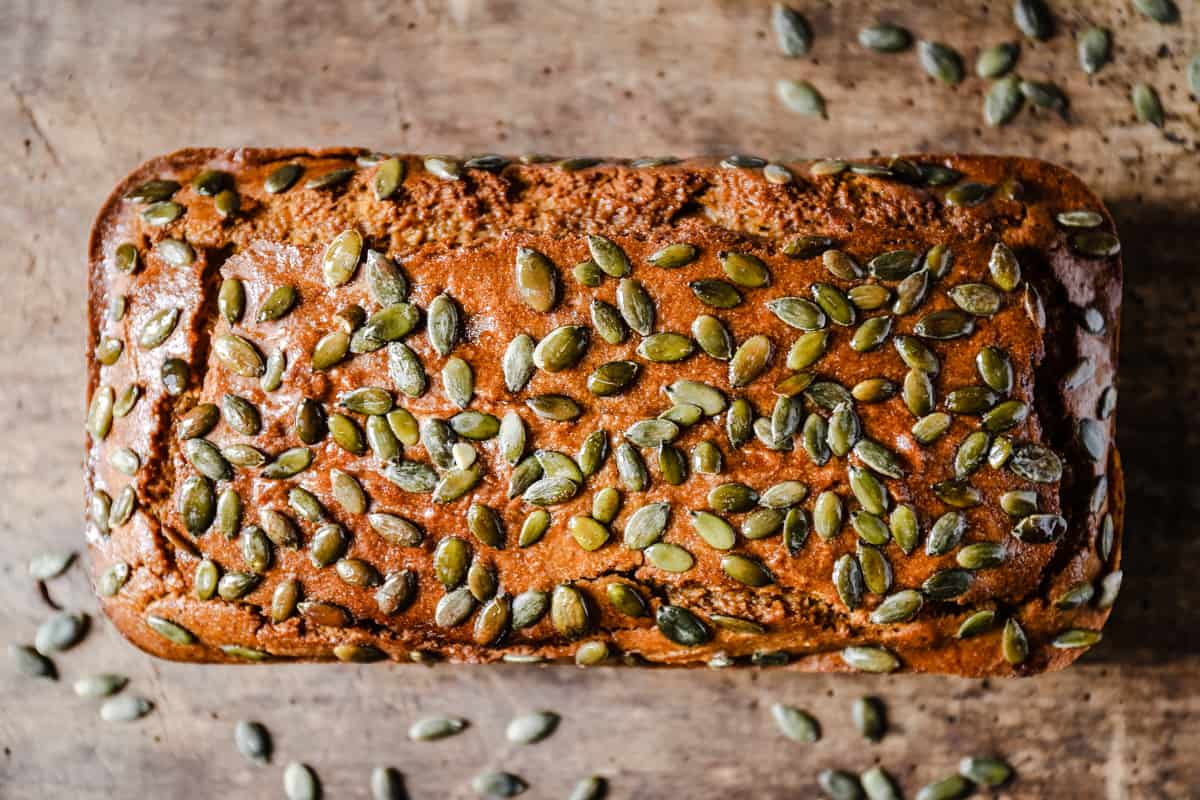 I have spoken on my blog ad naseum about my relationship with gluten-free eating but I'll just mention again, ignoring the groans, how it really helped my well-being, tiredness, bloating and daily nausea back when I changed my eating habits. However, this has been a contradiction to how I have always baked. I love to bake, I have great feedback from my cakes and indeed earn money from them. Even though about a quarter of my cake stall has always been gluten-free, I have been reluctant to convert to a 100% gluten-free business, knowing I would be leaving behind beloved recipes and perhaps alienating my customer base.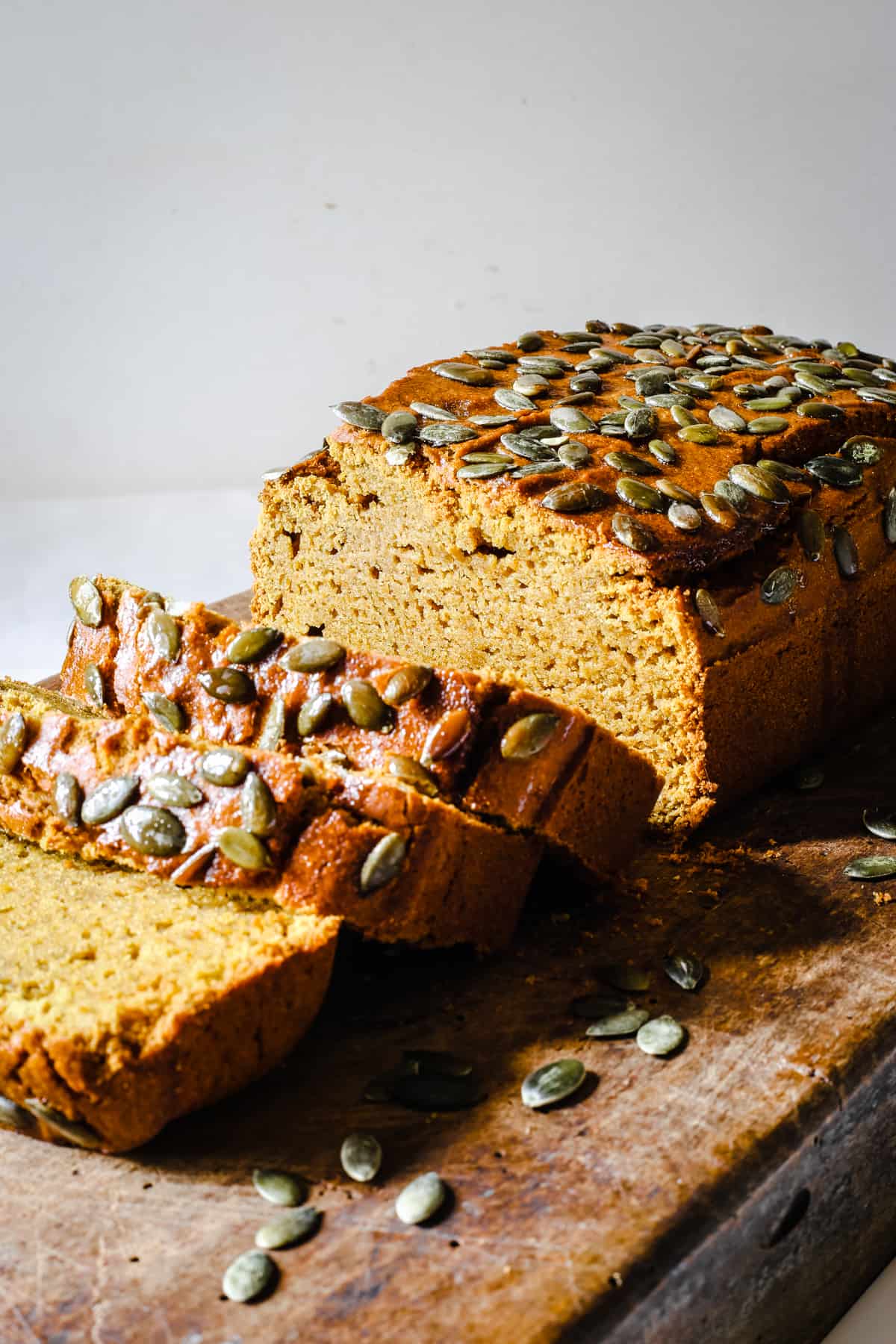 However, my baking indulgences have been veering more and more towards the use of alternative flours. I don't mean the gluten-free all-purpose blends you can buy, which I certainly don't sniff at as they are in constant use in my kitchen and used in several of my cakes. However, I think to rely on just that blend is reductive to the possibilities of gluten-free baking. I have been reading about, playing with and doing a great amount of tasting recently and have been astounded by the sheer variety of flours out there which all behave and taste utterly different.
A comment which really resonated with me came in the introduction to Alanna Taylor-Tobin's Alternative Baker
where she talks about a conversation she had with her husband over a wheat flour cupcake. It wasn't the gluten they had the issue with but the blandness of it. It's true, baking with these Flavor Flours
 as Alice Medrich terms them in her book of the same name adds further interest to the bake and by choosing complimentary flours in your recipe you can really add resonance to the flavour.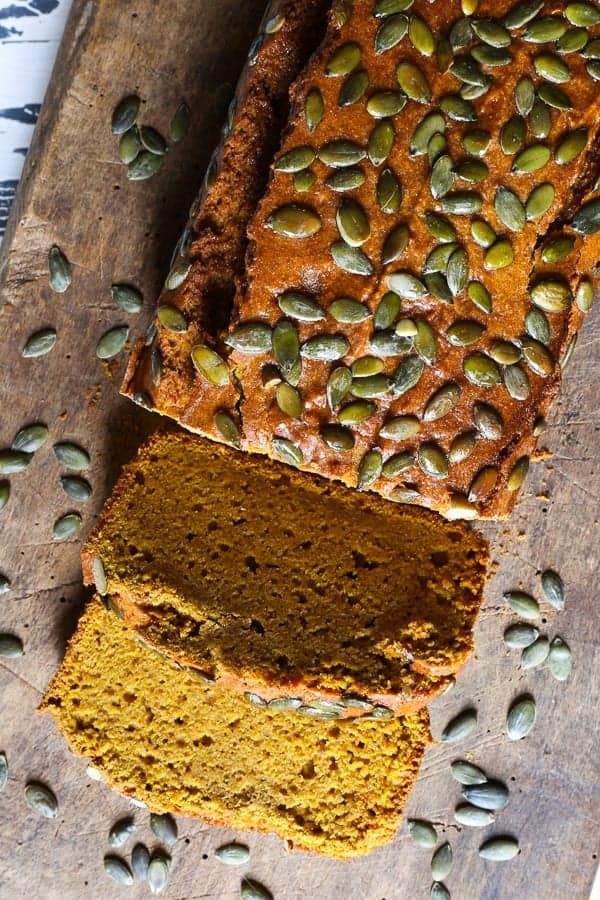 Now, not all of these flours are not readily available in your local supermarket, although times are a-changing, but they are easy to get hold of if you have no problem with ordering off Amazon, or you have an Asian supermarket or a particularly on the button health food shop nearby. The flours individually are not too much more expensive that regular old plain flour but since you will be buying more than one and you will probably have to add delivery on top of that cost then this way of baking doesn't come cheap. However, cake is a treat so do think of it like that if you are balking at the investment, plus since you will only be dipping into each bag these flours will be good for several cakes. And the results are so worth it, it almost goes without saying.
The ones I have chosen to help me out with my gluten-free pumpkin bread are:
Sweet Rice Flour
Also called glutinous rice flour, it doesn't contain gluten and is not the same as ordinary white rice flour. It helps to bind the other flours together, adding moisture and a slight chew to the bake.
Sorghum Flour
This flour is bursting with an earthy nutty flavour. It has a great wholegrain texture which sits perfectly with the pumpkin and spices.
Millet Flour
I have used the millet flour here for bulking out the flour mix. It doesn't have a strong taste so doesn't overwhelm the finished bake.
Potato Starch
This adds lightness to the bake so the finished result doesn't end up stodgy.
You may not have a gluten-free diet, but dismissing these flours as a fad would be a shame since they can add so much to a baking repertoire. Plus, now I've discovered them, you might be seeing a lot more of them on this blog. If you can, I urge you to give this recipe a try, I really hope you notice the difference in this pumpkin bread which is so much more than you could ever think possible rather than just another pumpkin bread recipe.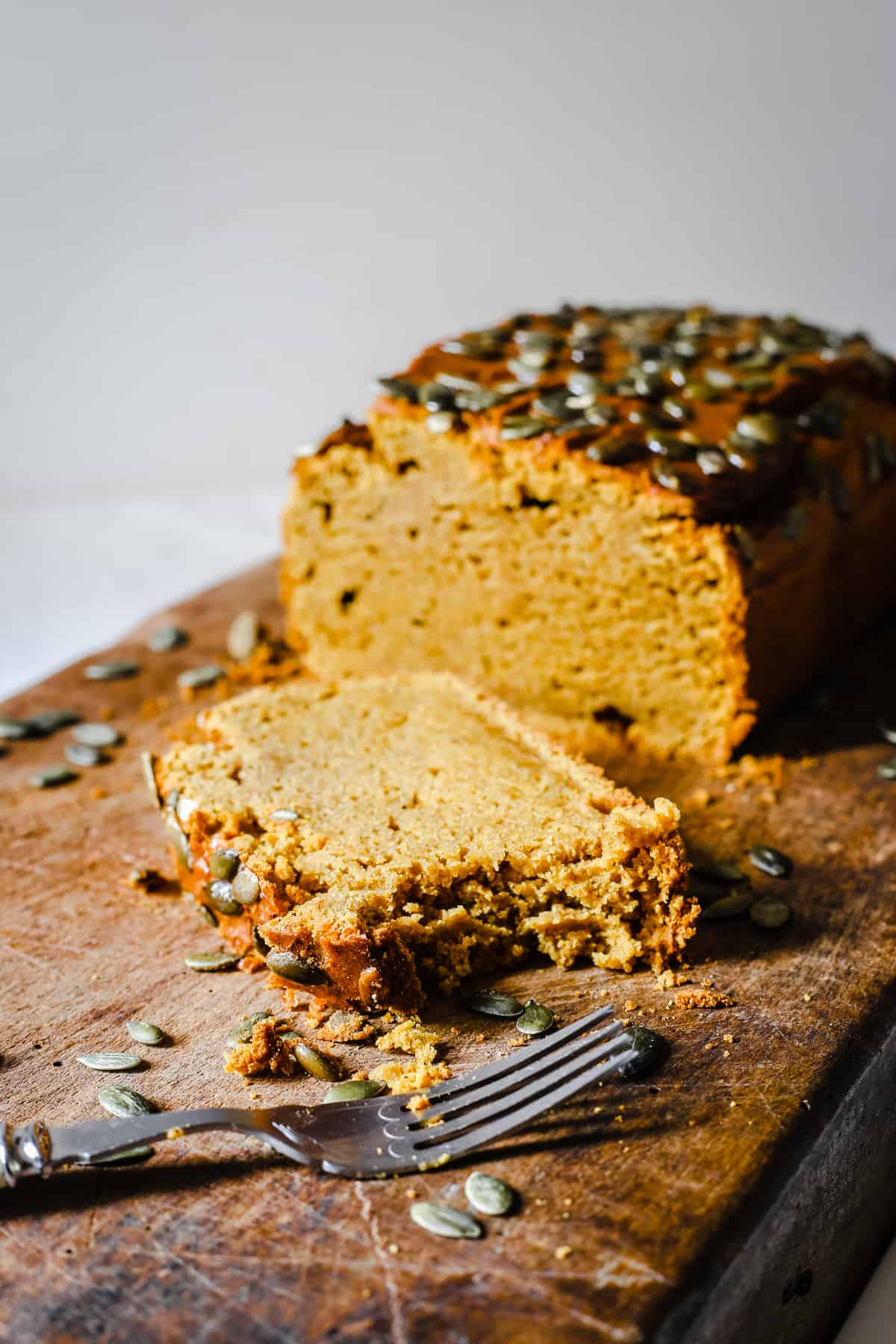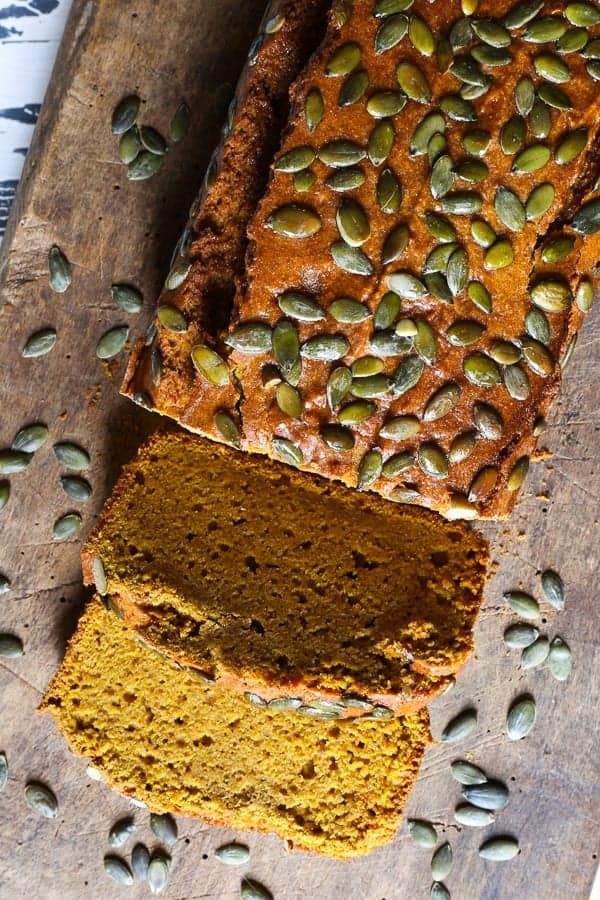 Gluten-Free Pumpkin Bread
This Gluten-Free Pumpkin Bread made with alternative flours and without xanthan gum is the most moist and delicious pumpkin bread you will eat this Autumn.
Ingredients
400

g

pumpkin puree

-

I used tinned

270

g

caster sugar

3

eggs

-

medium

160

g

unsalted butter

125

g

sweet white rice flour

110

g

sorghum flour

100

g

millet flour

65

g

potato starch

3

teaspoons

baking powder

1

teaspoon

bicarbonate of soda

1

teaspoon

ground cinnamon

¼

teaspoon

ground nutmeg

¼

teaspoon

ground ginger

¼

teaspoon

ground allspice

½

teaspoon

salt

30

g

pumpkin seeds

1

tablespoon

caster sugar

1

tablespoon

water

pinch

of cinnamon
Instructions
Pre-heat the oven to 170°C and line and grease a 9 inch loaf tin.

First you want to turn your butter into melted brown butter. Place the butter in a saucepan and heat over a medium flame. The butter will melt. Listen carefully and the butter will start hissing and cracking and forming little brown bits at the bottom of the pan. You want to wait until the noises start to subside, the butter smells toasty and is turning a darker colour. Remove from the heat as soon as it's ready so it doesn't begin to burn.

Pour the butter into a food mixer or large mixing bowl along with the pumpkin puree, sugar and eggs and beat until smooth.

In a separate bowl sift together the flours, baking powder, bicarbonate of soda, spices and salt then add to the rest of the mix. Beat until well mixed.

Pour the batter into the baking tin and scatter the pumpkin seeds evenly over the top.

Bake for 55-60 minutes or until an inserted cocktail stick comes out clean.

Leave the pumpkin bread for 5 minutes to settle in the cake tin, then turn out onto a cooling rack and leave for a moment whilst you prepare the cinnamon syrup.

Pour the caster sugar, water and cinnamon into a small saucepan and turn the heat onto low. When the sugar has melted then turn the heat off and brush the syrup over the top of the pumpkin bread. Leave to cool completely before you slice and serve.
Nutrition
Calories:
421
kcal
Carbohydrates:
64
g
Protein:
6
g
Fat:
17
g
Saturated Fat:
9
g
Cholesterol:
84
mg
Sodium:
254
mg
Potassium:
381
mg
Fiber:
3
g
Sugar:
30
g
Vitamin A:
6695
IU
Vitamin C:
1.9
mg
Calcium:
85
mg
Iron:
2
mg
Have you tried this recipe?
Head to the comment section and let me know what you think!
SHOP THE RECIPE
Reading Alice Medrich's Flavor Flours
was an essential part of my gluten-free baking journey and is full of inspiring recipes using alternative and naturally gluten-free flours. It's pretty much a gluten-free baking bible.
Similarly Alanna Taylor Tobin's Alternative Baker
is the book I often have open on my kitchen counter. Like me, the book eschews xanthan gum and focuses on beautiful recipes which are naturally gluten-free and the book is full of the most stunning food photography. An absolutely inspiring read.
It's not easy to buy certified gluten-free sweet rice flour in the UK, for some reason Bob's Red Mill is astronomically expensive. However I have finally found a brand which is 100% certified gluten-free and it's fantastic. The brand is yourhealthstore Premium Gluten Free Sweet Rice Flour (glutinous) 1kg
Some of the links above are affiliate links so if you decide to buy anything using the links then I will get a small commission from Amazon at no cost to you. To learn more about how the data processing works when using these Amazon affiliate links then please visit my privacy policy page.
If you like this recipe then you may also like:
Gluten-Free Flours: An Introduction
Toasted Marshmallow Spiced Pumpkin Cake {gluten-free}