This post contains affiliate links. Please read my disclosures.
Pumpkin Jam makes the most out of squash season, lusciously smooth, rich with savoury pumpkin notes and scented lightly with vanilla and nutmeg for a comforting Autumn preserve.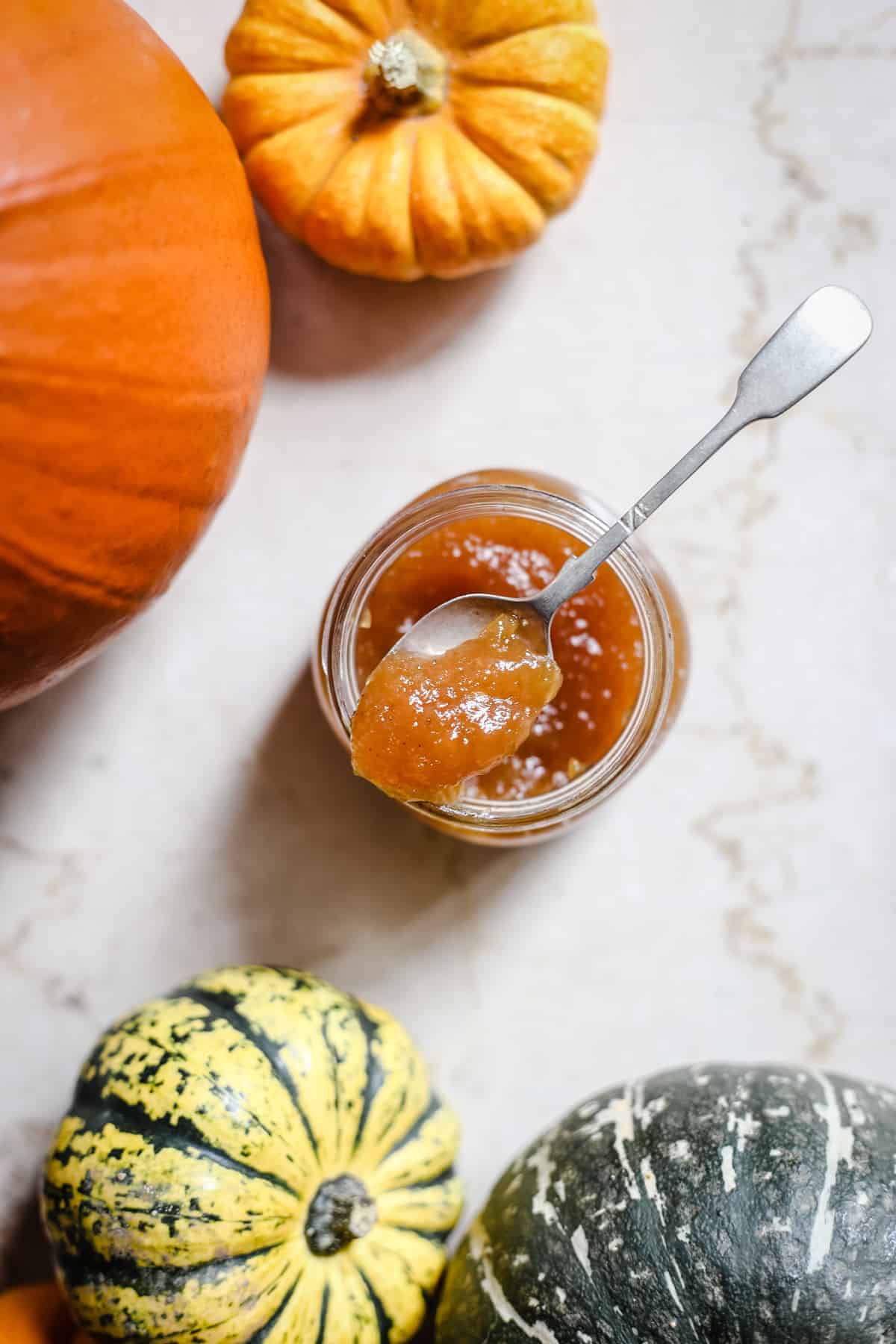 This year, due to being on maternity leave, I have completely taken a break from producing any preserves for the market stall. I return to the market stall next weekend and know I am going to seriously regret this decision as my stall won't look as plump or lively without the mountains of jars interspersed between all the cake. Plus I really love selling the preserves.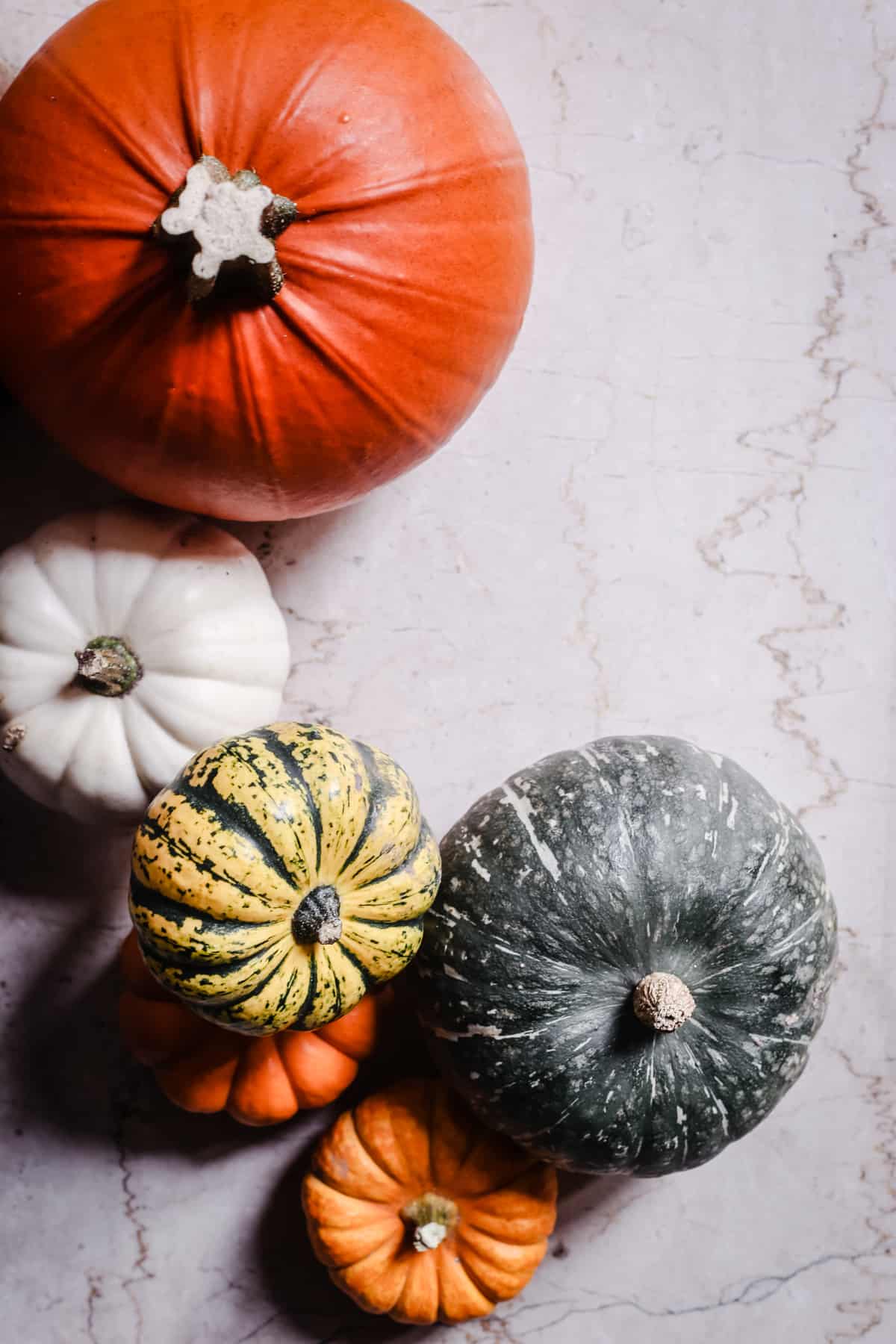 The best part about making the jams, chutneys, ketchups and sauces for the stall is coming up with really fun and unexpected flavours which are always so delicious and fun to talk about with my customers. Plus it's the one area of my business that Luke gets really involved in so it is something we can do together. He is just as passionate as me about the ingredients and loves to help me source them. As a family we adore foraging and a lot of my jams are either made from produce foraged locally in North London or from local producers, usually from our friends at the market. Luke gave me the inspiration to develop this recipe for Pumpkin Jam last year when my jam stock was dwindling. I make my jams in very small batches so once it's gone, it's gone until the next year and with new seasons comes new flavours.
The farmers market at this time of year always has an abundance of pumpkin and mixed squash and as soon as he had given me the idea to look outside the confines of fruit I couldn't wait to try out Autumn's bounty. Obviously the Pumpkin Jam was hugely successful or I wouldn't be sharing the recipe with you today. It's one of the few preserves that I have made for personal use this year as I just couldn't let squash season pass us by without a few jars of Pumpkin Jam to keep us going.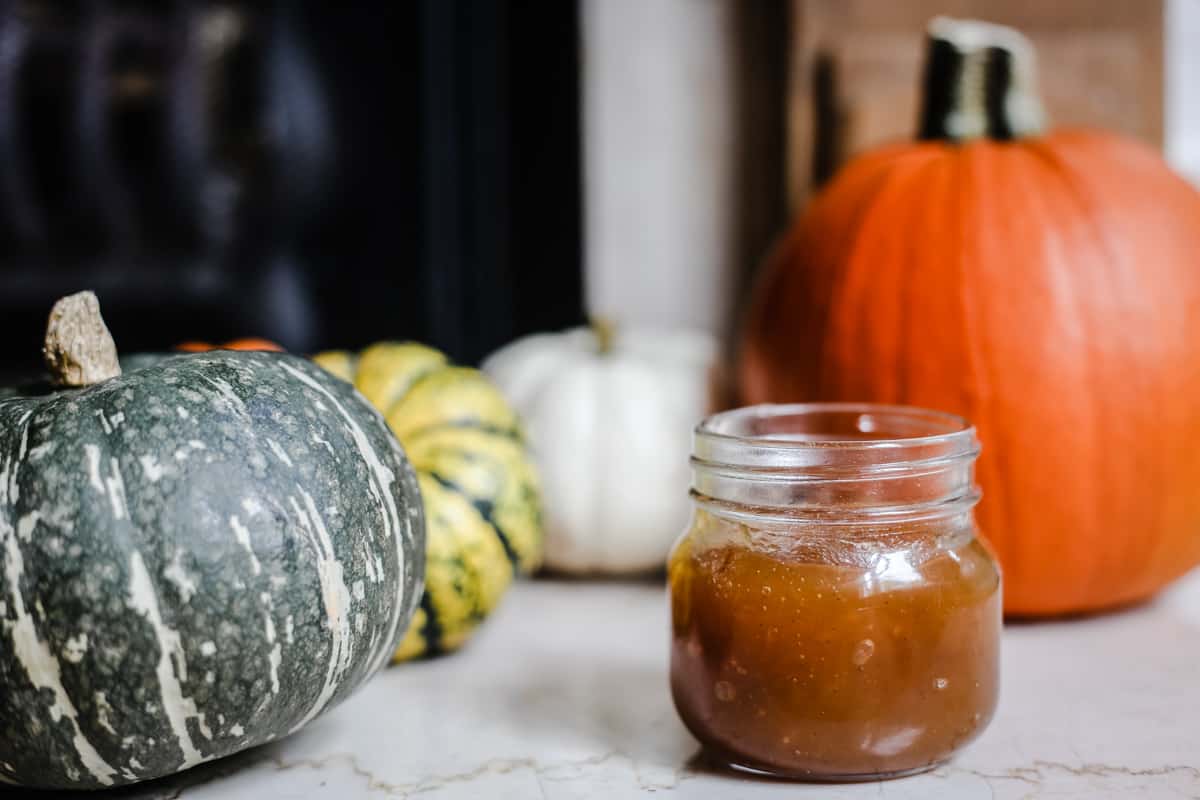 Like all jam, its uses shouldn't just stop at toast and crumpets. I use jam mostly for filling a Victoria Sponge or as an accompaniment to cheese. Believe me, this pumpkin jam goes particularly well with a mature cheddar. Try jam smeared onto your pork chops or chicken breasts before grilling or as a sweetener in sauces.
Although I have to confess that I didn't just stop at pumpkin in this jam. Instead I used a variety of mixed squash which imbues the jam with many levels of flavour. I decided against adding cinnamon to this Pumpkin Jam. Sacrilege I know. I literally had to hold my hand back from automatically picking up the cinnamon jar. But I'm glad I did as the cinnamon would have interfered too much with the deep notes of the pumpkin. To compliment the squash I added just a hint of vanilla and nutmeg which turned out to be exactly the right thing to do.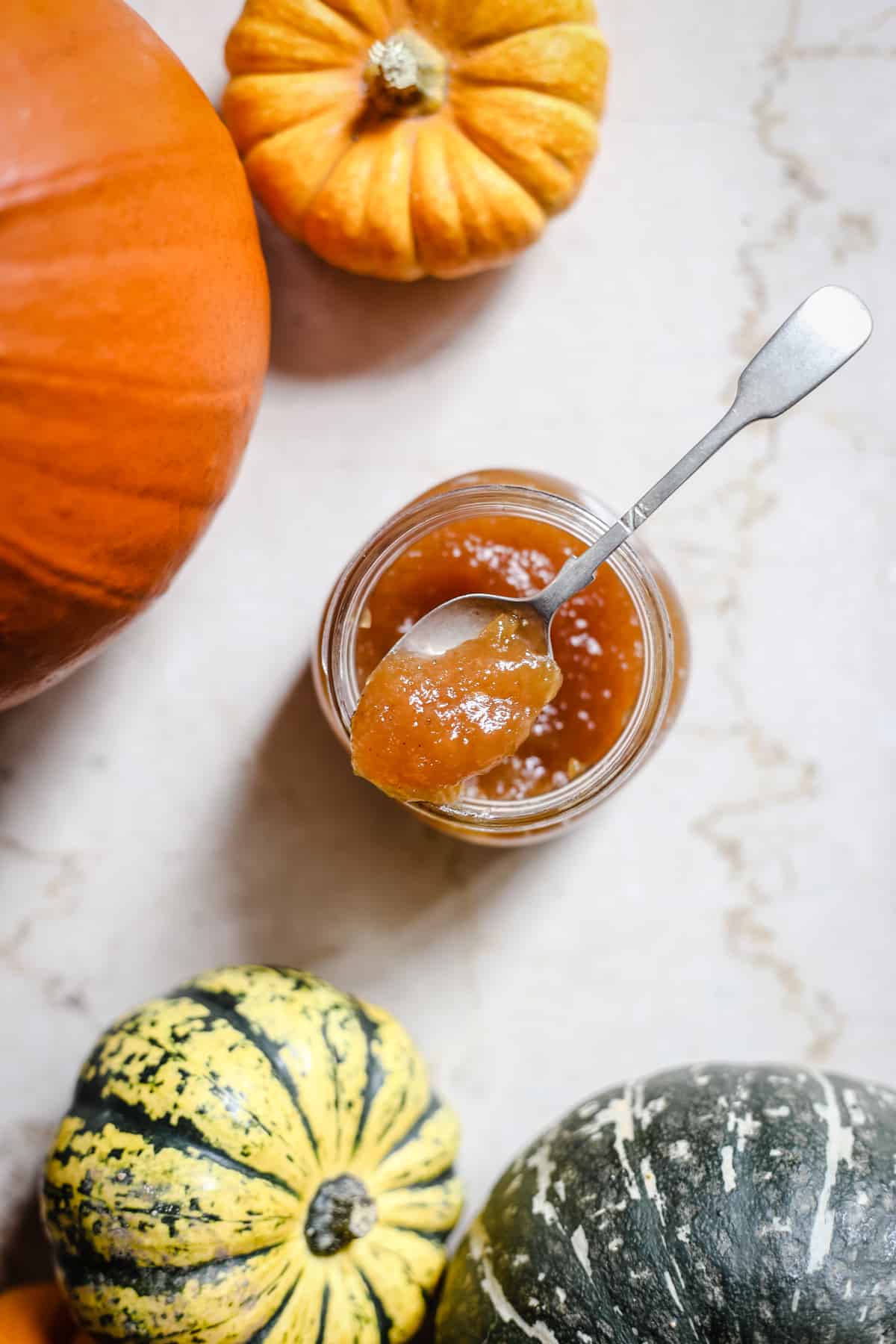 Time will tell whether I'll be able to bring the preserves back next year but in the meantime I probably won't be able to resist making my gorgeous mincemeats and cranberry sauce for Christmas. However, until I decide exactly what I'm going to do about the preserves on the stall moving forward, at least I'll have my own personal Pumpkin Jam for company.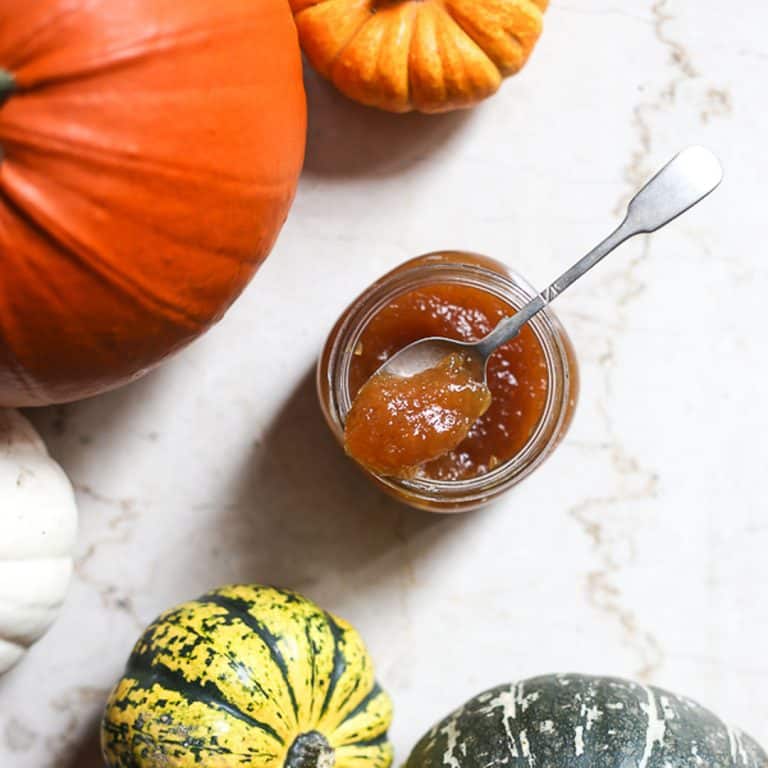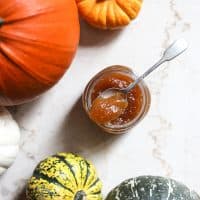 Pumpkin Jam
Pumpkin Jam is lusciously smooth, rich with savoury pumpkin notes and scented lightly with vanilla and nutmeg for a comforting Autumn preserve.
Print
Pin
Rate
Ingredients
1

kg

fresh pumpkin puree*

1

kg

jam sugar

Juice of 1 orange

Juice of 2 lemons

pinch

of salt

1

vanilla bean

seeds scraped out

½

teaspoon

nutmeg
Instructions
Pour the pumpkin puree into a large preserving pan. Turn onto a gentle heat and begin to warm the puree, stirring to avoid burning on the bottom of the pan.

Once the puree has heated up then pour in the jam sugar, orange juice, lemon juice, salt, vanilla bean seeds and nutmeg.

Stir everything together and turn up the heat to dissolve the sugar.

Bring to a rolling boil, making sure to stir the bottom of the pan frequently so the jam doesn't stick. It should take 5-10 minutes from then to reach setting point.

Once the jam reaches 104°C or passes the saucer wrinkle test* then decant into sterilised jars*.
Notes
*You can use just pumpkin puree or a variety of mixed squash to reach 1kg
*The saucer wrinkle test basically requires you to put about 5 saucers in your freezer when you begin making your jam. Once you think the jam might be ready then you can double check by removing a saucer from the freezer, dropping a teaspoon of jam on it then placing the saucer in the fridge. After about 30 seconds remove the saucer and push the jam with your finger. If it wrinkles up it's ready, if it just pools back into the space your finger has left then it needs more bubbling time. Boil it a bit longer, then test again with another saucer.
*To sterilise the jars place the very clean jars you would like to use in an oven pre-heated to 140°C for 20 minutes. Sterilise the lids by dropping them into a saucepan of boiling water for 10 minutes with a splash of vinegar. I don't sterilise my lids in the oven as they tend to ruin.
Yield 8 180ml jars
Nutrition
Calories:
34
kcal
|
Carbohydrates:
12
g
|
Sodium:
1
mg
|
Potassium:
57
mg
|
Fiber:
1
g
|
Sugar:
8
g
|
Vitamin A:
3240
IU
|
Vitamin C:
0.9
mg
|
Calcium:
7
mg
|
Iron:
0.4
mg
SHOP THE RECIPE
You don't need much equipment for jam making but there are a few bits and pieces I rely upon.
My favourite way to make my small batch jams is in my Le Creuset Signature Cast Iron Round Casserole, 28 cm – Marseille Blue
. It's very heavy duty but I use it for absolutely everything from pot roasts, stews and stocks to making jams and chutneys. It's large enough that it is great for so many purposes from sweet to savoury. I have the signature marseille blue colour as when I bought it I wanted it to match the old Le Creuset saucepans handed down to me from my dad but you can get them in other beautiful colours. Different colours are different prices so you can definitely get a good deal if you choose a less popular colour.
A jam funnel is essential and I use this cheap and cheerful KitchenCraft Home Made Stainless Steel Jam Funnel
You will soon wonder how you got by without using jam jar tongs which means you can pick up piping hot jars confidently. I love these Kilner Jam Jar Sterilising Tongs, Steel, Silver/Red, 6 x 10 x 24 cm
This post is not sponsored but the links above are affiliate links which means if you decide you want to click through to buy then Amazon gives me a small commission at no cost to you whatsoever. To learn more about how the data processing works when using these Amazon affiliate links then please visit my privacy policy page.
If you like this recipe then you may like…