This post contains affiliate links. Please read my disclosures.
Nothing beats the warm comfort of a bowl of Bangers and Mash, especially if the potatoes are mashed with lashings of brown butter and apple cider onion gravy is ladled liberally on top then all served with sweetly salted caramelised cinnamon granny smiths.
This Saturday is bonfire night, although since I have the market stall this weekend and will be baking all Saturday, we are delaying our celebrations until next week and joining my in-laws for the firework display in Ely over the cathedral. It will be Cole's first bonfire night and I think he is going to love it. Or be scared senseless by the cracking bangs and terrifying shower of fire, forever scarred by the experience which will lead to nightmares and nervous tics, meaning we'll all be in therapy when he reaches his teens. I'm gunning for the former.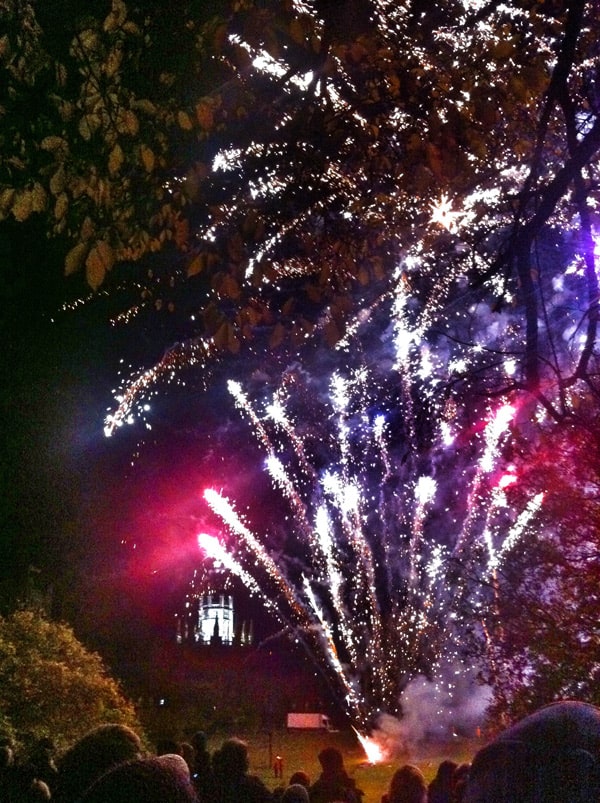 It is absolutely obligatory to have sausages on bonfire night, I guess traditionally the sausages were roasted on the fire. I remember being bundled up in winter woollies clutching at my sausage in a bun, enamoured by the glittering hiss of the guy sizzling on the bonfire. Seeing a bonfire at firework displays, especially in London, is a rarity due to health and safety, hopefully Ely won't let us down. Sausages though are definitely a must, oh and a cup of hot apple cider. We need to keep warm in the frosty November air.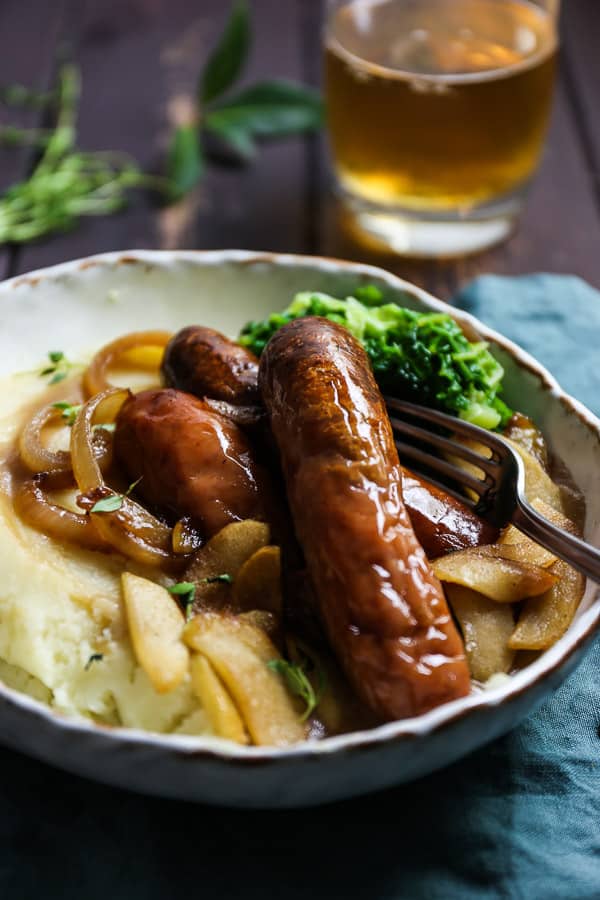 This recipe is the best of those two traditions. The sausages are simply roasted but the mash is made infinitely more superior by using brown butter which was a tip I garnered from Half Baked Harvest and I'm now going to implement every time I mash a potato. The taste is amazing.
The apple cider gravy is the only part of the meal where you might have to pay a bit of attention if you are not well versed in gravies. Gravy might have been the very first thing I learnt to cook as it was so vital to our Sunday roasts growing up. The consistency of your gravy probably depends on what part of the country you grew up in, the further north you get the thicker it is. I've had gravies you can pretty much stand a spoon up in and my Nan was from Liverpool so hers took some beating. I always err on her side for my Bangers and Mash, this is not a time for sophistication. The only advice I would adhere to here is to use proper dripping and meat stock. Although you could substitute with butter and vegetable stock (never a stock cube – please!!) the difference is immeasurable. Sorry veggies and vegans.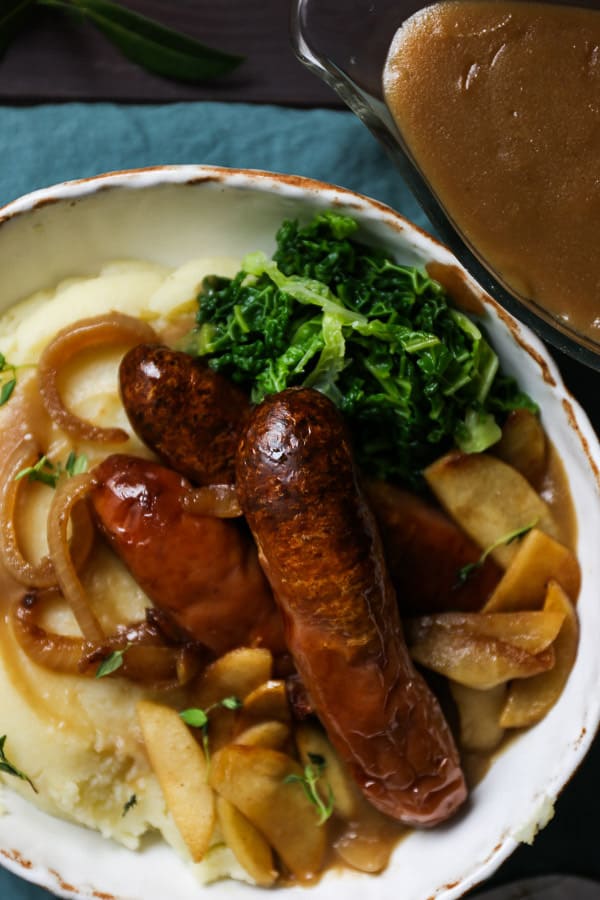 I always have dripping in the fridge, again my Nan was from Liverpool, and we would think nothing of dripping on toast as a teatime snack. I cook a Sunday roast every weekend and after the meal has been done, before the washing up has been started I scoop out all the meat dripping from the roasting tin and store it in a jar in the fridge. Then we (this is usually Luke's job) place the meat bones, along with some veg and lots of water, in our stock pot so the stock simmers away nicely on the Sunday evening. That way, we always have the makings of gravy on hand for any Bangers and Mash emergencies.
The final piece of the puzzle is the caramelised apples, they take moments so are worth the extra five minutes. They are cooked quickly with butter and sugar to retain a bit of bite then sweetened with a pinch of cinnamon.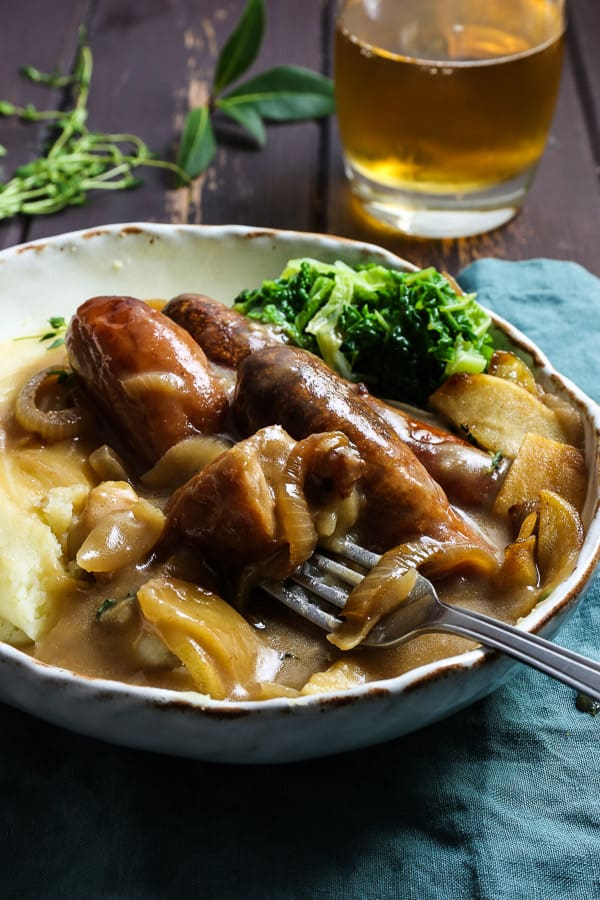 I can't wait to share fireworks night with Cole, I have a bank of lovely memories of this time of year and hope he'll have just as many. Although regardless of the fireworks, I know he'll go crazy for the Bangers and Mash.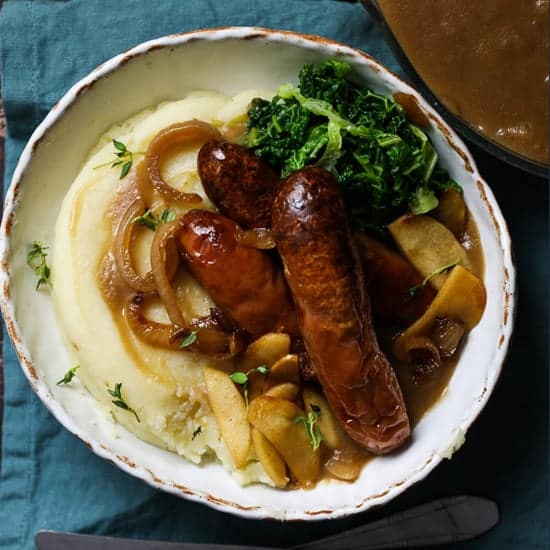 Bangers and Mash with Apple Cider Onion Gravy and Caramelised Cinnamon Apples
Warm and comforting roasted sausages on a mound of brown buttered mashed potato, thickly ladelled with apple cider onion gravy and adorned with sweetly salted caramelised cinnamon granny smiths
Ingredients
8

sausages

-

from the butcher, gluten-free or non gluten-free
Caramelised Cinnamon Apples
2

granny smith apples

-

sliced

1

tablespoon

butter

2

teaspoons

icing sugar

¼

teaspoon

cinnamon

pinch

of salt

squeeze

of lemon juice
Brown Buttered Mash
1

kg

red potatoes

-

peeled and halved

125

g

salted butter

salt and pepper to taste
Apple Cider Onion Gravy
20

ml

dripping

-

or butter

500

g

onions

-

peeled and sliced

1

tablespoon

apple cider vinegar

50

g

salted butter

50

g

all purpose flour

-

gluten-free or non gluten-free

400

ml

chicken or beef stock

150

ml

apple cider

1

bay leaf

2

sprigs

fresh thyme

1

teaspoon

dijon mustard
Instructions
Sausages
Place the sausages in an oiled roasting tin and then into an oven pre-heated to 170° C. Roast for 20-25 minutes until the sausages are golden and juicy.
Gravy:
Melt the dripping, then add the onion slices and heat on medium until the edges are beginning to catch in the pan.

Pour in the apple cider vinegar and stir well, continue cooking on medium until the onions are turning golden brown.

Stir in the butter until melted then add the flour, mixing well until the flour has absorbed all the fat. Continue cooking for 10 minutes to let the roux take on more colour.

Pour in the stock very slowly, stirring all the time to remove lumps until it is beginning to resemble gravy. Once you've added all the stock then pour in the cider in the same way.

Add the bay leaf, thyme and stir in the dijon, bringing the gravy up to a gentle boil. If the gravy is too thick for you, add some more stock or just water to get to your desired consistency.

Simmer for 10 minutes then remove from the heat.
Mash:
Place the potatoes into salted boiling water and boil for 20 minutes until soft.

Remove the potatoes then pass them through a potato ricer.

In a small saucepan melt the butter until browned, making sure to remove from heat before the nutty brown bits start to burn.

Stir the brown butter into the mash and season well.
Apples:
Melt the butter then add the icing sugar, cinnamon, salt and lemon juice and then add the apple slices.

Fry for about 5 minutes until the apples are beginning to colour then remove from heat.
Nutrition
Calories:
1278
kcal
Carbohydrates:
83
g
Protein:
36
g
Fat:
90
g
Saturated Fat:
42
g
Cholesterol:
232
mg
Sodium:
1636
mg
Potassium:
1995
mg
Fiber:
9
g
Sugar:
24
g
Vitamin A:
1400
IU
Vitamin C:
37.3
mg
Calcium:
91
mg
Iron:
5
mg
Have you tried this recipe?
Head to the comment section and let me know what you think!