This post contains affiliate links. Please read my disclosures.
This Easy Mincemeat Recipe is exactly what you need when you are required to make homemade mince pies pronto. You can use it straightaway. No resting time is needed, it's a quick assembly job and the result is a supremely spiced and zesty mincemeat plump with fruits, rich with brandy and with a silky luxurious texture.
I simply adore Christmas mincemeat. In my humble opinion it's the best thing about the season. Along with The Waitresses' Christmas Wrapping, Hot Buttered Chocolate Rum and festive jumpers for Billy Buddy. Stir-up Sunday is coming up this weekend which is the traditional day to make your mincemeat (and Christmas pudding) for the season. It's nice to get this job out of the way in November as it means you can have homemade mince pies at your disposal any time during the holiday period. Although if you are only using your mincemeat for a mince pie filling then you are missing a trick.
What is mincemeat?
Mincemeat is the traditional filling of a christmas mince pie. A few centuries ago mincemeat was a way to preserve meat, usually mutton, without smoking or salting. The meat would be chopped very finely, aka minced, then preserved with spirits and spices and sugar. It's more usual these days for the minced meat to be replaced with beef suet and dried fruit.
Although if you haven't tried mince pies made in the traditional method using this Victorian Mincemeat recipe then you really need to address your life choices.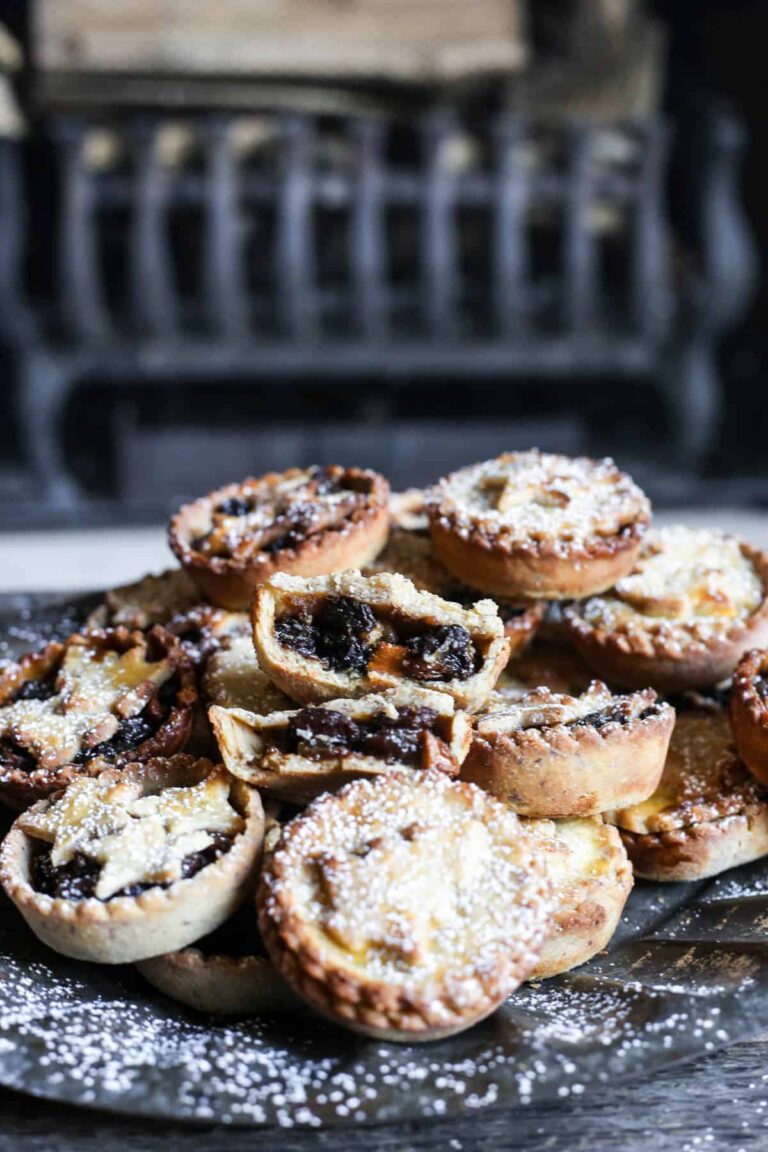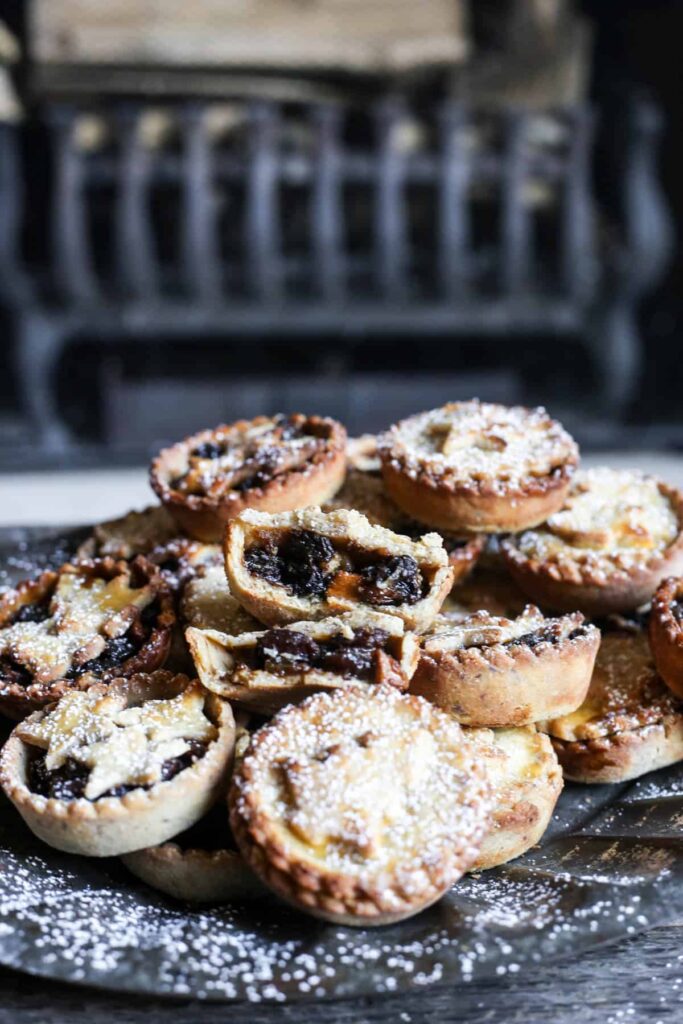 Why do we eat mincemeat at Christmas?
The reason we eat so many mince pies over the festive season is all to do with the spices. It is thought that cinnamon, cloves and nutmeg were given by the magi to the baby Jesus and so mincemeat, which is abundant in these spices, has always traditionally been associated with Christmas. And I totally take umbrage with the idea that if mince pies were so nice then why do we only eat them at Christmas. Well, that's why Eccles Cakes were invented. They are basically mince pies that we are allowed to eat all year round.
Why should you make your own mincemeat?
I made the unfortunate mistake of buying pre-made mincemeat for some recipe testing recently and the difference between homemade and shop bought is extreme. The shop bought stuff is all sugar and no flavour.
This Easy Mincemeat tastes of plump juicy fruits and spices and is rich with brandy with a silky luxurious texture.
Plus if you're making it yourself you can make it exactly to your preference. It's an extremely versatile recipe which you can switch up for the dried fruit, alcohol and type of sugar you have to hand. It will always be a preferred option to the sickly sweet supermarket version.
Why is this recipe so brilliant?
If you need to make some Homemade Mince Pies asap then this Easy Mincemeat Recipe is the way to go.
this homemade mincemeat is so simple to make and takes no time at all.
It's a back-to-basics recipe using traditional ingredients.
no resting time required.
it's not necessary to cook the mincemeat out before filling your pies.
If you want a more modern mincemeat which is made with fresh cranberries and is nut free and vegan then perhaps try this Cranberry Cointreau Mincemeat.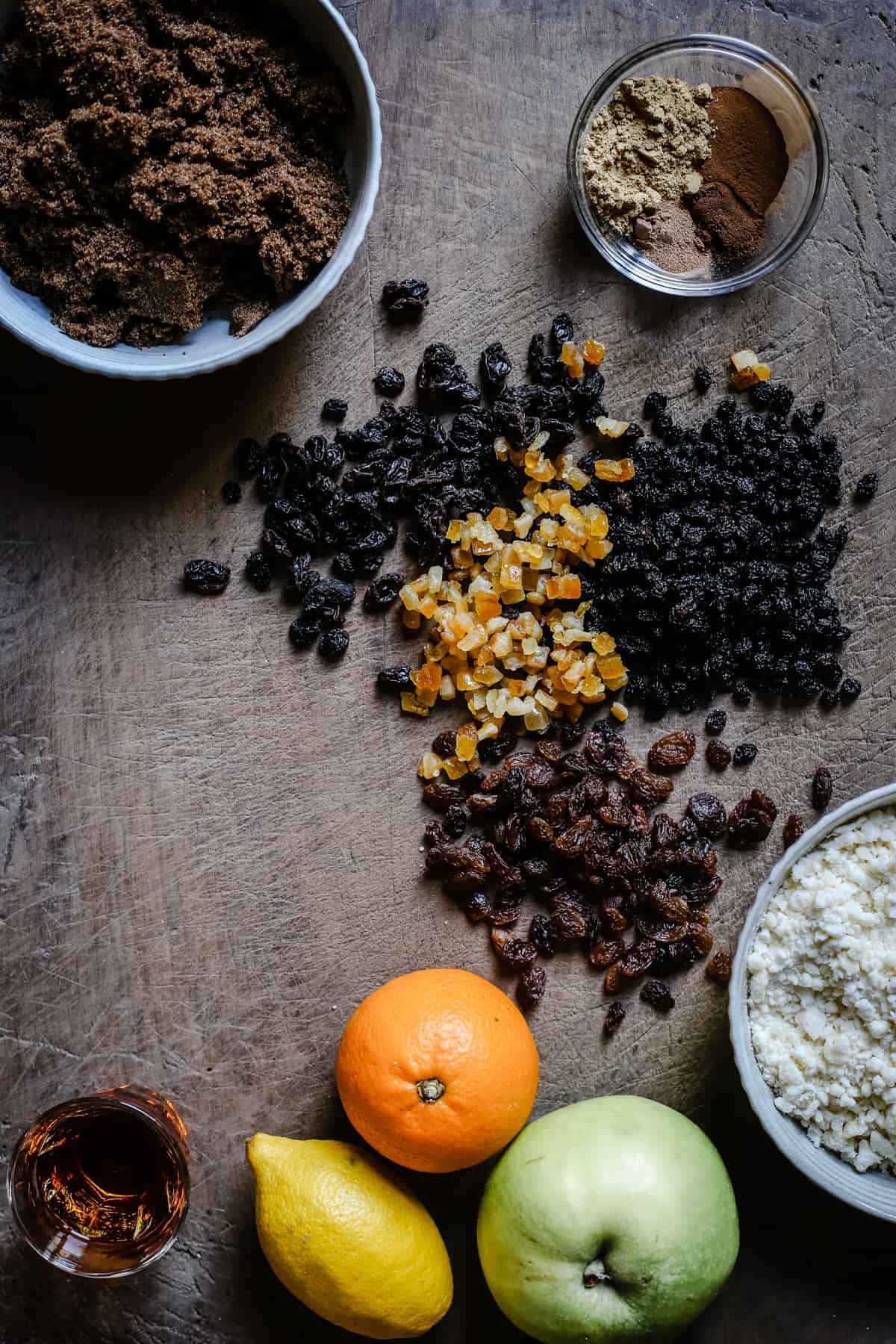 What ingredients are in mincemeat?
Bramley apples - A lovely tart fully flavoured apple that breaks down into a gorgeous fluffy texture.
Dried fruit - Here we go traditional with raisins, currants and sultanas and mixed peel
Beef suet - the fat used to preserve the mincemeat and for texture
Dark muscovado sugar - a deep flavoured sugar
Lemon and orange zest - for a fresh zing
Spices - ginger, cinnamon, cloves and nutmeg
Brandy - traditionally used to help preserve the mincemeat but also gives a luxurious rich flavour.
Why do you use beef suet in mincemeat?
Beef suet is the hard fat from around the joints and kidneys of the animal and it is favoured in mincemeat due to its richness of flavour and the silky way it coats the luscious fruit.
Is beef suet gluten-free?
Unfortunately the commercial beef suet you can buy in a packet in your local supermarket is not gluten-free. The suet is processed into small pellets which are coated in wheat flour. This allows the suet to be easily stored and weighed and used in baking but it's not gluten-free.
Can you buy gluten-free suet?
You can buy gluten-free suet in the supermarket but it is also vegetarian suet and it is not a product I like to use. The ingredients list is iffy and doesn't have the right flavour.
If your butcher is able to source fresh beef suet for you then that is the best choice. It will probably be provided in a hard block which you will need to grate with a bit of gluten-free flour to create little fat pellets which helps to evenly disperse the fat. You can store the suet in the freezer in ziplock bags and you can use it directly from the freezer.
You can also use this fresh beef suet in your Traditional Christmas Pudding. Or in a Spotted Dick.
If you are finding it hard to source fresh beef suet or need a veggie or vegan alternative then you can substitute with grated coconut butter.
What can I substitute for the brandy?
You can substitute absolutely any alcohol for the brandy. Rum, Pedro Ximénez, Cointreau or even Amaretto are my favourites.
What if I don't like mixed peel?
If you don't like mixed peel then just leave it out, or substitute for a couple of tablespoons of marmalade. However, have you ever tried making your own? Homemade Mixed Peel has a vastly superior flavour and can be useful for a lot of your Christmas bakes.
Can I substitute in other dried fruit?
Of course! Anything goes in mincemeat. Chopped dried figs, prunes, cranberries, sour cherries. You can just swap in the same weight of an alternative dried fruit and away you go.
Why dark muscovado sugar?
Dark muscovado sugar is used here for its rich treacly flavour. However, if you want a slightly lighter mincemeat then you can use light muscovado sugar. Or if you only have in soft light brown sugar then use that.
How do you make the homemade mincemeat?
Peel, core and dice the bramley apples.
Then mix with all the other ingredients.
It's done (I know, pretty easy!!)
Note. This recipe makes about 4 large jars of mincemeat. Enough for 4 batches of mince pies. Presuming you are not making mince pies for a very large crowd you will want to store the mincemeat you are not using straightaway. This will require cooking it out (see below).
Can you use the mincemeat straightaway
Yes! Your mince pies will be delicious if you make them with the mincemeat you prepared 5 minutes ago.
However, if you are in the mood for planning ahead then the mincemeat will be even better if you make it a week or two before you want to make your mince pies which will allow the flavours to mature.
How long does mincemeat last?
If you are not using the mincemeat immediately then you need to cook it out before storing. This is to allow the suet and sugar to melt, coat and preserve all the fruit evenly. Plus it also stops the apples from fermenting.
How to cook out the mincemeat for storing
Mix all the ingredients together as above except for the brandy.
Place in a large ovenproof pot with a lid.
Cook for 1 hour in an oven

pre-heated to 150°C /130°C fan/gas 2 for 1 hour.

Remove from the oven and allow to cool completely.
Stir in the brandy then decant into sterilised jars.
The mincemeat will keep for 3 months if stored in a cool and dark place.
To sterilise the jars – Place the very clean jars you would like to use in an oven pre-heated to 140°C for 20 minutes. Sterilise the lids by dropping them into a saucepan of boiling water for 10 minutes. It is best not to sterilise lids in the oven as they can easily ruin.
Recommended Equipment
Le Creuset Large Casserole Dish – my favourite preserving pan and it's big enough to cook a large amount of preserves or mincemeat. It can be used in the hob or in the oven.
Jam Funnel – Very useful for decanting the mincemeat into jars. If you make a lot of chutneys and jams then this inexpensive jam funnel is an absolute must-buy. Useful for decanting pretty much anything around the kitchen too!
Kilner jars (500g)– these are great for all kinds of preserving. You can re-use the jars again and again (just clean and sterilise them first) and buying new lids is very easy.
Of course this Easy Mincemeat Recipe is the ideal filling for mince pies but if you need any further inspiration, look no further than the following recipes:
Bramley Apple Mincemeat Pudding
Christmas Morning Mince Pie Muffins
Mince Pie Cheesecake Oat Bars
Cheat's Gluten-Free Christmas Cake
Mince Pie Cupcakes with Brandy Buttercream
If you've never made your own then I urge you to give this Easy Mincemeat Recipe a try and if you do then please leave a comment below and/or give the recipe a rating. If you use this recipe as a jumping off point then I'd also love it if you'd share your version and tag me on instagram. It is so lovely for me to see your creations and variations of my recipes.
Easy Mincemeat Recipe
This Easy Mincemeat Recipe is a quick homemade supremely spiced fruity boozy mincemeat essential for mince pies.
Ingredients
400

g

bramley apples

-

about 1-2 apples

225

g

seedless raisins

225

g

currants

225

g

sultanas

240

g

beef suet

-

for gluten-free suet see notes

275

g

dark muscovado sugar

50

g

mixed peel

-

homemade is preferable

zest 1 orange

zest 1 lemon

2

teaspoons

ground ginger

1

teaspoon

ground cinnamon

½

teaspoon

ground cloves

½

teaspoon

ground nutmeg

60

ml

brandy
Instructions
Peel, core and dice the bramley apples into small pieces.

Place the apple pieces into a large ovenproof pot with the rest of the ingredients (except for the brandy) and stir together until everything is well combined.

If you want to make mince pies straight away then set aside about 300g and stir in a couple of teaspoons of the brandy. Let the mincemeat rest whilst you prepare the pastry and then you can fill your pies immediately.

To prepare the rest of the mincemeat for storing put a lid on the pot and place in an oven pre-heated to 150°C /130°C fan/gas 2 for 1 hour.

Leave the mincemeat to completely cool before stirring in the brandy.

Decant the mincemeat into sterilised jars and store in a cool dark place for up to a year.
Notes
If you are gluten-free I recommend you use fresh beef suet. It's not possible to buy gluten-free pre-packaged beef suet. I don't recommend the vegetarian version which is gluten-free. Do speak to your local butcher about obtaining fresh suet. It will come in a solid block which you will need to grate with a bit of gluten-free flour so that it can evenly disperse throughout the mincemeat. If you are vegan then I would recommend replacing with grated coconut butter but if you are not then I would urge you not to make the switch.
Yield 4 380g jars
You can make your mince pies straightaway using this mincemeat but if you are not then you will need to cook it and store in sterilised jars.
To sterilise the jars – Place the very clean jars you would like to use in an oven pre-heated to 140°C for 20 minutes. Sterilise the lids by dropping them into a saucepan of boiling water for 10 minutes. It is best not to sterilise lids in the oven as they can easily ruin.
The mincemeat will keep for 3 months in a cool and dark place.
Nutrition
Calories:
87
kcal
Carbohydrates:
13
g
Fat:
3
g
Saturated Fat:
1
g
Cholesterol:
2
mg
Sodium:
4
mg
Potassium:
100
mg
Sugar:
9
g
Vitamin A:
5
IU
Vitamin C:
0.7
mg
Calcium:
10
mg
Iron:
0.3
mg
Have you tried this recipe?
Head to the comment section and let me know what you think!