This post contains affiliate links. Please read my disclosures.
These simple Gluten-Free Mince Pies with Homemade Pastry are made with the most flavourful sorghum and almond flour pastry and filled with Easy Homemade Mincemeat. Mince pie lovers no longer need to miss out on gloriously flaky and tasty mince pies that are packed with Christmassy flavour and are easy to bake at home.
I often wax lyrical regarding my love affair with mincemeat and all the different and festive ways you can incorporate this treasure into your baking. However, sometimes we just need to go back to basics and bake us up some delicious old timey mince pies with homemade pastry.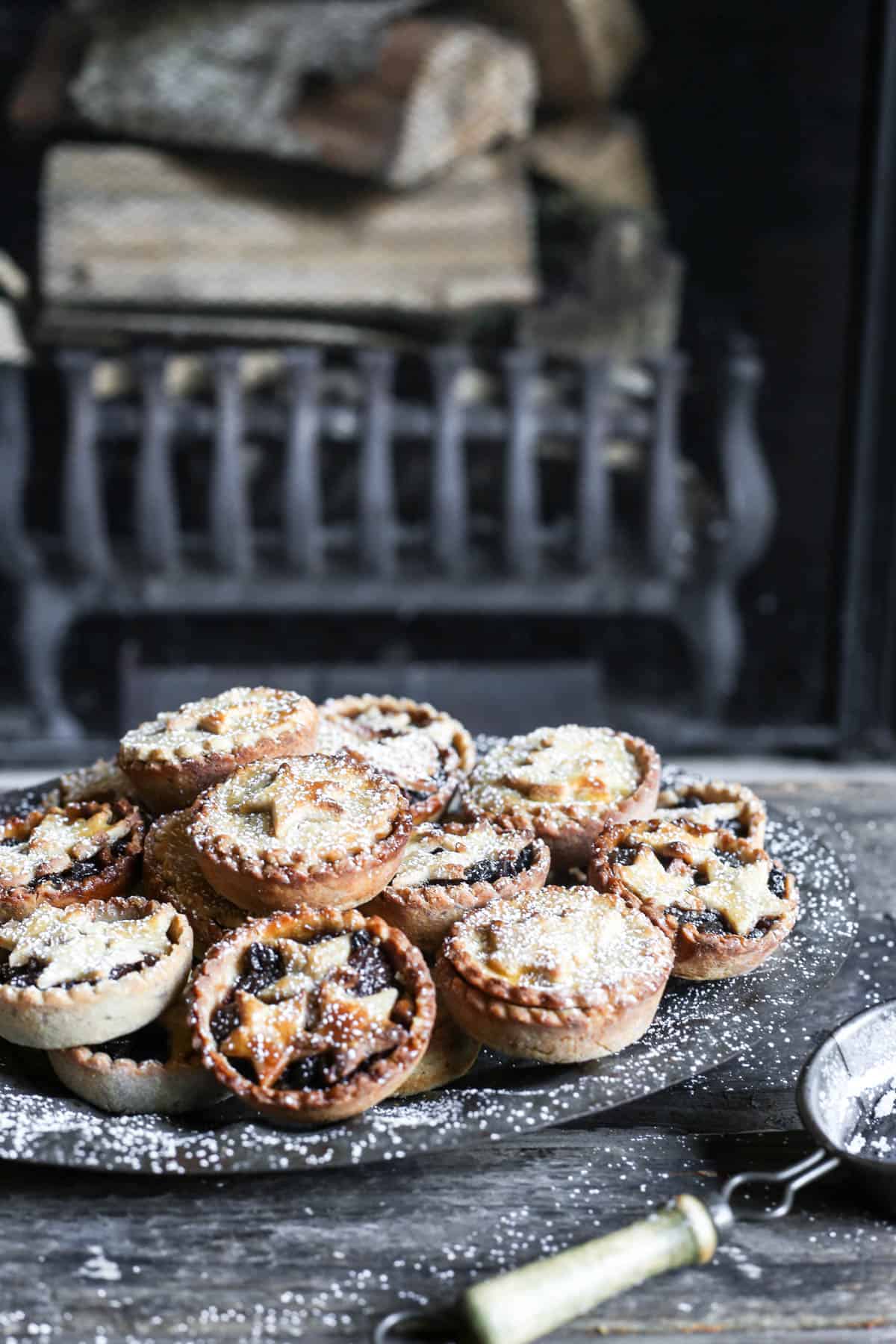 What are mince pies?
Mince pies are a traditionally eaten at Christmas across the UK and Europe. Filled with mincemeat and encased in pastry, mince pies are small and can usually be devoured in 3-4 bites. The ultimate Christmas treat.
But what is mincemeat?
Mincemeat is a richly spiced filling for your mince pies. Usually made from dried fruit, nuts and spices which are preserved in brown sugar, brandy with suet to provide a silky mouthfeel.
However, the variations of recipes for mincemeat are endless. You can switch up the alcohol, use fresh fruit, like apples, or omit the nuts or suet.
Mincemeat recipes
Victorian Mincemeat – inspired by traditional mince pies and uses actual beef mince along with the dried fruit, spices and brandy. This mincemeat is something special. You can't taste that it is actually meat, it is just ultra flavourful with a wonderfully luxurious texture.
Cranberry Cointreau Mincemeat – a vegan, nut-free recipe. This is a family favourite - vibrant, light and incredibly festive.
Easy Mincemeat – my go-to everyday traditional mincemeat.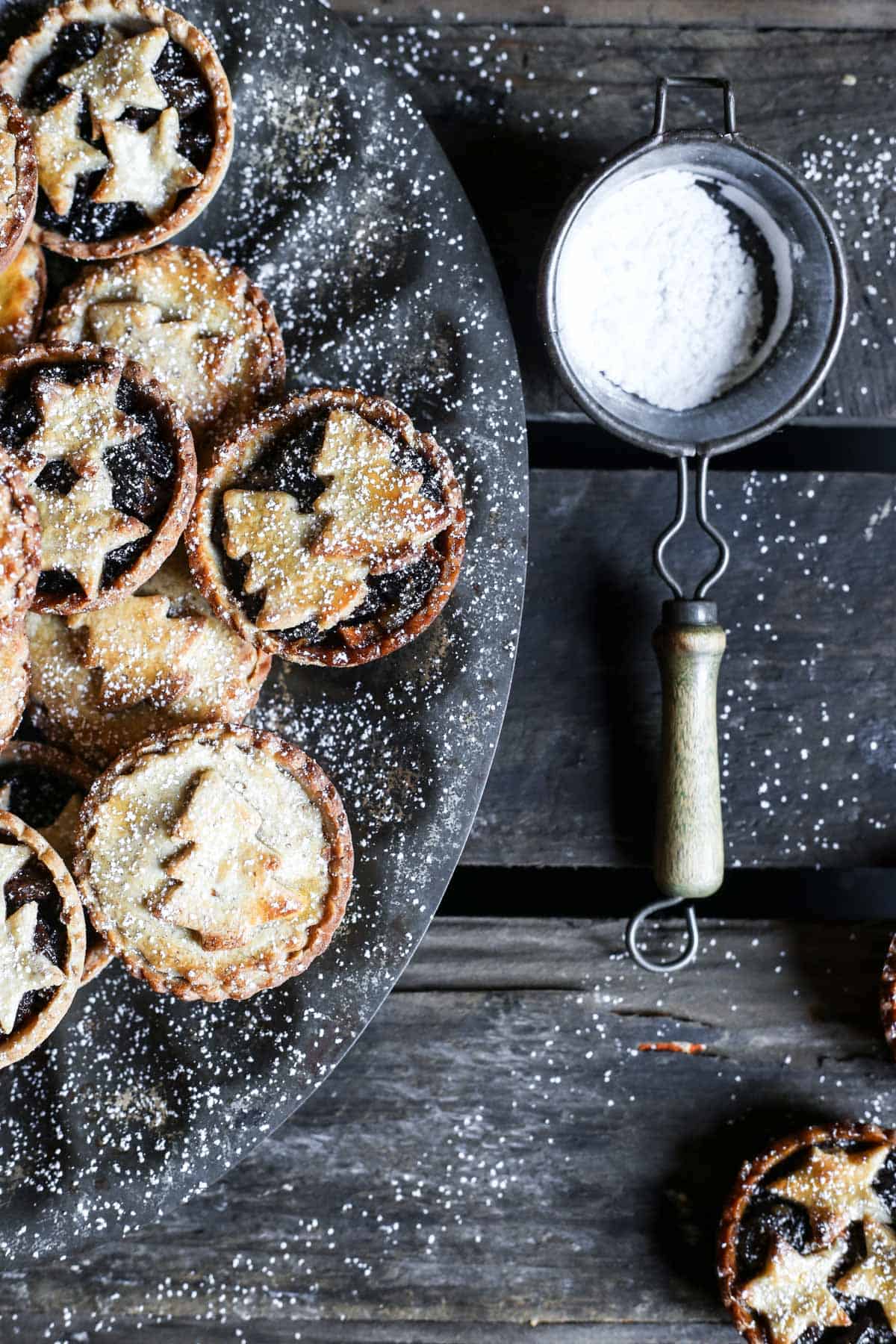 What pastry is used for mince pies?
There are many pastry routes you can go down with your mince pies:
open topped
double-crusted
brandy butter topped
orange icing
For these Gluten-Free Mince Pies with Homemade Pastry we are using an old fashioned flaky gluten-free pastry which uses deliciously tasty sorghum flour and almond flour. This pastry is so full of flavour and excellent to work with. This pastry will not crumble but melt in the mouth.
Gluten-free homemade pastry is actually just as easy to make as regular wheat pastry. The only difference is that it is slightly more fragile to handle so may need a little more care when rolling out. It also requires a couple of minutes extra to blend together your gluten-free flour mix so you can ensure your pastry has the right bind, flakiness and snap.
This gluten-free pastry is more than just a vessel for holding your mincemeat, it has its own character and flavour profile to enhance your mince pies.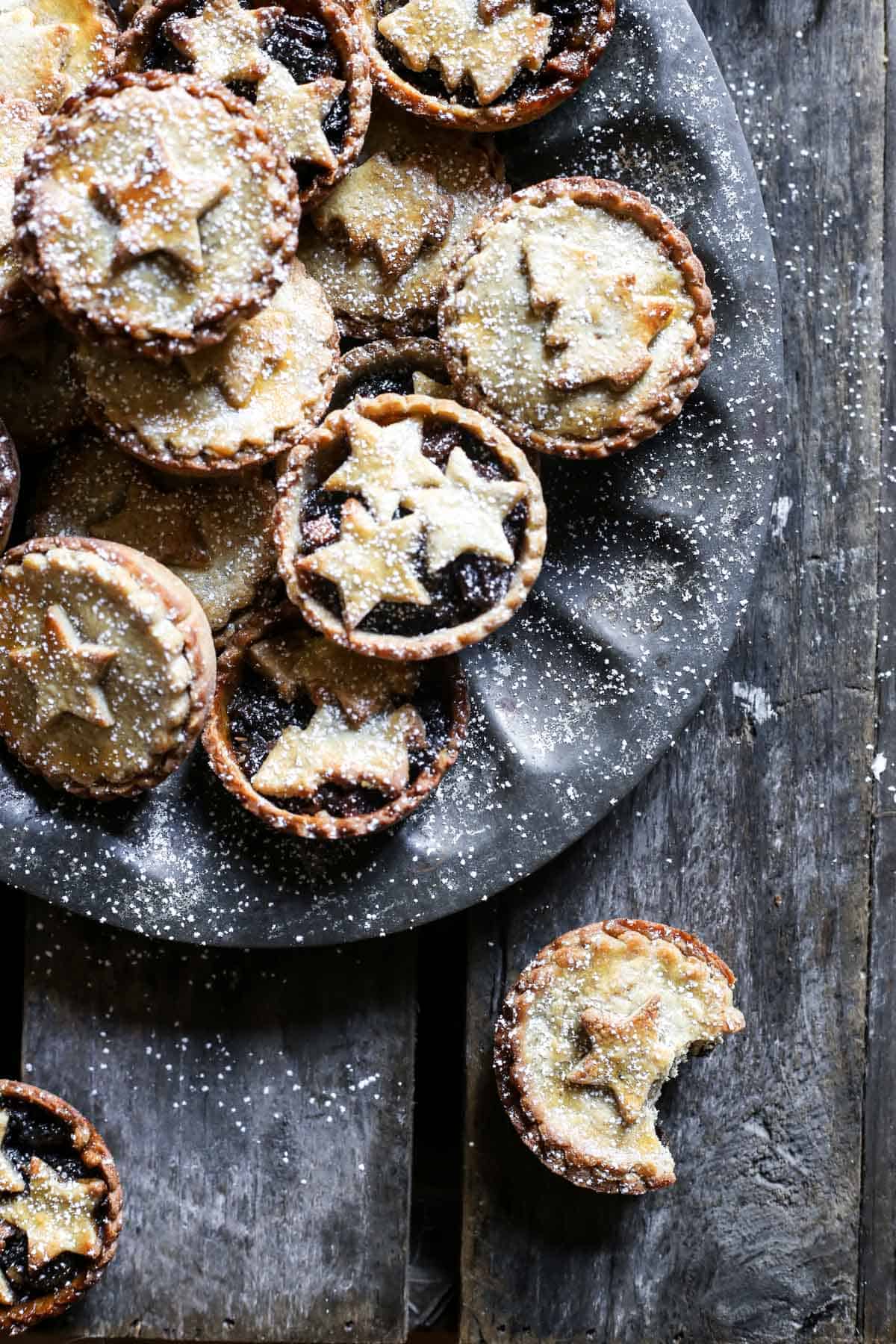 How do you make gluten-free pastry?
We just need just 4 ingredients to create a unique gluten-free flour blend that is delicious, easy to work with and creates amazing double crusted mince pies.
Sweet rice flour – this is the majority flour used in this recipe. It is needed to bind the ingredients together and add elasticity to the mix so that the pastry can be rolled out with ease. It has a near neutral taste so its role is mostly function.
Sorghum flour – an incredibly tasty pastry. Think wholewheat flour, earthy and wholesome. A perfect flavour match for the richly spiced mincemeat.
Almond flour - adds a mild nutty sweetness. Great protein structure so helps to hold the pastry together
Ground flaxseeds - help further bind the pastry to stop it from crumbling apart. It also adds a nice bit of texture.
Once these four ingredients are whisked together to make your gluten-free flour blend then you can continue to make the pastry the same way you would regular pastry.
Use butter cold from the fridge, sliced as thinly as possible then rubbed with the flours to make rough shreds and add flakiness to your dough.
Add a little caster sugar for sweetness.
Add 2 eggs and an extra yolk for richness.
Bring the dough quickly together with your hands, with maybe a little ice cold milk if more liquid is needed to make the pastry cohesive.
Wrap your ball of pastry in cling film and keep in the fridge until needed.
Make ahead
You can make the pastry up to 3 days before you want to make the mince pies. Just bring it out 30 minutes to 1 hour (depending on how warm your kitchen is) before you would like to roll it out.
What baking tin should you use for mince pies?
You can buy mince pie baking tins specific for this purpose. I have several which I love.
However, upon making the mince pies for this post I had a mini meltdown when I realised they had all been put into storage along with a bunch of my baking gear whilst we're preparing to move house. This was obviously after I had cut out all my pastry rounds and the oven had been pre-heated and I was basically ready to go.
However it turns out that a regular 12-hole muffin tin makes the perfect sized four-bite mince pies just as well. Your pastry rounds will only go halfway up the tin but this works out just fine. So you mustn't despair if you don't have a special tin for your gluten-free mince pies.
If you have been disappointed by tasteless, cardboard tasting and tooth-achingly sweet gluten-free mince pies from the supermarket, this recipe will be a revelation.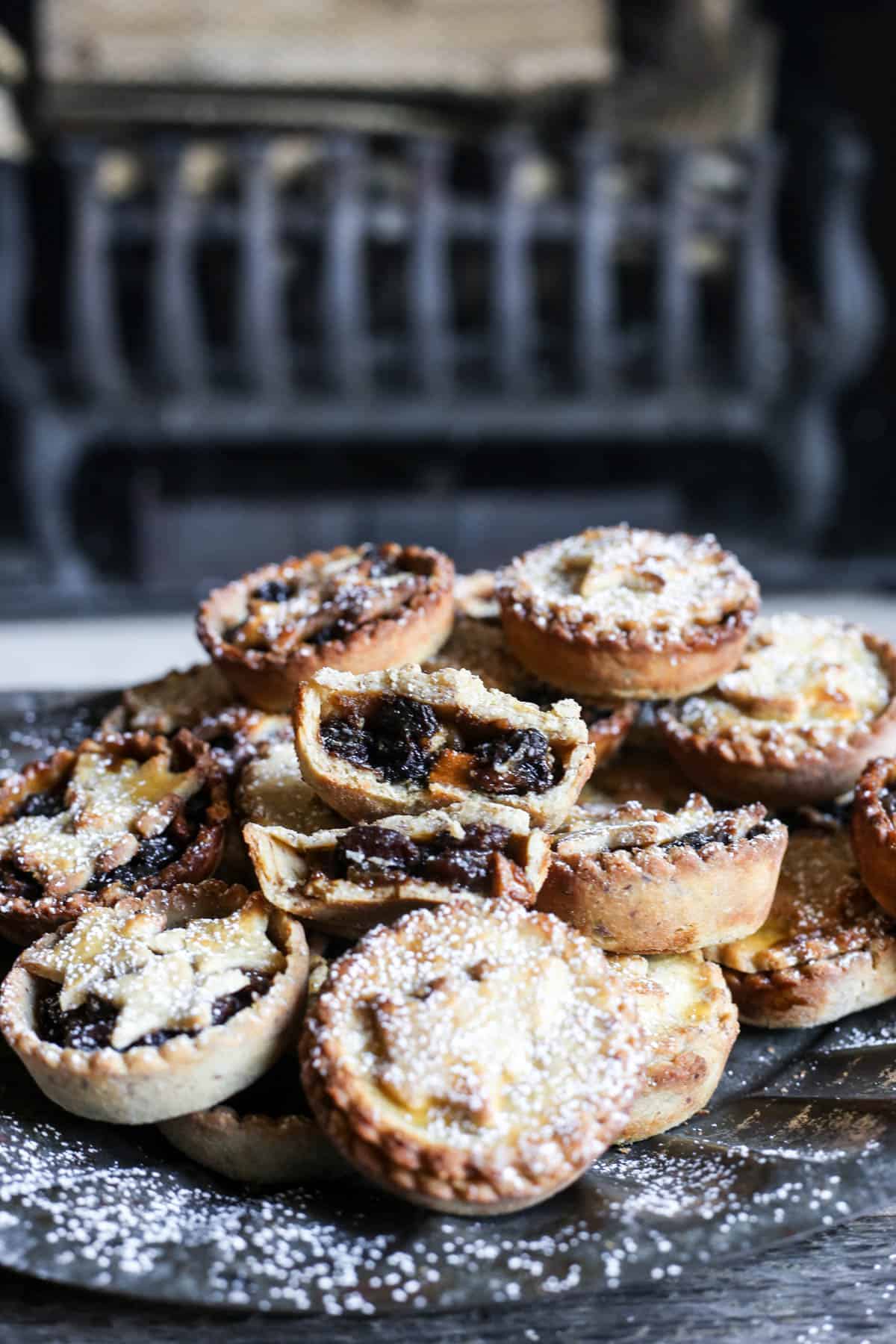 If you make these Gluten-Free Mince Pies with Homemade Pastry then please leave a comment below and give the recipe a rating which helps others find the recipe on Google. If you then go on to use this recipe as a launch pad for your own baking creation then I'd also love it if you'd share it and tag me on Instagram. It is so lovely for me to see your versions and variations of my recipes.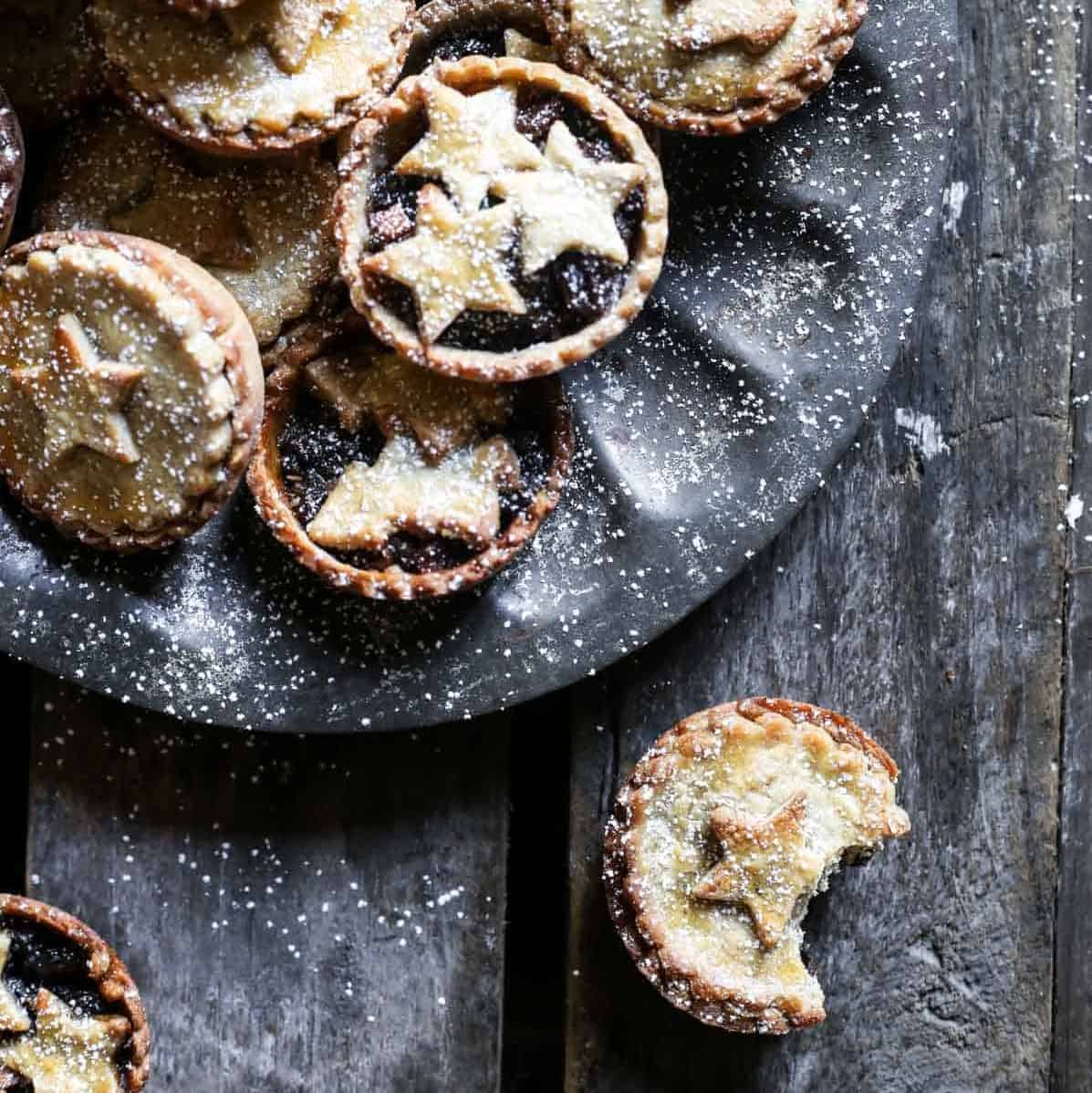 Gluten-Free Mince Pies with Homemade Pastry
These simple Gluten-Free Mince Pies are made with the most flavourful sorghum and almond flour pastry and filled with Easy Homemade Mincemeat.
Ingredients
140

g

sweet rice flour

-

plus extra flour for dusting

125

g

sorghum flour

75

g

almond flour

25

g

ground flaxseeds

125

g

unsalted butter

-

directly from the fridge

100

g

caster sugar

2

eggs + 1 yolk

-

lightly beaten

pinch

of salt

1-2

tablespoons

whole milk

-

very cold

300

g

mincemeat

1

teaspoon

egg yolk + 1 tablespoon whole milk whisked together for the wash
Instructions
Making the pastry
In a large mixing bowl whisk together the sweet rice flour, sorghum flour, almond flour and flaxseeds.

Slice the butter very thinly and add to the flour. Then rub the mixture between fingertips until roughly shorn and crumbly.

Whisk in the caster sugar and salt and then pour in the eggs.

Bring the dough together using a wooden spoon at first if you like and then your hands. If the dough is still too dry and crumbly then add a little extra whole milk.

Turn the pastry out on to the work surface and knead very briefly into a ball until the dough is cohesive and slightly sticky.

Wrap the pastry dough in cling film and place in the fridge for at least 30 minutes (or up to 3 days) until you are ready to make your mince pies.
Making the mince pies
Pre-heat the oven to 180°C.

To make the mince pies, dust your work top and your rolling pin with extra sweet rice flour then roll your pastry out to 3mm thickness. The pastry will be quite fragile. I usually split the dough in half and roll out half at a time to save a lot of re-rolling.

Cut your pastry using an 8cm pastry cutter and place each round carefully in the hole of a 12 hole muffin tin. The pastry will come up about halfway. Fill each mince pie with a heaped teaspoon of mincemeat. If you want double crusted mince pies then cut out further 6cm rounds for the lid and tuck on top so the edges of the pastry all meet.

If you would like to decorate the top of the mince pies then cut out extra Christmassy shapes from the pastry and place on top.

Whisk the extra egg yolk and milk to make a wash then brush over the top of each mince pie. Place in the oven and bake the mince pies for 10 minutes until they are golden. Leave in the tin for 5 minutes to rest then carefully remove each mince pie from the tin with a palette knife and place on a wire rack to cool. Wash and dry the tin then make your next batch.

Store the mince pies in a metal tin. They keep quite well for up to 5 days but they are best on the day they are made.
Nutrition
Calories:
214
kcal
Carbohydrates:
30
g
Protein:
3
g
Fat:
9
g
Saturated Fat:
4
g
Cholesterol:
36
mg
Sodium:
101
mg
Potassium:
45
mg
Fiber:
1
g
Sugar:
17
g
Vitamin A:
205
IU
Calcium:
19
mg
Iron:
0.6
mg
Have you tried this recipe?
Head to the comment section and let me know what you think!
This recipe was updated in November 2019 to include clearer instructions.