This post contains affiliate links. Please read my disclosures.
These Christmas Morning Mince Pie Muffins are exactly what you should be treating your family to Christmas morning. They are light, fluffy, moist and full of Christmas spice and cheer.
I know where I am with a good tradition. Little routines and recipes that let my good conscience know that it's the festive season. I've got my trifle, devils on horseback, stockings at the ready and Christmas Spotify playlist on a constant loop. I am thrown a little cock-a-hoop this year with not spending Christmas at home but with babies surrounding us these days and my sister having moved out of London this year, the family is getting bigger and more spread out so I do understand that I can't hog Christmas anymore. Even if my inner toddler is throwing a mini tanty.
So that makes it even more important in my mind to solidify our own little family traditions where we can and introduce new ones now we have Cole at the centre of the festivities.
Of the three traditions I am welcoming in this year the first is our family advent calendar. Instead of chocolate hiding behind each window I have little cards with activities or special thoughts that I have carefully written for each day in mind. Cole has had great fun picking out the cards and re-arranging them much to mummy's constant pleasure. So some days have been a little disappointing with empty air filling the windows and some a little overwhelming with Father Christmas to visit, presents to wrap and mince pies to make. I think I got a bit overambitious though with this tradition and might have hidden the advent calendar after the 10th on the realisation of how much work was involved in actually doing what was written on the cards.
The second tradition is our new memory box which I read all about on Pinterest. It seems a wonderful idea and I can imagine us all gathered around the Christmas tree, sharing anecdotes and cherished moments of this past year. No matter that I haven't quite got round to buying the beautiful wooden boxes that are associated with this marvellous tradition. Instead we have a bit of scraggy old tupperware that I'm sure will be just as charming to hold our memories in until next year when I'll order the wooden box by November at the latest.
The third tradition, which is probably the only one to be actualised, are these Christmas Morning Mince Pie Muffins. I think the title is pretty clear on when I intend to be making these bad boys. I don't know why I haven't made them before though as they are absolutely delicious, a cinch to make, without even requiring a food mixer, and best of all use up all the dregs of mincemeat that I always have hanging around my cupboards.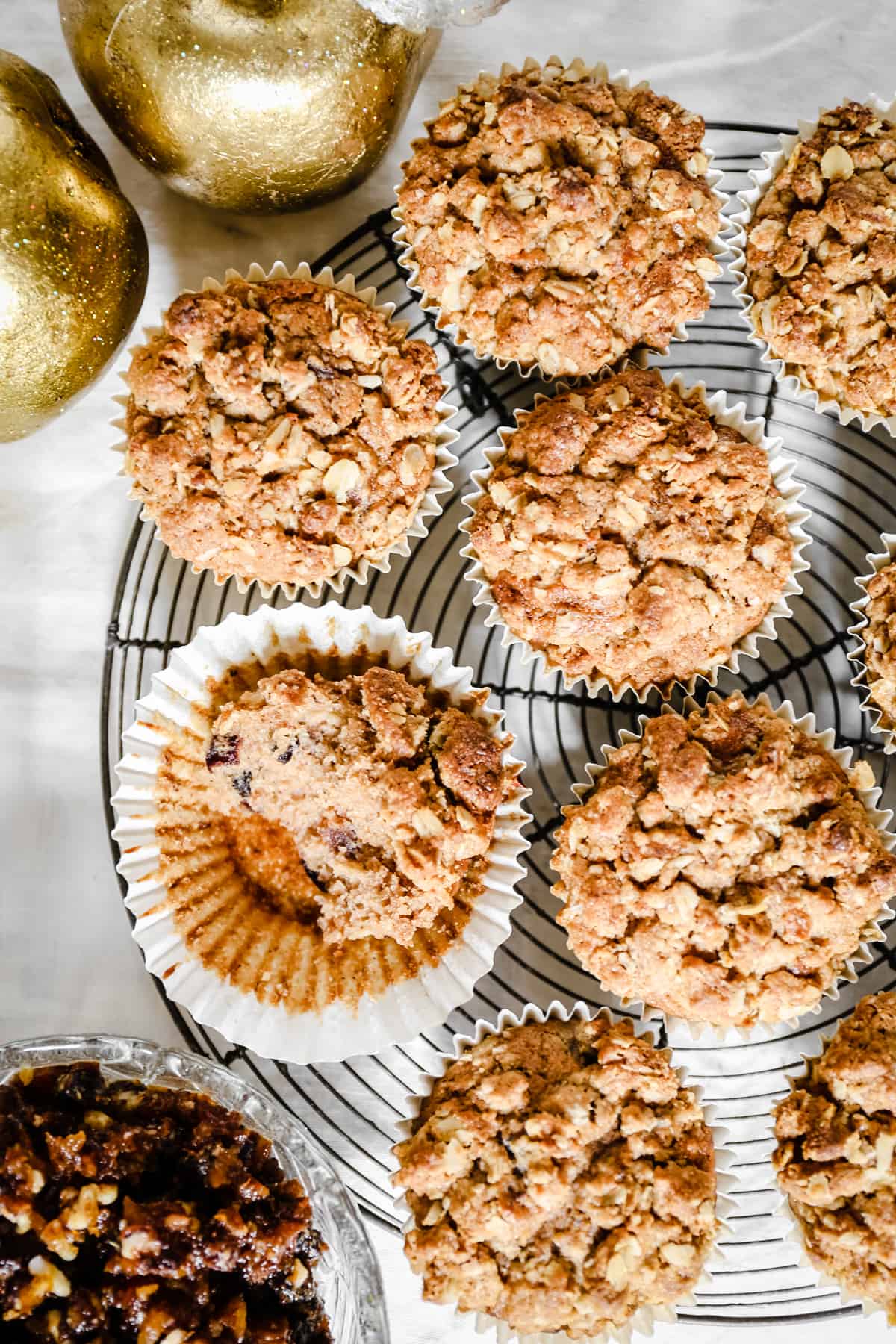 They are gluten-free, like all my recipes these days, made with a combination of white rice flour and chestnut flour. These Mince Pie Muffins are light and fluffy, but also deliciously moist thanks to the generous amount of apple puree and mincemeat in the batter. I have tried making them with all kinds of mincemeat, with suet, without suet, with nuts and without and they have all been wonderful. I must confess though, my favourite batch was made with my Cranberry and Cointreau Mincemeat which is so lovely fresh and fruity.
Do whizz up the apple puree the night before if you want to make these on Christmas morning as it saves you a boring job when you'd much rather be opening pressies and quaffing back Bucks Fizz, but apart from that they are very simple and I think an excellent new tradition addition.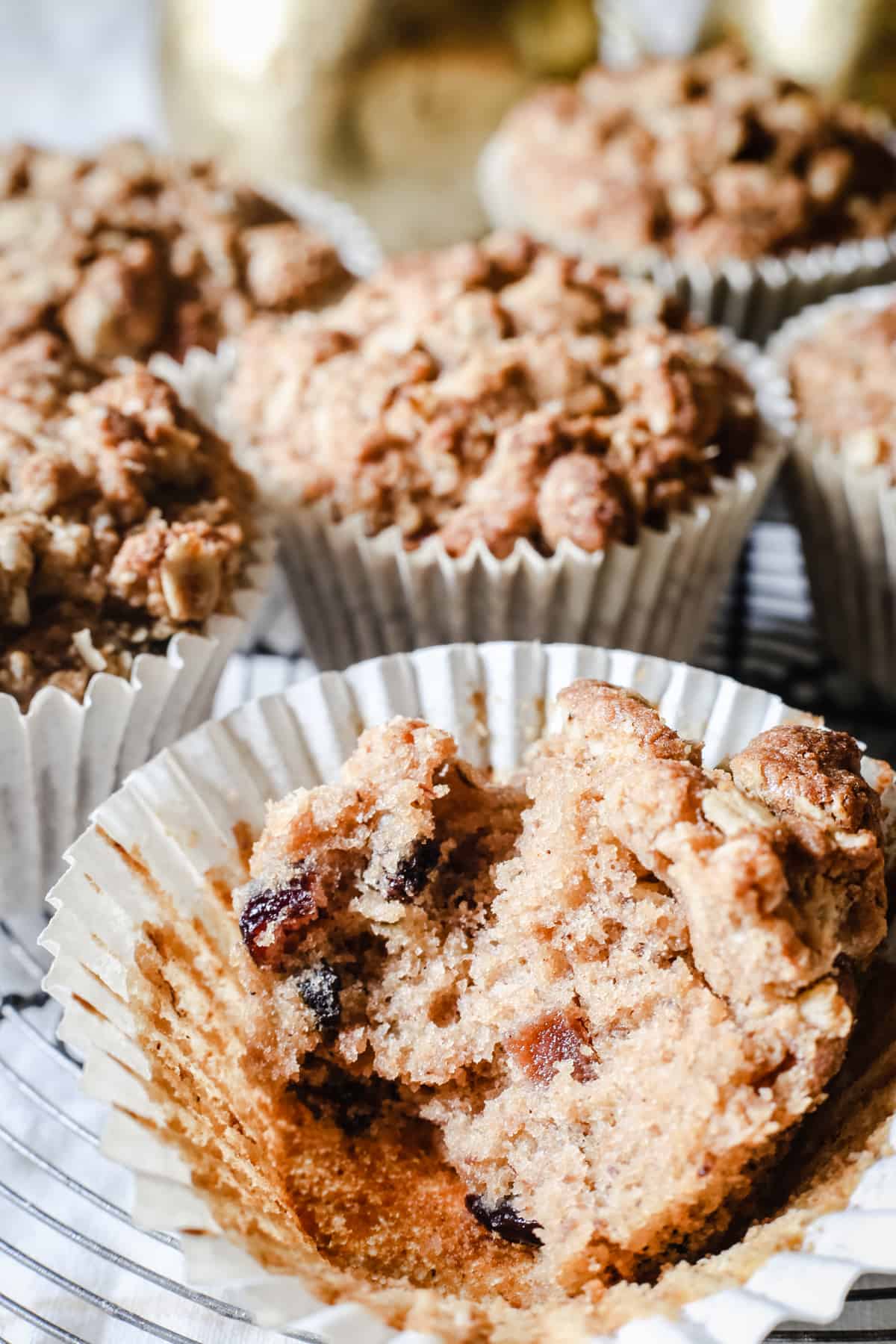 Christmas Morning Mince Pie Muffins (gluten-free)
These Christmas Morning Mince Pie Muffins are exactly what you should be treating your family to Christmas morning. They are light, fluffy, moist and full of Christmas spice and cheer.
Ingredients
For the streusel topping:
35

g

white rice flour

30

g

chestnut flour

50

g

soft light brown sugar

90

g

unsalted butter

40

g

gluten-free porridge oats

1

teaspoon

mixed spice
For the muffins
200

g

mincemeat

-

gluten-free

175

g

apple puree

-

about 4-5 apples

120

g

soft light brown sugar

80

ml

light olive oil

-

not extra virgin

2

eggs

150

g

white rice flour

50

g

chestnut flour

1

teaspoon

mixed spice

½

teaspoon

bicarbonate of soda

1½

teaspoon

baking powder

¼

teaspoon

salt
Instructions
First line a 12 hole muffin tin with muffin cases and pre-heat the oven to 170°C.

Prepare the streusel by placing the flours, sugar, butter, oats and spice in a large mixing bowl and rubbing together between your fingers. The streusel should come together but still be crumbly. Set aside whilst you prepare the muffin batter.

Pour the mincemeat, apple puree, sugar, eggs and olive oil into a large mixing bowl and beat together until combined.

In another mixing bowl sift together the flours, spice, bicarbonate of soda, baking powder and salt in a mixing bowl, then tip into the liquid batter.

Beat together for a minute or so until everything is well mixed then evenly distribute between the muffin cases.

Crumble the streusel on top of the muffins then bake in the oven for 22-24 minutes.

Remove from the oven and immediately remove the muffins from the tin and leave on a rack to cool.
Notes
This recipe was very heavily adapted from Alice Medrich's Banana Muffins in her amazing book 'Flavor Flours'
Nutrition
Calories:
329
kcal
Carbohydrates:
48
g
Protein:
3
g
Fat:
14
g
Saturated Fat:
5
g
Cholesterol:
43
mg
Sodium:
205
mg
Potassium:
112
mg
Fiber:
2
g
Sugar:
28
g
Vitamin A:
230
IU
Vitamin C:
2.6
mg
Calcium:
47
mg
Iron:
0.8
mg
Have you tried this recipe?
Head to the comment section and let me know what you think!