Bramley Apple Mincemeat Pudding is a must at this time of year. It's an excellent way of using up all your excess mincemeat or makes a lighter alternative to Christmas Pudding at the end of your festive feast. Both the wheat and gluten-free recipes are listed below.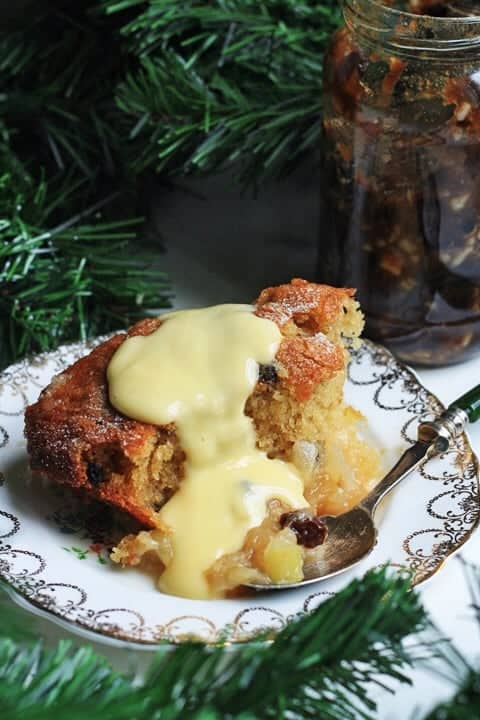 It's crazy how much I love mincemeat. In fact it's just as well that it only comes out once a year as not only do I get to thoroughly enjoy mince pie season but it means I am held back from overindulging all year round. I have made close to 100 jars of mincemeat this year, for selling on my preserves stalls, and it hasn't diminished my love for the stuff at all. Making the mincemeat is one of my very favourite cooking jobs to do, it fills my kitchen with the heady scent of brandy, plump fruits and warming spices and the resulting mixture is so versatile that it would be a shame if you merely confined it to just a mini pie filling.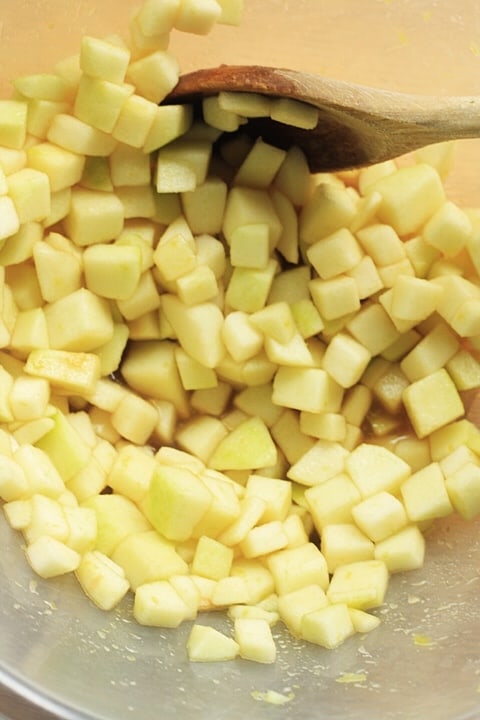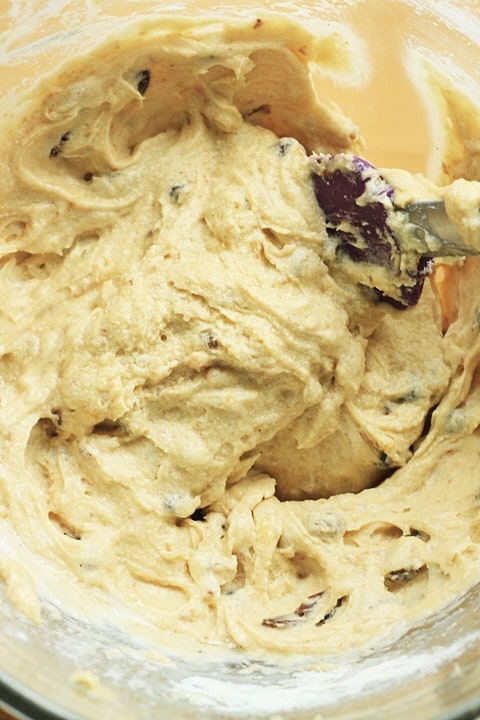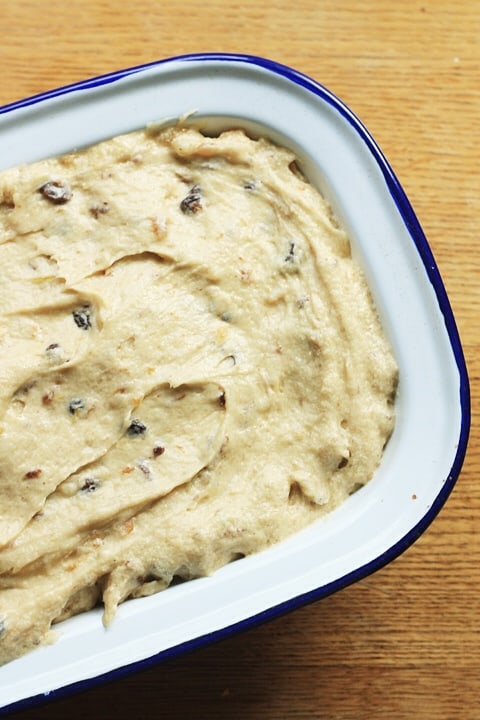 I love crumbled mince pies stirred through freshly churned ice cream, I devoured Nigel Slater's Mincemeat trifle which I made a couple of years ago and I seriously heart mincemeat cheesecake which I am sure is also credited to Nigel Slater but I never wrote down the source of my recipe I have on file. Last year though I made this Bramley Apple and Mincemeat Pudding in a bid to clear out my cupboards of Christmas just before the new year kicked in. I never blogged about it as the recipe needed some tweaking and it didn't look as pretty as it should, plus if I remember correctly I made it about 9pm and was too tired for a photo session. This year though I stumbled across my notes for it and tore open one of my jars of Victorian Mincemeat (which I was supposed to be selling at the weekend) quicker than you could say 'leftover bramleys in the fruitbowl.'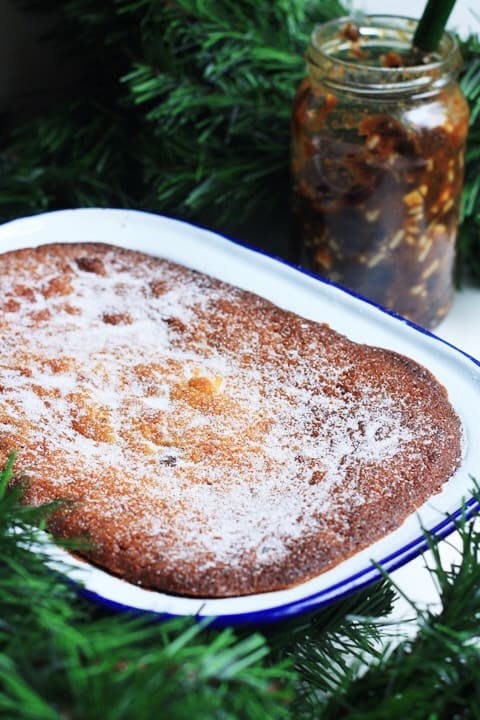 I tweaked some of the sugar in my original recipe and took the mincemeat through the sponge topping instead of allowing it to languish at the bottom with the bramleys and suddenly an instant classic was born.
I like the tartness of the bramleys just as they are but here I gave them a kiss of brown sugar to take the edge off. If you need your apples sweeter than do add more sugar but I think the fruity mincemeat in the sponge contrasts deliciously with the natural apple taste.
Of course there will be disagreements on how this should be served. I drowned mine in lashings of custard. And not just any custard, I couldn't be bothered to make my own own despite having a plentiful amount of double cream and eggs in the fridge and for the first time in my whole life I whisked up some Bird's custard powder and it turned out quite delicious. So there, those of you that think I'm a food snob. I can get down and dirty with the rest of you any day of the week.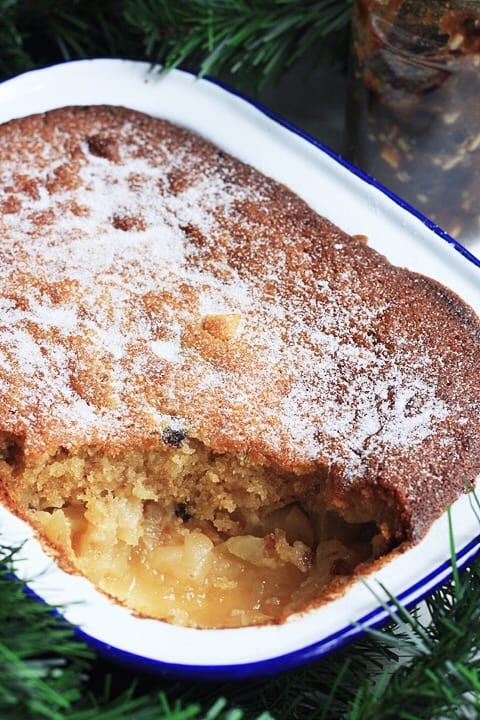 Some festive desserts have the propensity to be a bit of a faff but this took moments to mix up and bake, perfect for cold nights in front of the fire. I urge you this year to be adventurous with your mincemeat and it would be lovely to hear some of your favourite mincemeat experiments.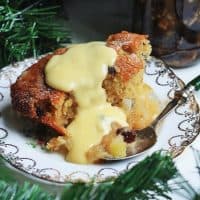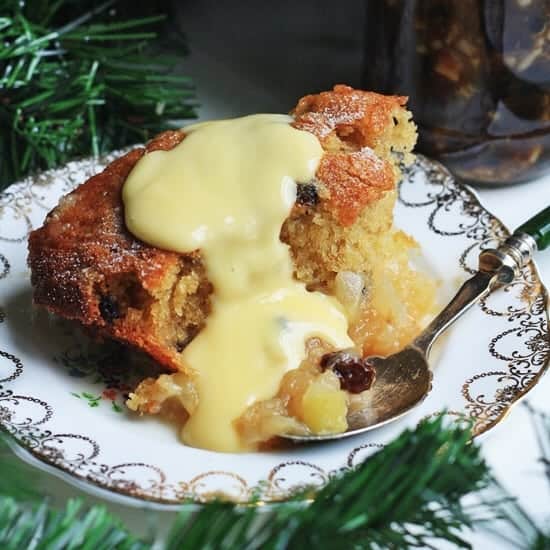 Bramley Apple and Mincemeat Pudding
Bramley Apple Mincemeat Pudding is an excellent way of using up all your excess mincemeat or makes a lighter alternative to Christmas Pudding.

Print Pin Rate

Prep Time: 20 minutes

Cook Time: 45 minutes

Total Time: 1 hour 5 minutes

Servings: 6 people

Calories: 513kcal
Ingredients
2 bramley apples peeled and diced
2 tablespoons soft light brown sugar
grated zest and juice of ½ lemon
150 g butter
150 g caster sugar
3 eggs
1 teaspoon vanilla extract
6 tablespoons mincemeat
150 g plain flour *for gluten-free version see notes
1½ teaspoons baking powder
¼ teaspoon salt
1 tablespoon whole milk
1 teaspoon caster sugar to sprinkle
Instructions
Pre-heat the oven to 170°C.

In a large bowl mix the bramley apples with the sugar and lemon zest and juice. Pour into a buttered baking dish and set aside

Cream the butter and sugar for a few minutes until light and fluffy.

Add the eggs one at a time, mixing until thoroughly incorporated.

Stir in the vanilla extract and then the mincemeat.

Sift together the flour, baking powder and salt then mix into the rest of the ingredients until just combined.

Finally stir in the milk.

Pour the batter on top of the apples then bake in the oven for around 45 minutes until the sponge has browned on top and an inserted toothpicks comes out clean.

Sprinkle over the teaspoon of caster sugar and serve with lashings of custard.
Notes
*I developed this recipe before I became totally gluten-free and recently I have perfected the gluten-free version. The recipe is totally the same except instead of plain flour I use the following flours all whisked together:
55g sweet rice flour
40g oat flour
30g millet flour
25g almond flour
The result is amazing and just as fluffy and deeply delicious as the original recipe.
Nutrition
Calories: 513kcal | Carbohydrates: 73g | Protein: 6g | Fat: 23g | Saturated Fat: 14g | Cholesterol: 136mg | Sodium: 423mg | Potassium: 229mg | Fiber: 3g | Sugar: 50g | Vitamin A: 15.5% | Vitamin C: 3.4% | Calcium: 7.5% | Iron: 9.4%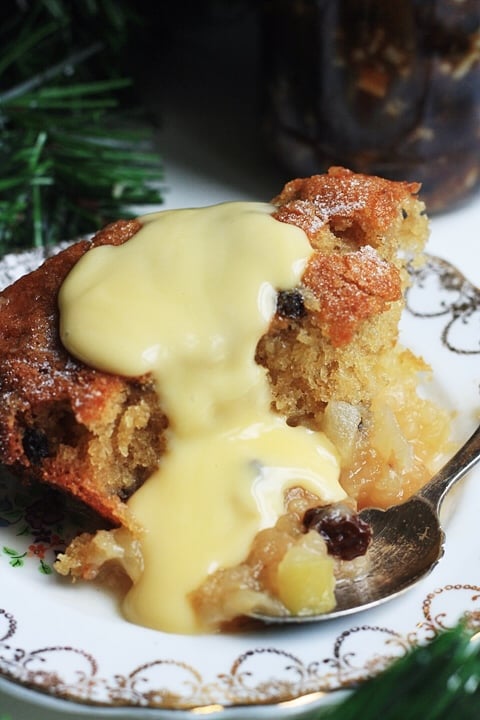 If you like this recipe then you may like…