This post contains affiliate links. Please read my disclosures.
These Chocolate Courgette (Zucchini) Muffins are delightfully decedent and incredibly moist. Plus they are gluten-free and vegan.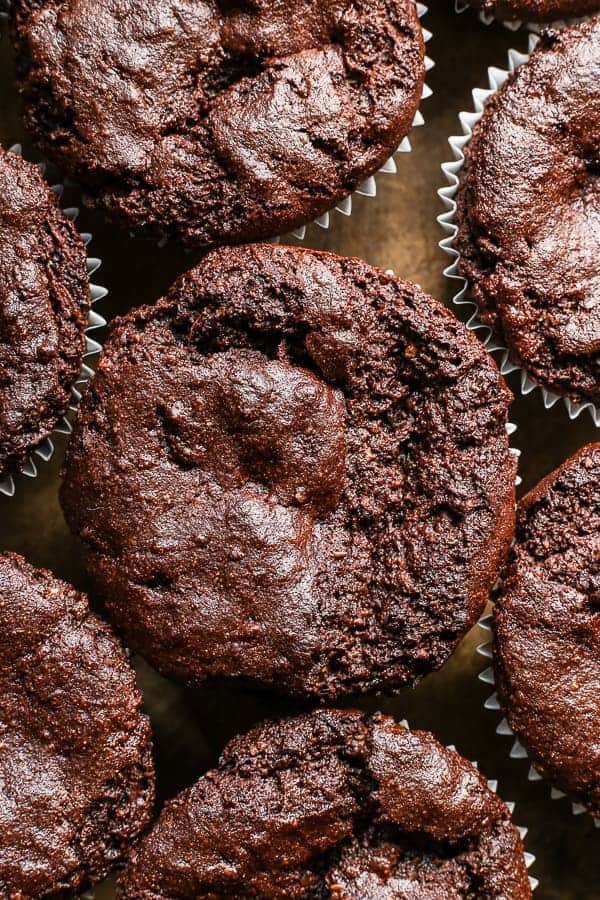 There is something about courgette that makes a chocolate muffin taste even more chocolately. It seems to deepen the flavour, make it earthier and more complex. The courgette within the muffin doesn't taste of vegetables but it does give the muffin a kind of intensity that will make you wonder why you don't put courgettes into all your chocolate cakes.

How to prepare courgettes for cakes
Courgettes are easy to get ready for your cakes. They just require a quick rinse in fresh water, top and tailing, then grating. If you have a grater attachment with your food processor then you're good to go. However hand grating or using a julienne peeler is just fine too, although will take longer.
The next step is to remove as much excess water out of the courgette as you can. The best way to do this is to wrap the grated courgette in a clean porous cloth, muslin or nut milk bag and squeeze it out by hand. There shouldn't be a huge amount of water produced but it's a worthwhile job lest it interfere with the liquid ratios in your cake.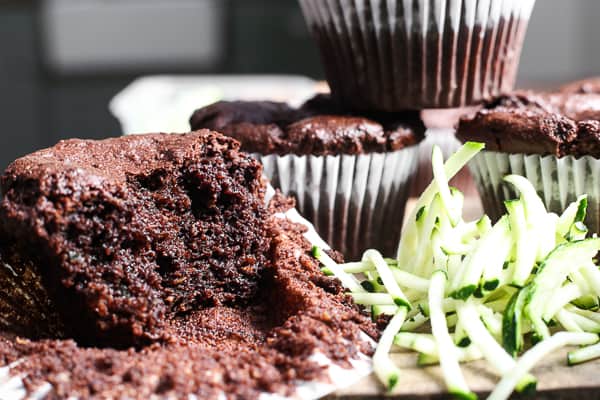 Vegan Baking
Vegan baking can have its detractors but if you use real whole ingredients in your vegan cakes they will produce amazing results. Instead of vegan butter think coconut butter and gravitate towards these kind of ingredients. Homemade cashew milk (which is dead easy to make) or coconut milk without complicated stabilisers will produce much better cakes than your generic carton of soy milk.
These Chocolate Courgette (Zucchini) Muffins for instance are as good (actually better!) as any muffin you will have tasted. So light yet almost fudgy. Gluten-free or vegan be damned, they are just an incredible muffin and a perfect way to use up this season's courgette glut.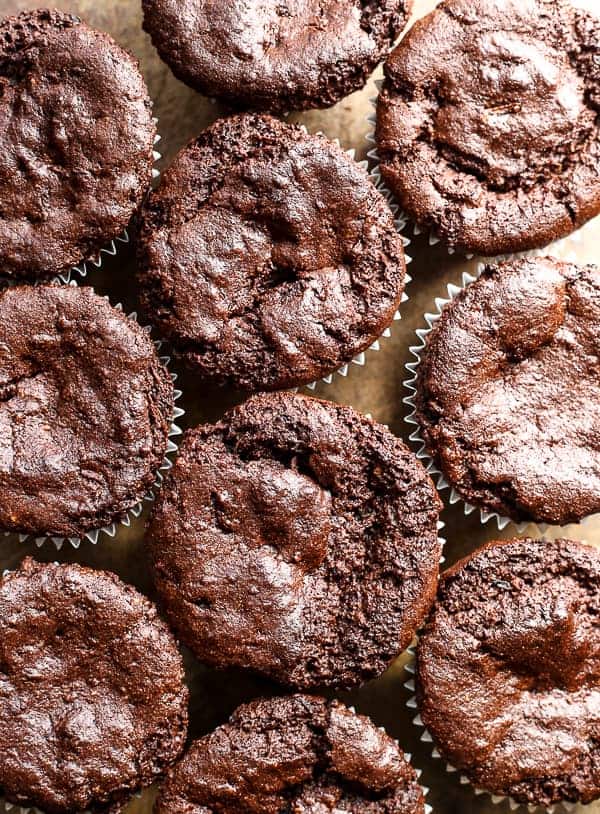 How do you make vegan muffins?
Making great vegan muffins is easy once you understand what roles the dairy and eggs play in regular muffins. Then we just need to replicate those roles in other ways.
Fat
The fat is easy to replace as muffins are usually made with a liquid fat anyway. For our vegan muffin we could use a light olive oil but here we're opting for melted coconut oil.
Rising Agent
That would usually be the job of the eggs and a touch of baking powder. For this recipe though we're going all in on bicarbonate of soda and baking powder for a really good lift.
Vegan Baking Tip 1: Apple Cider Vinegar
This is the key to the rise. Any vinegar or lemon juice will do the job but apple cider vinegar is my favourite acid to use in a cake. The acid reacts with the bicarbonate of soda to give a great rise to the muffins. It doesn't hurt that this reaction also gives the cake a really tender crumb.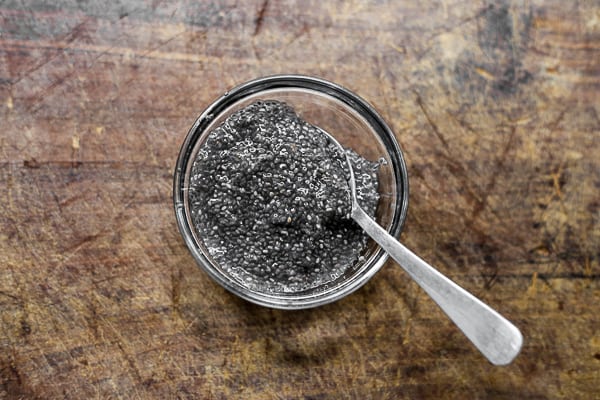 Vegan Baking Tip 2: Chia Egg
Chia seeds (or flaxseeds also do the same job) can be used to great effect in both vegan and gluten-free cakes to help naturally bind the bake together. A chia 'egg' is incredibly simple to prepare:
Mix 1 tablespoon chia seeds with 3 tablespoons water. Set aside for 5-10 minutes until the chia seeds have become a sticky gloop. The texture will resemble a whisked egg.
A chia egg is not really a replacement egg exactly. For example, it's not quite the case that you can just replace the eggs in a cake with the same amount of chia eggs. However, they will definitely help your cake bind really well, giving great moisture content, and that's pretty much what a real life egg does too.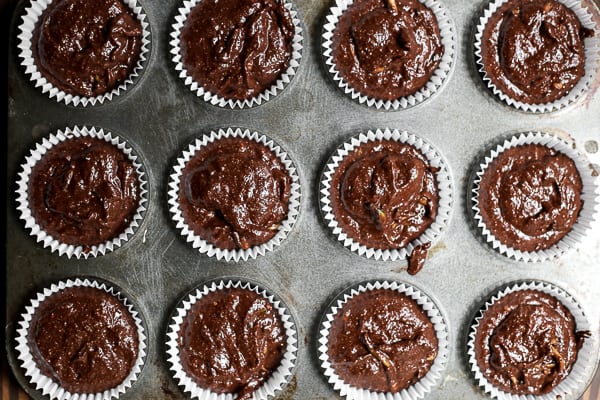 Gluten-Free Flours
The gluten-free flours in vegan cakes have to work extra hard as they won't have the protein structure of eggs to help bind the muffin together. So we are looking to use a flour with a very high protein content:
Almond flour does this job perfectly and gives great structure to the muffin. However, if we have too much protein then our muffin will be dry and stiff so it's good to mix the almond flour with something a little lighter and fluffier:
Oat flour is the ideal companion to the almond flour in both texture and flavour.
Oat flour substitute - If you find oats hard to digest then you might want to replace it with sorghum flour or teff flour.
Moisture
The one thing a lot of vegan and gluten-free bakes lack is moisture. However we are lucky in these Chocolate Courgette Muffins that there is a lot going on that help us out on that front. We have:
Courgettes
Coconut milk
Coconut oil
Chia egg
Brown sugar
The result is that these muffins are almost fudgy like in texture. They hold together well, they are so delicious and you will be going back for more. And more.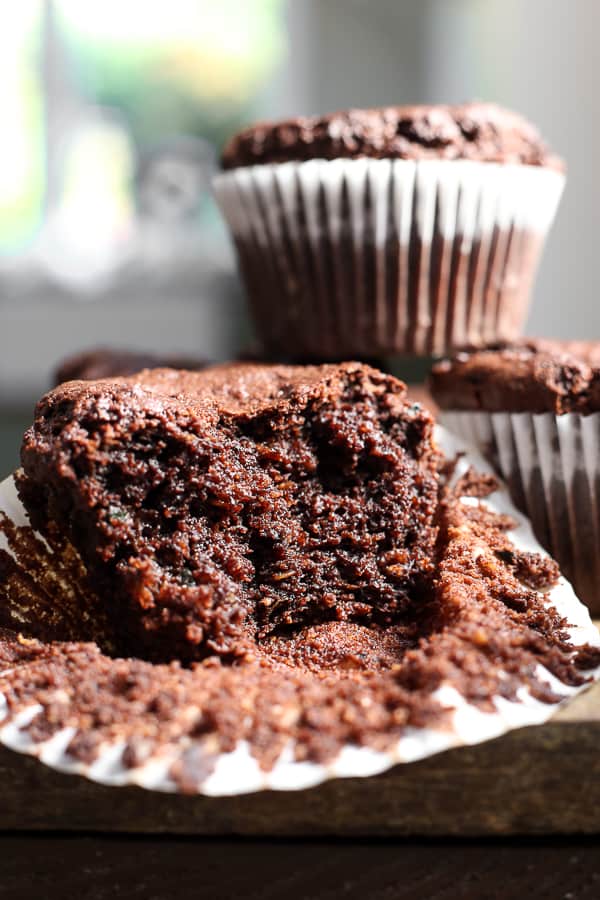 If you are unsure about vegan baking or want to prove to someone how delicious vegan baking can truly be then point them in the direction of these Chocolate Courgette Muffins. No one is going to be disappointed.
Shop the recipe:
Trigger-release ice cream scoop
Julienne peeler
Nut milk bag
Apple cider vinegar
Regular 12-hole muffin tin
If you love these muffins then why not try these other vegan baking recipes?
Lemon Iced Stem Ginger Parkin
Banana Peanut Butter Streusel Muffins
Chocolate Coconut Banana Loaf
If you make these Chocolate Courgette Muffins then please leave a comment below and/or give the recipe a rating. If you then go on to use this recipe as a launch pad for your own baking creation then I'd also love it if you'd share it and tag me on Instagram. It is so lovely for me to see your versions and variations of my recipes.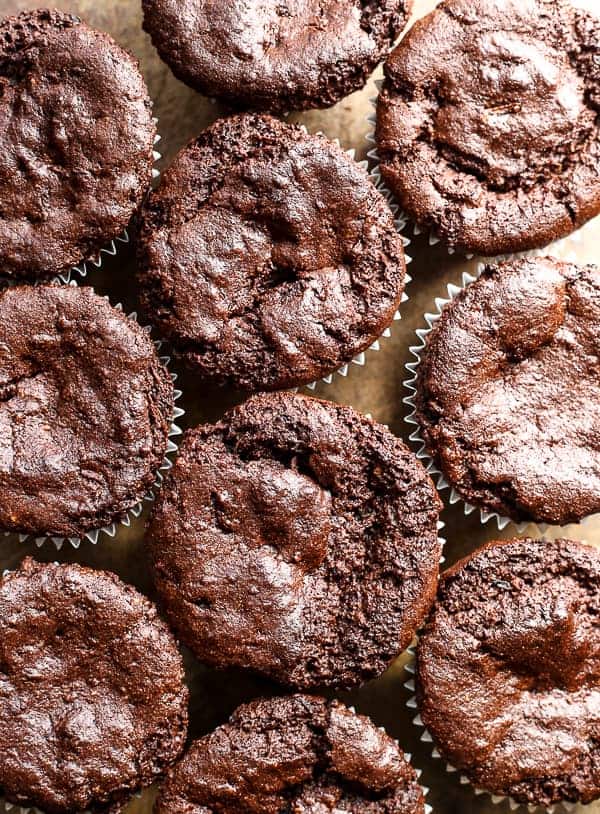 Chocolate Courgette Muffins
Chocolate Courgette Muffins are delightfully decedent and incredibly moist. Plus they are gluten-free and vegan.
Ingredients
1

tablespoon

chia seeds

3

tablespoons

water

2

tablespoons

apple cider vinegar

250

ml

coconut milk

140

ml

coconut oil

-

melted and cooled

2

teaspoons

vanilla extract

300

g

courgettes

-

grated

350

g

soft light brown sugar

200

g

almond flour

125

g

oat flour

70

g

cocoa powder

2

teaspoons

bicarbonate of soda

2

teaspoons

baking powder

¾

teaspoon

salt
Instructions
Pre-heat your oven to 180°C/160°C fan/gas mark Fill a muffin tin/s with 15 muffin liners.

Prepare the chia egg by mixing the chia seeds with the 3 tablespoons water in a small bowl. Set aside for 5-10 minutes for the chia seeds to gel together.

Place the grated courgette in the centre of a large piece of muslin, porous cloth or even into a nut milk bag. Using your hands, squeeze the excess water out of the courgettes. After this the grated courgettes should weigh about 250g. Set aside.

Whisk together the almond flour, oat flour, cocoa powder, bicarbonate of soda, baking powder and salt in a large bowl then set aside for a moment.

Pour the coconut milk and apple cider in a large bowl or food mixer and beat until the liquid is frothy.

Add the melted coconut oil, vanilla extract, sugar, chia egg and grated courgette. Beat until well combined.

Mix the dry ingredients with the liquid ingredients in two batches to ensure even combining.

Scoop the batter into the prepared muffin liners, filling each almost to the top.

Bake for 30 minutes or until a toothpick inserted into the centre of the muffin comes out clean.

Remove the muffins immediately from the tin and leave to cool on a wire rack.
Notes
Use a coconut milk that doesn't have any thickeners, stablilisers or gums. The best one in the UK is the Biona brand.
Oat flour substitute: you can switch out with sorghum flour or teff flour
If you can't find gluten-free oat flour then you can grind your own by using the equal weight of gluten-free rolled oats and grinding in your food processor. Since you'll probably be unable to achieve as fine a grind the texture of the muffin will be slightly chewier but just as delicious.
The best way to scoop the muffin batter into the muffin liners is to use an ice cream scoop. Each muffin should contain about 2 generous scoops.
The muffins will keep up to 5 days in a air tight tin in a cool dark place.
These muffins freeze excellently. Freeze in a ziplock bag for up to 3 months and leave to defrost on the kitchen top thoroughly before consuming.
Nutrition
Calories:
331
kcal
Carbohydrates:
36
g
Protein:
6
g
Fat:
21
g
Saturated Fat:
12
g
Sodium:
276
mg
Potassium:
279
mg
Fiber:
4
g
Sugar:
24
g
Vitamin A:
40
IU
Vitamin C:
3.7
mg
Calcium:
92
mg
Iron:
2.4
mg
Have you tried this recipe?
Head to the comment section and let me know what you think!