This post contains affiliate links. Please read my disclosures.
Gluten-Free Hot Cross Buns are sweetly spiced and studded with dried fruit. There is no xanthan gum involved and they are best served warm with a slick of salted butter.
The scent of Easter has been afoot in my kitchen for a while now as I have been recipe testing the perfect Gluten-Free Hot Cross Bun. Every year I plan on this recipe but it has taken me a long time to perfect the right flour blend.
Fresh Hot Cross Buns from the bakery are one of my favourite things ever and I have been missing them like crazy. The good news is your gluten-free versions are finally here and they are easier to bake than you think.
This final version even passed Cole's taste test. He declared them as good as the one Henry from football shared with him, and his had chocolate chips in it. Since all my previous batches had gone down like lead balloons with him I was confident that I was onto a winner here. There is no more exacting critic than a three and a half year old.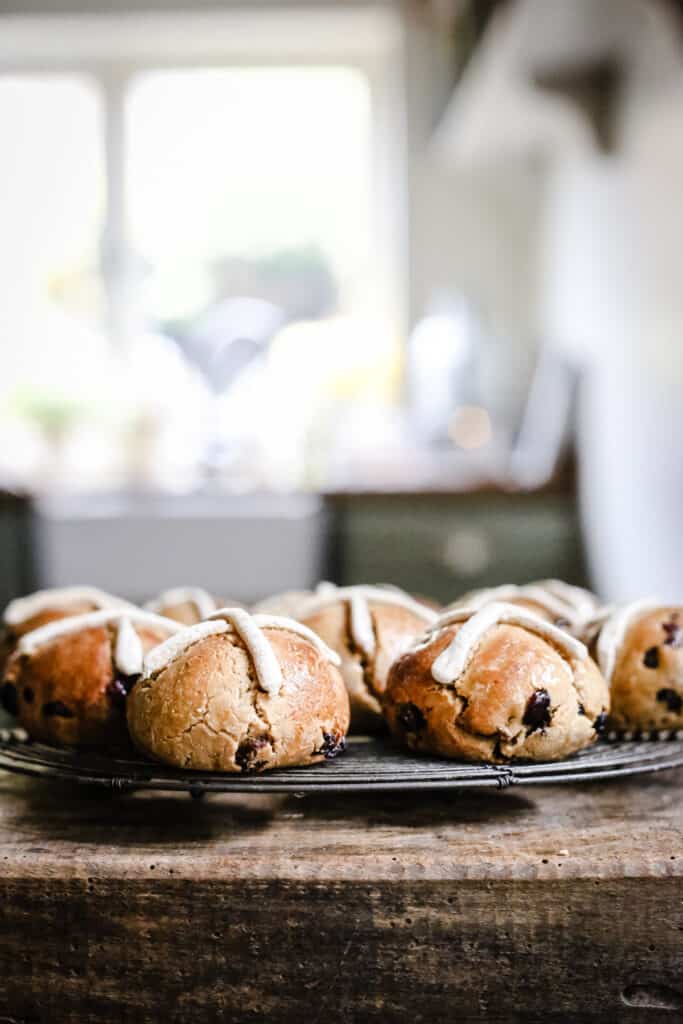 What are Hot Cross Buns?
Hot Cross Buns are sweetly spiced buns studded with currants and recognisable for their white cross baked onto the surface of the bun. Traditionally Hot Cross Buns are eaten on Good Friday in the UK but really any time between January and April is perfectly acceptable (or between April and December).
Why are Hot Cross Buns eaten at Easter?
Hot Cross Buns symbolise the end of Lent. The cross on the top represents the cross on which Jesus was crucified and the spices signify the embalming of his body.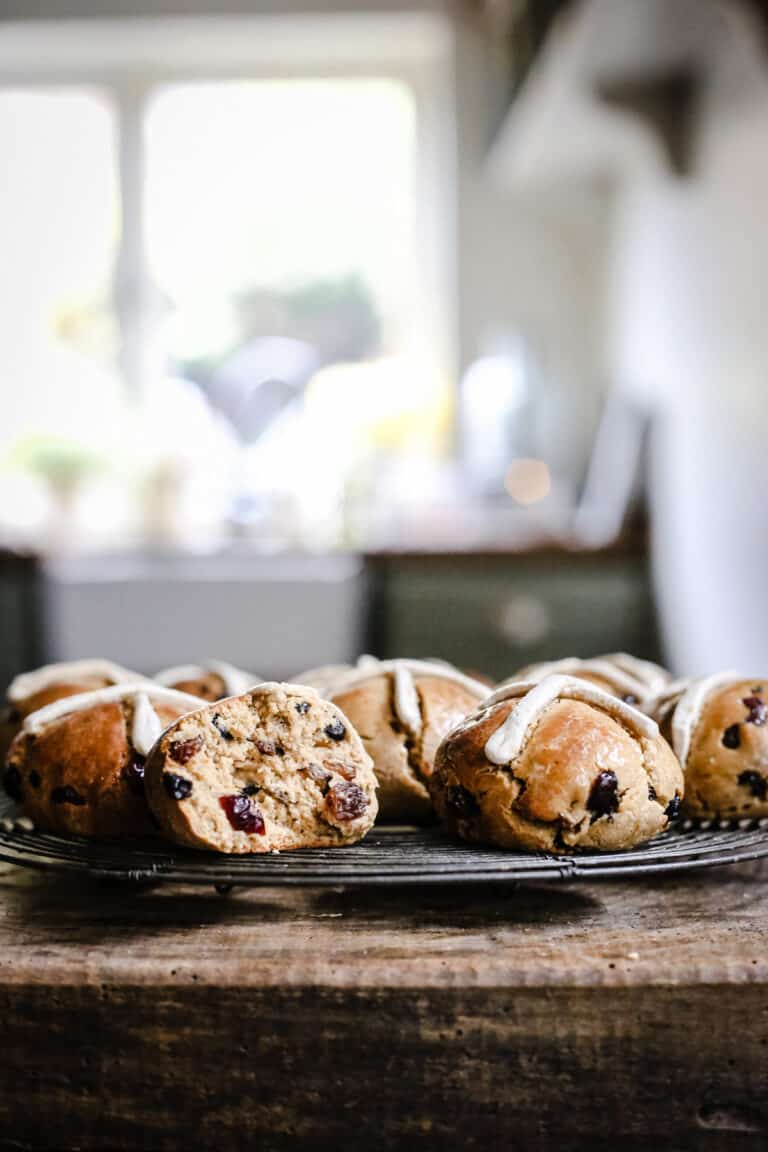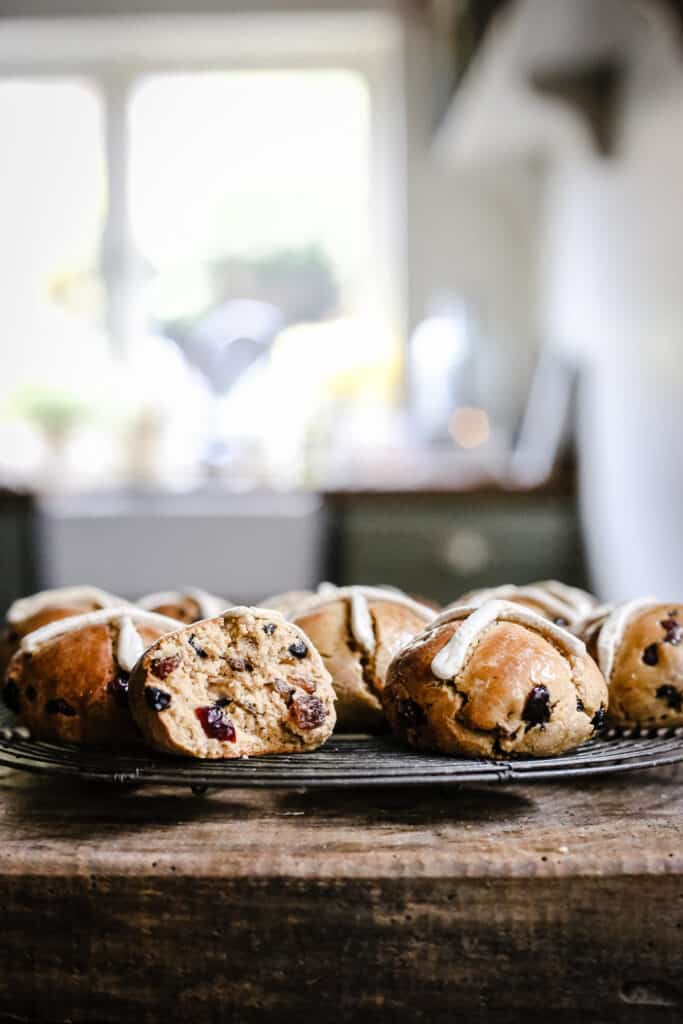 How to make them
Fresh Homemade Hot Cross Buns are quicker to make than you think. Although you do need to include an hour for the dough to rest so do build that into your prep time. Here are the essential details:
Make the dough. Flours, sugar, spices, yeast are whisked up then the eggs and milk are poured in and the dough is brought together.
Add the dried fruit.
Knead the dough, a little.
Prove the dough for 1 hour.
Shape the buns. Then place on the baking tray.
Make the flour paste for the crosses. Pipe the crosses onto each bun.
Bake for 20 minutes.
Glaze the buns with a simple sugar syrup.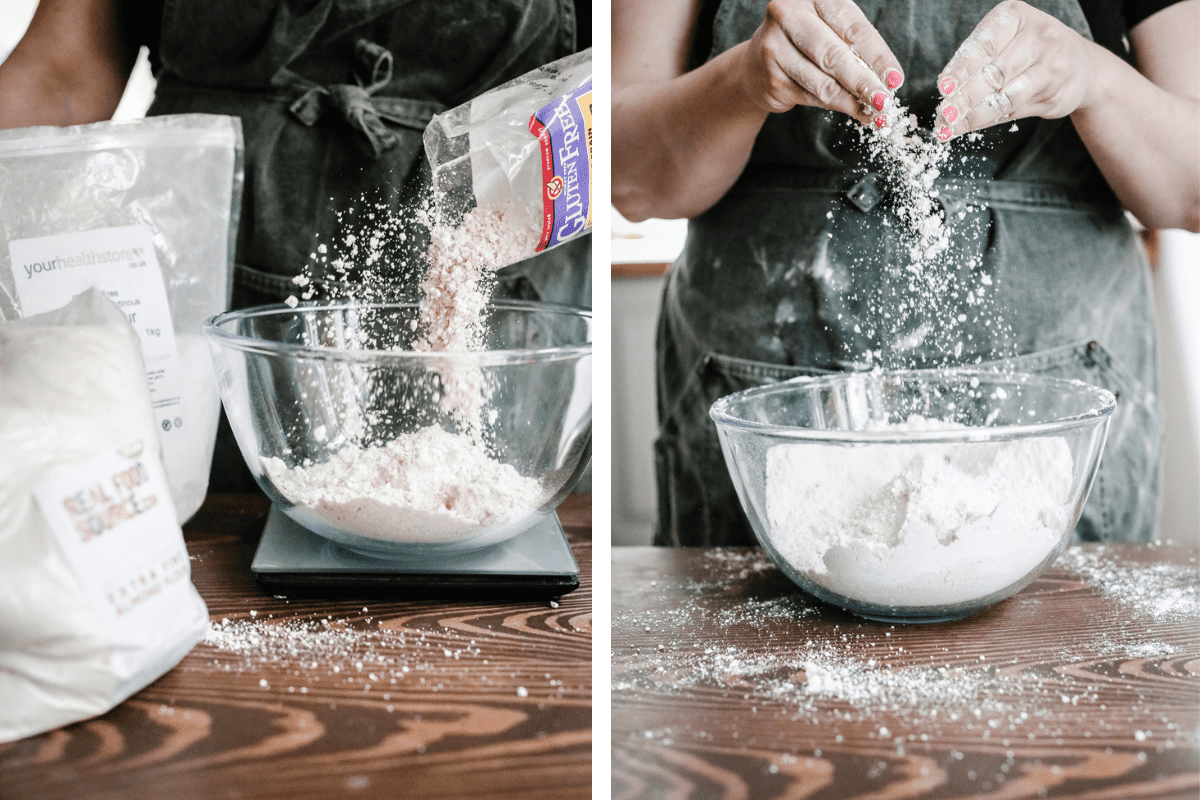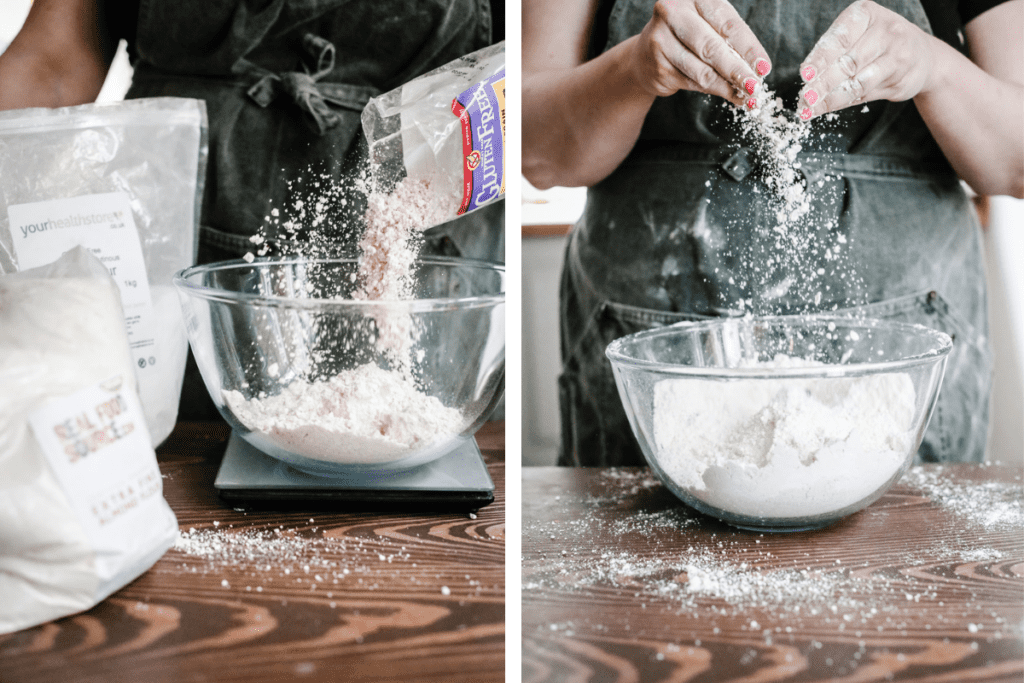 Gluten-Free Flours
To make these Hot Cross Buns gluten-free I have swapped out the wheat flour for the following alternative flours:
Gluten-Free Oat Flour: Chosen to make the buns light and fluffy. However if you cannot digest oat flour then use 100g sorghum flour and 100g millet flour in its place.
Almond Flour: Used for its soft tender crumb so the buns are not too dense. Plus flavour!
Sweet Rice Flour: It helps bind the flour mix together so the buns are not dry and crumbly.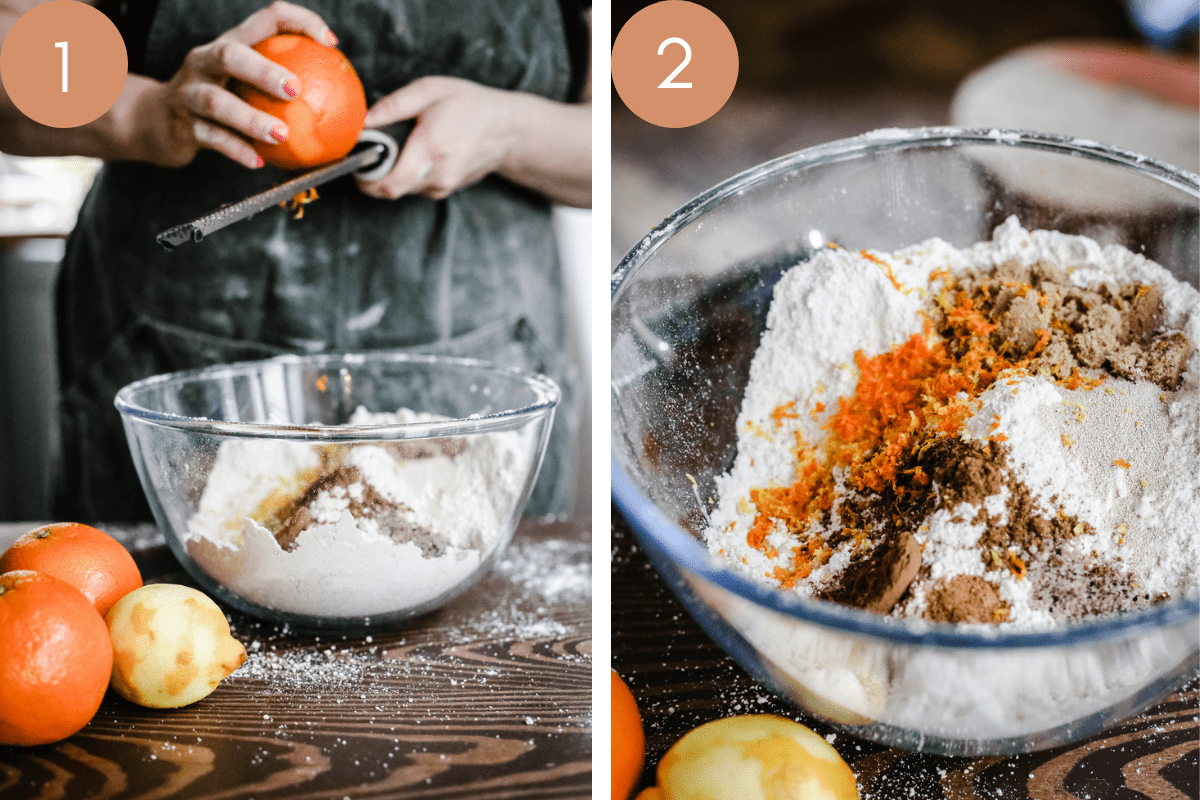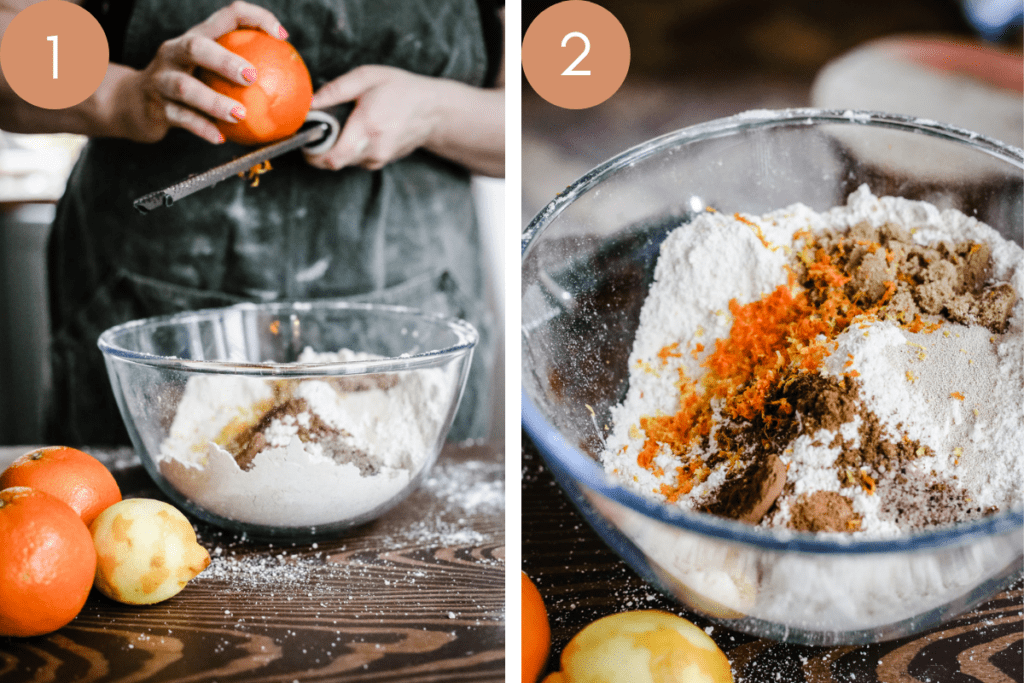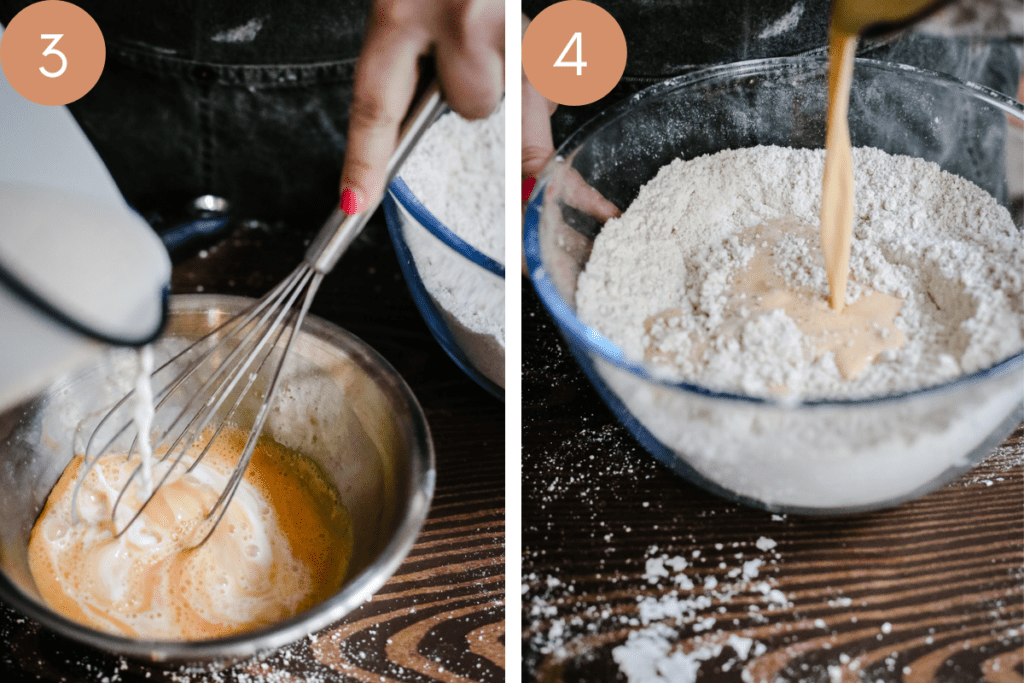 What spices to use
Ground cinnamon and nutmeg are a must in a Hot Cross Bun. Ground mixed spice is also added here but if you don't have it to hand you can substitute with an extra ½ teaspoon ground cinnamon, ¼ teaspoon ground ginger and ¼ teaspoon ground cloves.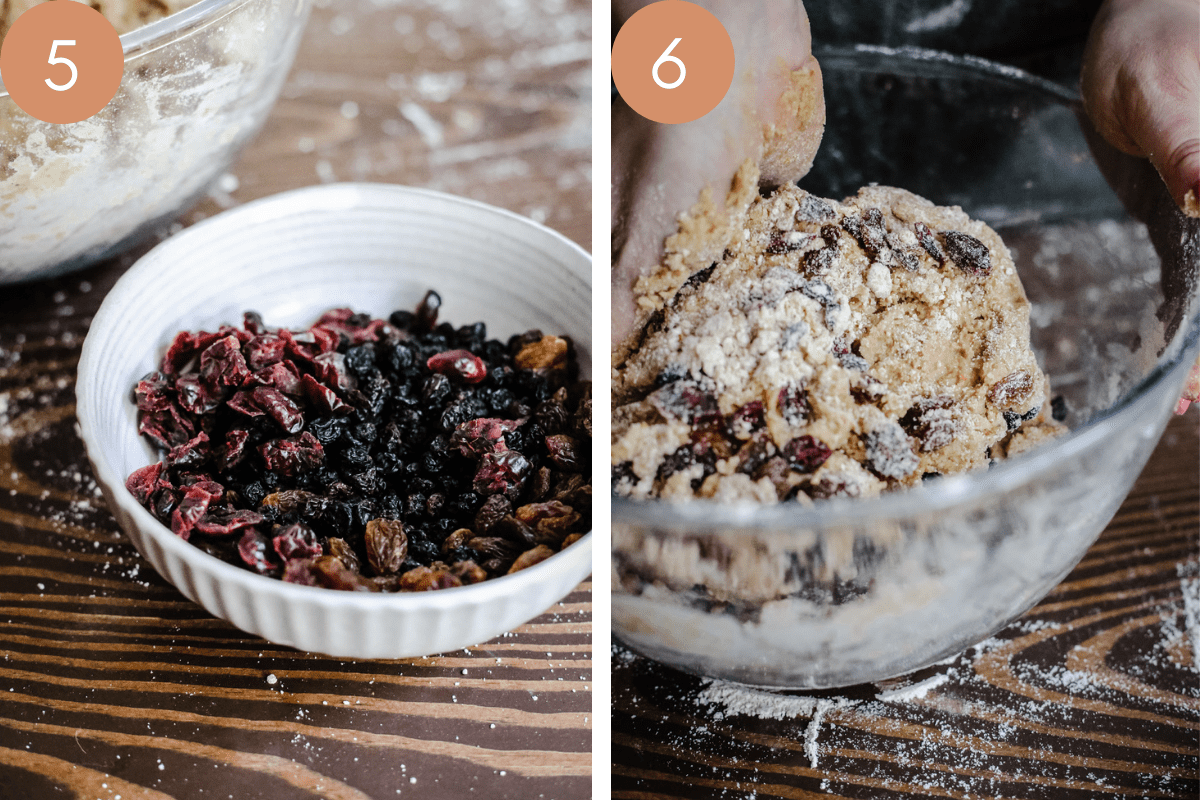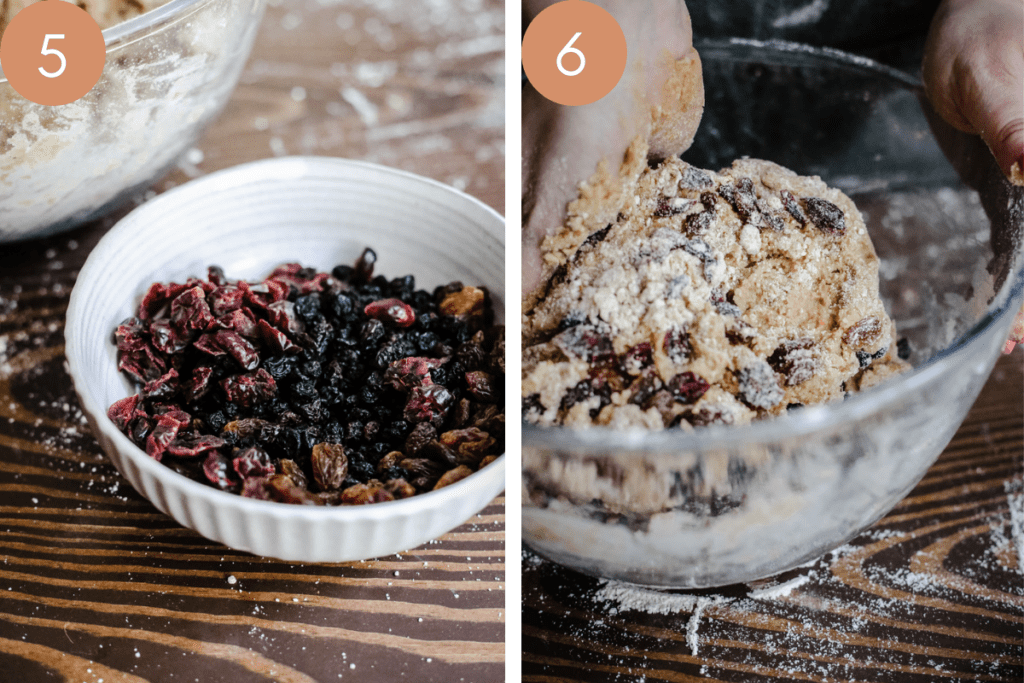 What dried fruit to use
Traditionally the fruit inside a Hot Cross Buns will include currants, sultanas and mixed peel. However the world is your oyster and you can add in any dried fruit you desire.
In this recipe I have used currants, sultanas and dried cranberries. I switched out the mixed peel for the zest of a lemon and orange.
However, why not try?
Chopped dried apricots
Dried blueberries
Dried sour cherries
Dried apple pieces
Or even… Chocolate Chips!!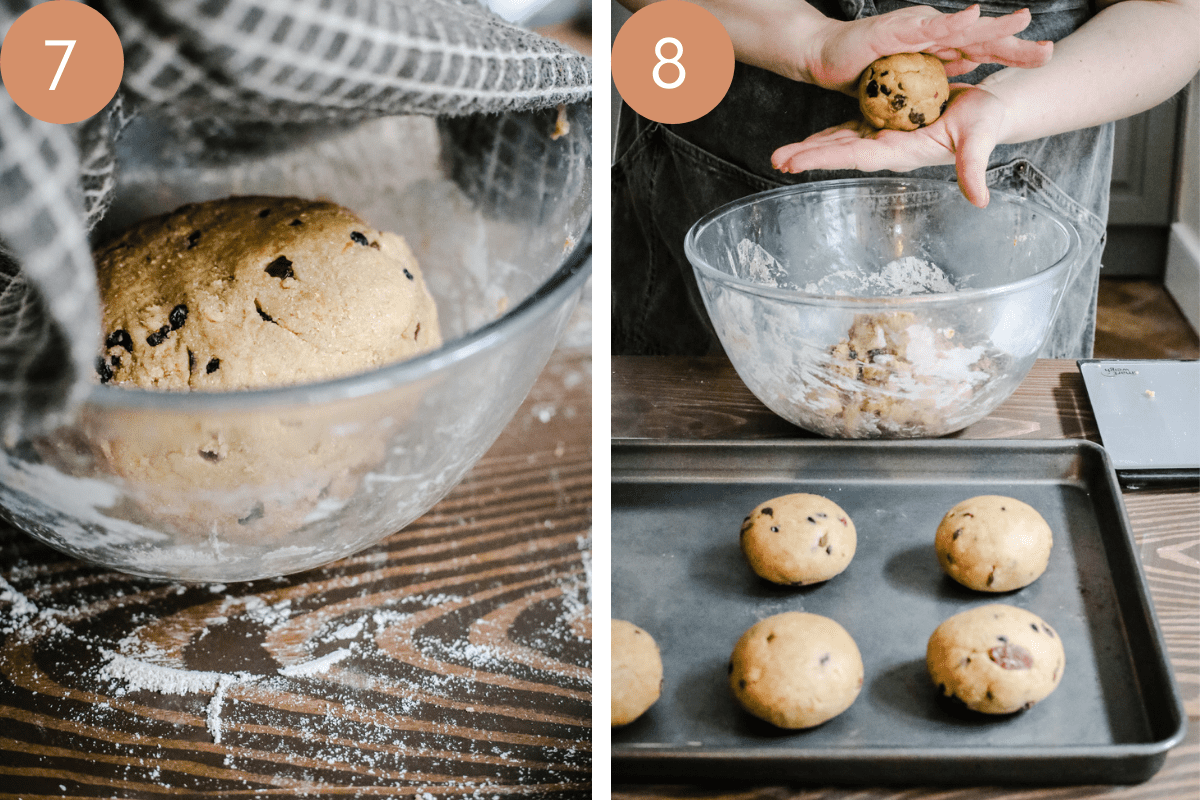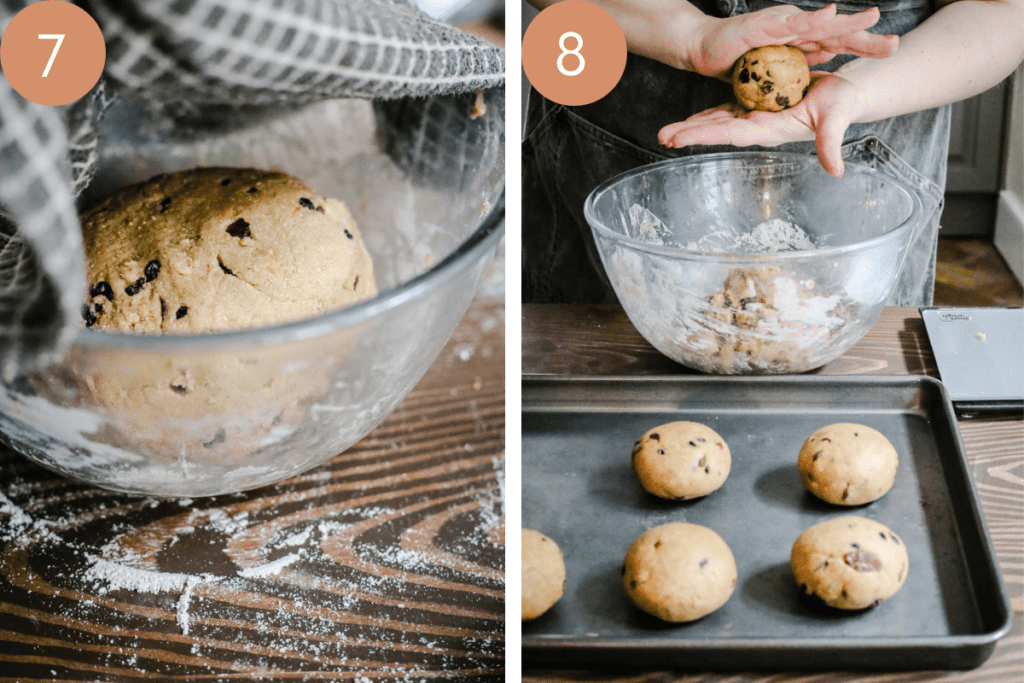 How to shape Hot Cross Buns
Take the risen dough and tear off 100g. Use the scales to weigh so every Hot Cross Bun is the same size. Roll between two slightly cupped palms. The balls should be very smooth, particularly on top to avoid too much splitting. However a little splitting is inevitable in this recipe, particularly under the cross.
Once you have a very smooth ball flatten the bottom slightly against one of your palms and then place on the baking tray.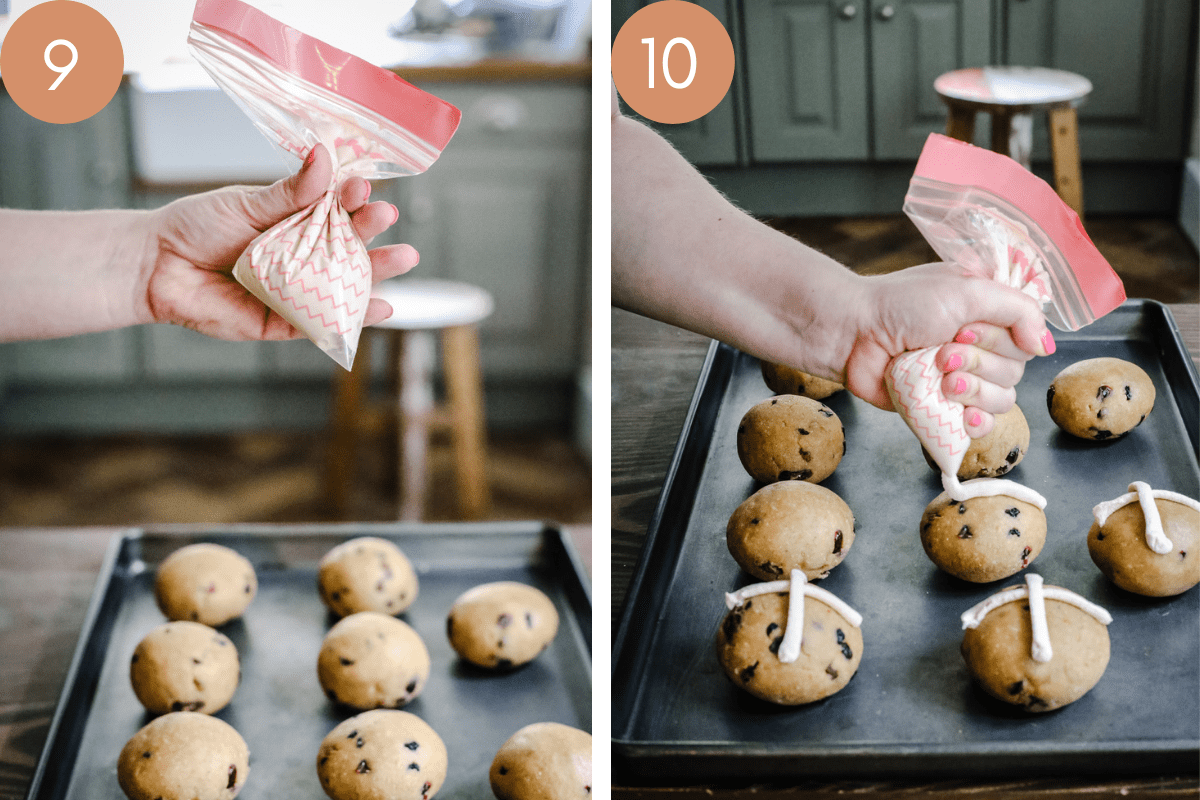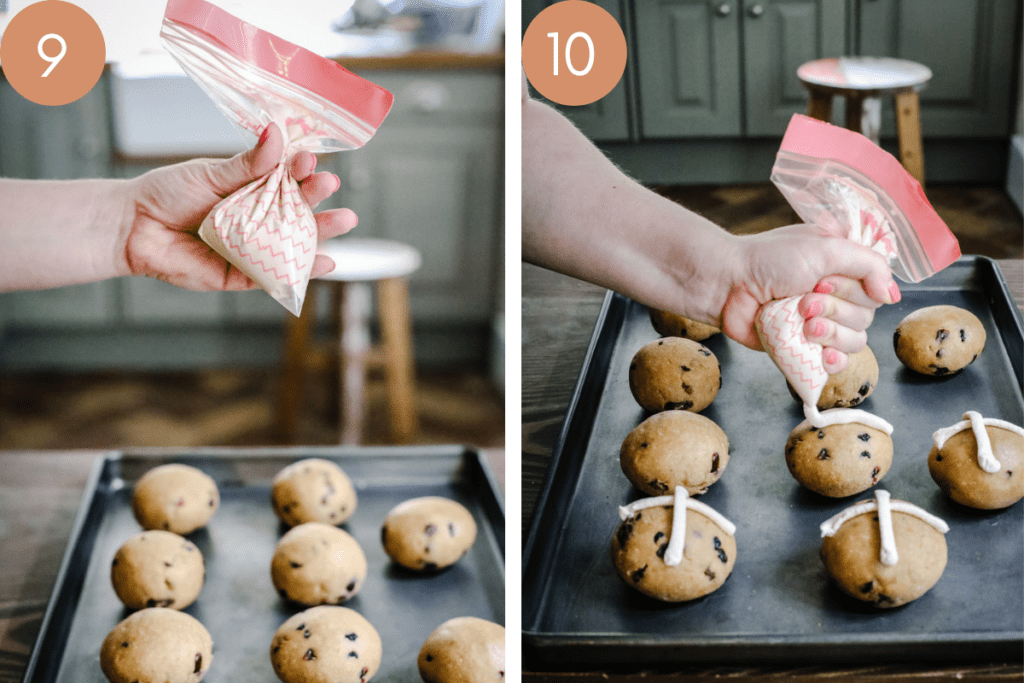 What is the cross made from?
Traditionally the white crosses on the top of the Hot Cross Buns are made from pastry. However more modern recipes use flour which is much quicker for the home cook.
The flour is mixed with a little water to form a paste then piped over the top of the Hot Cross Buns. This recipe uses a mix of sweet rice flour and oat flour.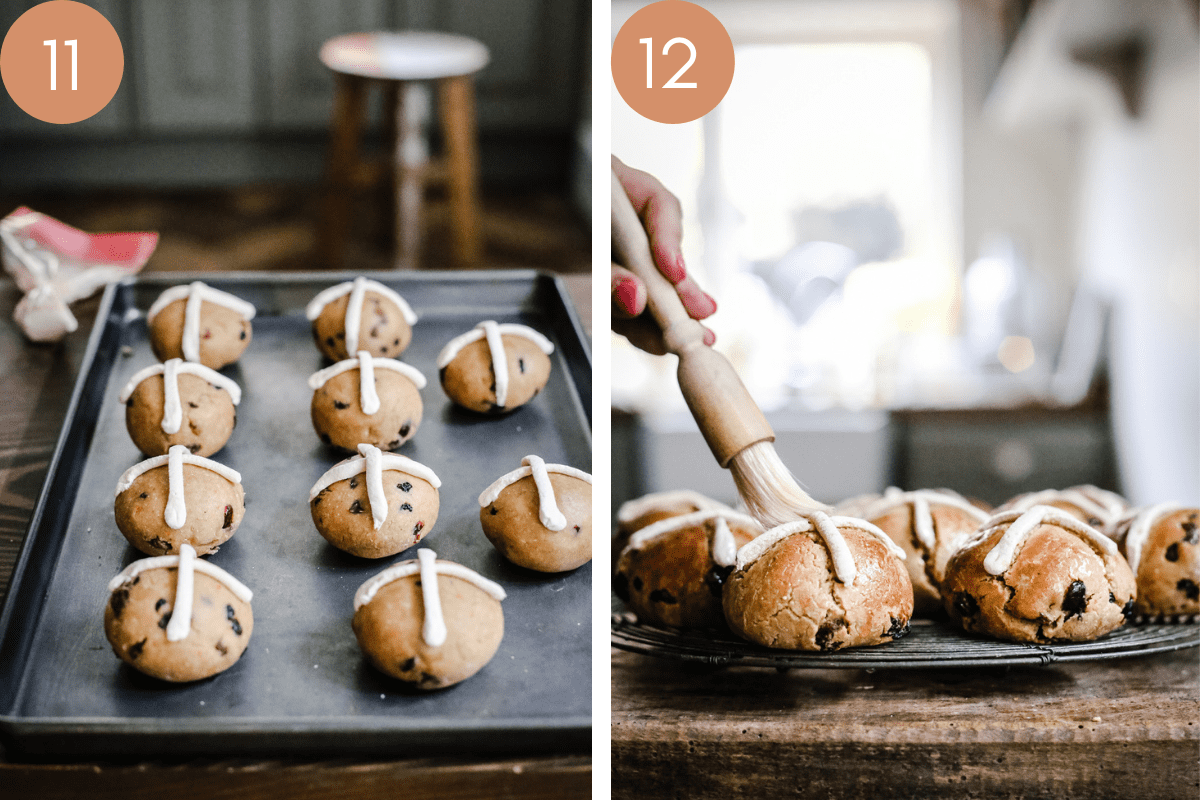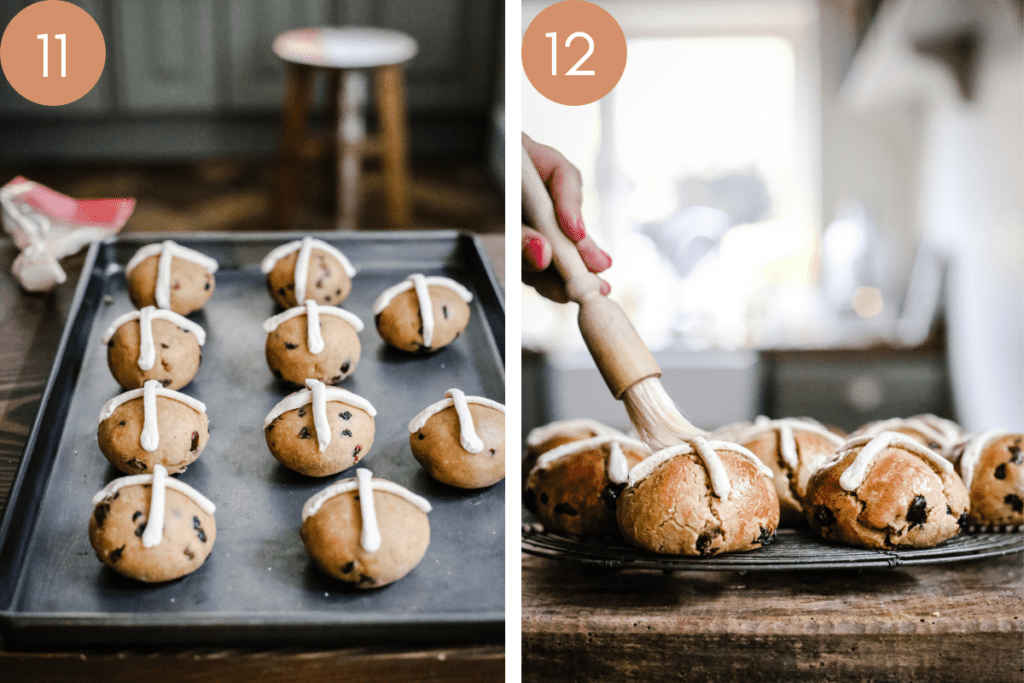 Success Tip: Glaze the Hot Cross Buns
Do not skip the glazing when the Hot Cross Buns are removed from the oven. It is what makes them look so shiny and inviting and gives a lovely sweetness. I recommend a simple syrup of equal amounts white sugar and water. Heat until the sugar has dissolved then brush this simple syrup over the Hot Cross Buns once they are baked and still warm.
How to freeze
You can freeze Gluten-Free Hot Cross Buns prior to baking or already baked. If you freeze them before they have been baked then shape them, place them on the baking tray and place the tray in the freezer. Freeze for four hours then remove the tray from the freezer. Transfer the uncooked buns to a freezer bag and place back in the freezer. This means you can take the buns out individually to defrost and bake. They can freeze for up to 3 months.
To defrost, remove the buns from the freezer bag and place on a rack overnight to completely thaw. Pipe the crosses on, then bake as instructed.
Or you can freeze the Hot Cross Buns after baking once they have cooled. Again, flash freeze for four hours on a baking tray before transferring to a freezer back. Defrost in the same way as above.
What can you do with leftover Hot Cross Buns?
Hot Cross Bread and Butter Pudding
Hot Cross Bun Trifle
The bun for a bacon sandwich (amazing, especially with extra marmalade!)
Use them as a base for an ice cream sundae
Turn them into breadcrumbs and use for a crumble topping
Hot Cross Bun French Toast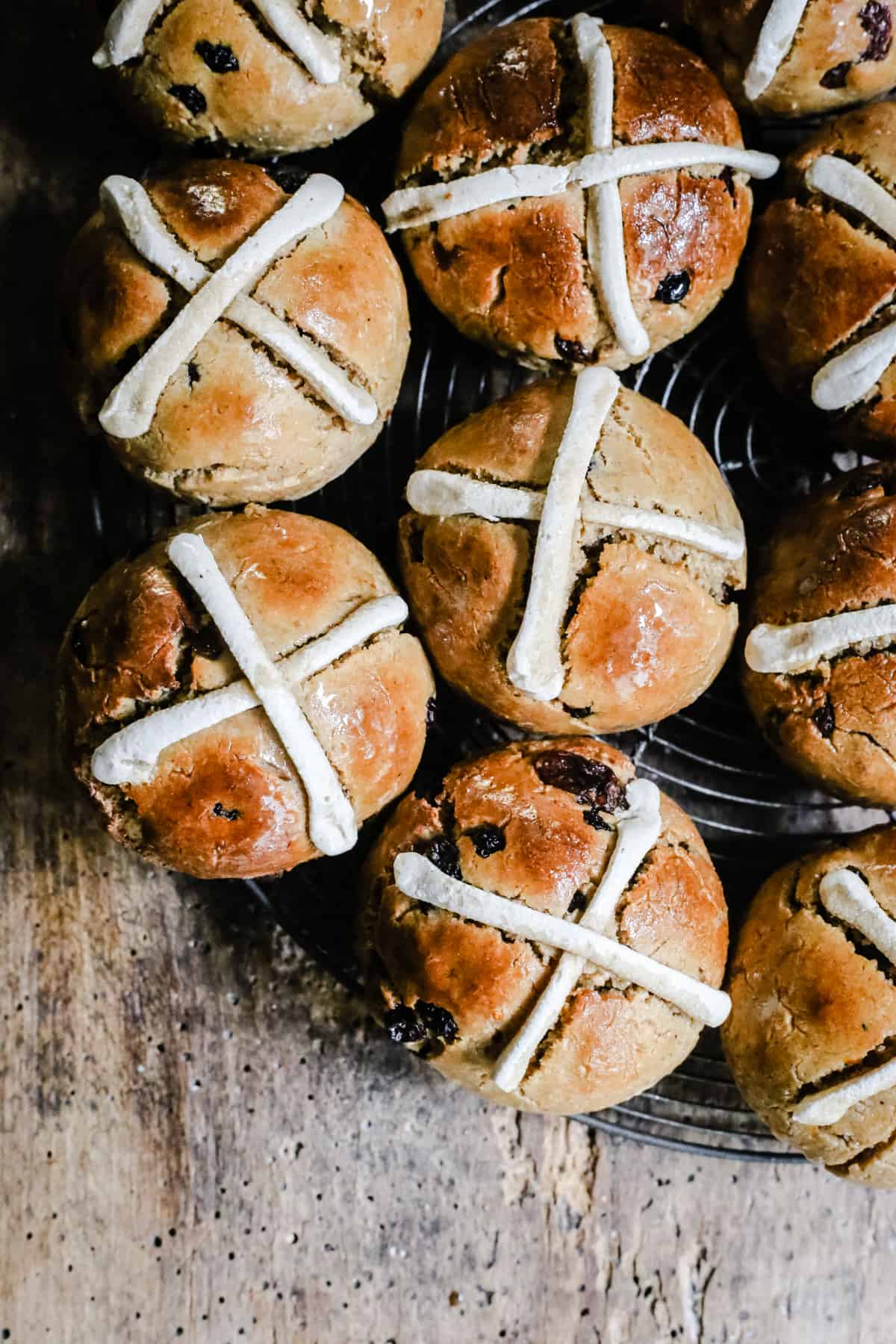 Recipe variations
Chocolate Chip Hot Cross Buns – Remove 75g of the dried fruit and add in 150g dark chocolate chips
Orange and Cranberry – Swap out the lemon zest for zest of another orange and use just dried cranberries.
Apple and Cinnamon – Use dried apple instead of the currants and cranberries (keep the sultanas) and just use 1 tablespoon ground cinnamon and ¼ teaspoon nutmeg instead of the other spices.
Shop the recipe
If you like this recipe then you'll love:
If you make these Gluten-Free Hot Cross Buns (no xanthan gum) then please leave a comment below and give the recipe a rating which helps others find the recipe on Google. If you then go on to use this recipe as a launch pad for your own baking creation then I'd also love it if you'd share it and tag me on Instagram. It is so lovely for me to see your versions and variations of my recipes.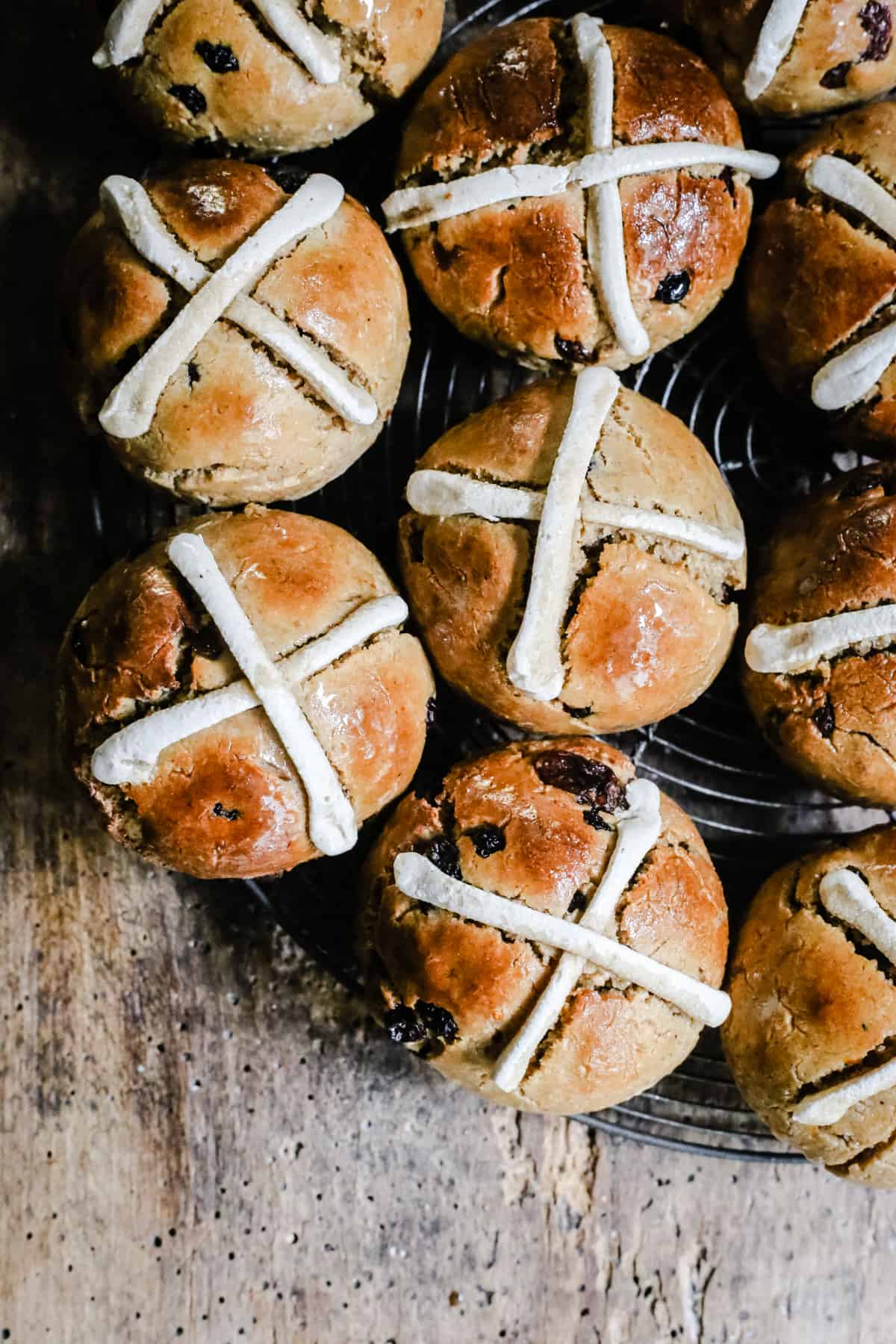 Gluten-Free Hot Cross Buns (no xanthan gum)
Gluten-Free Hot Cross Buns are sweetly spiced and studded with dried fruit. There is no xanthan gum involved and they are best served warm with a slick of salted butter.
Ingredients
200

g

oat flour

150

g

almond flour

130

g

sweet rice flour

-

(glutinous rice flour / mochiko)

50

g

unsalted butter

-

cold, cubed

50

g

light muscovado sugar

2

teaspoons

dried quick yeast

1

teaspoon

salt

1

teaspoon

ground cinnamon

1

teaspoon

ground mixed spice

¼

teaspoon

grated fresh nutmeg

zest 1 lemon

zest 1 orange

200

g

whole milk

-

warmed

2

medium eggs

-

beaten

80

g

sultanas

60

g

currants

40

g

dried cranberries
Crosses
20

g

oat flour

20

g

sweet rice flour

-

(glutinous rice flour / mochiko)

2

tablespoons

water
Glaze
1

tablespoon

water

1

tablespoon

caster sugar
Instructions
Whisk the flours together in a large mixing bowl.

Add in the unsalted butter then rub together between your fingertips until the mixture resembles breadcrumbs.

Stir in the sugar, yeast, salt, cinnamon, mixed spice, nutmeg and the lemon and orange zest until well combined.

Beat the eggs in a medium sized mixing bowl and gently pour in the warmed milk in a thin stream, whisking all the time until combined.

Pour the liquid mixture into the middle of the flour mixture.

Use a wooden spoon to mix at first, then as the dough begins to come together use your hands.

Knead gently until the dough is almost smooth but still has some loose flour then add the dried fruit.

Continue to knead the dough so all the fruit is evenly incorporated then turn into a smooth ball. It will still be a little sticky.

Leave the dough ball in the mixing bowl and cover loosely with a tea towel. Rest in a warm place for 1 hour.

Pre-heat the oven to 180°C/160°C fan assisted/gas mark 4

Remove the tea towel then tear off 100g pieces of the dough. Roll into 10 balls and place evenly spread out on a large baking sheet.

Set the baking tray aside whilst you prepare the crosses.

Mix the oat flour and sweet rice flour together in a small bowl then add the water. Stir together until it forms a paste.

Spoon the flour paste into a small piping bag, or food bag with tip snipped off.

Pipe crosses onto the top of each bun.

Place the Hot Cross buns in the oven and bake for 20 minutes.

Remove the Hot Cross Buns from the oven. Place the buns on a cooling rack and set aside whilst you prepare the glaze.

Heat water and sugar in a small saucepan until bubbling and the sugar has dissolved.

Use a pastry brush to brush the glaze over each Hot Cross Bun.

Serve warm or cooled, split in half with a slick of salted butter.
Notes
Oat Flour Substitution. If you cannot digest gluten-free oat flour then substitute with 100g sorghum flour + 100g millet flour.
Yeast. I like to use Doves Farm Quick Yeast. You can use 175g total weight of any mixed dried fruit. Diced apricots, blueberries, sour cherries, raisins, mixed peel, glace cherries, stem ginger are all good choices.
Baking Sheet. Use a baking sheet sized around 39 x 27cm.
Storage. Gluten-Free Hot Cross Buns keep up to 3 days in an airtight container. However they are best on the day they are made.
Freeze. You can freeze the Hot Cross Buns either pre-baked without the crosses added, or baked and cooled for up to 3 months.
Ingredient measurements
Please note when you see 'grams' listed as opposed to 'millilitres,' or any other term of measurement, that is not incorrect. I weigh all of my ingredients, including liquids, for accuracy.
US customary measurements for the ingredients provided are based on a conversion calculator. This recipe was tested with metric measurements and I recommend using a digital scale to weigh ingredients for the most accurate results. READ MORE >>> Why you should always weigh vs measuring with cups
Nutrition information
Please note that the nutrition information provided below is an estimate based on an online nutrition calculator. It will vary based on the specific ingredients you use. Please seek a professional nutritionist's advice for further clarification.
The nutrition serving is for 1 hot cross bun.
Nutrition
Calories:
366
kcal
Carbohydrates:
51
g
Protein:
9
g
Fat:
15
g
Saturated Fat:
4
g
Cholesterol:
45
mg
Sodium:
261
mg
Potassium:
249
mg
Fiber:
4
g
Sugar:
19
g
Vitamin A:
205
IU
Vitamin C:
0.6
mg
Calcium:
89
mg
Iron:
2
mg
Have you tried this recipe?
Head to the comment section and let me know what you think!