This post contains affiliate links. Please read my disclosures.
Apple and Blackberry Crumble is a delightful example of a gluten-free crumble. A crisp biscuity topping is the perfect contrast to the ooey gooey sweet and tangy fruit jumble beneath.
If you are following me on Insta Stories you'll know that I've been studiously working on a gluten-free crumble recipe for a couple of weeks. Cole received the Gruffalo Crumble and Other Recipes Cookbook for his birthday earlier this month and immediately set me forth to make the titular recipe.
Well I made the recipe from the cookbook as instructed but switched things around a bit to make a gluten-free version. Cole was happy enough with it. I was not. It definitely needed tweaking. So I set forth to embark on my next obsession. How to make a dazzling gluten-free crumble (gruffalos substituted for apples and blackberries on this occasion).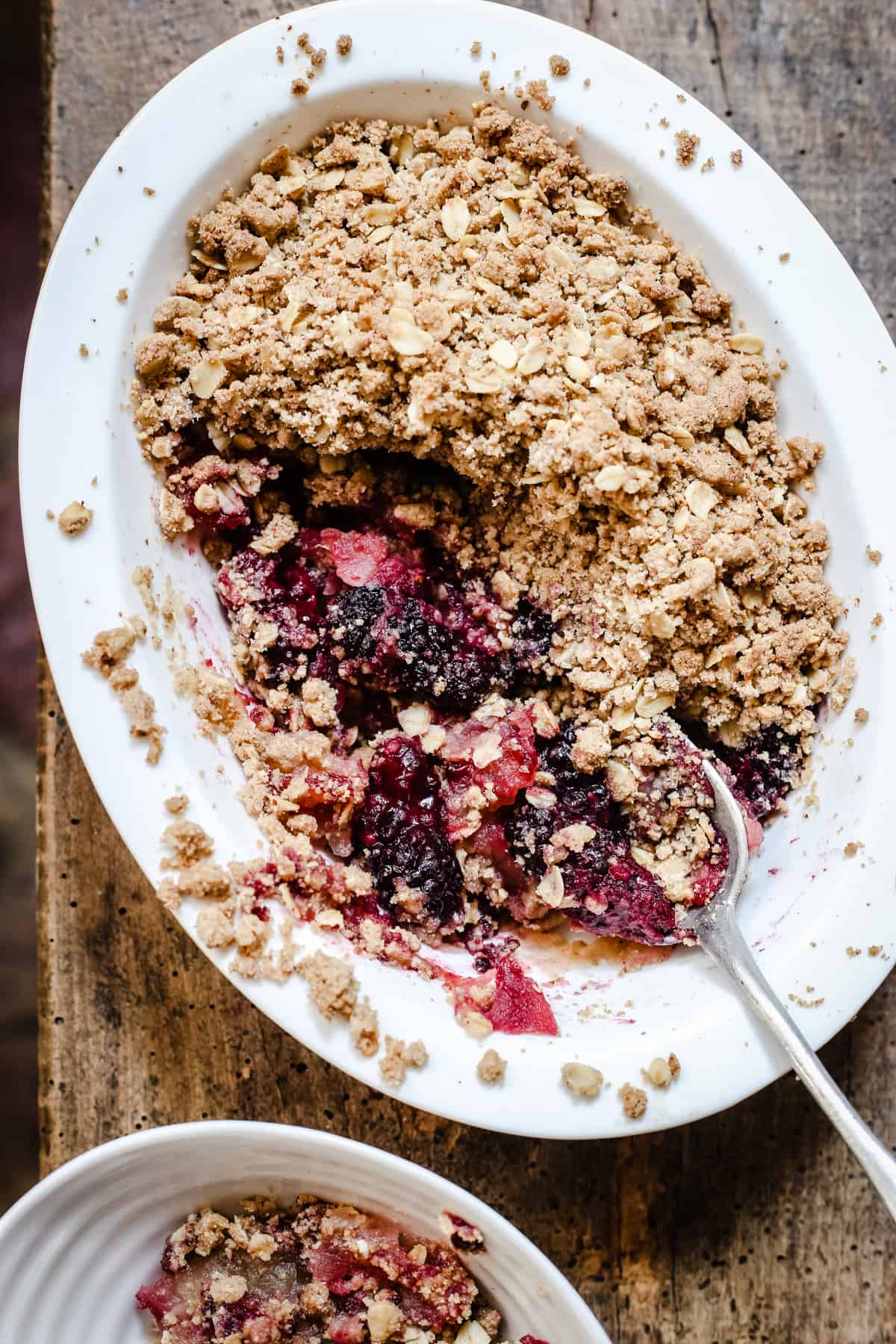 How to make a great gluten-free crumble topping
A gluten-free crumble topping is quite forgiving. I have made so many crumbles over the years as it's my number one Sunday night dessert and they nearly always turn out delicious.
However lately I have settled on a method that gives a perfect crumble topping every time.
The secret… oats and almonds
Have you ever experienced a gluten-free crumble that has melted into your fruit base upon baking? Gluten-free flours don't absorb liquid the same as wheat flour (especially if they are rice flour based) so the structure of the crumble tends to disintegrate. However, by tossing in some jumbo rolled oats and ground almonds they create a perfectly robust texture to the crumble topping.
The addition of oats and almonds not only has the added benefit of extra flavour but also provides the perfect crunch to your crumble.
However, if you are looking for an oat-free crumble try this Strawberry Gooseberry Crumble.
Baker's Tip
If you don't have any ground almonds you can grind your own from whole almonds. Place the whole almonds in the food processor with the brown sugar. The sugar will prevent the almonds from becoming almond butter and instead will give them a nice even grind.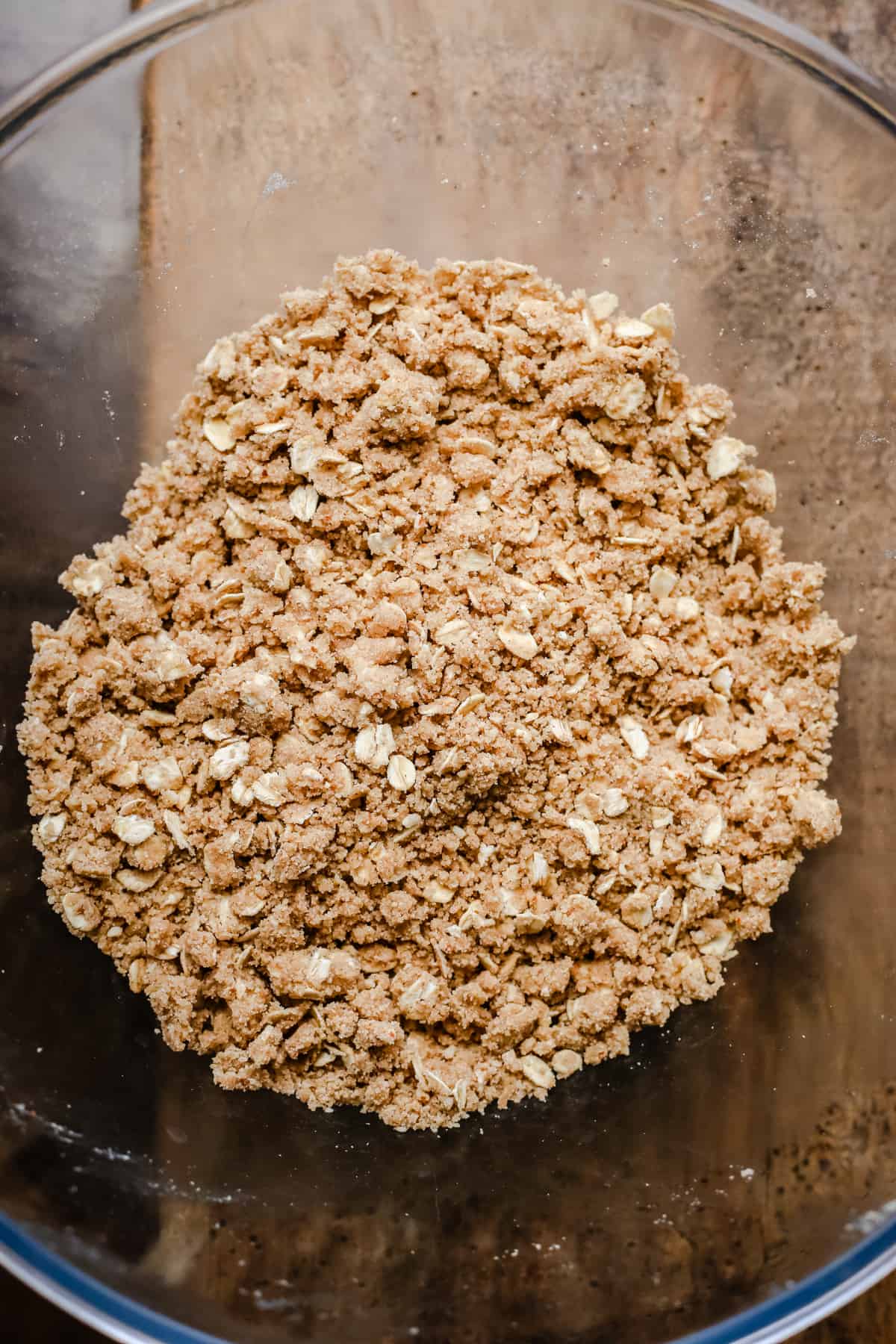 Gluten-Free Flours
What I have found is that with the inclusion of the oats and ground almonds you can be a little bit laissez-faire with which gluten-free flour you choose to use. I wouldn't even decry you for choosing a plain gluten-free flour which you can pick up at any supermarket. Although do avoid single origin starchy flours, especially white rice flour as it just absorbs too much liquid.
Sorghum Flour
Here we use sorghum flour. It's one of my favourite alternative flours. It has an earthy yet slightly sweet quality which pairs so beautifully with the apples and blackberries. The touch of cinnamon included in the crumble topping really takes it into the sublime.
Alternative Version: Buckwheat Hazelnut Crumble Topping
You could switch out the sorghum flour for buckwheat flour which has an intense robust flavour. However if you were going to go in that direction then I would also dare you to swap the ground almonds for ground hazelnuts. A taste sensation indeed. Amazing with the apples and blackberries.
Quick and Easy Crumble
The assembly of the crumble topping is child's play and in fact Cole often helps me with this job.
Whisk the sorghum flour with the oats, ground almonds, sugar and cinnamon.
Rub the butter into the dry ingredients to form a chunky rubble mixture, aka. crumble.
Now that the gluten-free crumble has been sorted, next on the agenda is the perfect apple and blackberry fruity base.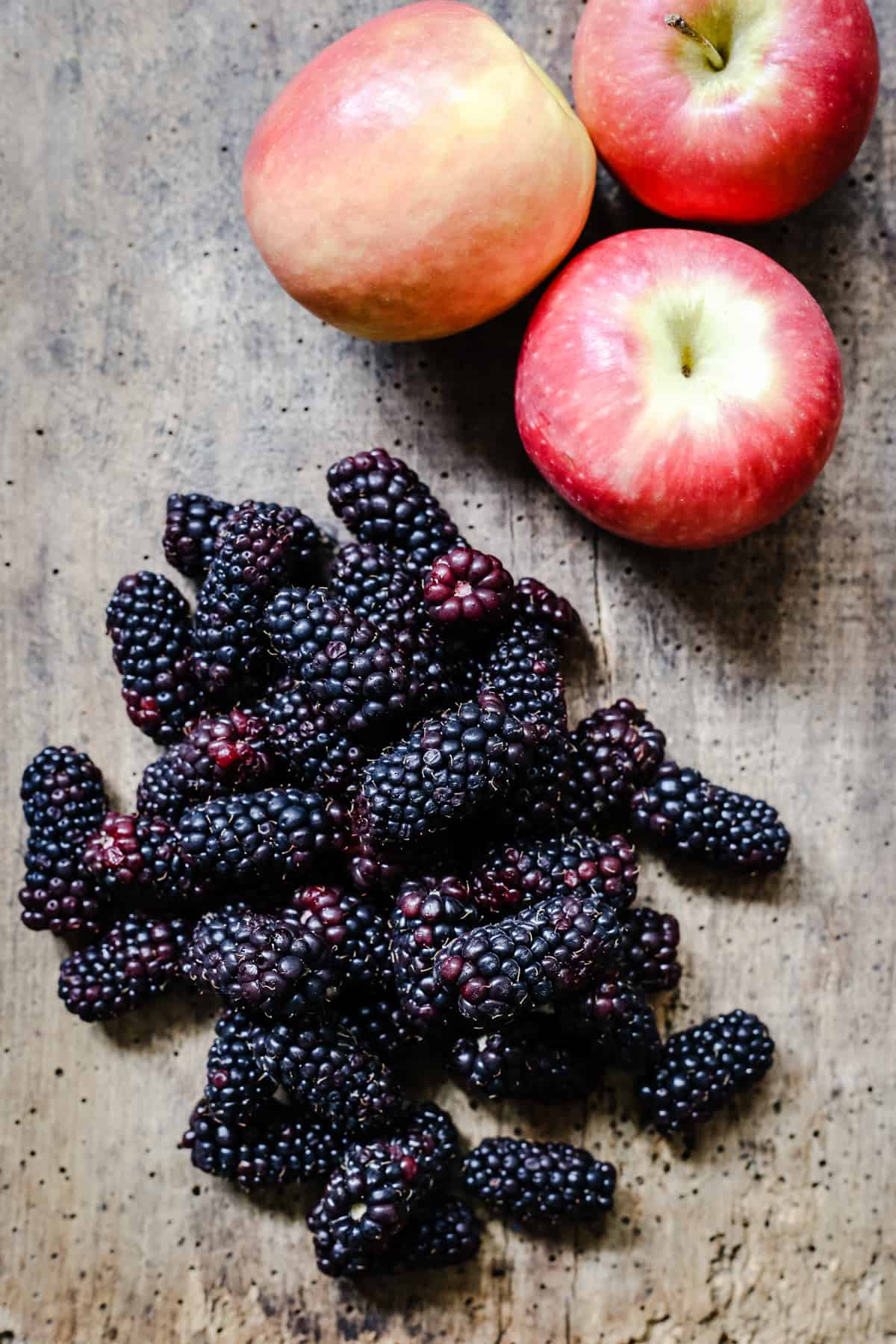 How to prepare apples for a crumble
Most recipes for apple and blackberry crumble will have you just peel and core the apples and just toss them in with the blackberries as they fall at the bottom of the baking dish.
However I'm going to let you in on a little secret on how you achieve the best texture in an apple blackberry crumble. No fruit swimming in a watery juice. No apples that are crunchy at best and raw at worst.
The best tip for a soft gooey perfectly sweetened fruit base which contrasts with the crisp crumble topping is…
The apples need to be pre-cooked.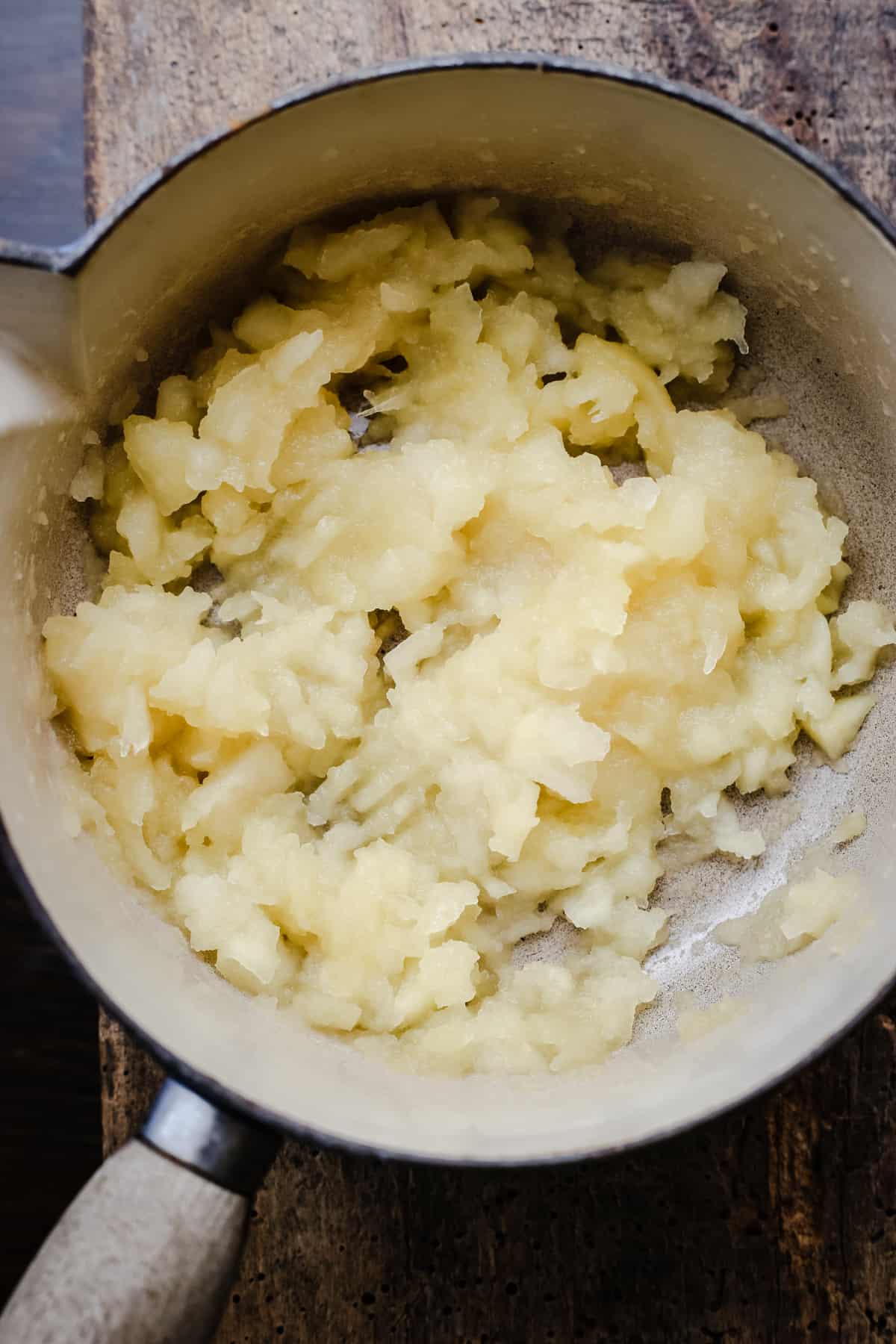 When you pre-cook the apples the puree provides a saucy bed for the blackberries to absorb their excess juice and the two fruits jumble together so much better.
The apple prep is easy enough:
Place the peeled apple chunks in a small saucepan.
Add 1 tablespoon water and 1 tablespoon caster sugar.
Place the lid on and cook for 15-20 minutes until the apples have completely broken down into a pulp.
Luckily you don't need to do anything to the blackberries save place them on top of the apples.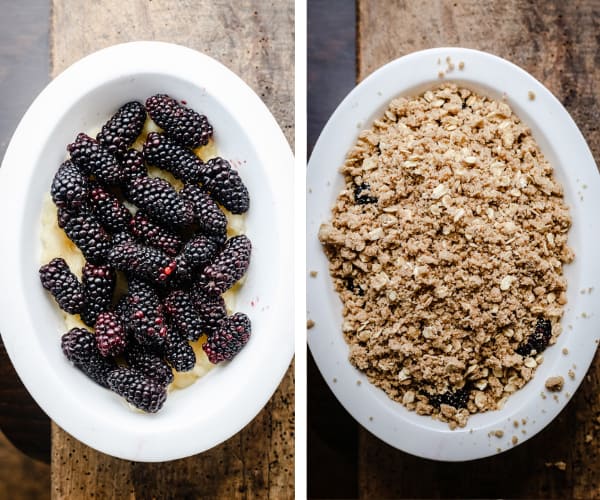 Can you freeze Apple and Blackberry Crumble?
Yes, you can freeze this apple and blackberry crumble. After the final dish has been baked, leave to cool then double wrap well in cling film as well as tin foil to prevent freezer-burn. You can freeze the crumble for up to three months. To defrost simply remove the dish from the freezer the night before. Once completely defrosted you can re-heat the crumble for 20 minutes at 180°C/160°C fan/gas mark 4.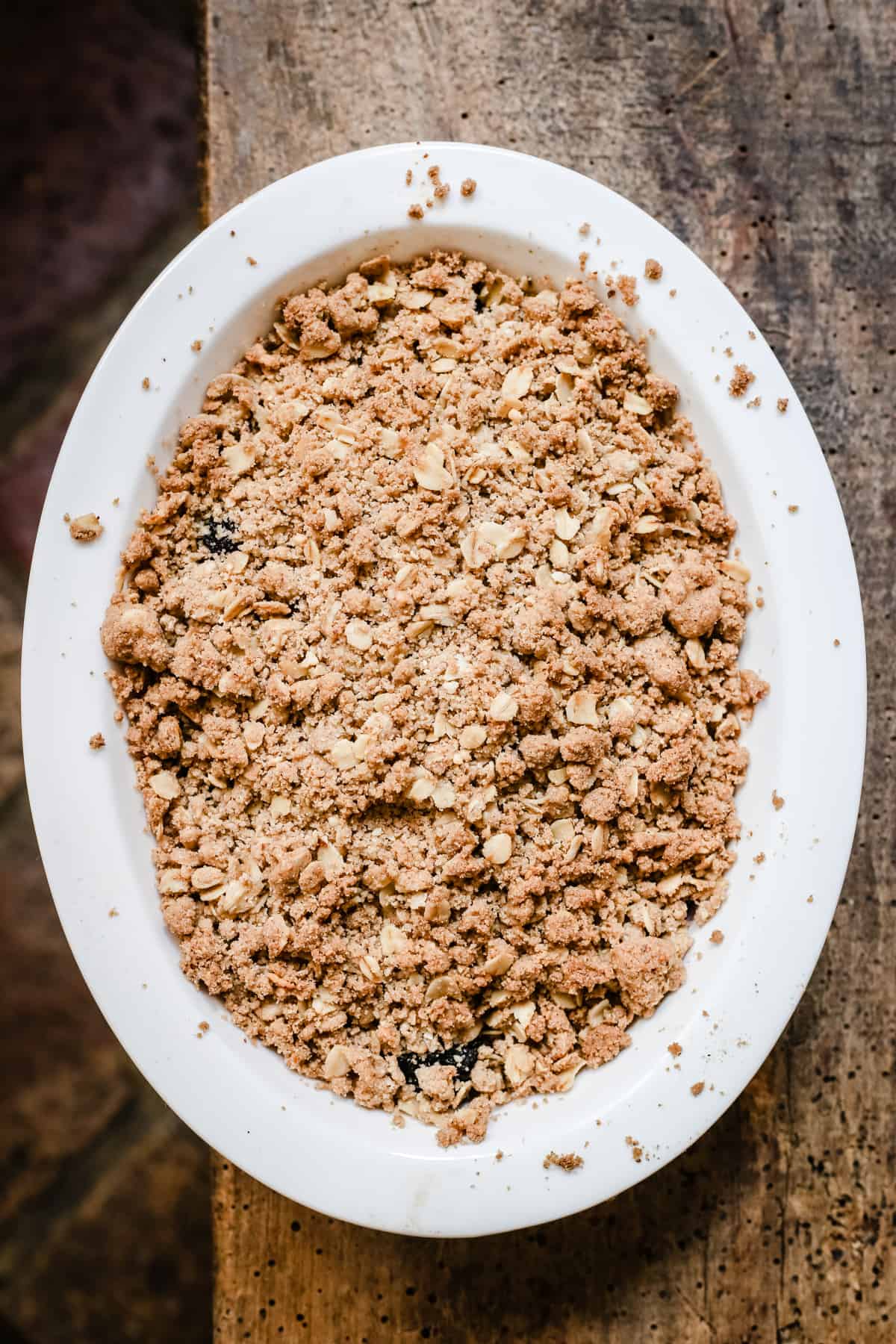 Can crumble be made in advance?
Yes, you can make the crumble a day or two in advance. I recommend assembling the crumble to the stage where it's ready to be baked in the oven. When you want to serve it then follow the instructions for baking stated below.
Can you make Apple and Blackberry Crumble with frozen fruit?
Yes. I will often have scores of apple puree and wild blackberries in my freezer in late August/September leftover from our adventures in foraging. The apple puree will need to be defrosted before adding into the crumble. However, the good news is that the frozen blackberries can just be tossed in straight from the freezer with no amendment on the original cooking time.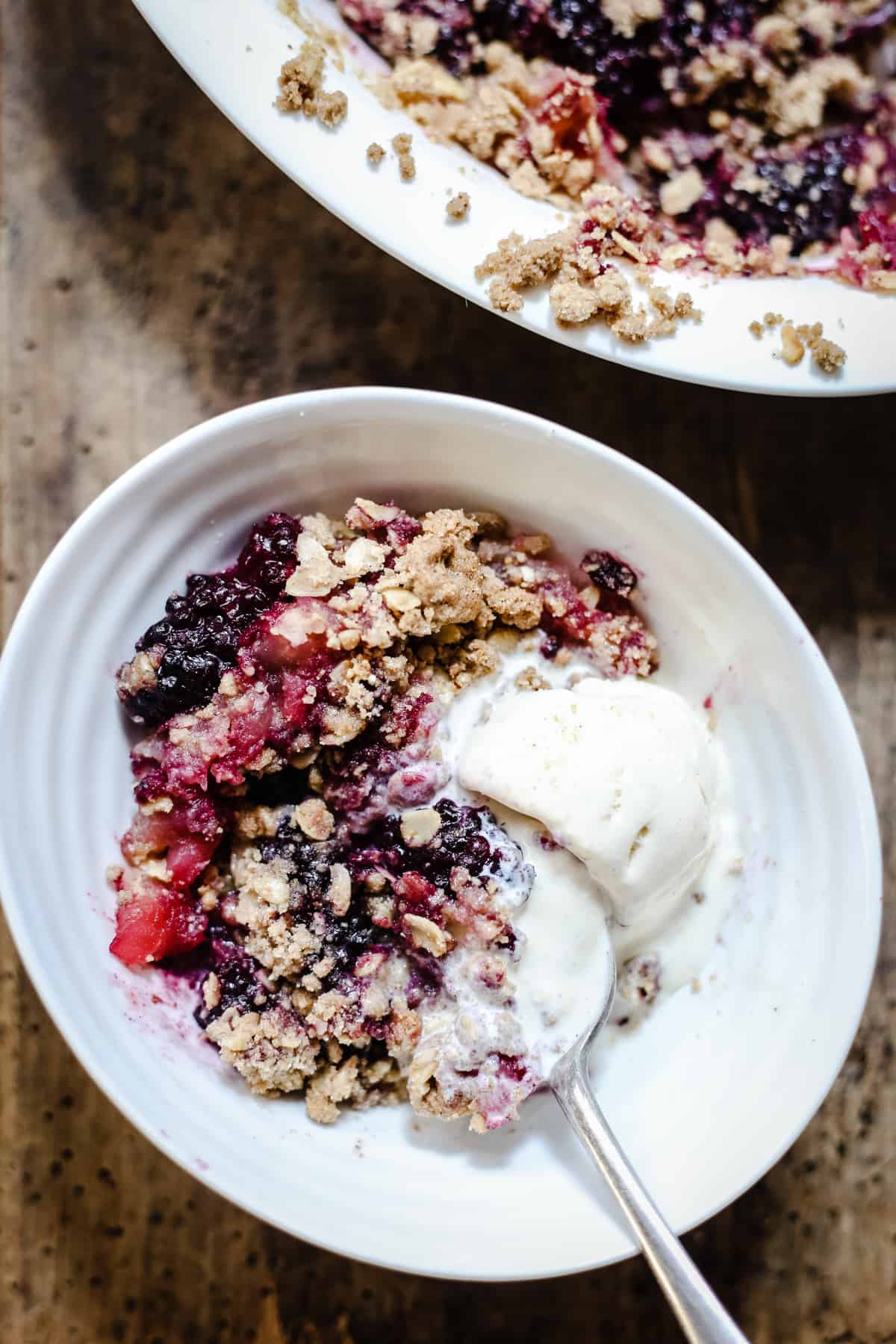 If you are looking for more gluten-free desserts that make the most of summer produce why not try:
Plum Nectarine Cornbread Cobbler
Blackberry Lemon Pudding
Coconut Cherry Clafoutis
Blueberry Ricotta Coconut Crisp
If you make this Apple and Blackberry Crumble then please leave a comment below and/or give the recipe a rating. If you then go on to use this recipe as a launch pad for your own baking creation then I'd also love it if you'd share it and tag me on Instagram. It is so lovely for me to see your versions and variations of my recipes.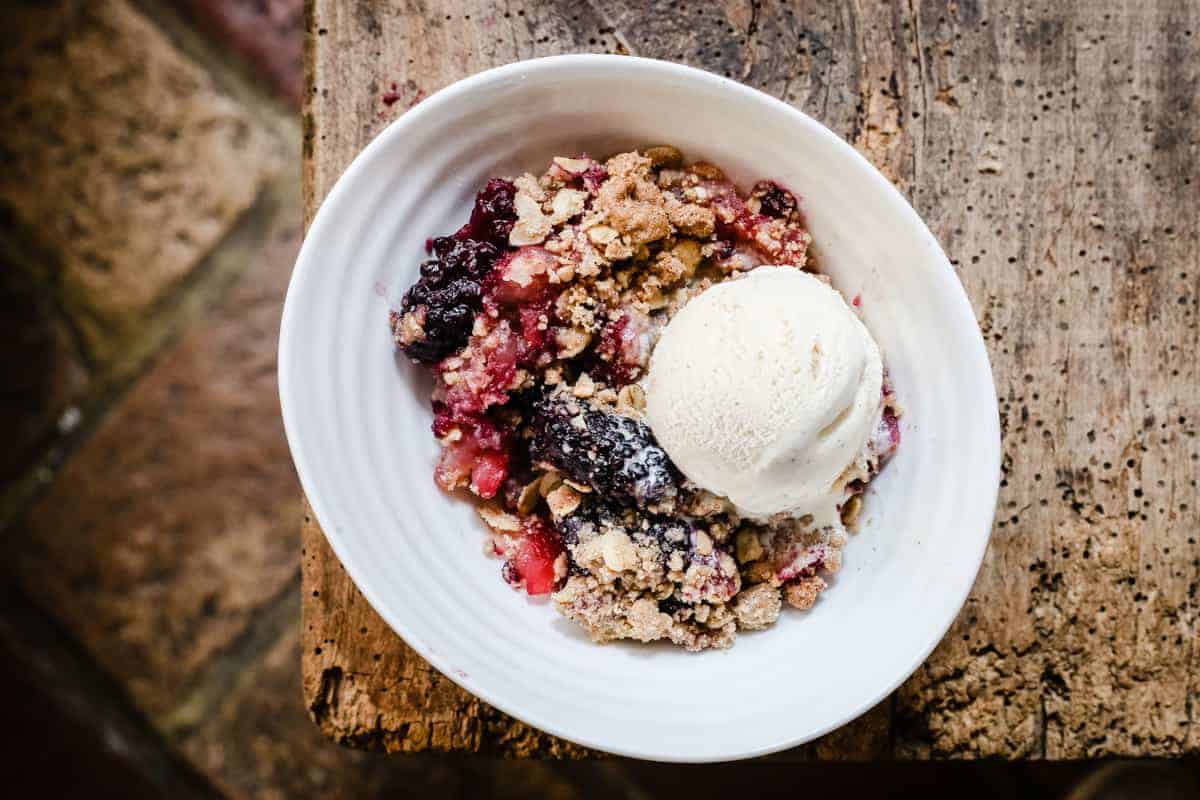 Apple and Blackberry Crumble
Gluten-Free Apple and Blackberry Crumble boasts a crisp biscuity topping. The perfect contrast to the ooey gooey sweet and tangy fruit jumble beneath.
Ingredients
3

dessert apples

-

peeled cored and cut into chunks

1

tablespoon

water

1

tablespoon

caster sugar

300

g

blackberries
Crumble
100

g

sorghum flour

50

g

gluten-free rolled oats

50

g

ground almonds

50

g

soft light brown sugar

1

teaspoon

ground cinnamon

75

g

unsalted butter

-

room temperature, cubed
Instructions
Pre-heat oven to 180°C/160°C fan/gas mark 4

Place the apple chunks in a medium sized saucepan along with the water and caster sugar.

Turn the heat on low-medium and place a lid on. Give the apples a stir occasionally but only remove from the heat once the apples have broken down into a pulp. Maybe 15-20 minutes.

Place the apple pulp into a 30cm x 20cm baking dish and tumble the blackberries evenly over the top.

Prepare the crumble topping by placing the sorghum flour, oats, almonds, sugar and cinnamon into a large mixing bowl.

Rub the butter into the dry ingredients until a chunky rubble has formed.

Scatter the crumble topping over the fruit and bake for 30 minutes until the crumble has turned golden.

Serve immediately with vanilla ice cream or in cooler months hot vanilla custard.
Notes
Apples - I like to use pink lady apples or braeburns.
Frozen Fruit - You can use frozen blackberries straight from the freezer without any alteration on the cooking time.
Sorghum Flour - You can replace the sorghum flour with gluten-free plain flour.
Make Ahead – The crumble can be assembled a day or two in advance and baked on the day of serving.
Freeze – The crumble can be frozen after baking for up to 3 months. Defrost thoroughly before re-heating.
Nutrition
Calories:
338
kcal
Carbohydrates:
48
g
Protein:
5
g
Fat:
16
g
Saturated Fat:
7
g
Cholesterol:
27
mg
Sodium:
6
mg
Potassium:
271
mg
Fiber:
8
g
Sugar:
23
g
Vitamin A:
470
IU
Vitamin C:
14.7
mg
Calcium:
57
mg
Iron:
1.6
mg
Have you tried this recipe?
Head to the comment section and let me know what you think!