This post contains affiliate links. Please read my disclosures.
Never let it be said I don't go the extra mile for cupcakes. Especially these Toffee Apple Cupcakes. At first glance the recipe might seem a little involved but every single step will be worth it in the end my friend.
One of the core ingredients is apple butter – it helps that I made a huge batch of the stuff a couple of months ago when the apples were falling off the trees in the local parks. I took a carrier bag along and scooped them all up. There was no question with what I would do with all of them as apple butter is one of my absolute favourite foods. It combines all of the best toasted flavours of autumn. Cinnamon, nutmeg, allspice, honey, muscovado sugar, apple cider and brandy are all boiled up with peeled, cored and diced apples. Once the apples are soft, then the whole lot is blitzed in the blender and tipped into a roasting dish. The chestnut brown apple puree is then baked low and slow in the oven for a few hours until the colour turns to the bark of an old oak tree, the flavours have caramelised and intensified and your whole kitchen is scented with the most glorious warmth of spiced apples. The puree will become so thick that you could stand a teaspoon up in it and that is when you know it is done.
I had so many apples that I felt just like Diane Keaton from Baby Boom as each jar was carefully filled and labeled. Unfortunately I only kept a couple of jars for myself, the rest has been stored away for me to sell at my preserves stalls which I will be doing around Christmas. So this week, feeling a bit down in the dumps from using up the last of my preciously allocated jars, I did what any normal person would do when they are desperate to make toffee apple cupcakes but have run out of apple butter. I made one single batch, especially for the cupcakes.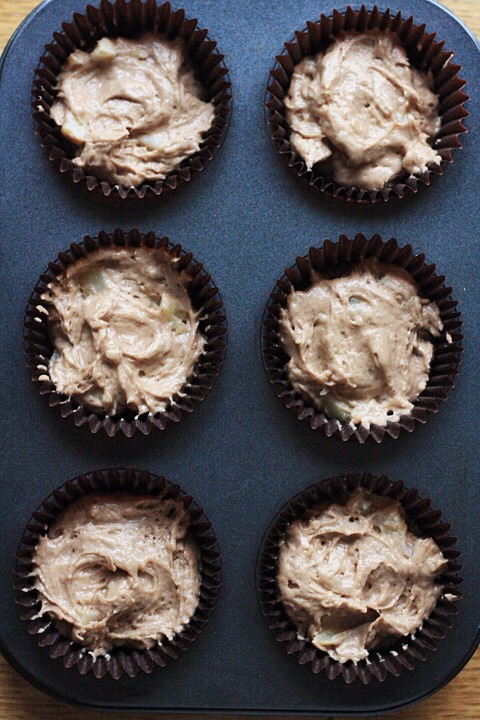 Actually it's not too labour intensive once you have prepared the apples and you will only need to do about six for the amount of apple butter you need. Then the rest is just flinging things in the pan and then the oven. The smaller batch of apple butter only takes about 1½ hours from start to finish, and most of that is just the apples doing their thing whilst you are having a cup of tea or flicking through a magazine so I assure you the effort is no effort at all.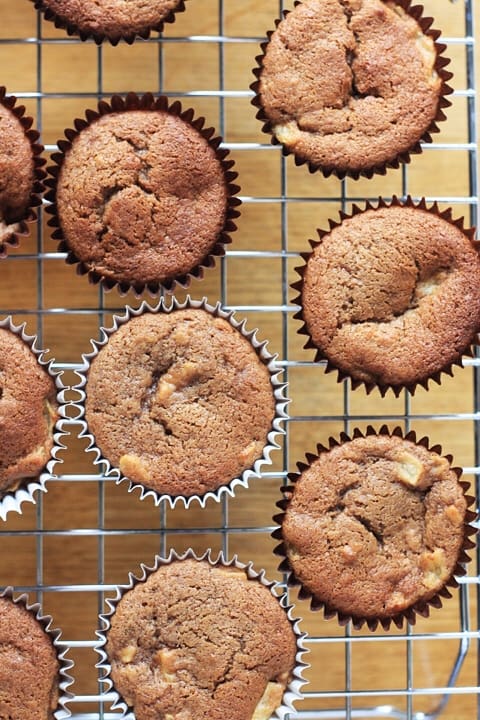 Apple butter does not only have to be used for these cupcakes though, in fact it's a travesty if you don't do what I did the first time I was given a jar by a friend which is to eat it straight from the jar with a teaspoon. It is also wonderful on toast, croissants, scones, accompanied with shortbread, whipped up with double cream and used as a cake filling, baked into tarts and especially eaten with roast pork. The uses are an endless, and I'm sure as soon as you've tried it you will be making excuses to include it in every meal.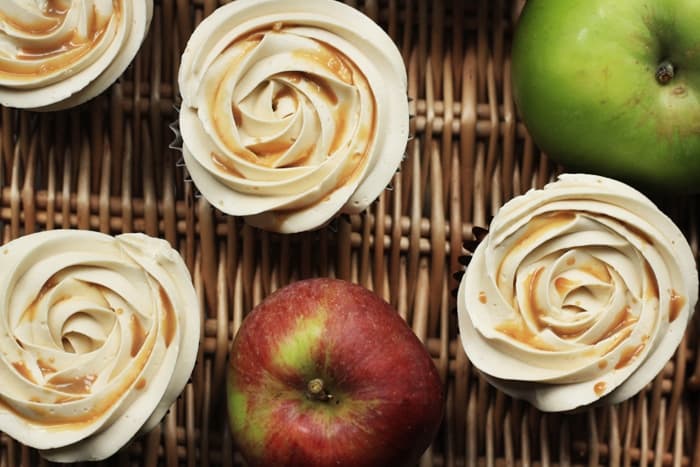 The apple butter is not the only bit of apple going on in these cupcakes though, I also diced up a bramley apple and caramelised it with a touch of sugar and butter then folded the pieces through the batter at the end. Where the apple butter provided a light moist sponge, the pieces of bramley act as a dose of sharp sweetness in the middle of the toasty apple flavours. It's pure Autumn in a cupcake.
For the cupcakes I photographed I forgot to reserve some pieces of caramelised bramley for sprinking on the top of the buttercream so if you remember I would also recommend dong that.
I also made my own toffee sauce for this, which I whipped up into some swiss meringue buttercream, but if you can't be bothered then I recommend using dulce de leche instead. It's a bit thicker and will do fine in the buttercream but may need to be thinned slightly by warming with a splash of milk for drizzling purposes.
Oh, and again, if you can't be bothered to make these at all then I will be presenting them at my cake stall on Sunday at Falkland Road Market N8. Don't say I don't spoil you.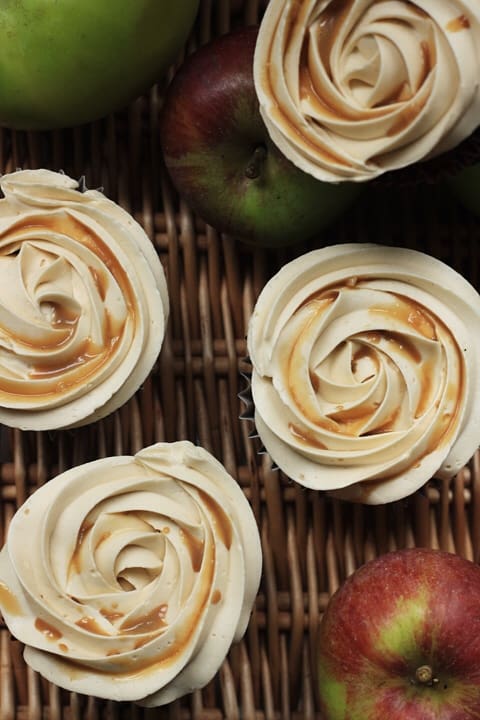 Toffee Apple Cupcakes
Makes 12 cupcakes
1 bramley apple, cut into small chunks
1 teaspoon caster sugar
1 teaspoon butter
125g flour
½ teaspoon bicarbonate of soda
¼ teaspoon baking powder
¼ teaspoon salt
¼ teaspoon cinnamon
⅛ teaspoon ground allspice
⅛ teaspoon ground cloves
85g unsalted butter
140g caster sugar
1 egg
200g apple butter (recipe below)
Firstly, prepare your caramelised apple pieces. Heat the teaspoon of caster sugar and butter in a frying pan and add the bramley apple. Stir until the sugar and butter have melted together and cook for 5 minutes until the apple is still firm but just beginning to colour. Remove from the heat and cool.
Pre-heat the oven to 170°C and line a 12 hole muffin tin with cupcake cases.
Sift together the flour, bicarbonate of soda, baking powder, salt and spices in a large bowl and set aside.
Cream the butter and sugar on the high setting of your food mixer until light and fluffy.
Add the egg to the creamed butter and sugar and mix in well.
Add the flour mixture alternately with the apple butter, adding the flour in three additions and the apple butter in two (begin and end with the flour), scrape down the sides of the bowls as needed and mix until just combined.
Finally stir in the pieces of bramley apple until evenly dispersed and portion out into the cupcake cases.
Bake the cupcakes for 20 minutes, then remove from the oven and cool on a wire rack completely before icing.
Apple Butter
6 apples, peeled, cored and diced (mixture of sweet and sour like Bramley and Cox)
150ml apple cider
2 tablespoons of brandy
2 tablespoons honey
1 tablespoon dark brown soft sugar
1 teaspoon ground cinnamon
½ tsp ground allspice
¼ teaspoon ground nutmeg
⅛ teaspoon ground cloves
In a medium saucepan, combine all ingredients and stir. Cover the saucepan, and cook over medium heat for 15 to 20 minutes until the apples are cooked through.
Meanwhile pre-heat the oven to 170°C.
Once the apples are soft, pour the mixture into a blender and whizz up until smooth. Pour into a shallow baking tray and place in the oven.
Bake for about 1 hour, stirring every 15 minutes, scraping down all the sides, until the butter is dark and thick.
Allow to cool, then chill until needed.
Toffee Buttercream
4 tablespoons evaporated milk
3 tablespoons dark brown soft sugar
50g butter
3 egg whites (90g)
150g caster sugar
210g unsalted butter, at room temperature, cubed
A pinch of salt
½ teaspoon vanilla extract
To make the toffee sauce melt together in a small saucepan the evaporated milk, brown sugar and butter. Simmer the mixture for 5 minutes, then remove from the heat and cool.
To make the swiss meringue buttercream, begin by heating the egg whites and caster sugar in a bain marie, stirring constantly until the sugar has dissolved and the temperature has reached 71°C.
Remove the egg whites and sugar from the heat and pour into a stand mixer with whisk attachment. Whisk until the mixture forms stiff peaks.
Change the attachment to a paddle attachment. On a low speed add the butter slowly cube by cube. When you have almost added all the butter the mixture will look curdled. Do not fret – this is supposed to happen and just means you are nearly done. Just continue to add all the butter. Once the butter is totally incorporated the frosting will miraculously become a smooth velvety consistency.
Add the salt and the vanilla extract.
Reserve 2 tablespoons of the toffee sauce, but add the rest to the buttercream, mixing in until thoroughly incorporated.
Pipe the buttercream onto the cupcakes then drizzle with the rest of the cooled toffee sauce.
If you have any pieces of dried apple or reserved caramelised bramley apple then use those to decorate the top.