This post contains affiliate links. Please read my disclosures.
These Pickled Mirabelles are a deliciously sweet sour accompaniment to any cheese or charcuterie platter.
My preserving habit is out of control. Our vast array of jarred goods are now happily commandeering every single shelf in our fridge. So much so that I have banned myself from doing any further food shopping until we have started to finish off some of the contents of those jars. It's easier said than done as every little jar has its own special purpose in our kitchen:
All these preserves are needed, constantly used and enjoyed.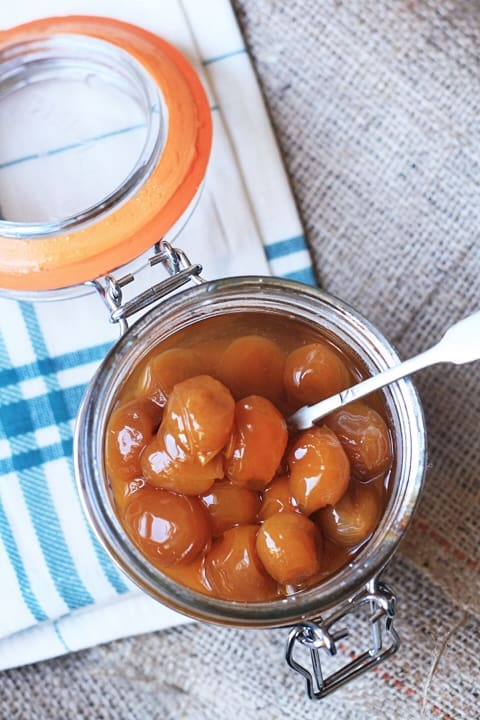 The worst thing is that yesterday, I added another jar to the fridge so really I might as well forego proper meals completely and just dig into the horseradish with a spoon and call it lunch. Meet these wonderfully addictive Pickled Mirabelles.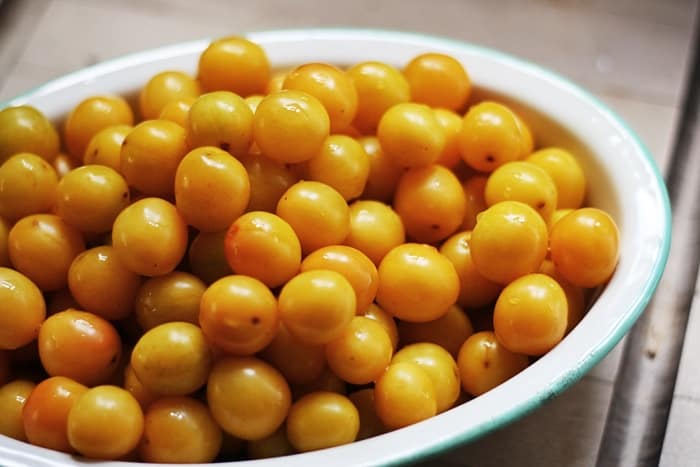 What are mirabelles?
The mirabelle is a small stone fruit from the plum family. They can most commonly be found in Lorraine in France, although the ones I used were from Essex, and have a short season in the late summer. They are yellow, tiny and particularly sweet and juicy. Mirabelles make a very lovely jam, but here we're doing something a little bit different.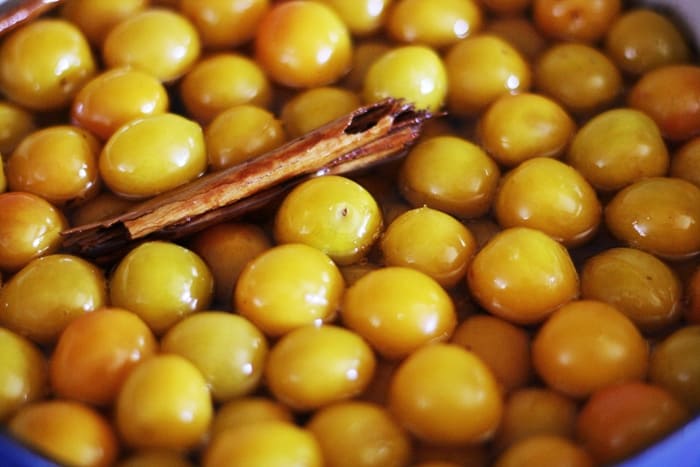 Pickling fruits
Pickling fruits is incredibly satisfying and excellent way to use up a glut of fruit that isn't dessert based. They make a wonderful addition to any cheeseboard or charcuterie platter. When we brought a kilo of mirabelles home from the farmers' market I knew they would be ideal for this purpose.
This is a simple recipe to follow, one of those assembly type affairs where you more or less put everything in a saucepan, bring to the boil for a few minutes then decant into jars. Really, the best kind of preserving.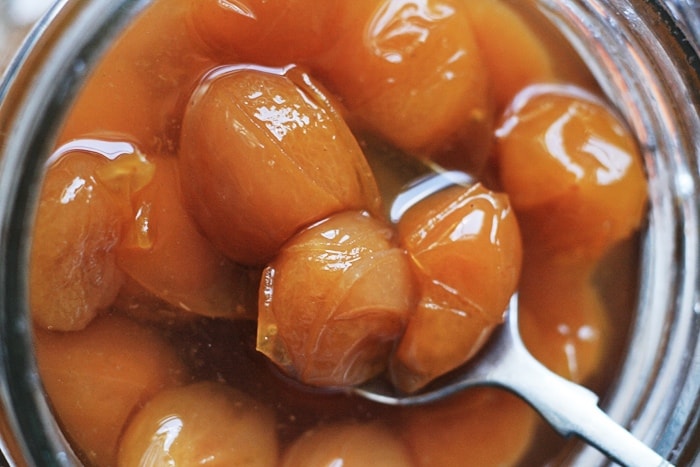 These Pickled Mirabelles are golden and jewel like in the jar, and when you remove them they sparkle in the October sunshine making them look utterly irresistible.They taste sweet with just a touch of sourness which makes them absolutely ideal with cheese or cold meats. They do have a small stone in the middle though so you must be careful when you pop them in your mouth that you don't break your tooth.
What can you do with the leftover pickling syrup?
Don't throw that leftover pickling syrup away whatever you do. It has a myriad of uses in your kitchen, not least:
salad dressings - whisked in with a little extra vinegar and olive oil
stews or casseroles - image a couple of tablespoons in one of your family favourite dishes. A pinch of sweet and sourness.
marinades - you can marinate chicken breasts or thighs in this syrup. Then grill or roast for a delicious dinner.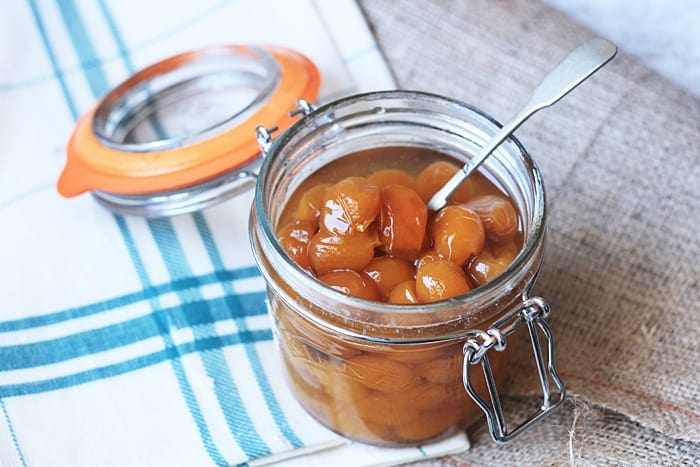 If you are looking for some more stone fruit recipes then how about:
Plum Nectarine Cornbread Cobbler
Plum Brown Butter Almond Cake
Damson Orange Cinnamon Jam
If you make these Pickled Mirabelles then please leave a comment below and/or give the recipe a rating. If you then go on to use this recipe as a launch pad for your own baking creation then I'd also love it if you'd share it and tag me on Instagram. It is so lovely for me to see your versions and variations of my recipes.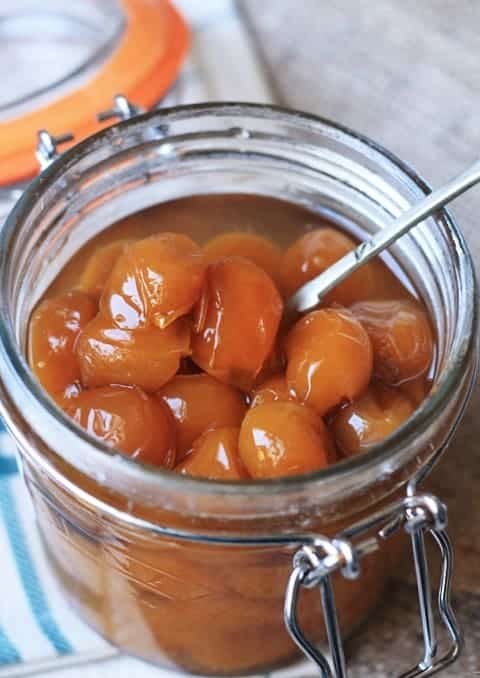 Pickled Mirabelles
A deliciously sweet sour accompaniment to any cheese or charcuterie platter
Ingredients
1

kg

mirabelles

600

ml

cider vinegar

½

cinnamon stick

900

g

granulated sugar

4

cloves

¼

teaspoon

ground nutmeg
Instructions
Prick each Mirabelle with a cocktail stick so the fruit doesn't split in the pan, the place in a large saucepan with the rest of the ingredients.

Bring to a boil, then simmer for 4 minutes.

Take off the heat and remove the mirabelles with a slotted spoon, decanting into sterilised jars.

Place the syrupy vinegar back onto the heat then bring back to a boil and keep at a rolling boil for about 10 minutes until the syrup reduces slightly. Remove from the heat and leave to cool.

Once cooled, spoon the syrup into the jars with the mirabelles until filled and seal.

If there is any vinegar syrup left over then decant into a separate bottle and use for salad dressings.
Notes
Adapted from Diana Henry's 'Cerises au Vinegar' in Salt Sugar Smoke
Have you tried this recipe?
Head to the comment section and let me know what you think!