This post contains affiliate links. Please read my disclosures.
This recipe is not yet gluten-free
In my mind it's definitely worth starting to think about our festive menus roundabout now, especially if you are going to be inundated with work commitments, parties to attend and then slotting in dates with friends and family. November and December are most people's very busy months and there is nothing wrong with getting ahead. Of course it helps that I've started listening to my Christmas playlist again on Spotify this week so I'm already well involved with the season. At Sainsburys earlier in the week I also couldn't help but start throwing into my trolley the odd packet of Carr's Table Biscuits (they always sell out in December) and then the Cheese Footballs that my mum loves to snack on Christmas Day. I remember this is the sort of behaviour that I used to admonish my grandmother for doing; buying birthday cards six months early and making sure she had all her Chrismas Day trifle ingredients by Halloween. Now, I've found myself following in her tradition. It's a dangerous road though, as I've already eaten the Cheese Footballs, so they are going to have to go back on the shopping list for a start.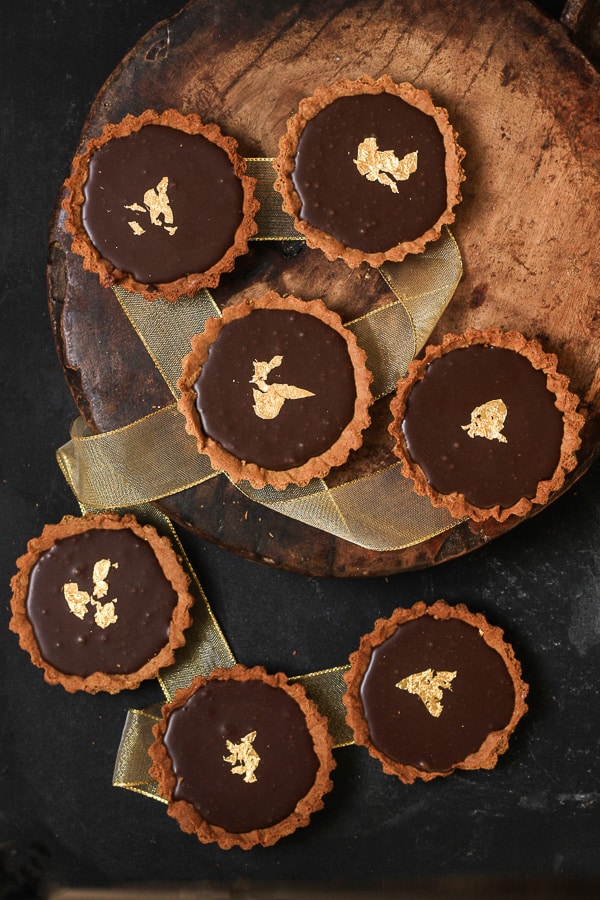 I'll never regret planning my menus early though and these tarts will definitely feature somewhere in the mix. I have wanted to do something with chocolate and five-spice for a while. Would it be ice cream? Would it be truffles? Or even cookies? I couldn't quite decide and then I made some gingerbread biscuits last week for my cake stall and produced far more dough than I needed. It sat in the fridge for a couple of days as I couldn't quite be bothered to make anymore biscuits.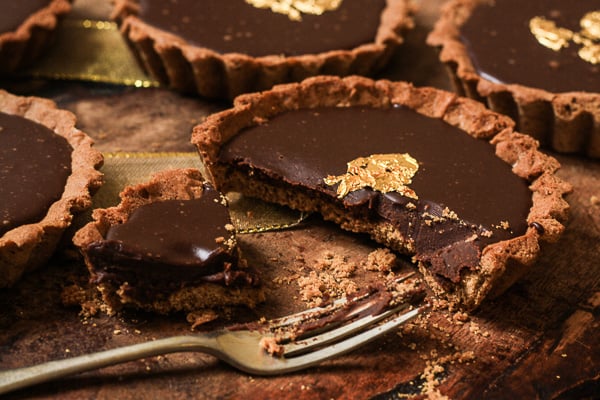 Suddenly out of nowhere I decided to mould the dough into tart shells, and blind bake them. Before I knew it I was concocting some chocolate ganache infused with five-spice and pouring it into my tart shells. The five-spice powder complements the ginger in the tart shell so perfectly. It's a lovely warming chocolate tart, perfect for this time of year and since the chocolate filling is a no-bake recipe then it really is so simple to put together.
I was thinking how lovely this would be to serve as a dessert with a dollop of crème fraiche over the festive season and like any good dessert it can happily be made a day or so in advance with minimal effort which means you can focus your last minute panicking for events happening out of the kitchen.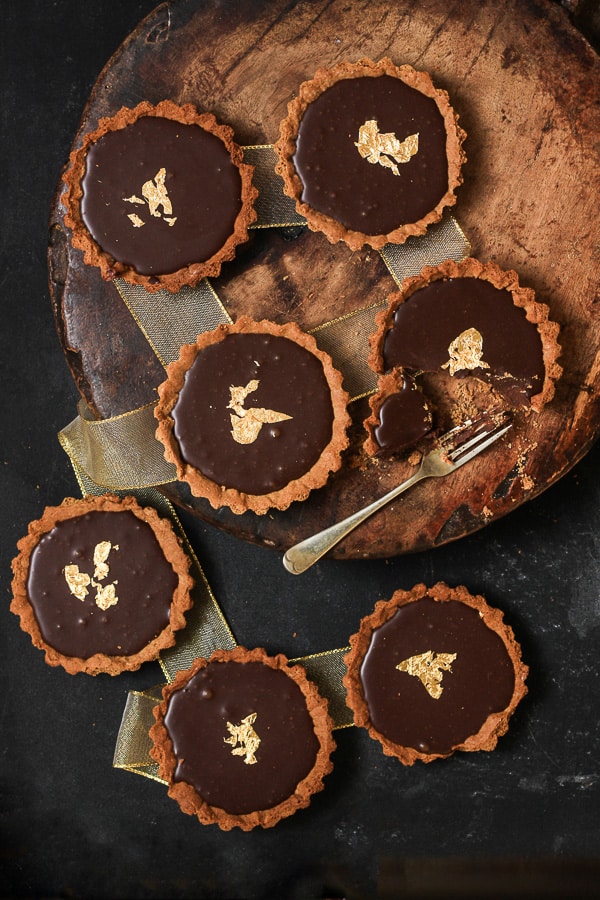 Chocolate Gingerbread Five-Spice Tarts
Makes 8
350g plain flour
½ tsp bicarbonate of soda
1 tablespoon ground ginger
¼ teaspoon salt
100g unsalted butter, cubed
125g dark brown sugar
1 tablespoon golden syrup
2 tablespoon treacle
1 egg + 1 egg yolk
200ml whipping cream
1 tablespoon light muscovado sugar
1 teaspoon chinese five-spice powder
100g dark chocolate
100g milk chocolate
Preheat the oven to 170°C and grease 8 x 8cm round tart tins.
In a large bowl, mix together the flour, bicarbonate of soda and ground ginger.
Rub the butter into the flour mix with your fingertips until it resembles breadcrumbs.
Add the sugar and mix well.
Warm the golden syrup and treacle slightly in a saucepan to make it runny and easier to use then pour into the rest of the ingredients with the eggs.
Bring the dough together with your hands until it is a nice smooth ball.
Place in the fridge for 1 hour to chill.
Roll the dough out to 2-3mm thickness and line the dough into your tart tins. Fill the tart shells with baking beans then place in the oven and blind bake for 10 minutes.
Remove the baking beans and continue baking for another 5 minutes. Then remove from the oven leave for 15 minutes before removing from the tins and leaving to cool.
For the filling heat the whipping cream with the muscovado sugar and five-spice powder until just below boiling point. Remove from the heat and leave to cool for 1 minute so it doesn't scorch the chocolate.
Pour the cream over the chocolate and stir together until all the chocolate has melted and formed a thick ganache with the cream.
Spoon the ganache into the tart shells and place in the fridge to chill for at least 2 hours until the chocolate ganache has set.
Decorate with gold leaf and bring up to room temperature to serve.