This post contains affiliate links. Please read my disclosures.
Vinegar Cake is a very traditional fruitcake, thick with sultanas, currants and mixed peel. Extremely moist with a tender crumb thanks to the not so secret ingredient of vinegar.
This is the recipe that launched several more of my most recent recipes. It led to my investigation of Homemade Mixed Peel which is turn encouraged me to make Triple Citrus Shrub. So I have a lot to thank this original recipe for.
My Great Auntie Lil was an excellent baker and all-round cook. However, by the time I was old enough she had mostly wound down that side of her life and I only have distinct memories of her Christmas pudding, cakes and mince pies. I was assured though by my mum who would often drift off into a nostalgic haze whenever fruit cakes were mentioned that her Vinegar Cake was legendary.
My mum and Nan would salivate openly remembering thick slices of Vinegar Cake smeared with butter and marmite. One day, Nan pressed into my hand a very roughly scribbled note of the recipe which she had begged from her sister and urged me to try it.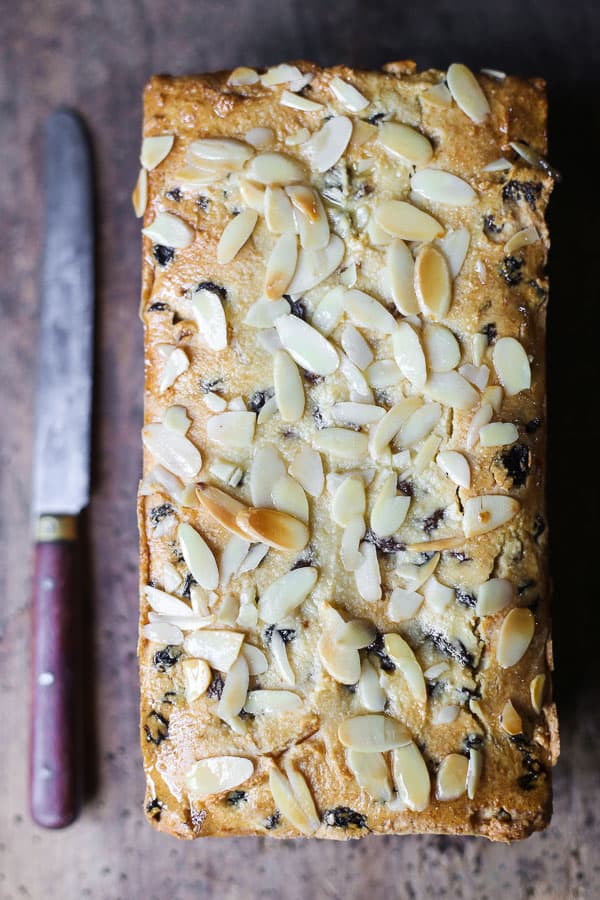 I have no idea why it took until January this year, seven years since I was first given the recipe to sample this incredible piece of our family history. I came across my Nan's note hidden within my cake file which I immediately gathered up and clutched to my chest.
My nan passed away three years ago and absolutely nothing can compete with the raging pregnancy hormones currently coursing through my body as I immediately recognised her big swirling looping handwriting which remind me of many a treasured letter, birthday and Christmas card from my darling nan.
Still, battling through my emotions I clutched at the recipe promising Nan I would make her sister's beloved Vinegar Cake exactly as written and serve it at tea time to my mum who has been frequently coming to help look after Cole during my last trimester.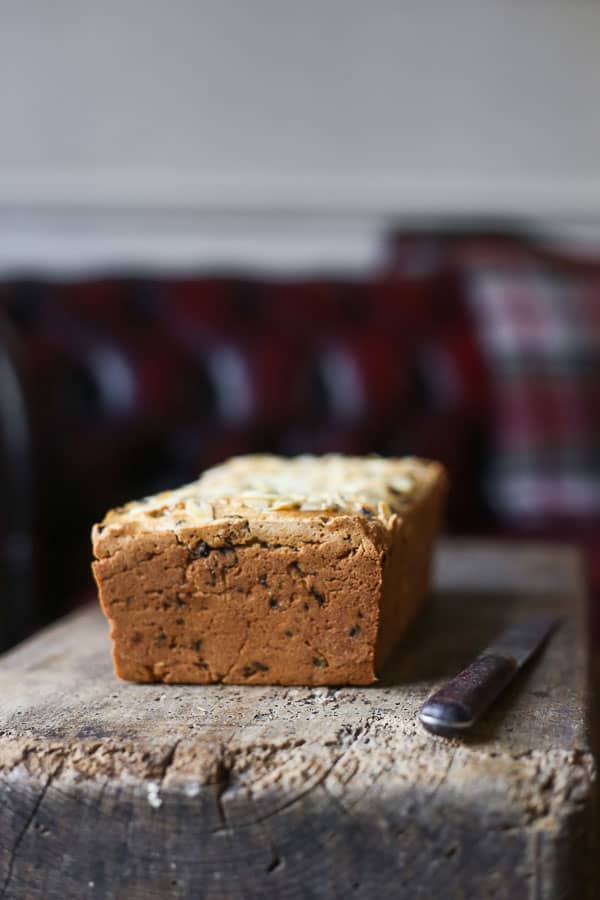 Well, that promise lasted as long as it took me to waddle to the kitchen as I realised immediately that I couldn't help but make changes. It is simply not in my nature to stick to a recipe as written.
The most obvious change would be that I would have to make the whole thing with gluten-free flours. Although to be fair the recipe merely stipulated '12oz flour' without any indication as to which flour so I think my gluten-free flour can be accepted for lack of more information. Then my snobbery took over and I had to swap in butter for the margarine. Sorry.
I also amended the dessert spoon measurement to the more accessible tablespoon measurements then changed it once again to grams, then re-read the recipe and changed all the rest of the weights from ounces to grams. For consistency and I have no idea how to work in ounces.
The vinegar that Auntie Lil originally used wasn't stated in the recipe. I can only imagine she would have used malt vinegar as growing up I think that was the most universally stocked in domestic larders. I'm sure it would have given a lovely malty taste but it's not gluten-free so I went with my favourite apple cider vinegar which is subtle and fruity.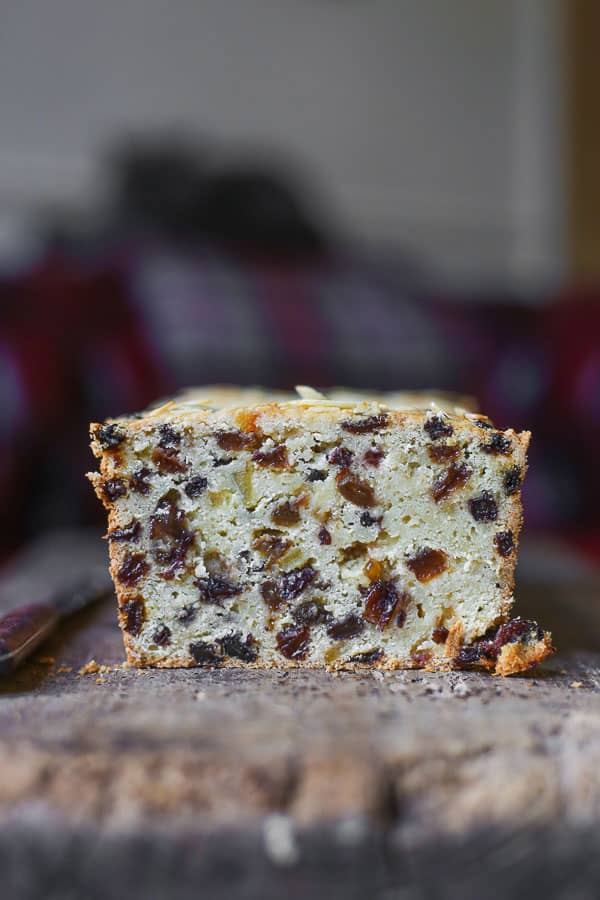 The recipe also didn't say what kind of tin the cake was baked in so at this point I asked mum who was very clear that it was a loaf tin.
After first attempting the cake in my 9" x 5" loaf tin the cake came out very flat so it was time for more re-adjusting. I increased all the given ingredients by a third and changed my loaf tin for my narrower 8½" x 4½" tin. This produced a lovely sized loaf cake, more in keeping with my mum's memories.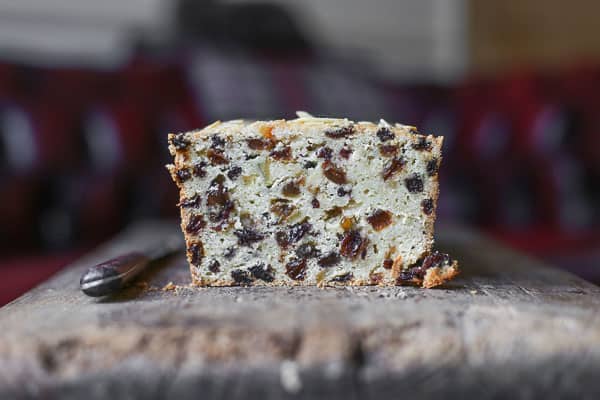 The next thing to tackle was the mixed peel in the recipe. I was keen to keep it in but as I mentioned back in my Homemade Mixed Peel post I was disappointed by the flavour of the shop-bought mixed peel. So there begun a mini-quest within a quest to create a Homemade Mixed Peel and the difference this made to the flavour of the cake was astounding.
If you are also not a fan of shop-bought mixed peel but can't be bothered to make your own then just leave it out, upping the quantity of currants to make up for the reduced fruit but do include the zest of 1 orange and 1 lemon so you still get a citrus tang. This is how I did it before settling on the Homemade Mixed Peel and that version was really rather good too.
After a few more tests messing around with the quantities of my gluten-free flours I had a final cake, which then wasn't quite as final as I liked, as although it tasted lovely the cake didn't look as pretty as it could.
So I scattered over a handful of flaked almonds before baking and then once the cake came out of the oven glazed it to make it nice and shiny. Suddenly the cake looked as delicious as it tasted.
I have now made this cake several, and I mean several, times. Since the beginning of January we have had one version or another of Vinegar Cake knocking around the kitchen. You would think I would be a little bored of it by now but actually it's ideal for keeping in discreetly in your cake tin.
I have been eating it for breakfast, slathered with salted butter and peanut butter, with a cup of tea for elevenses, shared with friends who have stopped by and Cole is now obsessed by it so it might have to be a permanent fixture.
The most crucial test though has been mum who has very specific memories of this cake. The final version which came out of the oven eventually got her nod of approval. The best bit about the cake, and what she clearly remembers of the original version from her youth is the delicious dampness of it.
It's true with the amount of liquid in the cake the texture is incredibly moist and this also aids in how well it keeps. It can easily sit in a cake tin wrapped in foil for up to a week. The perfect weekend bake which pays so many dividends during a hectic week.
So, here is to my Nan and to Auntie Lil. May I present the Vinegar Cake which was resplendent at so many teatimes the family shared when my mum and her cousins were growing up. And it's almost exactly the same as the original. Give or take.
Shop the Recipe:
If you like this recipe then you may like:
I urge you to give this Vinegar Cake a try. If you do then please leave a comment below and give the recipe a rating which helps others find the recipe on Google. If you then go on to use this recipe as a launch pad for your own culinary creation then I'd also love it if you'd share it and tag me on Instagram. It is so lovely for me to see your versions and variations of my recipes.
Vinegar Cake
Vinegar Cake is a very traditional fruitcake, thick with sultanas, currants and mixed peel. Extremely moist with a tender crumb thanks to the not so secret ingredient of vinegar.
Ingredients
200

g

sweet rice flour

170

g

millet flour

100

g

almond flour

120

g

unsalted butter

-

room temperature

160

g

currants

160

g

sultanas

40

g

mixed peel

80

g

caster sugar

¾

teaspoon

bicarbonate of soda

300

ml

whole milk

60

ml

apple cider vinegar

25

g

flaked almonds

1

tablespoon

apricot jam
Instructions
Pre-heat the oven to 150°C and line and grease a 2lb loaf tin. The loaf tin I used was 8.5" x 4.5".

In a large bowl whisk the flours together then rub the butter in the flours until the mixture resembles fine breadcrumbs.

Stir in the dried fruit and sugar.

Finally stir the bicarbonate of soda into the milk along with the vinegar then pour into the dry ingredients. Beat together with a wooden spoon until the mixture reaches a drop consistency.

Pour the cake mixture into the loaf tin, sprinkle over the flaked almonds and bake in the oven for one hour.

Remove the cake from the oven, turn out onto a tin and leave to cool on a wire rack.

Melt the apricot jam* in a saucepan until runny then use to glaze the top of the cake.
Notes
*Instead of apricot jam I actually used the citrus sugar syrup which was left over from making the Homemade Mixed Peel which I didn't need to heat as it was already very runny. It gave the top of the cake a lovely citrus tang.
Nutrition
Calories:
379
kcal
Carbohydrates:
58
g
Protein:
6
g
Fat:
15
g
Saturated Fat:
6
g
Cholesterol:
24
mg
Sodium:
87
mg
Potassium:
314
mg
Fiber:
3
g
Sugar:
28
g
Vitamin A:
300
IU
Vitamin C:
1.2
mg
Calcium:
76
mg
Iron:
1.7
mg
Have you tried this recipe?
Head to the comment section and let me know what you think!